Mini Meatloaf Muffins made into perfect, single serving-sized portions and healthy! Quick and easy to make and so delicious you won't even know they're lower in calories and fat!
This isn't your average meatloaf recipe. These muffin-shaped meatloaves are great for a snack, or as a main dish, and the cook time is perfect for busy weeknights. Look out, or we may try meatloaf cupcakes next!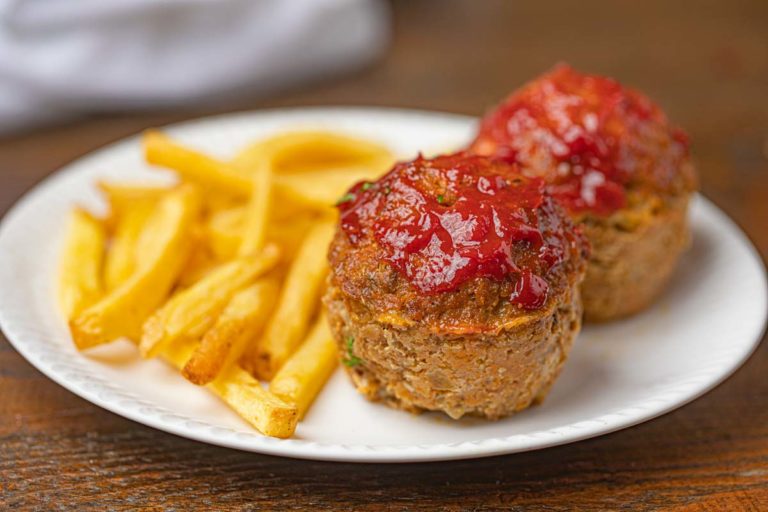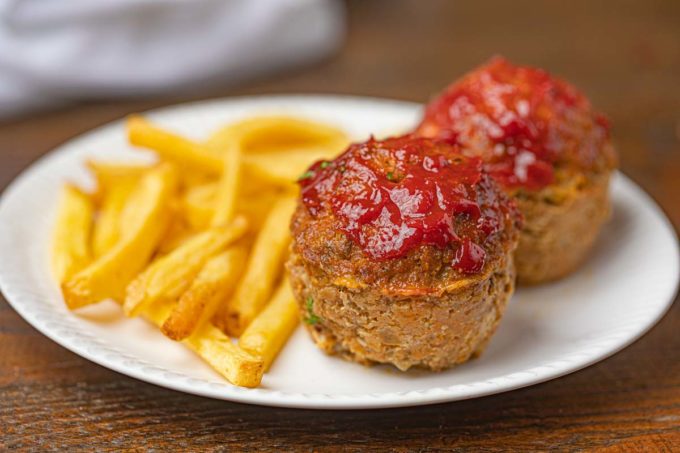 MEATLOAF MUFFINS
Mini meatloaves are not only delicious, they are also adorable (bet you never thought you'd be using your muffin tin for meatloaf night). They are great to grab for a quick lunch or you can dress them up with a variety of sides. More than just ground meat, breadcrumbs and ketchup, our recipe is a little bit different from your traditional meatloaf. Instead of using breadcrumbs, we crumbled saltine crackers to give the meatloaf a great, light texture that is still hearty.
How to make Mini Meatloaf Muffins:
Start off by heating some olive oil in a skillet on medium-high heat, and then sauté onion, carrot, oregano and garlic for 2 minutes and then let them cool down. Once cool, get out a large bowl and pour in your onion mixture. Then, add ketchup, ground beef, crushed saltine crackers, mustard, Worcestershire sauce, pepper and eggs. You've finished the hardest part, now coat a muffin pan with cooking spray to keep them from sticking, and spoon the meatloaf mixture into them. Top each mini meatloaf off with a bit of ketchup and set them in the oven to bake.
If you liked this recipe, next time you should check out our Turkey Shepherd's Pie, Skinny Chicken Enchiladas, or our Chicken Meatballs in Marinara Sauce.
What to Serve with Meatloaf:
Healthy Greenbean Casserole: served with a delicious cream sauce, this casserole goes great with main dishes as a side, or on its own.
Chickpea Sweet Potato Kale Salad: this salad is full of delicious veggies that are packed with healthy vitamins, and it's an excellent way to make sure that your family gets all their leafy greens.
Creamy Cilantro Lime Slaw: coleslaw doesn't stand up to cilantro lime slaw. Light and delicious, this slaw is sure to be a hit.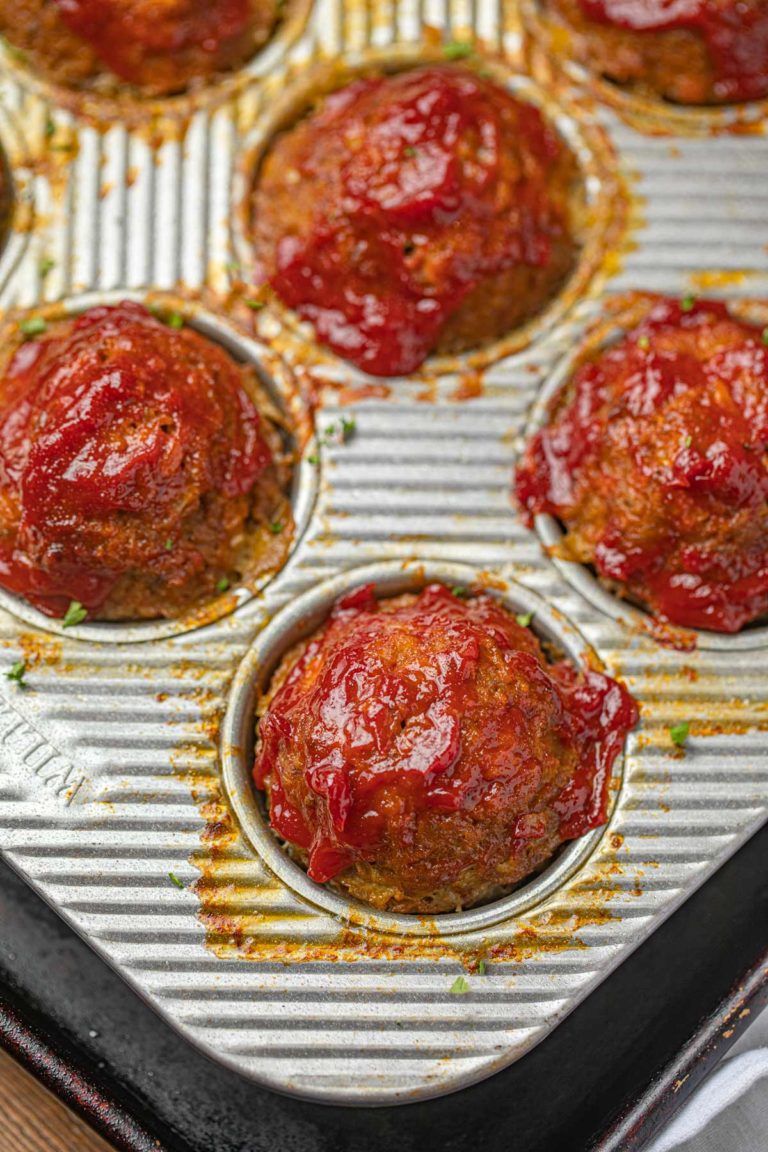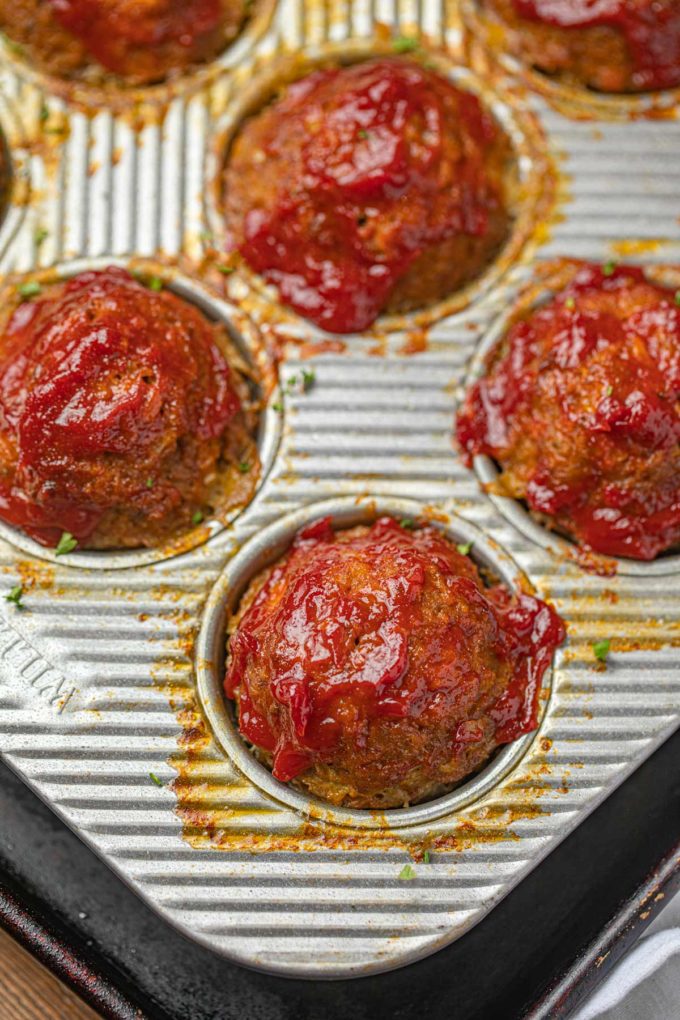 Create a free account to

Save Recipes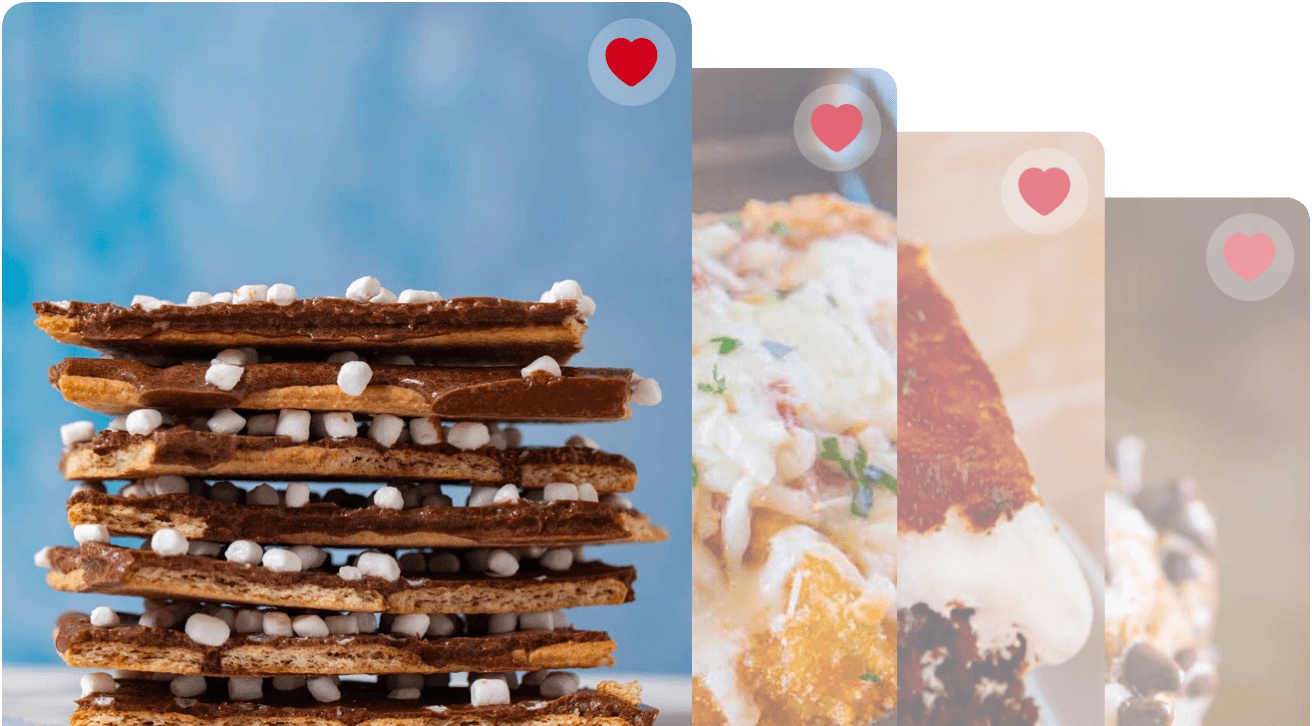 Origins of Meatloaf
Not to be confused with Meat Loaf (whose origins are very different), meatloaf has very old roots, according to Wikipedia.
Meat in a loaf: meatloaf was listed in the Apicius, a cook book that the romans wrote in the 5th century. Who knew meatloaf has been around that long?
Scrapple: Ground pork and cornmeal mixed into a loaf was served in the Americas by German immigrants when they first arrived in colonial Pennsylvania. This mixture, or "scrapple," was a high protein meal they could eat quickly and that would give them energy all day.
The Great Depression: during the economic disaster in the 1920's, Americans would take cheap meat with grains and smoosh it into a loaf to make the food last longer and feed more people. A much fancier version of this meal is what we know as meatloaf today.
Meatloaf Around The World
There are a bunch of similar types of meat dishes around the world, but what makes a meal meatloaf differs from region to region.
Boiled eggs: many countries around the world (Germany, Bulgaria, Cuba, Czech Republic, Greece, Hungary, Italy and Poland, to name a few) enjoy boiled eggs at the center of their meatloaf.
Stuffed: multiple countries in South America have a tradition of ham stuffed meatloaf. The meatloaf is made with a hollow inside, and ham, sometimes with vegetables, are baked inside.
Wrapped: here's one that should sound familiar. Bacon or ham wrapped meatloaf is an old favorite not just in America, but also in Austria, Denmark and a handful of other countries.
Like a meatball: in Finland, as well as a few other Scandinavian countries, meatloaves are prepared just like giant meatballs.
Raw: in a tiny handful of regions, meatloaf is prepared raw like steak tartare. The flavor is very strong and rich, but we don't recommend trying to make this version at home.
SAFE SERVING TEMPERATURE
According to the USDA's website, meatloaf is safe to eat when the internal temperature reaches 160 degrees F (71.1 degrees C). Since meatloaf has both eggs and meat in it, you should definitely check the temperature with a probe thermometer before eating it, or you could be in for a rough couple of days.
STORAGE
Serve: make sure that you don't leave your meatloaf muffins out for longer than 2 hours at room temperature or they can make you very sick.
Store: meatloaf is good in the fridge for up to 3 days before it spoils.
Freeze: if you seal it in an airtight container, meatloaf muffins can last up to 4 months.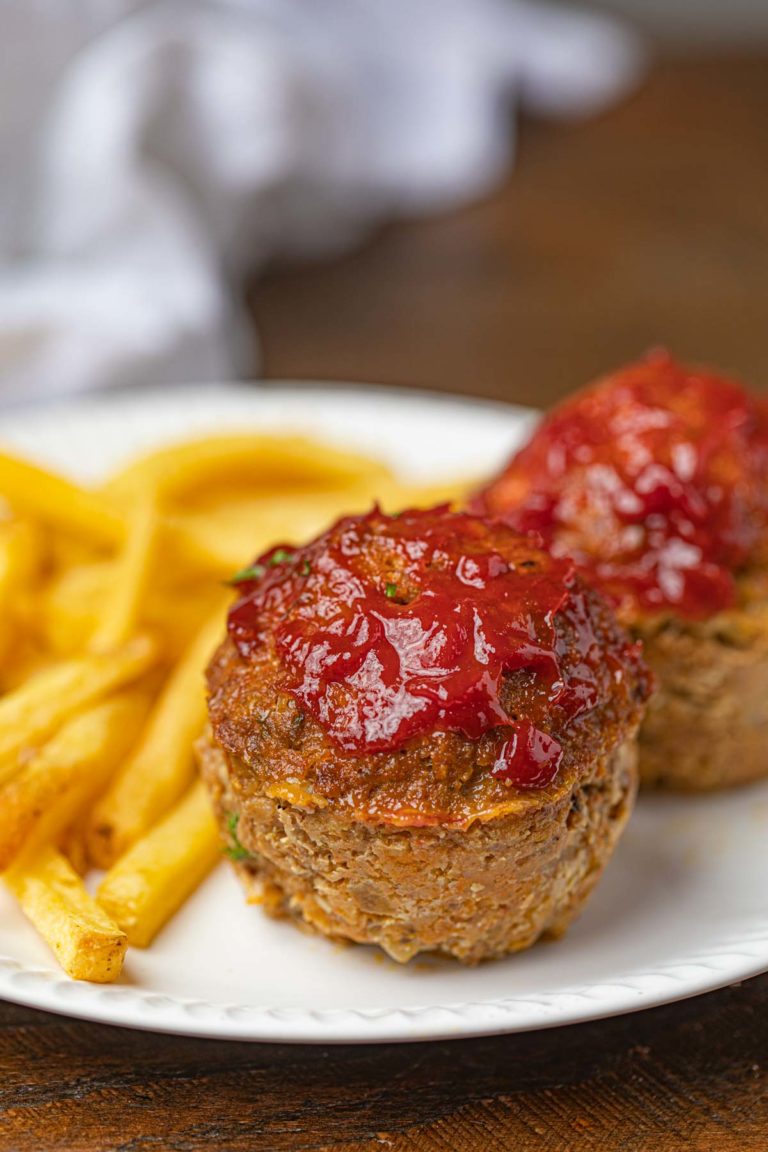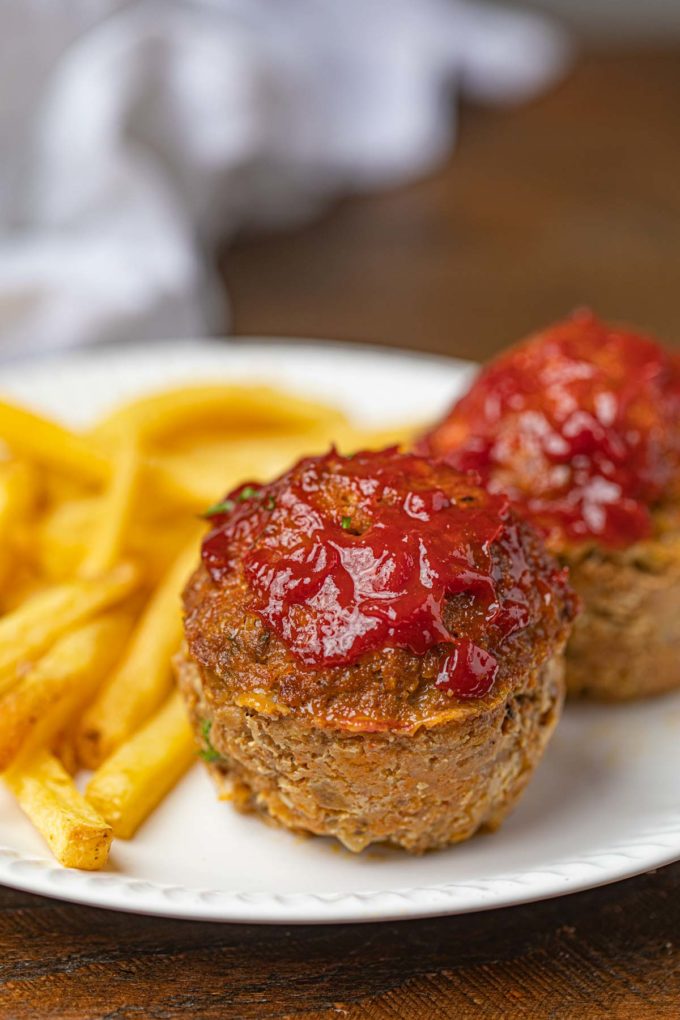 Ingredients
1

tablespoon

vegetable oil

1

yellow onion

chopped

1

carrot

finely grated

2

garlic cloves

minced

1/2

teaspoon

oregano

1/2

teaspoon

kosher salt

1/4

teaspoon

coarse ground black pepper

1

cup 

ketchup

, divided

1 1/2

pounds

ground beef

, (90/10)

1

cup

saltine crackers

, fine crumbs (about 20)

2

tablespoons

yellow mustard

2

teaspoons

Worcestershire sauce

2

large

eggs
Instructions
Preheat oven to 350 degrees and spray a muffin tin with vegetable oil spray.

Add the vegetable oil to a large skillet on medium high heat.

Add the onion, carrot, garlic, oregano, salt and pepper and cook for

3-4 minutes

(stirring occasionally), then let cool.

In a large bowl add the onion-carrot mixture, ½ cup ketchup, ground beef, saltines, mustard, Worcestershire sauce and eggs and mix well.

Add the meatloaf mixture to your muffin tin into 12 scoops and top with remaining ketchup.
Nutrition
Calories:
358
kcal
|
Carbohydrates:
22
g
|
Protein:
27
g
|
Fat:
16
g
|
Saturated Fat:
7
g
|
Cholesterol:
144
mg
|
Sodium:
856
mg
|
Potassium:
615
mg
|
Fiber:
1
g
|
Sugar:
10
g
|
Vitamin A:
2005
IU
|
Vitamin C:
4.1
mg
|
Calcium:
50
mg
|
Iron:
3.9
mg