Sweet Potato Turkey Chili is perfect for busy weeknights with healthy ingredients like black beans, ground turkey, and sweet potatoes.
During the winter, there's no better Dinner Recipe than a big comforting bowl of soup or chili. This delicious, gluten-free comfort food is similar to our Easy Turkey Chili but full of rich sweet potatoes that pack it with flavor and keep you fuller longer. The whole family will be fans of this easy, quick stovetop recipe!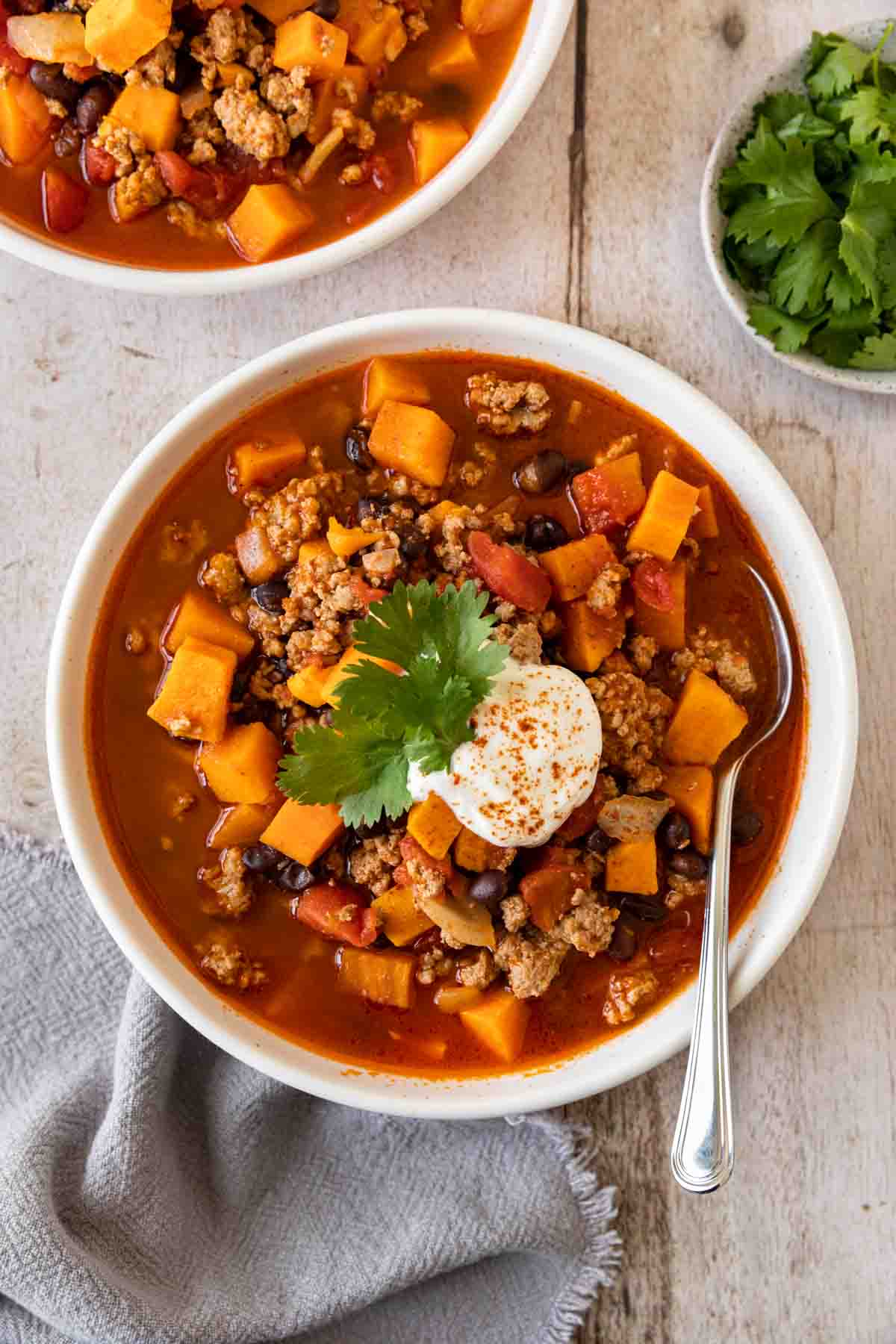 SWEET POTATO TURKEY CHILI
You don't need ground beef to make a hearty chili. Ground turkey is an excellent replacement for beef that we've used in a variety of recipes, including Turkey Shepherd's Pie, Turkey Bolognese, and Turkey Meatloaf. While beef chili is delicious, you can still pack a ton of flavor into Sweet Potato Turkey Chili without packing in the calories.
Ground turkey is lighter, has more lean protein, and even though it has a slightly different flavor, it is still delicious. It goes particularly well in this thick chili with ingredients like sweet potatoes, diced tomatoes, yellow onion, black beans, cumin, fresh cilantro, chili powder, garlic, and paprika. The hearty ingredients make this chili recipe filling and comforting. It's sure to be a meal you find yourself making over and over again to get you through the cold months.
Another great reason to enjoy Sweet Potato Turkey Chili is just how easy the recipe is. Simple, yet flavorful ingredients all come together in one pot and it's ready in under an hour. Which, is amazing because you're free to just enjoy your meal in almost no time, and you don't have to worry about a pile of dishes waiting in the sink.
This one recipe also makes enough Sweet Potato Turkey Chili to feed a crowd, making it perfect to bring to a potluck or chili cook-off. It's also great to make for a simple family dinner and store leftovers to enjoy for lunch over the following days.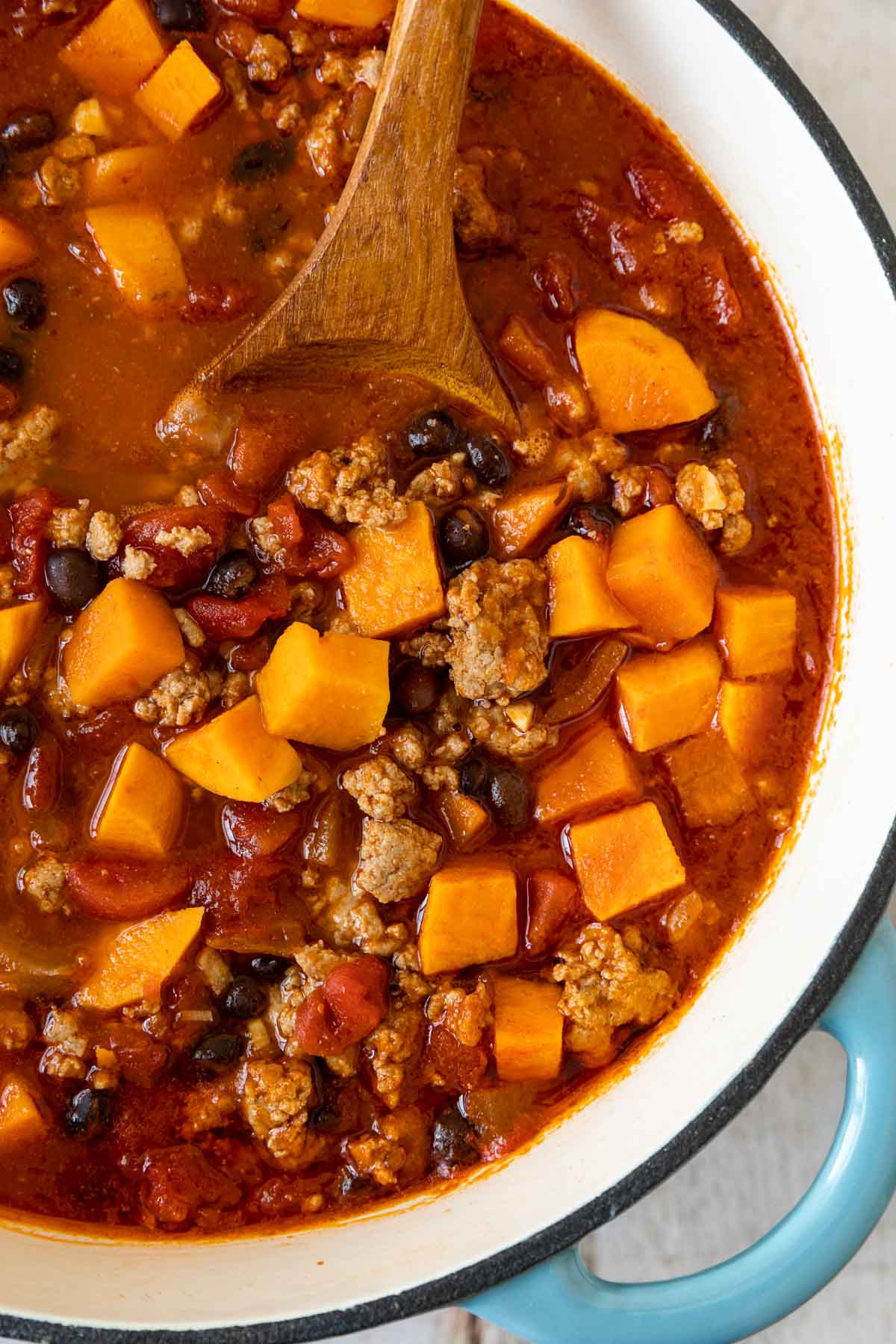 SWEET POTATO BENEFITS
Sweet potatoes are an excellent flavorful and filling ingredient. They also have many nutrients that make them an ideal ingredient to add to your diet a few times a week. Here are some of their most impressive health benefits:
Sweet potatoes have a lot of antioxidants, which are great for your overall health.
Along with that, they're a good source of fiber, manganese, and potassium.
Sweet potatoes also rich in beta-carotene, which helps to make vitamin A in your body. Vitamin A helps your eyes regenerate cells, which can help you maintain good vision for longer. It also boosts your immune system, which makes Sweet Potato Turkey Chili a great meal to help you fight off a cold.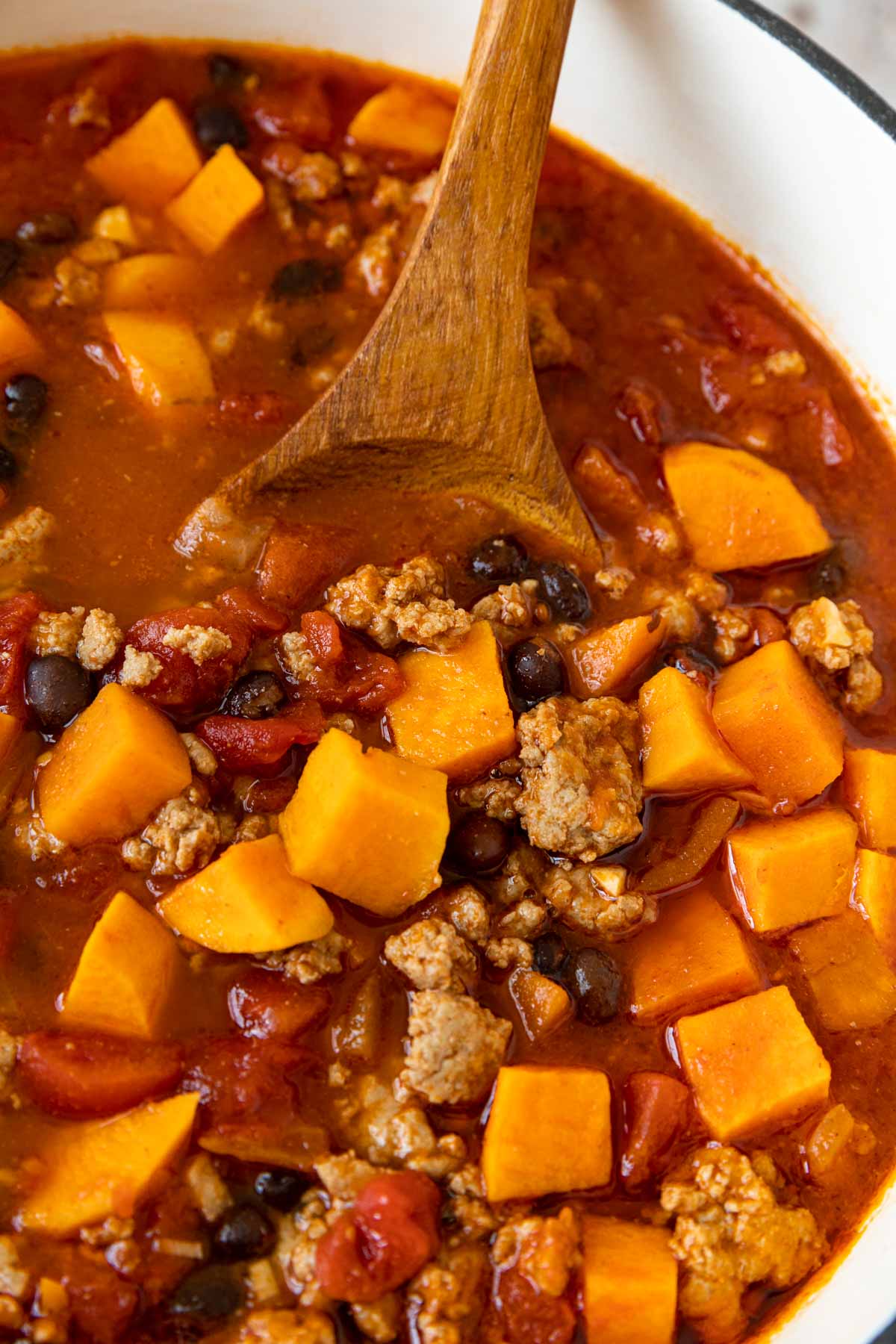 MORE SOUP AND CHILI RECIPES
TIPS FOR MAKING SWEET POTATO TURKEY CHILI
Ground turkey: Add the ground turkey to a large pot over medium-high heat. Break the turkey apart with a wooden spoon as you brown it, and season the meat with salt and cumin. Once the turkey is cooked through so there's no pink remaining, lower the temperature to medium heat, and add in the onion and garlic. Continue to stir, and cook the mixture for another 3 minutes. Be careful not to let the bottom burn.
Chili: Add the canned tomatoes, chopped sweet potatoes, tomato sauce, chicken broth, beans, and spices. Stir the chili well, then cover and let it simmer for 25 minutes. Come back to the pot to stir every few minutes.
Reduce: Check that the potatoes are softened, then continue to cook with the lid removed for another few minutes as the broth reduces. Remove the bay leaf, then add sour cream, chopped cilantro, and paprika to garnish.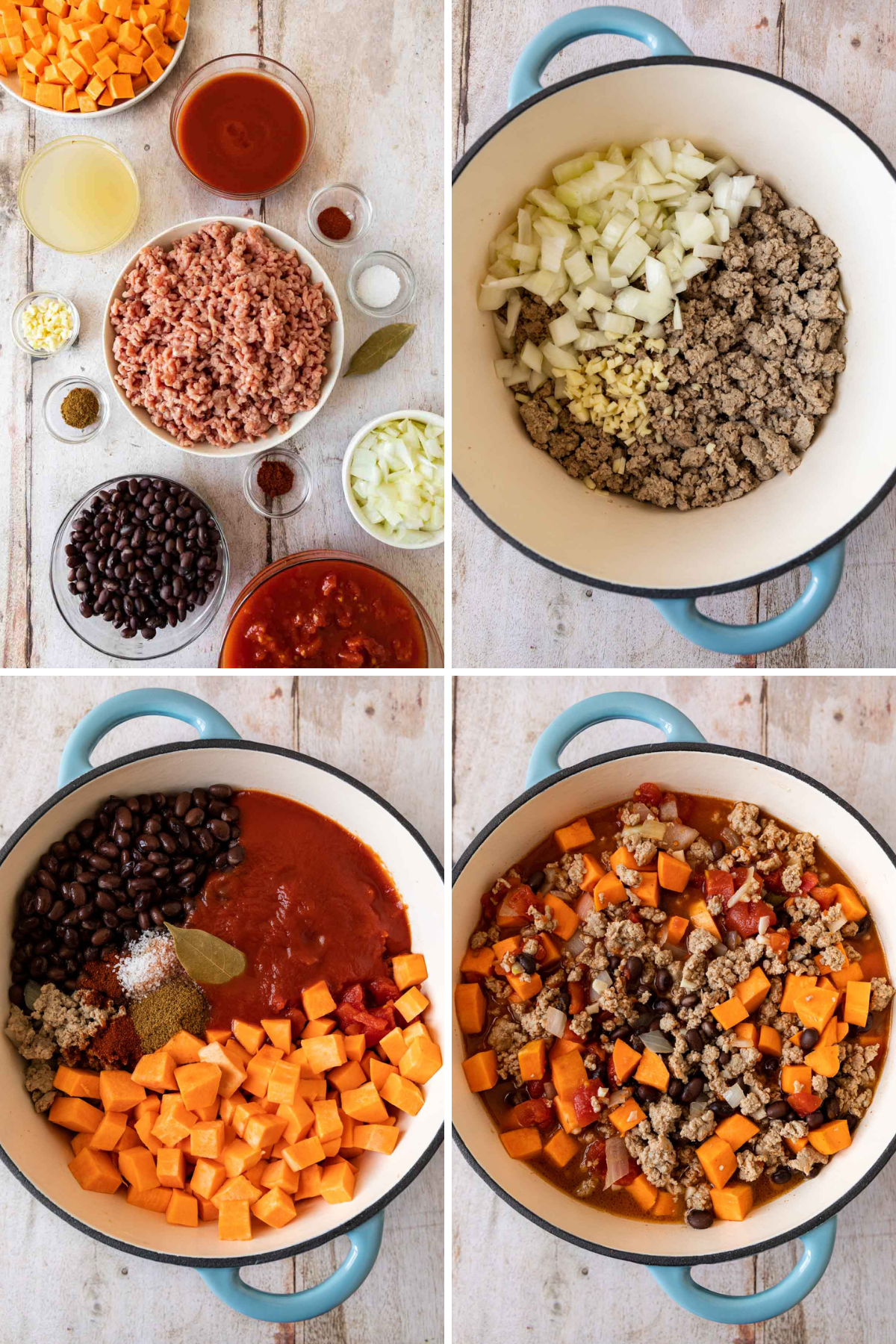 Create a free account to

Save Recipes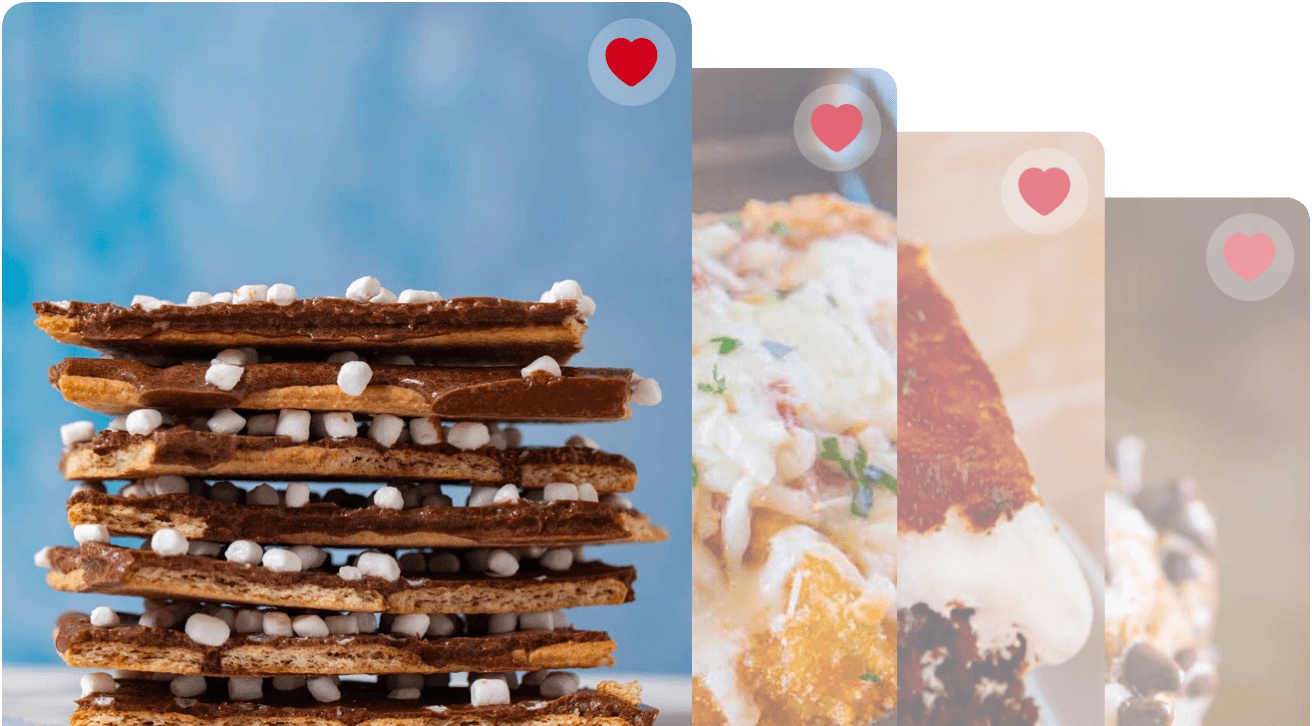 VARIATIONS ON SWEET POTATO TURKEY CHILI
Vegetables: There are plenty of delicious veggies you can mix into the chili mixture for some extra flavor and texture. Try adding bell pepper, green onions, or scallions. You could also add some more spice to the dish with Jalapeño.
Cayenne Pepper: Another way to add a little bit of a kick is to mix in a pinch of cayenne and black pepper for a rich, spicy flavor.
Beans: Along with the black beans, you could try using kidney beans, pinto beans, or mix things up with some chickpeas.
Meat: If you don't have ground turkey, or just prefer ground beef, you can try using lean ground beef in the recipe. It will still be lighter than typical chili and should taste great with the other ingredients.
Toppings: One of the great things about chili is that you can add a variety of delicious toppings. Try sprinkling on some shredded cheddar cheese and tortilla chips. You can also top the dish off with sour cream and sliced avocado.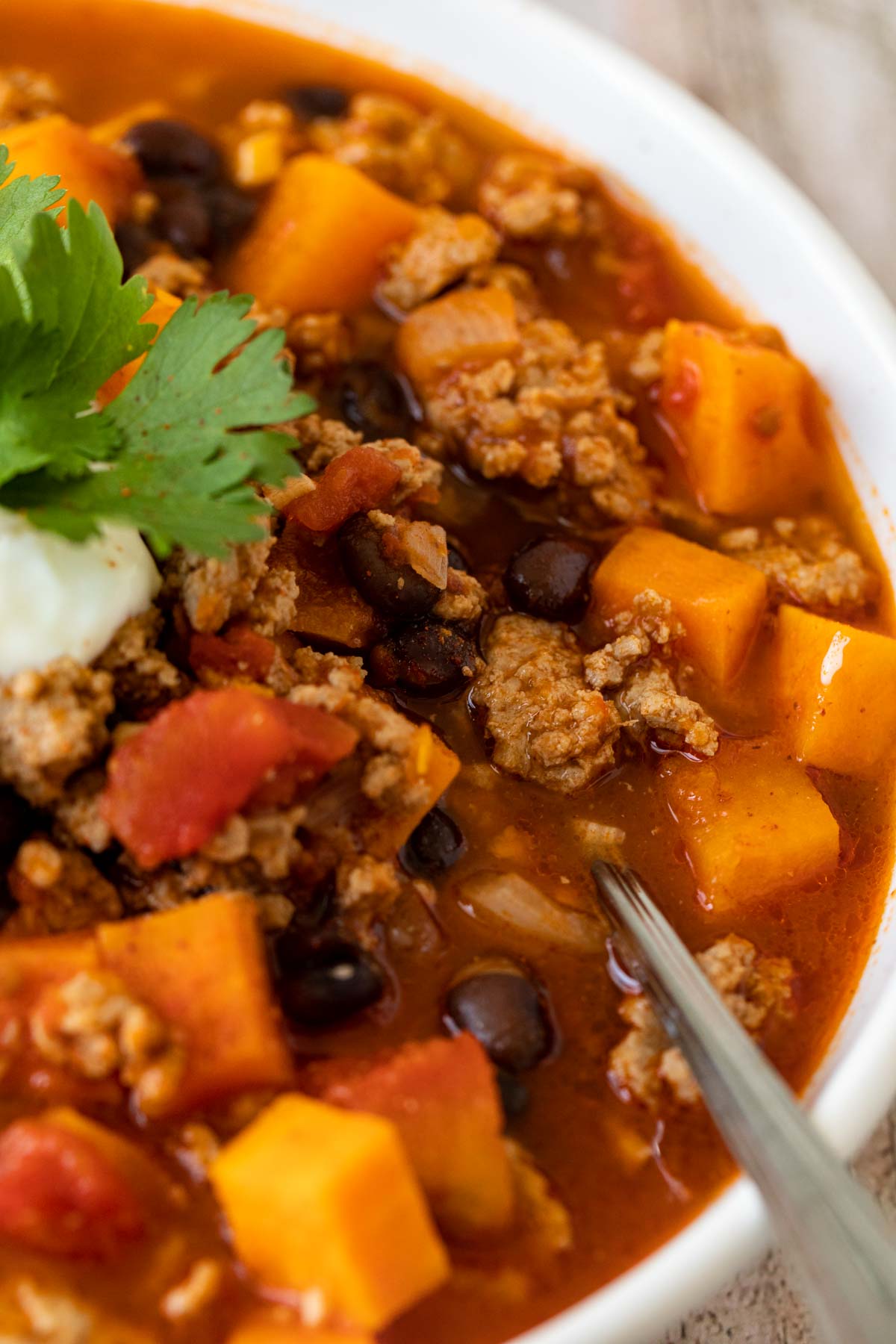 SERVE TURKEY SWEET POTATO CHILI WITH
HOW LONG IS IT GOOD?
Serve: Because of the meat in it, you shouldn't leave chili out for longer than 2 hours before putting it in the fridge.
Store: Chili is good in the refrigerator for about 3 days. Wait for it to cool to room temperature before you transfer the chili to an airtight container for storage.
Freeze: You can also freeze Sweet Potato Turkey Chili for up to 6 months in an airtight container. When you're ready to serve the leftovers for dinner, let them thaw in the fridge overnight, then you can just reheat it on the stovetop until it's warmed through.
WHEN IS IT SAFE TO EAT?
According to the USDA's website, ground turkey is considered cooked through and safe to eat when the internal temperature reaches 165 degrees F (145 degrees C).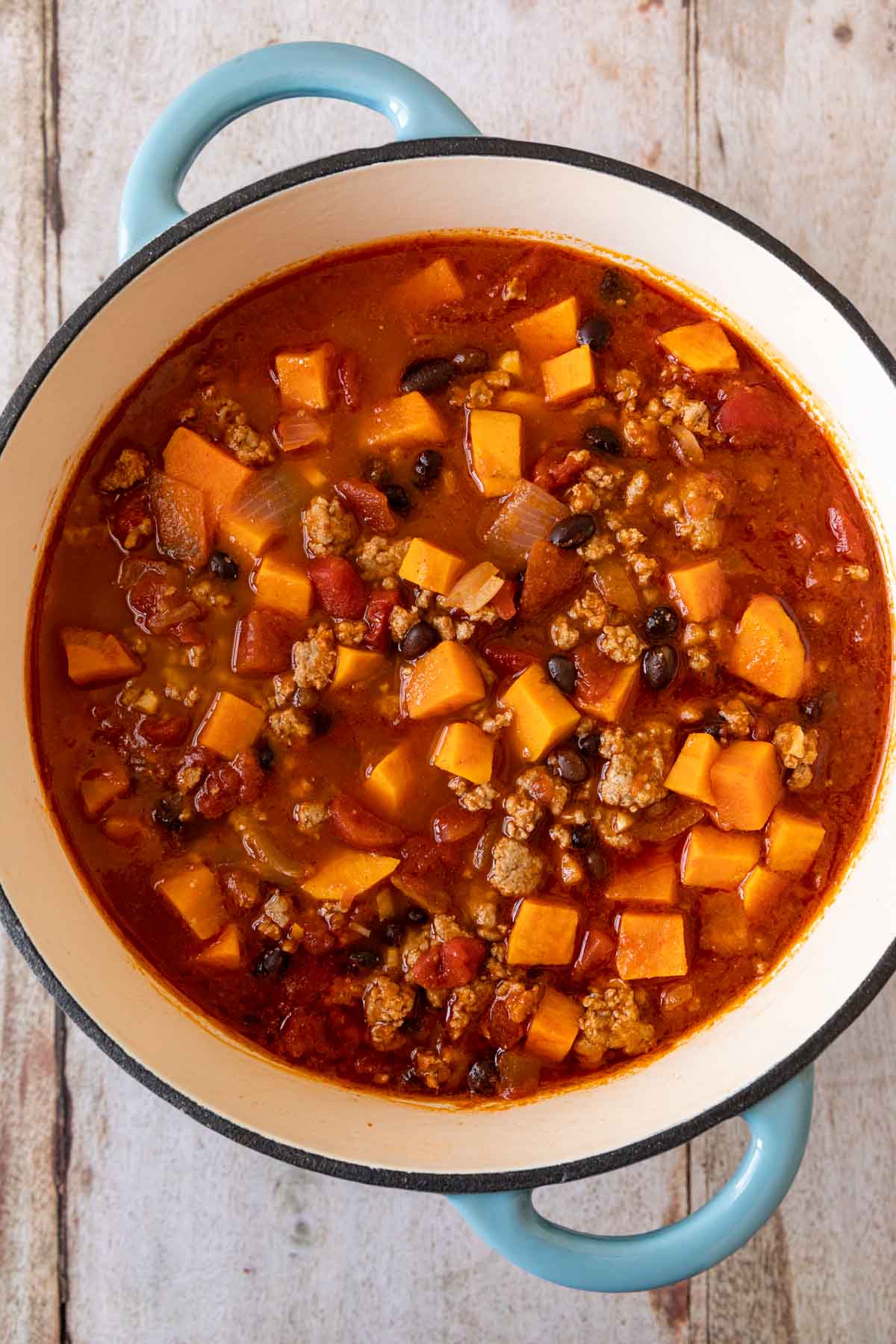 Ingredients
2

pounds

ground turkey

1

teaspoon

kosher salt

1

yellow onion

, chopped

3

cloves 

garlic

, minced

29

ounces

diced tomatoes

14

ounces

black beans

, drained and rinse

8

oz

can tomato sauce

2

cups

chicken broth

1

tsp

cumin

1/2

tsp

chili powder

1/2

tsp

paprika

1 

bay leaf

4

cups

sweet potato

, peeled and diced into 1/2-inch cubes

fresh cilantro

, for garnish
Instructions
In a large skillet, brown turkey over medium-high heat.

Break it up as it cooks into smaller pieces and season with salt and cumin.

When meat is browned and cooked through, add onion and garlic; cook

3 minutes

over medium heat.

Add the can of tomatoes, sweet potato, tomato sauce, water, cumin, chili powder, paprika, salt and bay leaf.

Cover and simmer over medium-low heat until potatoes are soft and cooked through, about

25 minutes

, stirring occasionally.

Remove the lid, cook an additional

10 minutes

, until reduced. Remove bay leaf.

Garnish with sour cream, bits of cilantro and a pinch of paprika.
Nutrition
Calories:
285
kcal
|
Carbohydrates:
33
g
|
Protein:
34
g
|
Fat:
3
g
|
Saturated Fat:
1
g
|
Trans Fat:
1
g
|
Cholesterol:
62
mg
|
Sodium:
763
mg
|
Potassium:
1102
mg
|
Fiber:
8
g
|
Sugar:
7
g
|
Vitamin A:
9835
IU
|
Vitamin C:
18
mg
|
Calcium:
83
mg
|
Iron:
4
mg