Sheet Pan Roasted Garlic Chicken with Kale and Potatoes is an easy grilled chicken topped off with kale, potato, parmesan, and zesty lemon.
This chicken recipe is the perfect Weeknight Meal with a Potato and Kale Salad included for an easy side. If you like our Garlic Braised Chicken with Kale, you're sure to love this delicious grilled version.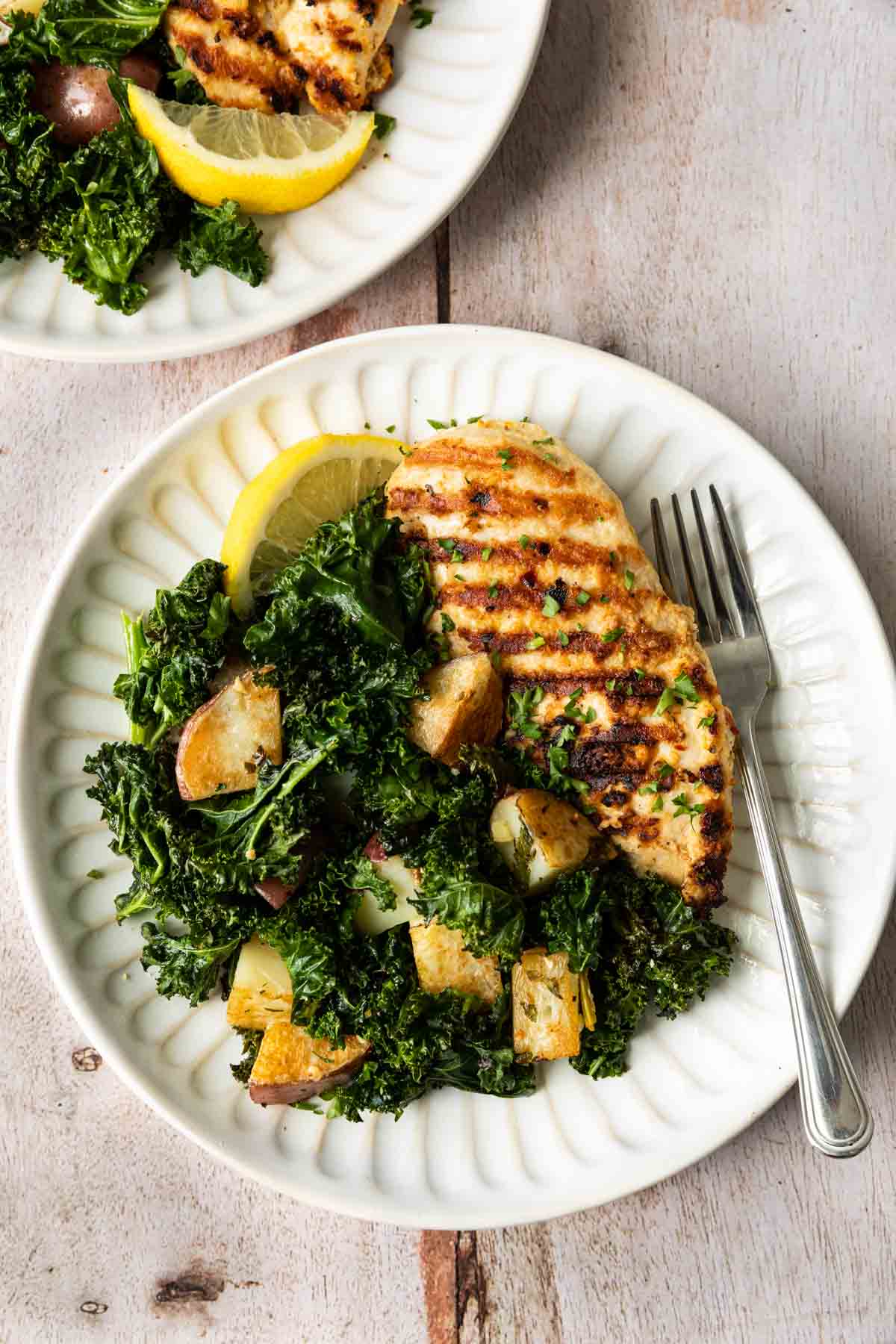 SHEET PAN ROASTED GARLIC CHICKEN, KALE AND POTATOES
This easy dinner is sure to become one of your favorites. The flavors of juicy chicken, red potatoes, kale, garlic, parmesan, and lemon blend together perfectly and bring out the best in each other. The roasted kale and potatoes are served over top of the grilled chicken for an easy, colorful, filling, and flavorful dish.
This is a filling recipe as is, but if you're serving a bigger group you can cook up some Cauliflower Rice or Roasted Tomatoes for equally tasty and healthy sides.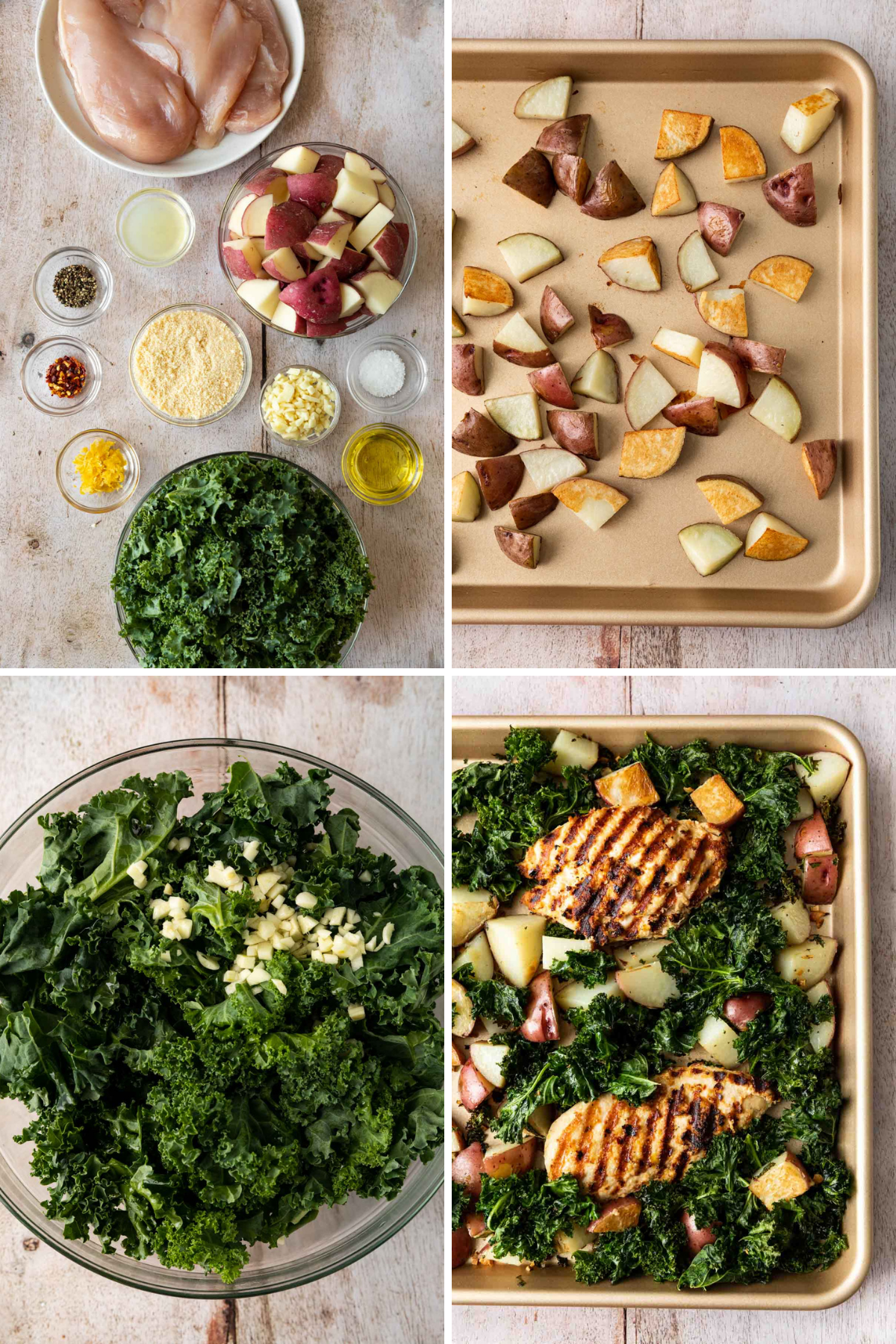 The ingredients in this recipe make an amazingly filling and healthy dish. The chicken breast is a good source of lean protein that will keep you full. Meanwhile, the kale is packed with iron, vitamin k, antioxidants, and so much more. It's a flavorful meal with plenty of veggies that's wonderfully family-friendly.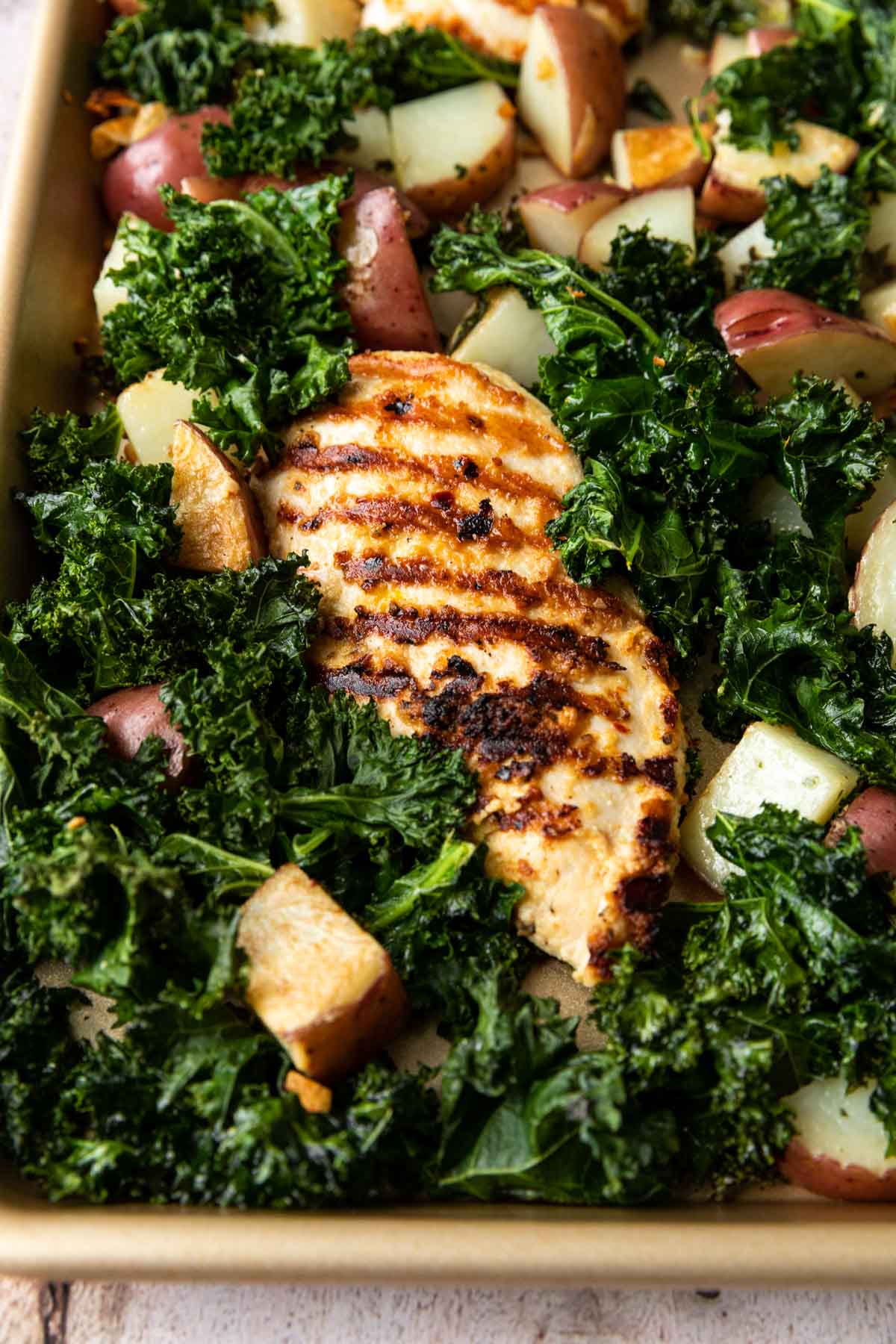 This is the perfect recipe for healthy meal prep. If you want an incredible dish to enjoy throughout the week, you can make this recipe on the weekend. Then divide it into 4 meal prep containers to store in the fridge, or freezer (depending on how long you're planning to store them). It's the perfect healthy meal to take with you to work, heat up, and enjoy for lunch.
MORE HEALTHY CHICKEN RECIPES
TIPS FOR MAKING GARLIC CHICKEN, KALE AND POTATOES
Kale and potatoes: Wash 4 red potatoes and chop them into quarters. Then toss them with ½ tablespoon olive oil, and place them on a rimmed baking sheet. Make sure they're spread out into 1 layer and roast them for 5 minutes. During the potatoes' baking time, toss the kale with ½ tablespoon oil, ¼ teaspoon salt, and pepper to taste. Add them to the baking sheet once the potatoes are done and toss the mixture together. Roast for another 15 to 20 minutes. Stop the cooking time halfway through to stir once, then continue until the kale is crisp and the potatoes are tender.
Chicken: Preheat your grill, or prep a grill pan with olive oil over medium heat. Slice the boneless, skinless chicken breasts in half horizontally so you have 4 pieces of meat. Coat each cutlet in ½ tablespoon olive oil and season them with salt and pepper. Grill for 2-4 minutes per side. You want the meat cooked through with grill marks on the outside. Then transfer the chicken to serving plates.
Kale salad: Toss the kale and potatoes with the remaining olive oil, salad greens, tomatoes, parmesan lemon juice, salt, and pepper. Then divide it over the chicken and serve.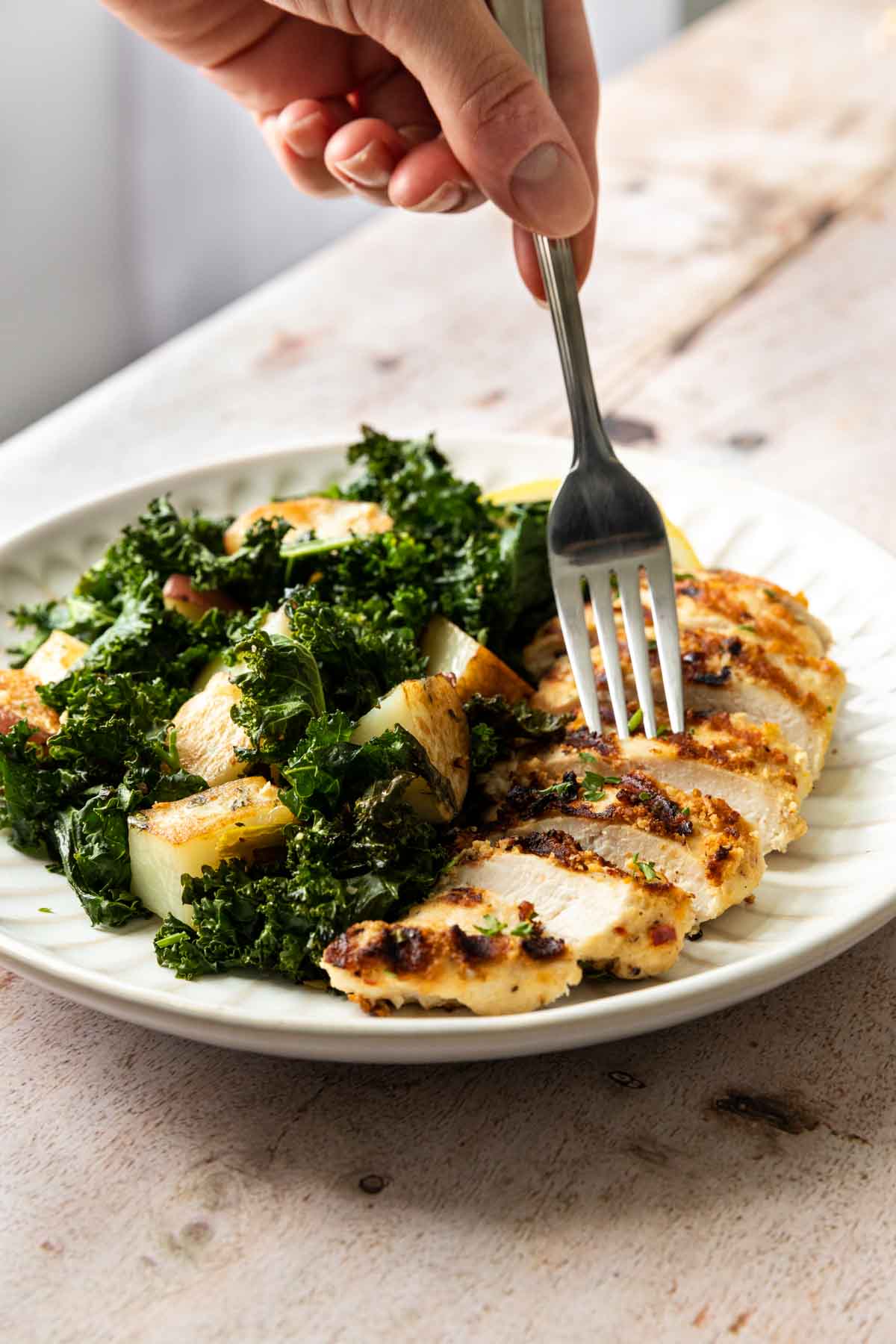 Create a free account to

Save Recipes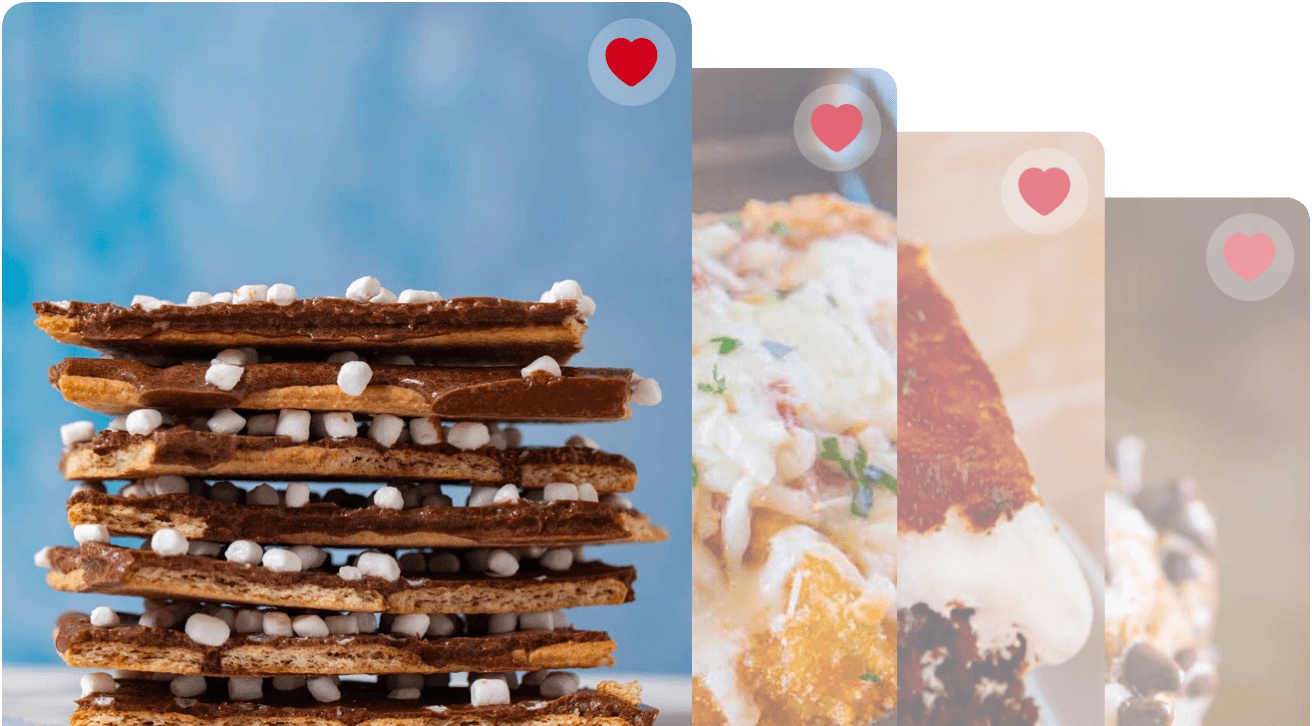 19
VARIATIONS ON SHEET PAN ROASTED GARLIC CHICKEN, KALE, AND POTATOES
Vegetables: You can add more roasted veggies to cook along with the kale and the potatoes. Try using yellow onion, baby carrots, broccoli, sweet potatoes, cauliflower, bell peppers, or zucchini.
Seasonings: Easily experiment with the flavors in this recipe by adding your favorite seasonings. Onion powder, rosemary, thyme, oregano, parsley, sage, or paprika could all make wonderful additions.
Creamy chicken with kale: To make a creamy chicken recipe, you can whisk together the lemon, red pepper flakes, and oil with a creamy ingredient for a more thick sauce to top the dish off. ½ cup Greek yogurt or light mayonnaise would work well for the creamy base. Whisk the oil in slowly until you have reached the desired consistency.
WHAT TO SERVE WITH ROASTED GARLIC CHICKEN
HOW TO STORE SHEET PAN ROASTED GARLIC CHICKEN, KALE AND POTATOES
Serve: After cooking, don't leave the recipe at room temperature for more than 2 hours.
Store: You can also put the entire meal in an airtight container to store in the fridge for 3-4 days.
Freeze: For long-term storage, freeze the meal for 10 to 12 months.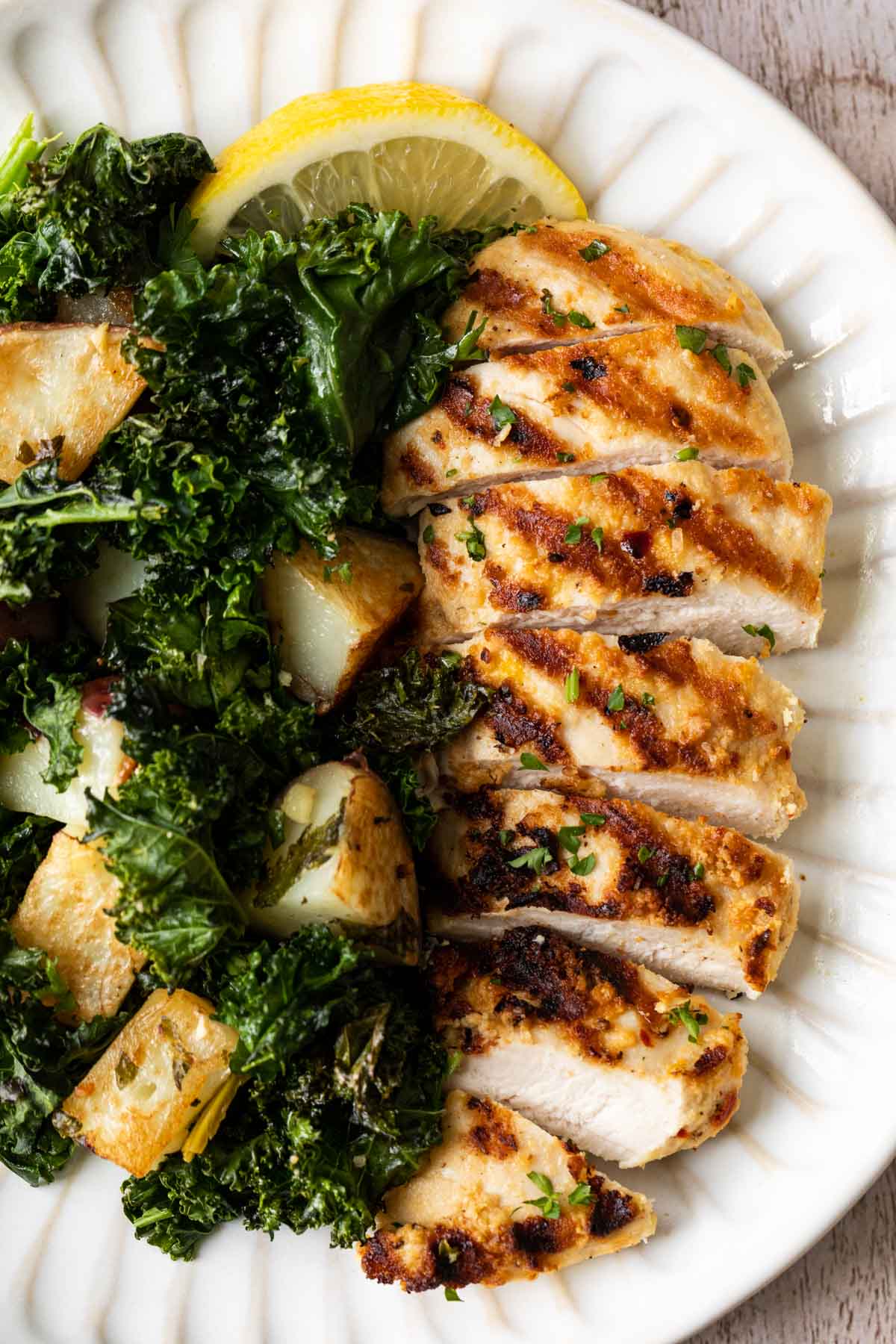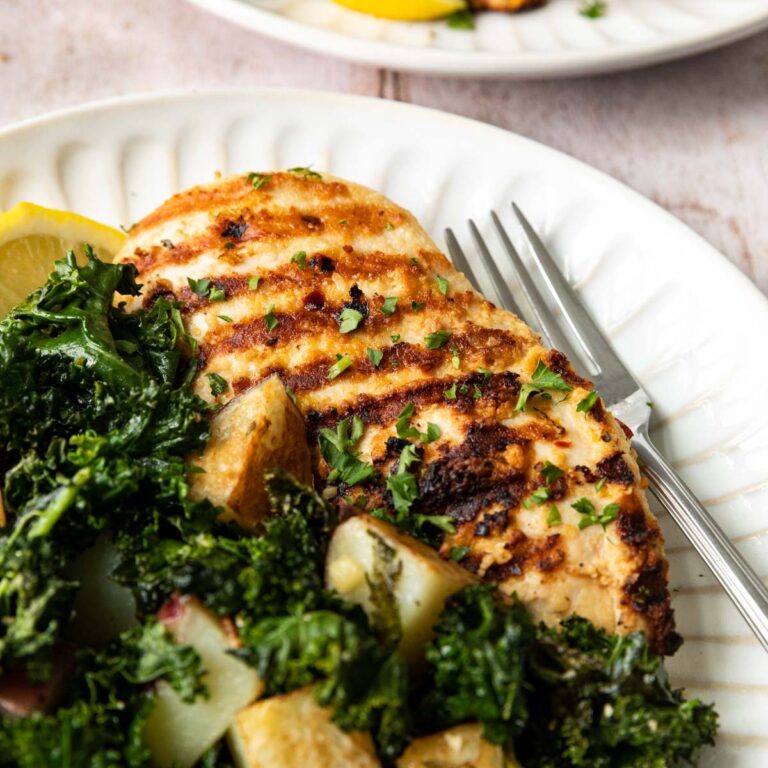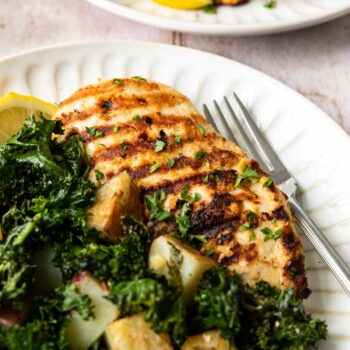 Print Recipe
Sheet Pan Garlic Chicken, Kale and Potatoes
Sheet Pan Roasted Garlic Chicken with Kale and Potatoes is an easy grilled chicken topped off with kale, potato, parmesan, and zesty lemon.
Ingredients
1

pound

red potatoes

, quartered

2

tablespoons

extra virgin olive oil

6

cups

kale

, stems removed, chopped

3

cloves

garlic

, minced

2

boneless chicken breasts

, cut into thin cutlets

1

teaspoon

kosher salt

1/2

teaspoon

coarse ground black pepper

1/3

cup

grated Parmesan

1

tablespoon

fresh lemon juice

1

teaspoon

lemon zest

1/4

teaspoon

crushed red pepper flakes
Instructions
Preheat the oven to 425 degrees degrees and spray a baking sheet with vegetable oil spray.

In a large bowl add the potatoes, kale, garlic and half the olive oil.

Spread onto baking sheet and roast for

15 minutes

.

Season chicken with remaining olive oil, salt, pepper, grated parmesan, lemon juice, lemon zest and crushed red pepper flakes.

Nestle the chicken in the vegetables and continue cooking for another

20-25 minutes

.
Nutrition
Calories:
369
kcal
|
Carbohydrates:
37
g
|
Protein:
23
g
|
Fat:
16
g
|
Saturated Fat:
4
g
|
Trans Fat:
1
g
|
Cholesterol:
43
mg
|
Sodium:
816
mg
|
Potassium:
1421
mg
|
Fiber:
3
g
|
Sugar:
2
g
|
Vitamin A:
10210
IU
|
Vitamin C:
138
mg
|
Calcium:
273
mg
|
Iron:
3
mg