Roasted Chicken with Fresh Lemon Garlic Herb Sauce is juicy and flavorful with a rich refreshing lemon, garlic, and mint sauce.
Oven-roasted chicken recipes, like this one and Roasted Garlic Chicken, are great for making flavorful, juicy chicken healthy and easy for the Perfect Weeknight Dinner.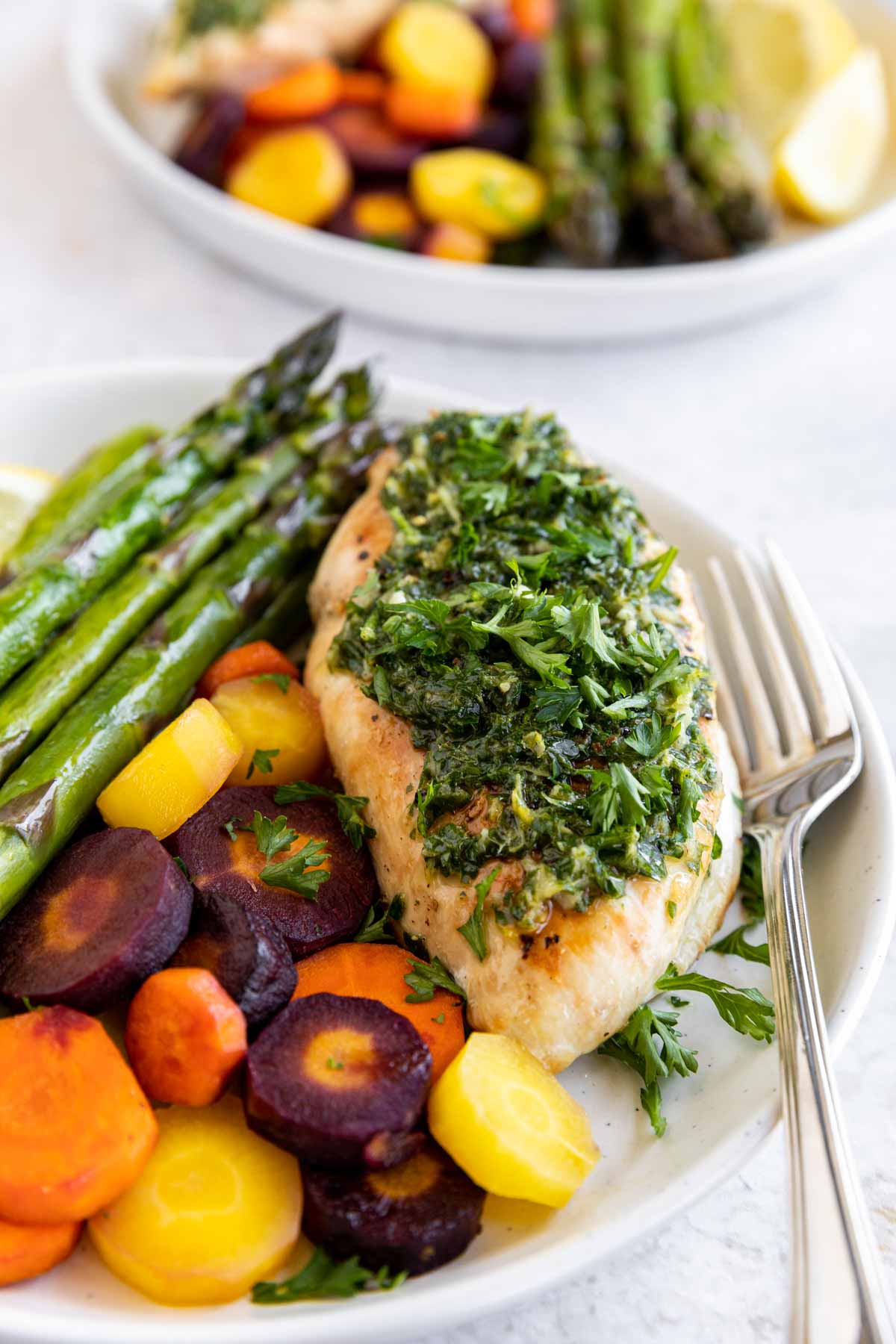 This is the perfect roast chicken recipe for a quick weeknight meal that's sure to impress. The breast meat is only seasoned with salt and pepper before roasting. However, it turns out wonderfully juicy, tender, and has loads of flavor. Before serving, the amazing roast chicken is topped off with a delicious herb sauce with a refreshing lemon and garlic taste.
Flavoring the chicken with lemon, garlic, and fresh herbs gives the chicken a wonderfully refreshing flavor. The Lemon Garlic Herb Roasted Chicken is sure to impress with its zesty, tangy, and savory sauce. You may want to keep the sauce recipe in your back pocket to try on other recipes and bring out their maximum taste. You could use it to top off a salad, other chicken recipes, or even turkey dinners.
Lemon Garlic Roast Chicken is easy enough to make during the week, but you can also dress it up with garnishes and sides for a special occasion. Serve your herb-roasted chicken with Healthy Mashed Potatoes, Roasted Sweet Potatoes, or Roasted Cauliflower Rice. Any of these simple side dishes will go great with the flavorful chicken for a delicious, and impressive dinner. Before serving, you can plate the dish with lemon slices, rosemary sprigs, or cilantro for easy garnishes.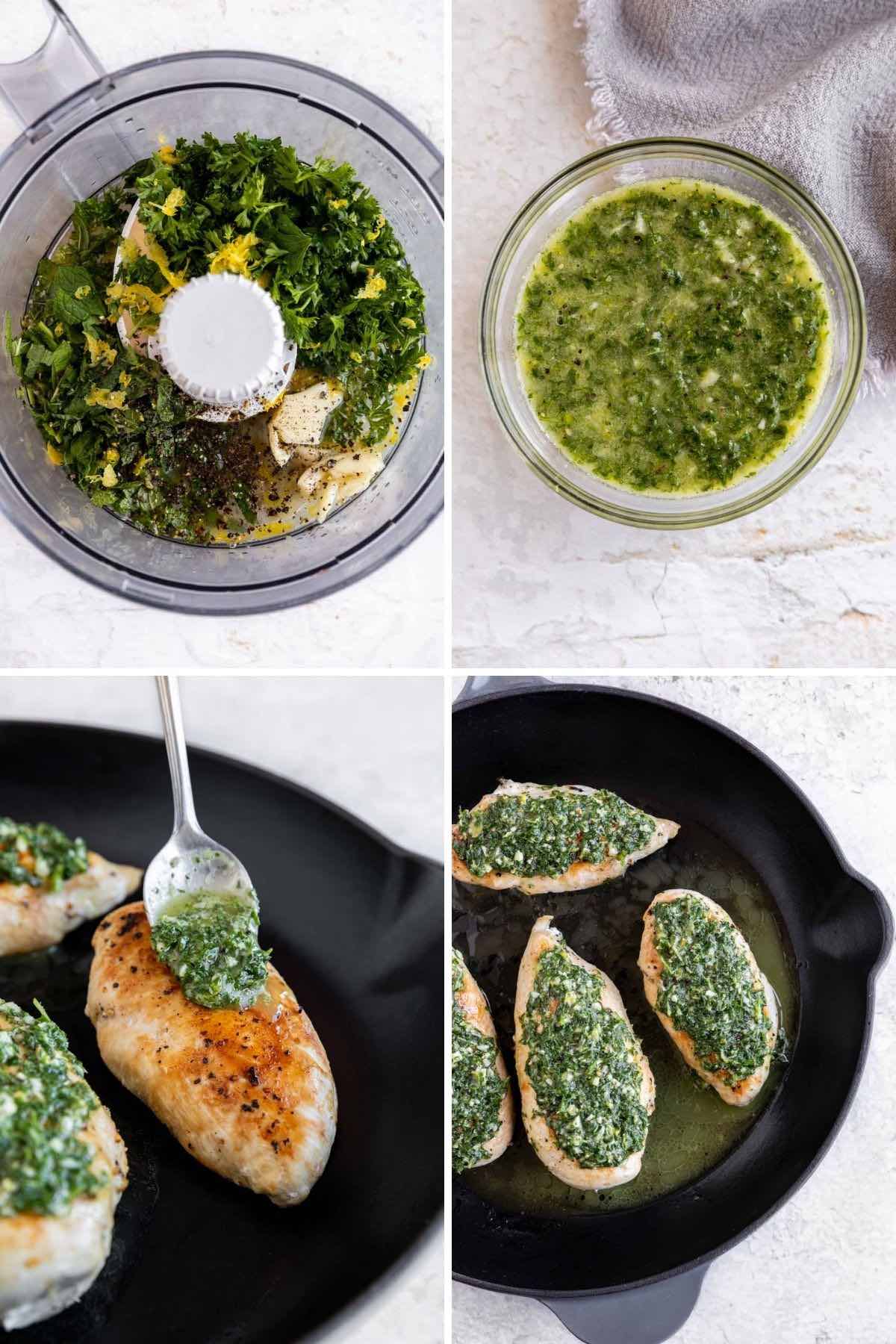 More Chicken Recipes 
Tips for Making Roasted Chicken with Fresh Lemon Garlic Herb Sauce 
Stovetop: There are two main parts to this Roast Chicken recipe, the chicken and the creamy garlic sauce. The chicken portion starts on the stovetop. Add oil to the base of an ovenproof skillet or dutch oven. Set the stove to medium-high heat, and shift the pan around to make sure the oil is coating the whole base. Season the boneless skinless chicken breasts on the smooth side with salt and pepper. Then place the chicken seasoned-side-down in the skillet. Cook for 3-4 minutes until browned. Then season chicken over the top and flip it over to cook for another minute.
Oven cooking time: As you're prepping the chicken, set the oven temperature to 450 degrees F. Once the chicken is done on the stovetop, pop it in the preheated oven. Bake for 6-8 minutes. You can use a meat thermometer to check the internal temperature has reached 165 degrees. If it's below that increase the cook time by a couple of minutes until it reaches the right temperature.
Sauce: While the chicken is finishing you can start the sauce. First, smash the garlic clove, then use the flat of your knife to mash it into a paste, and add the salt to that. Scrape the paste into your blender and add the flat-leaf parsley, mint, pepper, lemon zest, and lemon juice. Pulse the garlic-herb mixture until it's all broken up into coarse pieces. Drizzle the olive oil in, and transfer the mixture to a bowl. Pour the sauce over the chicken and serve.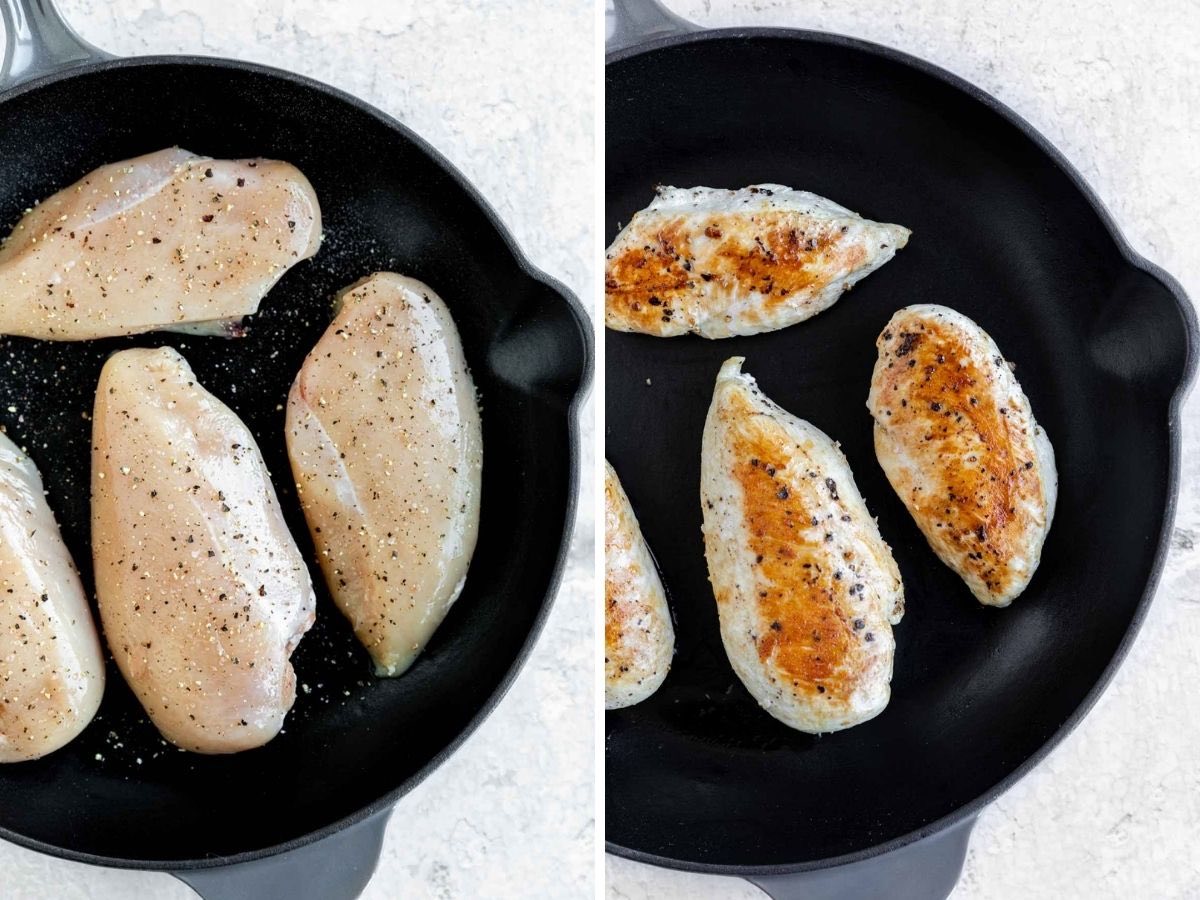 Create a free account to

Save Recipes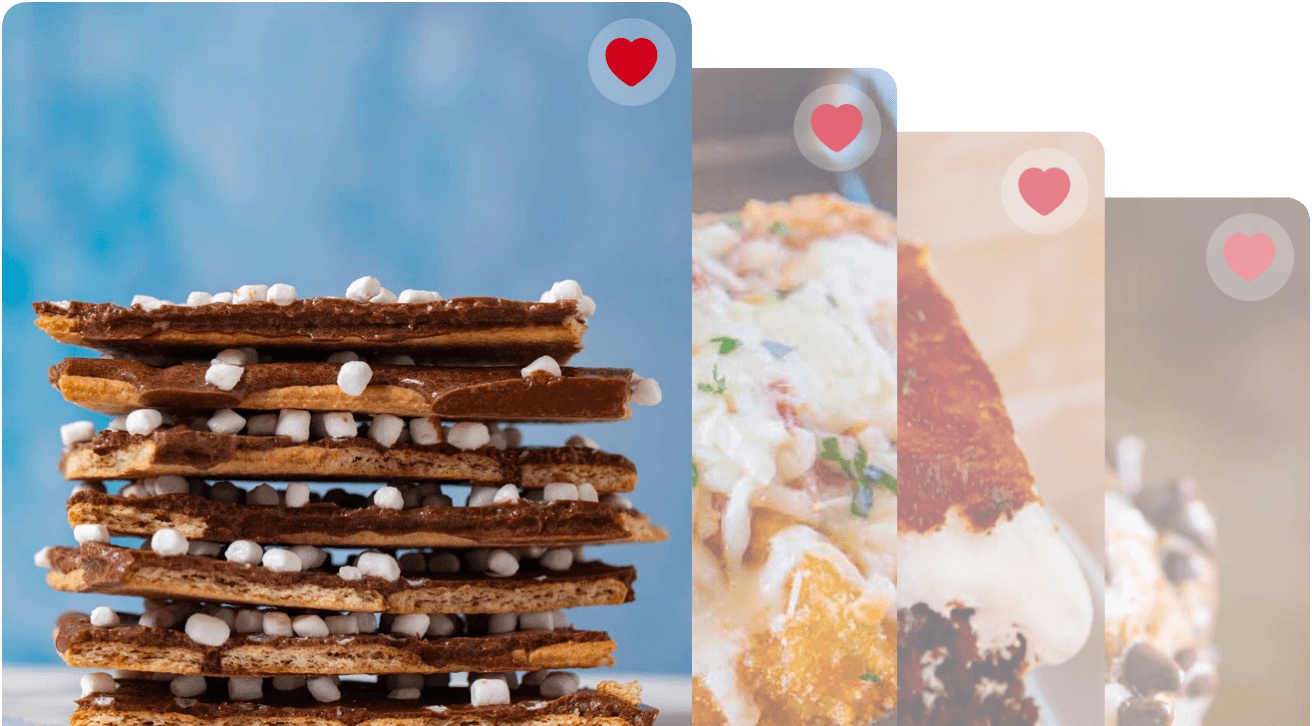 Variations on Roasted Chicken with Fresh Lemon Garlic Herb Sauce
Seasonings: There are lots of refreshing and unique flavors in this dish because of the fresh herbs in the sauce. However, you can always experiment with different kinds of spices and herbs. Try adding some fresh rosemary sprigs, a teaspoon of paprika, red pepper flakes, oregano, or a teaspoon of Italian seasoning for extra flavor.
Sauce Liquid: To experiment with the sauce try pouring in a splash of white wine, rice wine vinegar, or balsamic vinegar.
Vegetables: For extra variety in your dish, you can add some veggies to roast along with the chicken. Broccoli, cauliflower, pepper, onion slices, carrots, or green beans would make delicious additions. Cook them with the chicken, then pour the sauce over the whole dish before serving.
Chicken Thighs: If you don't have chicken breasts, you can try this recipe with crispy chicken legs. Just remember that chicken thighs take longer to cook than breasts. Add a few extra minutes to the cook time, and be sure to check their internal temperature has reached 165 degrees F before serving.
What to Serve with Roast Chicken
How to Store Roasted Chicken with Fresh Lemon Garlic Herb Sauce 
Serve: If you have leftover chicken, don't leave it out at room temperature for more than 2 hours.
Store: Let the meat cool to room temperature, then wrap it in tin foil or put it in an airtight container to store in the fridge. It should keep well for 3-4 days.
Freeze: You could also seal and freeze the Roasted Chicken for up to 4 months.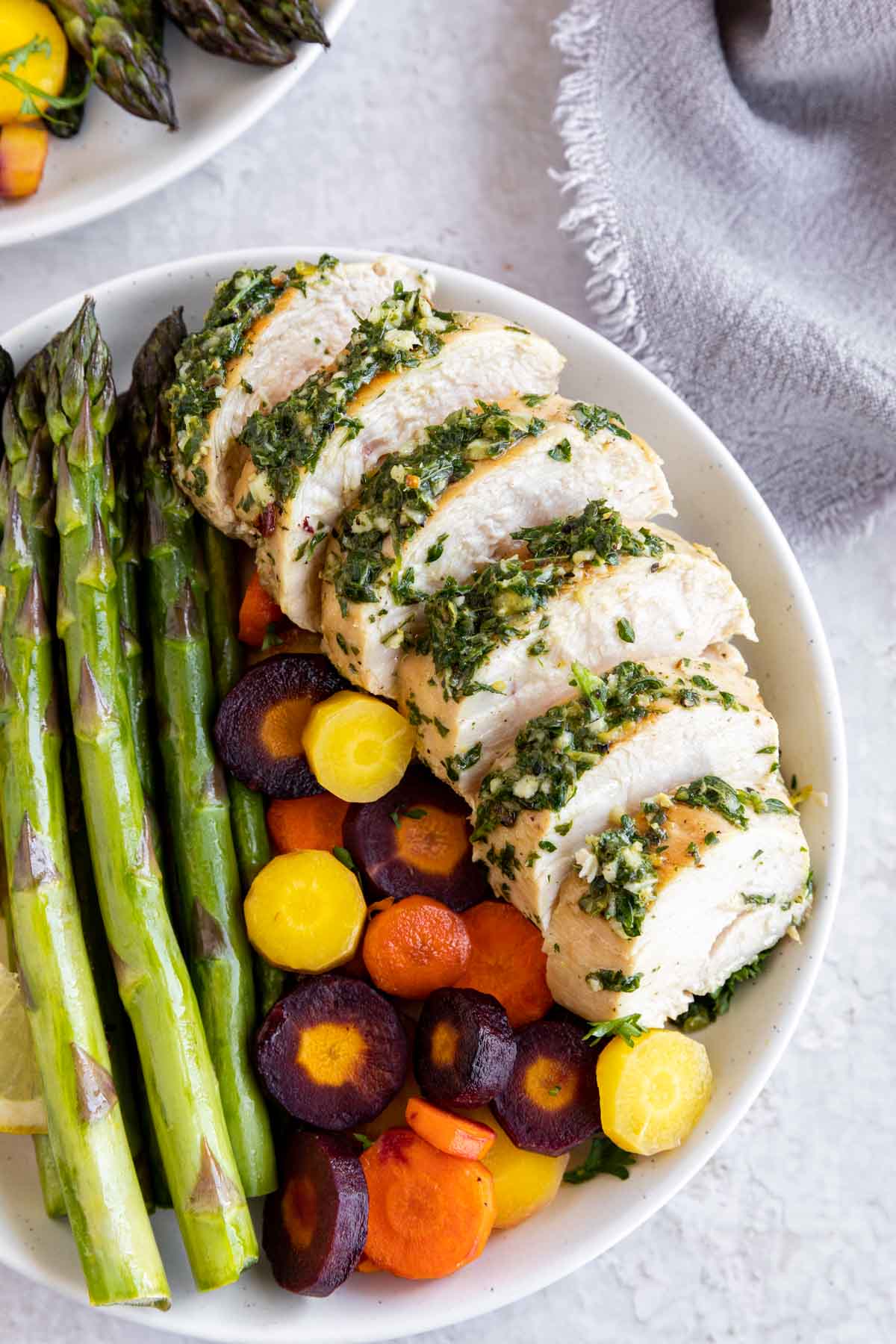 Ingredients
2

tablespoons

extra virgin olive oil

4

chicken breast halves

, boneless skinless

1

teaspoon

kosher salt

1/2

teaspoon

coarse ground black pepper
Lemon Herb Sauce:
1

clove

garlic

, peeled

1/4

teaspoon

kosher salt

1/2

cup

fresh parsley

, chopped

1/3

cup

fresh mint

, chopped

1 1/2

teaspoons

coarse ground black pepper

1

lemon

, zested and juiced

1/3

cup

extra virgin olive oil
Instructions
Roast Chicken:
Preheat the oven to 450 degrees.

Place a large ovenproof skillet over medium-high heat with olive oil on the base of the pan.

Season each chicken breast with salt and pepper.

Place the chicken in the skillet and cook until brown and crisp, about

3-4 minutes.

Flip and cook for another

1 minute.

Transfer skillet to the oven, and bake for

6-8 minutes

.

Let chicken rest for 5 minutes before slicing.
Sauce:
Smash the garlic cloves, then sprinkle salt over the top, and mash into a paste with the side of your knife.

Transfer the paste to a blender with parsley, mint, pepper, lemon zest, and lemon juice.

Pulse until coarsely chopping, and slowly add in the olive oil.

Serve over the chicken.
Nutrition
Calories:
367
kcal
|
Carbohydrates:
4
g
|
Protein:
25
g
|
Fat:
28
g
|
Saturated Fat:
4
g
|
Polyunsaturated Fat:
3
g
|
Monounsaturated Fat:
19
g
|
Trans Fat:
1
g
|
Cholesterol:
72
mg
|
Sodium:
865
mg
|
Potassium:
535
mg
|
Fiber:
2
g
|
Sugar:
1
g
|
Vitamin A:
836
IU
|
Vitamin C:
27
mg
|
Calcium:
39
mg
|
Iron:
1
mg