Healthy Chocolate Peanut Butter Chip Cookies are the perfect, chewy and soft whole wheat cookies loaded with melty peanut butter chips and semisweet chocolate chips.
Is there anything better than finding a healthy version of a favorite Dessert Recipe? Just like our ridiculously amazing Chocolate Chip Cookies, these Peanut Butter Chocolate Chip Cookies use rolled oats and other nutritious ingredients so you can indulge in them completely guilt-free!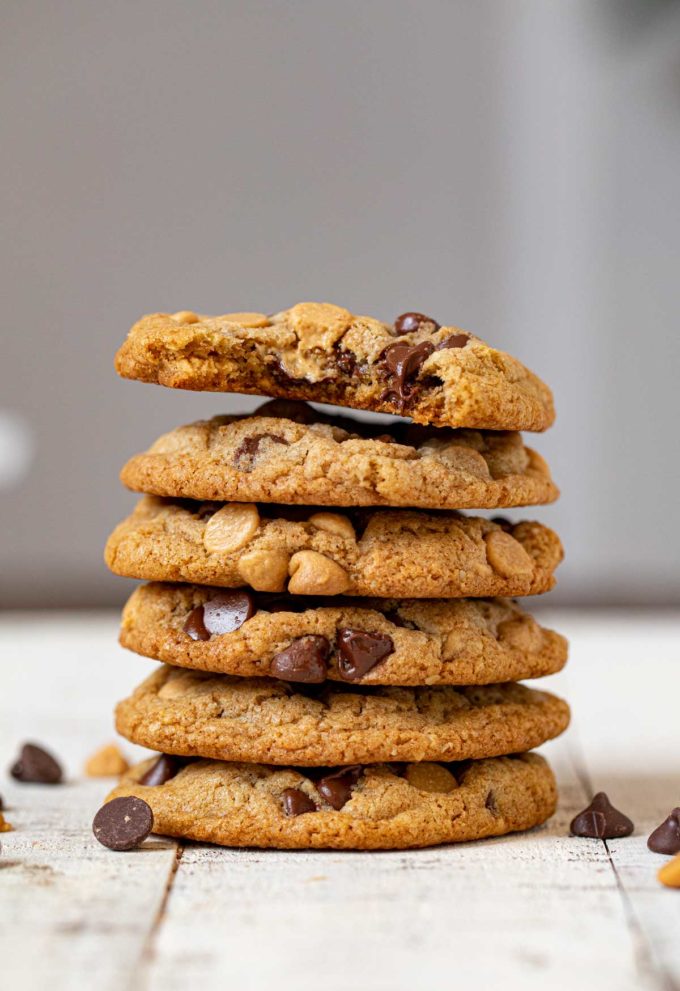 HEALTHY CHOCOLATE PEANUT BUTTER CHIP COOKIES
It's time to get baking! This easy and delicious dessert is one you'll find yourself making again and again. There's just nothing better than the flavor combination of creamy peanut butter and chocolate. Throw those in a whole wheat cookie and what's not to love?
If you love healthy baking, you've probably already tried our healthy alternative to Banana Bread, and Whole Wheat Chocolate Zucchini Bread. One of the easiest ways to make your favorite baked goods more nutritious is by using whole wheat flour. This Wheat Peanut Butter Cookie recipe is full of wholesome ingredients, but is still just as gooey and delicious as you expect a Peanut Butter Cookie to taste.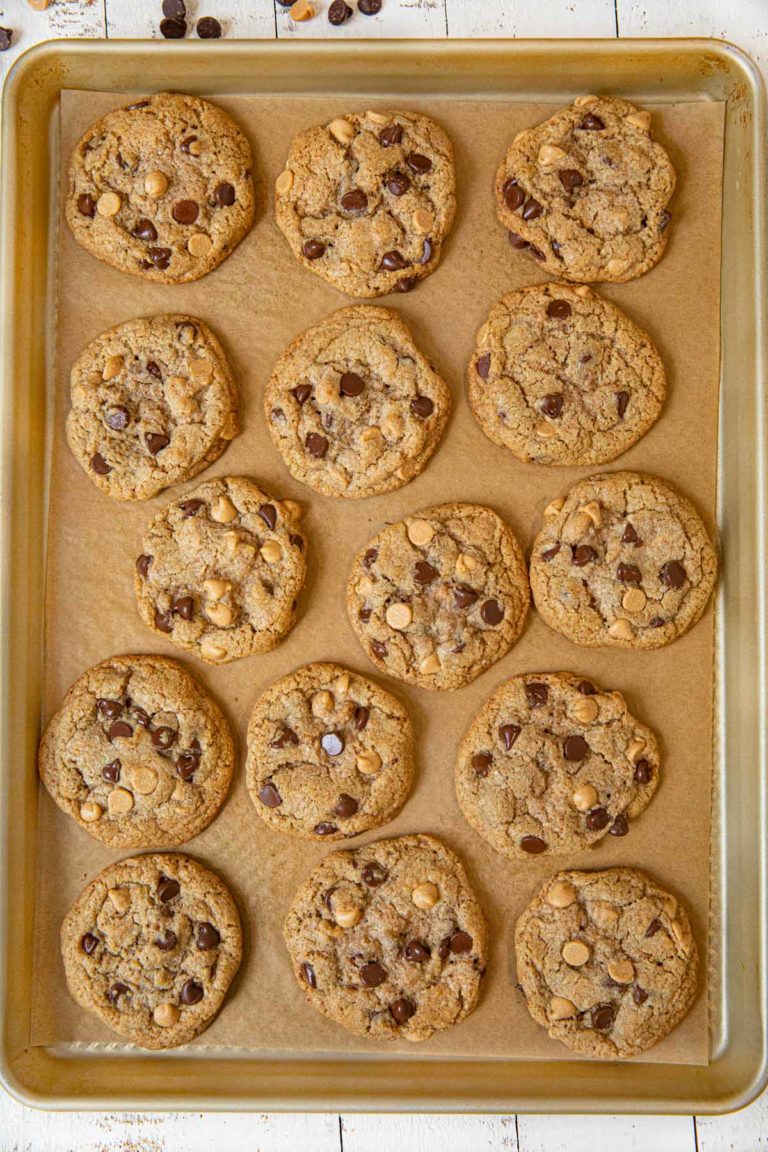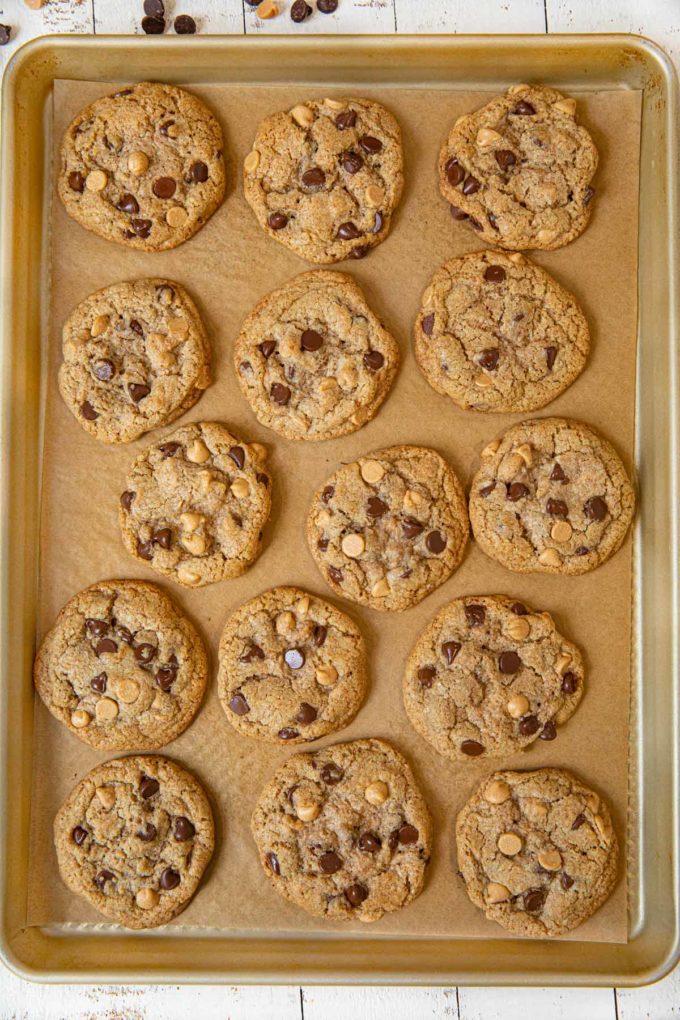 The secret to the most beautiful cookies on the block:
You might notice in this recipe you only mix in half the chocolate chips and half the peanut butter chips with the dough.
You set the other chips aside in a large bowl.
Then roll the dough into balls and roll the chips on the outside.
This makes the cookies just stunning to look at. If you stir all the chips into the dough they'll be hidden inside the cookie. This way the chips are throughout and outside the cookie, which makes them look and taste bakery worthy.
MORE HEALTHY DESSERTS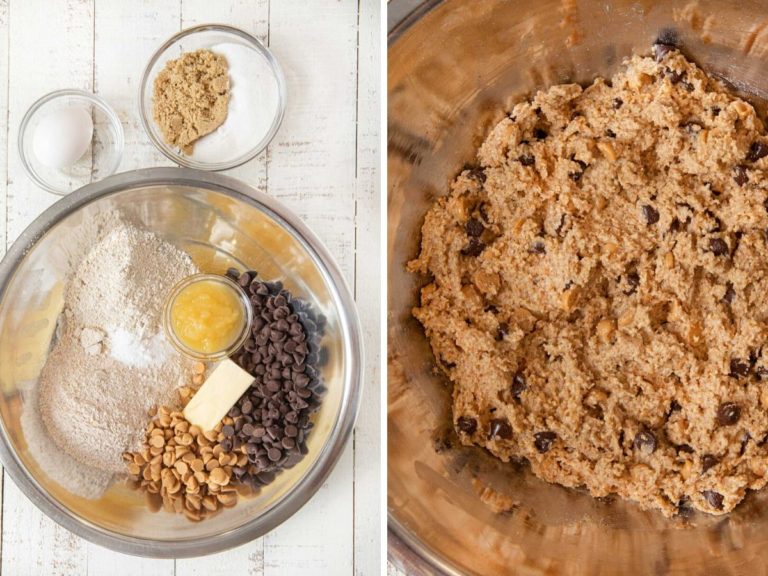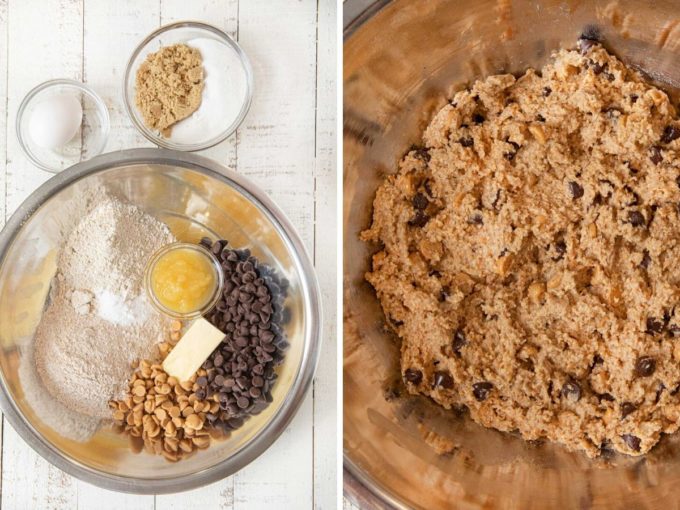 Create a free account to

Save Recipes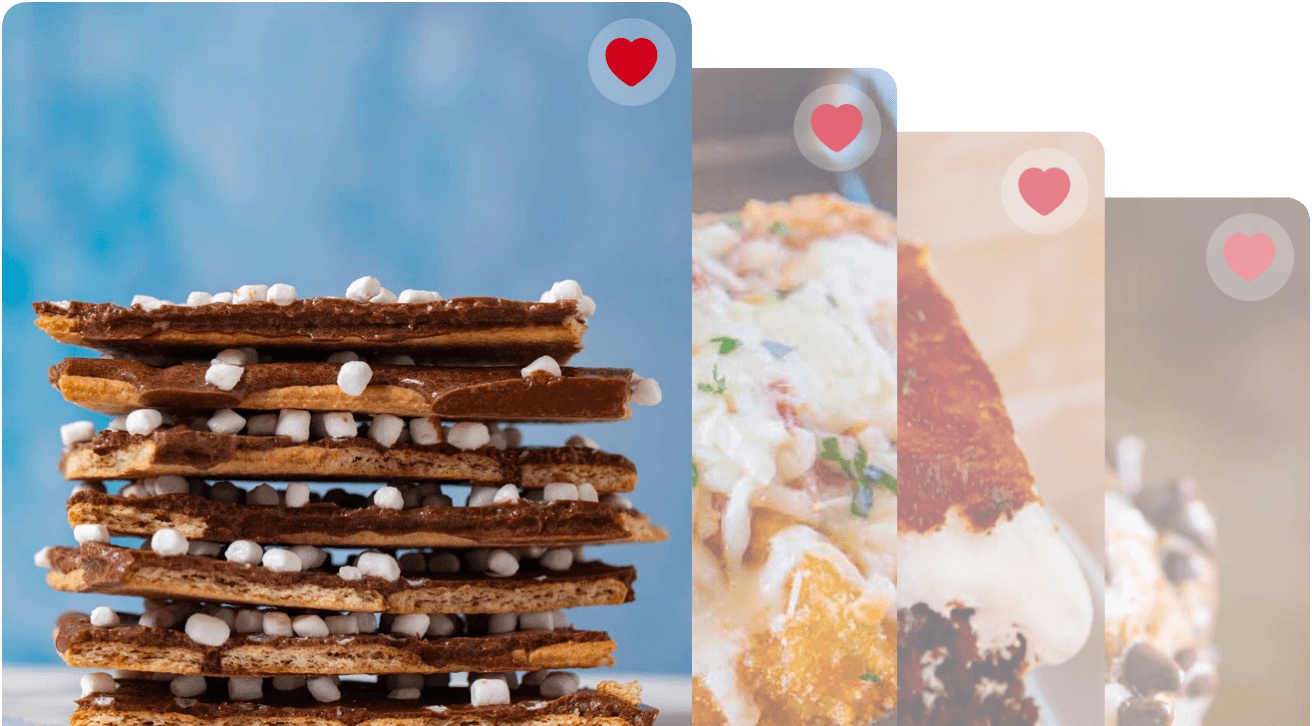 VARIATIONS ON HEALTHY CHOCOLATE PEANUT BUTTER CHIP COOKIES
Add-ins: This Peanut Butter Chocolate Chip recipe is so versatile. There are so many mix-ins you can try the next time you make this great recipe. If you'd like more peanut butter flavor add half a cup of low fat peanut butter or creamy peanut butter to the granulated sugar, brown sugar and butter. You can also use almond butter if you prefer. For more crunchy texture add a handful or two of crushed peanuts or almonds to the Peanut Butter Chocolate Chip Cookies. You can also change the chocolate chips you use to white chocolate, milk chocolate, or dark chocolate chips.
Oatmeal Cookies: For this Whole Wheat Peanut Butter Cookie recipe you grind the oats into a fine powder. But, to make oatmeal cookies with chewy oats, you don't have to grind the old fashioned oats into flour. Instead, add them to the cookie dough whole for Oatmeal Peanut Butter Cookies.
Gluten-free: To make cookies without gluten replace the whole wheat in the ingredients with almond flour. Pure oats are already gluten-free, but you may want to check the label to make sure there's no cross-contamination. For gluten and grain-free cookies, replace the oat flour and wheat flour with almond flour.
Vegan: Whole Wheat Peanut Butter Cookie dough is already free from any milk. To make it dairy-free just switch the chocolate and peanut butter chips in the recipe for a dairy-free chips. Replace the egg with a vegan alternative. Some good exchanges for eggs in dough are are applesauce, flax eggs, or ground chia.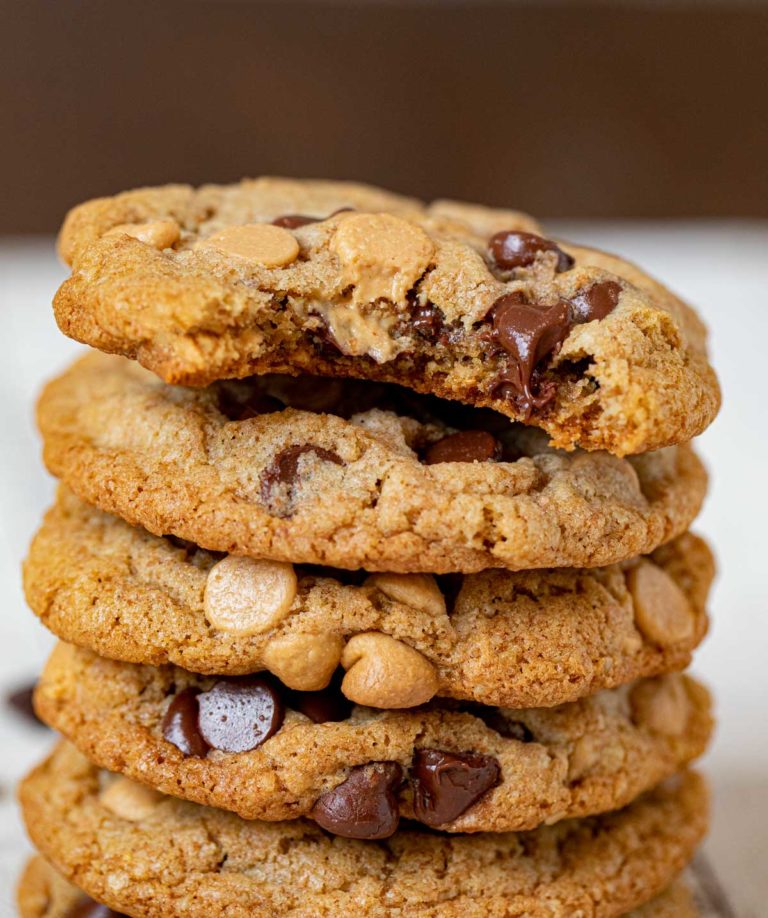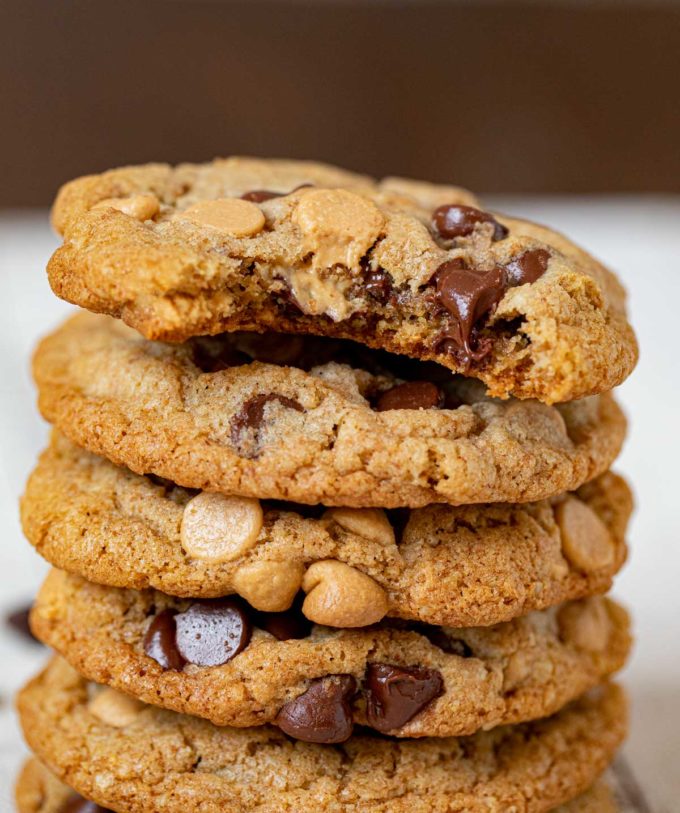 MORE SWEET RECIPES
HOW TO STORE HEALTHY CHOCOLATE CHIP PEANUT BUTTER CHIP COOKIES
Serve: Freshly baked Peanut Butter Chocolate Chip Cookies can stay fresh at room temperature in an airtight container for 3 weeks.
Store: In an airtight container or sealed plastic bag this cookie recipe can stay good in the fridge for a week.
Freeze: If you'd like to make these Whole Wheat Peanut Butter Cookies ahead and store them in the freezer they can stay good for up to 6 months. Make sure to let the cookies cool to room temperature before sealing them in a freezer-bag or airtight container. When you're ready to eat the Peanut Butter Cookies let them defrost in the fridge before reheating them. You can also make the cookie dough ahead and freeze it for 3 months before baking.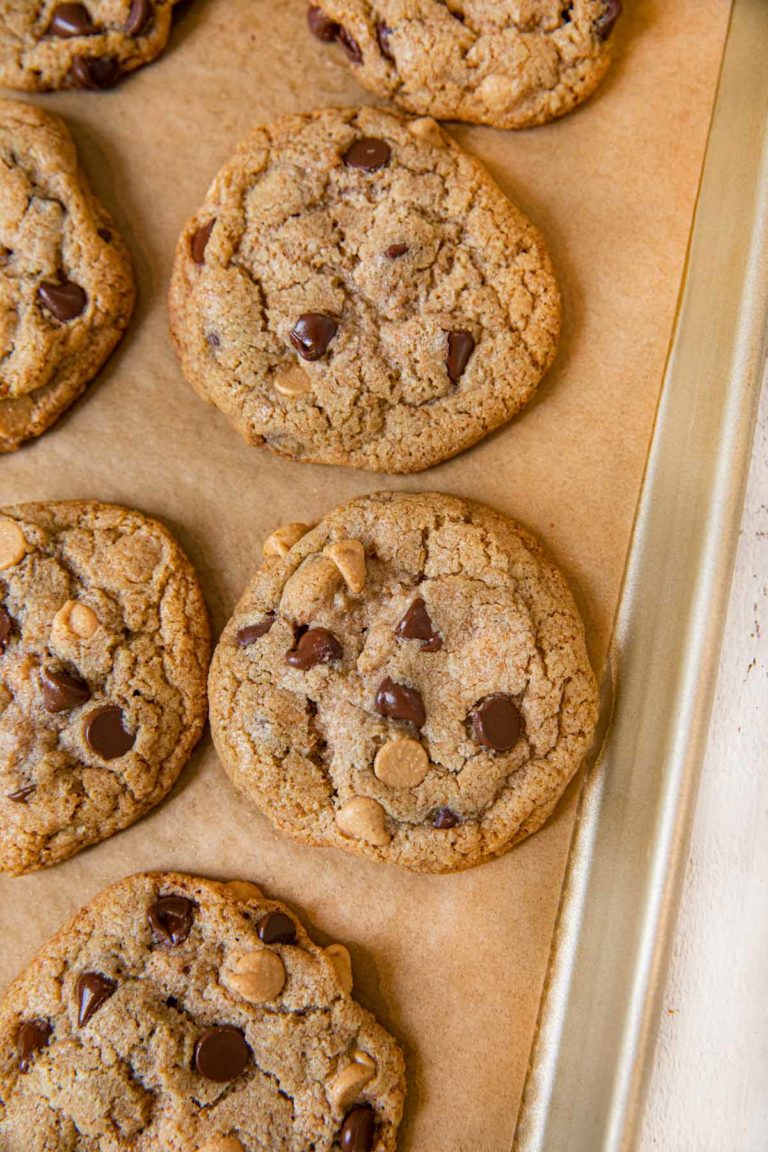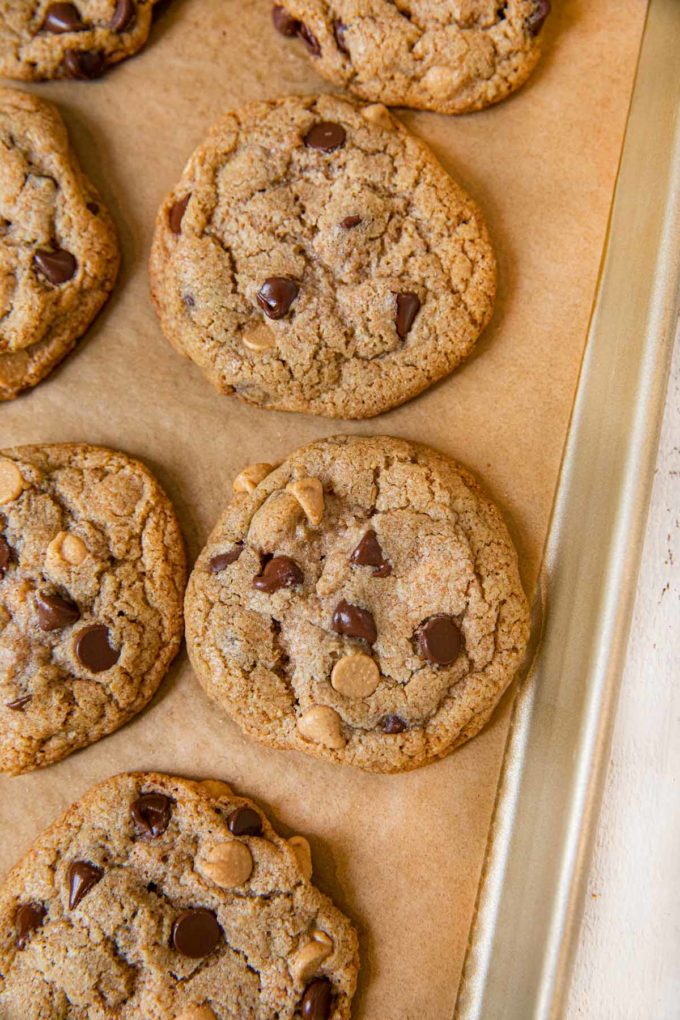 Ingredients
4

cups

rolled oats

6

tablespoons

unsalted butter

, softened

1/3

cup

granulated sugar

1/3

cup

brown sugar

1

large

egg

2

teaspoons

vanilla extract

2

tablespoons

applesauce

1

cup

whole wheat flour

1/2

teaspoon

baking soda

1/2

teaspoon

salt

1/2

cup

semi-sweet chocolate chips

, divided

1/2

cup

peanut butter chips

, divided
Instructions
Pre-heat oven to 350 degrees and line baking sheet with parchment paper.

Add rolled oats to a food processor and grind until they're a fine powder.

In a stand mixer cream together butter, sugar and brown sugar on medium speed until light and fluffy.

Add in egg and vanilla until well combined.

Add in applesauce until smooth.

Sift together oat flour (your ground oats), whole-wheat flour, baking soda and salt.

Add to the stand mixer on the lowest setting until just combined.

Fold in HALF the chocolate chips and half of the peanut butter chips.

Place the rest of the chocolate chips and the rest of the peanut butter chips in a small bowl and scoop 18 balls of dough (just shy of 2 tablespoons) onto a large plate.

Roll each ball of cookie dough in a small amount of extra chips until they're all rolled and you run out of the remaining chips.

Refrigerate the dough for

20 minutes

.

Bake for

12-14 minutes

, 6 to a regular sized cookie sheet (bake in batches, keep cookie dough in refrigerator while other cookies are baking).
Nutrition
Calories:
214
kcal
|
Carbohydrates:
30
g
|
Protein:
5
g
|
Fat:
9
g
|
Saturated Fat:
5
g
|
Cholesterol:
22
mg
|
Sodium:
112
mg
|
Potassium:
127
mg
|
Fiber:
3
g
|
Sugar:
12
g
|
Vitamin A:
132
IU
|
Calcium:
21
mg
|
Iron:
2
mg