These are hands down the BEST EVER Healthy Chocolate Chip Cookies with semi-sweet chocolate chips. Chewy, rich, buttery cookies…and healthier.
Just like Oatmeal Banana Cookies, these Chocolate Chip Cookies are easy, flavorful, and amazingly kid-friendly. These heart-healthy cookies are sure to become your new go-to Dessert Recipes to satisfy the whole family!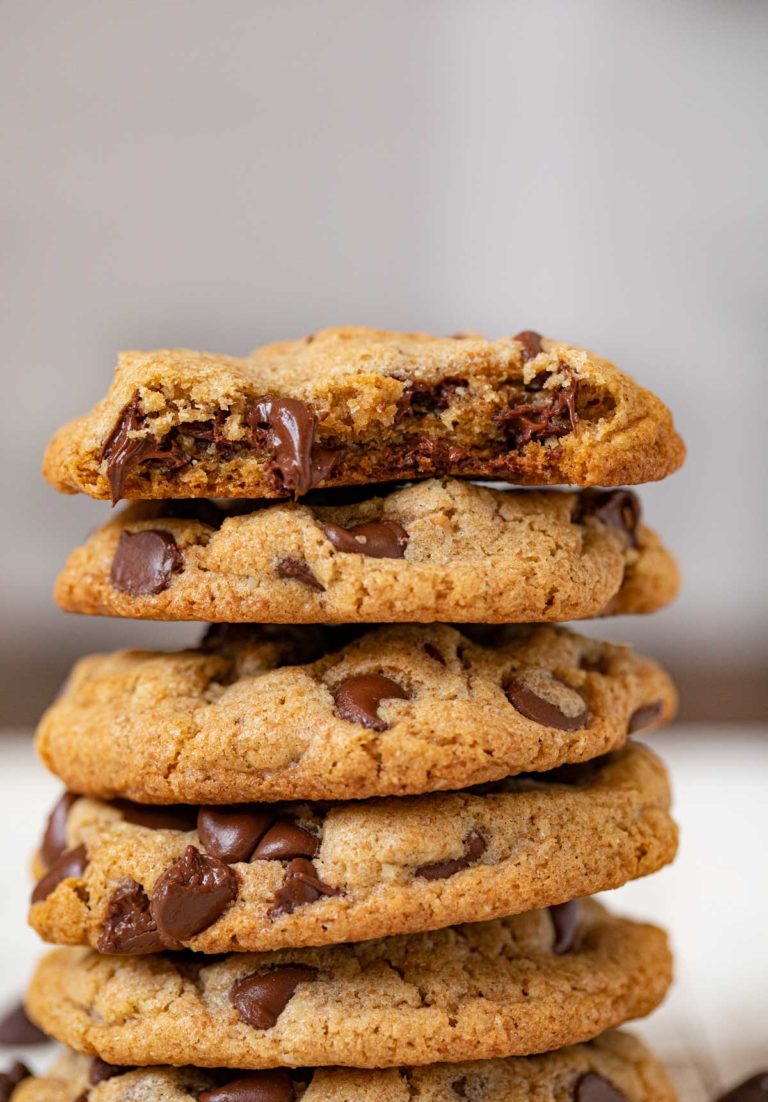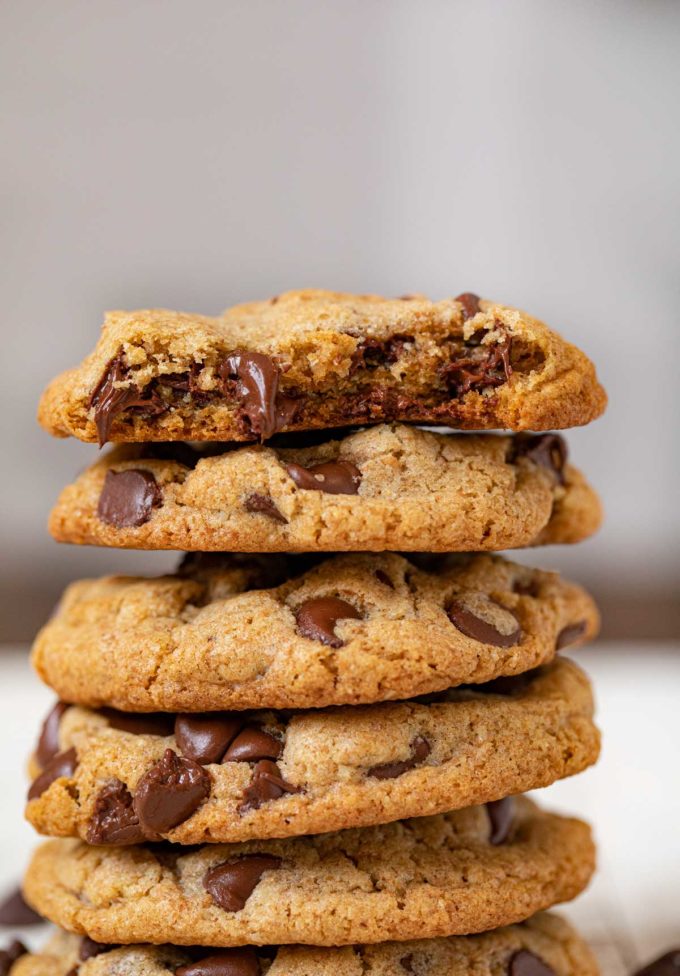 HEALTHY CHOCOLATE CHIP COOKIES
We're going to just cut to the chase here. These cookies are, unequivocally, without a shadow of a doubt, the best healthier Chocolate Chip Cookies we've tested and we have baked over 50 batches to get to this recipe.
These ooey-gooey cookies are such a great recipe to satisfy your sweet tooth without unhealthy ingredients or too many calories. The chewy and crispy texture makes these the perfect chocolate chip cookies. Great to pack in lunches, as an after school treat, or to make a tray to bring to a party.
Why are they the best? They're chewy, they're buttery, they're loaded with chocolate chips. Plus it uses applesauce in place of much of the butter. There's zero all-purpose white flour, the recipe uses whole wheat flour and ground rolled oats instead.
Rolled Oats
The rolled oats go a long way in adding amazing chewiness to the cookie you'd only expect from the copious amounts of butter you use in other cookies.
We pulverize the oats in the food processor to make a flour out of them, but the chewiness they add to the cookies remains.
Butter, yes, Butter
Doing the math on the butter, this recipe makes 18 cookies. With 6 tablespoons of butter that means you are accounting for 1 teaspoon of butter per cookie. Hopefully it's worth 1 teaspoon of butter to enjoy a crazy good cookie.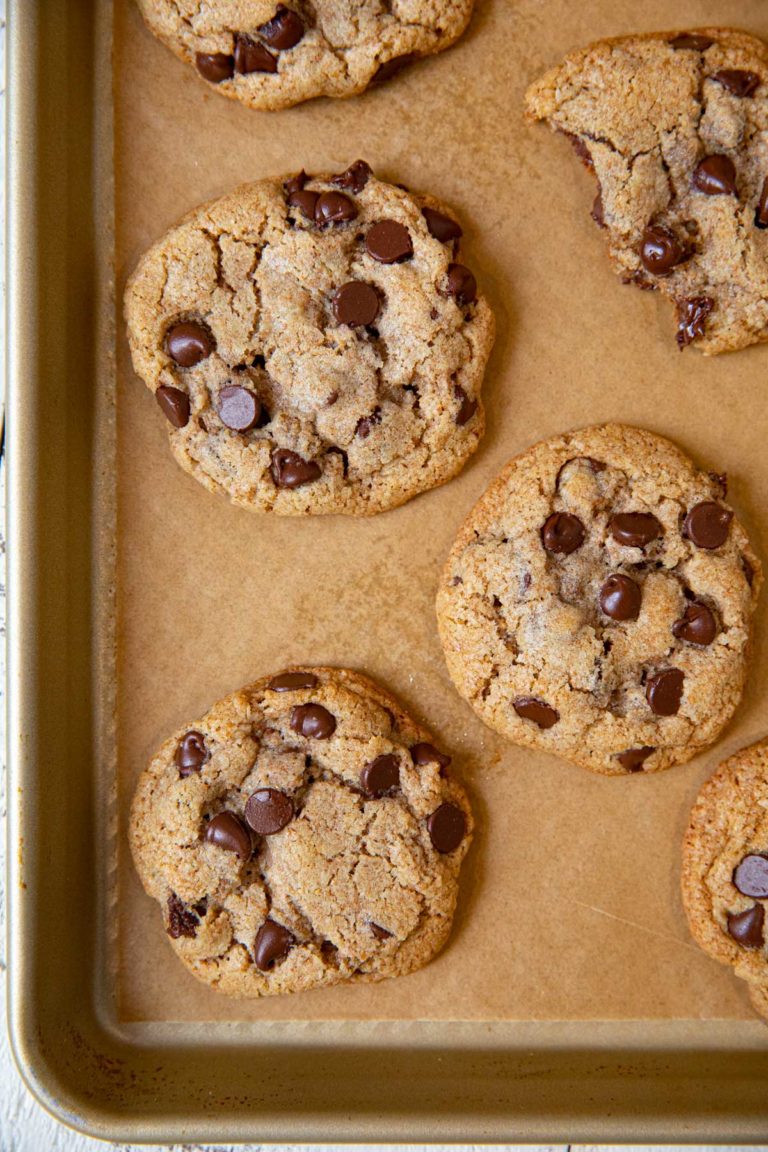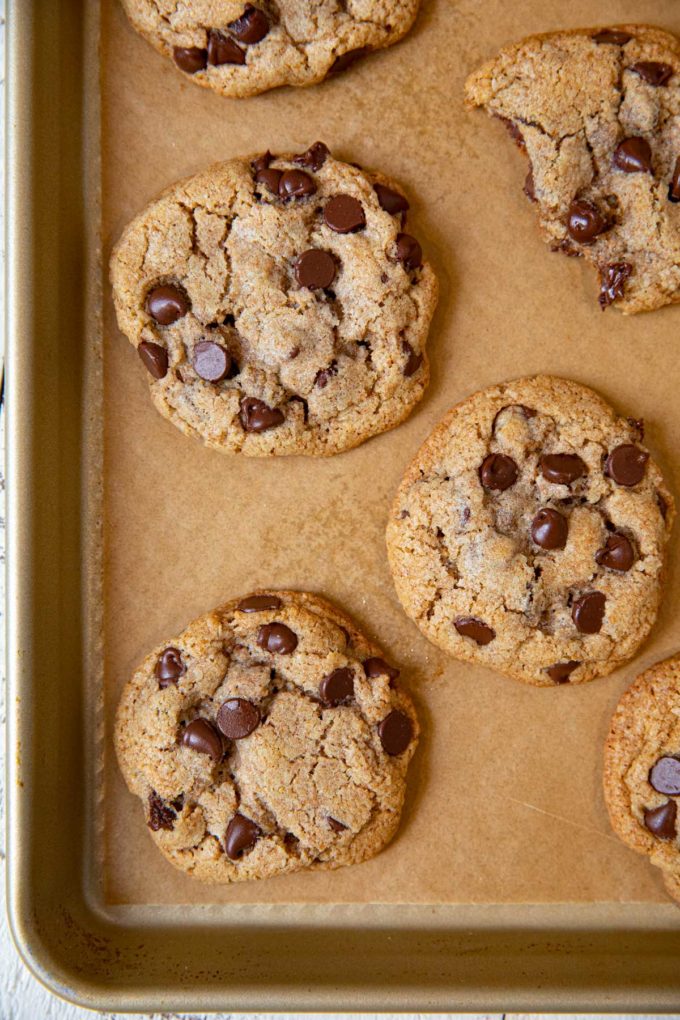 Sugar
There's a total of 2/3 cup of sugar in the recipe. This is just under 11 tablespoons of sugar, half white, half brown. A standard recipe routinely calls for double that amount. You won't even notice we've cut down the amount of sugar.
By the way, we aren't doing this magic by making these cookies smaller. These are big cookies, almost 3″ across when baked.
No tricks, just AMAZING cookies.
Chocolate Chips and Calories per Cookie
Finally, we use 1 cup of chocolate chips, because a good chocolate chip cookie is FULL of chocolate chips and we love cookies that are rich, buttery bites. One standard chocolate chip cookie we tested and nutritionally calculated before editing the ingredients clocked in at 230 calories and 12 grams of fat (for our generously sized cookies). With our changes to the recipe we've reduced the calories per cookie to 163 calories and added in some fiber. If these numbers are still too high for you for a dessert recipe, working with the amount of chocolate you're using is one place you can save a few extra calories depending on how much you love chocolate. We've tested the recipe with ½ cup, 2/3 cup and ¾ cup of chocolate chips.
You see it with 1 cup in these pictures, kids didn't even notice when we dropped to ¾ cup. – This will save almost 20 additional calories per cookie.
At 2/3 cup we noticed a definite dip in the chocolate amount but each bite still had plenty of chips. – This will save almost 30 additional calories a cookie.
At a ½ cup we felt like there was a good balance of healthy vs. still chocolate and it is how we'd recommend the recipe if you're strict with calories. It lowers the calorie count to 125 calories per cookie, saving almost 40 additional calories a cookie while still being chocolate-y.
We'll leave it to you to decide which person you are, but no matter what you do, follow our rolling technique.
These Whole Wheat Chocolate Chip Cookies are also easy to make, so you'll get them right the first time and every time! And one simple trick makes them look stunning.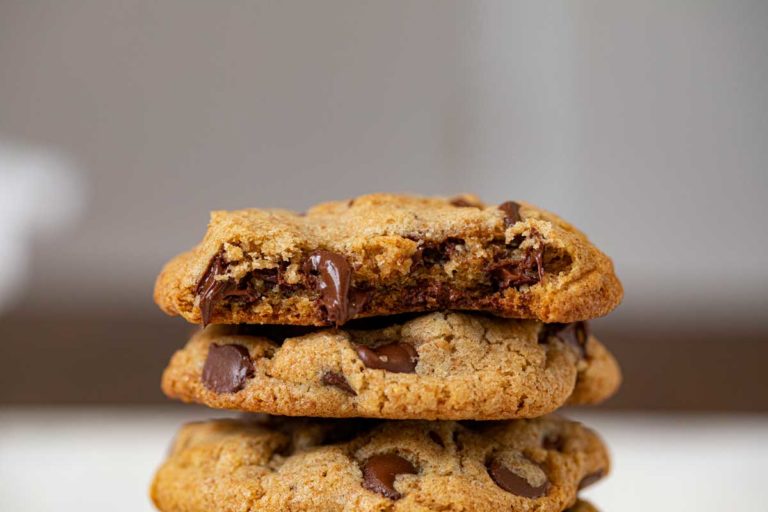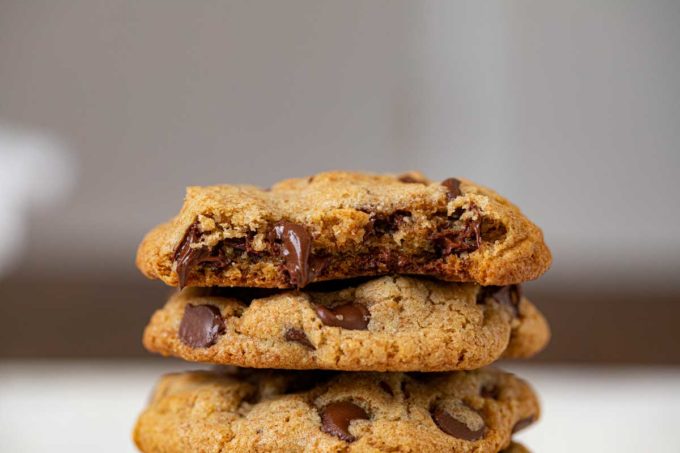 How to make GORGEOUS COOKIES:
The trick is, when you make the dough to only add half of the chocolate chips. Then once the ingredients are mixed together roll them into dough balls. Put the remaining chocolate chips in a large bowl and roll them on the outside of the cookie dough balls. This slightly different technique makes the cookies so gorgeous. If you stir all the chips into the dough they'll be hidden inside the cookie. This way the chips are throughout and outside the cookie, which makes them look and taste bakery worthy.
Whole Wheat Chocolate Cookies are all the melty gooey goodness you want in a chocolate chip cookie without all the unhealthy ingredients. Rather than using all-purpose flour like most cookie recipes, these Whole Wheat Chocolate Chip Cookies use a combination of oat flour and whole wheat flour. Whole Wheat Chocolate Chip Cookies are higher in nutrients and fiber. This recipe also calls for applesauce, rather than using any oil.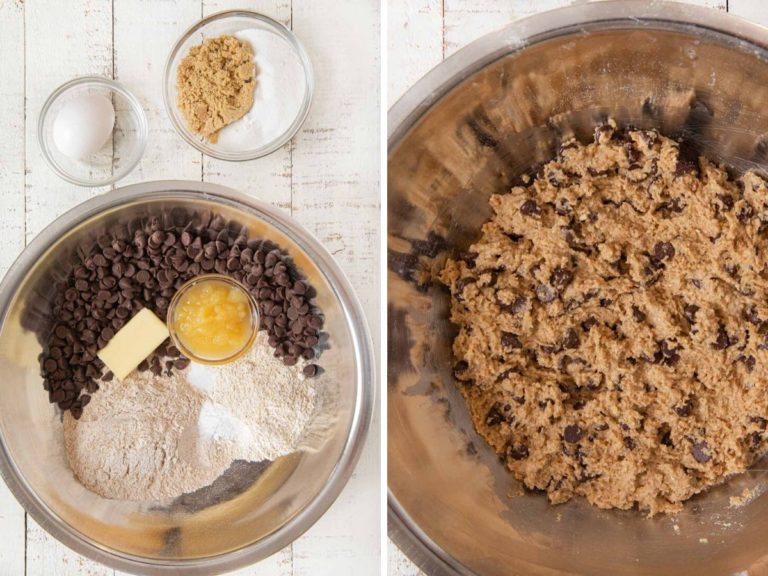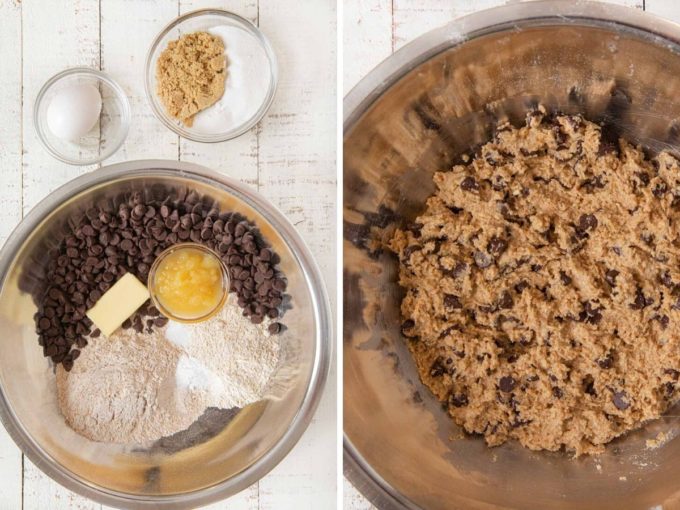 Create a free account to

Save Recipes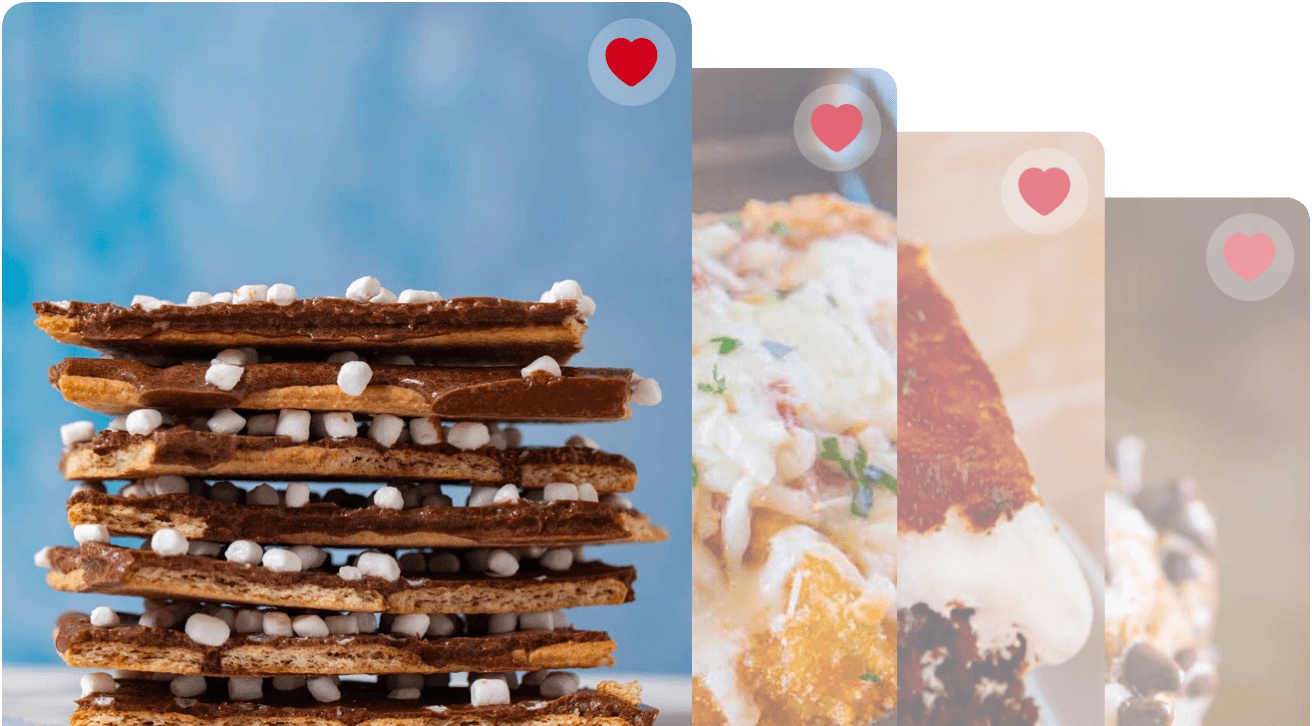 MORE HEALTHY DESSERTS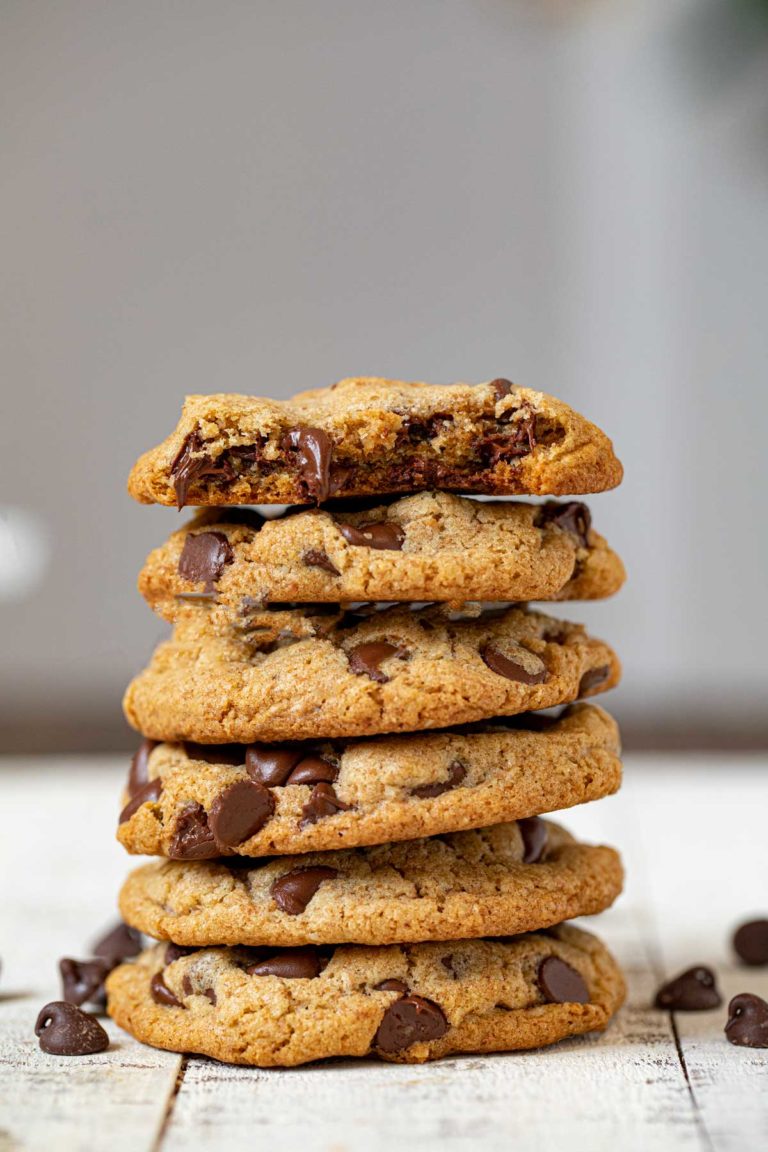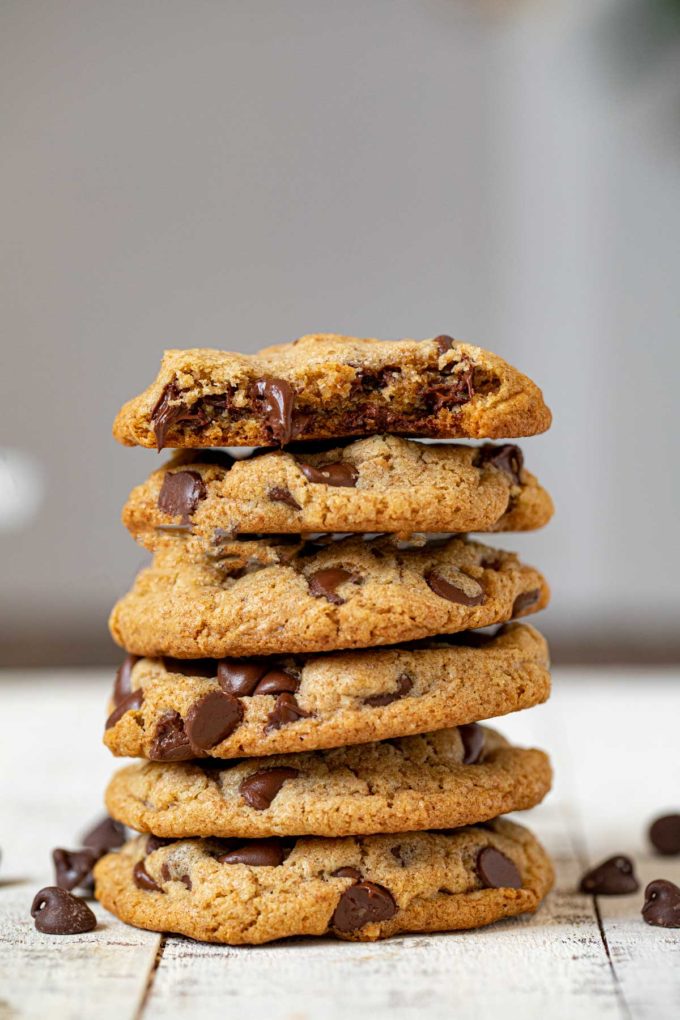 VARIATIONS ON HEALTHY CHOCOLATE CHIP COOKIES
Oatmeal Cookies: This Chocolate Chip Cookie recipe asks for you to grind up the oats into a fine flour. This gives the cookies a more light and cakey texture. However, if you'd prefer to make oatmeal cookies withy chewy oats, you don't have to grind the old fashioned oats. Instead just add them to the cookie recipe whole to make oatmeal chocolate chip cookies.
Add-ins: There are plenty of delicious mix-ins you can try the next time you make this great recipe to experiment with the flavors. If you'd like to make peanut butter chocolate chip cookies, add half a cup of low fat peanut butter to the granulated sugar, brown sugar and butter. You can also add a handful or two of raisins to the cookie dough ingredients, or sprinkle sea salt over the top of the Chocolate Chip Cookie recipe. Another simple change is the chocolate chips you use. Try white chocolate, milk chocolate, or dark chocolate chips.
Gluten-free: To make these cookies without gluten simply replace the whole wheat in the ingredients with almond flour. The oat flour is already technically free from gluten, so you don't have to replace it. However, if you'd like a completely gluten and grain-free cookie recipe feel free to replace the oat flour and wheat flour with almond flour.
Vegan: This dough is already free from any milk. You'll just need to exchange the chocolate chips in the recipe for a dairy-free chocolate. As far as the egg you can replace it with a vegan alternative. Some good exchanges for eggs in baking recipes are are applesauce, flaxseed, or ground chia.
MORE SWEET RECIPES
HOW TO STORE HEALTHY CHOCOLATE CHIP COOKIES
Serve: Freshly baked Chocolate Chip Cookies can stay fresh at room temperature, if put in an airtight container, for up to 3 weeks.
Store: In an airtight container or sealed bag Whole Wheat Chocolate Chip Cookies can last in the fridge for a week.
Freeze: If you'd like to make these Wheat Chocolate Chip Cookies ahead and store them in the freezer, they stay good for up to 6 months. Make sure to let the cookies cool to room temperature before sealing them in a freezer-bag or airtight container. When you're ready to eat the Chocolate Chip Cookies let them defrost in the fridge before reheating them.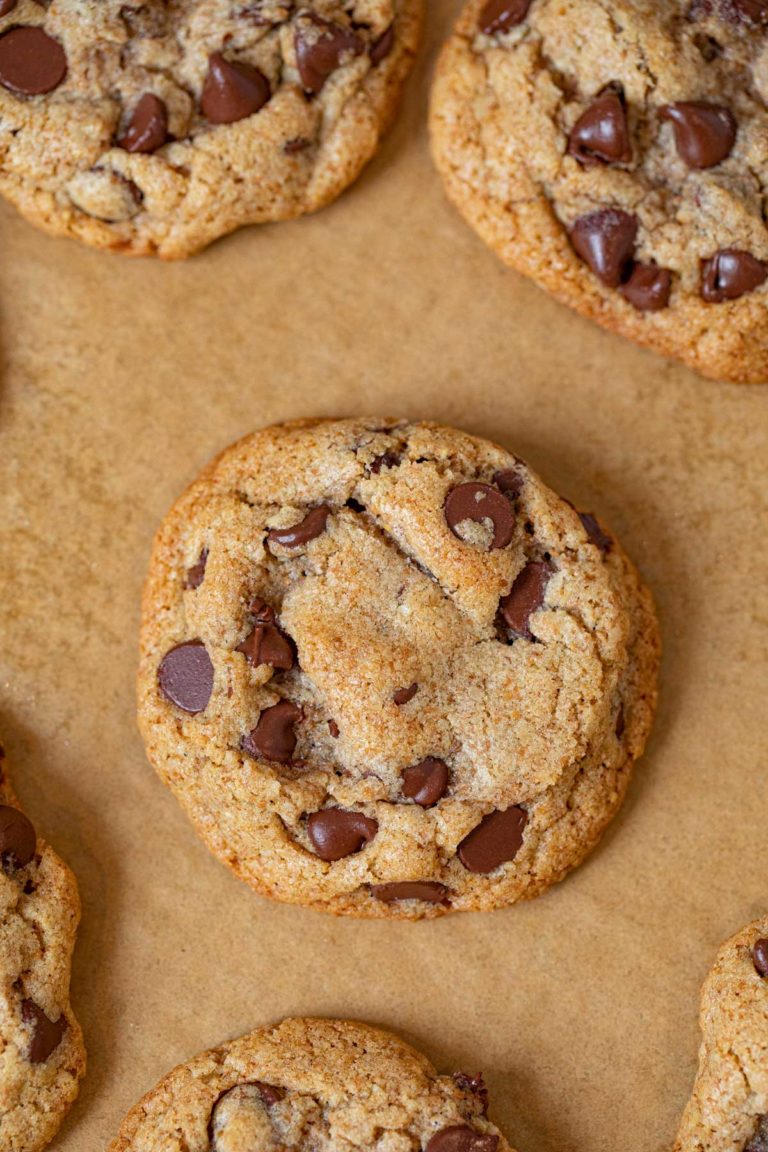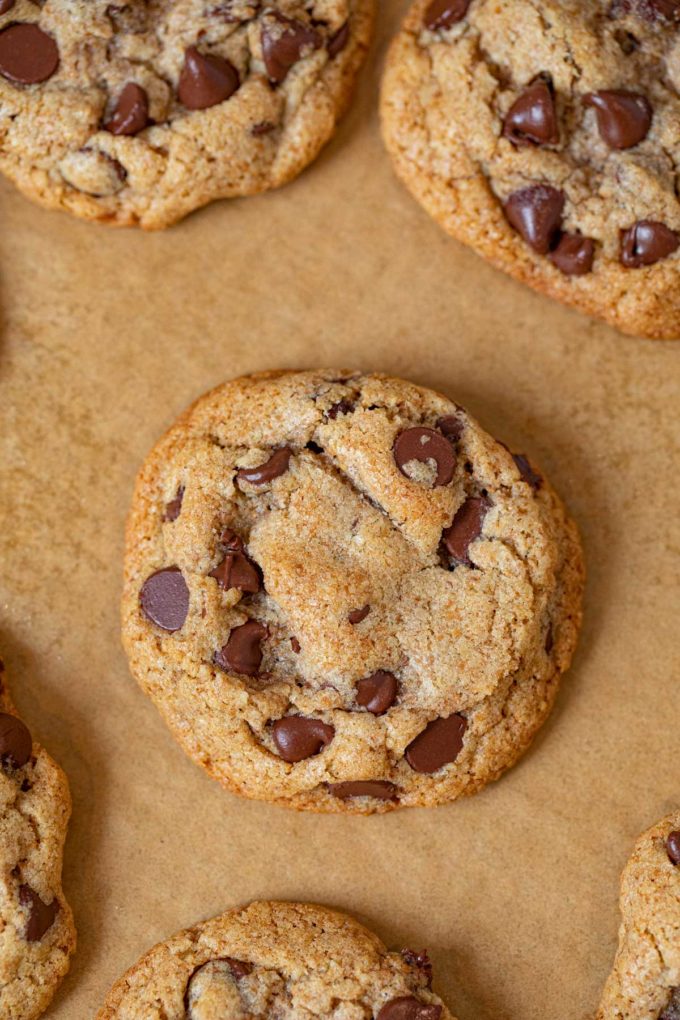 Ingredients
3/4

cup

rolled oats

6

tablespoons

unsalted butter

, softened

1/3

cup

granulated sugar

1/3

cup

brown sugar

1

large

egg

2

teaspoons

vanilla extract

2

tablespoons

applesauce

1

cup

whole-wheat flour

1/2

teaspoon

baking soda

1/2

teaspoon

salt

1

cup

semi-sweet chocolate chips

, divided
Instructions
Pre-heat oven to 350 degrees and line baking sheet with parchment paper.

Add rolled oats to a food processor and grind until they're a fine powder.

In a stand mixer cream together butter, sugar and brown sugar on medium speed until light and fluffy.

Add in egg and vanilla until well combined.

Add in applesauce until smooth.

Sift together oat flour (your ground oats), whole-wheat flour, baking soda and salt.

Add to the stand mixer on the lowest setting until just combined.

Fold in HALF the chocolate chips.

Place the rest of the chocolate chips in a small bowl and scoop 18 balls of dough (just shy of 2 tablespoons) onto a large plate.

Roll each ball of cookie dough in a small amount of extra chocolate chips until they're all rolled and you run out of the remaining chocolate chips.

Refrigerate the dough for

20 minutes

.

Bake for

12-14 minutes,

6 to a regular sized cookie sheet (bake in batches, keep cookie dough in refrigerator while other cookies are baking).
Nutrition
Calories:
163
kcal
|
Carbohydrates:
20
g
|
Protein:
2
g
|
Fat:
8
g
|
Saturated Fat:
5
g
|
Cholesterol:
21
mg
|
Sodium:
102
mg
|
Potassium:
102
mg
|
Fiber:
2
g
|
Sugar:
12
g
|
Vitamin A:
137
IU
|
Calcium:
16
mg
|
Iron:
1
mg