jump to recipe
Oreo Poke Cake
This post may contain affiliate links. Read my disclosure policy here.
Healthier Oreo Poke Cake made with applesauce, filled with condensed milk and Oreo Flavored whipped topping.
I don't normally use box cake mixes, but this one tastes like the most decadent oreo cake with a molten creme filling (the condensed milk flavor is amazing). The perfect poke cake.
 Oreo Poke Cake
Poke Cakes are usually so rich and heavy that most people who are dieting haven't considered them viable options. Even when making this recipe, when you start adding up the condensed milk, the cake, the toppings and more, you can start getting nervous of all the big numbers. Even worse if you're making a classic cake recipe.
This is the second recipe where I'm using a cake mix to create a great dessert option. The first was a delicious 
Strawberry Shortcake Poke Cake
 that we can't stop making this summer.
Since we are using Cool Whip for the topping this cake can be cut and served in a party setting without worrying about homemade whipped cream melting. You also save quite a lot of points because you aren't using frosting but the Cool Whip is still shelf stable.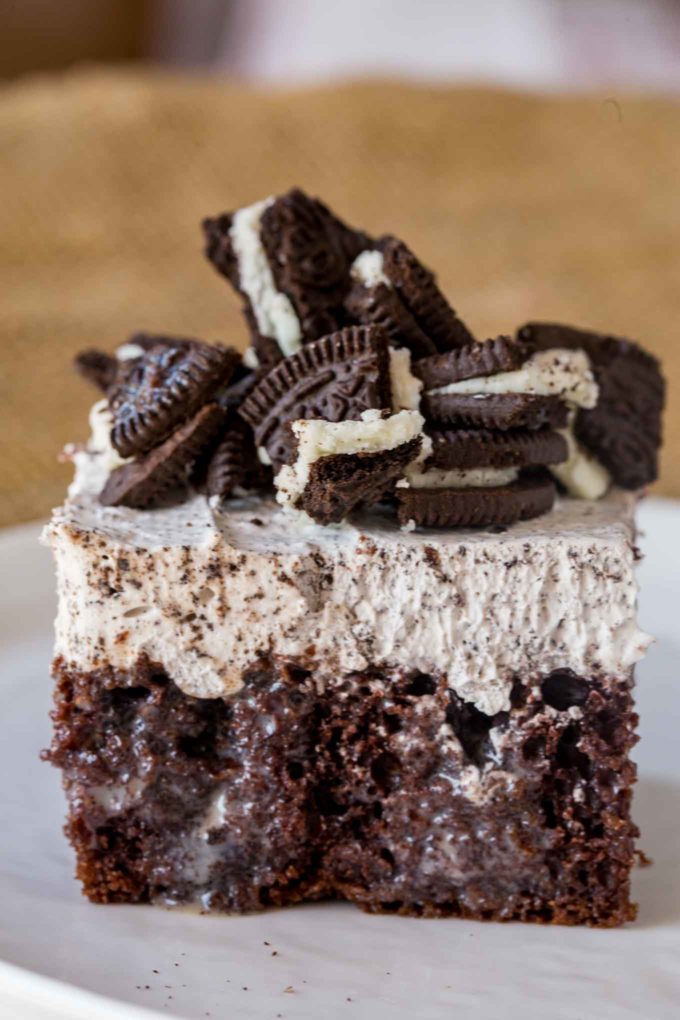 You can certainly adjust the flavors as you'd like or add in extra toppings you may love. I added extra chunks of Oreos on the top as a cute garnish but you can also crumble up additional Oreos on top.
24 servings for the pan may seem extreme, but in a 9×13 pan this is pretty standard for a small slice of cake!
Some great summery Poke Cake Flavors!
Strawberry Lemonade Poke Cake: Add in extra lemon juice and zest into the condensed milk, cake mix and topping.
Coconut Lime Poke Cake: Add lime flavors in place of strawberry and add in coconut flakes in the cake and top with toasted coconut.
Fruit Punch Poke Cake: Use fruit punch jello flavoring and add in chopped strawberries, grapes and orange zest into the cake mix.
Mango Poke Cake: Substitute mango powder in place of strawberry and add chunks of mango in the cake as well as on top of the cake.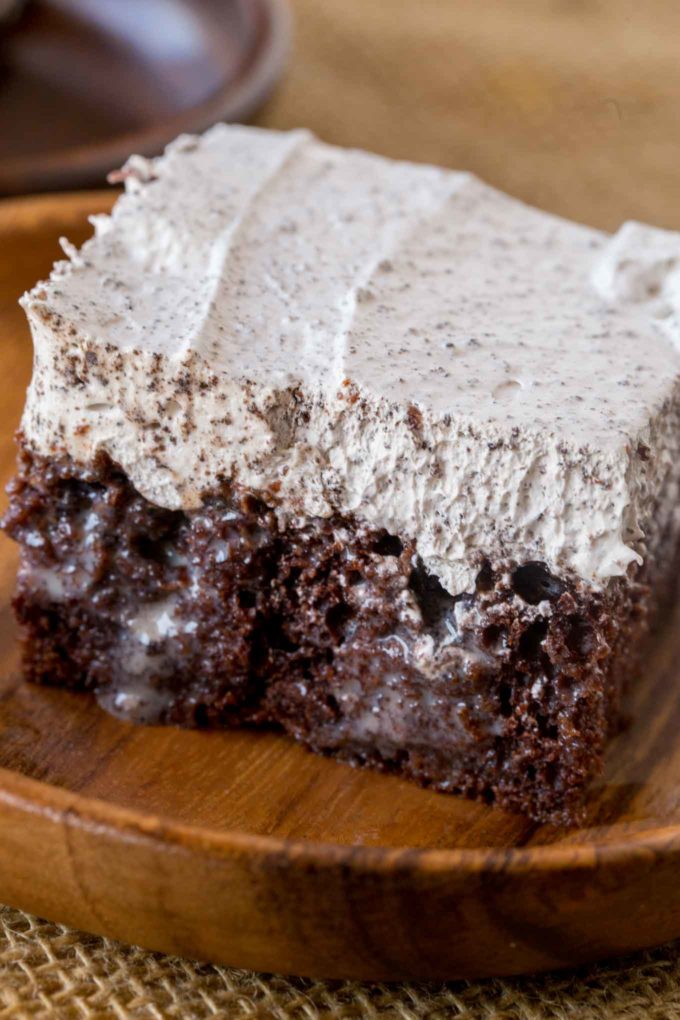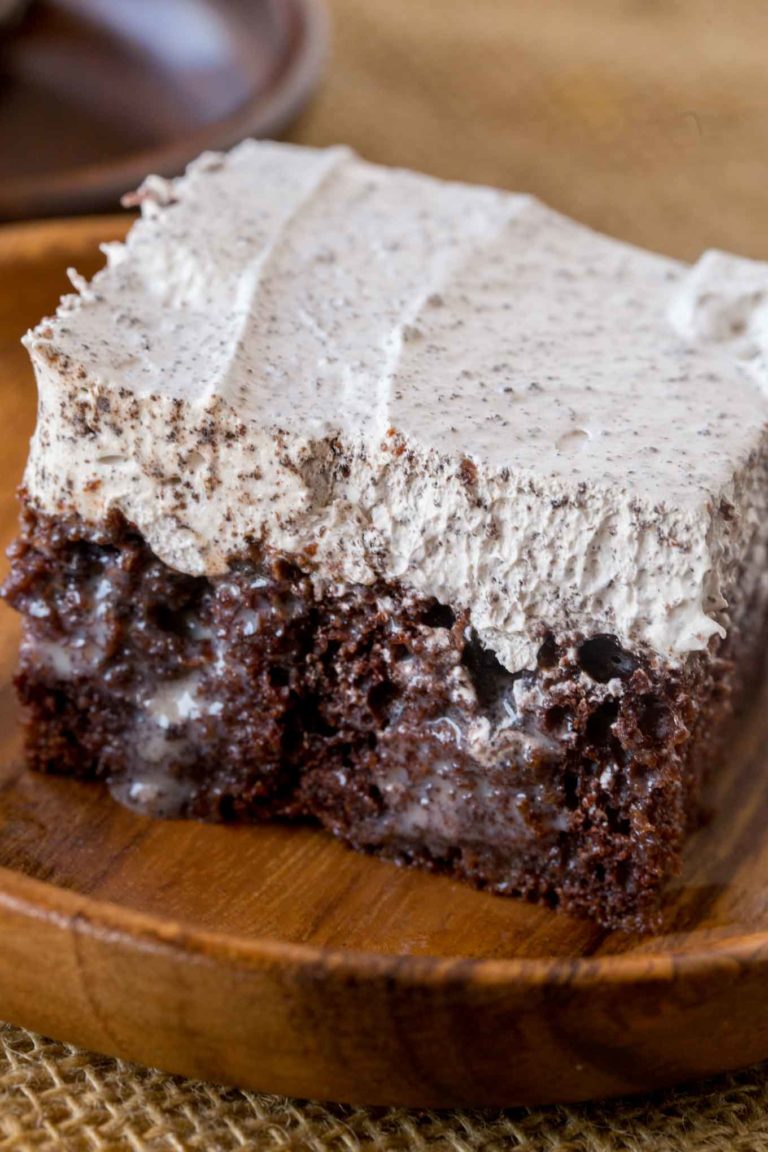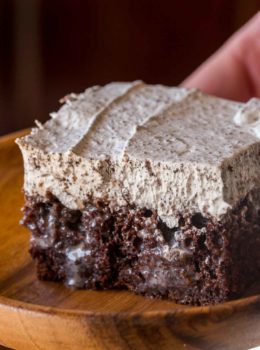 Oreo Poke Cake Recipe
Healthier Oreo Poke Cake made with applesauce, filled with condensed milk and Oreo Flavored whipped topping.
Ingredients:
1 (15 ounce) box chocolate cake mix
1⁄2 cup unsweetened applesauce
1 cup fat free greek yogurt
3 eggs
7 ounces fat-free condensed milk
8 ounces fat-free Cool Whip
12 Oreos, processed to a very fine crumb
Directions:
Preheat oven to 350 degrees.
In a bowl, mix chocolate cake mix with eggs, yogurt and applesauce.
Pour into a 9x13 pan with baking spray.
Bake for 35 minutes.
Poke the cake with a fork or end of a wooden spoon.
Pour the condensed milk over the cake.
Mix the Oreo crumbs into the cool whip.
Spread over the cake, garnish with additional Oreos if desired.
Nutrition Information
Yield: 24 servings, Serving Size: 1/24th cake
Amount Per Serving:
Calories: 255 Calories
Total Fat: 7.5g
Saturated Fat: 3.3g
Cholesterol: 21mg
Sodium: 287mg
Carbohydrates: 43.7g
Fiber: 1g
Sugar: 31.5g
Protein: 5.6g
All images and text ©
Made this recipe?
Show me what you made on Instagram or Facebook and tag me at @Cookingwithpoints or hashtag it at #cookingwithpoints.
Cooking with Points owns the copyright on all images and text and does not allow for its original recipes and pictures to be reproduced anywhere other than at this site unless authorization is given. If you enjoyed the recipe and would like to publish it on your own site, please re-write it in your own words, and link back to my site and recipe page. Read my disclosure and copyright policy. This post may contain affiliate links.