Healthy Blueberry Muffins are PERFECT for breakfast or brunch, made with wheat flour, skim milk, brown sugar and fresh ripe blueberries, they're soft, fluffy, and ready in 35 minutes!
We love reinventing classic American favorites like Skinny Chicken Alfredo Pasta and Easy Healthy Meatloaf in a healthier way so you can keep enjoying your favorite nostalgic recipes and keep all your favorite flavors.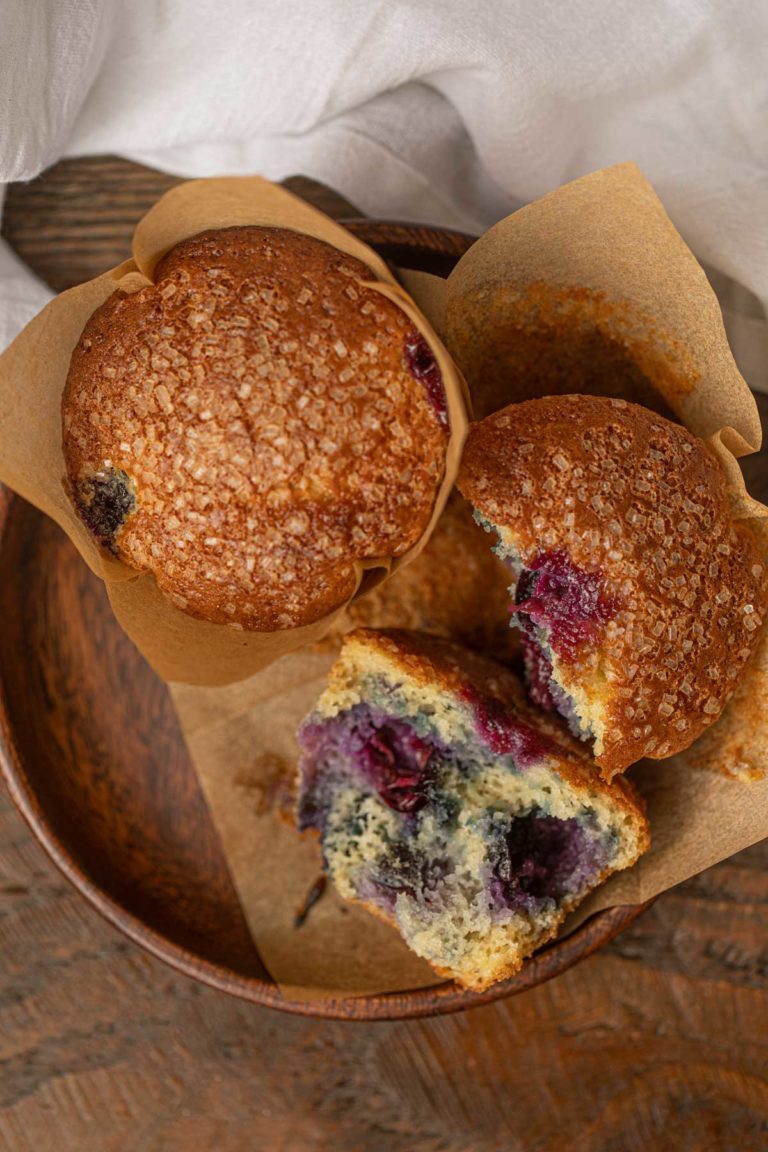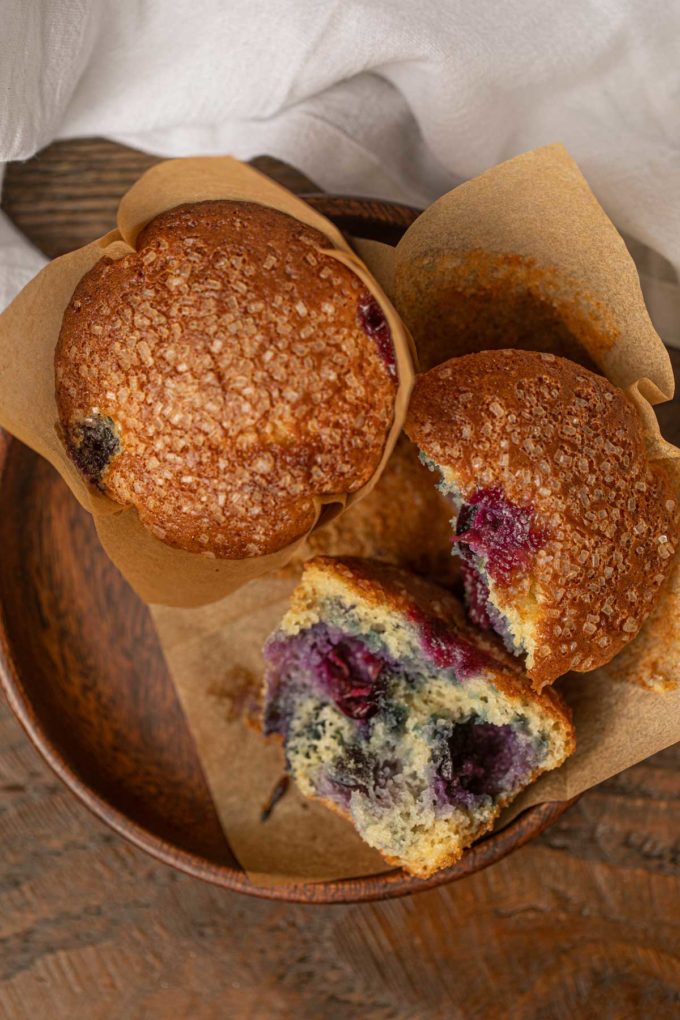 SKINNY BLUEBERRY MUFFINS
Blueberry Muffins are a classic recipe that usually clocks in at over 500 calories a muffin.
These combine to make the most moist, fluffy blueberry muffins you've ever had in your life even though they've got a lot of healthier swaps that keep the fat down, the whole wheat flour in the mix and lots of fresh blueberries that help keep these blueberry muffins extra moist.
This is a great recipe to keep on hand for a potluck brunch, or a lazy weekend morning. Plus they're incredibly easy to make!
My secret to making these healthier blueberry muffins feel indulgent? Topping them with coarse sanding sugar which adds a crunch to your bites without needing a crumble topping. It tastes like it came from your favorite bakery!
CAN YOU USE FRESH BLUEBERRIES IN MUFFINS?
I often use both fresh blueberries and dried in my blueberry muffin recipe. Personally, I prefer to use fresh because it gives you a little sweet and juicy burst when you bite into it and they're lower in calories than dried blueberries. They also add more moisture to the muffins since we are removing a lot of the fat from the muffins.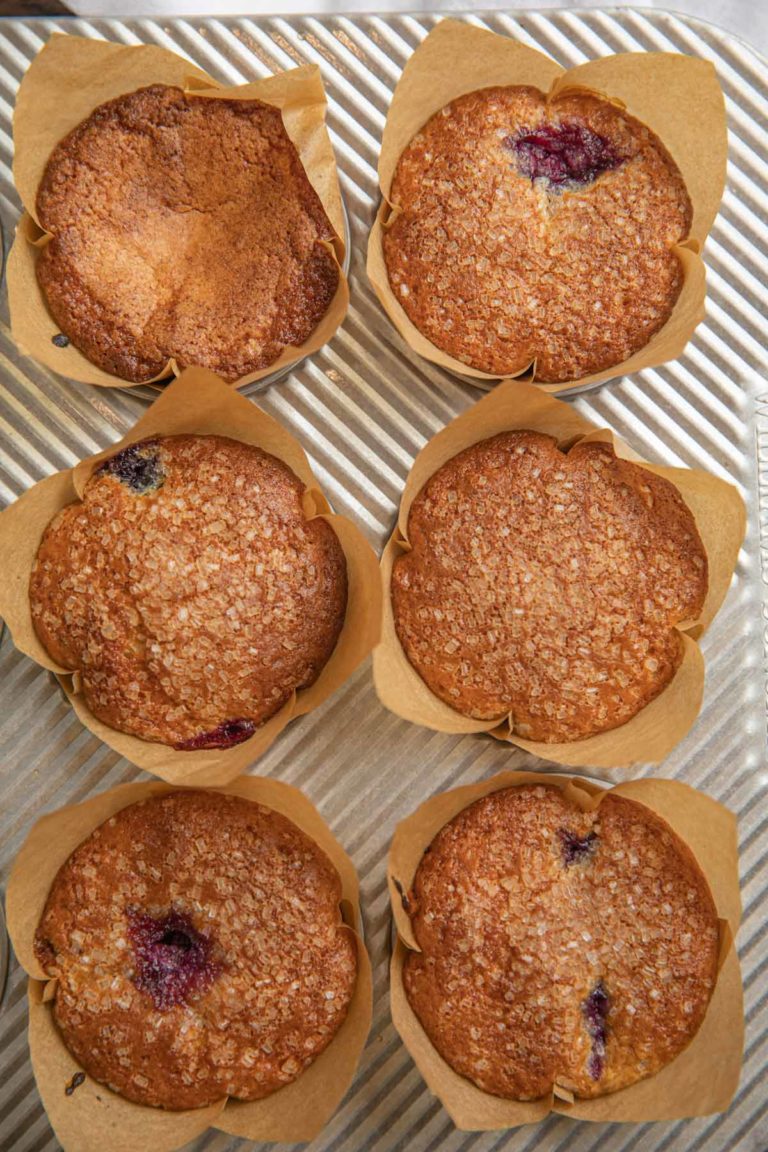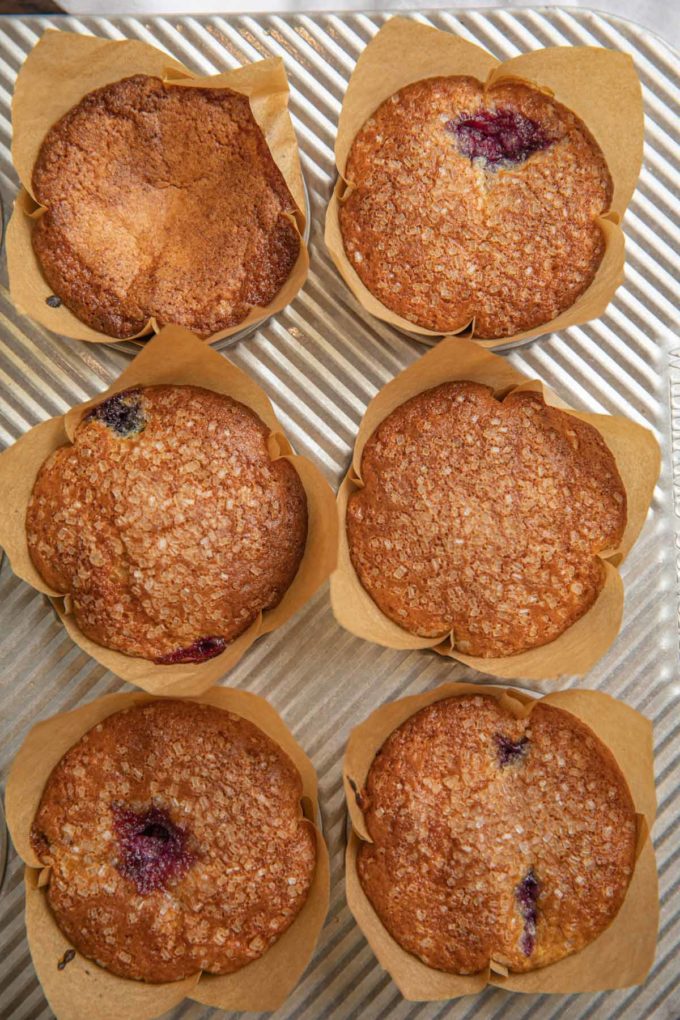 HOW DO YOU MAKE MOIST BLUEBERRY MUFFINS?
Don't over-mix the dough. You want to stop when the flour is just combined, if you see a few loose flour pockets that is ok. Add the blueberries as the very last step.
You also want to make sure you're measuring your ingredients properly so you don't have too much or too little of anything.
Make sure your oven is cooking at the right temperature with an oven thermometer, to make sure your blueberry muffins don't overcook.
HOW DO YOU STOP BLUEBERRIES FROM SINKING IN MUFFINS?
Add the blueberries to a bowl and dust them with a tablespoon of all purpose flour, stirring to coat. The flour will keep the blueberries from sinking down to the bottom of the muffins while they're baking by absorbing the moisture that makes them heavy.
TIPS FOR MAKING BLUEBERRY MUFFINS
Most blueberry muffins are made with oil, but we cut some of the calories down by replacing it with applesauce.
You don't have to stick with blueberries. Use this blueberry muffin recipe and instead of blueberries add dried cherries, raspberries, strawberries, or even chocolate chips.
If using chocolate chips you can also add in a tablespoon of instant coffee to make them into chocolate chip coffee muffins.
This recipe calls for vanilla extract but also works really well with other flavors. For example, omit the vanilla extract and use almond extract instead.
Using muffin liners in this recipe will save you from a mess. Cooking with less fat can sometimes mean it sticks more to the pan so we definitely want to line the pan with muffin cups.
If your muffins are crumbling, make sure you're measuring your all purpose flour by leveling the measuring cup. Too much all purpose flour will give the muffins a dry texture.
You can substitute the non-fat milk with almond milk or buttermilk.
You can substitute the light sour cream with Greek yogurt to lighten the recipe even more.
This recipe can be made in a small or large muffin tin. If you use a large muffin tin, you may need to bake for a few more minutes. If you make mini muffins, they'll bake faster.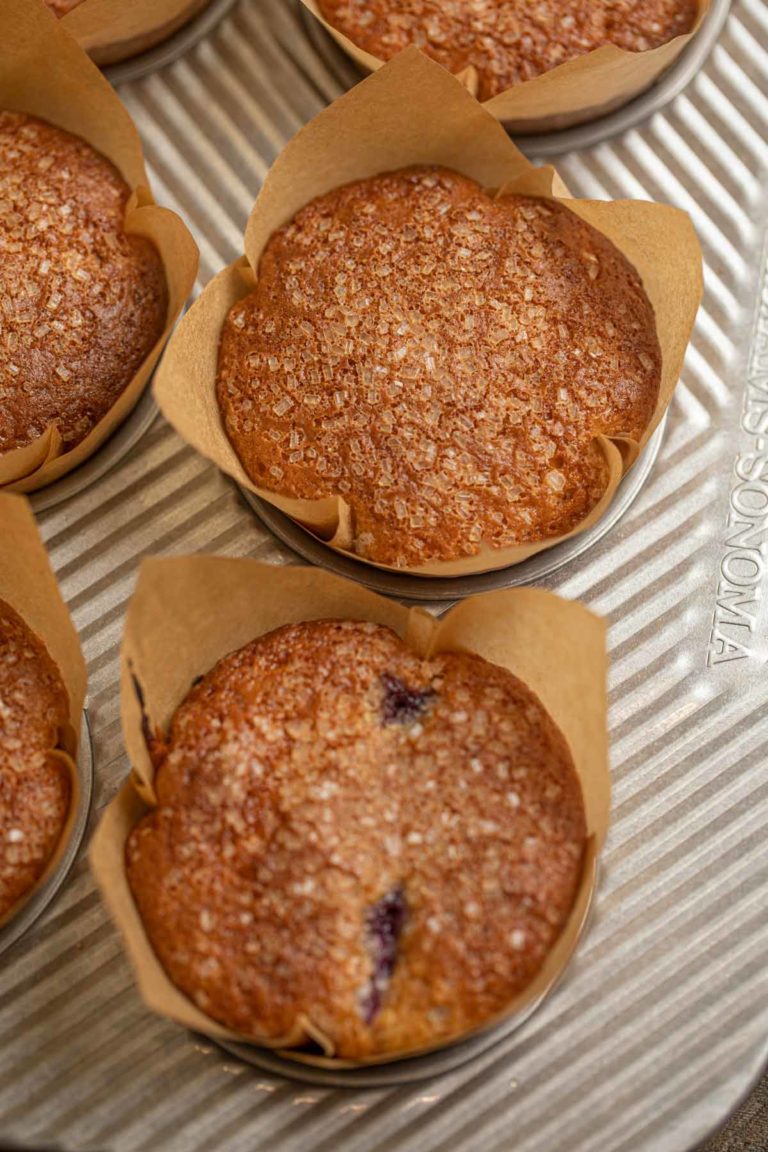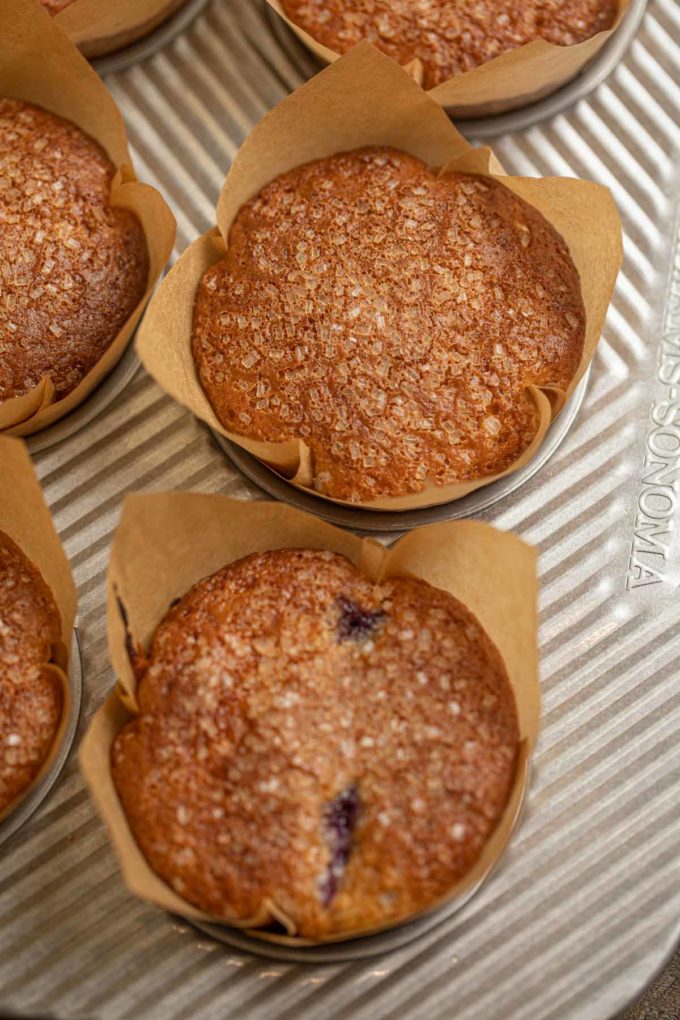 Ingredients
1 1/2

cups

whole wheat flour

2

teaspoons

baking powder

1/2

teaspoon

salt

1

cup

sugar

1/2

cup

brown sugar

packed

1/4

cup

applesauce

1 1/2

tablespoons

vegetable oil

1

large egg

2

tablespoons

light sour cream

1/3

cup

nonfat milk

1

cup

blueberries

2

tablespoons

coarse sugar
Instructions
Preheat the oven to 350 degrees.

Sift the flour and baking powder into a large bowl into a large bowl with the sugar and brown sugar and whisk it together well.

In a medium bowl whisk together vegetable oil, egg, buttermilk and sour cream then add it to the flour mixture until just barely combined (do not overmix, or muffins will be dense/not rise).

Fold in blueberries gently.

Fill the muffin tins to almost the top of the muffin liners and bake at the 350 degrees for 10 minutes, then raise temperature to 400 degrees and bake and additional 15 minutes (this is the best for high crowned muffins).
Nutrition
Calories:
193
kcal
|
Carbohydrates:
41
g
|
Protein:
2
g
|
Fat:
2
g
|
Saturated Fat:
1
g
|
Cholesterol:
14
mg
|
Sodium:
110
mg
|
Potassium:
167
mg
|
Fiber:
1
g
|
Sugar:
29
g
|
Vitamin A:
45
IU
|
Vitamin C:
1.2
mg
|
Calcium:
55
mg
|
Iron:
0.8
mg