Healthy Breakfast Casserole with Turkey Bacon is an easy-to-make breakfast bake that's protein-packed with turkey bacon, eggs and cheese. It's the perfect breakfast casserole recipe to feed the whole family on Christmas morning.
This egg bake is an unbelievable easy Breakfast Recipe that everyone in your family is sure to love. It already has Turkey Bacon and whole wheat bread cubes, but you can feel free to add veggies, hash browns, sweet potatoes and anything else you'd like to your Breakfast Casserole.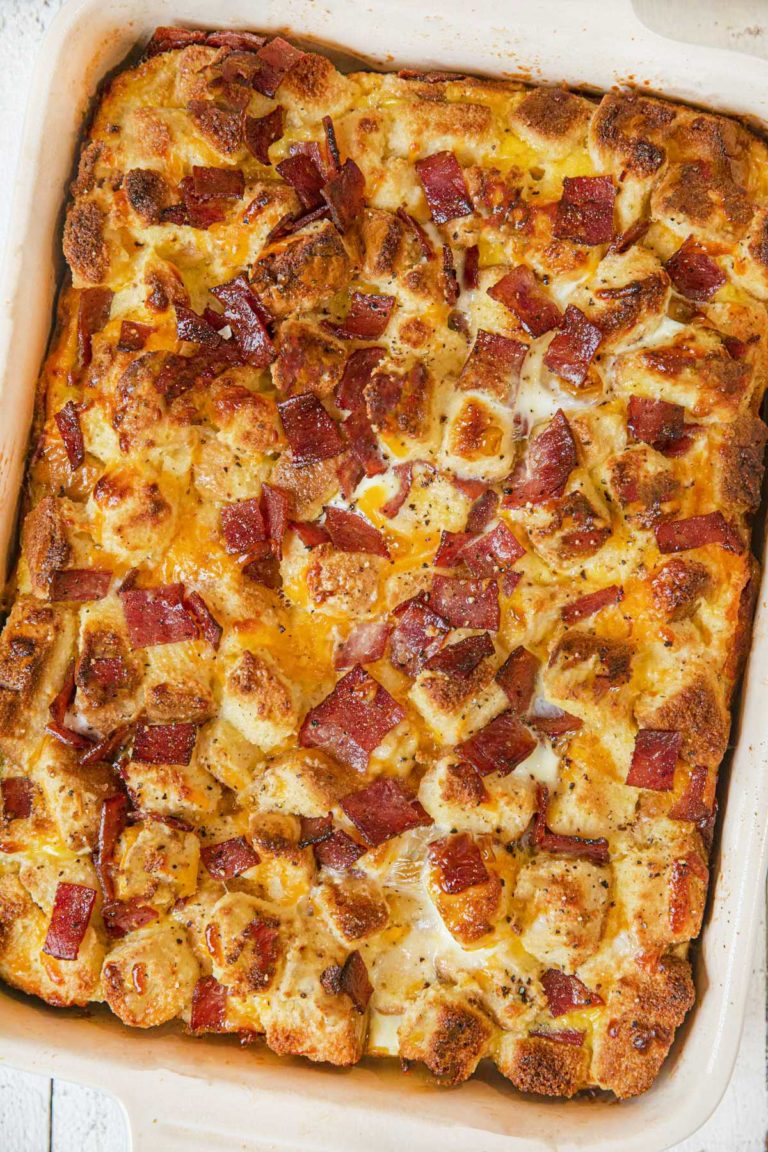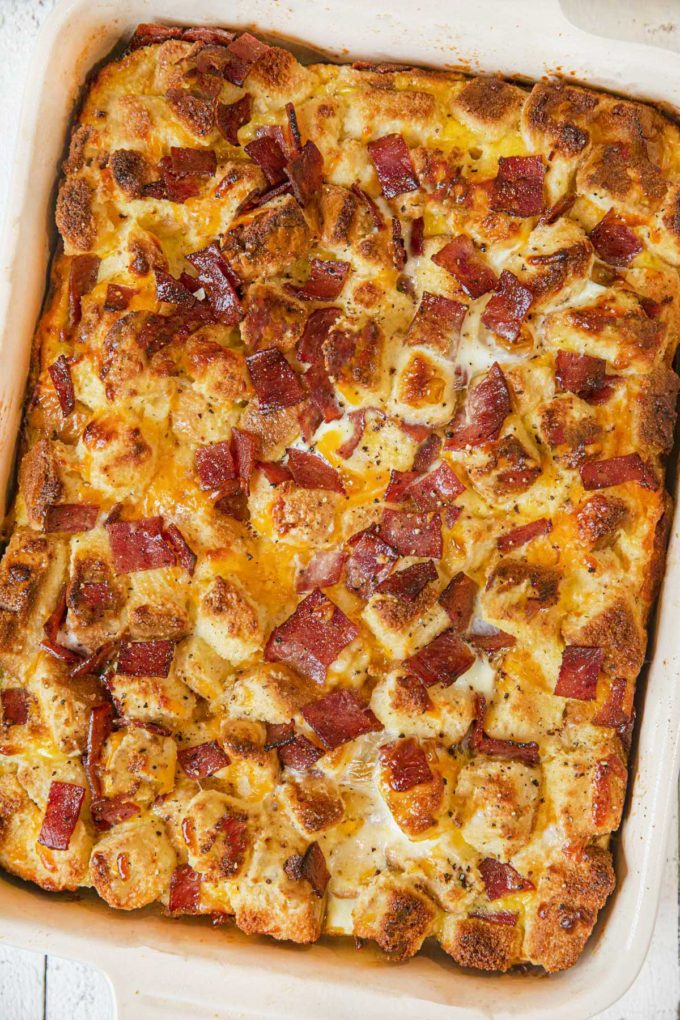 HEALTHY BREAKFAST CASSEROLE WITH TURKEY BACON
This Breakfast Casserole is the perfect dish to bring to your next brunch. It's filling, easy to make for a big group, and delicious. If you're hosting a breakfast or brunch, you can add it to your spread with other healthy brunch recipes. Put the dish on a buffet style table along with skillet made hash browns, Blueberry Banana Baked Oatmeal Muffins, Spinach Frittatas and other brunch classics. You can also put chopped veggies and other add-ins to the side that people can add to their Breakfast Casserole as they choose.
This easy casserole is the perfect filling breakfast. Made with an egg white and egg mixture, turkey, bread cubes, and cheese. After combining these ingredients and pouring it in a baking dish it only takes 45 minutes to cook. The total time for the recipe is less than an hour making it an easy go-to breakfast with minimal work and a wonderful cheesy casserole to show for it. You can also meal prep and freeze the cooked casserole for a ready-to-go breakfast in a pinch.
Because this casserole uses simple, hearty, and healthy ingredients it's also easy to change up and add more to. Add flavor and nutrients to the breakfast with a variety of veggies. It will taste excellent with spinach, onions or bell pepper. Or add other filling ingredients to your Breakfast Casserole like sweet potatoes, hash browns, turkey sausage, or regular sausage. If you're preparing the dish for a special occasion like Christmas you can use Candied Turkey Bacon, rather than regular bacon or sausage.
SLOW COOKER BREAKFAST CASSEROLE
You can make Breakfast Casserole in the slow cooker. First, brown the turkey bacon —and sausage if you want it— in a skillet. Whisk together the eggs then combine it with the turkey, bread, and any veggies you want to added to your breakfast. Use a non-stick cooking spray to prepare the slow cooker. Instead of putting the Breakfast Casserole mixture in a casserole dish put it in the slow cooker. Cook on medium high for 5-6 hours, and enjoy your slow cooker breakfast.
MORE BREAKFAST RECIPES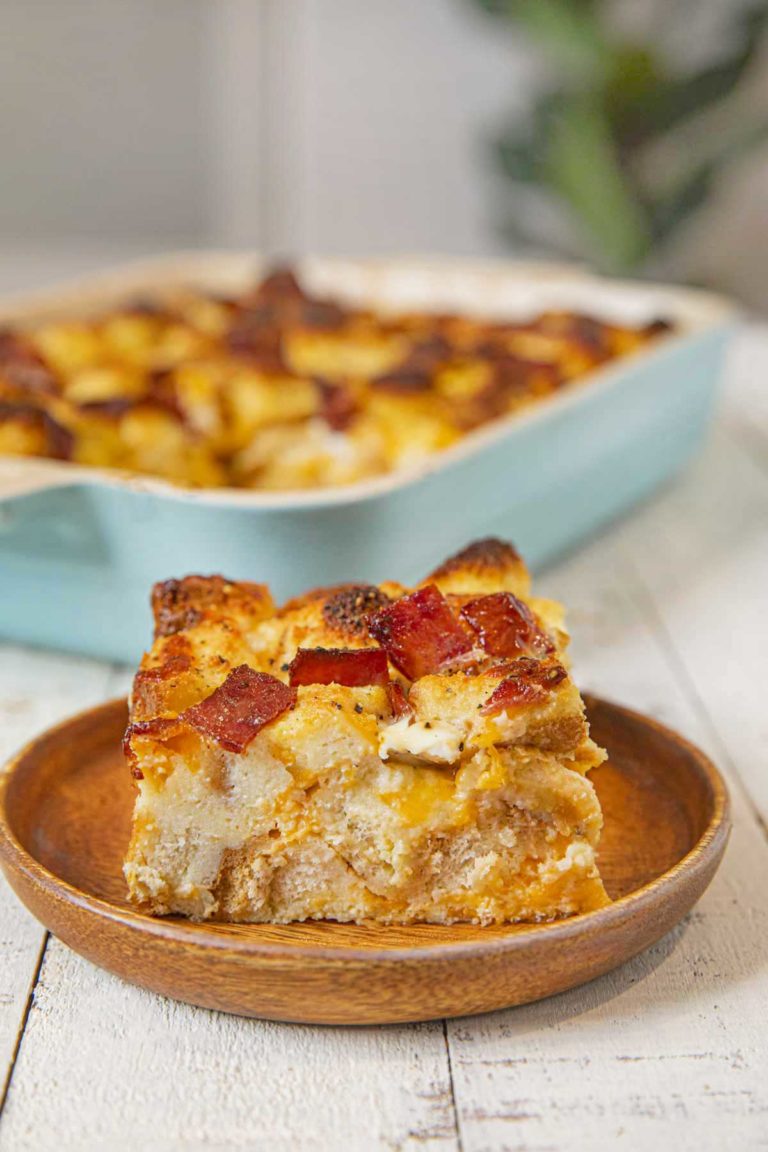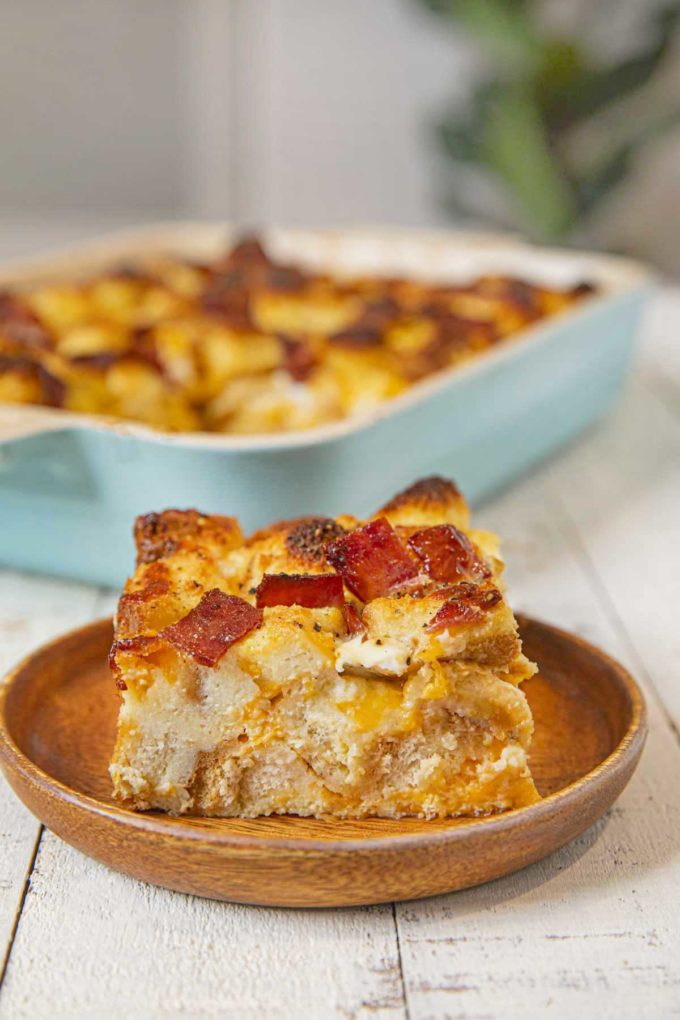 VARIATIONS ON HEALTHY BREAKFAST CASSEROLE WITH TURKEY BACON
Add-Ins: One of the great things about egg casserole is that you can make plenty of additions depending on the ingredients you have and what you like. Add a variety to the turkey by adding breakfast sausage, Italian sausage, or turkey sausage. Make it more filling with a layer of hash browns, or sweet potatoes. You can also add a variety of veggies like green onion, spinach, green bell pepper, or red bell peppers to the egg mixture. When the breakfast casserole is done baking you can put hot sauce on it before serving for some kick.
Dairy-free: Instead of using skim milk or part-skim milk, exchange for soy or almond milk. And switch the cheddar cheese for a low-fat vegan cheese.
Other Proteins: Add other meats like sausage along with the turkey bacon, or replace the turkey bacon entirely. You can use regular pork bacon, pork sausage, turkey sausage, chicken sausage or Italian sausage in the casserole. Or put in chopped pieces of ham.
Other Breads: Exchange the whole wheat bread in the egg casserole for white bread, whole-grain bread, French bread, or even gluten-free bread cubes.
MORE TURKEY RECIPES
HOW TO STORE HEALTHY BREAKFAST CASSEROLE WITH TURKEY BACON
Serve: Don't leave cooked Egg Casserole at room temperature for more than 2 hours.
Store: Once the casserole has cooled to room temperature cover the dish in plastic wrap or foil. It will stay good in the fridge for 3-4 days. You can reheat your breakfast in the microwave or put it in the oven for a few minutes.
Freeze: If you'd like to make-ahead for meal prep, cover the whole casserole dish or cut the casserole into squares and put them in a freezer bag for on-the-go ready made breakfast servings. The casserole will stay good in the freezer for up to 2 months. Let the casserole defrost in the fridge overnight. Reheat it in the oven on 350 degrees.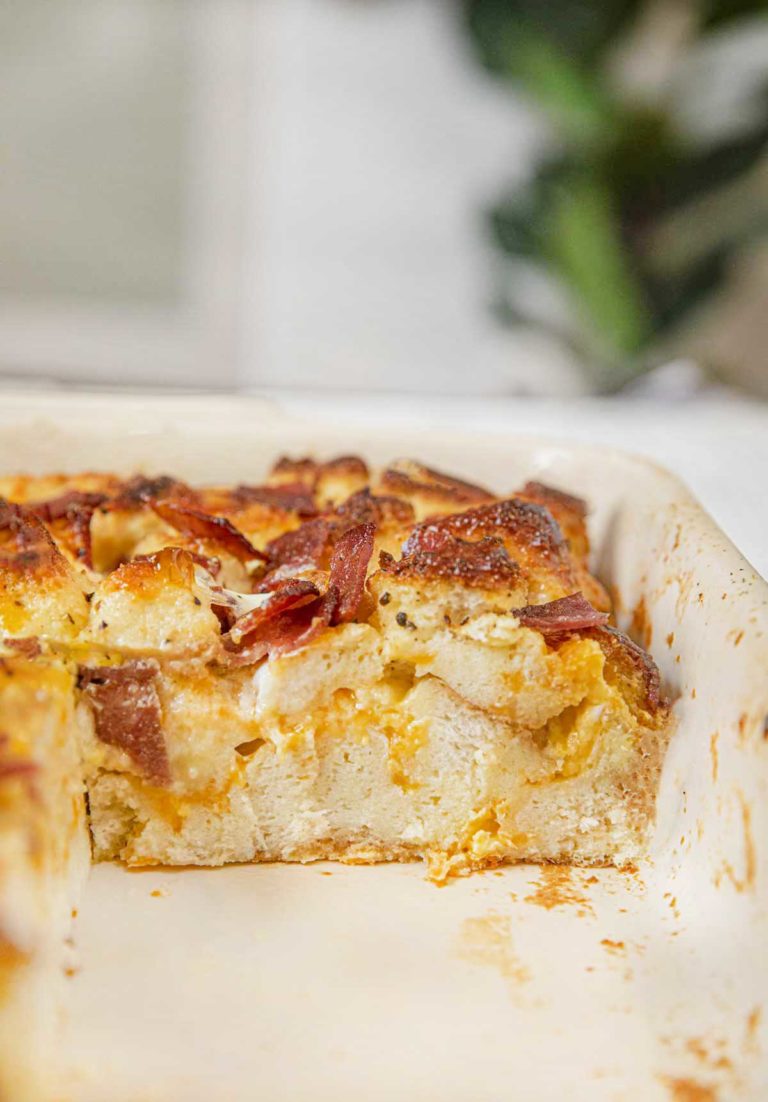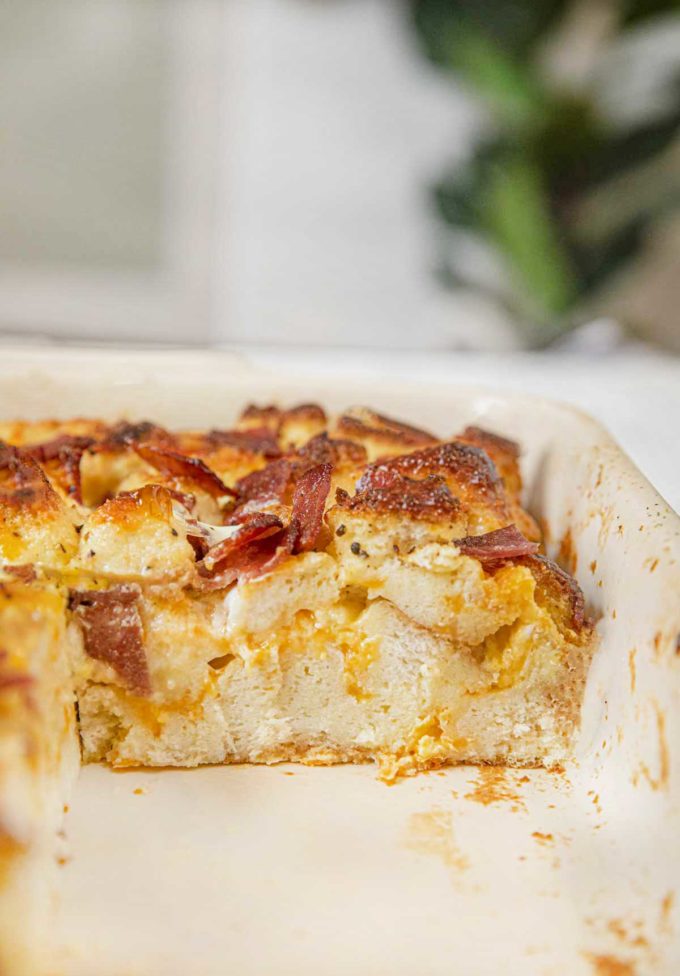 Recipe
Save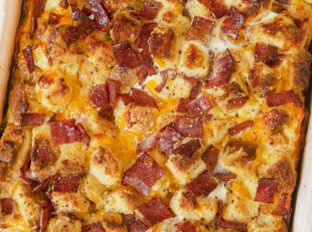 Healthy Breakfast Casserole with Turkey Bacon
Yield:

12

Servings

Prep Time:

15

minutes

Cook Time:

45

minutes

Total Time:

1

hour

Course: Breakfast
Cuisine: American
Author: Sabrina
Healthy Breakfast Casserole with Turkey Bacon and cheddar cheese is an easy-to-make breakfast bake (perfect for holidays!) that's protein-packed and hearty!
Ingredients
6

cups

whole wheat bread

, cubed

8

large

egg whites

8

large

eggs

2

cups

skim milk

1

teaspoon

kosher salt

1/2

teaspoon

coarse ground black pepper

1/2

pound

turkey bacon

, cooked and chopped

1

cup

light cheddar

, shredded
Instructions
Note: click on times in the instructions to start a kitchen timer while cooking.
Heat oven to 350 degrees.

Add bread cubes to baking sheet and toast for 10 minutes then let cool while making filling.

Whisk together egg whites and eggs until well combined.

Whisk in milk, salt and pepper.

Toss with cooled bread cubes and 3/4 of the turkey bacon.

Place into baking dish and top with remaining turkey bacon and cheddar cheese.

Bake for 45-50 minutes or until golden brown and toothpick doesn't come out wet with raw egg.
Nutrition Information
Yield: 12 Servings, Amount per serving: 467 calories, Calories: 467g, Carbohydrates: 55g, Protein: 33g, Fat: 13g, Saturated Fat: 4g, Cholesterol: 146mg, Sodium: 1501mg, Potassium: 570mg, Fiber: 8g, Sugar: 11g, Vitamin A: 553g, Calcium: 334g, Iron: 4g
All images and text © for Cooking Made Healthy.
Keyword:
Healthy Breakfast Casserole with Turkey Bacon
Save