Healthier Chocolate Chip Pretzel Cookies are perfectly chewy, sweet, and salty with melty chocolate and crunchy pretzel pieces throughout.
If you enjoyed the healthier take on classic Chocolate Chip Cookies, then you're sure to love this version with a nice pretzel crunch. It's a fun Dessert Recipe that's sure to be a hit with all your friends and family!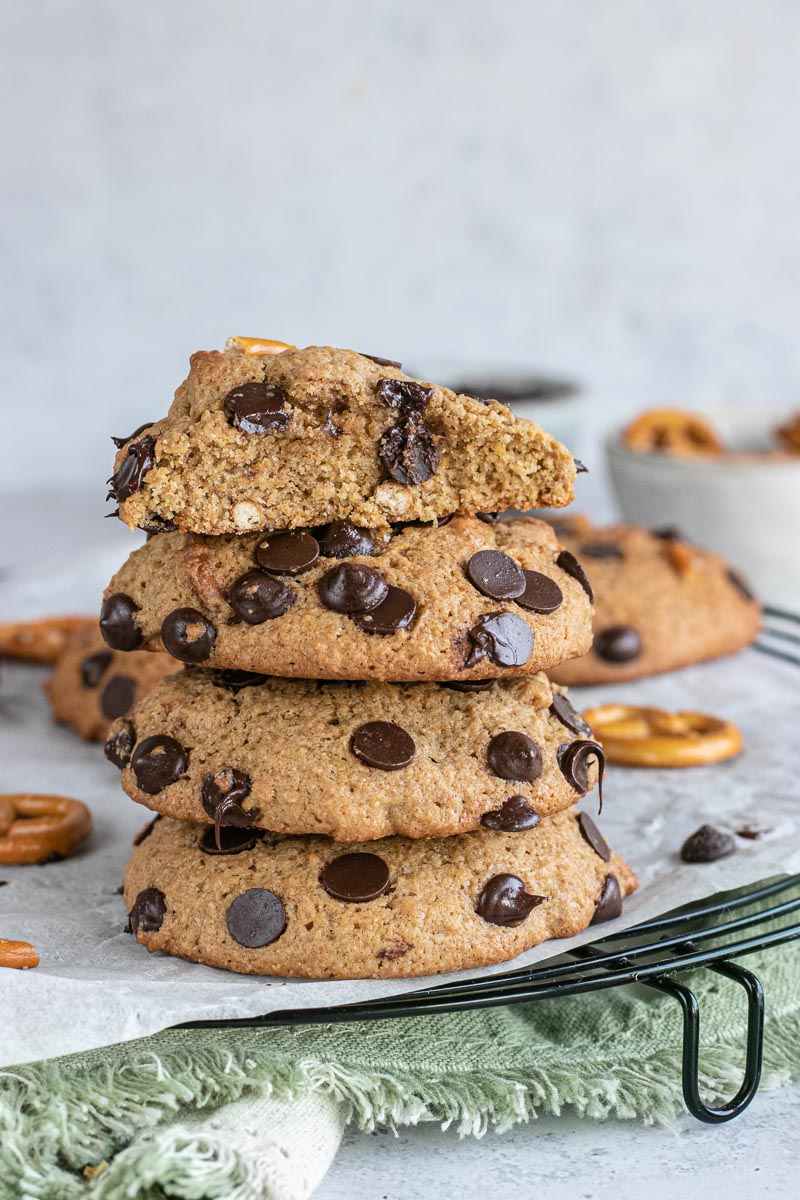 Healthier Chocolate Chip Pretzel Cookies are sure to become a favorite recipe for parties, bake sales, or an after-school snack. The contrasting tastes and textures make these cookies especially exciting! The sweet and salty combo of the pretzels and chocolate gives them a unique and amazing flavor. The pretzels also add a nice crunch to the otherwise Chewy Pretzel Chocolate Chip Cookies.
If you love desserts and sweets, it can be a little harder to start eating healthier. However, with recipes like this one you can get the best of both worlds. Enjoy your favorite treats while still eating healthy. Just a few changes make a huge difference in the nutrition, but not in the taste. For more healthy desserts be sure to try Black Bean Brownies, and Peanut Butter Chocolate Chip Cookies too!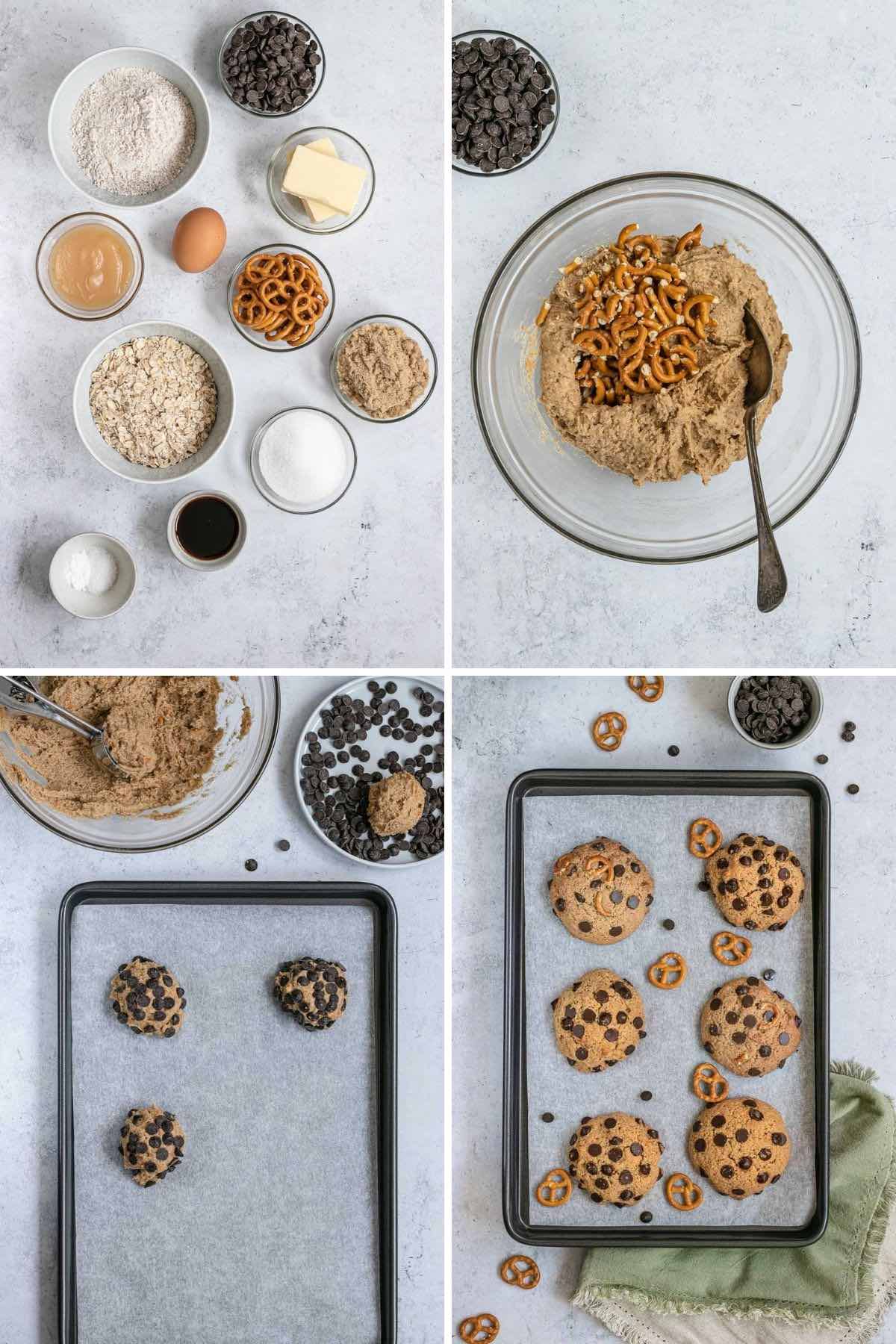 These cookies are just as gooey, chocolatey, and delicious as you're craving, but with a few changes that make them a lot healthier. First, a portion of the butter is replaced with unsweetened applesauce. There's also no all-purpose flour in the mixture. Instead, whole wheat flour is combined with ground oats. The oats are amazing because they give the cookies the chewy texture you'd expect from a classic recipe, but without all the butter.
More Cookie Recipes 
Tips for Making Chocolate Chip Pretzel Cookies
Prep time: Start your Pretzel Chocolate Chip Cookies by preheating the oven to 350 degrees, and lining the baking sheet with parchment paper.
Oat flour: Pour the rolled oats into your food processor and turn it on until they're ground into a fine flour-like powder.
Wet ingredients: Set the oat flour to the side while you add the softened butter, sugar, and brown sugar to your stand mixer. Stir them at medium speed until the sugar mixture is light and fluffy. Next, add in the egg and vanilla. Finally mix in the applesauce until smooth.
Dry ingredients: Sift together the ground oats, wheat flour, baking soda, and salt in a separate bowl. Once they're combined, add them to the stand mixer, and mix at the lowest speed until just combined. Be careful not to overmix. Then fold in the pretzels.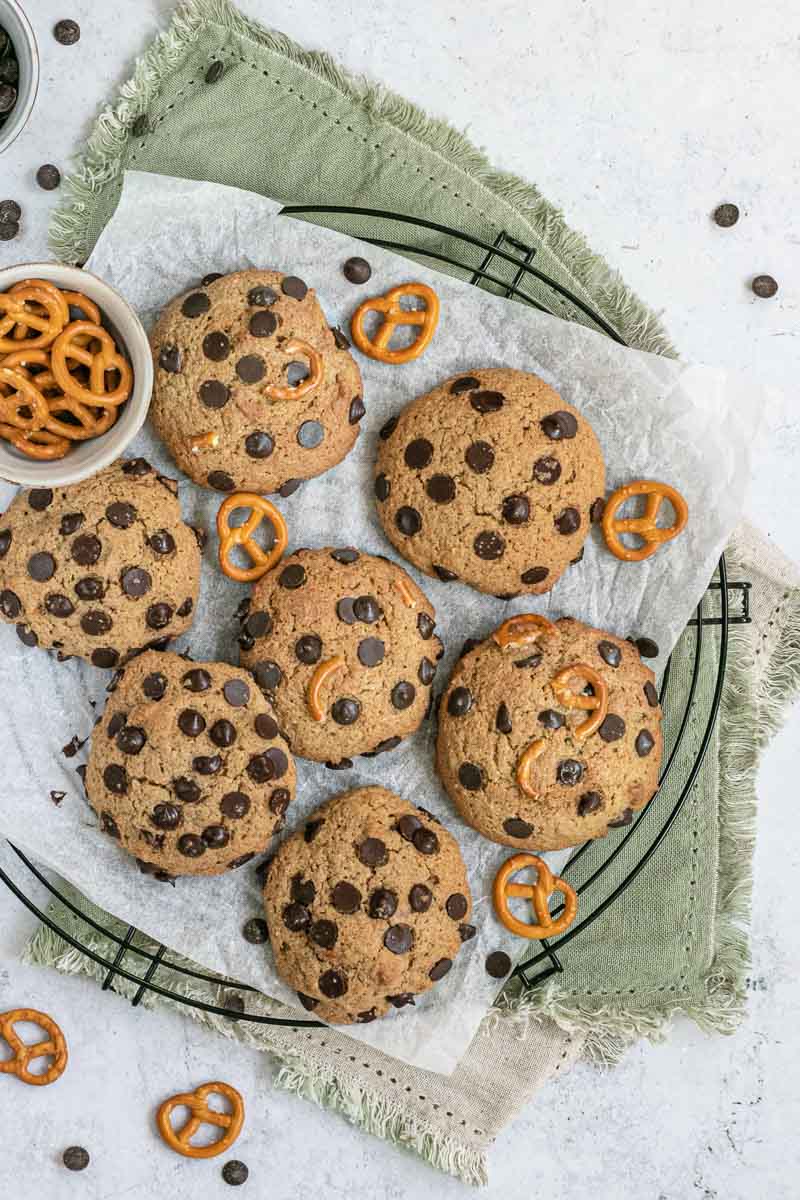 Chocolate chips: Add ½ cup chocolate chips to a bowl, and form the dough into balls. Roll dough balls in the chocolate chips so that they coat the outside. Roll the chocolate chips on the outside to make a more visually appealing cookie. When you mix the chocolate directly into the dough they're mostly hidden, but this way they'll sit on top of the cookie whole and shiny. The finished homemade cookies will look worthy of a bakery display!
Refrigerate: Place the dough balls on the prepared baking sheet and refrigerate for 20 minutes.
Baking time: Make sure there's enough space between each dough ball on the baking tray, so that they have room to spread in the oven. Bake each batch for 12-14 minutes until they're golden brown with a soft center and slightly crisp edges.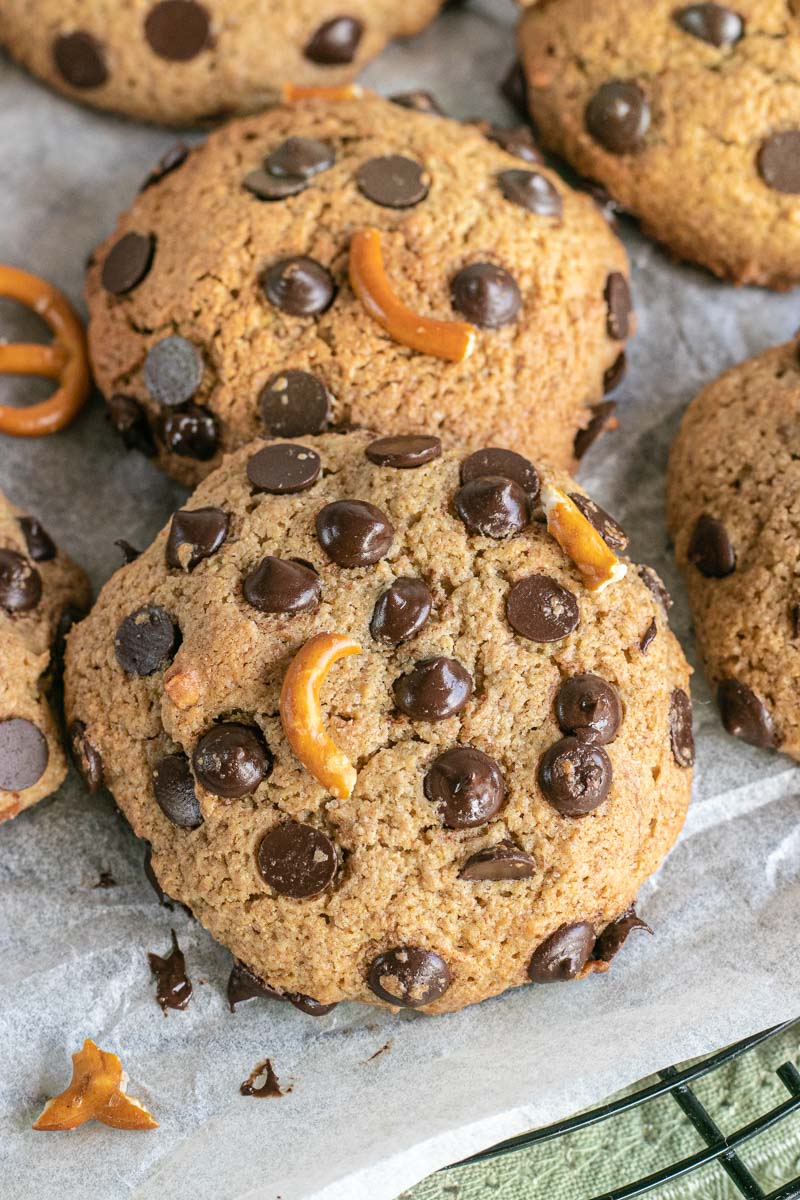 Create a free account to

Save Recipes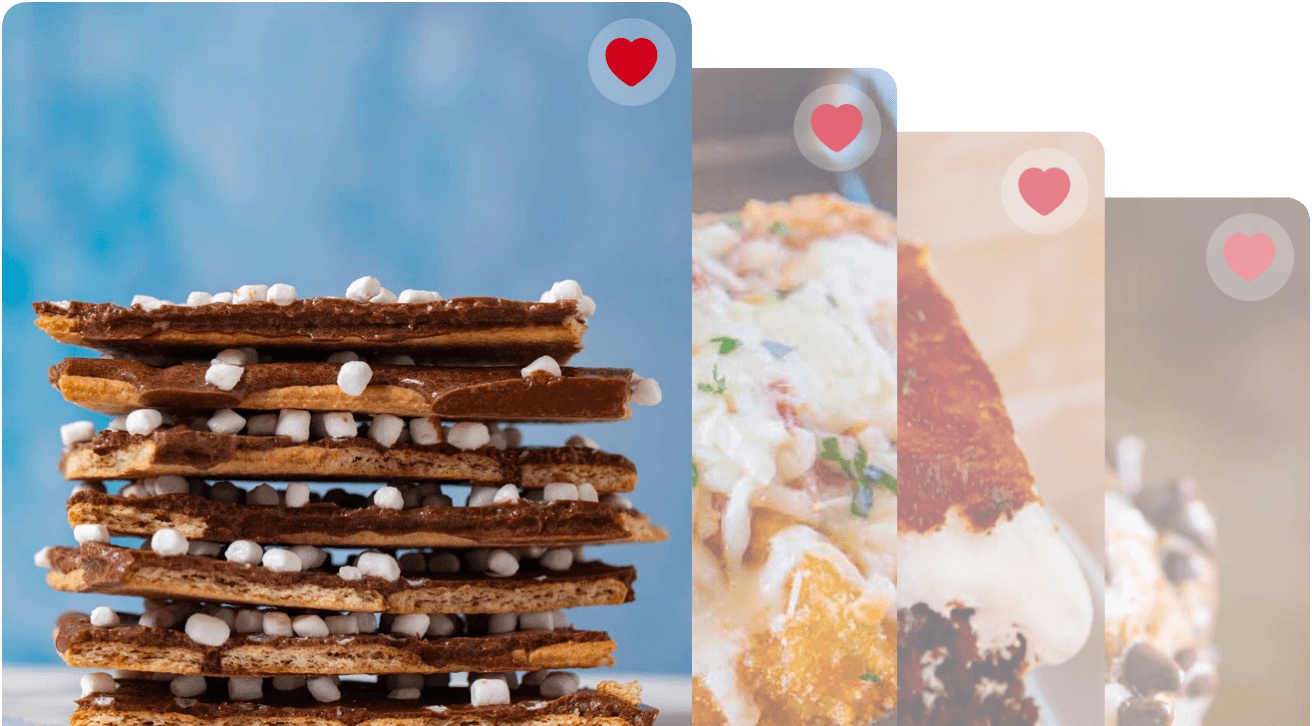 Variations on Healthier Chocolate Chip Pretzel Cookies 
Gluten-free: To make gluten-free chocolate chip cookies, the first step is to use gluten-free flour. Replace the whole wheat flour with gluten-free alternatives like almond flour, oat flour, coconut flour, or buckwheat flour. Normal pretzels also contain gluten, so, you'll need to look for gluten-free pretzels at the grocery store.
Chocolate chips: Instead of regular semisweet chocolate chips, you can try milk, white, or dark chocolate chips. You could also use chocolate chunks or mini chocolate chips in the Pretzel Chocolate Chip Cookies.
Vegan: To make the cookies vegan, you'll need to replace the butter, eggs, and chocolate chips. For vegan butter, try coconut oil, avocado oil, or mashed banana. You can replace the egg with Flax Egg. Lastly, you should be able to find vegan semi-sweet chocolate chips at the store.
Crunchy Peanut Butter Cookies: To make Salted Peanut Butter Pretzel Chocolate Chip Cookies just use ¼ cup peanut butter chips and ¼ cup regular chocolate chips. Additionally, you could mix in ½ cup creamy peanut butter with the dough. Then sprinkle sea salt over the tops of the cookies before serving.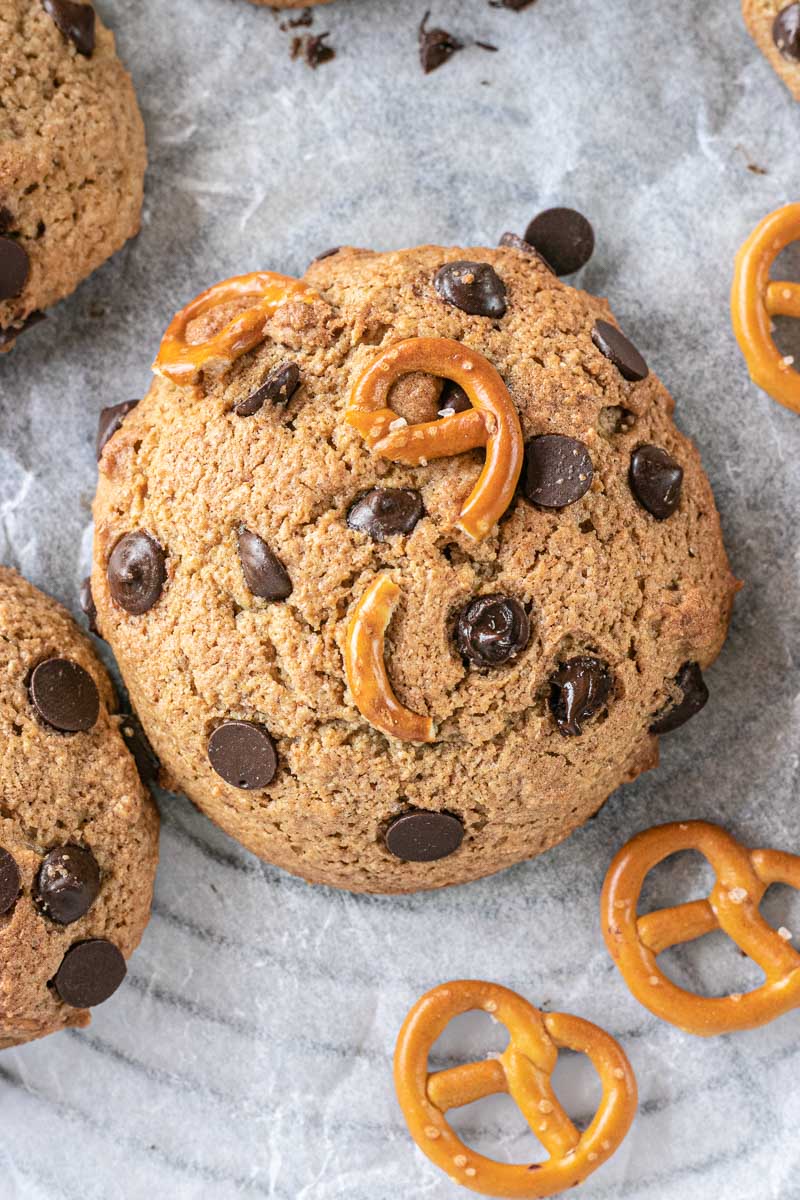 More Healthy Dessert Recipes 
How to Store Healthier Chocolate Chip Pretzel Cookies
Serve: You can keep Pretzel Chocolate Chip Cookies at room temperature for 2-3 weeks. To make sure they stay fresh, put them in an airtight container or cover them in plastic wrap.
Store: You can also wait for them to cool down, then store them in an airtight container in the fridge for up to 2 months.
Freeze: To store the Chocolate Chip Cookies long-term put them in a freezer bag with the layers separated by parchment paper. They'll be good for up to 10 months.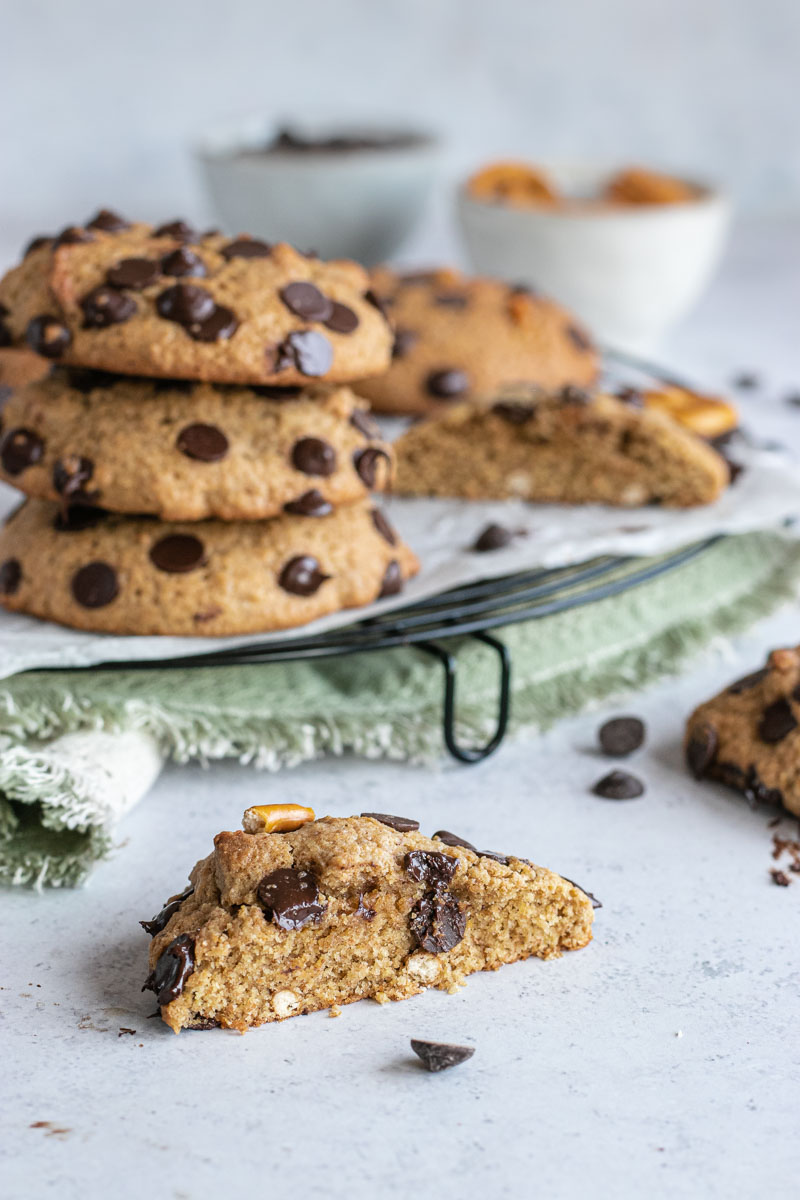 Ingredients
3/4

cup

rolled oats

6

tablespoons

unsalted butter

, softened

1/3

cup

granulated sugar

1/3

cup

brown sugar

1

large

egg

2

teaspoons

vanilla extract

2

tablespoons

applesauce

1

cup

whole wheat flour

1/2

teaspoon

baking soda

1/2

teaspoon

salt

1/2

cup

pretzels

1/2

cup

semi-sweet chocolate chips
Instructions
Pre-heat oven to 350 degrees and line baking sheet with parchment paper.

Add rolled oats to a food processor and grind until they're a fine powder.

In a stand mixer cream together butter, sugar, and brown sugar on medium speed until light and fluffy.

Add in egg and vanilla until well combined.

Add in applesauce until smooth.

Sift together oat flour (your ground oats), whole-wheat flour, baking soda, and salt.

Add to the stand mixer on the lowest setting until just combined.

Fold in the pretzels.

Place the chocolate chips in a small bowl and scoop 18 balls of dough (just shy of 2 tablespoons) onto a large plate.

Roll each ball of cookie dough in a small amount of chocolate chips until they're all rolled and you run out of the remaining chips.

Refrigerate the dough for

20 minutes

.

Bake for

12-14 minutes

, 6 to a regular-sized cookie sheet (bake in batches, keep cookie dough in the refrigerator while other cookies are baking).
Nutrition
Calories:
142
kcal
|
Carbohydrates:
19
g
|
Protein:
2
g
|
Fat:
6
g
|
Saturated Fat:
4
g
|
Polyunsaturated Fat:
1
g
|
Monounsaturated Fat:
2
g
|
Trans Fat:
1
g
|
Cholesterol:
21
mg
|
Sodium:
130
mg
|
Potassium:
80
mg
|
Fiber:
2
g
|
Sugar:
10
g
|
Vitamin A:
135
IU
|
Vitamin C:
1
mg
|
Calcium:
14
mg
|
Iron:
1
mg