Healthy Ginger Cookies are the perfect holiday treat. With all the warm holiday spices, chewy texture and sugar sprinkles and less of the calories and fat!
This easy Dessert Recipe is perfect for baking around Christmas time, but they're so delicious we won't blame you if you want to make them all year round!  For more healthy takes on classic cookie recipes try our Best EVER Healthy Chocolate Chip Cookies.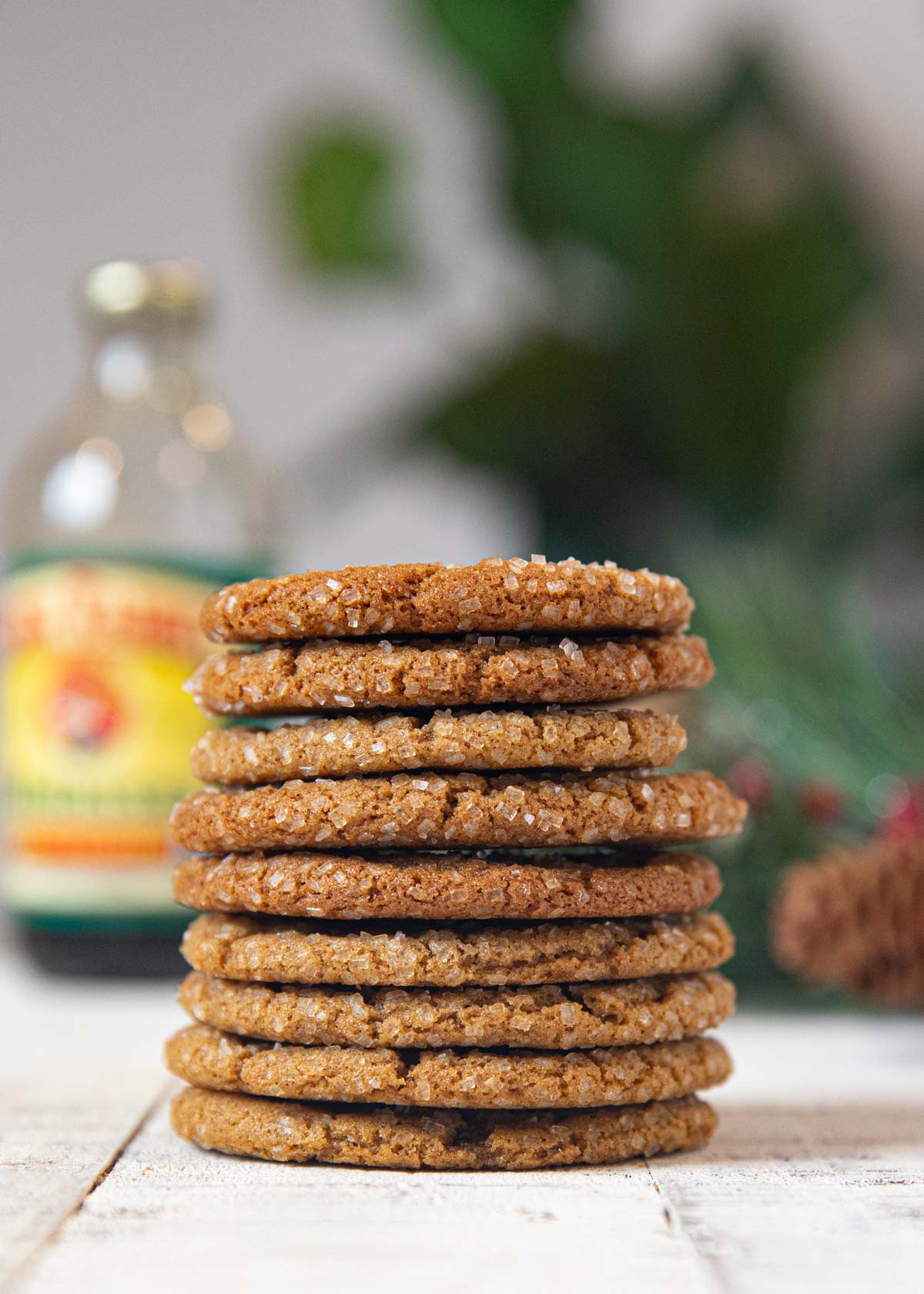 HEALTHY GINGER COOKIES
When it comes to trying to eat healthier, the holidays can be a tough time. Between all the baked goods, chocolates, and rich dinners it's difficult to participate in the festivities without over indulging. These Chewy Ginger Molasses Cookies are a way to get the best of both worlds. They make it possible to enjoy your favorite cookies, while sticking to your health goals.
Apart from Chewy Ginger Cookies, there are lots of other healthy recipe you can make for the holidays. Try Healthy Breakfast Casserole with Turkey Bacon, Brussels sprouts Gratin, and Whole Wheat Chicken Sausage Stuffing.
Unlike gingersnap cookies or classic classic gingerbread cookies, these Ginger and Molasses Cookies are much more soft and chewy. While gingerbread treats usually have a lot of crunch to them, this one is more buttery. Even though it's a soft, more chewy version it still has all the molasses, ginger, and spiced taste you'd expect from a gingersnap or classic gingerbread cookie.
MORE HOLIDAY RECIPES
Whole Wheat vs All Purpose Flour
To make these Ginger Molasses Cookies as healthy as they can be, this recipe uses a mixture of wheat flour instead of pure all-purpose flour. Whole wheat flour has more nutrients, fiber and other health benefits than typical all-purpose flour but it can impact the tenderness of your cookies. While we usually defer to oat flour in our other cookies the addition of oats would not be in line with the flavors of these ginger cookies.
To keep the cookies as chewy and tender as possible we use a half and half ratio to the flour. These cookies also use less sugar than many cookie recipes. Because of the rich spices that season the cookie you won't taste the difference. Plus, they are still just as chewy and delicious as classic Ginger Cookies.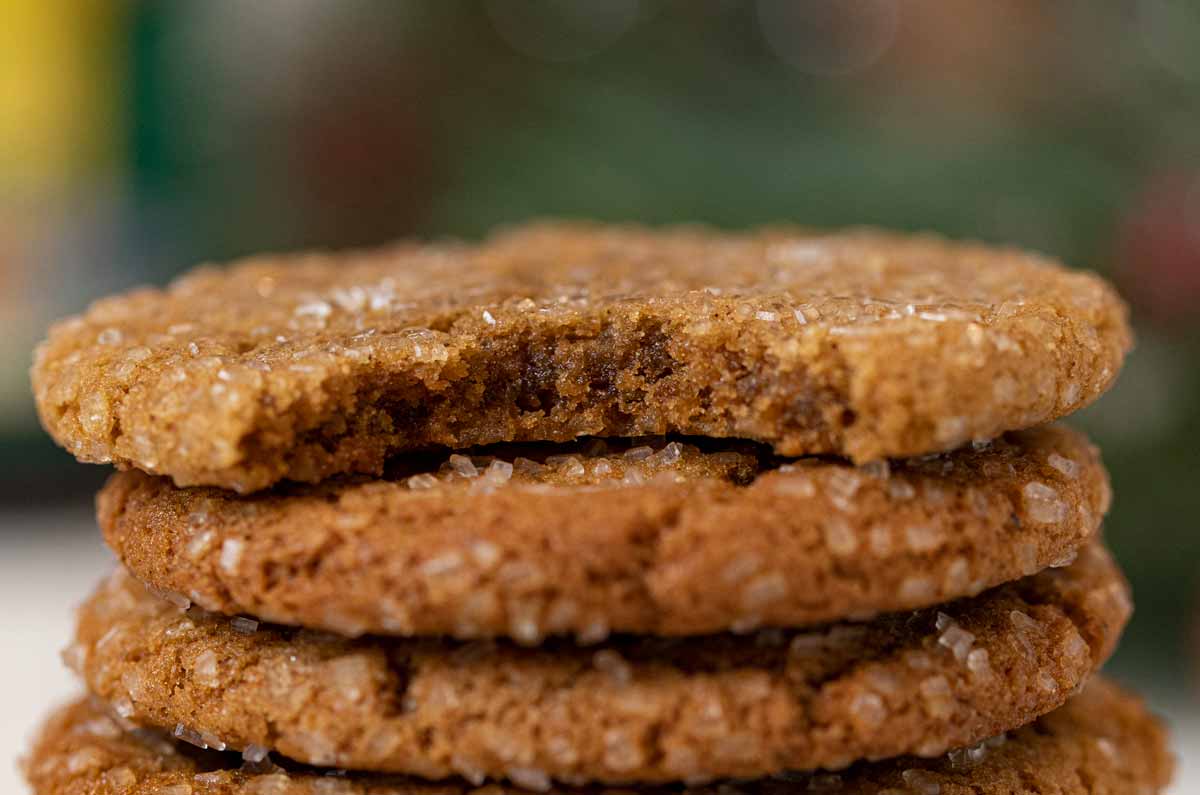 Create a free account to

Save Recipes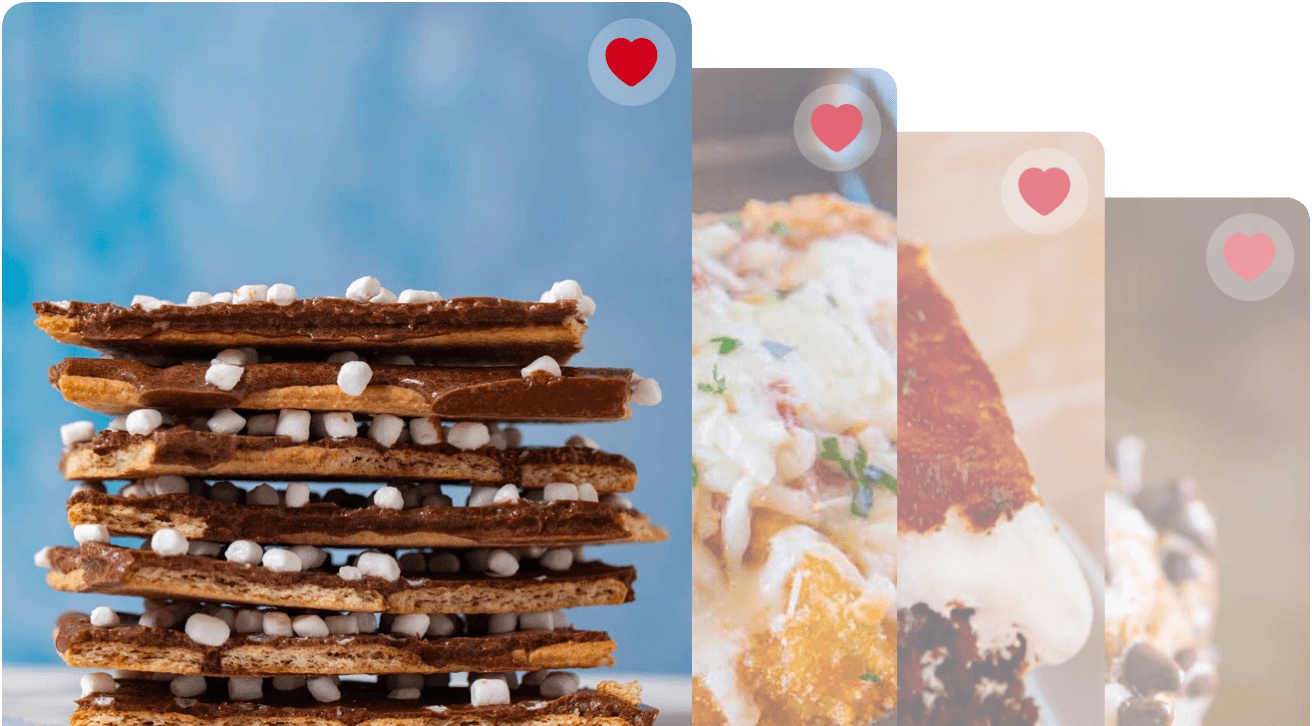 VARIATIONS ON HEALTHY GINGER COOKIES
Vegan Cookies: To make these cookies suitable to a vegan diet they need to be dairy-free and egg-free. To replace the egg try making a Flax Egg for an easy substitute. When It comes to the butter there are a few different options you can try. There are plant-based butters like almond butter. You can also try replacing the butter with coconut oil. Whether you use coconut oil or find some other vegan substitute, once you've replaced the egg and the butter these cookies will be good to go.
Gluten-free Cookies: To make these Chewy Ginger Molasses Cookies gluten-free, replace the wheat flour with a flour that doesn't have any gluten. There are several grain-free flour options. You can try almond flour, oat flour, or coconut flour for flour without gluten. Almond flour and coconut flour offer slightly more nutrients than oat flour. However almond flour and coconut flour, will alter the taste slightly more. You'll just have to decide what's most important to you when selecting the flour for your cookie dough.
Sweetener Changes: There are other healthy changes you can make to these Molasses Cookies apart from using coconut oil, or making them gluten free. Try replacing the cane sugar with coconut sugar, or for a slightly darker taste use brown sugar in the cookie dough. You can even use maple syrup for part of the sugar. If you need a completely sugar-free cookie, then instead of using coconut sugar try using Splenda or some other sugar substitute.
Toppings and decoration: This is a great recipe for holiday baking and you can decorate the cookies just like you would if they were gingerbread. Add frosting, sprinkles, or melted white chocolate after the cookies have cooled. This is especially great if you have kids who'll have fun decorating their own cookie.
MORE COOKIE RECIPES
HOW TO STORE GINGER COOKIES
Serve: Once you bake this easy cookie recipe you can leave the Ginger and Molasses Cookies at room temperature for up to 3 days. Just make sure to keep them in an airtight container or covered.
Store: Stored properly, this cookie will last for up to a week in the fridge. The cookies will become more soft the longer you store them, so you don't want to keep them too long.
Freeze: Freeze the cookies in an airtight container for up to 3 months. If you want to make this recipe to bake later, you can also freeze the dough. Kept sealed the dough recipe will last up to 9 months.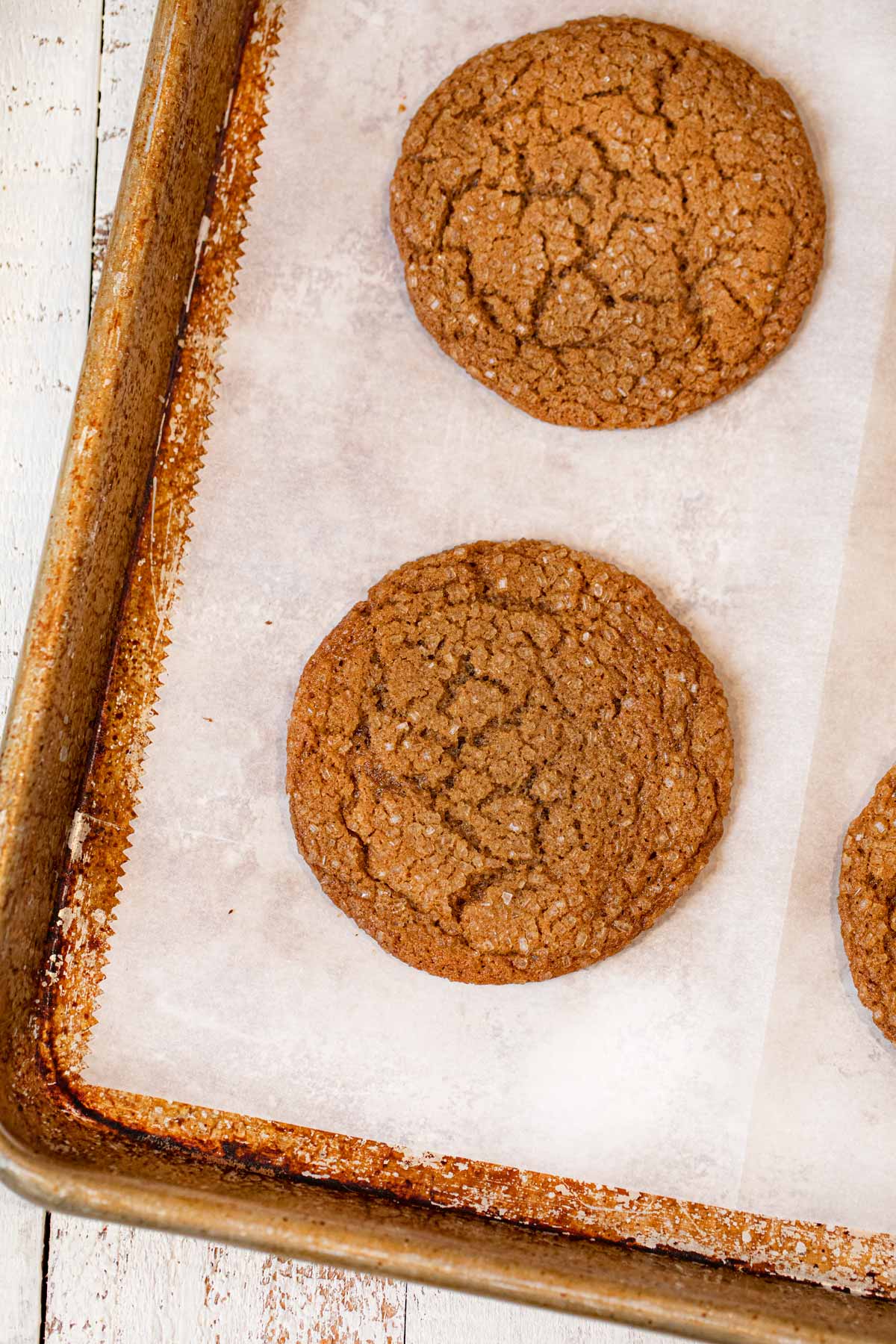 Ingredients
3/4

cup

unsalted butter

3/4

cups

brown sugar

, packed

1/4

cup

molasses

1

large

egg

1/4

teaspoon

salt

1

cup

whole wheat flour

1

cup

flour

1 1/2

teaspoons

baking soda

1

teaspoon

ground ginger

1

teaspoon

ground cinnamon

1/2

teaspoon

ground cloves

1/4

teaspoon

nutmeg

1/3

cup

coarse sanding sugar

, for rolling
Instructions
Cream the butter and sugar in a stand mixer or bowl.

Mix in the molasses, egg, and salt.

Sift together the whole wheat flour, flour, baking soda, ginger, cinnamon, cloves, and nutmeg, then gradually mix into the dough.

Transfer the dough to a small bowl, then cover tightly with plastic wrap and refrigerate for at least 1 hour.

Preheat oven to 350 degrees. Line two baking sheets with parchment paper.

Roll the dough into 1-inch balls then lightly roll each ball in sanding sugar.

Place the balls on the baking sheets, leaving 2 inches between each ball to allow room for spreading.

Bake for

10-12 minutes

until cracked on top.
Nutrition
Calories:
255
kcal
|
Carbohydrates:
39
g
|
Protein:
3
g
|
Fat:
11
g
|
Saturated Fat:
7
g
|
Cholesterol:
36
mg
|
Sodium:
311
mg
|
Potassium:
148
mg
|
Fiber:
2
g
|
Sugar:
24
g
|
Vitamin A:
328
IU
|
Calcium:
22
mg
|
Iron:
1
mg