Healthy Triple Chocolate Chip Cookies are chewy and melty cookies with 3 varieties of chocolate chips. Made with whole wheat flour, applesauce, and oats.
If you enjoyed The BEST Ever Healthy Chocolate Chip Cookies, these are the next chocolatier step. These Healthy Triple Chocolate Chip Cookies are a flavorful, kid-friendly, heart-healthy Dessert Recipe.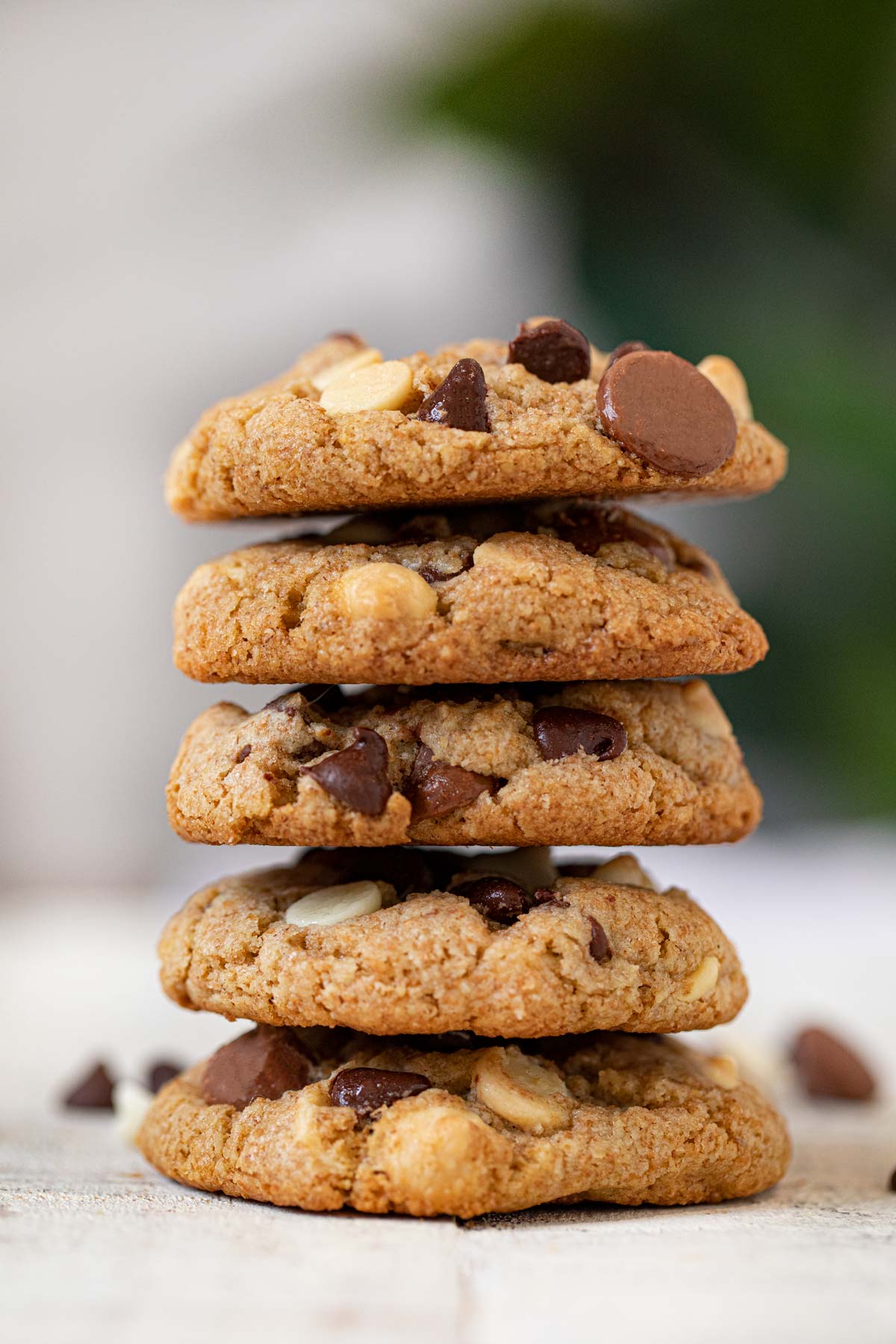 HEALTHY TRIPLE CHOCOLATE COOKIES
This great recipe makes the ultimate ooey-gooey chocolate chip cookies. This Chocolate Chip Cookie recipe is sure to become a new go-to dessert. They taste just like classic chocolate chip cookies. Your family will never know your giving them a healthy treat. In fact, if you weren't baking them, you'd never guess how nutritious these cookies are!
It's amazing when you can find healthy alternatives to your favorite recipes that taste just as good. Some others you can find on this site are Black Bean Brownies and Whole Wheat Carrot Sheet Cake. Between these healthy desserts and this cookie recipe, there's no reason you can't satisfy your sweet tooth while eating healthy.
And not only are these cookies healthy, but they're also gorgeous. An easy trick to make sure your cookies come out beautifully every time is to roll the chocolate chips on the outside of the cookies. When you mix together the dough, only add half of the chocolate chips. Put the rest of the semisweet, white, and milk chocolate chips in a bowl and roll the cookie dough balls in them. This makes sure the chocolate chips are outside and inside the entire cookie. And it makes a beautiful presentation of whole chocolate chips on top of the baked cookies.
MORE DESSERT RECIPES
How can Triple Chocolate Chip Cookies be healthy?
You might be wondering how and Chocolate Chip Cookie recipe can really turn out healthy. Especially, if it tastes as sweet, chewy, and delicious as Chocolate Chip Cookies should. Well, these Whole Wheat Chocolate Chip Cookies do taste just as good as one straight from the bakery. But they also have more fiber, and are lower in fat and calories.
One of the changes made to accomplish this was reducing the sugar. Between the brown sugar and the white sugar in the cookie dough there are only 2/3 of a cup of sugar. Most cookie recipes have double that. But you won't taste the difference. You'll just taste an amazing cookie!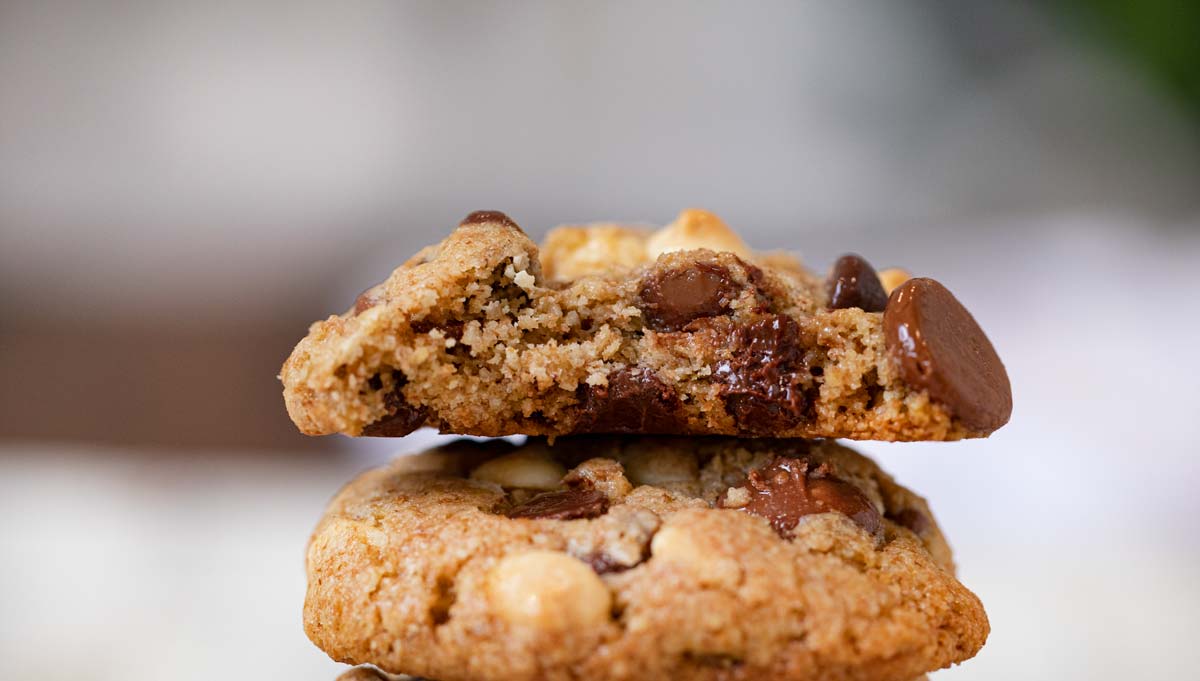 There's also the flour used in this recipe. Instead of using all-purpose flour there's a combination of whole wheat and oat flour in the cookie dough. Both wheat flour and oats have more fiber and nutrients than white flour. You can make your own oat flour by putting oatmeal in a food processor.
Oat flour also give the cookies a chewy and cakey texture. Cookies usually get this from butter, but because of the oatmeal you don't need as much butter to make the perfect chocolate chip cookies.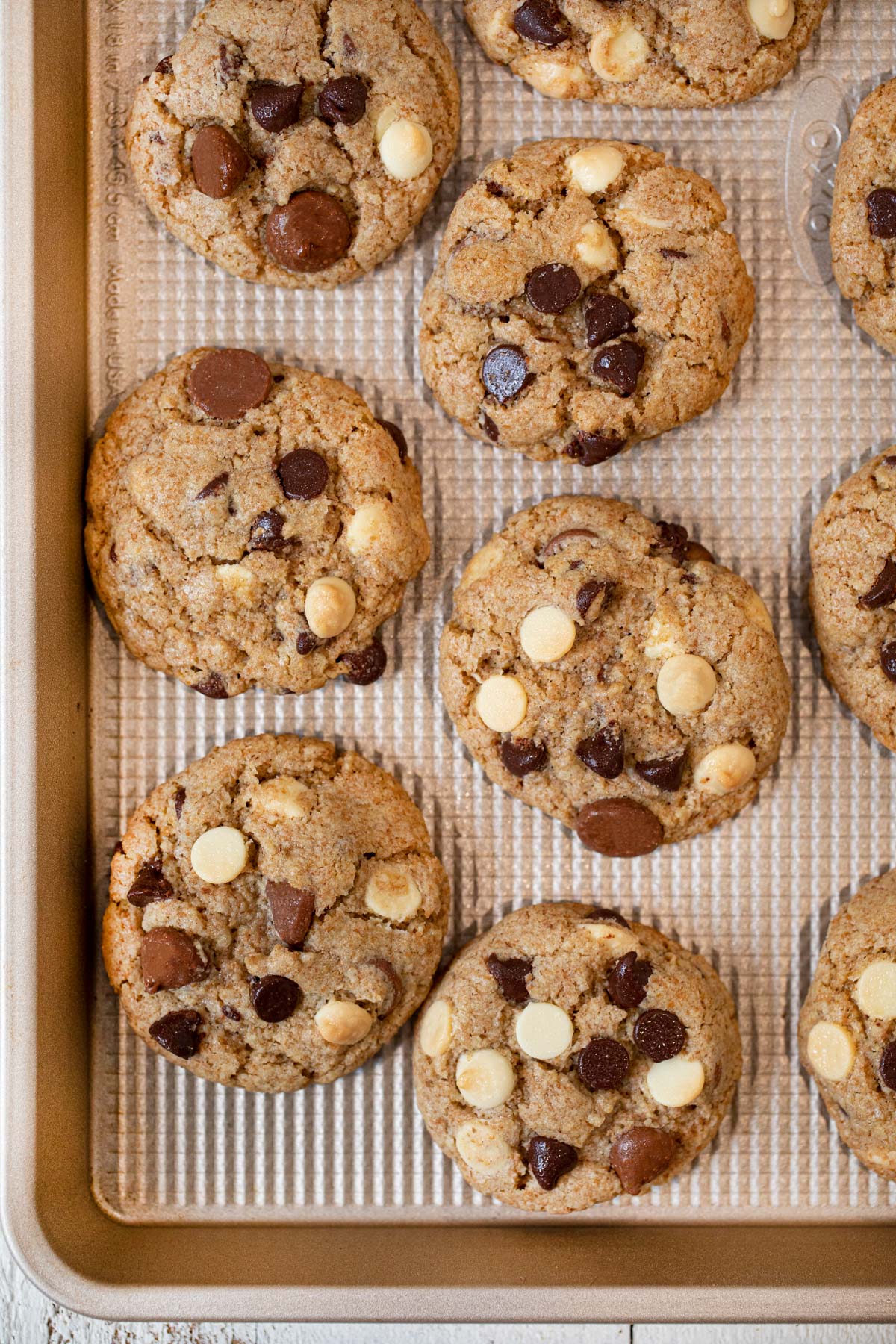 Create a free account to

Save Recipes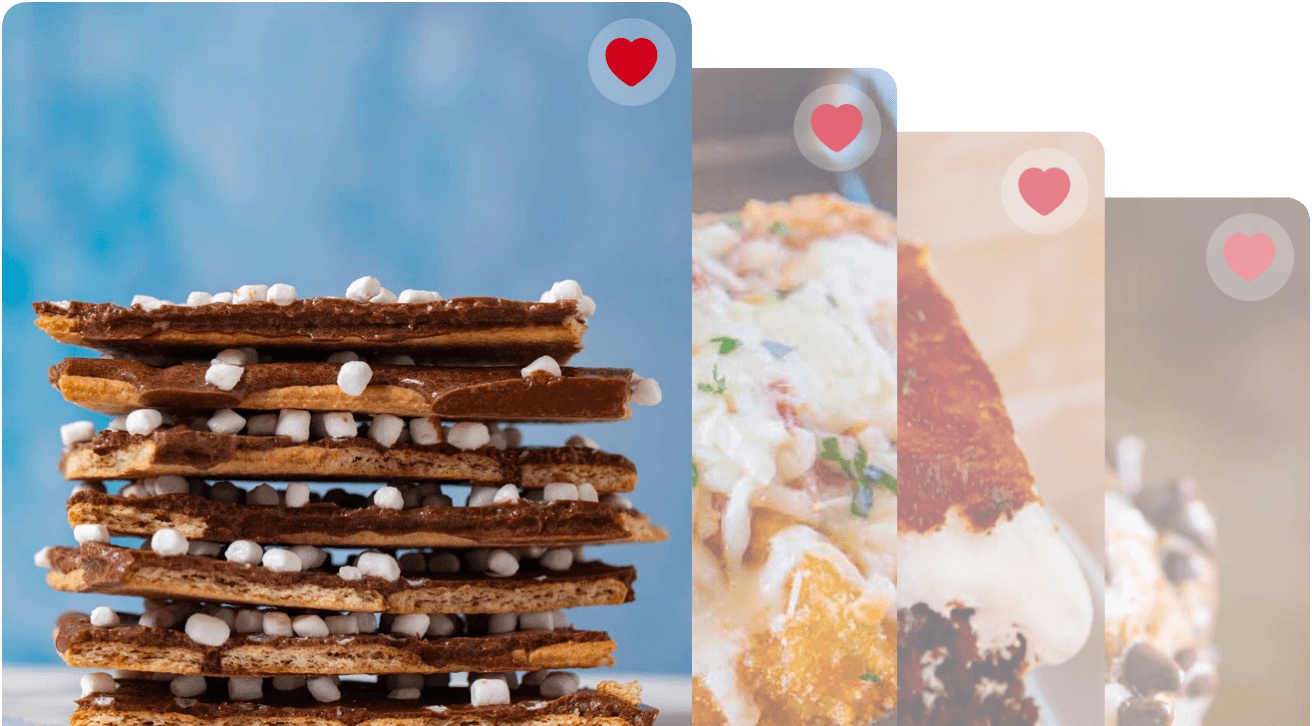 VARIATIONS ON HEALTHY TRIPLE CHOCOLATE CHIP COOKIES
Peanut Butter Chocolate Chip Cookies: To make a recipe for Peanut Butter Whole Wheat Chocolate Chip Cookies add ½ cup peanut butter to the brown sugar, white sugar and butter.
Gluten-free: If you need to make gluten-free cookies replace the wheat flour with almond flour. Oat flour is already gluten-free, so you shouldn't have to change that. To be extra safe you can check your container of oatmeal, to make sure there was no cross-contamination with gluten.
Oatmeal Cookies: This recipe has you put rolled oats in a food processor to make oat flour. This gives the cookies a more light and cakey texture. However, if you'd prefer to make oatmeal cookies with chewy oats, don't grind old fashioned oats. Instead, add them to cookie dough whole for Oatmeal Chocolate Chip Cookies.
MORE RECIPES WITH CHOCOLATE CHIPS
HOW TO STORE HEALTHY TRIPLE CHOCOLATE CHIP COOKIES
Serve: Keep freshly baked Chocolate Chip Cookies in a cool dry place in an airtight container. Stored properly, the cookies can last 3 weeks at room temperature.
Store: Whole Wheat Chocolate Chip Cookies stay good in the fridge for up to a week. Store them in a freezer bag or airtight container.
Freeze: You can keep Whole Wheat Chocolate Chip Cookies in the freezer for up to 6 months. Let the Chocolate Chip Cookies cool to room temperature before sealing, and storing them. When you're ready to eat the Chocolate Chip Cookies let them defrost in the fridge before reheating them.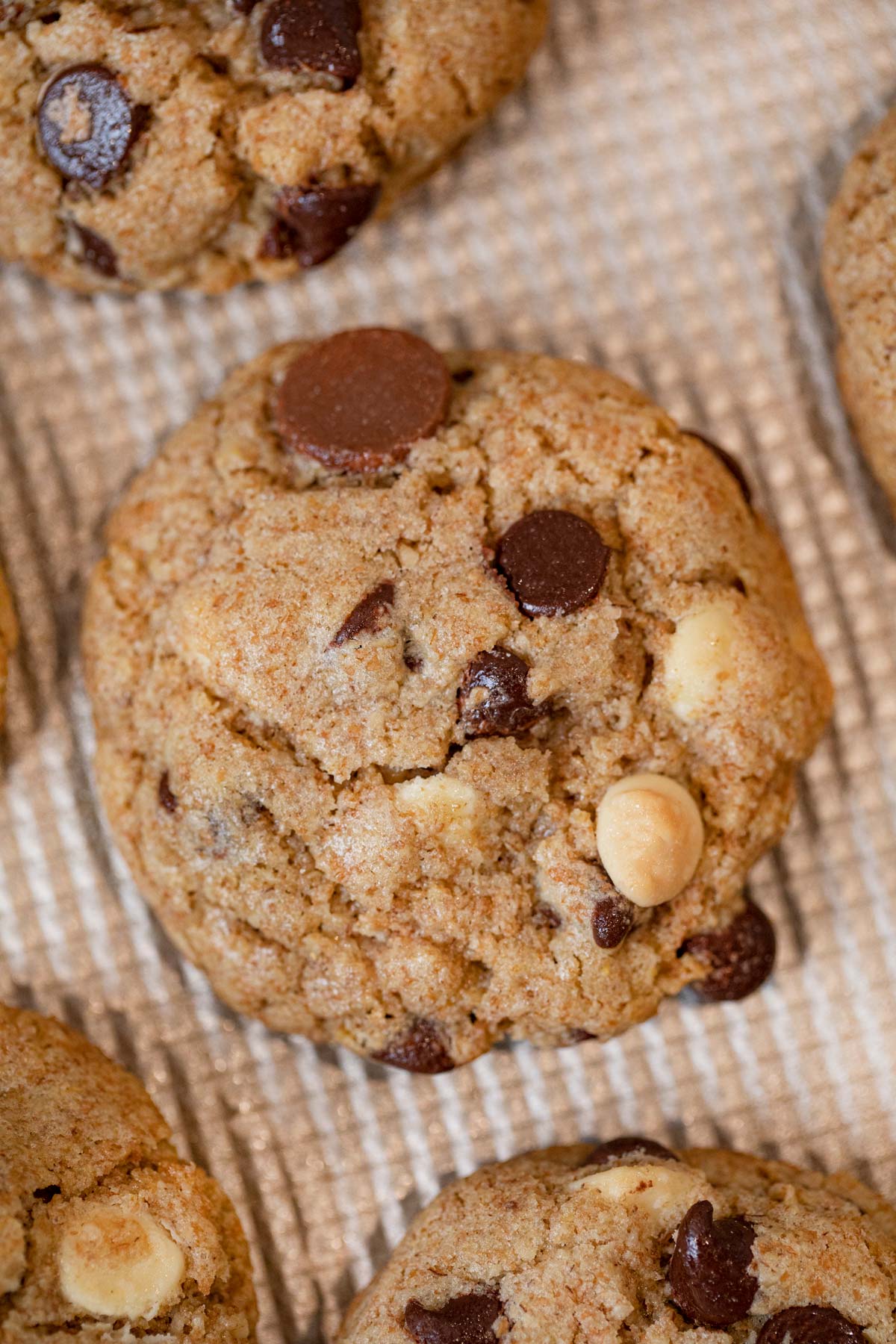 Ingredients
3/4

cup

rolled oats

6

tablespoons

unsalted butter

, softened

1/3

cup

granulated sugar

1/3

cup

brown sugar

1

large

egg

2

teaspoons

vanilla extract

2

tablespoons

applesauce

1

cup

whole-wheat flour

1/2

teaspoon

baking soda

1/2

teaspoon

salt

1/4

cup

white chocolate chips

1/4

cup

semi sweet chocolate chips

1/4

cup

milk chocolate chips
Instructions
Pre-heat oven to 350 degrees and line baking sheet with parchment paper.

Add rolled oats to a food processor and grind until they're a fine powder.

In a stand mixer cream together butter, sugar and brown sugar on medium speed until light and fluffy.

Add in egg and vanilla until well combined.

Add in applesauce until smooth.

Sift together oat flour (your ground oats), whole-wheat flour, baking soda and salt.

Add to the stand mixer on the lowest setting until just combined.

In a medium bowl mix together the white chocolate chips, semi-sweet chocolate chips and milk chocolate chips.

Stir half the chocolate chip mixture into the cookie dough.

Scoop 18 balls of dough (just shy of 2 tablespoons) onto a large plate.

Roll each ball of cookie dough in the remaining chocolate chip mixture.

Refrigerate the dough for

20 minutes

.

Bake for

12-14 minutes

, 6 to a regular sized cookie sheet (bake in batches, keep cookie dough in refrigerator while other cookies are baking).
Nutrition
Calories:
145
kcal
|
Carbohydrates:
20
g
|
Protein:
2
g
|
Fat:
7
g
|
Saturated Fat:
4
g
|
Cholesterol:
21
mg
|
Sodium:
105
mg
|
Potassium:
67
mg
|
Fiber:
1
g
|
Sugar:
12
g
|
Vitamin A:
137
IU
|
Calcium:
20
mg
|
Iron:
1
mg