Flax eggs are an unbelievably easy to make egg substitute. It's just flaxseed and water. Great alternative for vegan and healthy baking with added protein!
Flax seeds are an excellent gluten free and vegan substitute for eggs. Try using Flax Egg in The BEST Ever Healthy Chocolate Chip Cookies or any other Healthy Baked Goods.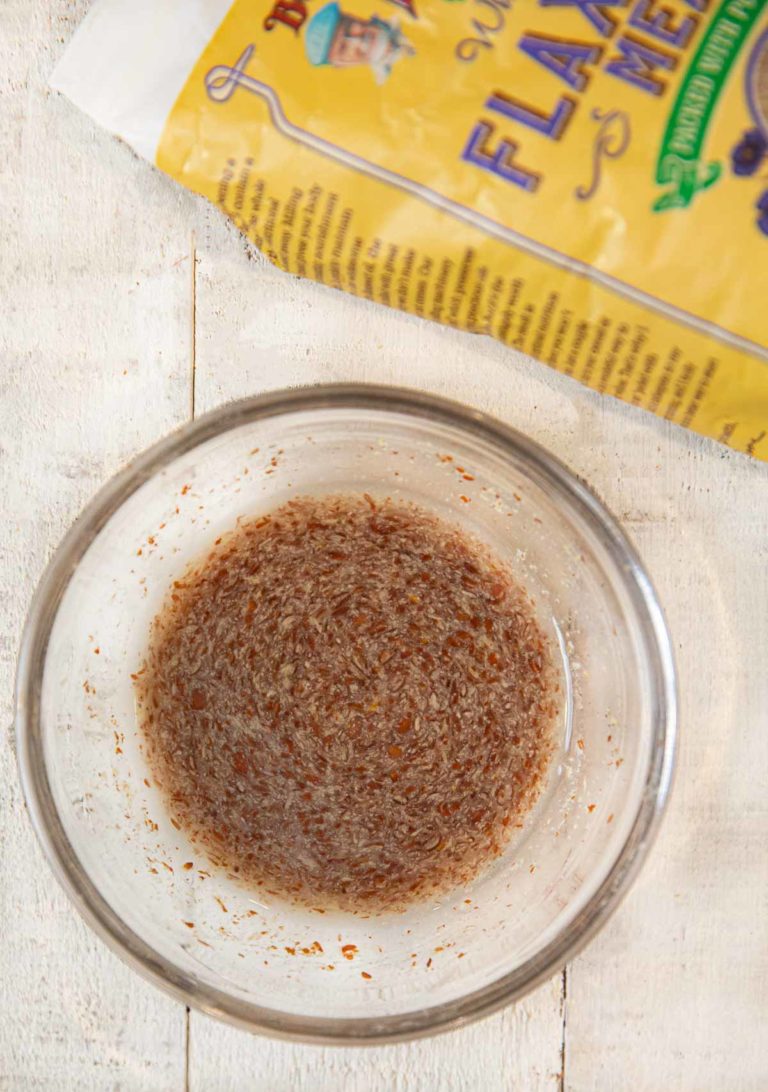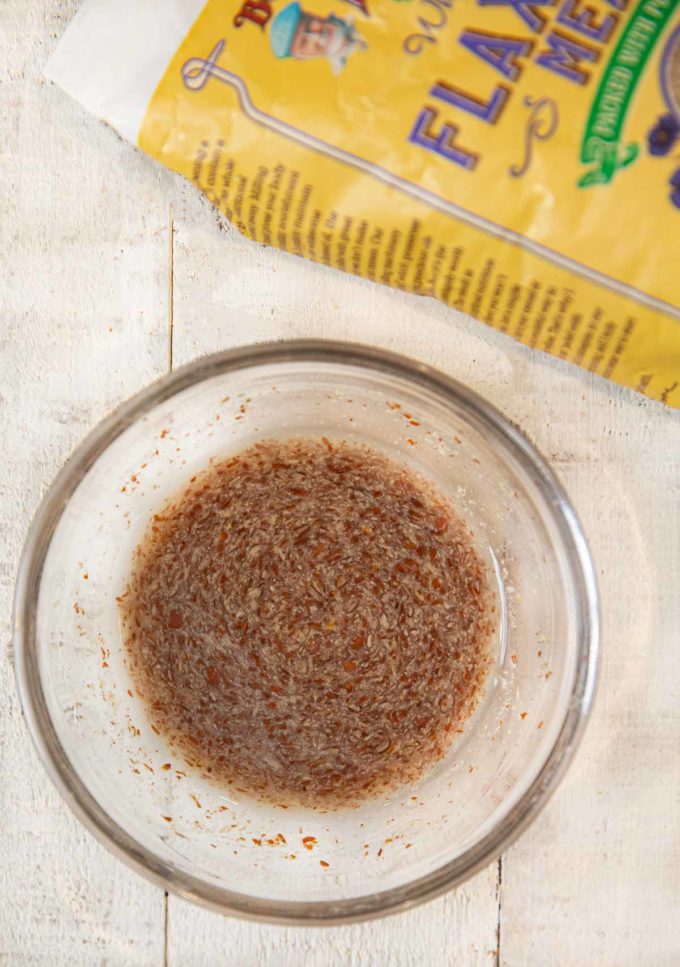 FLAX EGGS
Flax seeds are an easy, vegan, gluten free substitute to the chicken eggs you would normally use in baked goods. The next time your baking use flax eggs and a plant-based or dairy-free milk alternative for easy vegan recipes. Enjoy egg-free baking on a paleo, whole30, grain-free and gluten free diet.
Flax eggs are a simple 1 to 1 exchange for eggs in most baking. Use flax eggs the next time you make Cookies, brownies, Muffins or Cake.
HOW TO MAKE A FLAX EGG
The only two ingredients you need are ground flaxseed and water. to make the perfect egg replacer. And you can find the simple step-by-step instructions for if you start with whole flaxseed below.
Making flaxseed into an egg substitute is an easy no-bake recipe. It's a simple matter of whisking together flax seeds with a bit of warm water in a small bowl. Once it's combined just leave the mixture to set for 15 minutes. After the 15 minutes it should have an egg-like or gelatinous consistency. The perfect egg replacement and the total time is just over 15 minutes! If you whisk the flax seeds with the water at the beginning of baking and let it sit while you get the rest of your ingredients in order, it should be ready when you are.
Making this egg alternative takes a little longer if you start whole flaxseeds, instead of pre-ground flax seed meal. To make flaxseed meal use a high speed blender or coffee grinder until you have ground flaxseed. You can make larger amounts of flaxseed meal at a time and store it in the fridge without mixing it in water. Then take out as much as you need the next time you bake.
WHY USE FLAX EGGS
Flax eggs have the same function as regular eggs in your recipe. Like regular eggs flaxseed acts as a binding agent in the recipe to keep the ingredients together. And unlike many egg substitutes this flax egg recipe makes vegan recipes that taste pretty close to using real eggs.
Unlike eggs, flax eggs are cholesterol free and contain dietary fiber. Flaxseed also contains omega-3, which is very important to your health. And if you're trying to cut back on calories flax has less than eggs. So, even if you're non-vegan you may want to consider this vegan egg substitute for a healthy recipe.
RECIPES TO MAKE WITH FLAX EGGS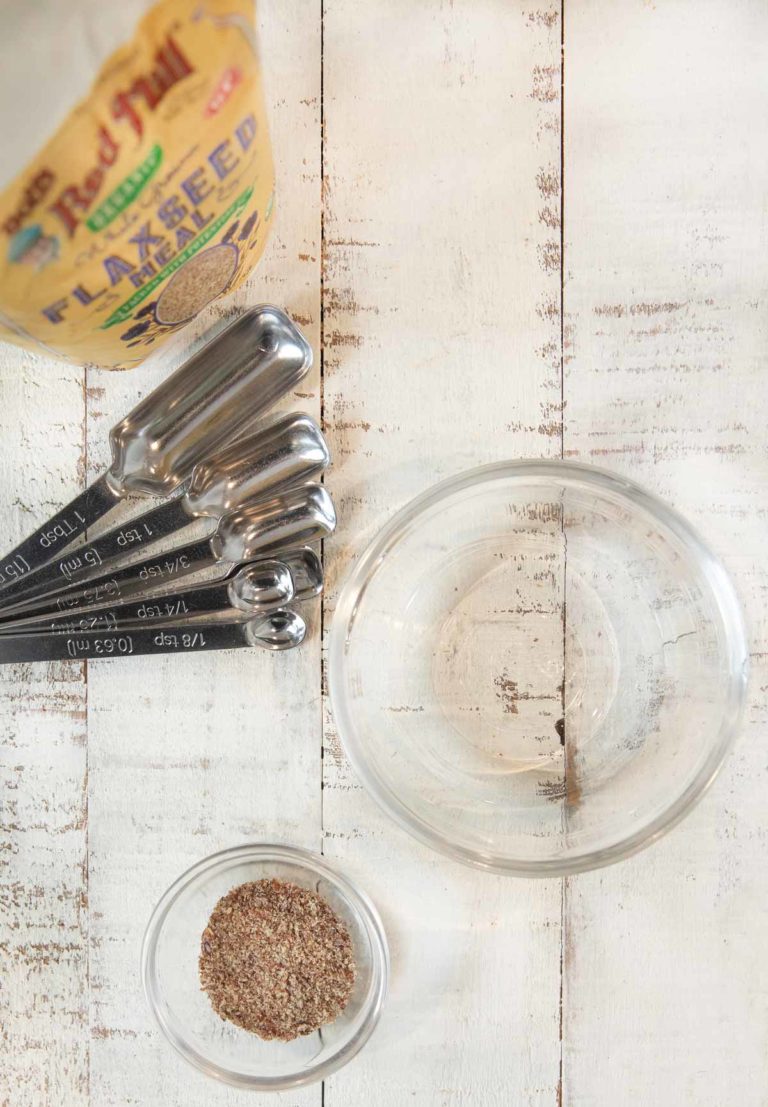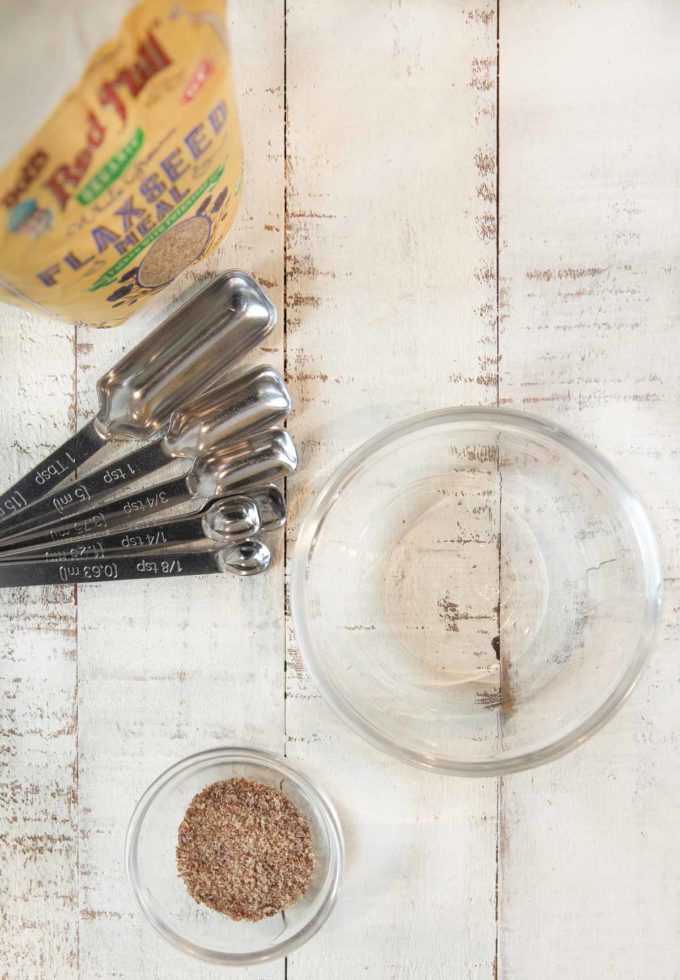 Create a free account to

Save Recipes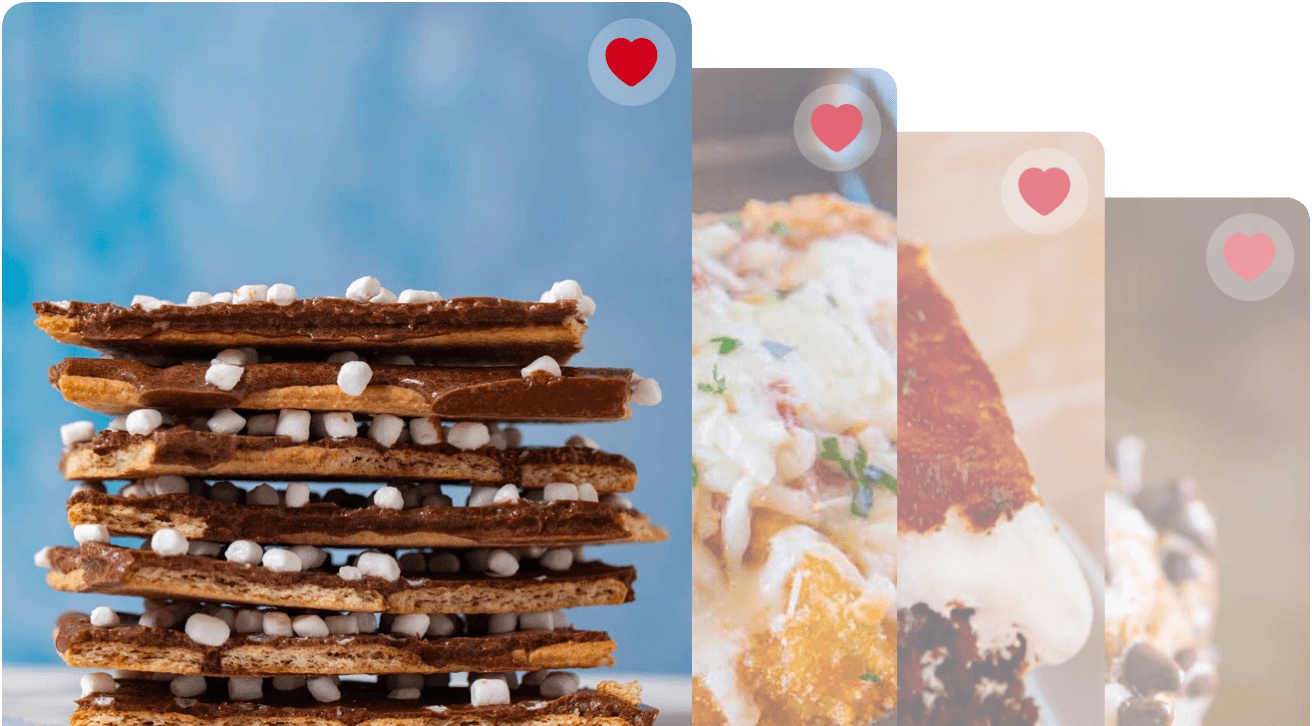 OTHER VEGAN EGG SUBSTITUTES
Chia seeds: If you don't have flax, don't worry! You can still substitute eggs for chia eggs. Make the recipe the same way, just substituting flax for chia seeds, and use chia eggs as a 1 to 1 substitute for eggs.
Pureed fruit: You can also use applesauce or a mashed banana as an egg replacer, instead of flax seeds. Use ¼ cup unsweetened applesauce to replace 1 egg in baking. Bananas are also ¼ of a cup to 1 egg, but, unlike flax, baking with bananas may result in a slightly banana flavored recipe.
Yogurt: Use ¼ cup plain yogurt to replace the egg in your recipe. While this will remove the egg from the recipe, it won't result in vegan baking because yogurt has dairy.
MORE BAKED GOODS TO USE FLAX EGGS IN
HOW TO STORE FLAX EGGS
Serve: Once you've mixed the flax seed with water and let it sit until it reaches an gel-like consistency, you'll need to use them quickly. Unfortunately, once it's mixed and set there's really no storing the flax egg.
Store: You can store flax meal in the fridge on its own to make it last longer. It should stay good for about 4 months. You'll know it's not good when it no longer easily mixes with the water.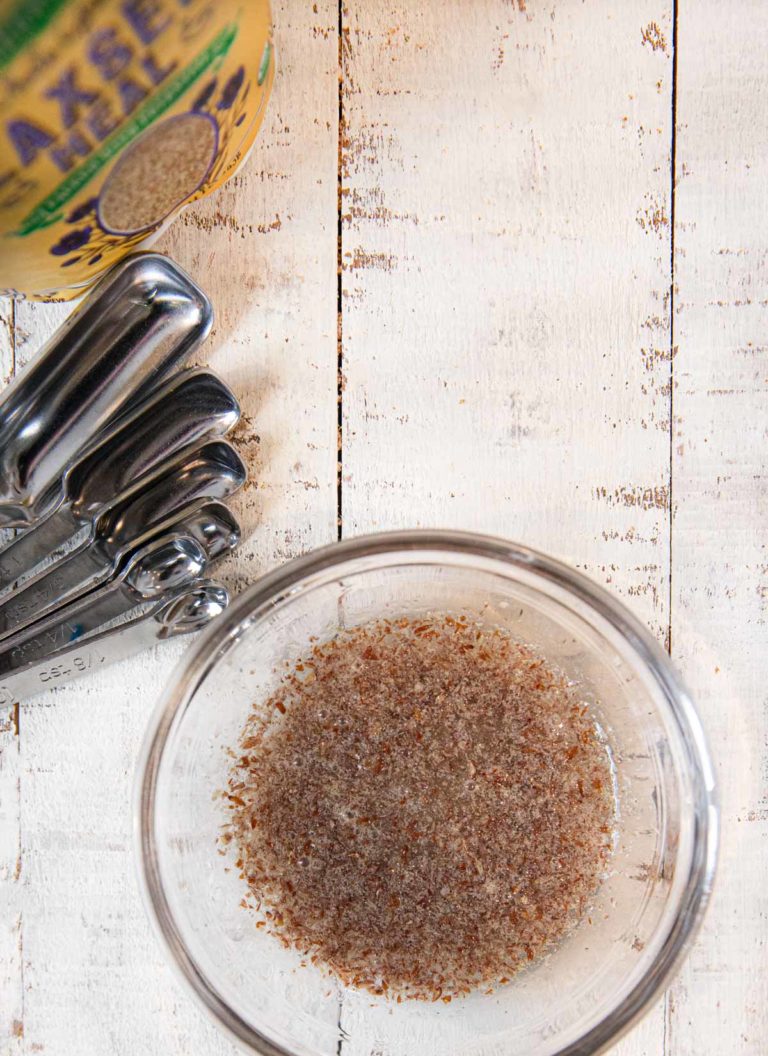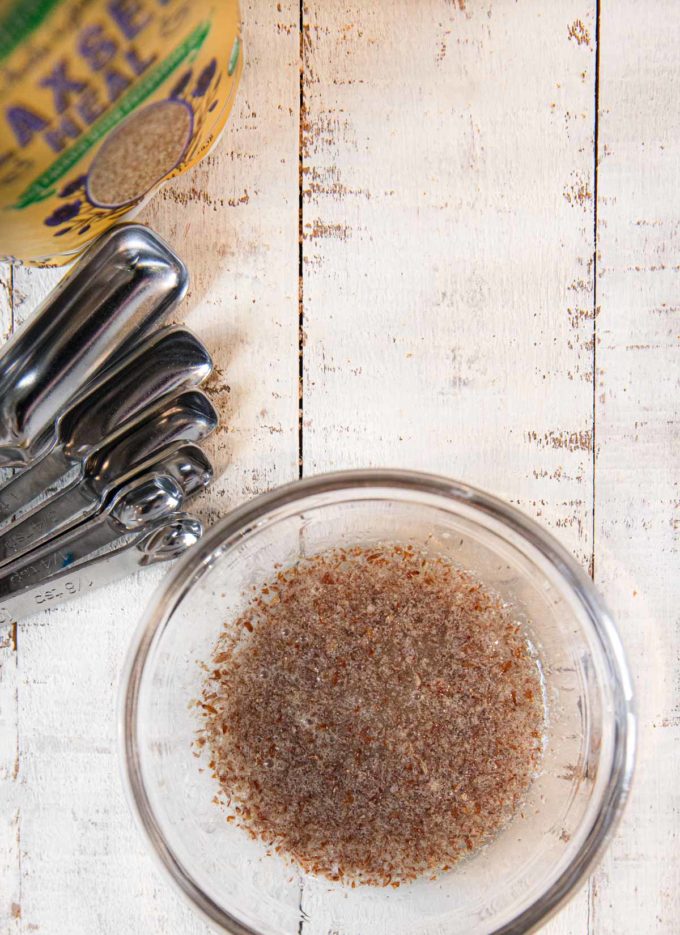 Ingredients
1

tablespoon

ground flax seed

3

tablespoons

water
Instructions
Whisk together the ground flax and water.

Allow to sit for

15 minutes

to thicken.
Nutrition
Calories:
37
kcal
|
Carbohydrates:
2
g
|
Protein:
1
g
|
Fat:
3
g
|
Saturated Fat:
1
g
|
Sodium:
4
mg
|
Potassium:
57
mg
|
Fiber:
2
g
|
Sugar:
1
g
|
Calcium:
18
mg
|
Iron:
1
mg