Flourless Peanut Butter Cookies are perfectly chewy, soft, sweet, and completely gluten-free. Made with just 4 ingredients in 20 minutes!
Whether you've switched to a gluten-free diet, are trying to cut back, or are just fresh out of flour, flourless Dessert Recipes can be a real life-saver. This recipe makes Chewy Peanut Butter Cookies with the perfect taste and texture, but no flour. You can also try our Chocolate Walnut Cake, and Oatmeal Banana Cookies for more flourless recipes.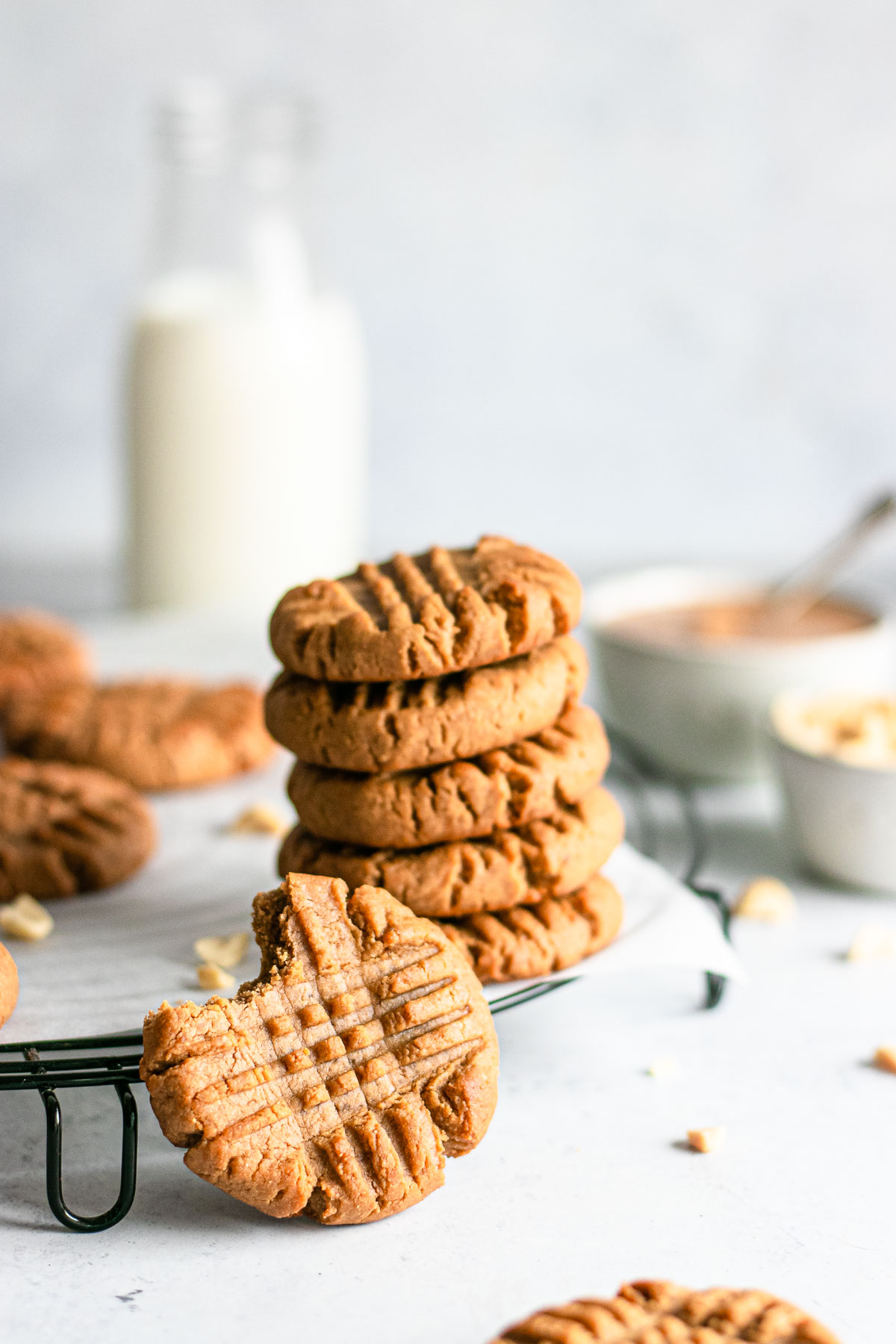 FLOURLESS PEANUT BUTTER COOKIES
No-Flour Peanut Butter Cookies come together in practically no time with scrumptious peanut butter, and just 3 other simple ingredients. All you need to make flourless cookies are creamy peanut butter, 1 egg, salt, and brown sugar. Just whip together the 4 ingredients, pop them in the oven, and your work in the kitchen is done! 
There's no white sugar, extra oil, or any other ingredients necessary for this Flourless Peanut Butter Cookie recipe. They come out with a salty-sweet flavor and soft texture that melts in your mouth with every bite. 
When it comes to delicious peanut butter recipes, we have posts for Banana Peanut Butter Muffins and Peanut Butter Chocolate Chip Cookies, which are absolutely delicious. The Flourless Peanut Butter Cookies are made for true peanut butter lovers. They're quick, and easy to get your scrumptious peanut butter flavor fast, and you can share them with any friends and family who can't eat gluten. 
If you want to make peanut butter cookie dough in advance, you can combine the ingredients as usual and shape them on a rimmed baking sheet. Set them in the freezer for a few hours to harden. Then transfer the cookie dough balls to a freezer bag to store for up to 9 months. Bake bake them for an extra minute or two when you're ready to enjoy.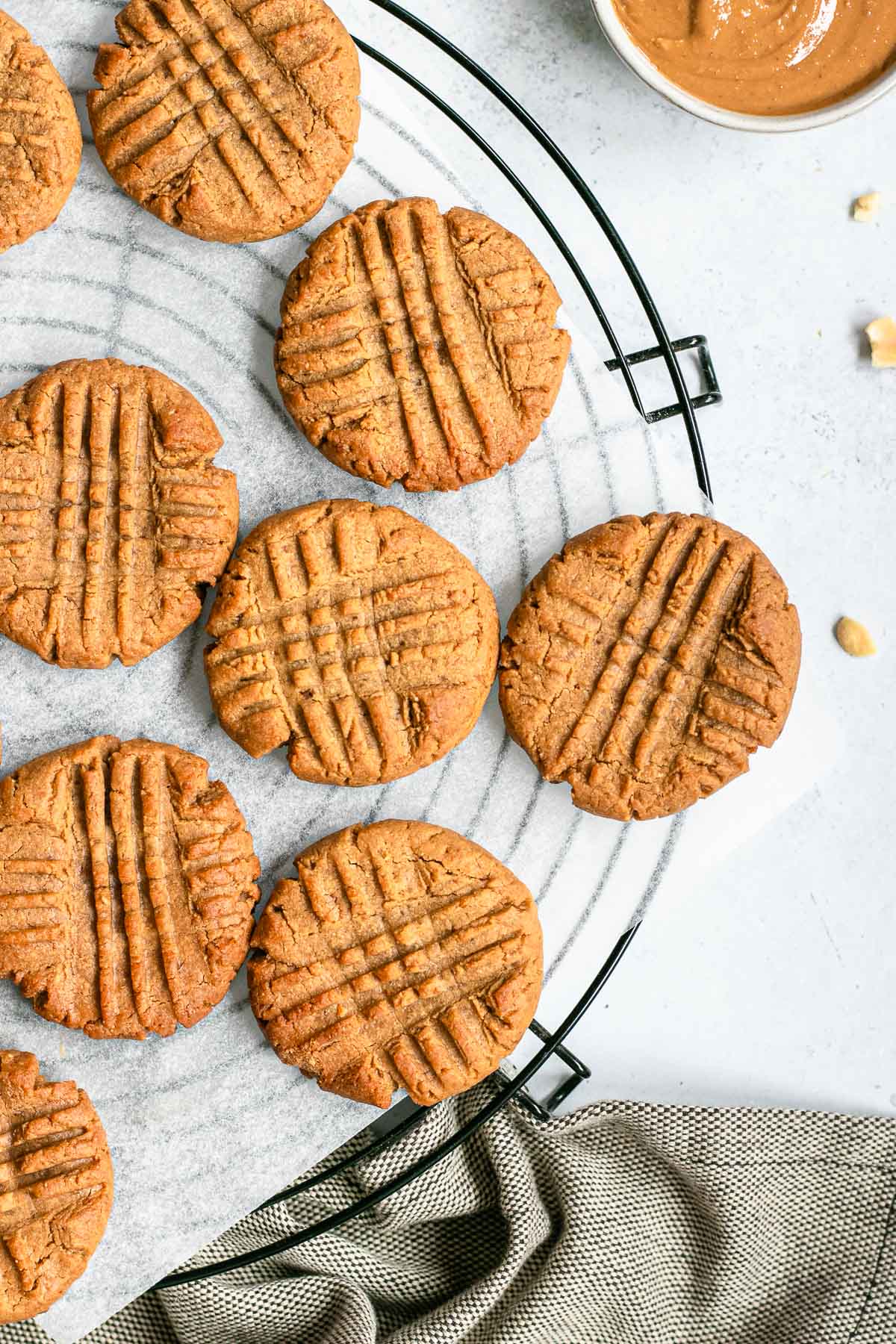 MORE COOKIE RECIPES
TIPS FOR MAKING FLOURLESS PEANUT BUTTER COOKIES
Prep time: To start, preheat the oven and line a cookie sheet with parchment paper so that the dough doesn't stick to the pan. If you double the dough to make two batches, line two sheets. 
Dough: Use a rubber spatula to scoop out of the peanut butter jar and measure out 1 cup. For the next step, combine it with the egg, brown sugar, and salt. You can easily combine the mixture in a stand mixer, or just stir it in a bowl by hand. 
Shape: Use a tablespoon cookie scoop or your hands to form dough into balls a little smaller than golf balls. Place the dough balls on the prepared baking sheet with a few inches between them so that they can spread while baking. Then press down on each one with a fork twice, leaving fork prints in a criss-cross pattern. The fork marks not only give the cookies their unique fork tine pattern, but they flatten it out so that they spread properly. 
Bake time: Pop them in the oven for 8-10 minutes. To finish, let them rest on the cookie sheet for 5 minutes before serving or moving them to wire racks.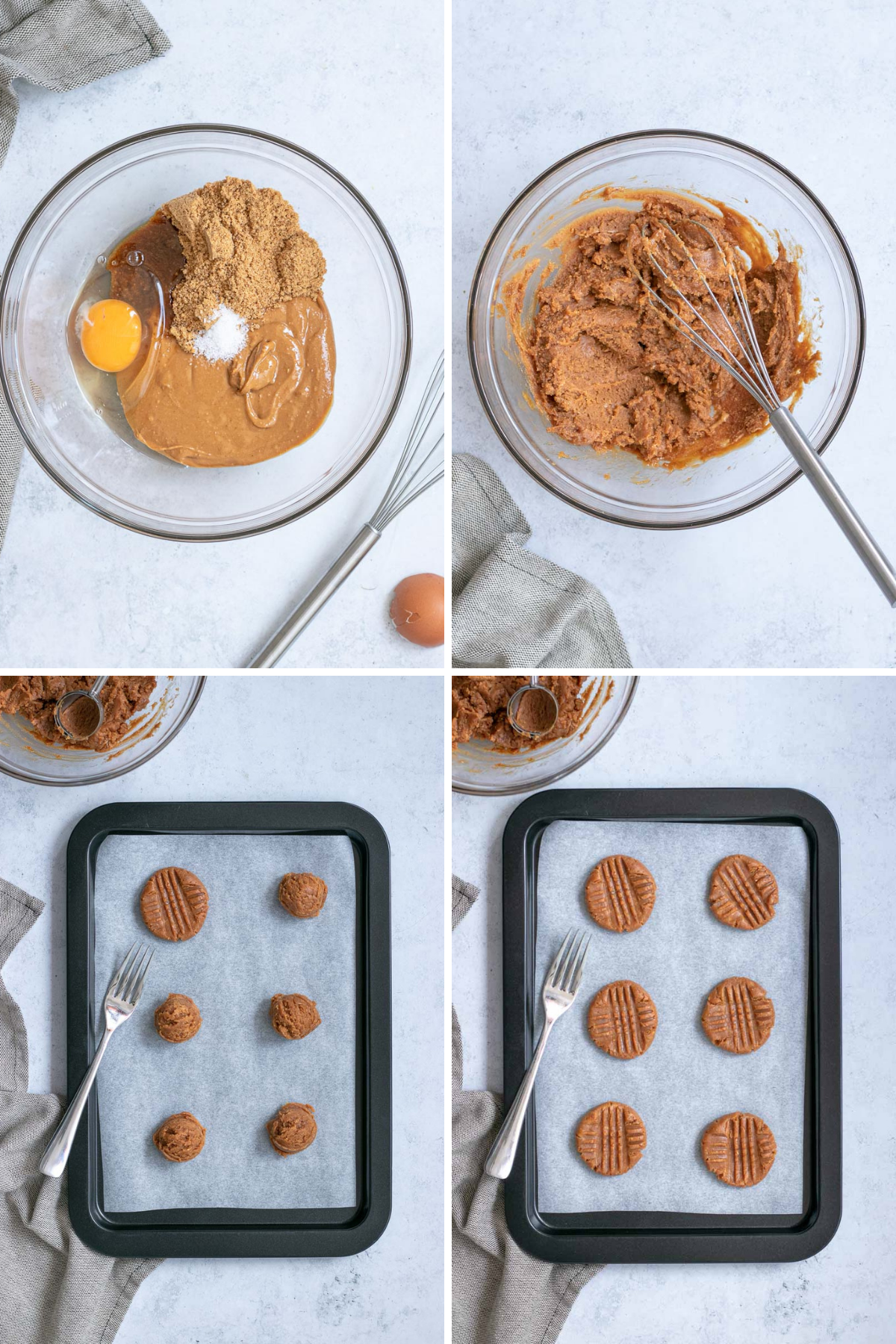 Create a free account to

Save Recipes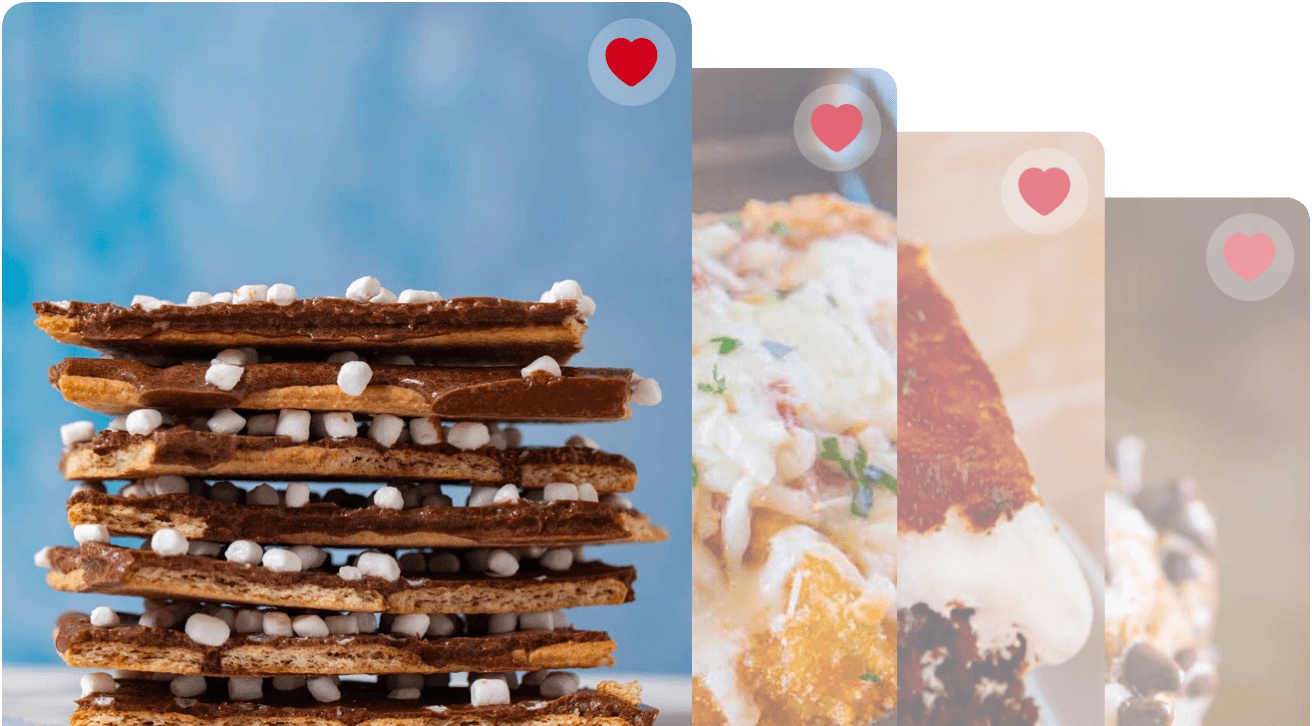 VARIATIONS ON FLOURLESS PEANUT BUTTER COOKIES
Peanut Butter Chips: An easy way to add some extra flavor and texture that matches the rest of the recipe is by mixing peanut butter chips into the dough. The melty peanut butter chips will add even more delicious, salty-sweet, peanut-y flavor and make it a more unique cookie recipe.
Peanut Butter Chocolate Chunk Cookies: To make Peanut Butter Chocolate Chip Cookies mix 1 cup of chocolate chips into the recipe before baking. You can use semisweet, milk, or dark chocolate chips depending on your preference.
Peanut butter: Another way to experiment is by replacing the regular, smooth peanut butter with other kinds. For more texture, use crunchy peanut butter, and for a light honey flavor try honey-roasted peanut butter.
Peanut Butter Blossoms: To make Peanut Butter Blossoms, press chocolate kisses or peanut butter cups into the top of each dough ball.
Flavoring: To test out different flavors try adding in a bit of vanilla extract, cinnamon, ginger, or nutmeg. A little goes a long way so only add a dash of any new ingredient.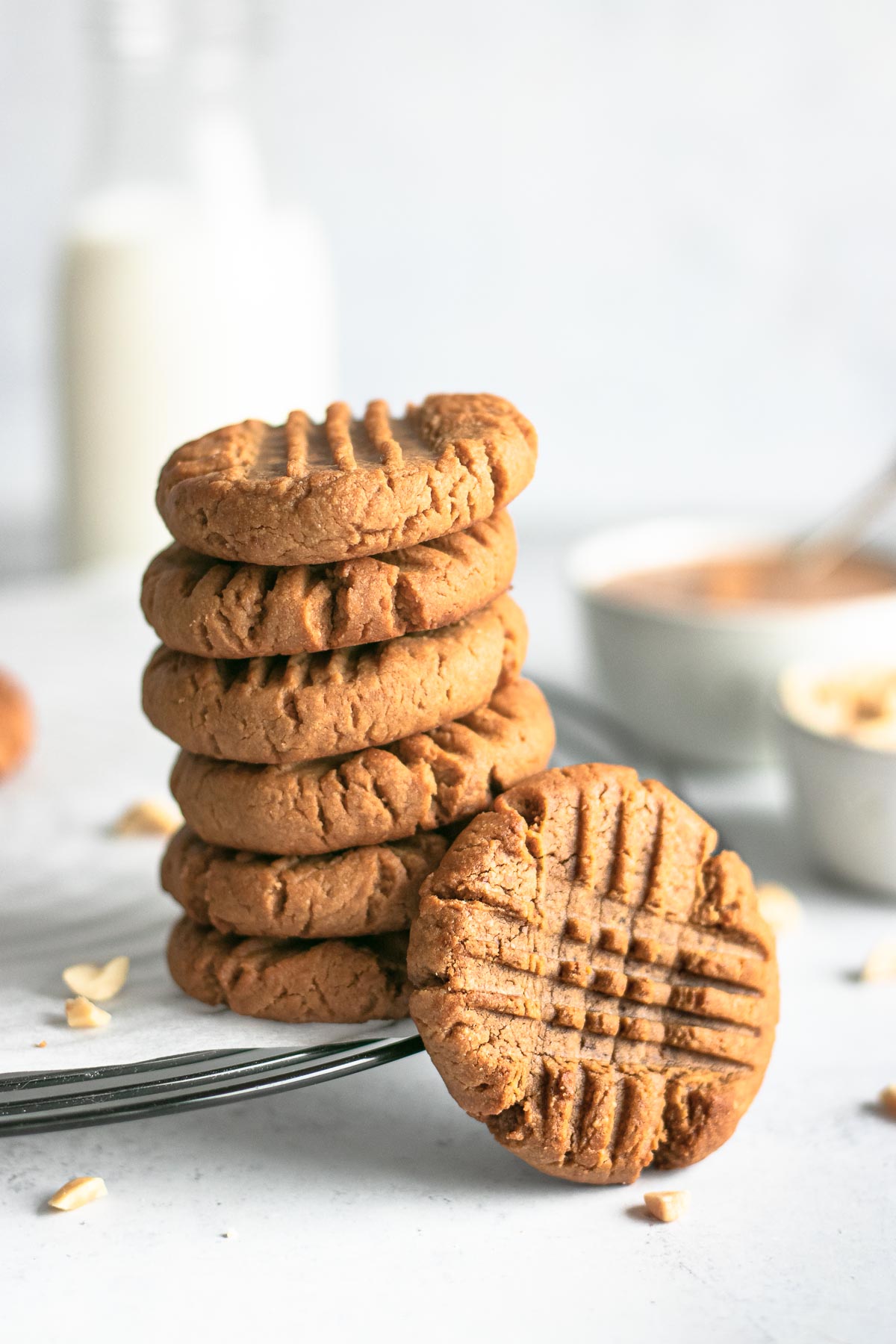 EASY AND HEALTHY DESSERT RECIPES
HOW TO STORE FLOURLESS PEANUT BUTTER COOKIES
Serve: Freshly baked cookies can stay good at room temperature for up to 5 days. After a few hours, you'll want to transfer them to an airtight container so they stay fresh. 
Store: Homemade Peanut Butter Cookies can also keep well sealed in the fridge for 2-3 weeks.
Freeze: For long-term storage, put them in a freezer bag or another airtight container. They'll stay good frozen for 3 months.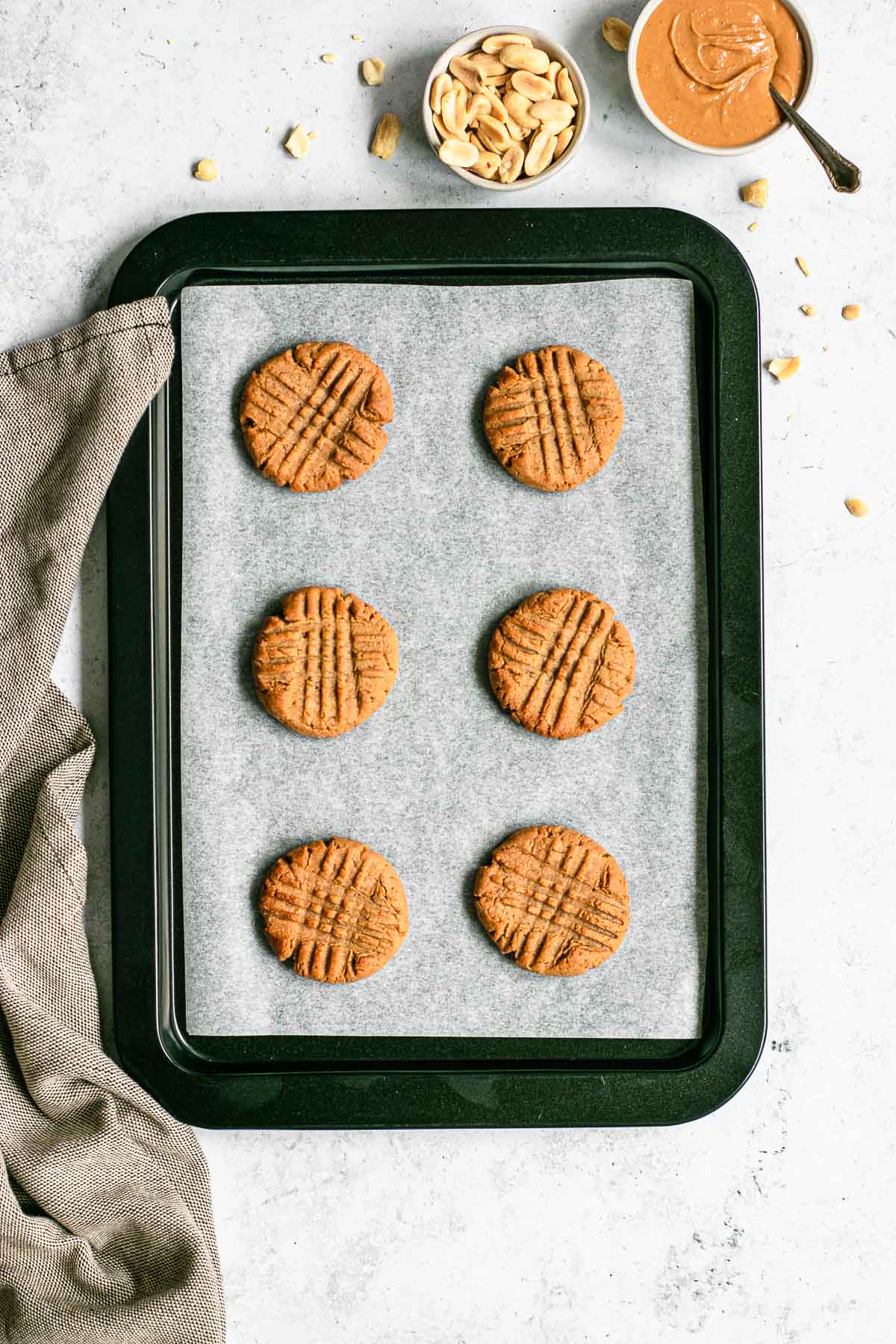 Ingredients
1

large

egg

1/2

cup

brown sugar

, packed

1/4

teaspoon

salt

1

cup

peanut butter
Instructions
Preheat oven to 375 degrees and line baking sheet with parchment paper.

Whisk together the egg, brown sugar, salt, and peanut butter in a medium bowl.

Using a 1 tablespoon scoop, scoop the cookie dough onto the baking sheet.

Press in a criss-cross pattern with a fork.

Cool for

5 minutes

before removing from pan to cool completely.
Nutrition
Calories:
167
kcal
|
Carbohydrates:
13
g
|
Protein:
6
g
|
Fat:
11
g
|
Saturated Fat:
2
g
|
Trans Fat:
1
g
|
Cholesterol:
16
mg
|
Sodium:
156
mg
|
Potassium:
157
mg
|
Fiber:
1
g
|
Sugar:
11
g
|
Vitamin A:
23
IU
|
Calcium:
19
mg
|
Iron:
1
mg