Farro Salad is a flavorful make-ahead dish that's perfect for potlucks. Made with whole grain Farro, arugula, apples, pecans, and light vinaigrette.
Just like Tropical Quinoa Salad, this is a delicious Side Dish that is filling, chewy, and full of nutrients. It's an interesting twist on a classic salad that's guaranteed to be a new favorite.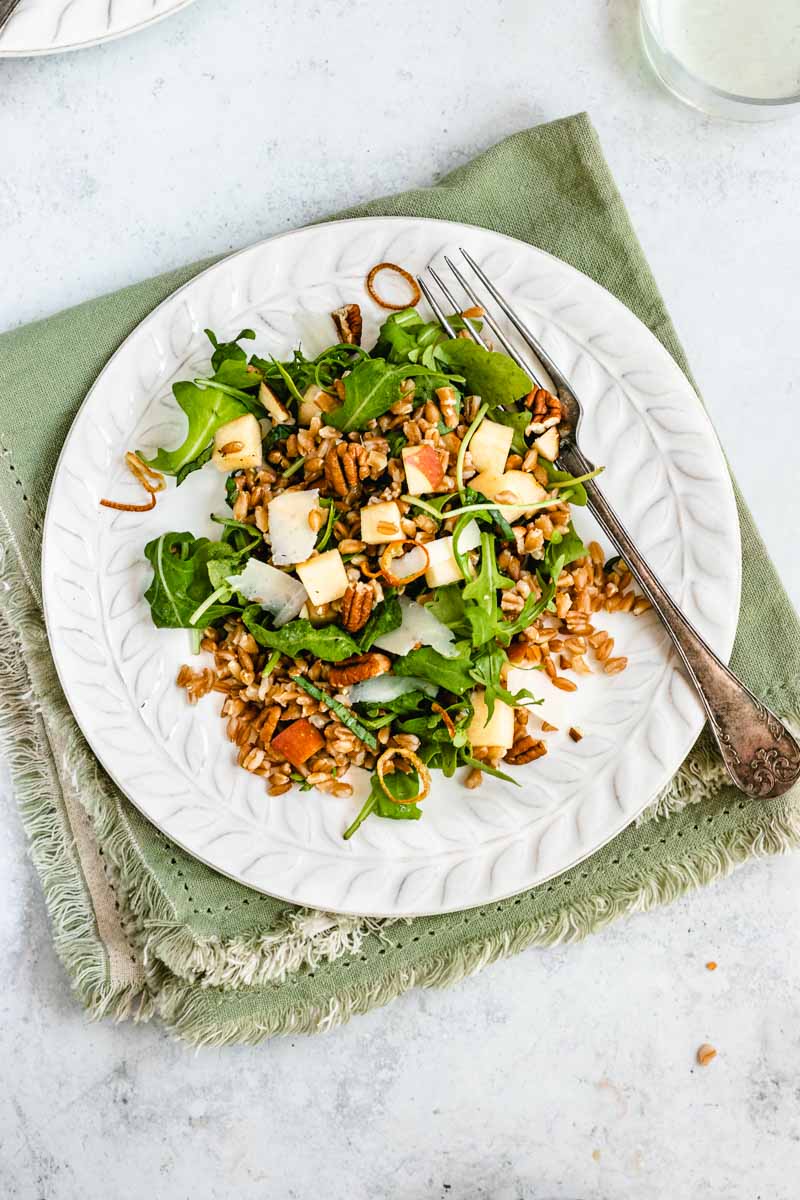 FARRO SALAD
Farro Salad is an easy and delicious dish to serve for lunch, or as a side dish for dinner. This salad will taste especially amazing paired with a light dinner like Spicy Garlic Salmon and Tomatoes. No matter what you serve it with, the nutty Farro, juicy apples, and crunchy pecans are sure to be a crowd favorite.
Serve this salad at your next potluck, or enjoy it yourself throughout the week. You can make this salad ahead of time to keep in the fridge and eat small servings at a time. It's so nice to have a quick and healthy lunch that you don't have to think about. Just put it in an airtight container and take it on the go.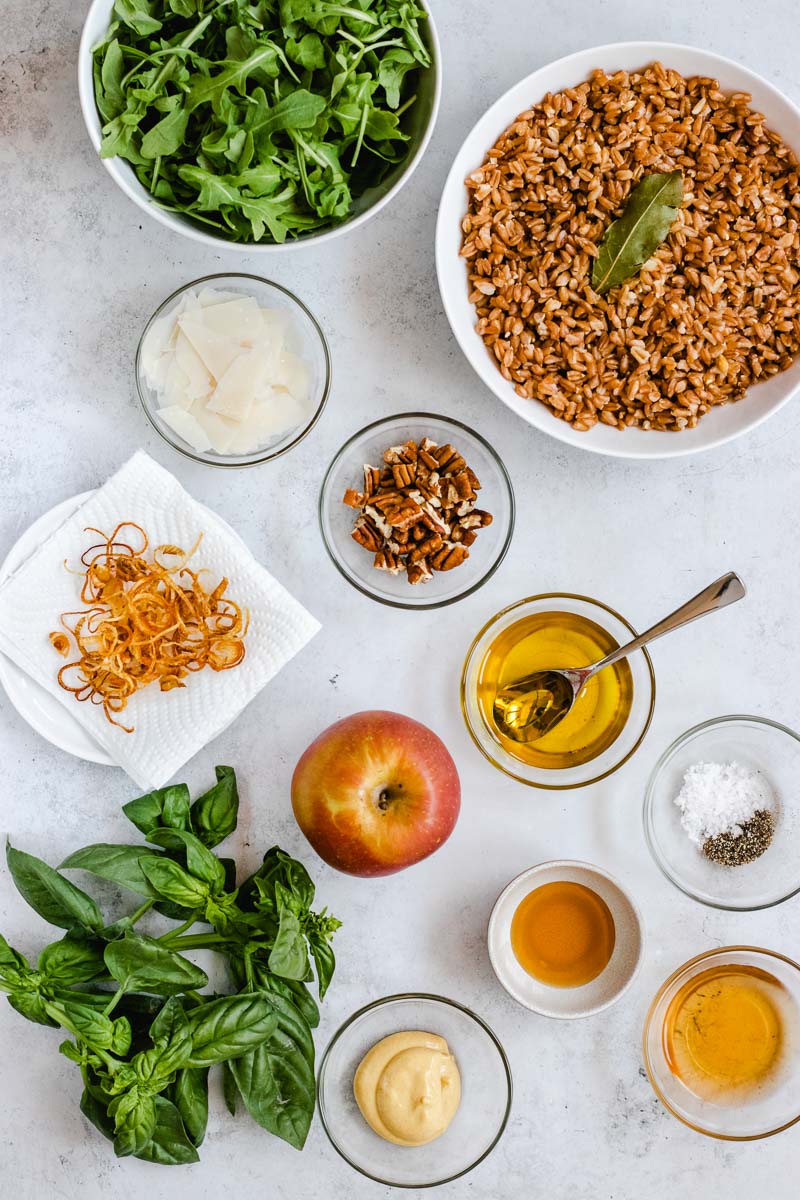 WHAT IS FARRO?
Farro is an ancient whole grain, that's filling and nutritious. This grain has been a staple in Italy for a while, but it's high time to bring Farro into your dinner rotation. It is nutrient-packed and budget-friendly. Farro is delicious and chewy, and it's higher in plant-based protein than rice. It's full of minerals like iron and magnesium, which make Farro such a healthy choice.
To prepare Farro bring chicken broth to a boil over medium-high heat, then cook the Farro in it. You can use low-sodium chicken broth to reduce the salt. Once you've cooked the Farro it should be soft and chewy.
Farro will take different amounts of time to cook depending on what kind you get. You can purchase Farro that is pearled, semi-pearled, or whole. Whole Farro takes the longest to cook, however it is also highest in fiber and nutrients.
MORE SALAD RECIPES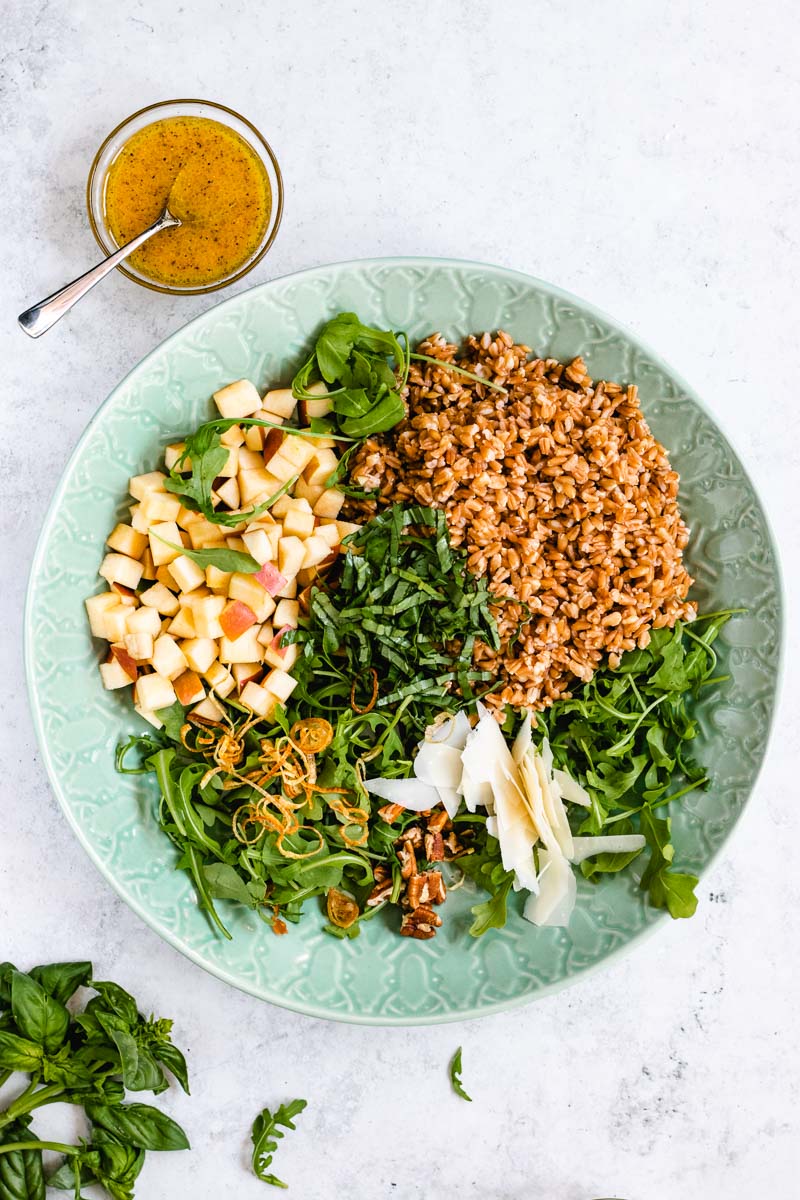 Create a free account to

Save Recipes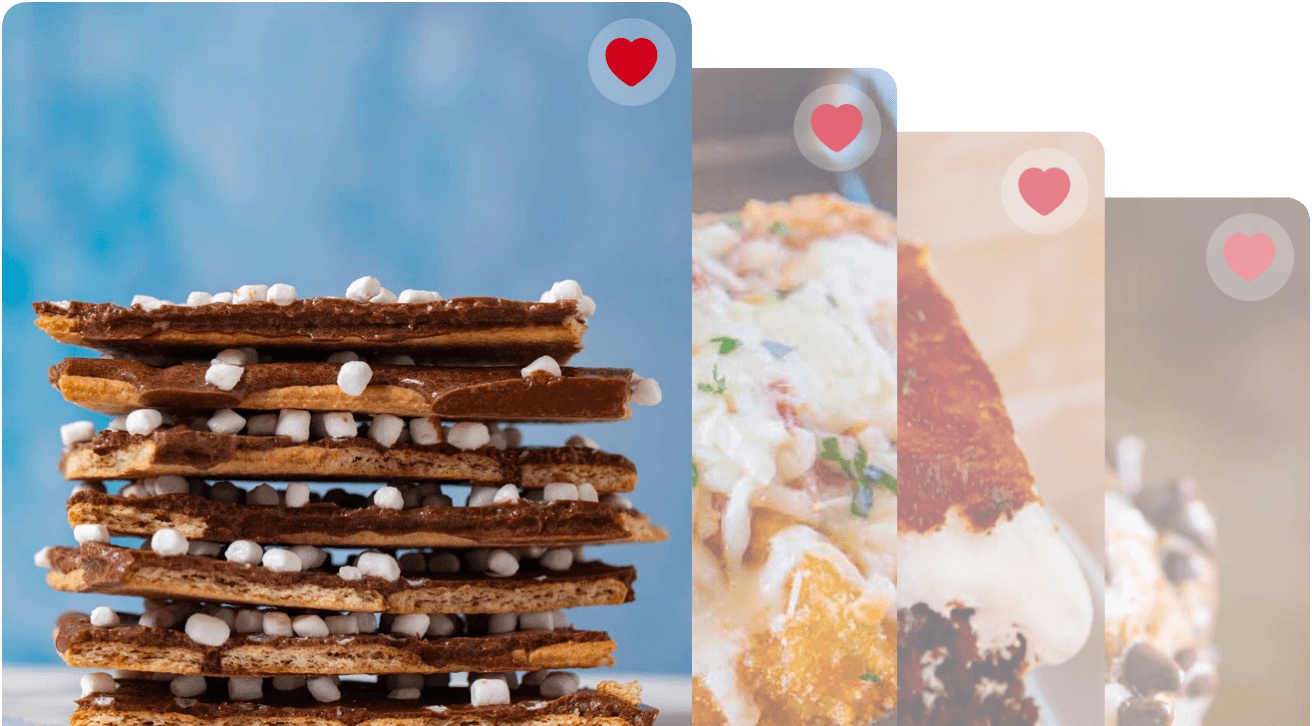 VARIATIONS ON FARRO SALAD
Mediterranean Farro Salad: Farro Salad comes from a classic Mediterranean dish. Play up these traditional flavors by adding in some classic Greek ingredients. Try tossing in 1 large chopped cucumber, diced red pepper, chopped red onion, flat leaf parsley, tomato, and feta cheese. Make a vinaigrette to pair with the new salad ingredients by combining 3 tablespoon extra virgin olive oil, 1 tablespoon lemon juice, 1 tablespoon red wine vinegar,  and ¼ teaspoon dried oregano. Next, add garlic powder, salt, and pepper to taste. Add the feta over the top after tossing with the lemon juice dressing.
Gluten-Free Farro Salad: Despite all the health benefits of Farro, it is not gluten-free. If you want to make this salad gluten free, just exchange the Farro for chickpeas. Chickpeas have a similar chewy texture, and will blend well with the other ingredients.
Summer Farro Salad: If you make this Farro Salad recipe in the summer feel free to pack it with veggies that are in season. Some, for example are ripe tomatoes. You can either use cherry tomatoes or dice a big red tomato. Other great additions are cucumbers, corn, or bell peppers. You can even pack it with more summer fruits like strawberries, blackberries, and nectarines.
Pasta Salad: Try making the same or a similar recipe, but replace the Farro with orzo. Orzo is a small rice shaped pasta that has a nutty flavor similar to Farro.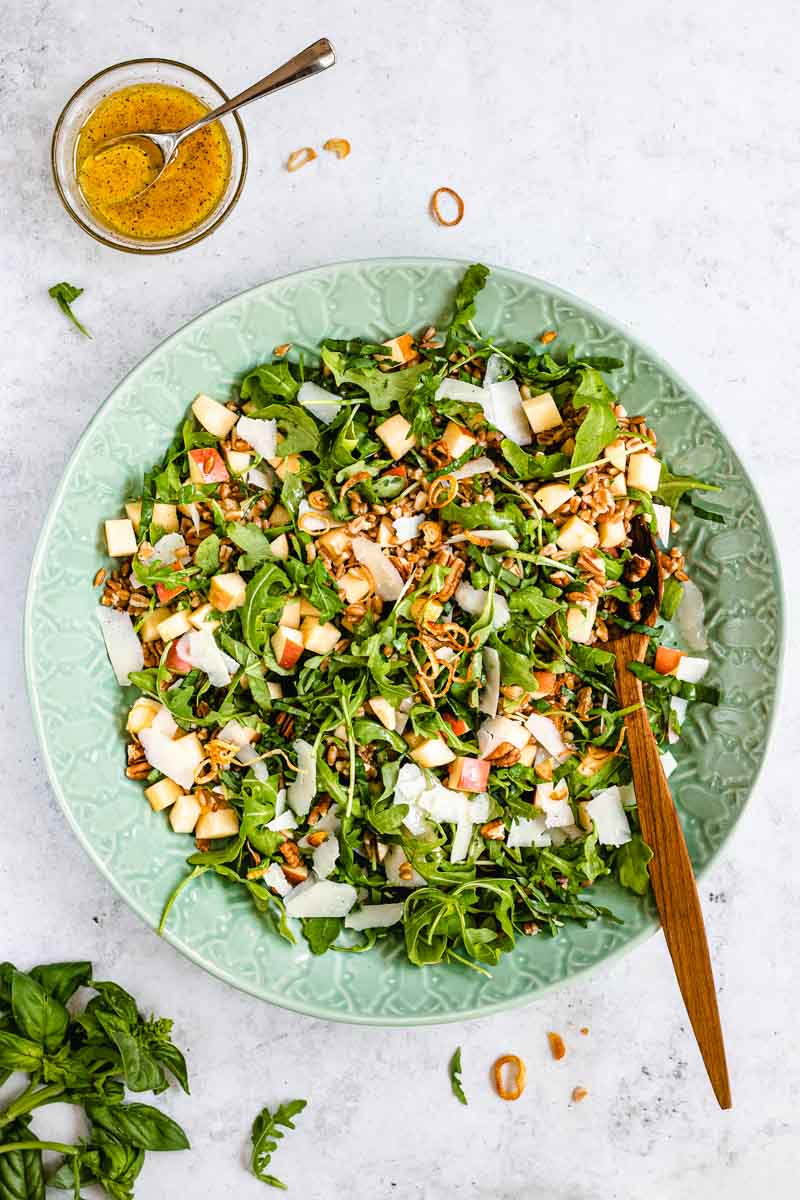 MORE SIDE DISHES
HOW TO STORE FARRO SALAD
Serve: To keep the vegetables and fruits fresh, don't leave Farro Salad out at room temperature for more than 2 hours.
Store: You can store this Farro recipe in the fridge for up to 5 days. Cover the large bowl of salad in plastic wrap or put it in an airtight container.
Freeze: Seal it in an airtight freezer bag or container, and then you can freeze Farro Salad for up to 3 months.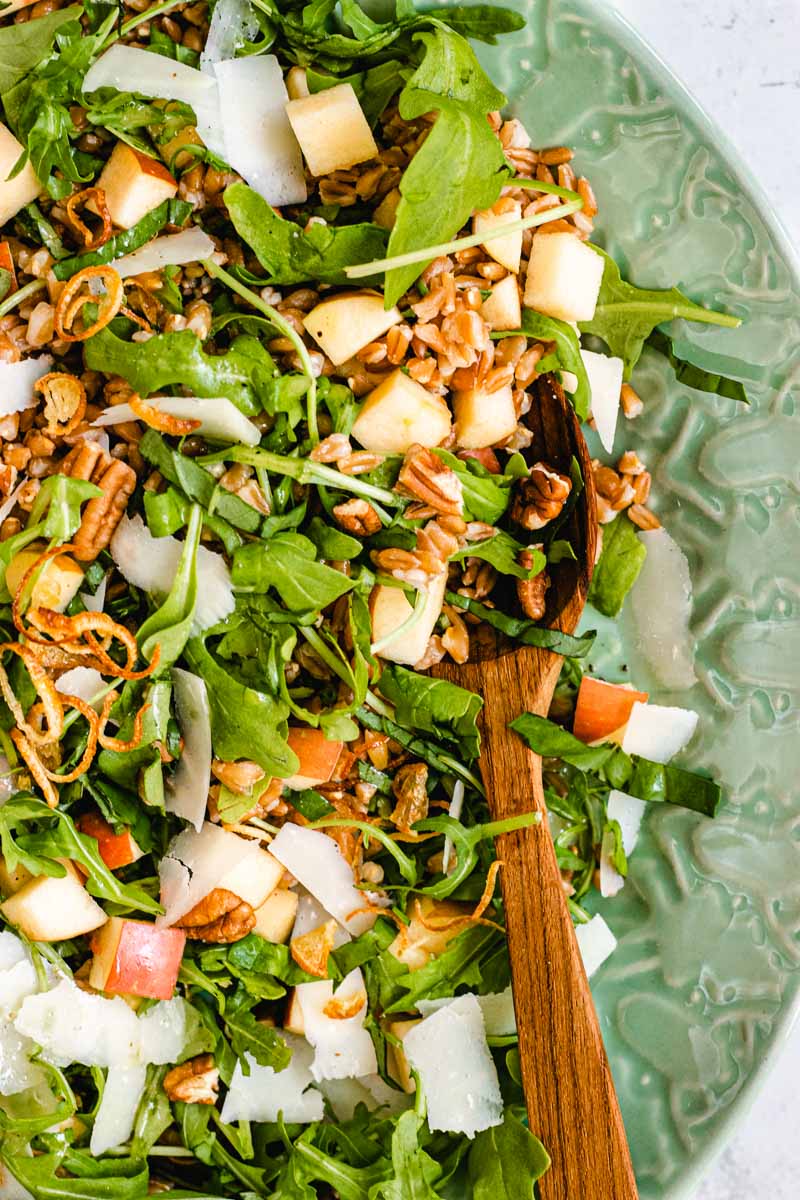 Ingredients
2

cups

chicken broth

1

cup

whole grain farro

1 1/2

teaspoons

Kosher salt

, divided

1

bay leaf

1/3

cup

olive oil

1

large

shallot

, thinly sliced

3

tablespoons

apple cider vinegar

1

tablespoon

dijon mustard

2

teaspoons

honey

1/2

teaspoon

coarse ground black pepper

2

cups

arugula

1

Granny Smith apple

, cored and chopped into 1/4-inch pieces

1/2

cup

shaved parmesan cheese

1/4

cup

fresh basil

, chopped

1/4

cup

toasted pecans

, chopped
Instructions
Bring the chicken broth to a boil in a medium saucepan.

Add the farro, ½ teaspoon Kosher salt, and the bay leaf. Lower heat to a simmer and cook, stirring occasionally, for about

30 minutes

until broth is completely reduced, then remove from heat.

While the farro is cooking, pour the oil into a medium saucepan over medium heat, then add the sliced shallot and cook, stirring occasionally, for

10-12 minutes

.

Remove the shallots to a paper towel-lined plate, and set the olive oil aside in a small bowl to cool.

To make the dressing, mix the cooled olive oil with the vinegar, mustard, honey, 1 teaspoon Kosher salt and pepper in a medium mixing bowl.

Place the farro, shallots, arugula, apple, parmesan cheese, basil, and pecans in a serving bowl and top with the dressing. Toss the salad until well coated and serve.
Nutrition
Calories:
240
kcal
|
Carbohydrates:
26
g
|
Protein:
6
g
|
Fat:
13
g
|
Saturated Fat:
3
g
|
Polyunsaturated Fat:
2
g
|
Monounsaturated Fat:
8
g
|
Cholesterol:
4
mg
|
Sodium:
777
mg
|
Potassium:
200
mg
|
Fiber:
5
g
|
Sugar:
5
g
|
Vitamin A:
231
IU
|
Vitamin C:
6
mg
|
Calcium:
101
mg
|
Iron:
1
mg