Cinnamon Sugar Pretzel Bites are a soft, chewy, buttery, and sweet snack. Made from an easy 2-ingredient dough and coated in cinnamon sugar.
If you've tried traditional Pretzel Bites, this recipe is a wonderfully sweet version of it. It's the perfect snack for game nights, or a fun Dessert Recipe.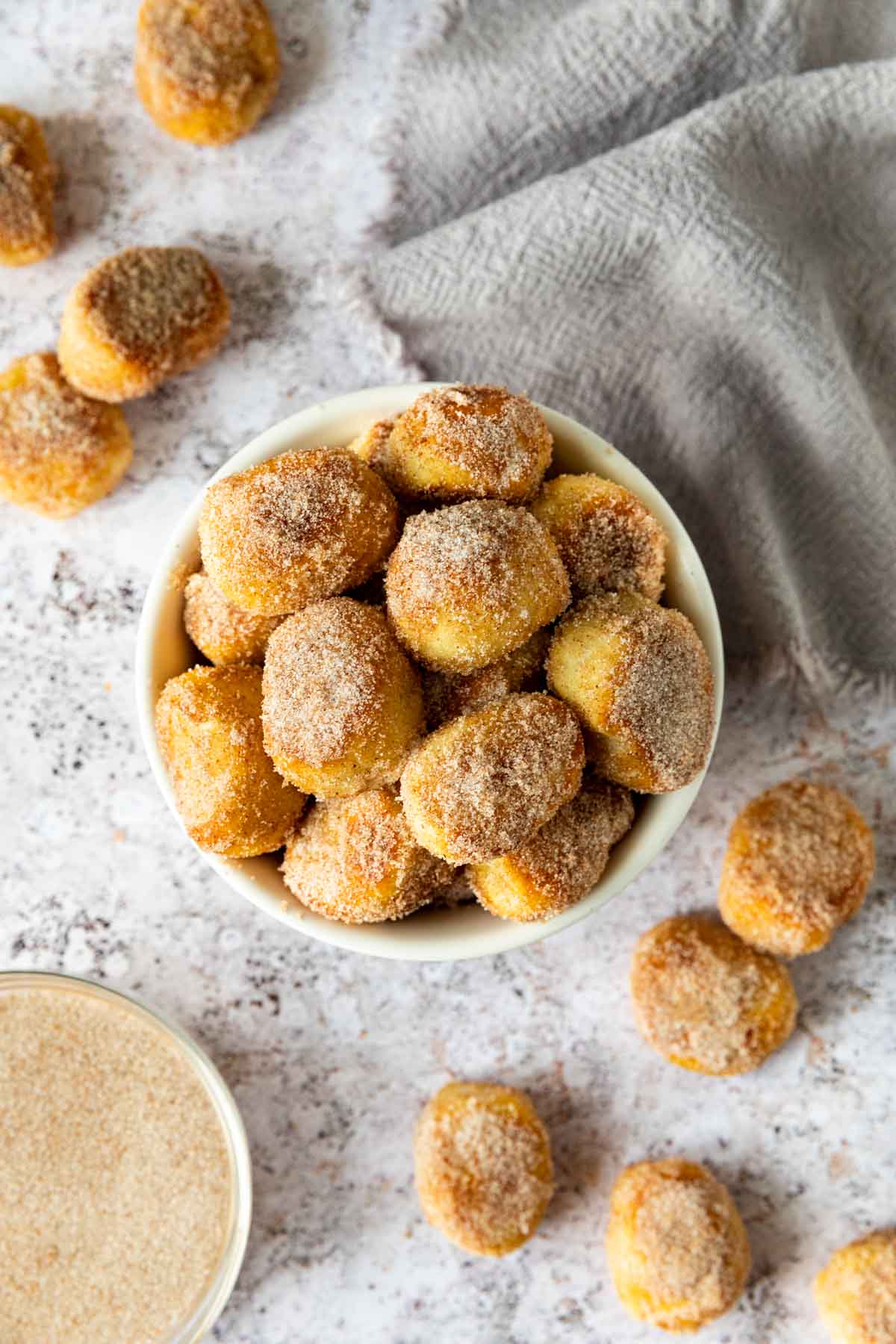 CINNAMON SUGAR PRETZEL BITES
Homemade Pretzels are a delicious treat everybody will love. If you've ever tried Auntie Anne's soft pretzels from the mall, these taste just as good but are much healthier. Plus, making soft Pretzel Bites is a fun activity to do with your kids. Even if they're too young for the baking they'll have fun helping you coat them in the sweet cinnamon sugar mixture.
They could also help you make the pretzel dough, which is unbelievably easy. It's made with just Greek Yogurt and self-rising flour. No need for any dry yeast, or other ingredients. You'd be amazed at what you can make with just this simple base. Everything from Pizza Dough, to Biscuits, to Rosemary Focaccia Bread.
TIPS FOR MAKING EASY PRETZEL BITES
This recipe is so easy to make. It only takes about 10 minutes prep time, and 8-10 minutes of baking. The total time is 20 minutes or less, then you can enjoy perfectly soft Pretzel Bites. Here are a few step-by-step tips to keep in mind while you make homemade pretzels.
Start by combining the two dough ingredients in a stand mixer. If there is any flour sticking to the sides of the bowl, use a spatula to push it down. After you've combined the ingredients, put a dough hook on the stand mixer. This will knead the dough. The dough is done kneading when it forms a smooth ball and starts to pull away from the sides of the bowl.
Before you start to shape the dough into pretzel bites, put some flour over your work surface and the dough so it doesn't stick.
Prep a cookie sheet with parchment paper, this will make for easy cleanup.
Make a baking soda bath for the soft Pretzel Bites. To do this boil water, then add the baking soda to the warm water and stir it in. Make sure the baking soda is fully dissolved before putting the Pretzel Bites dough in.
Dip each bite into the soda bath, using a slotted spoon. Let the Pretzel Bites drip dry before putting them on the parchment-lined baking sheet.
The bites should become golden brown while they bake. While they're in the oven whisk together the sugar and cinnamon, and melt the butter so it's all ready when they're done.
SOFT BREAD TREATS

Create a free account to

Save Recipes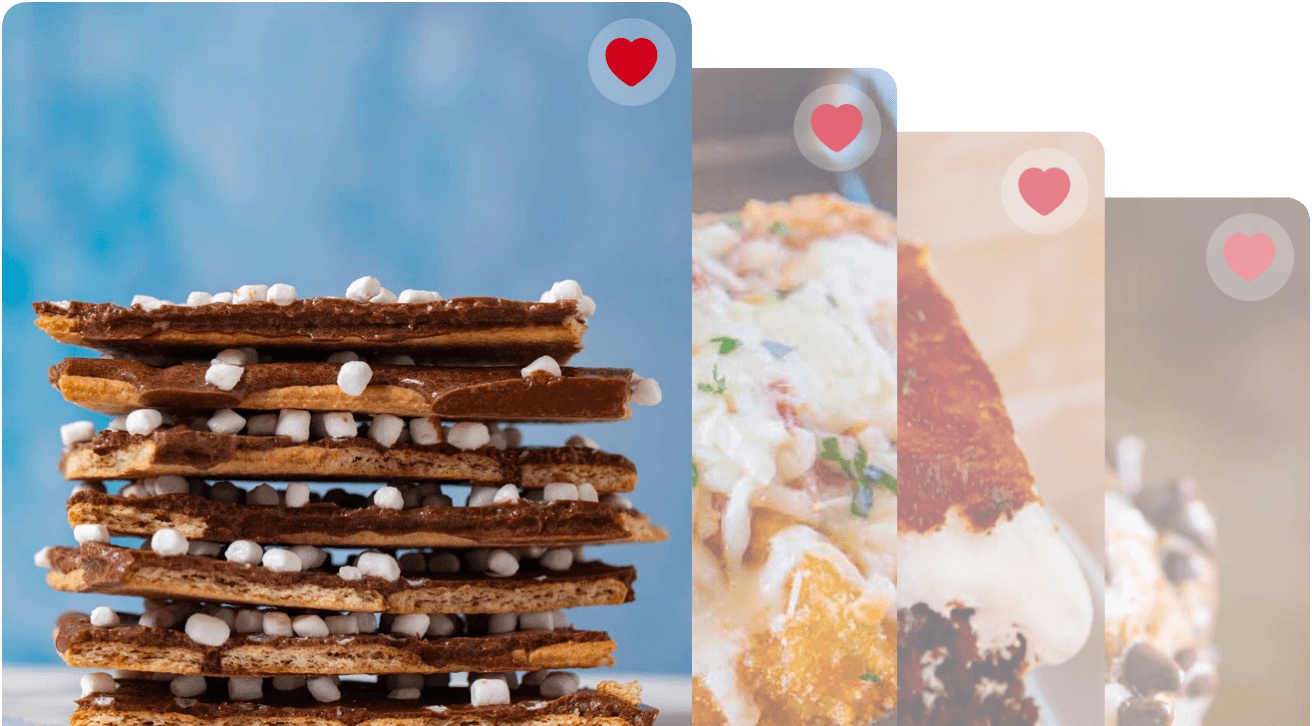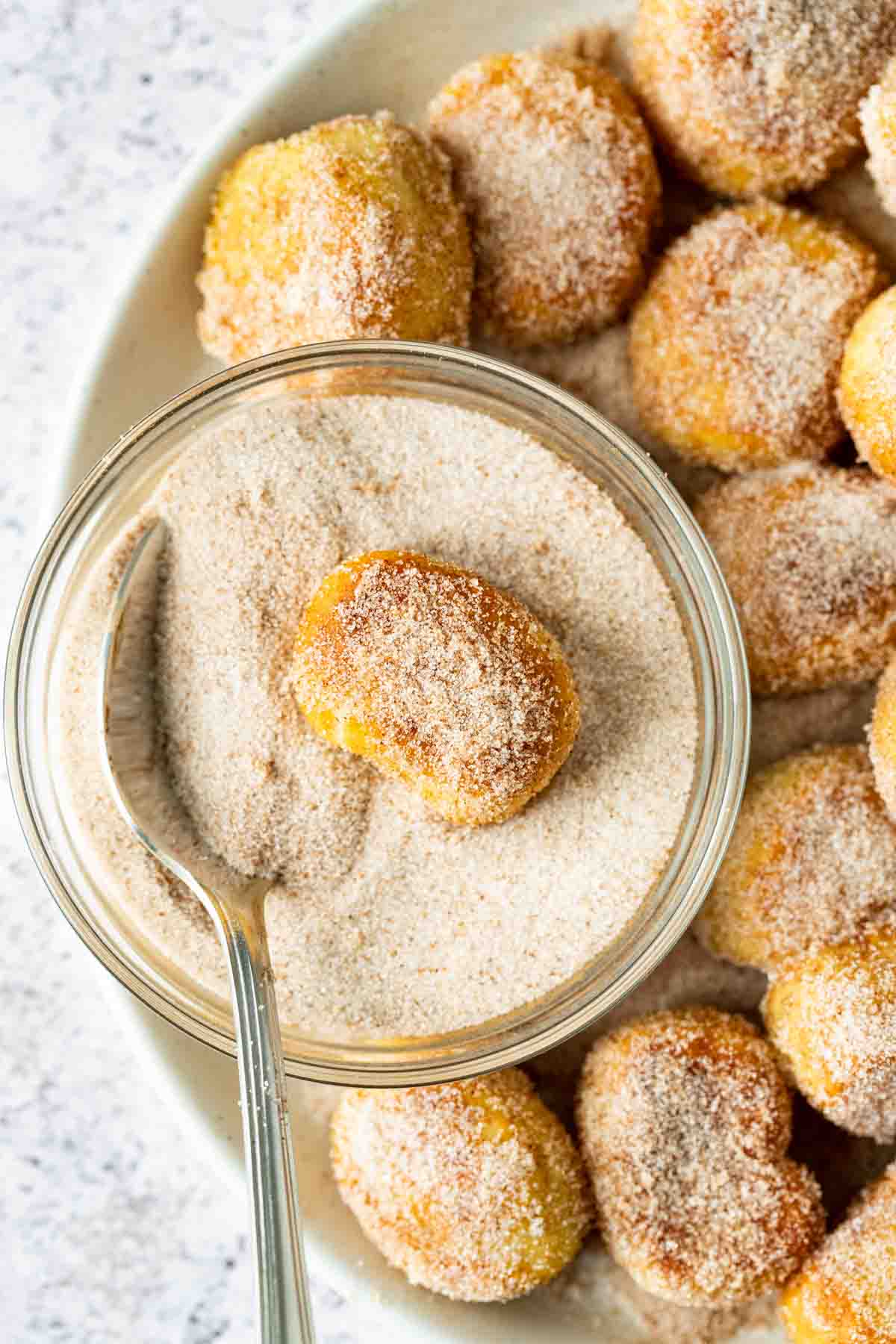 VARIATIONS ON CINNAMON SUGAR PRETZEL BITES
Salty Pretzels: If you'd prefer a savory snack, you can coat your pretzels in salt instead of cinnamon. Prepare the bites as usual. Once they're done baking put the Pretzel Bites in a large bowl and coat with melted butter. Add sea salt and toss until all the bites are coated. If you don't have sea salt, you can use kosher salt or some other kind. Salty pretzels are best with larger, flaky pieces of salt.
Gluten-free Cinnamon Pretzel Bites: To make these Pretzel Bites gluten-free, use almond flour or oat flour for the batter. To make the flour self-rising add 1 ½ teaspoons baking powder, and ¼ teaspoon salt. Mix those in with a cup of your chosen flour, then use it in the recipe as usual.
Brown Sugar: There are so many flavors you can try the next time you make Pretzel Bites. One sweet, and delicious way to try is making Brown Sugar Pretzel Bites. Instead of coating the Pretzel Bites in cinnamon sugar, toss them in brown sugar after they're covered in butter.
Full-Size Cinnamon Sugar Soft Pretzels: If you want to make these into an extra special dessert pretzel, you can make them into the classic pretzel shape. Instead of cutting the dough into small pieces, leave it in 6 long strips. Roll the strips of dough into round rods. Put the piece of dough into a U shape. Cross the ends of the U. Twist the top ends once more, then bring it down to meet the bottom of the pretzel. It should look like a pretzel now. Put the pretzel in boiling water and baking soda with a large slotted spoon, then bake as usual.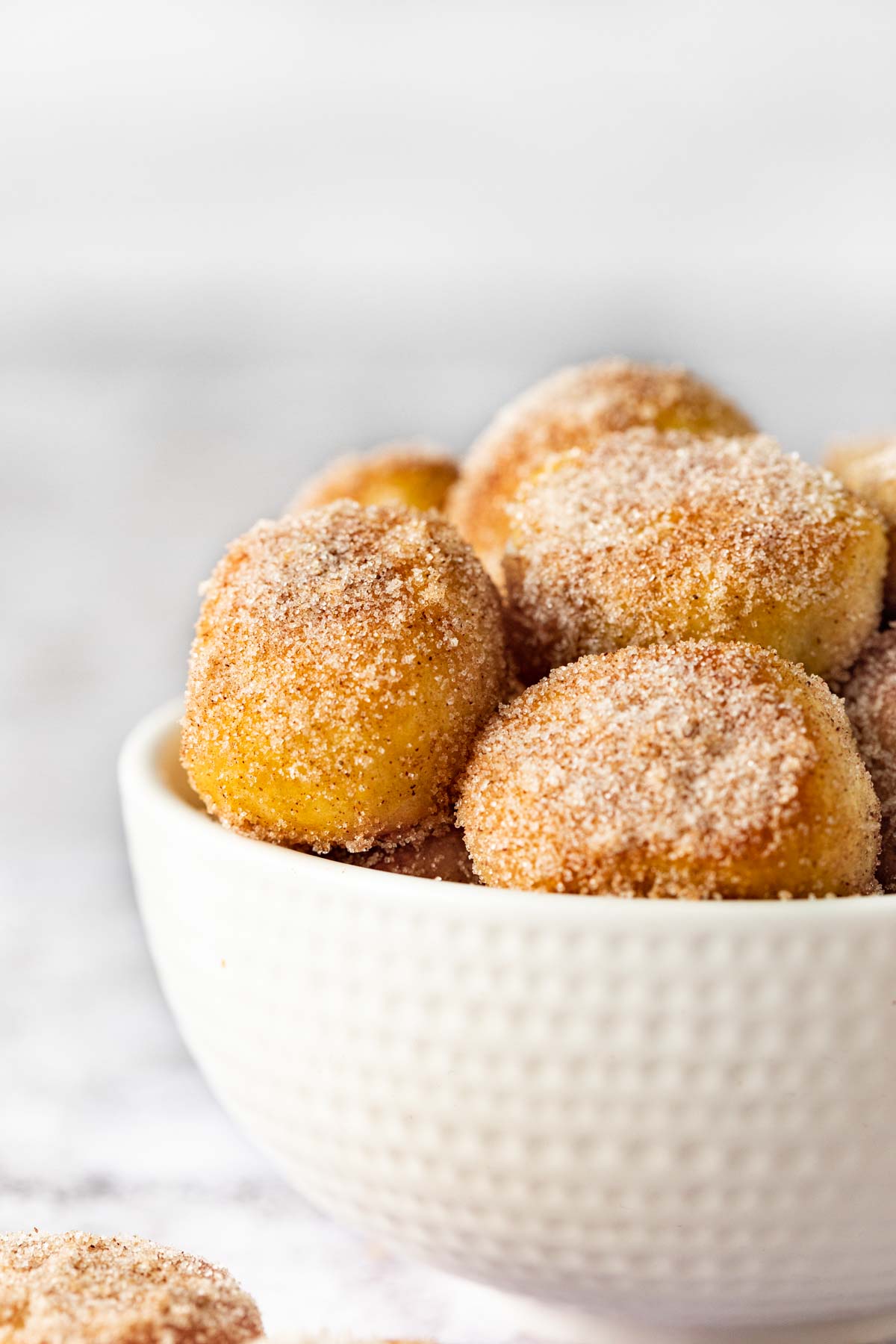 DIPPING SAUCE IDEAS
If you're serving these pretzels as a family treat or for a big group, try putting out a few options for dipping. Put out some Cinnamon Pretzel Bites and Salty Pretzel Bites and let your guests choose between savory and sweet. There are lots of great toppings you can use on pretzels, but cheese sauce and cream cheese dip are two of the most popular. Here are easy recipes for both.
Cheese Sauce is an excellent option for Salty Soft Pretzels. To make it combine 2 ¼ cups whole milk, ¼ cup unsalted butter, ¼ cup flour, and 2 cups sharp cheddar cheese. Melt the ingredients in the microwave, then mix the cheese sauce together. Salt and pepper to taste and serve warm.
Cream Cheese Frosting Dip tastes amazing with sweet Cinnamon Sugar Pretzel Bites. To make it combine 4 ounces of softened reduced-fat cream cheese, one 6 ounce container vanilla Greek Yogurt, ¼ teaspoon vanilla extract, and 2 tablespoons granulated sugar. Make sure the cream cheese is soft enough to mix in with the rest of the ingredients before you start.
MORE BITE-SIZED SNACK RECIPES
HOW TO STORE
Serve: Pretzel Bites last for up to 2 days at room temperature, after you bake them. Once they've cooled, keep them in a sealed freezer bag, covered in plastic wrap, or in another airtight container.
Store: Seal and store Soft Pretzel Bites in the fridge for up to a week.
Freeze: Pretzel Bites store well in the freezer for 3 months. Let them defrost in the fridge and reheat them for a few minutes in the oven, before enjoying warm Cinnamon Sugar Pretzels.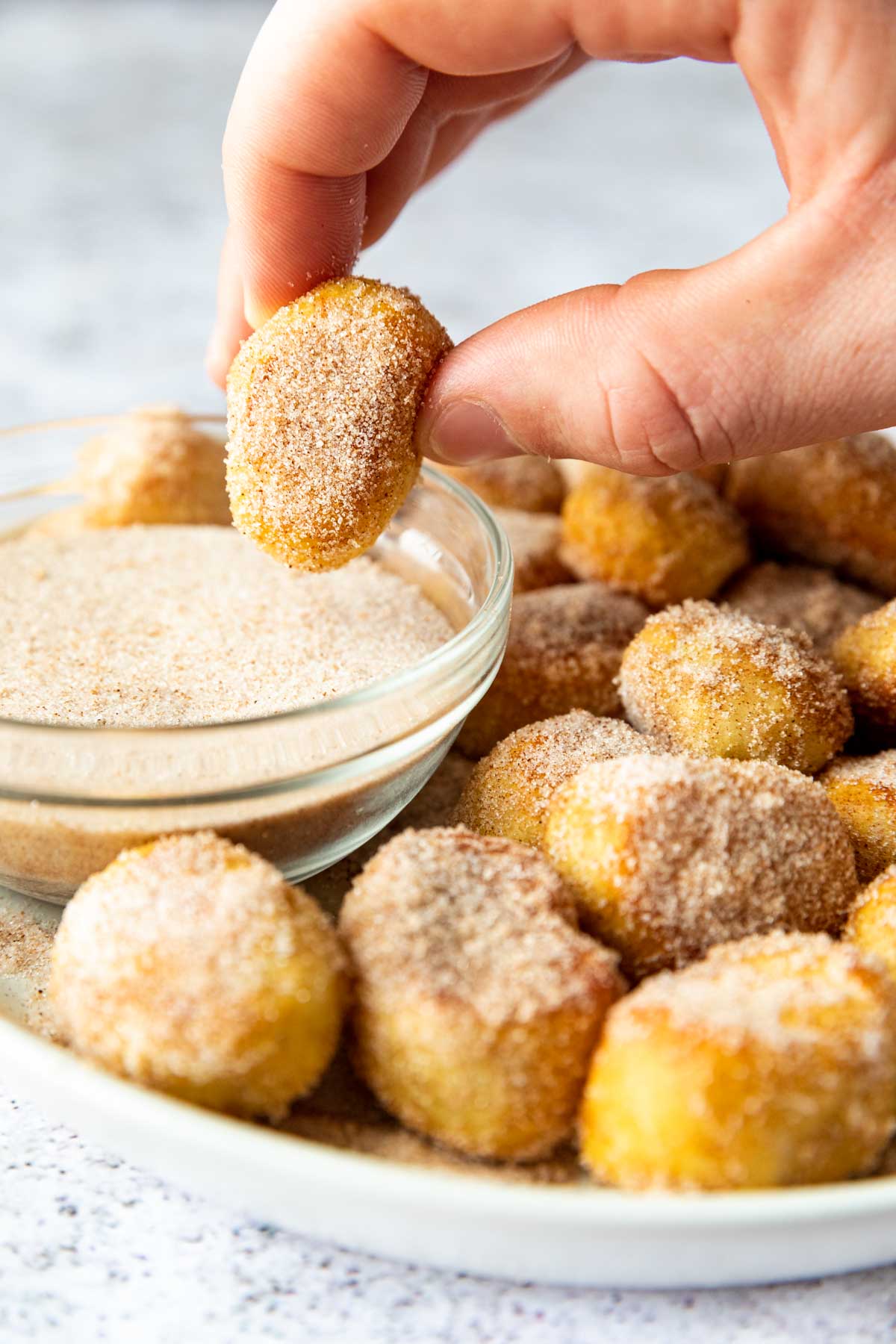 Ingredients
1 1/4

cup

self-rising flour

1

cup

plain whole milk Greek yogurt

1

cup

water

2

tablespoons

baking soda
Cinnamon Sugar Coating
2

tablespoons

unsalted butter

, melted

1/4

cup

sugar

1

teaspoon

cinnamon
Instructions
Add flour and yogurt to stand mixer and combine on medium speed until flour is no longer visible.

Switch to a dough hook and kneed for

5 minutes

until the mixture makes a ball that pulls away from the sides.

Add flour to a cutting board and sprinkle additional flour over the dough.

Press the ball into a flattened rectangle and cut it into 6 long pieces.

Using your hands (cover your hands with a bit of flour), roll the dough into logs.

Pre-heat oven to 425 degrees.

Cut each log into 8 pieces and place onto baking sheet dusted with flour.

Add water to a saucepan and bring to a boil.

Add baking soda to the pan and stir until dissolved.

Line a baking sheet with parchment paper.

Using a slotted spoon dip each pretzel bit into the water then let drip dry a couple of seconds and place onto the parchment paper.

Bake for

8-10 minutes

until golden brown.

Stir sugar and cinnamon together in a small bowl.

Gently remove the pretzel bits and place them into a large bowl.

Toss with the melted butter then sprinkle on the cinnamon sugar and toss to coat.
Nutrition
Calories:
110
kcal
|
Carbohydrates:
22
g
|
Protein:
5
g
|
Fat:
1
g
|
Saturated Fat:
1
g
|
Cholesterol:
1
mg
|
Sodium:
832
mg
|
Potassium:
55
mg
|
Fiber:
1
g
|
Sugar:
7
g
|
Calcium:
33
mg
|
Iron:
1
mg