Chopped Salad is flavorful, crisp, packed with veggies, and topped with homemade light dressing with roasted peppers, cucumber, olives, and fresh dill.
There are so many delicious salad recipes! From Corn and Avocado Salad, to Greek Kale Quinoa, to Chickpea Sweet Potato Kale Salad there's no end to the delicious lunches and Side Dishes you can make.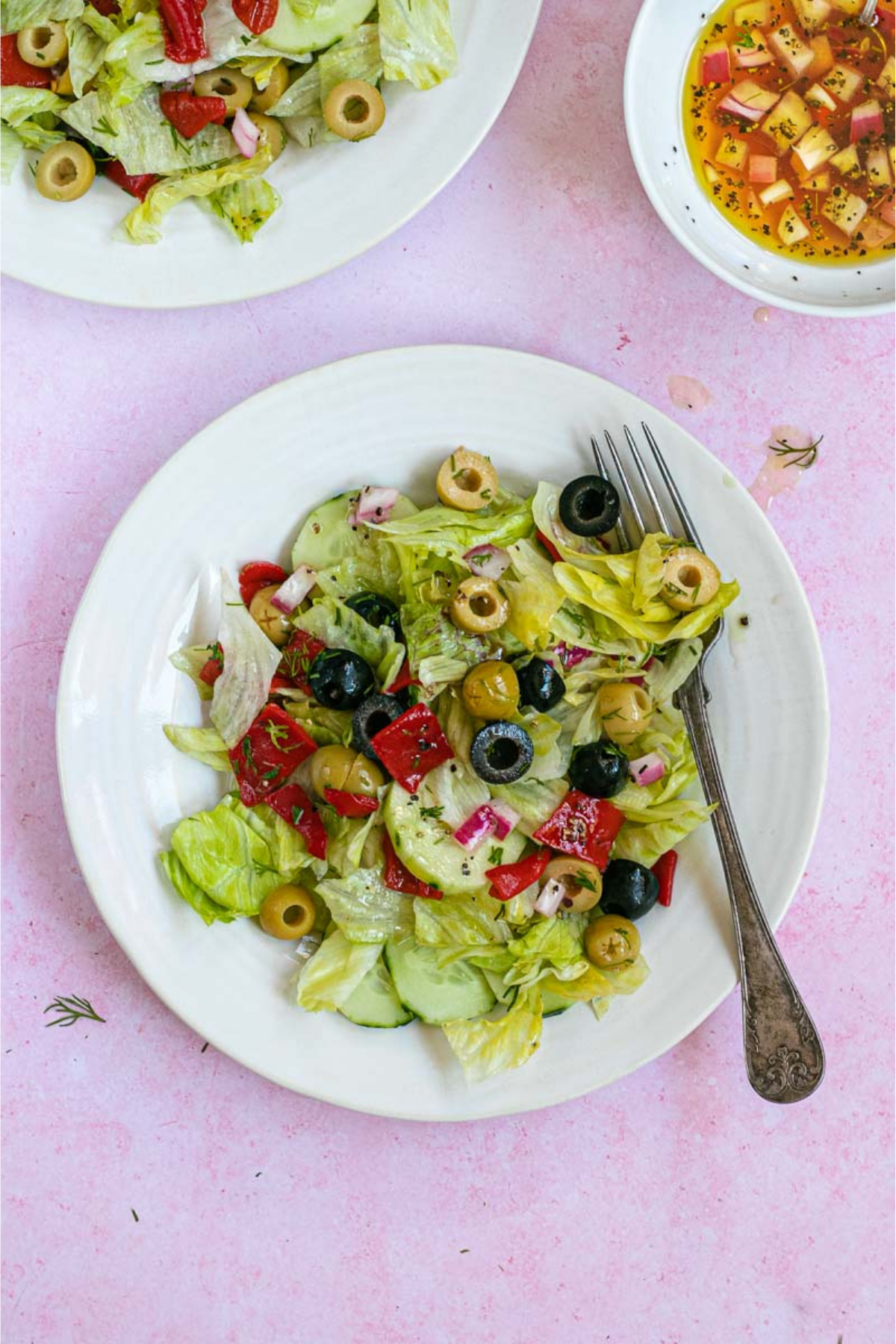 CHOPPED SALAD
This Chopped Salad Recipe is such an easy dish to throw together, you'll find yourself making it over and over again. It's perfect for a light lunch or as a side dish to a simple Weeknight Dinner. The fresh chopped veggies add a variety of flavorful and refreshing ingredients that are perfect for a hot day.
The vegetables combined with the light vinaigrette dressing make a wonderfully light salad with a quick prep time. Probably the hardest part of this whole recipe is chopping up the ingredients, and that shouldn't take any time at all. Other than that it's just a matter of tossing everything together in a large bowl and pour the olive oil vinaigrette over the top.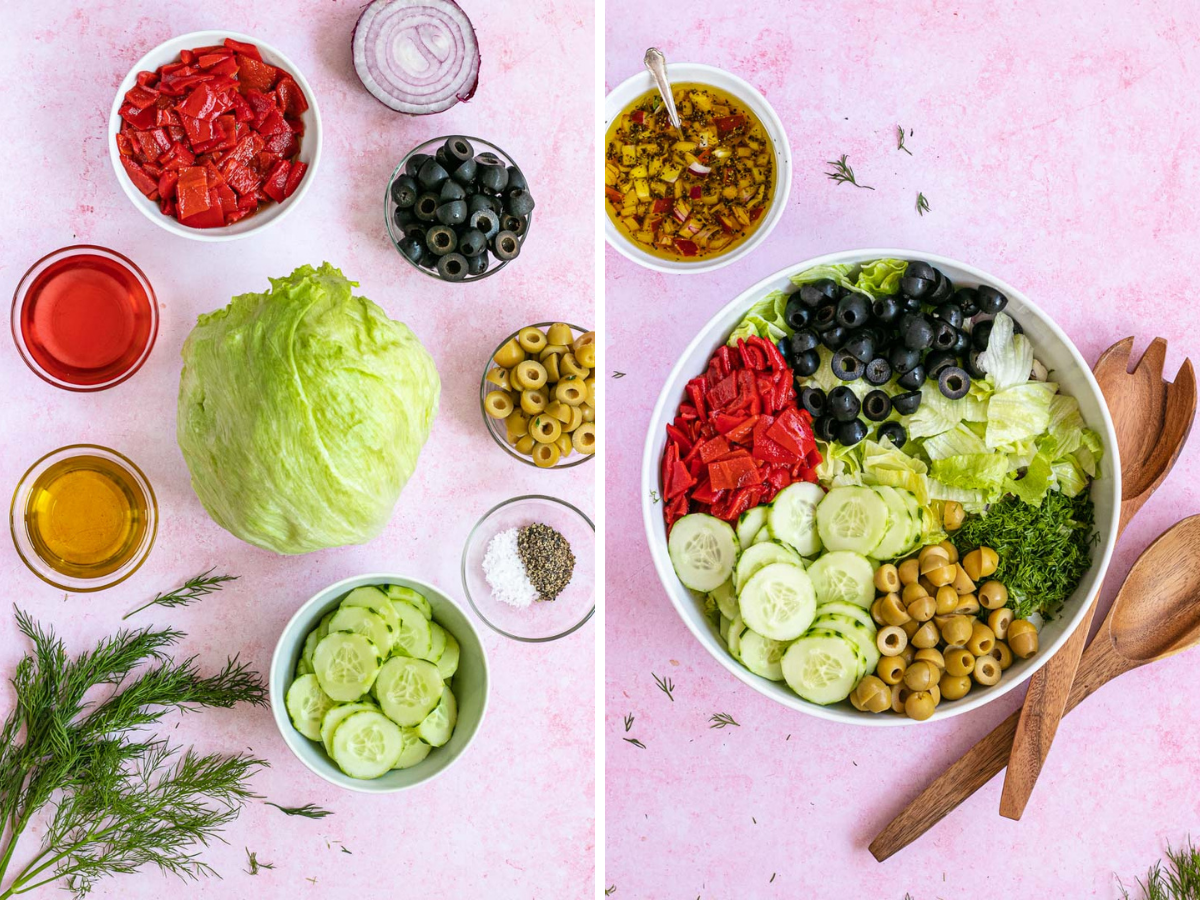 To make the vinaigrette recipe simply whisk together red onion, water, extra-virgin olive oil, vinegar, salt and pepper. It's an easy dressing that's absolutely bursting with flavor and the total time is just minutes.
This is also a great recipe for a packed lunch. Chop up your veggies and store them in an airtight container the night before. You can store the dressing in a separate container.  You can grab this easy salad on your way out the door for a make-ahead lunch that you don't have to heat up and it is wonderfully fresh.
Why we should all eat more salads
There are so many good reasons to add gluten-free salad recipes to your daily diet. Salads are a natural source of fiber that protect your heart and improve muscle performance. Eating a salad along with your main dish will also help you to fill up on more healthy vegetables, and less of the higher calorie main dish. Plus, like any other plant-based dish, salads are loaded with vitamins and nutrients from the vegetables in them.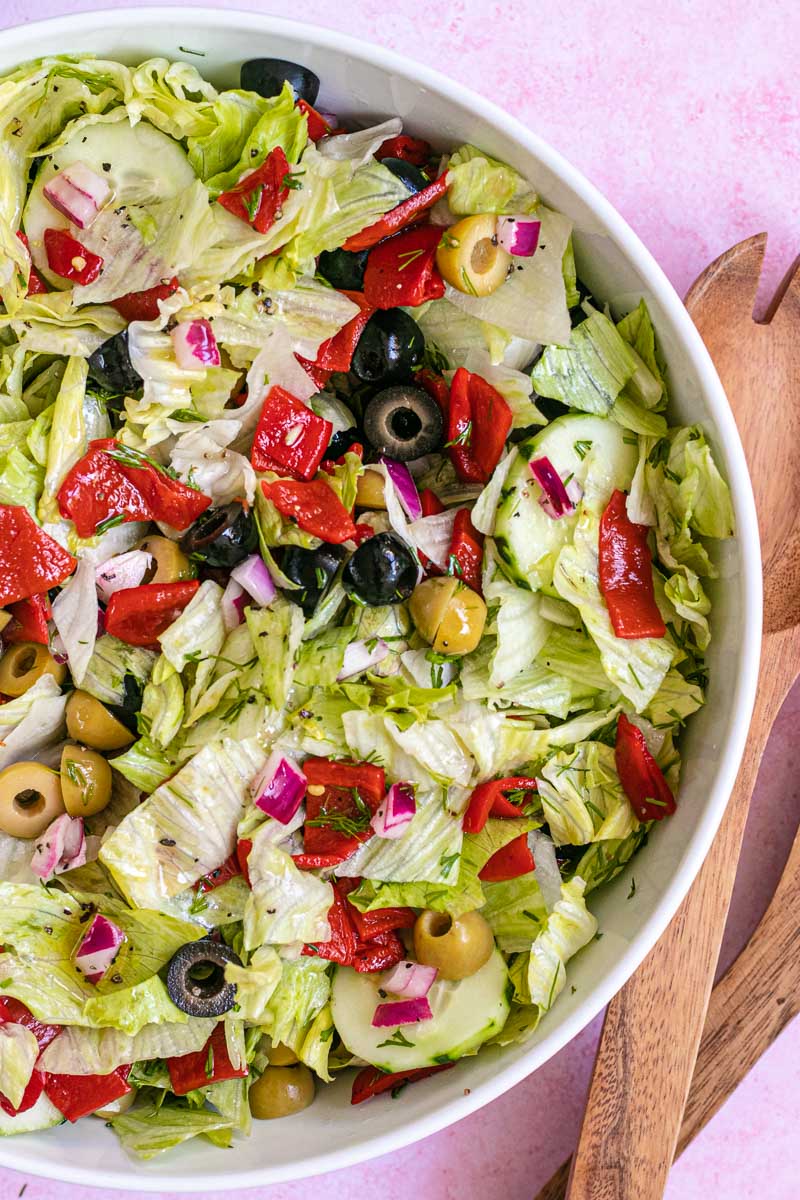 It's a surprise to no one that salads are good for you, but salads are also an excellent way to try new flavors and get creative. This Chopped Salad Recipe and others are so easy to throw together, that you can easily experiment with the ingredients. Try adding new spices or vegetables. You can also try different dressing like a balsamic or Italian vinaigrette. Find more fun ways to spice up this salad below.
MORE SALAD RECIPES

Create a free account to

Save Recipes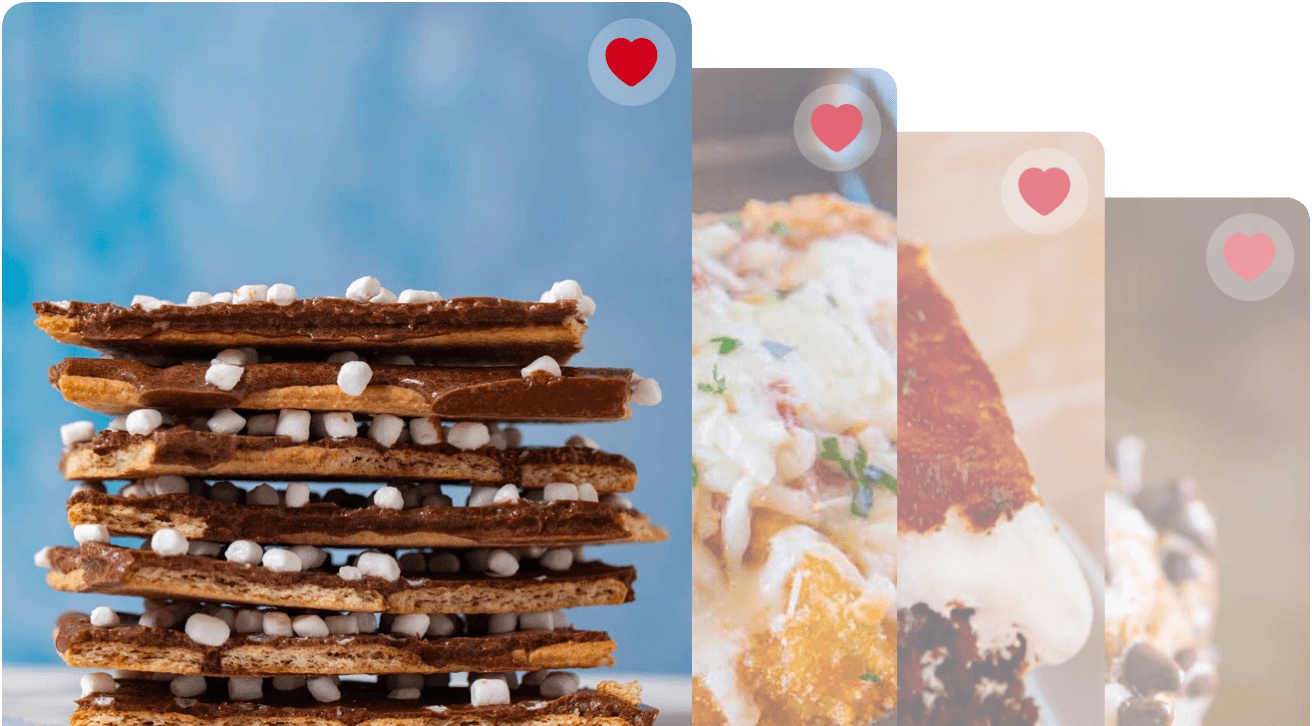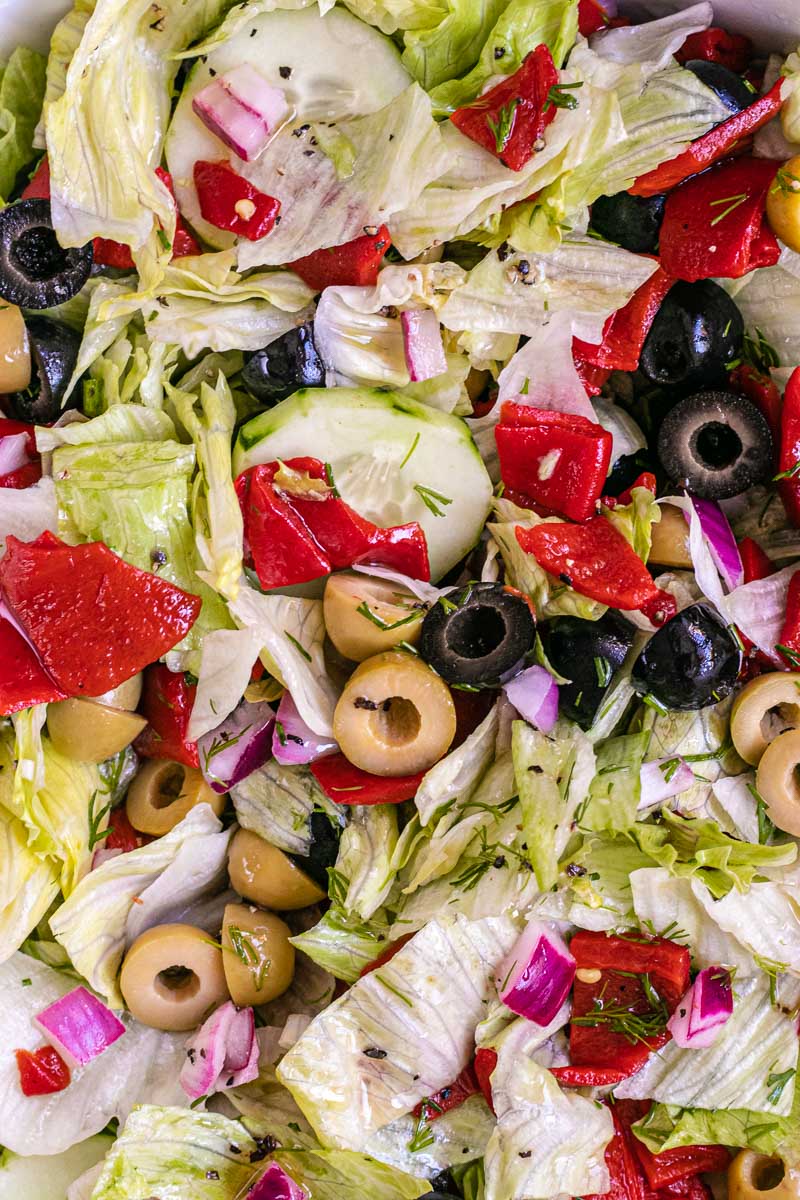 VARIATIONS ON CHOPPED SALADS
Italian Chopped Salad: There are already some Italian flavors in this Chopped Salad, but you can add plenty more. To make an Italian Chopped salad add ½ cup diced tomatoes (or sun-dried tomatoes), 1 cup of drained garbanzo beans, ⅓ cup of parmesan (or provolone cheese), 5 pepperoncini, and ½ cup Kalamata olives. Chop these ingredients and add them to the others in your Italian Salad. Then toss the Italian Chopped Salad with a light vinaigrette and some oregano.
BLT Chopped Salad: A BLT Chopped Salad is exactly what it sounds like. Take this delicious salad recipe and add 4 pieces of diced bacon, and a handful of cherry tomatoes or diced tomatoes. Some other ingredients that would taste amazing in this mix are feta or provolone cheese, sliced avocado, and corn kernels.
More add-ins: Instead of changing up the whole recipe, you can just add a few new ingredient at a time. Some to try are blue cheese, feta cheese, provolone, or mozzarella. You could also add radicchio or romaine lettuce to the salad mixture. Play around with spices and sprinkle in some fresh basil, oregano, and pepper and whisk something like lemon juice into the dressing.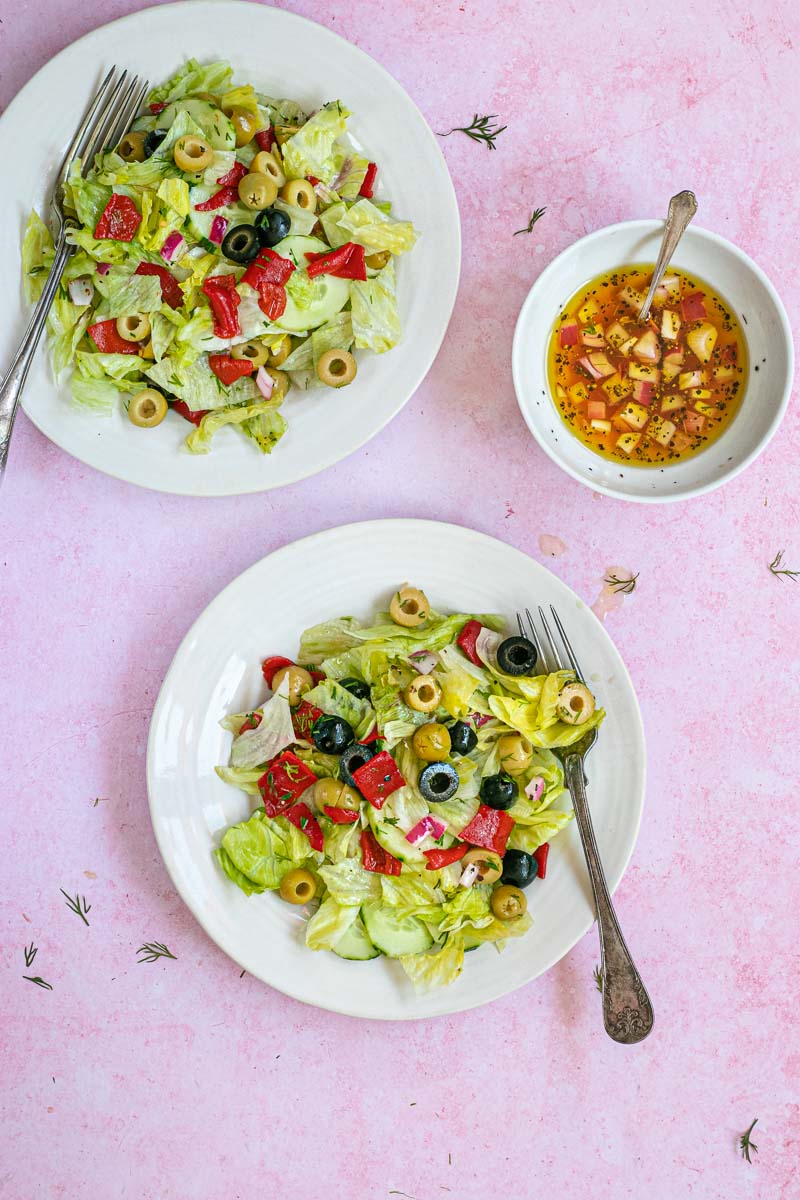 WHAT TO SERVE CHOPPED SALAD WITH
HOW TO STORE CHOPPED SALAD
Serve: Don't leave this recipe out at room temperature for more than 2 hours.
Store: You can store this salad recipe in the fridge for up to 3 days. Just cover the salad with plastic wrap or put it in an airtight container. It will stay fresh a little longer without dressing on it.
Freeze: Unfortunately lettuce doesn't freeze well. It's best to serve this salad fresh or after just a few days in the fridge.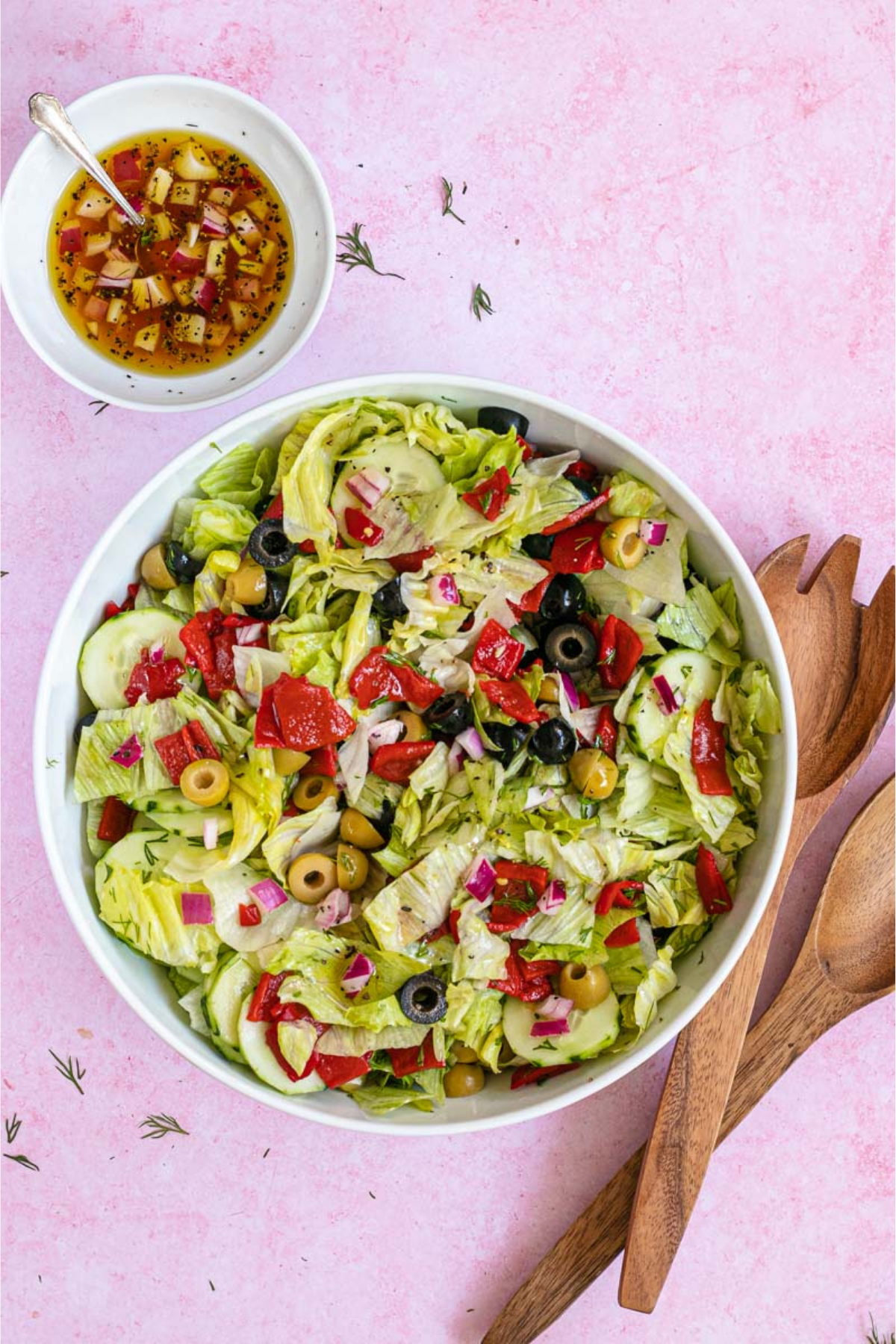 Ingredients
1/2

medium

red onion

, diced

1/4

cup

water

1/4

cup

olive oil

1/2

cup

red wine vinegar

1

teaspoon

Kosher salt

2

teaspoons

coarse ground black pepper

1

large

head iceberg lettuce

, chopped into 1/2-inch square pieces, about 6 cups

1

cup

Roasted Marinated Peppers

, cut into 1/2-inch pieces

1/2

cup

green olives

, halved

1/2

cup

black olives

, halved

1

cucumber

, peeled and sliced

1/4

cup

fresh dill

, coarsely chopped and large stems removed
Instructions
To make the dressing, mix the red onion, water, oil, vinegar, salt and pepper in a small bowl and set aside, letting it sit at least

5 minutes

to marinate.

In a large serving bowl, gently toss the lettuce, roasted peppers, olives, cucumber, and dill.

Toss salad with dressing.
Nutrition
Calories:
150
kcal
|
Carbohydrates:
8
g
|
Protein:
2
g
|
Fat:
13
g
|
Saturated Fat:
2
g
|
Sodium:
1075
mg
|
Potassium:
324
mg
|
Fiber:
3
g
|
Sugar:
4
g
|
Vitamin A:
1029
IU
|
Vitamin C:
18
mg
|
Calcium:
60
mg
|
Iron:
1
mg