Banh Mi Rice is a delicious twist on a banh mi sandwich. Classic fillings like seasoned pork, cabbage, and cucumber are served over an easy rice bowl.
If you've enjoyed these recipes for Rainbow Thai Chicken Peanut Salad, and Chicken Larb (Thai Salad), you should definitely try this delicious Banh Mi Rice Bowl. It is an easy, healthy, but surprisingly filling Main Dish you can enjoy for lunch or a light dinner.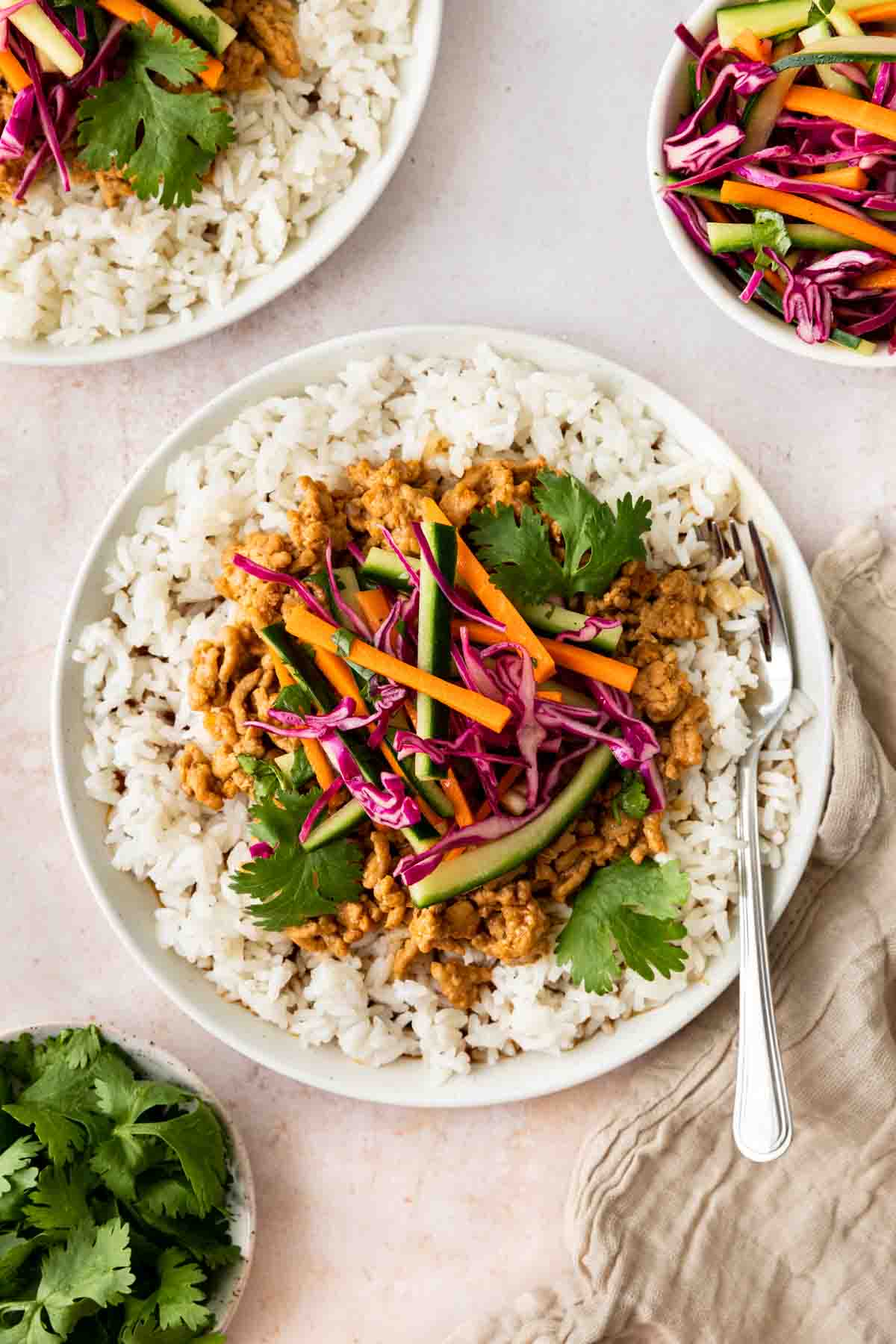 BANH MI RICE
Banh mi, a delicious Vietnamese sandwich, has become very popular in the United States and for good reason – it's hearty, flavorful, and easy to make with a fast cook time. Instead of serving this on a traditional warm baguette, we're serving this over rice making this a great gluten-free option. Banh Mi Rice Bowls are filling and full of zesty, flavorful ingredients.
These bowls are made with juicy pork, and plenty of crunchy vegetables. Ground pork, carrots, cabbage, cucumber, and fresh cilantro are all tossed together over rice bowls. The carrots, cabbage, cucumber, and cilantro are prepared in sesame oil and rice vinegar for a mild, slightly sweet flavor. Next, the pork is cooked in hoisin sauce, sriracha, and garlic for some delicious spice. The ingredients come together in a few easy steps for a dish that packs tons of flavor.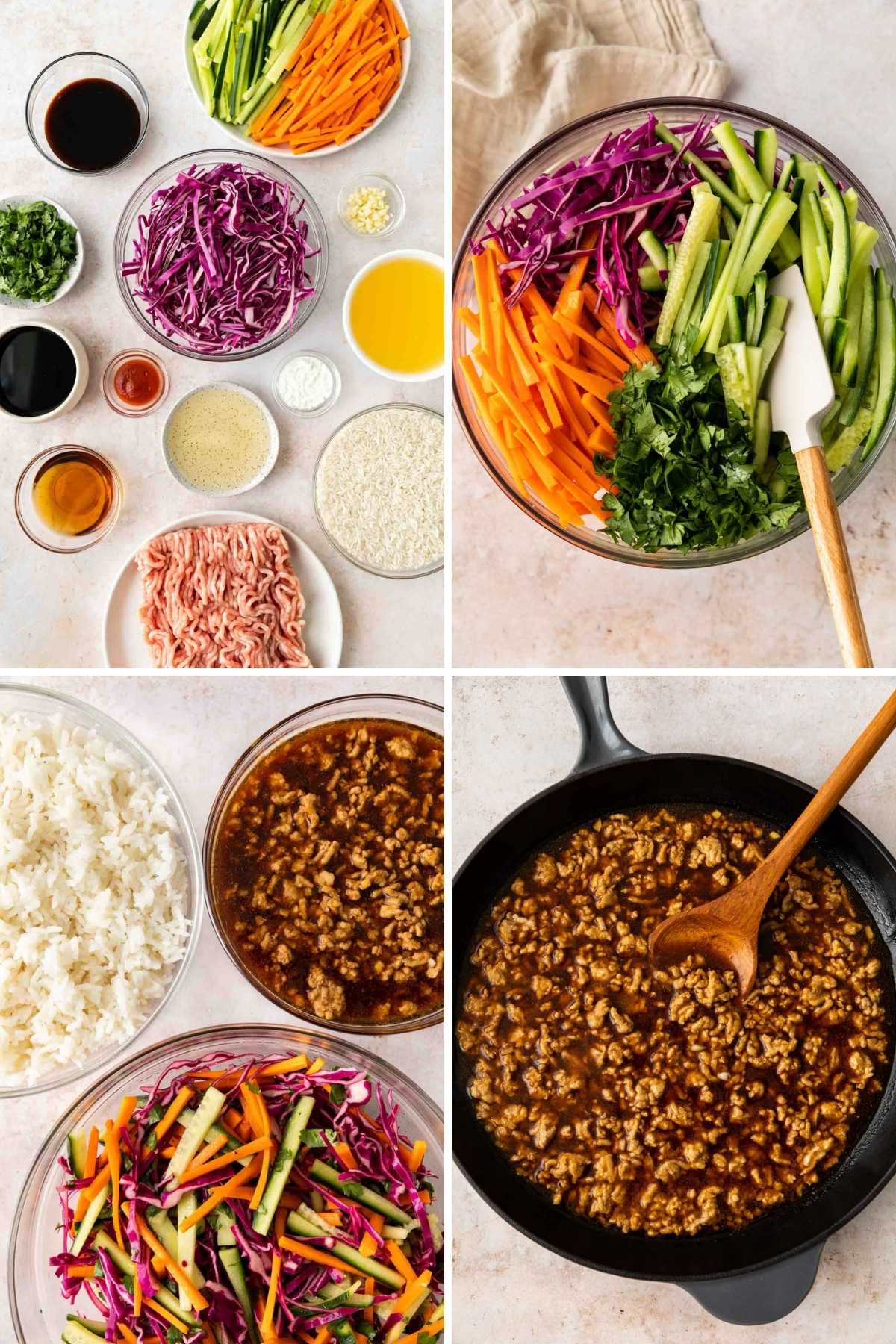 Swapping out the Vietnamese sandwich for a rice bowl is a great option if you're trying to cut back on carbs. To take it a step further, you can even make Cauliflower Rice instead of regular rice.
Rice bowls are great to make ahead. Try making these on Sunday afternoon and then using the leftovers for lunches during the week. The flavors really meld together after a day or so, making this a great meal-prep option. Your coworkers will definitely be asking for the recipe.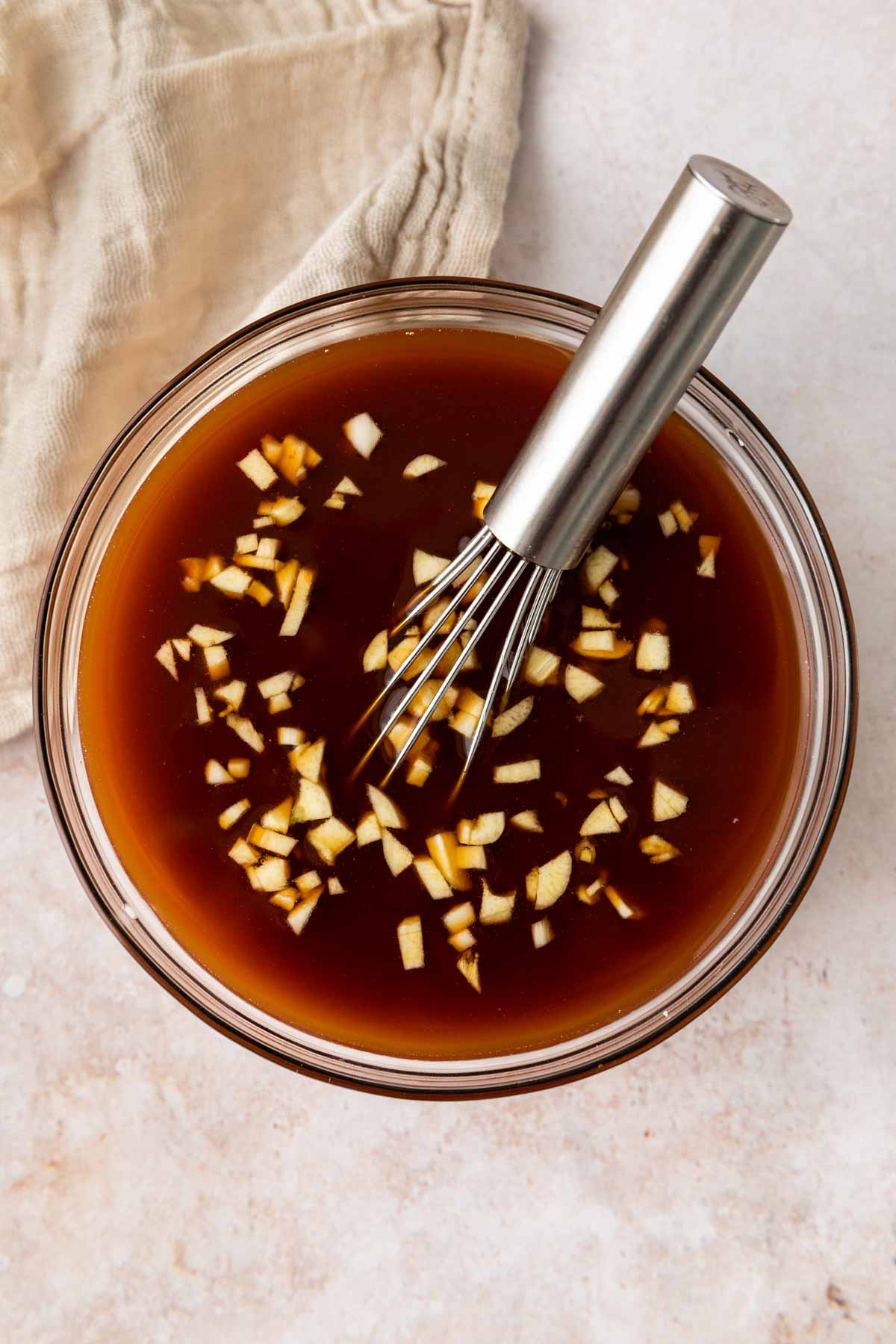 MORE HEALTHY ASIAN DISHES
TIPS FOR MAKING BANH MI RICE
Rice: Add rice to your rice cooker according to the cooker's instructions, or cook it on the stovetop.
Vegetables: Slice the red cabbage, carrots, and cucumber into bite-sized pieces. Then cut the fresh cilantro. Toss the vegetables together in a large bowl with rice vinegar and toasted sesame oil until coated. Set the bowl to the side.
Sauce: In a separate bowl add the cornstarch to the chicken broth. Stir until the starch dissolves. Then whisk in the soy sauce, hoisin sauce, sriracha and garlic. Set the sauce to the side.
Pork: Place a large skillet over high heat. Add the ground pork and a little bit of sesame oil. Brown the pork, breaking it apart with a wooden spoon so that it cooks on all sides. Once the meat is no longer pink, add in the broth mixture. Bring to a boil, then lower the heat and let it simmer for 2 minutes or until the sauce thickens.
Combine: Add the fluffy rice to one large serving bowl, or separate the rice into individual bowls. Spoon the pork and sauce over the rice. Drain the vegetables and add them to the top.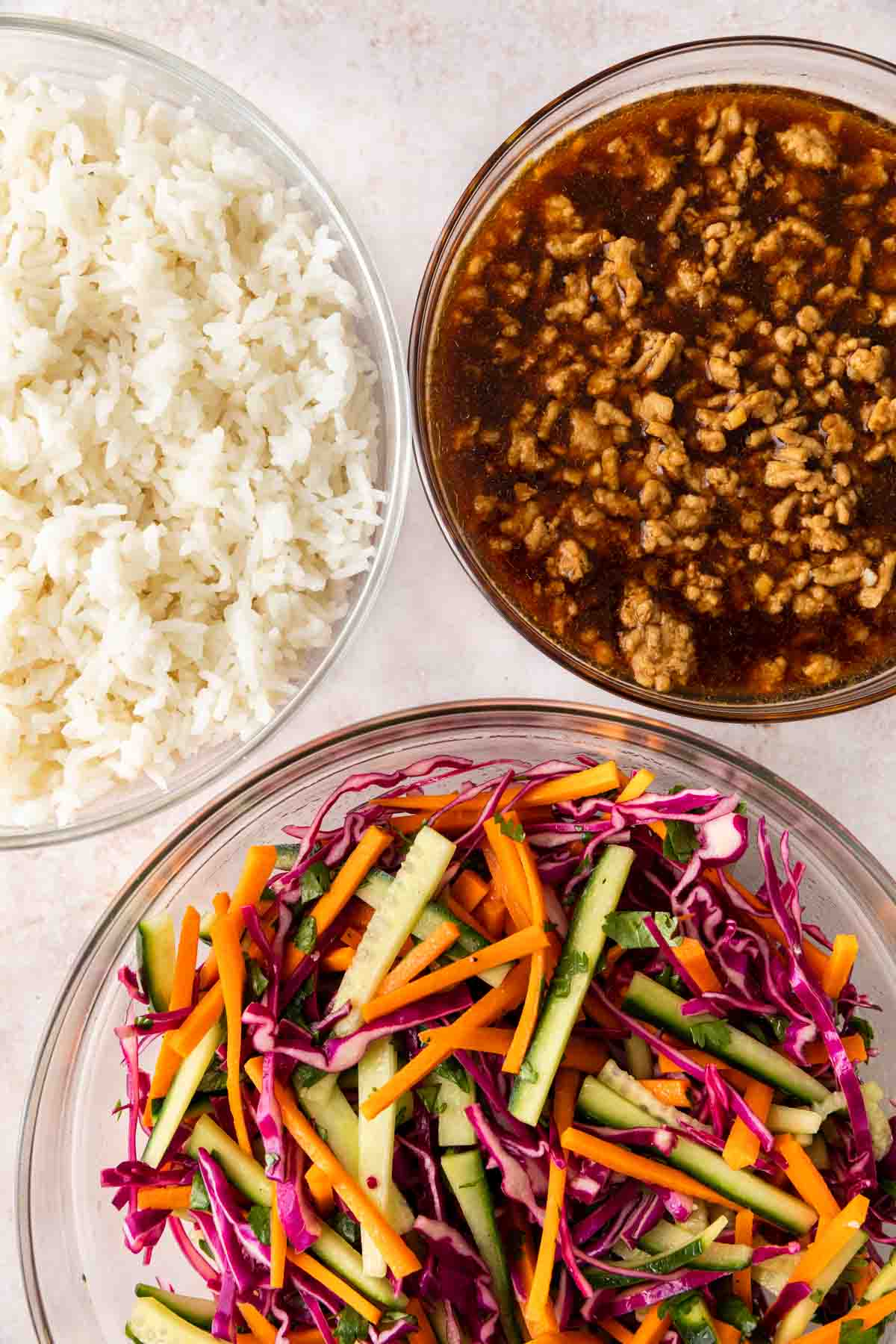 Create a free account to

Save Recipes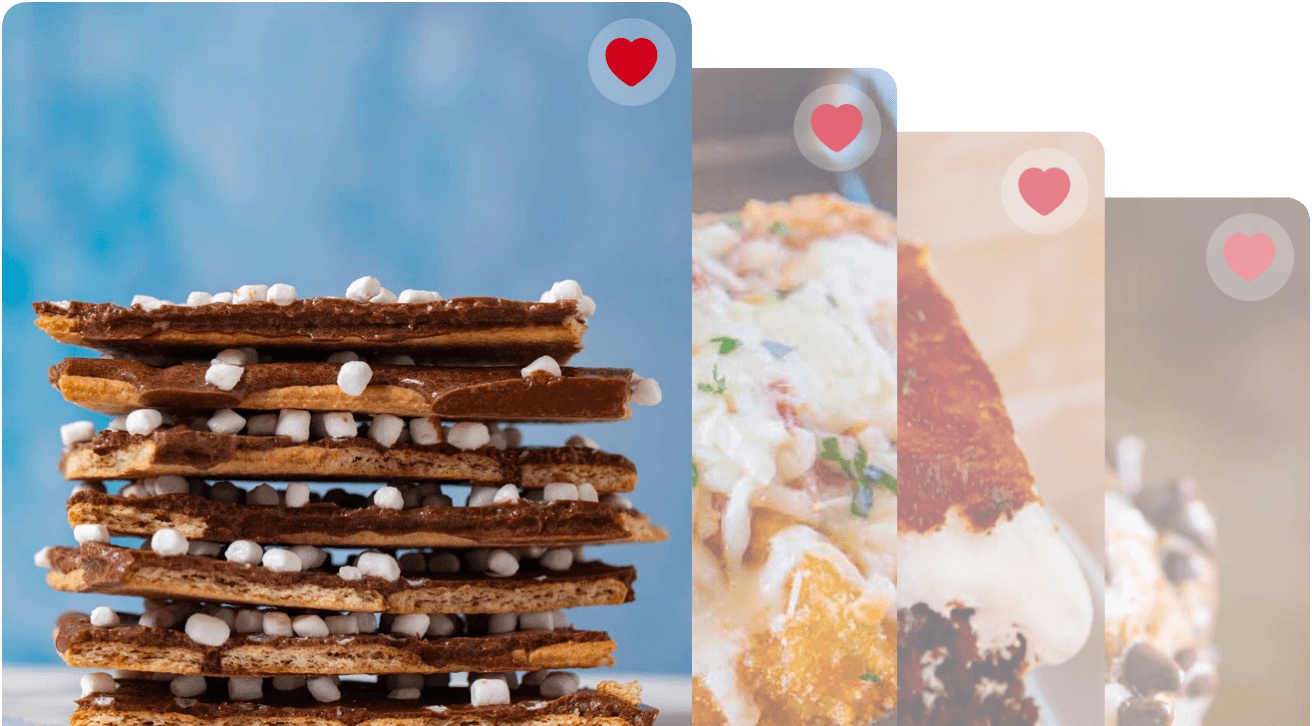 VARIATIONS ON BANH MI RICE
Veggies: You can customize your Banh Mi Rice with different kinds of chopped vegetables like green onions, pickled daikon radishes, jalapeños, bell peppers, or water chestnuts to go along with the carrots and cabbage. Mix and match veggies to alter the taste of the dish without having to change the core ingredients.
Rice: If you want a healthier Banh Mi bowl, you can switch out white rice for brown rice. You will have to cook the brown rice for longer than white rice, so keep in mind when you plan out your dinner. Brown rice also has a different texture than white rice: it has a richer, nuttier flavor, and slightly tougher grains. You can also cut down on carbs by using Cauliflower Rice, or serve the veggies over Fried Rice for Banh Mi Fried Rice.
Vegan: You can easily turn this dish into a vegan recipe by using tofu instead of pork and exchanging the chicken broth for vegetable broth. Try swapping out the soy sauce for vegan fish sauce to give it an even bigger pop of flavor.
Meat: You could also try out different varieties of meat other than ground pork. Try using ground chicken, ground turkey, ground beef, or even pork meatballs instead.
Add-ins: For some flavor additions try sprinkling on some ginger, red pepper flakes, or paprika over the veggies and meat. You can also garnish the dish with chopped peanuts and lime wedges, and squeeze some fresh lime juice over the top for a brighter flavor.
Banh Mi Rice Noodles: Instead of serving your meat and vegetables over rice, try cooking up some rice noodles and tossing them in the sauce as your Banh Mi base.
WHAT TO SERVE WTIH BANH MI RICE
HOW TO STORE BANH MI RICE
Serve: Once you've made your Banh Mi Rice, you've got about 2 hours at room temperature before you need to put it in the fridge. If it's a hot day, you should store it sooner to keep it fresh.
Store: Seal your Banh Mi Rice in an airtight container or a sealable bag and it will keep in the fridge for about 3 days. Make sure that you allow the rice to fully cool to room temperature before you store it.
Freeze: You can also store Banh Mi Rice in the freezer for up to 3 months, after that it won't reheat very well.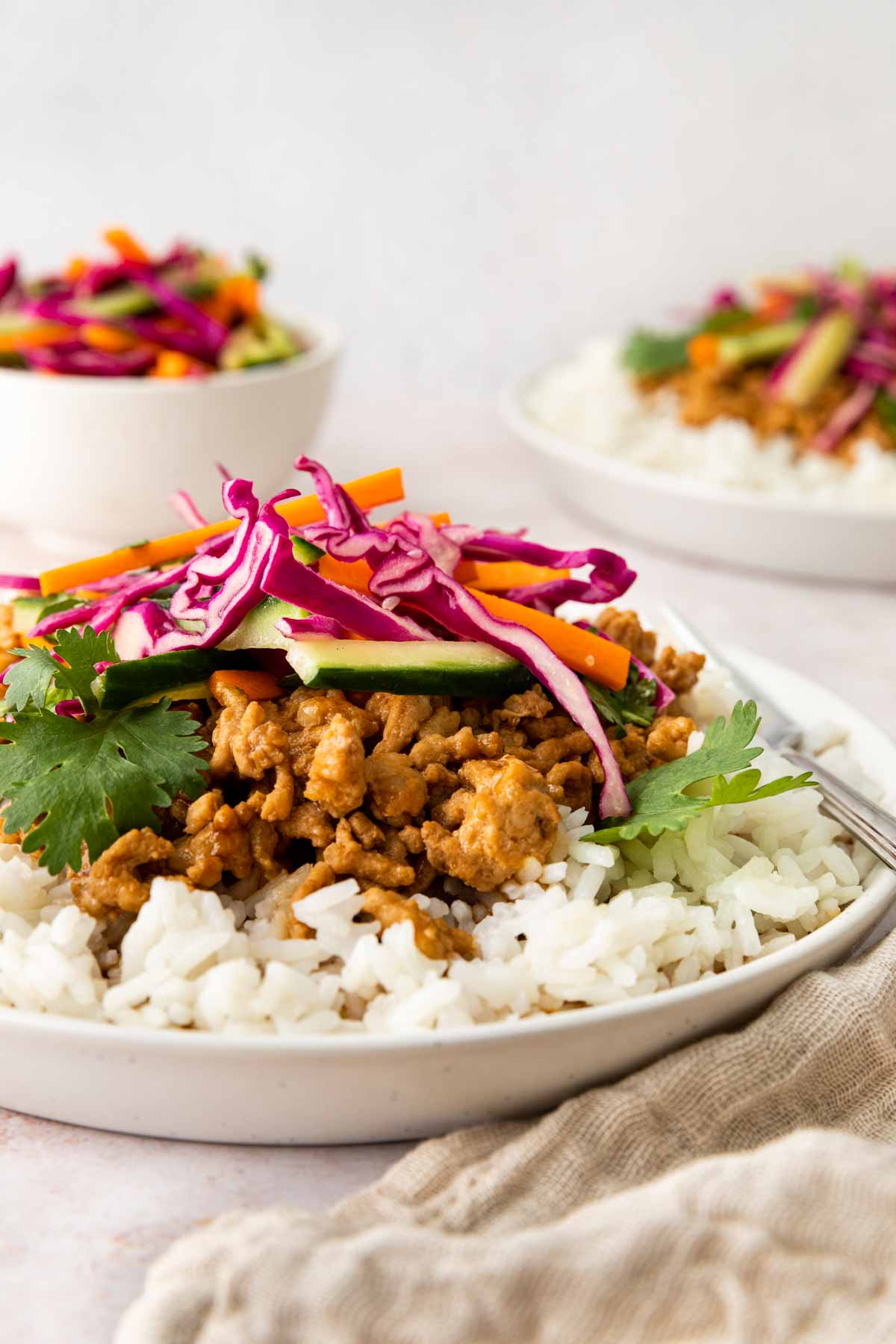 Ingredients
2

cups

long grain rice

, cooked

2

cups

red cabbage

, thinly sliced

1

carrot

, julienned

1

cucumber

, julienned

1/4

cup

cilantro

, finely minced

3

tablespoons

rice vinegar

1/2

teaspoon

kosher salt

1/4

teaspoon

coarse ground black pepper

1

pound

ground lean pork

2

tablespoons

sesame oil

, divided

1

clove

garlic

, finely minced

1/2

teaspoon

crushed red pepper flakes

, or Sriracha

1

cup

chicken broth

1/4

cup

low-sodium soy sauce

1/4

cup

hoisin sauce

2

teaspoons

cornstarch
Instructions
In a large bowl toss together the vegetables, cilantro, rice vinegar, salt, black pepper, and half the sesame oil and set aside to pickle for

20 minutes

before draining them.

In a large heavy skillet on medium-high heat add the pork and sesame oil, breaking it apart as you cook until cook through, about

4-5 minutes

.

Add the garlic and crushed red pepper flakes to your pan, stir and cook for

1 minute

.

In a large measuring cup, whisk together the broth, soy sauce, hoisin sauce and cornstarch, then add it to your skillet.

Bring to a simmer and cook for about

1 minute

until the sauce thickens.

To serve plate ½ cup rice with the pork and the drained pickled vegetables.
Nutrition
Calories:
315
kcal
|
Carbohydrates:
46
g
|
Protein:
17
g
|
Fat:
7
g
|
Saturated Fat:
1
g
|
Trans Fat:
1
g
|
Cholesterol:
37
mg
|
Sodium:
709
mg
|
Potassium:
463
mg
|
Fiber:
2
g
|
Sugar:
4
g
|
Vitamin A:
1585
IU
|
Vitamin C:
17
mg
|
Calcium:
41
mg
|
Iron:
2
mg