jump to recipe
Skinny Moo Shu Pork
This post may contain affiliate links. Read my disclosure policy here.
Skinny Moo Shu Pork stir fry made with lean pork tenderloin, cabbage, carrots, bamboo shoots, mushrooms and onions served with a drizzle of hoisin sauce.
 Skinny Moo Shu Pork
Stir Fry Chinese recipes are at the core of our weekly meal rotations. We are such creatures of habit that finding takeout copycats we can keep enjoying as often as we'd like (and in BIG portions) keep us satisfied and on track.
This Moo Shu Pork (sometimes called Mu Shu Pork) is the PERFECT Chinese meal made at home. You get a really large serving for a small amount of points. My happy place is eating large servings of delicious food.
What is Moo Shu made of? Moo Shu Pork is similar to a grown up version of the inside of an egg roll. Made with cabbage, carrots, pork, garlic and ginger in a hoisin-sherry sauce, this easy pork stir fry dish is going to be a family favorite you go back to over and over again.
What to serve with Moo Shu Pork? We love to serve this over cauliflower rice (my favorite is cauliflower fried rice which is coming soon), brown rice or steamed vegetables.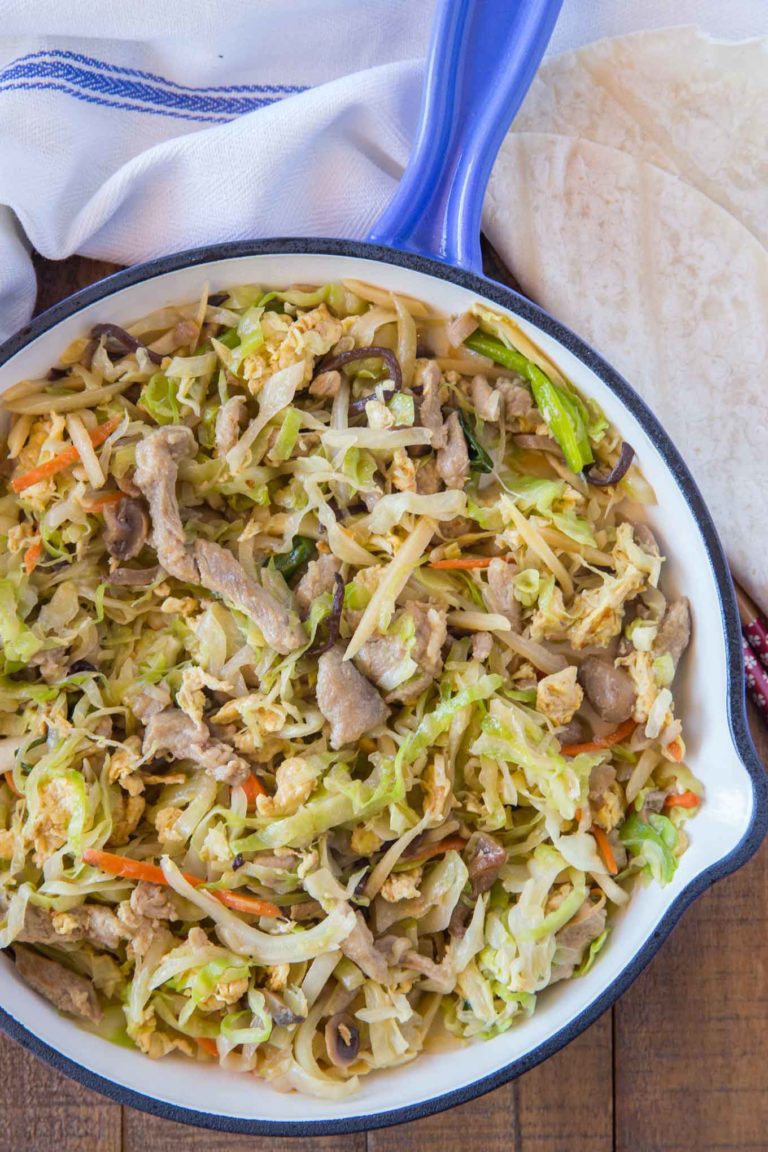 What sauce is served with Moo Shu Pork?
The sauce you commonly see served along side moo shu pork is hoisin sauce. Hoisin sauce is similar to a bbq sauce, with a sweet flavor. It is not low in smart points, clocking in around 2 points per tablespoon.
The most authentic way to serve moo shu pork was to serve it in Asian pancakes. I usually eat them with low point flour tortillas but we have gone all out a couple of times and made these pancakes for 2 smart points per pancake.
Moo Shu Pancake Recipe:
2 cups flour
3/4 cup boiling water
1 tablespoon sesame oil.
Add the flour to a stand mixer bowl with a dough hook then mix in the boiling water.
Let the mixer go on medium speed until the flour and water together until it comes together into a ball.
Knead for an additional five minutes.
Cover and let rest for 30 minutes.
Knead for an additional 1-2 minutes.
Cut dough into 16 pieces, then roll into tortilla shapes.
Brush with sesame oil and cook in a dry pan on medium heat for 15-20 seconds on each side.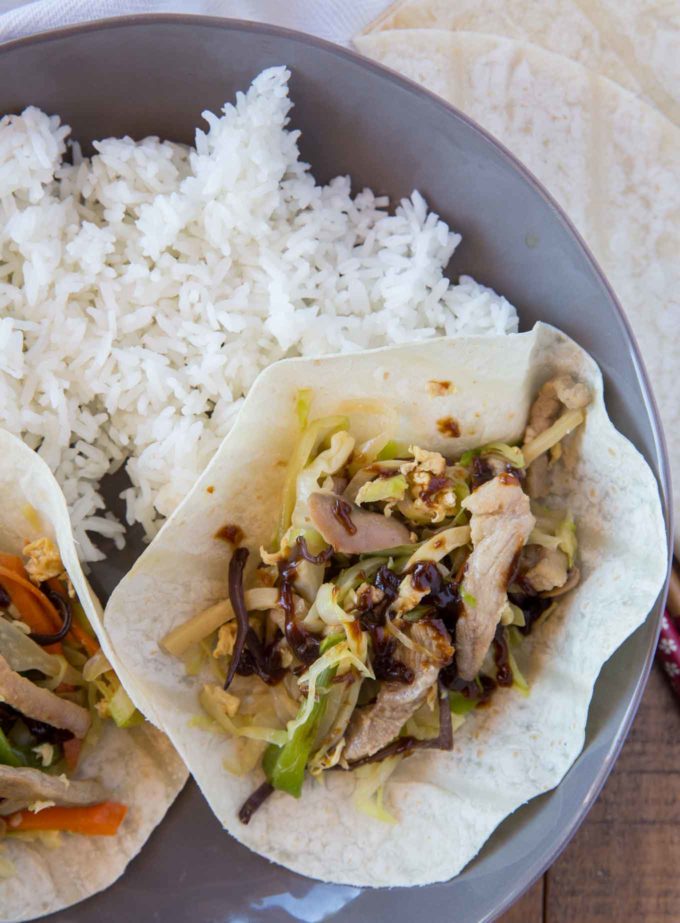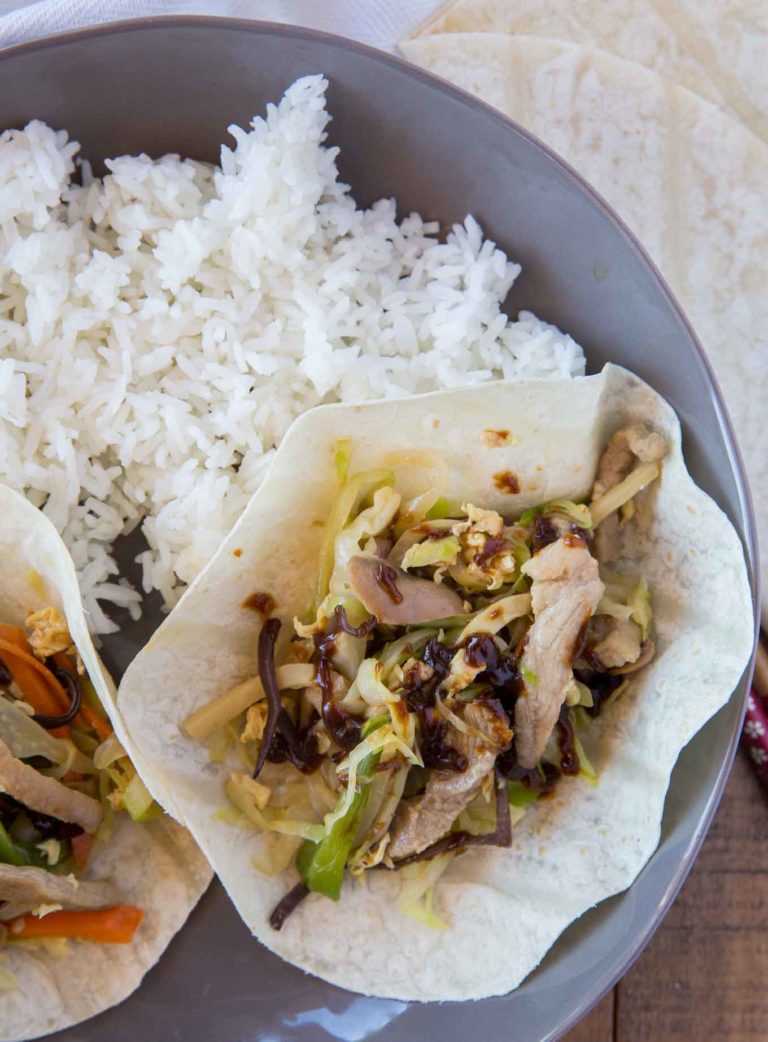 Looking for more Chinese Takeout Favorites?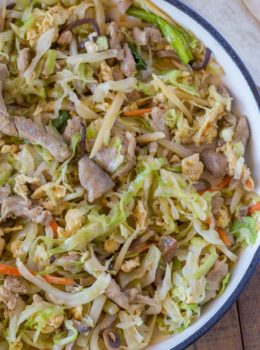 Skinny Moo Shu Pork
Skinny Moo Shu Pork stir fry made with lean pork tenderloin, cabbage, carrots, bamboo shoots, mushrooms and onions served with a drizzle of hoisin sauce.
Ingredients:
2 tablespoons canola oil, divided
1 pound pork tenderloin, trimmed of fat and julienned
2 tablespoons soy sauce
3 eggs, whisked
3 cloves garlic, minced
1 tablespoon fresh ginger, minced
1 cup shiitake mushroom, sliced thinly
4 cups cabbage, sliced thinly
5 ounces bamboo shoots, julienned (8 ounce can before draining)
1 carrot, julienned
2 tablespoons water
1/4 cup hoisin sauce, divided
2 tablespoons dry sherry
2 scallions, cut into 1" segments
Directions:
Add one tablespoon of canola oil to the skillet on medium-high heat.
Add the pork tenderloin to a bowl and toss with soy sauce.
Add the pork to the skillet and cook through for 2-3 minutes before flipping, then an additional 2-3 minutes.
Remove the pork from the pan, reduce the heat to medium, and add in the eggs, chopping them up with a spatula into fine pieces as they cook.
Remove the eggs from the pan and add in the remaining canola oil, garlic, ginger and mushrooms, stirring well and cooking for about 1-2 minutes.
Add in the cabbage, bamboo shoots,  and carrots and stir well.
Add in 2 tablespoons of water and stir, then cover and let steam for 2-3 minutes.
Add in 2 tablespoons of hoisin sauce, dry sherry and green onions and stir well.
Serve in small pancakes with remaining 2 tablespoons of hoisin sauce (1 teaspoon per serving).
Nutrition Information
Yield: 6 servings, Serving Size: 1/6th recipe
Amount Per Serving:
Calories: 263 Calories
Total Fat: 10.4g
Saturated Fat: 2.2g
Cholesterol: 149mg
Sodium: 627mg
Carbohydrates: 15.2g
Fiber: 3.1g
Sugar: 6.9g
Protein: 87.6g
All images and text ©
Made this recipe?
Show me what you made on Instagram or Facebook and tag me at @Cookingwithpoints or hashtag it at #cookingwithpoints.
Cooking with Points owns the copyright on all images and text and does not allow for its original recipes and pictures to be reproduced anywhere other than at this site unless authorization is given. If you enjoyed the recipe and would like to publish it on your own site, please re-write it in your own words, and link back to my site and recipe page. Read my disclosure and copyright policy. This post may contain affiliate links.