Apple Butter is rich, sweet, creamy, and spiced perfectly with cinnamon, cloves, and ginger. It's the best topping or spread for Autumn.
Fall is the perfect season to bust out your favorite apple Desserts. Whether it's apple pie, apple cider, Applesauce Bread, or this Slow Cooker Apple Butter, there's just nothing better than the sweet, tart apple taste paired with warm spices!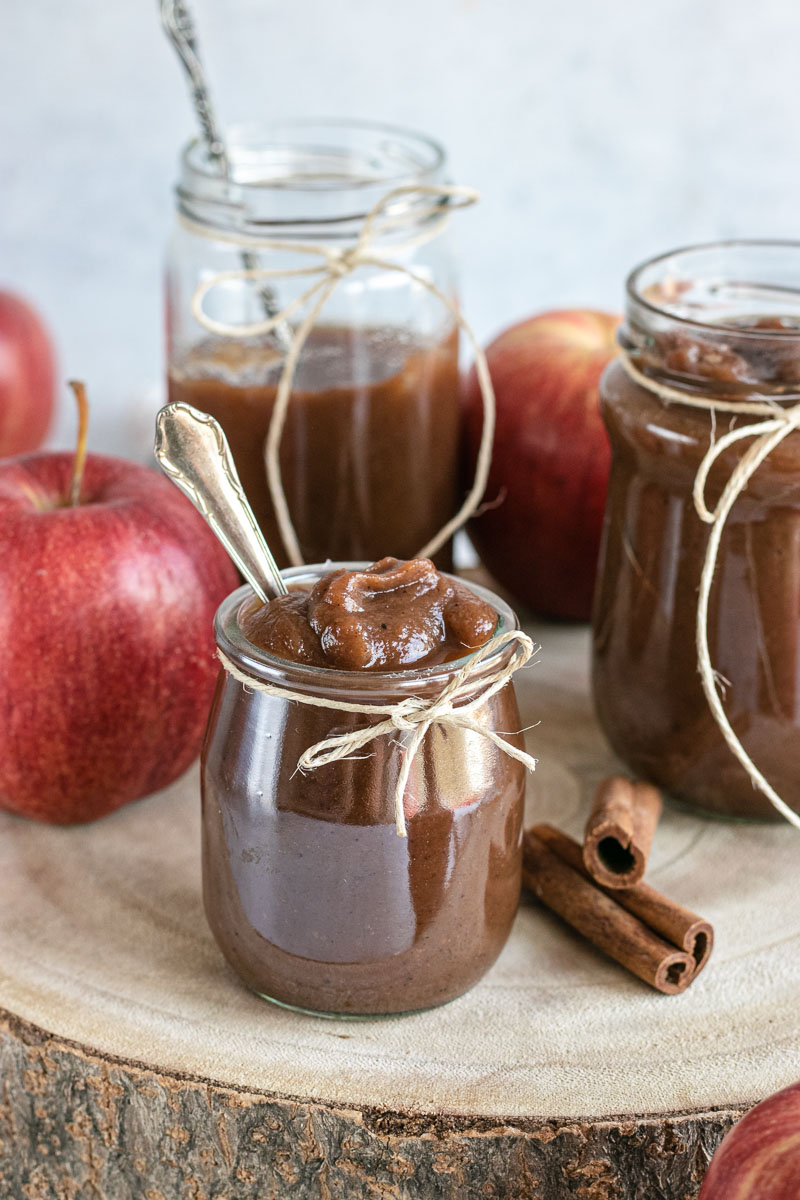 APPLE BUTTER
Autumn is a favorite time of year for many of our readers! It's the perfect season to gather indoors with friends and family while the weather is getting colder. Traditional Apple Butter is the perfect addition to any get-together. Not only is the mixture of cinnamon and concentrated apple flavor delicious, but the apple baking will also make your entire house smell amazing. It's like you lit a bunch of cinnamon spice candles, only more delicious!
Homemade Apple Butter is a great spread or dessert topping. It's similar to apple sauce, but not quite the same. The main difference between applesauce and Apple Butter is that Apple Butter is more intense. The ingredients are cooked longer for a thicker texture with a more intense apple flavor. Fresh Apple Butter is a beautiful dark brown color with a silky texture and deep flavor that will absolutely blow your mind.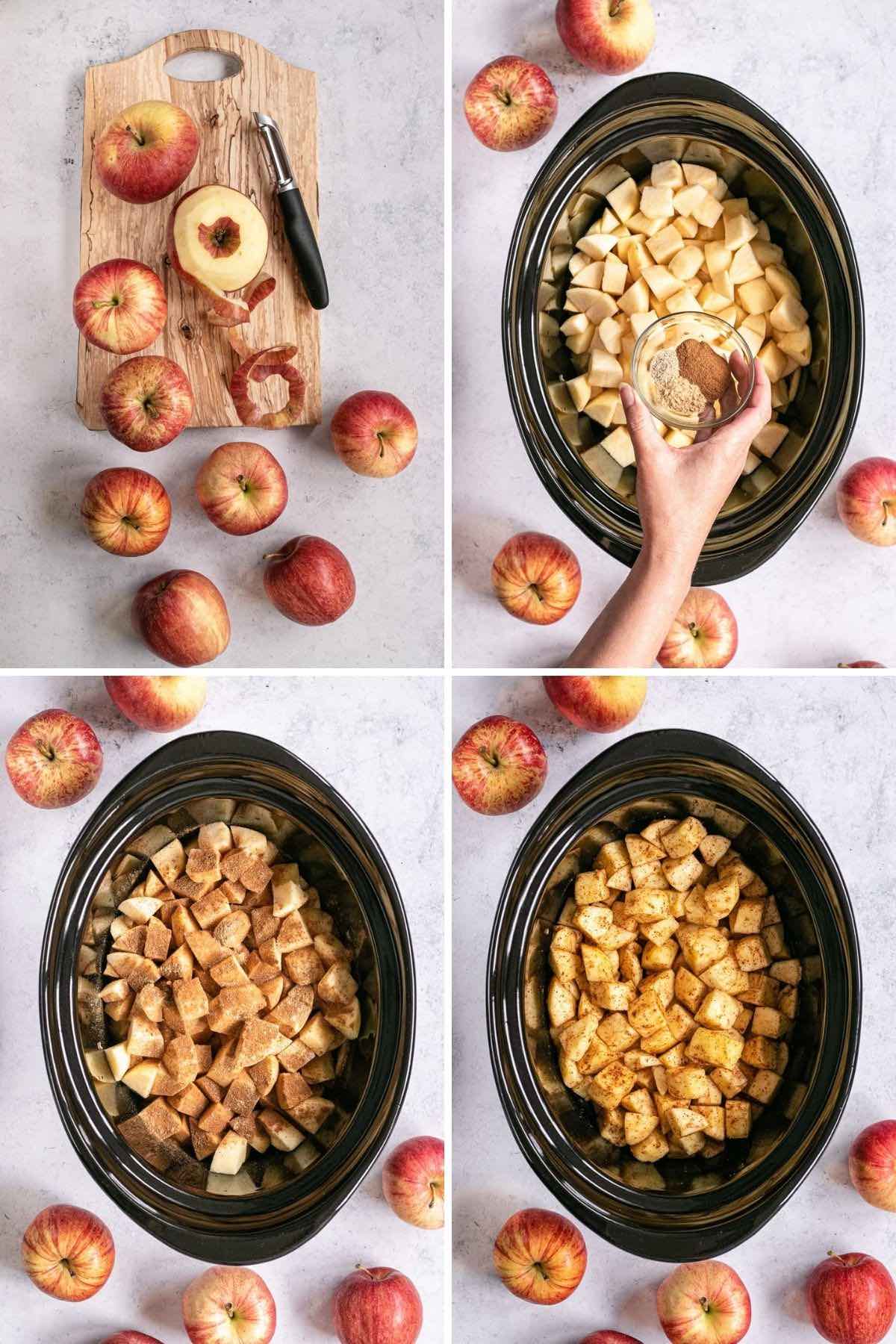 This Apple Butter recipe is also wonderfully versatile. You can spread it on toast or fresh-baked bread like jam. You could also spoon it over muffins or Coffee Cake for a delicious start to your morning. It also tastes surprisingly great served as a dip for meats like chicken or pork. You can also spread a spoonful on the buttered toast for a delicious grilled cheese sandwich. Or, top off your favorite cakes for a tasty dessert.
WHAT KIND OF APPLES SHOULD I USE?
Usually, when you're cooking apples, it's nice to go for ones with a bit more bite and tartness like granny smith apples. However, since there aren't any added sugars in this recipe, a good choice is gala apples because they have a naturally sweeter taste.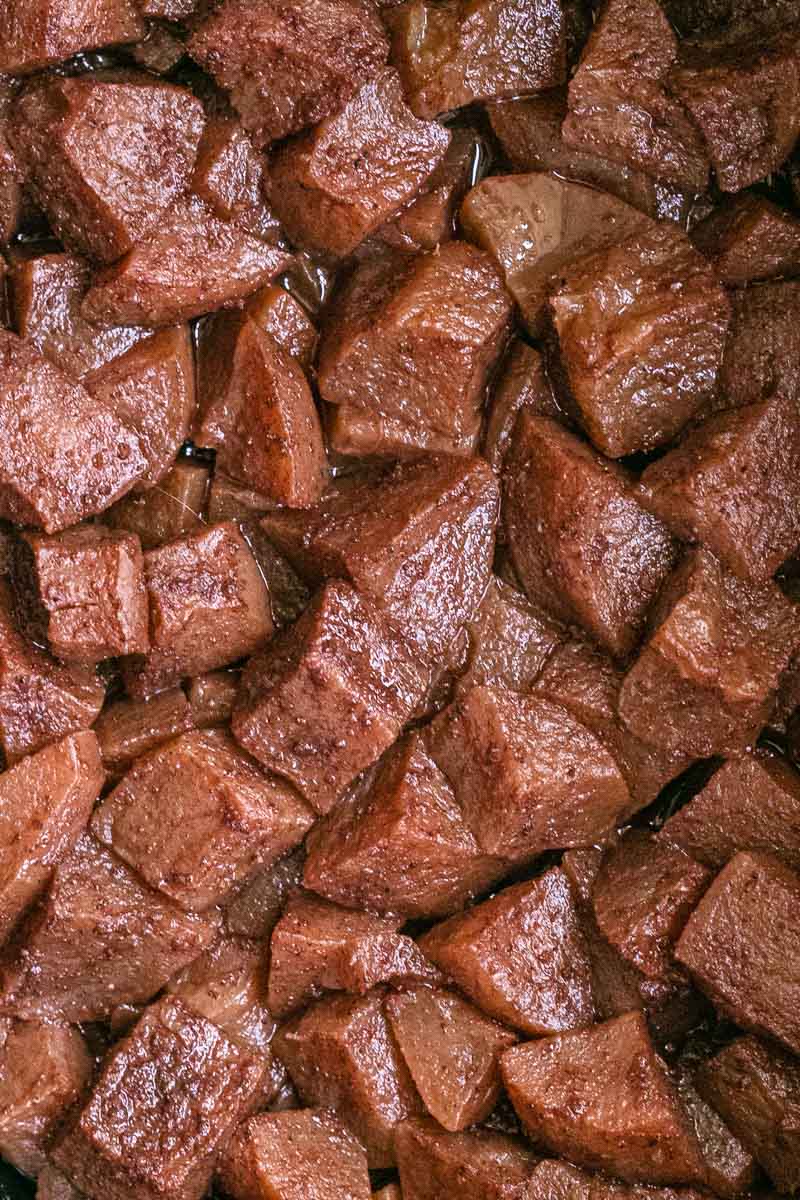 MORE DESSERT RECIPES
TIPS FOR MAKING APPLE BUTTER
Prep time: Peel and core 10 fresh apples, and discard the apple peels. Then use a paring knife to slice apples into small chunks. Add the apple slices to your slow cooker.
Coating: Mix together the water, cinnamon, ginger, and cloves in a small bowl. Next, pour the liquid over the apple pieces. Stir until all the chunks of apples are coated in the spice mixture.
Cooking time: Cover the slow cooker and cook on low for 9-10 hours. The extended cooking time gives the apples time to break down and absorb the spice flavor.
Puree: If you have an immersion blender, put it in the crockpot to blend the mixture to your desired texture. If not, pour the mixture into a regular blender. Mix in the high-speed blender until smooth.
Serve: You can serve the Apple Butter right away, or ladle apple mixture into jars for storage.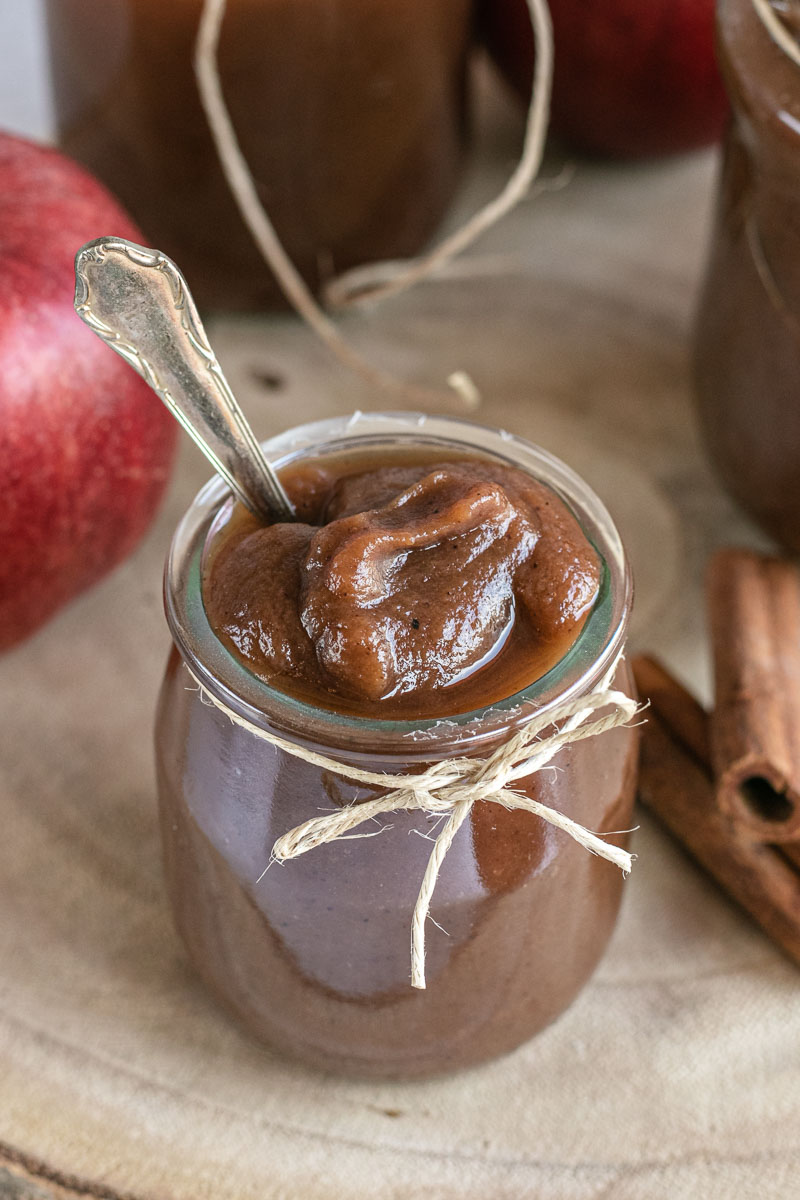 Create a free account to

Save Recipes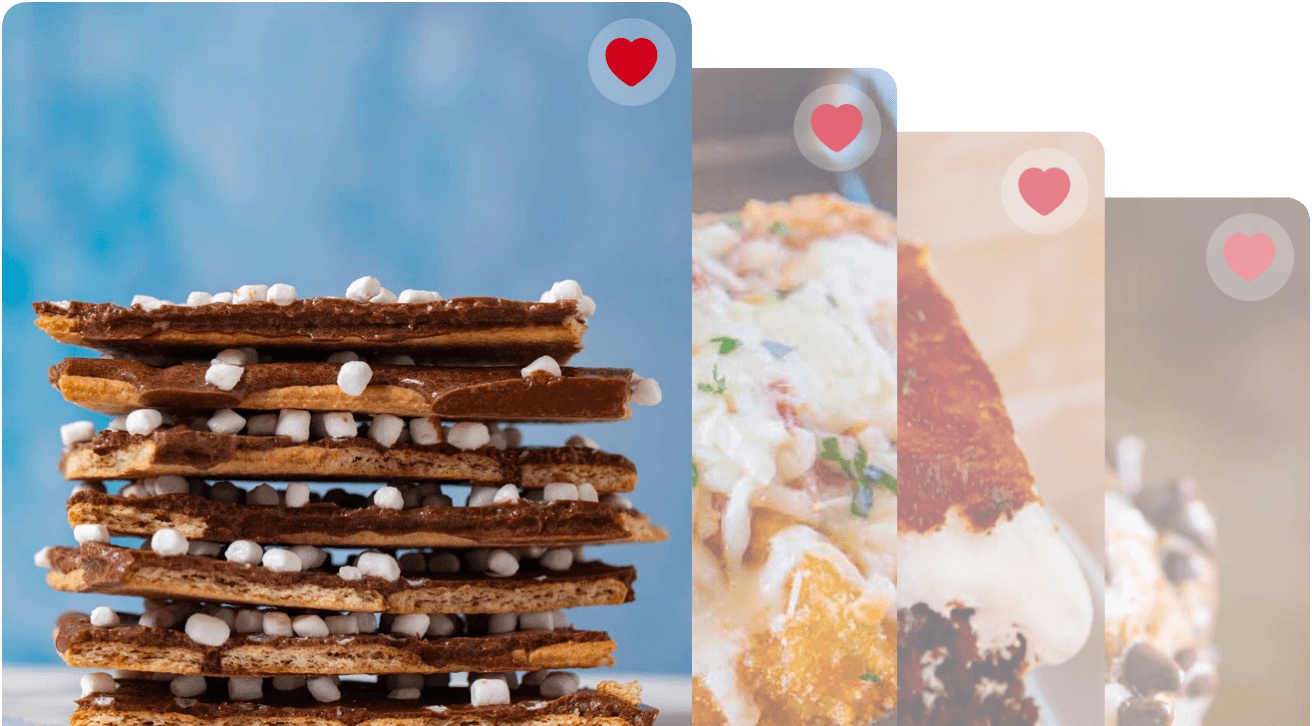 VARIATIONS ON APPLE BUTTER
Fruits: For some extra flavor you could add other fruits to the recipe along with the apples like strawberries, raspberries, cranberries, or cherries. You could also mix in some citrusy flavors like fresh lemon juice or lemon zest.
Sugars: The apples have enough natural sugars that you don't need any added in. However, if you prefer something a little sweeter, you can add in a tablespoon or two of brown sugar, honey, or maple syrup.
Vanilla: To give the Apple Butter some warm vanilla flavor mix in ½ teaspoon of vanilla extract.
Spices: You could also add some extra spices to go along with the ginger, cinnamon, and cloves. Nutmeg, allspice, and cardamom would all blend nicely with the flavors already in the recipe.
MORE FRUIT DESSERTS
HOW TO STORE APPLE BUTTER
Serve: You can serve Homemade Apple Butter straight out of the crockpot over your favorite desserts, breakfasts, and snacks.
Store: For storage transfer the recipe into an airtight container for canning. A jar of apple butter can last for a long period of time at room temperature or in the fridge. Either way, it'll stay good 1-3 months.
Freeze: If you seal it in the freezer, it'll keep well for up to 1 year.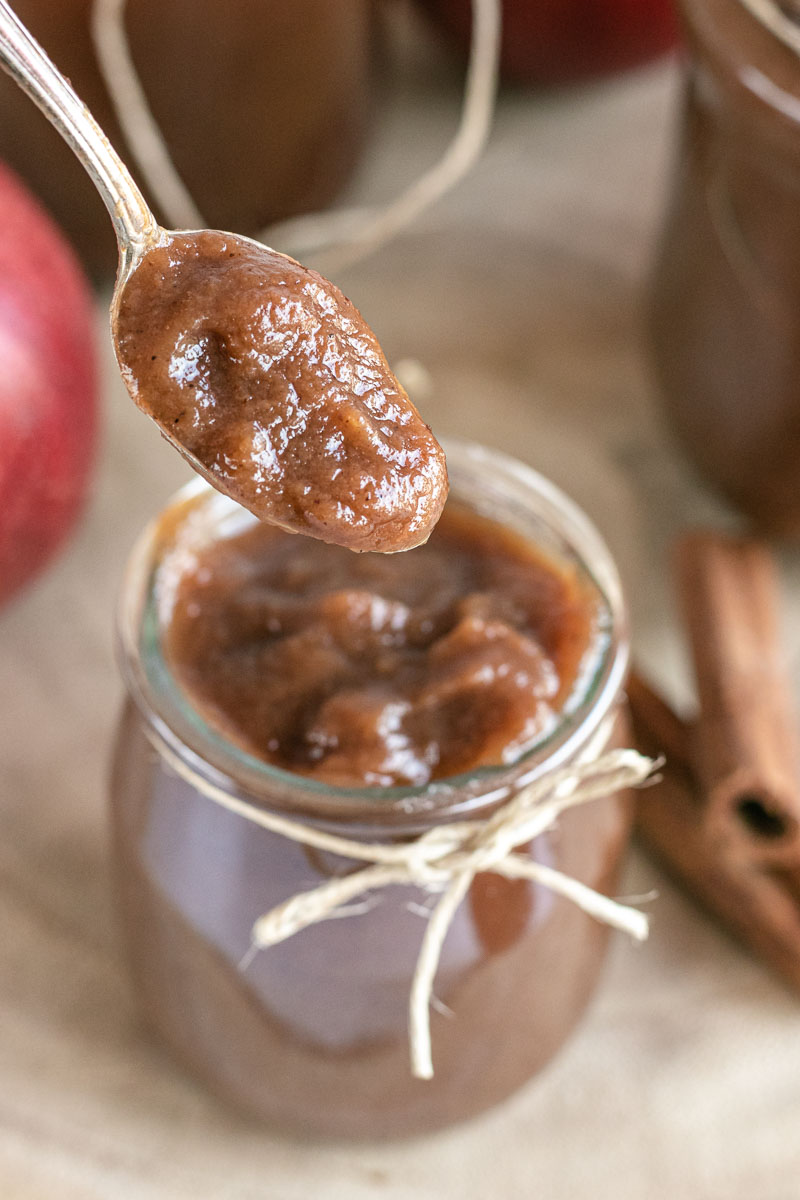 Ingredients
10

gala apples

1/4

cup

water

2

teaspoons

ground cinnamon

1/2

teaspoon

ground ginger

1/4

teaspoon

ground cloves
Instructions
Peel, core, and chop apples.

Add to slow cooker.

Mix water, cinnamon, ginger, and cloves in a small bowl.

Pour over the apples and stir to coat.

Cook on low for

9-10 hours

.

Use an immersion blender to mash well until smooth.
Nutrition
Calories:
64
kcal
|
Carbohydrates:
17
g
|
Protein:
1
g
|
Fat:
1
g
|
Saturated Fat:
1
g
|
Polyunsaturated Fat:
1
g
|
Monounsaturated Fat:
1
g
|
Sodium:
2
mg
|
Potassium:
132
mg
|
Fiber:
3
g
|
Sugar:
13
g
|
Vitamin A:
66
IU
|
Vitamin C:
6
mg
|
Calcium:
10
mg
|
Iron:
1
mg