Zucchini Lasagna is the perfect low-carb take on lasagna made with melty mozzarella, parmesan and ricotta cheese, meat sauce, and layers of zucchini.
Classic Italian dishes like pasta and lasagna are beloved for a reason, but unfortunately they can be quite heavy. That's why replacing pasta with zucchini is an ingenious and delicious way to cut back on carbohydrates. For more light twists on Italian foods try Eggplant Lasagna, and Baked Chicken Parmesan next.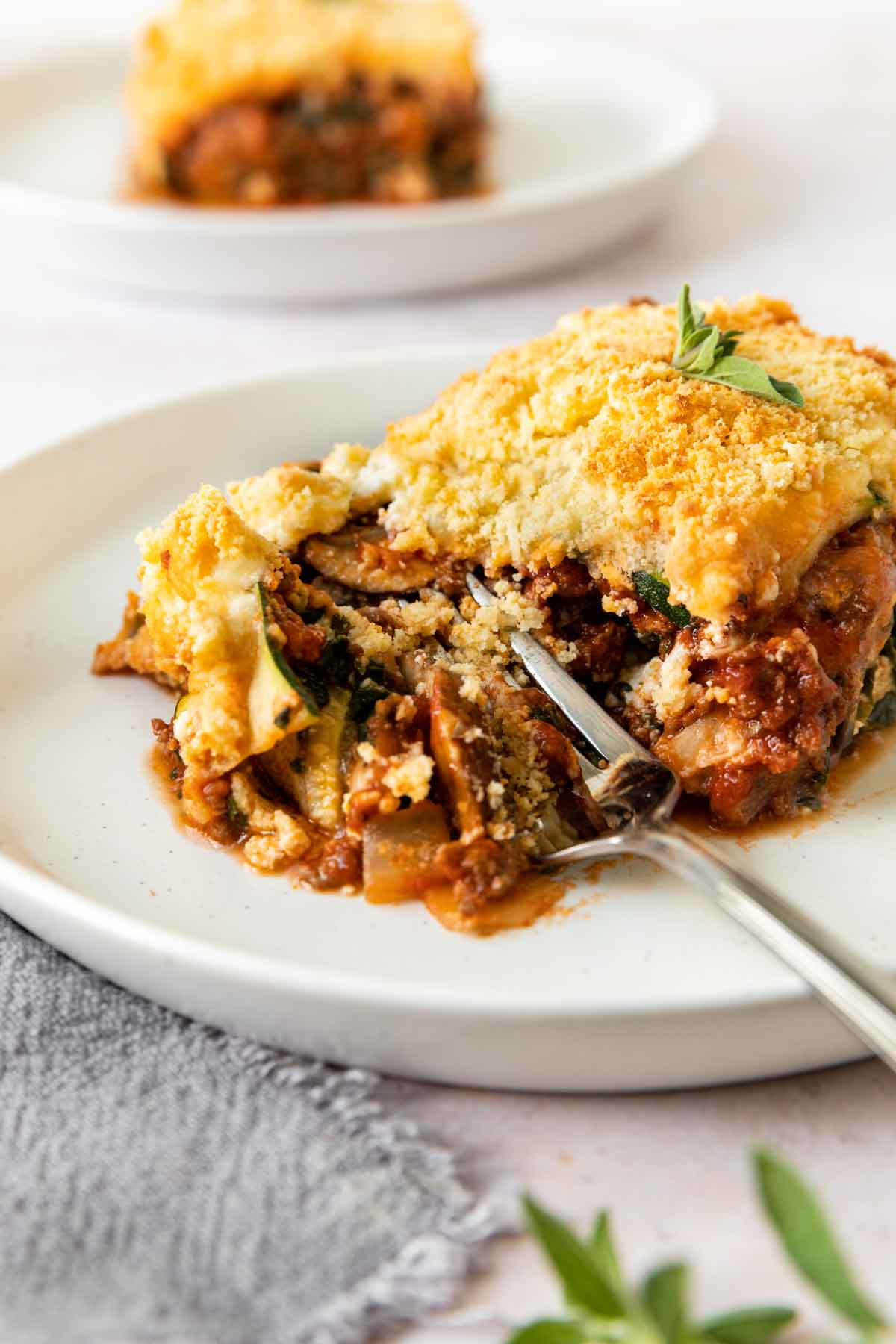 ZUCCHINI LASAGNA
By substituting the lasagna noodles with zucchini slices, this normally carb-heavy Italian dish now becomes a lighter low carb option you can easily add back into your dinner rotation. It's loaded with veggies, marinara sauce, and cheese in between each layer of zucchini, making it the perfect gluten-free lasagna recipe. This is the type of meal that you hope there are leftovers for the next day and race to get to them first. It's that good!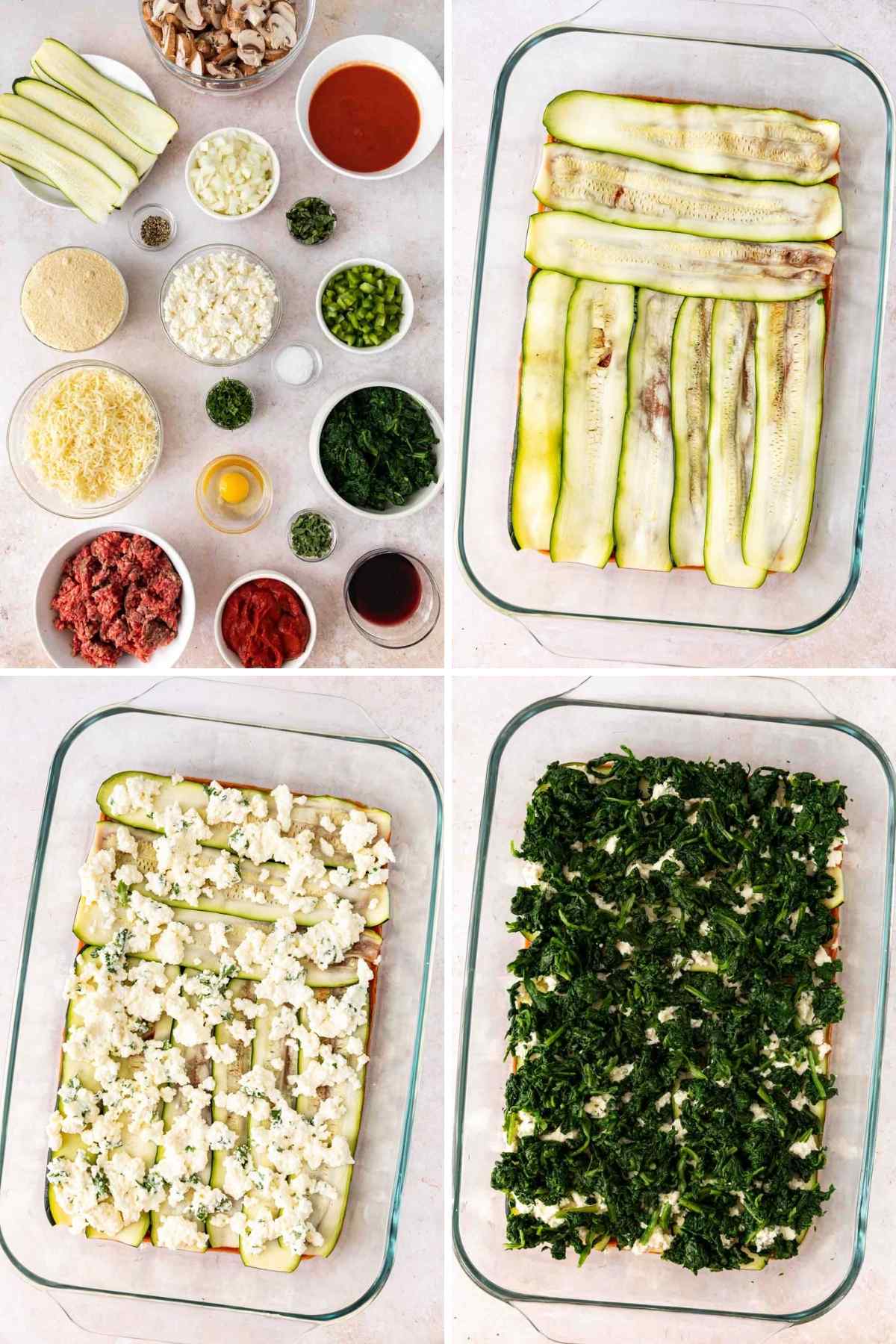 Along with the delicious veggies and sauce, there's also lots of cheese layered into this casserole. This recipe uses a parmesan, mozzarella, and ricotta cheese mixture in this delicious lasagna. The parmesan, mozzarella cheese, and ricotta cheese all bring their own wonderful flavor and melt into gooey perfection in the middle of the comforting meal. With all of the Italian cheeses, it's impossible to get any more deliciousness into one casserole dish.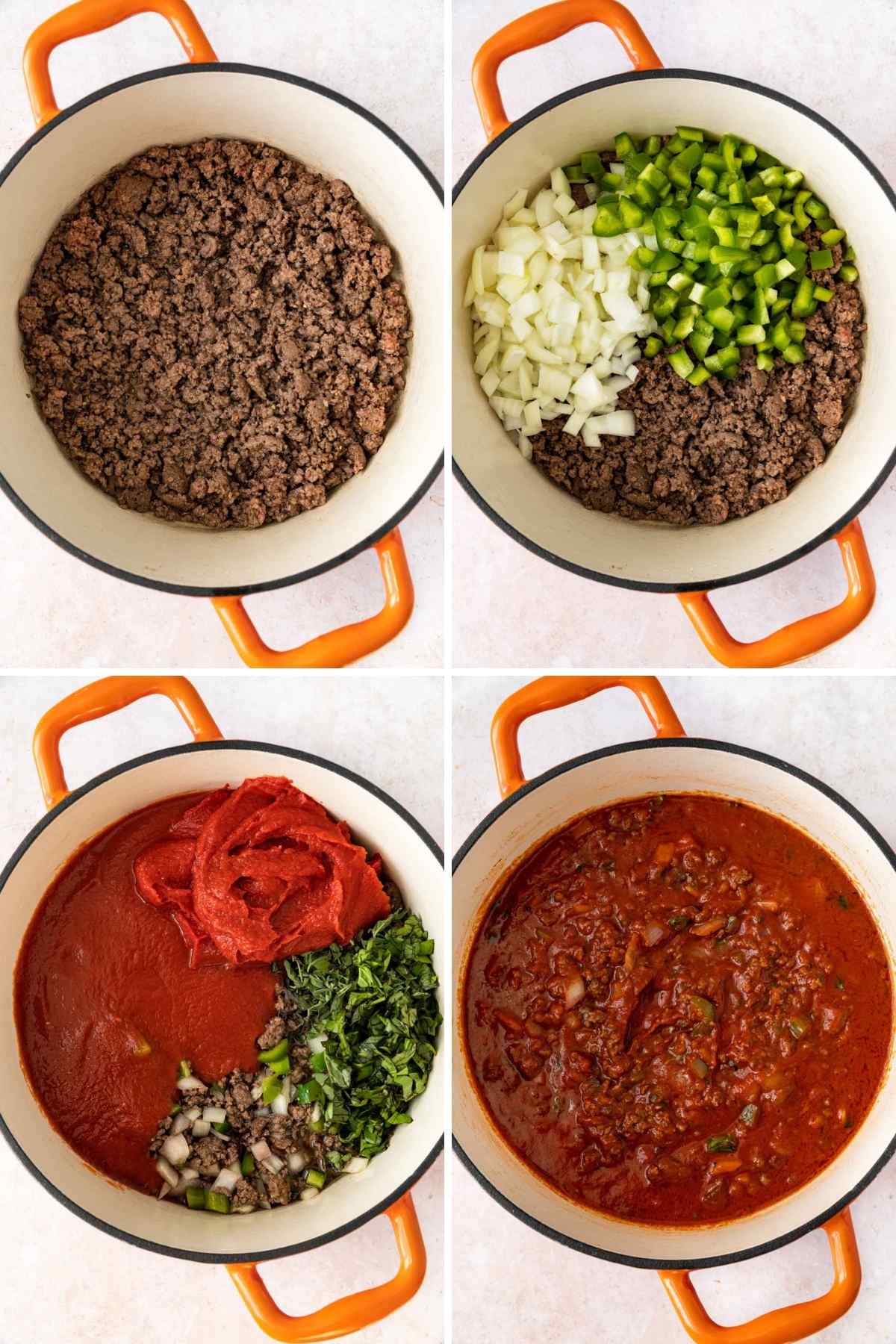 Zucchini is sure to become one of your favorite veggies. When it comes to low-carb meal options, zucchini is great for replacing pasta. The zucchini has a slightly crunchy texture, but it's not hard to bite into. It also doesn't overwhelm the taste of the savory lasagna. While there is a slight fresh flavor to the veggie, for the most part, it absorbs the taste from the tomatoes, sauce, and seasoning around it. So the finished dish is full of lots of flavors that the zucchini has soaked up.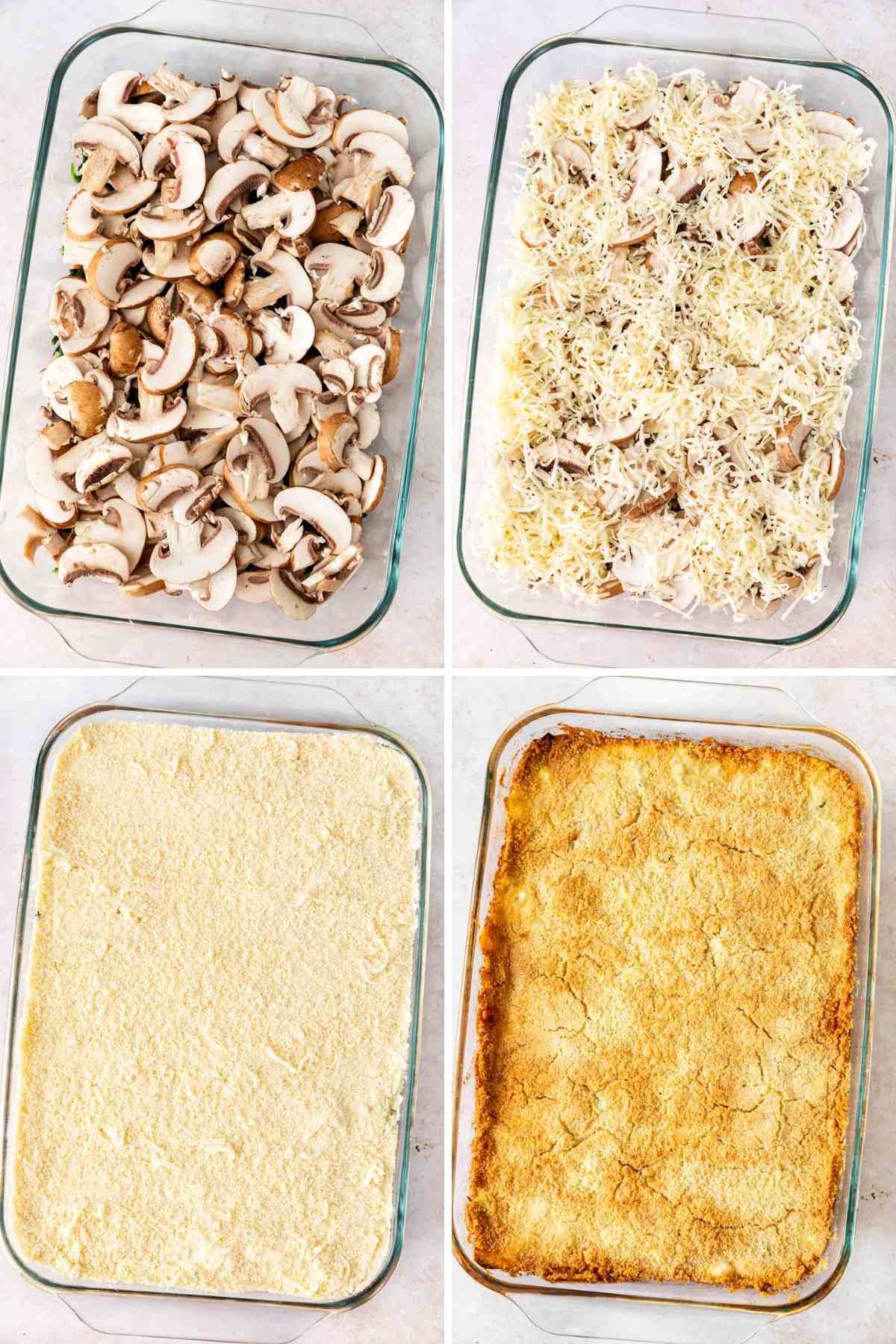 On top of that, zucchini brings nutrients like iron, calcium, and vitamins to your weeknight meal. For more recipes that use zucchini pasta (or zoodles) try Lemon Ricotta Zucchini Noodles or Zucchini Lasagna Roll-Ups next.
MORE ITALIAN RECIPES
TIPS FOR MAKING ZUCCHINI LASAGNA
Zucchini: There are a few quick directions to help your zucchini turn out right. First, make sure that all the excess moisture is removed before baking. No need to use any paper towels or dirty another pan grilling it because lightly salting the zucchini slices and placing them in a colander to sit and drain for a bit does the trick. You also want to ensure that all of the zucchini is evenly sliced into thin pieces lengthwise. It's important because it helps the Zucchini Lasagna cook evenly. If you're having an issue maintaining the same thinness with each zucchini slice, try using a slicer such as a mandoline to ease the process.
Prep: Start by preheating the oven and spraying a 9×13 inch casserole dish with cooking spray.
Meat sauce: Add the ground beef and black pepper to a skillet over medium-high heat. Cook for about 5 minutes. Then add in the green pepper and onion. Continue to stir and cook until the meat is browned. Then make the delicious tomato sauce by adding in the tomato paste, tomato sauce, wine, fresh basil, oregano, and a little bit of water if the sauce is too thick. Bring the ingredients to a boil, and then reduce the heat to simmer for 20 minutes.
Ricotta mixture: While the sauce is simmering, stir together the egg, ricotta, and parsley in a separate bowl.
Layer lasagna: Start by spreading a layer of meat sauce over the bottom of the pan. Then add a layer of zucchini strips, followed by half the ricotta, all the mushroom slices, and the spinach, then mozzarella cheese. Add another layer of the remaining meat sauce, zucchini slices, ricotta, and parmesan.
Baking time: Cover the casserole with foil and pop it in the hot oven for a 45 minute bake time. Then remove the foil, raise the oven temperature to 350 degrees and bake for another 15 minutes. Let the dish cool for 5 minutes before serving it to your family.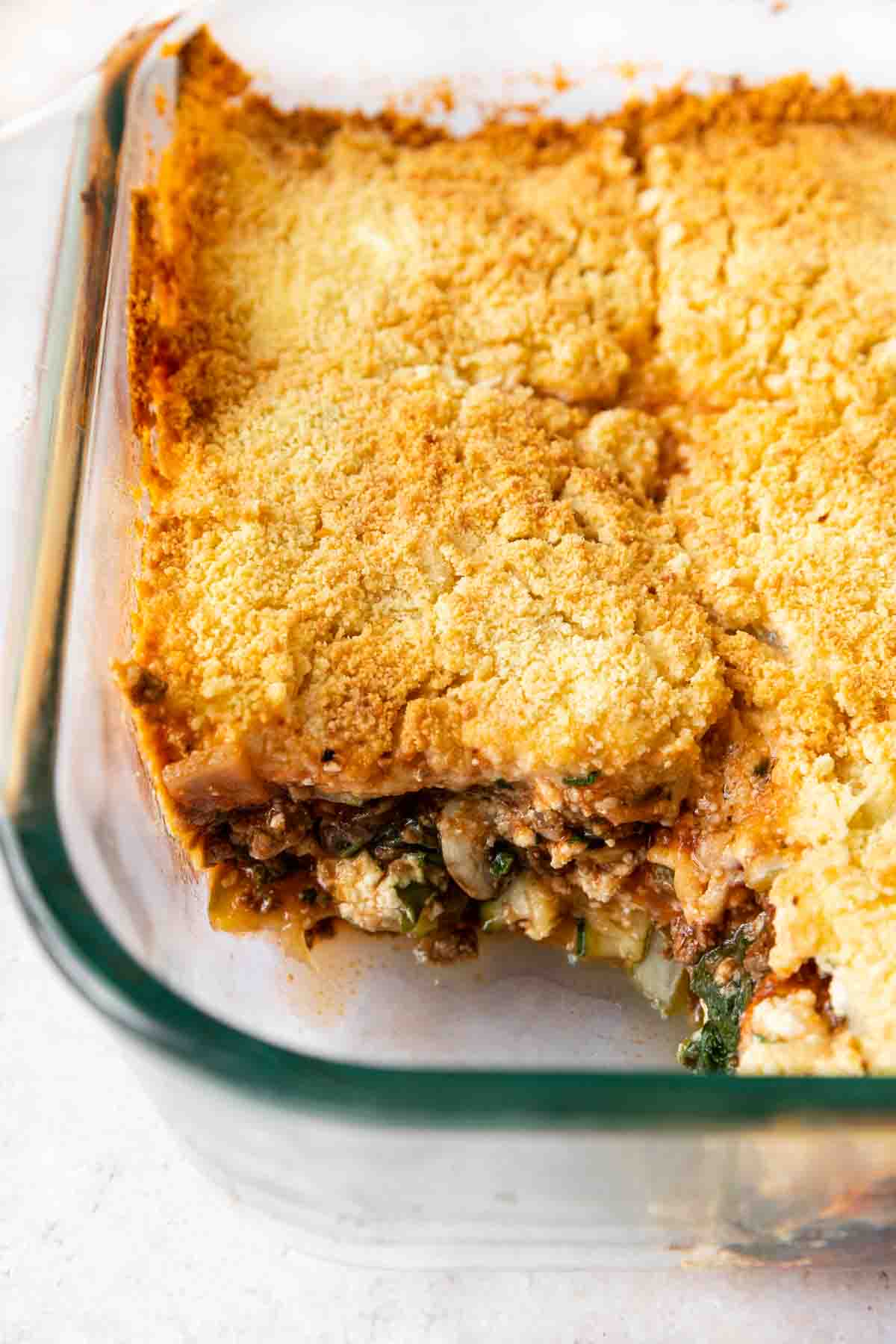 Create a free account to

Save Recipes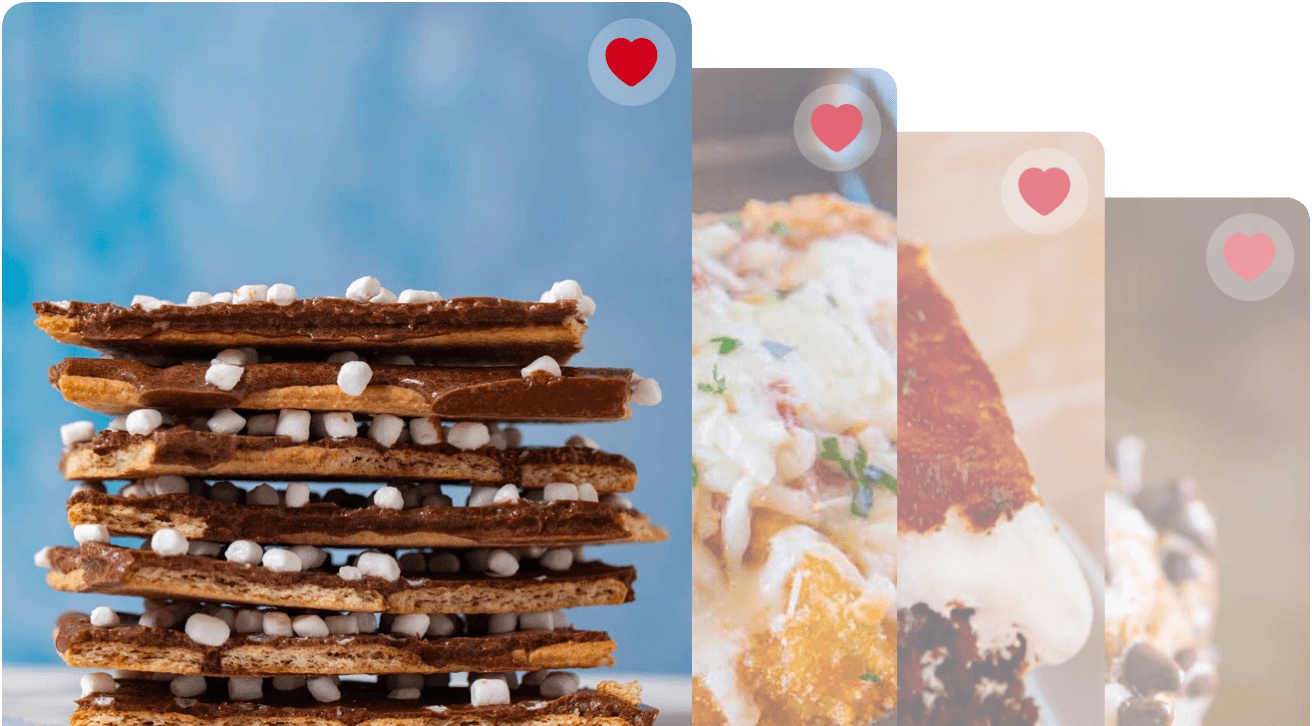 VARIATIONS ON ZUCCHINI LASAGNA
Tomatoes: for some extra texture in the lasagna, try adding in diced tomatoes along with the tomato puree in the sauce.
Meat: To lighten up the hearty meat sauce, you can exchange the pound ground beef for lean ground beef or ground turkey. Alternatively, if you want a vegetarian dish, you can always leave the meat out entirely.
Seasonings: For some alternative flavors try adding spices like paprika, rosemary, red pepper flakes, sage, or thyme.
MORE AMAZING MAIN DISHES
HOW TO STORE ZUCCHINI LASAGNA
Serve: Do not leave your lasagna out for more than 2 hours at room temperature.
Store: Refrigerated lasagna will be good for about 1 week. Make sure to let it cool and cover it before putting it in the refrigerator. Serve it up and microwave in 30-second increments before eating the leftovers.
Freeze: Frozen lasagna will stay good for up to 3 months if stored properly. Cover the entire baking dish with plastic wrap and foil or cut up into individual portions and store in airtight freezer containers to keep in the freezer. Thaw the lasagna out in the fridge overnight and reheat individual servings in the microwave or pop the whole dish in the oven for a few minutes to heat through.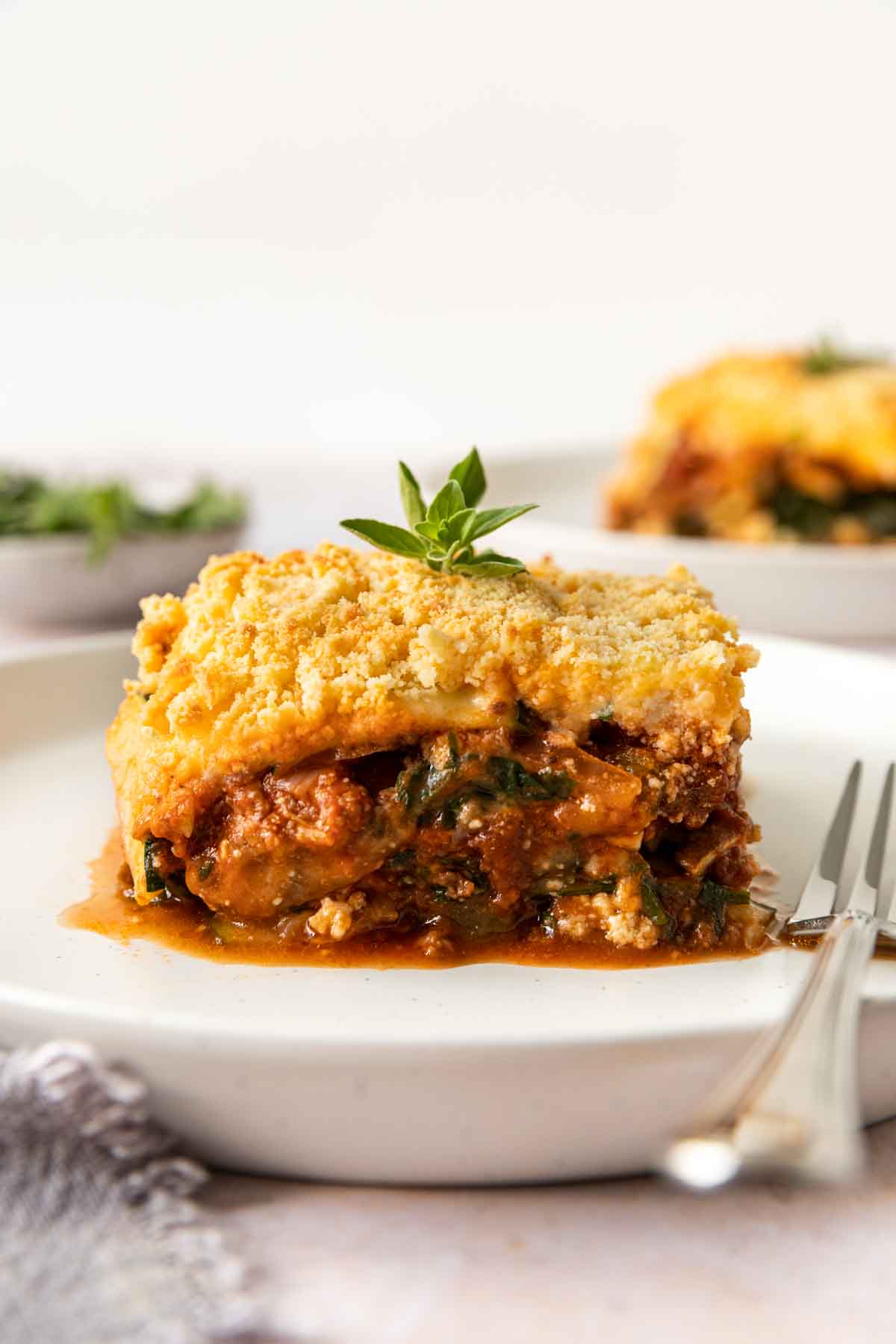 Ingredients
2

large

zucchini

1

tablespoon

salt

1

pound

ground beef

, (90/10)

1 1/2

teaspoons

coarse ground black pepper

1

small

green bell pepper

, diced

1

onion

, diced

1

cup

tomato paste

16

ounces

tomato sauce

1/4

cup

red wine

2

tablespoons

fresh basil

, chopped

1

tablespoon

fresh oregano

, chopped

hot water

, as needed

1

large

egg

15

ounces

low-fat ricotta cheese

2

tablespoons

fresh parsley

, chopped

16

ounces

frozen chopped spinach

, thawed and drained

1

pound

fresh mushrooms

, sliced

8

ounces

shedded mozzarella cheese

8

ounces

grated Parmesan cheese
Instructions
Preheat oven to 325 degrees.

Grease a deep 9x13 inch baking pan.

Slice zucchini lengthwise into very thin slices.

Sprinkle slices lightly with salt; set aside to drain in a colander.

To prepare the meat sauce, cook and stir ground beef and black pepper in a large skillet over medium high heat for

5 minutes

.

Add in green pepper and onion; cook and stir until meat is no longer pink.

Stir in tomato paste, tomato sauce, wine, basil, and oregano, adding a small amount of hot water if sauce is too thick.

Bring to a boil; reduce heat and simmer sauce for about

20 minutes

, stirring frequently.

Meanwhile, stir egg, ricotta, and parsley together in a bowl until well combined.

To assemble lasagna, spread ½ of the meat sauce into the bottom of prepared pan.

Then layer ½ the zucchini slices, ½ the ricotta mixture, all of the spinach, followed by all of the mushrooms, then ½ the mozzarella cheese.

Repeat by layering the remaining meat sauce, zucchini slices, ricotta mixture, and mozzarella.

Spread Parmesan cheese evenly over the top; cover with foil.

Remove foil; raise oven temperature to 350 degrees, and bake an additional

15 minutes

. Let stand for

5 minutes

before serving.
Nutrition
Calories:
325
kcal
|
Carbohydrates:
15
g
|
Protein:
28
g
|
Fat:
17
g
|
Saturated Fat:
9
g
|
Trans Fat:
1
g
|
Cholesterol:
81
mg
|
Sodium:
1469
mg
|
Potassium:
991
mg
|
Fiber:
4
g
|
Sugar:
8
g
|
Vitamin A:
5589
IU
|
Vitamin C:
27
mg
|
Calcium:
492
mg
|
Iron:
4
mg