Strawberry Chia Jam is an easy, sweet 4 ingredient recipe that's the perfect alternative to regular jam. It's gluten-free, vegan, high in fiber and low in sugar!
There's nothing better than Summer Recipes that help you use up fresh berries. Just like Balsamic Strawberries, easy Strawberry Chia Jam is the perfect way to prepare frozen fruit or freshly picked strawberries.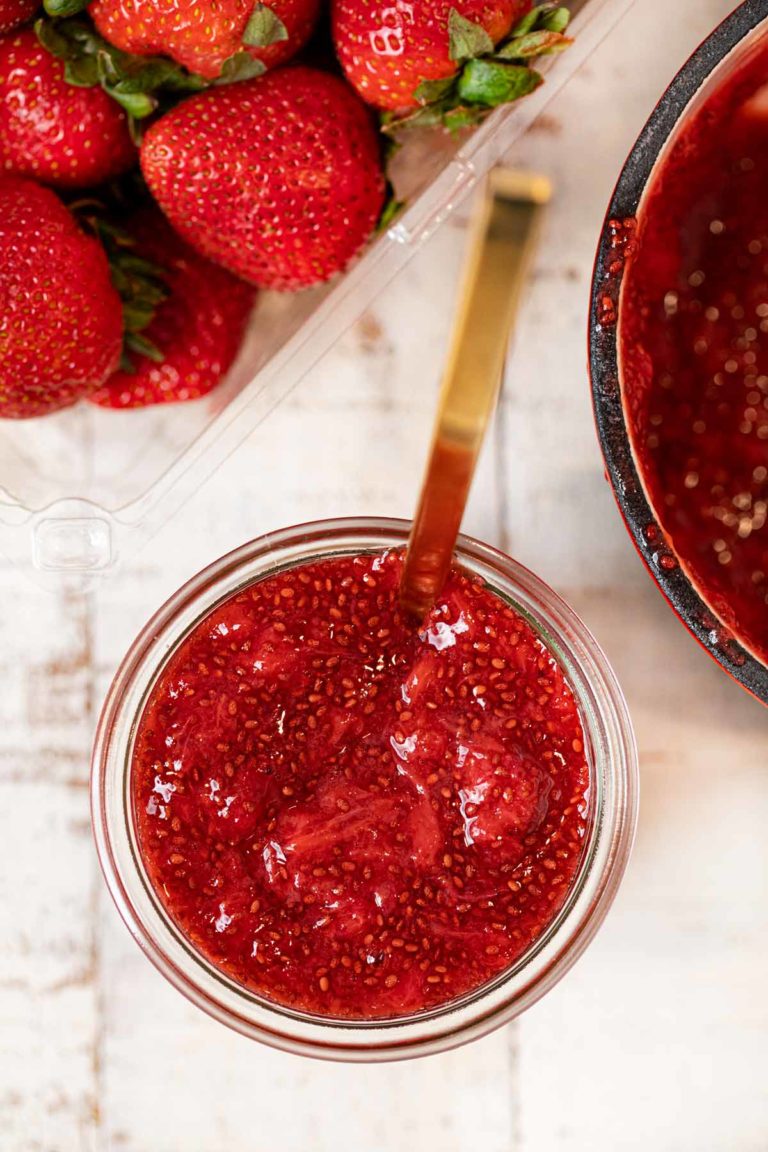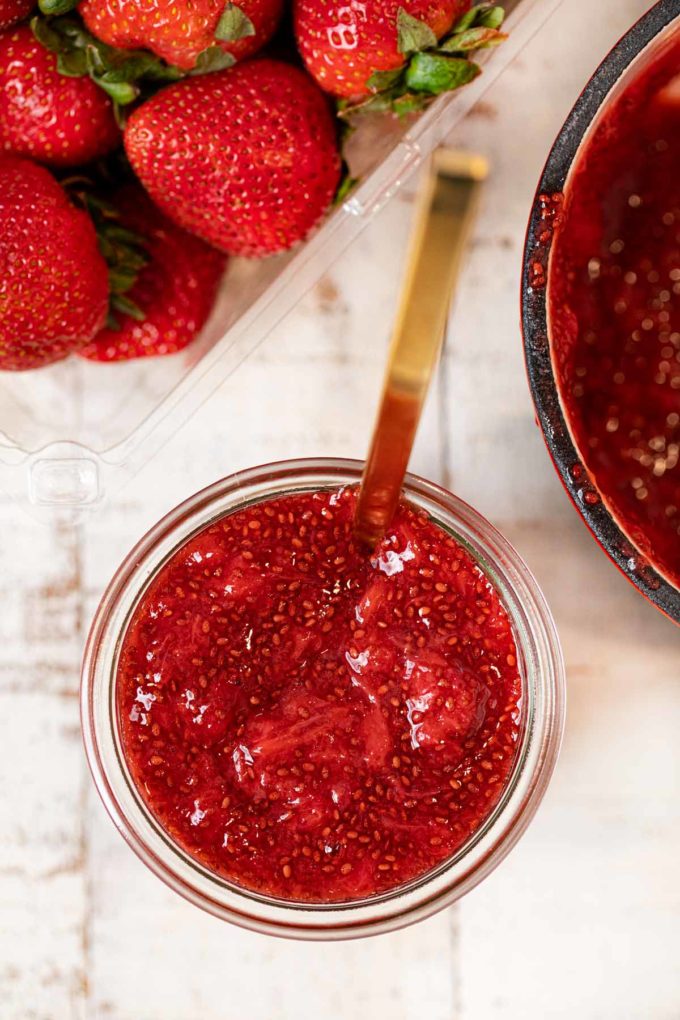 STRAWBERRY CHIA JAM
This wonderful chia seed jam makes the perfect topping for any bread or muffin. Start out your morning with this easy chia jam spread on a slice of your favorite toast, or use chia jam for peanut butter and jelly sandwiches. It's as kid-friendly as it is nutritious. Making it a total win for school lunches!
This is also a great recipe to make big batches at a time and give out strawberry jam as gifts. Just tie a bow around the chia jam jar and you'll have a thoughtful and delicious homemade gift.
Jam-making can be a daunting process if you're never done it before. But this strawberry jam might be the easiest you ever make! Add the strawberries to a sauce pan on medium-high heat. As you cook them the strawberries will start to break down and make a sauce-like mixture. Then stir in the lemon juice, sugar (or honey), and chia seeds into the saucepan. The jam will start to thicken as the ingredients come together. Turn off the heat and let it cool and thicken to a more jam-like consistency. Then put it a jar and store in the fridge. The hardest part of this Chia Seed Jam recipe is waiting for it to cool and thicken before you eat the delicious jam!
MORE BERRY RECIPES
CHIA SEED HEALTH BENEFITS
Jam is a sweet spread that goes with just about any type of bread. But most jams have a lot of sugar and aren't great to eat on a regular basis. Fortunately, this jam recipe is much healthier so you can enjoy jam more often without worrying about all the sugar.
Unlike most store-bought jams, this homemade chia jam has no gelatin, no pectin, low-carb, and if you use honey or maple syrup as the sweetener no refined sugar. If you're trying to eat healthy you've probably seen countless recipes that include chia seeds. That's because chia is nutrient-dense, high in protein, and has omega-3 fatty acids. Omega-3s have so many health benefits like fighting inflammation, improving sleep, and reducing risk of heart disease. And if you're still not convinced about chia seeds, practically all the carbohydrates in chia are fiber. Chia seeds such a powerhouse of healthy benefits and texture, it's no wonder people want to include chia seeds in every recipe!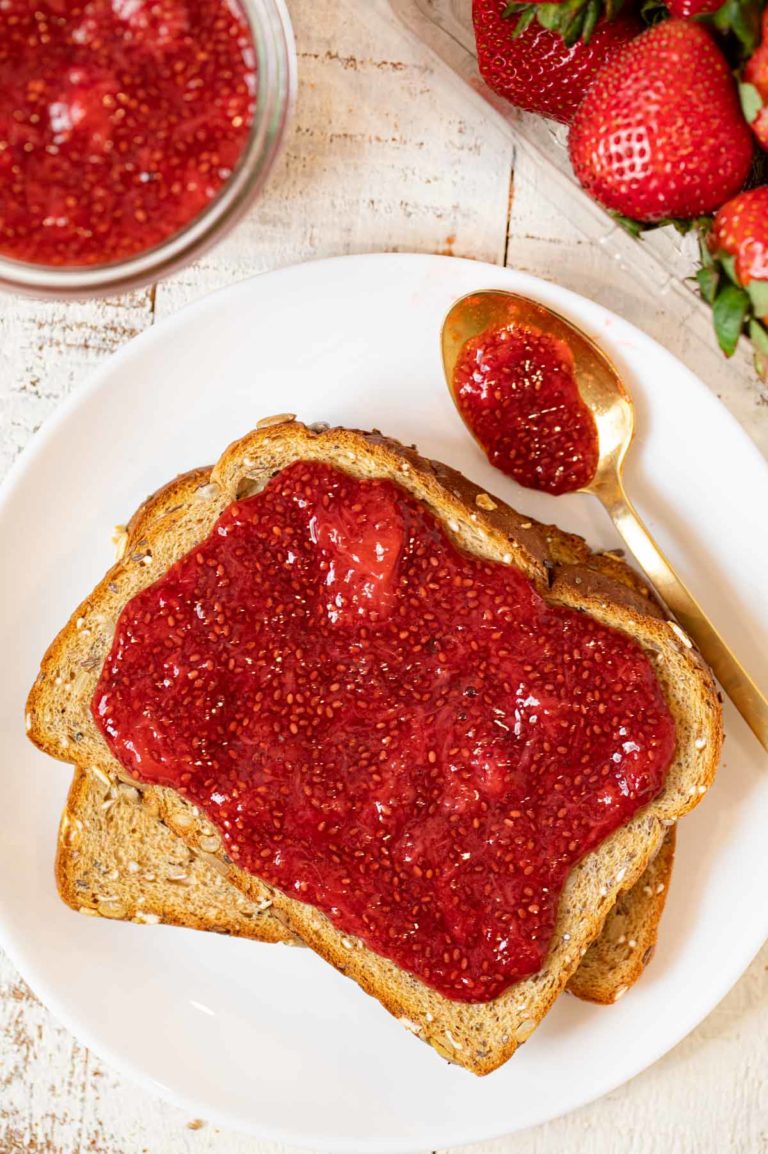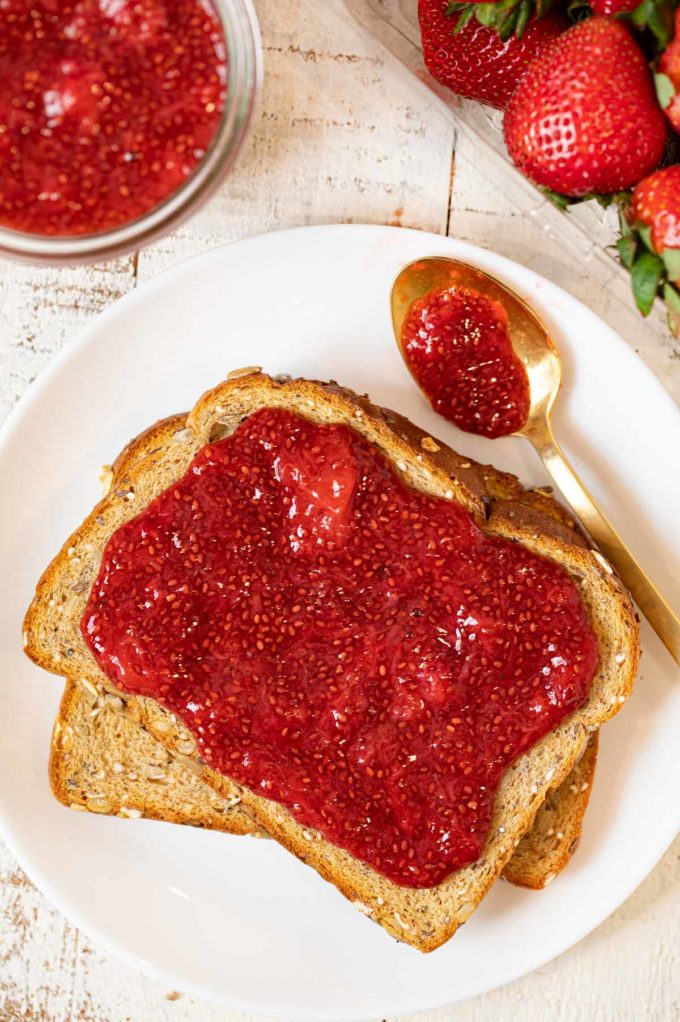 Create a free account to

Save Recipes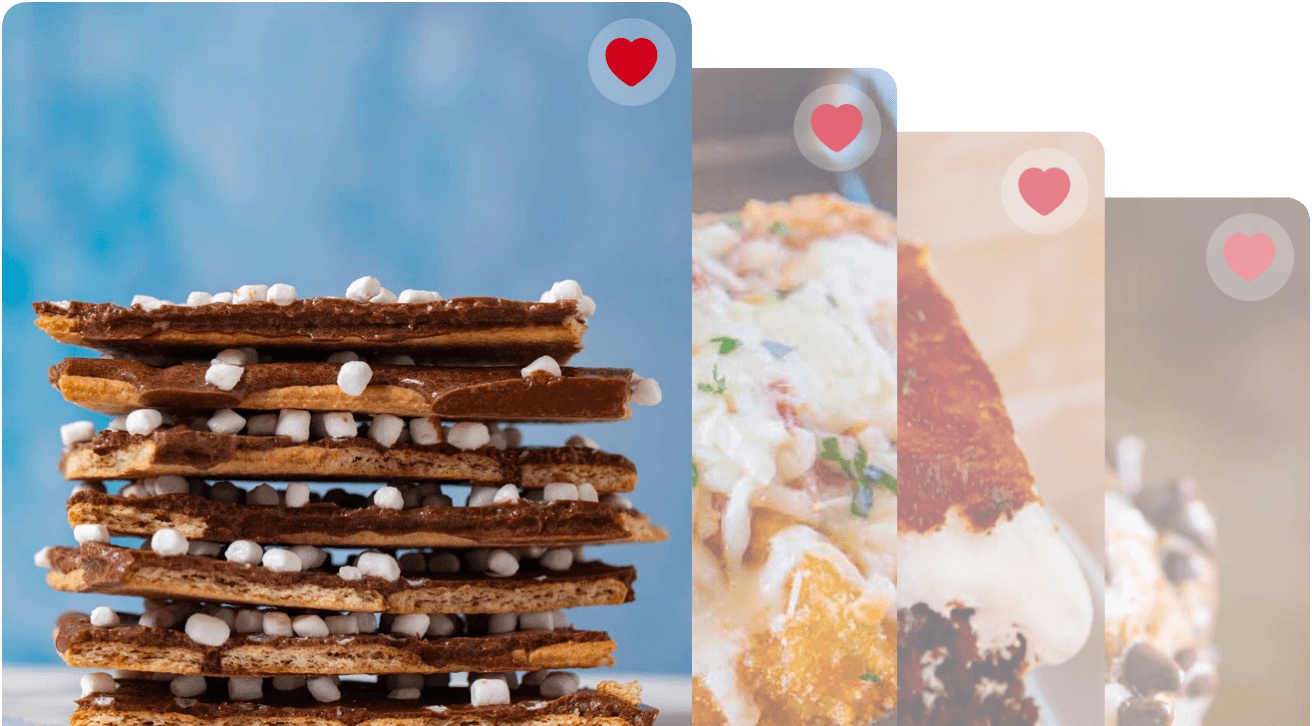 VARIATIONS ON STRAWBERRY CHIA JAM
Chia seed smoothie: You can use these same ingredients to make a delicious chia seed filled smoothie. Just add your choice of milk to the recipe and blend it together. You can also add mashed bananas or raspberries for some extra flavor.
Sweeteners: If you don't have honey, but still don't want to use refined sugar in your jam, you can use pure maple syrup instead. Maple syrup will add different, rich toffee like undertone to the Chia Seed Jam. If you want your chia jam to be completely sugar-free you can use another sugar substitute. Yacon syrup is a natural plant-based sweetener you can try instead of sugar.
Other Fruit: There are many other fruits you can use as mix-ins for your jam along with the strawberry, or make as an entirely new jam flavor. Try making Blueberry Chia Jam or Raspberry Chia Jam. Both raspberries and blueberries are full of nutrients and antioxidants. Raspberries are also high in fiber, so they're a great option for your jam.
MORE BREAKFAST RECIPES
HOW TO STORE STRAWBERRY CHIA SEED JAM
Serve: You shouldn't leave chia jam at room temperature for any long period of time. This homemade jam is less thick than many other jam recipes so leaving chia jam at room temperature will just make it runny.
Store: Once you've made Chia seed Jam and let it cool put it in a jar and seal it. The jam will last in the fridge for up to a week.
Freeze: You can freeze jam for up to 6 months. When you're ready to eat the jam, put it in the fridge overnight to let the frozen berries defrost overnight.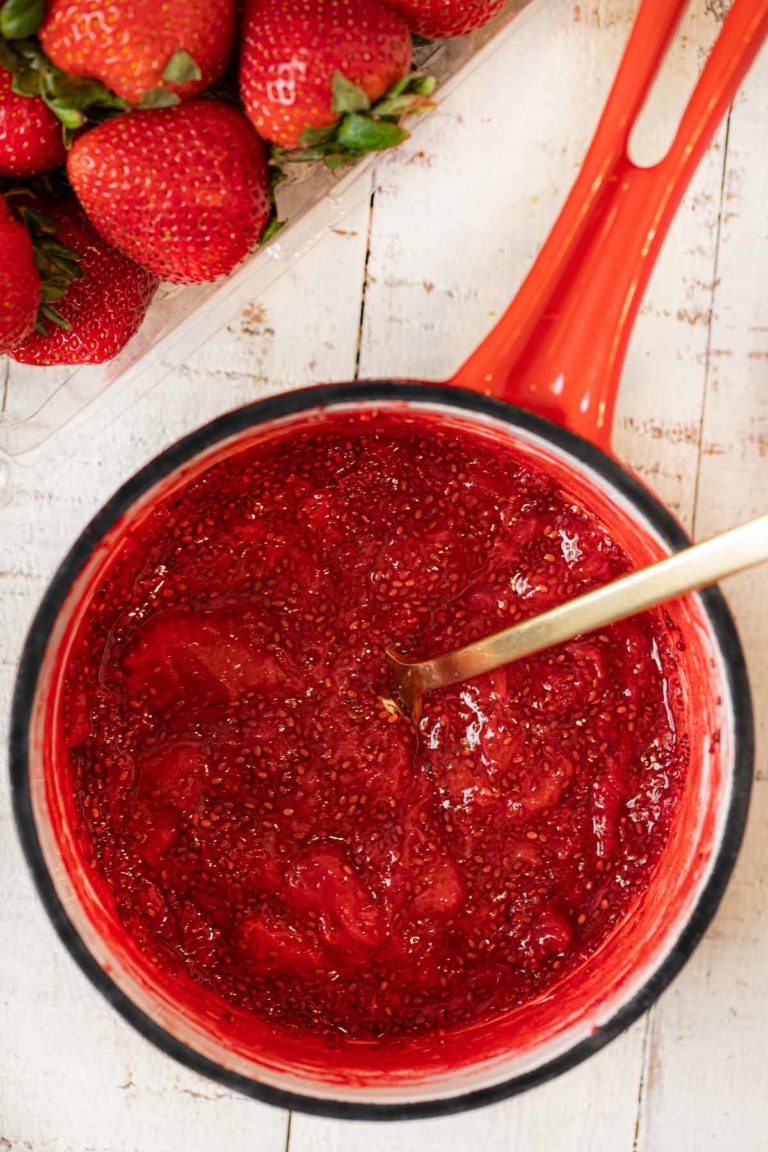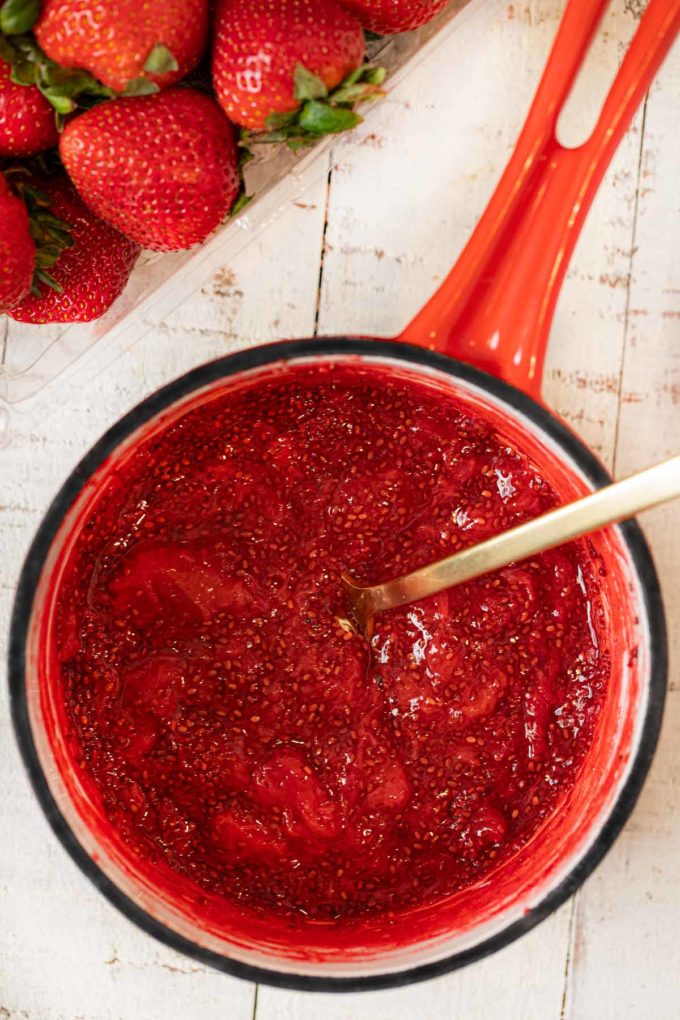 Ingredients
2

cups

strawberries

, sliced

2

tablespoons

chia seeds

1

tablespoon

sugar

, (or honey)

1

tablespoon

freshly-squeezed lemon juice
Instructions
Add strawberries to a saucepan on medium heat.

Cook for

10 minutes

, stirring occasionally until the berries start to break down.

Stir in the chia seeds, sugar and lemon juice and cook for

2 minutes.

Turn off the heat and let cool before storing.

Refrigerate for up to 1 week.
Nutrition
Calories:
22
kcal
|
Carbohydrates:
4
g
|
Protein:
1
g
|
Fat:
1
g
|
Saturated Fat:
1
g
|
Sodium:
1
mg
|
Potassium:
45
mg
|
Fiber:
1
g
|
Sugar:
2
g
|
Vitamin C:
15
mg
|
Calcium:
16
mg
|
Iron:
1
mg