Tequila strawberries are made with just a bit of sugar, salt and tequila that make the the perfect adult dessert topping, summer drink accessory or brunch cocktail garnish.
If you've made Balsamic Strawberries before, you'll already be familiar with the idea here. Soaking strawberries in tequila makes for a yummy, very alcoholic garnish that you can use on top of everything from summer drinks to delicious Strawberry Shortcake.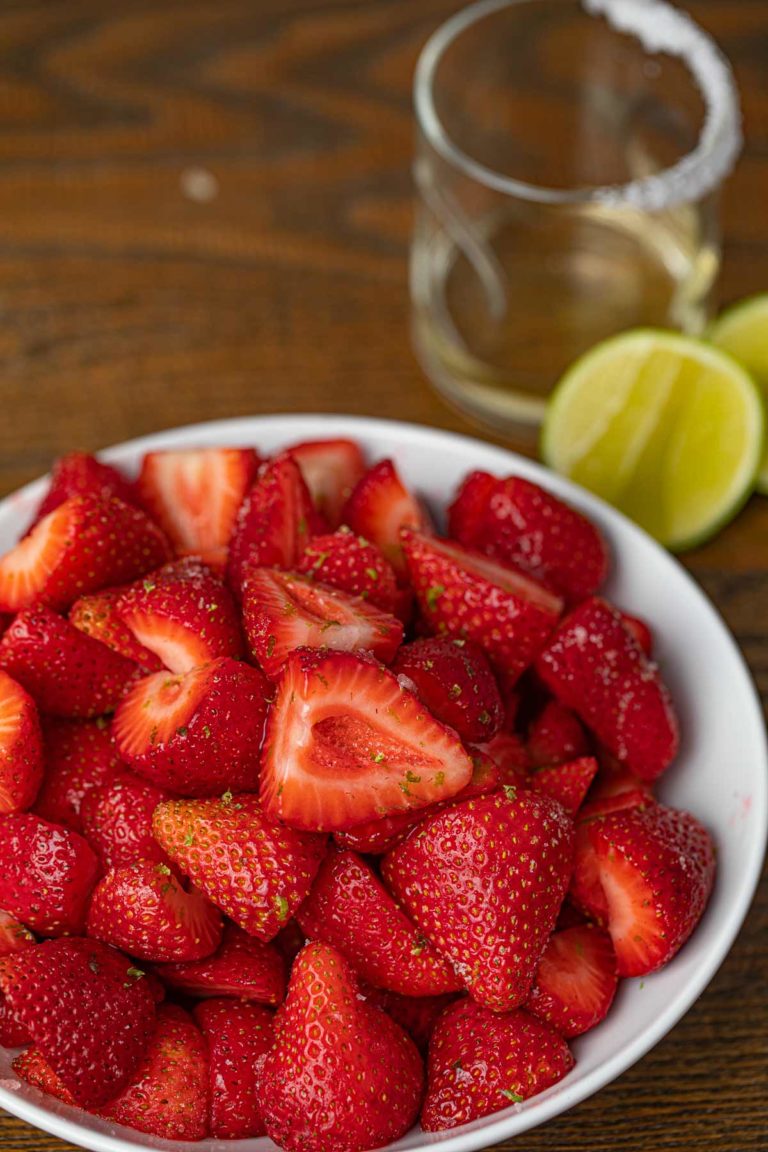 TEQUILA STRAWBERRIES
July 24th is National Tequila Day and so it's only right to celebrate with friends, a BBQ and strawberries on the rocks. Tequila infused strawberries are moist, sweet and have a kick to them that you won't forget.
The great thing about this easy recipe is that all you need to do is mix a few ingredients and let it sit for a while.
Although it should be pretty obvious that this recipe is for people aged 21 and up, it bears repeating: This recipe is alcoholic and definitely not for children.
Tequila strawberries are great at room temperature or you can serve them chilled if the day is a really hot one. You can use them to garnish a drink or serve them up with side of ice cream for dessert.
Just remember that the alcohol in these strawberries will sneak up on you so you should enjoy them responsibly with your summer cocktail or adult smoothie.
HOW TO MAKE TEQUILA STRAWBERRIES
Slice your strawberries into halves or quarters.
Put your strawberries pieces into a small bowl and stir the fresh lime juice and zest into it.
Add the sugar and salt and stir well to mix everything together.
Pour in the tequila and set the bowl aside to sit for 30 minutes.
VARIATIONS
Fresh fruits and melons: if you enjoyed the infused strawberries, there are so many other varieties of fruits and liquor you can try. Watermelon also works really well with tequila, and if you want some delicious chilled treats for the top of your ice cream you can use blueberries, pineapple or raspberries.
Club soda: add a little club soda to your infusion to give the strawberries a fizzy, bubbly texture.
Limeade: if you don't happen to have a lime handy but have limeade, you can add about a shot's worth to the infusion. The limeade will do the same thing to the texture as the club soda while adding a touch of flavor.

Create a free account to

Save Recipes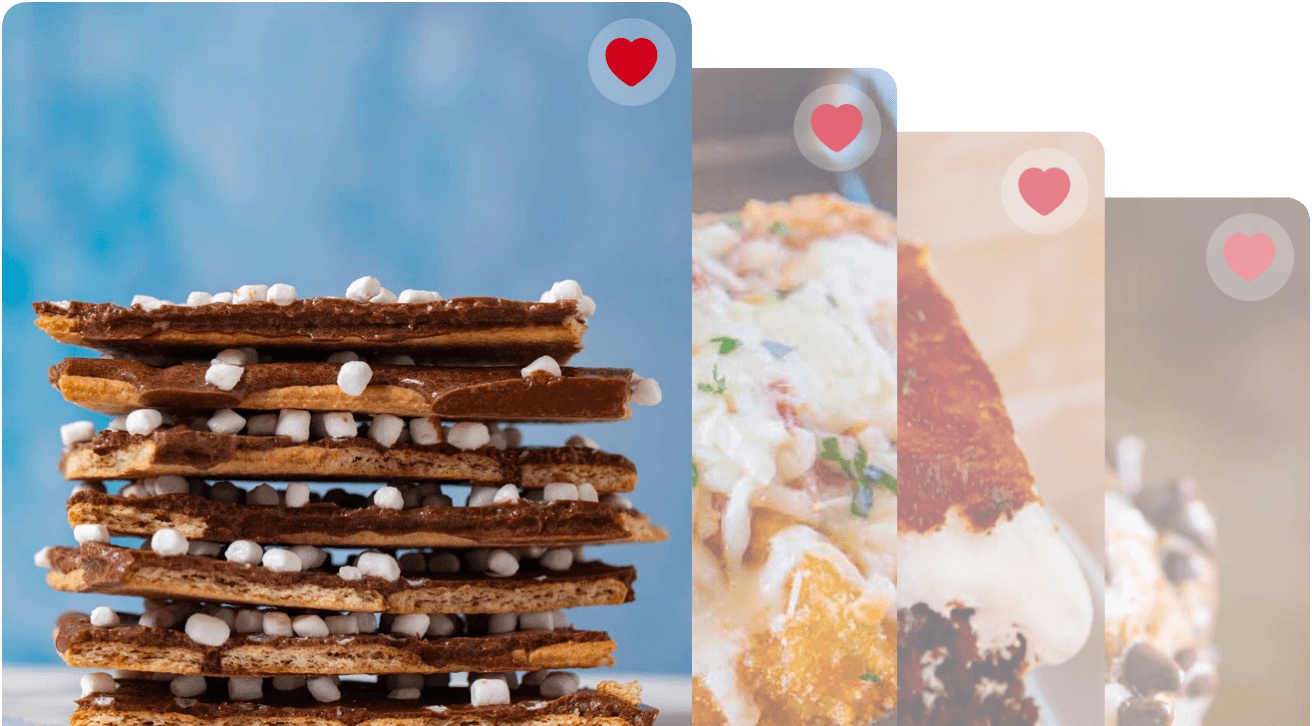 COCKTAILS FOR JULY 24TH (National Tequila Day!)
Just like how only sparkling wine from the Champagne region of France can be called champagne, only liquor made in the Mexican state of Jalisco can officially be called tequila. That doesn't stop other manufacturers from unofficially calling their liquors tequila, though.
In honor of National Tequila Day, here are some fun and unusual tequila cocktails that taste great with my infused strawberries. Keep in mind with any cocktail recipe that you can adjust the amount of each ingredient to suit your personal style.
The Texas Two-Step: mix tequila, grapefruit juice, yellow chartreuse, pineapple juice, honey, bitters and sea salt together and stir gently. Add a layer of infused strawberries to the top and enjoy.
The Tequila Sunrise: this classic is made from tequila, orange juice and grenadine. You absolutely should not stir it or you'll ruin the sunrise effect. Add sliced strawberries to the top and a cocktail umbrella to be extra cute. If you want it to turn out a little sweeter, you can add a touch of pineapple juice or agave nectar.
The Prickly Pear Margarita: if you've never tried prickly pear juice or liqueur in a margarita before, you've been missing out. Mix tequila, sweet and sour mix, triple sec, lime juice and prickly pear syrup together in a glass and add your garnish. For this particular margarita recipe, I would suggest serving the strawberries chilled.
Strawberry Margarita Slushy: mix tequila, triple sec, sliced strawberries and frozen limeade concentrate together in a blender with some ice. Stir in the infused strawberries when you're ready to serve it up to add a sweet, boozy texture.
HOW LONG ARE THEY GOOD?
Serve: tequila infused strawberries are good at room temperature for about 4 hours before they get really gross.
Store: you can leave your tequila strawberries in the fridge for about 3 days before you should just make a new batch.
Freeze: frozen strawberries infused with tequila are good for about 6 months. It's more difficult to freeze strawberries that are infused with liquor than it is regular ones because the liquor keeps them from freezing all the way.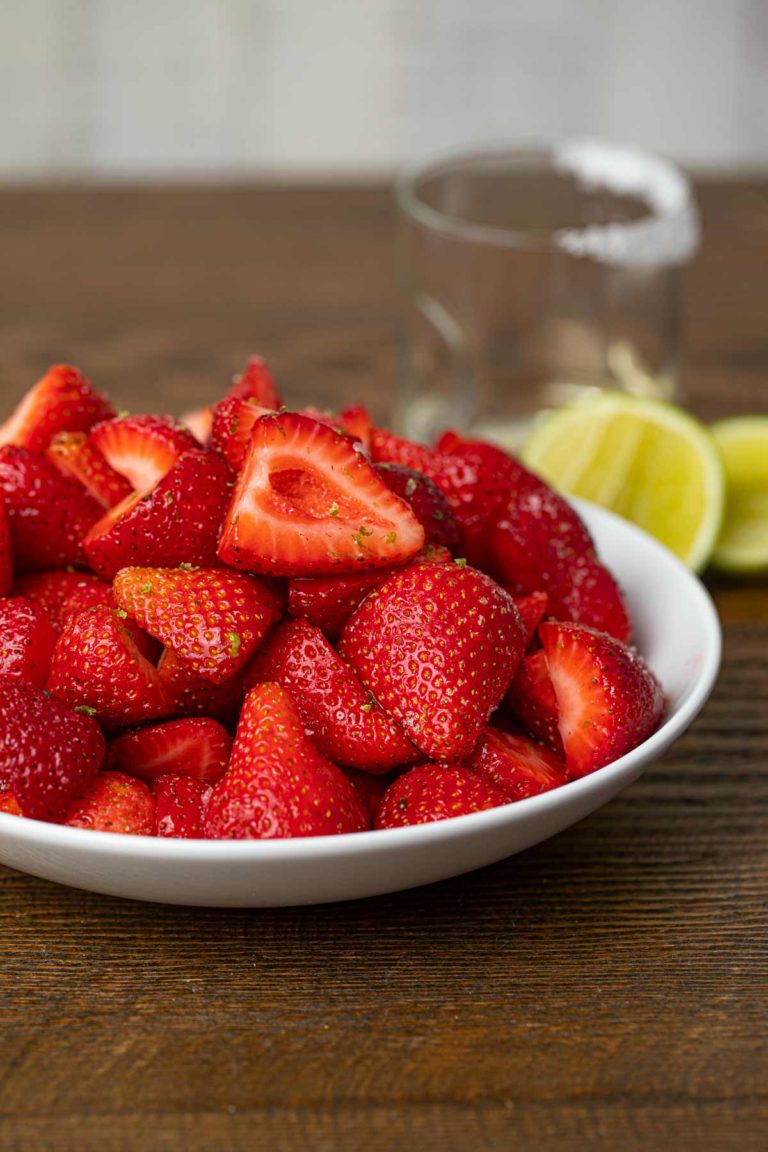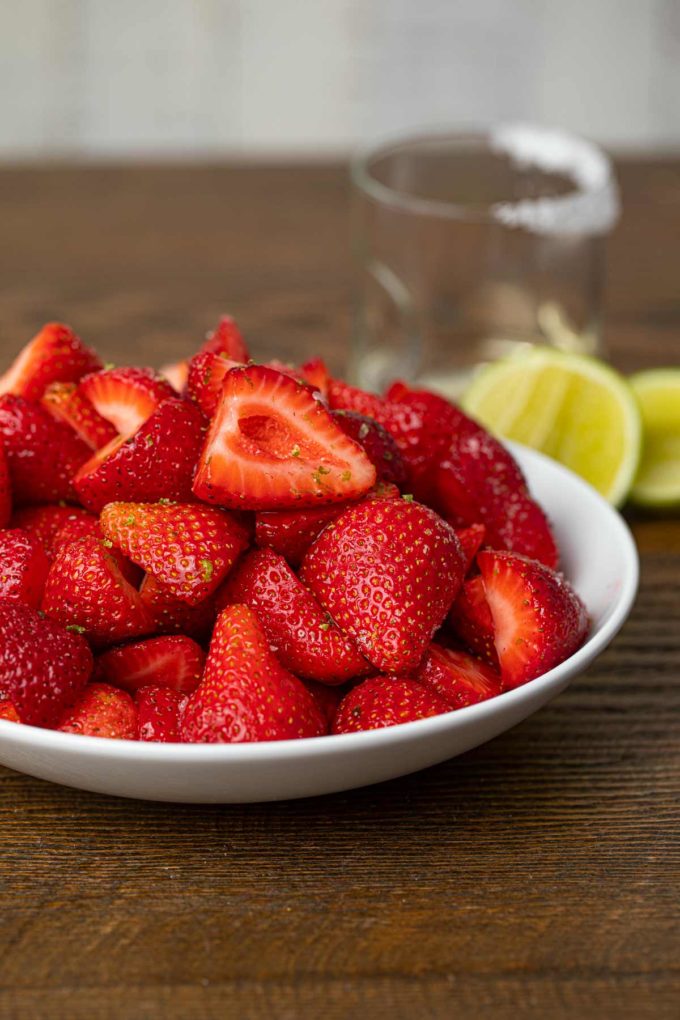 Ingredients
2

pounds

strawberries

1/4

cup

sugar

1/2

teaspoons

kosher salt

2

tablespoons

tequila

1

lime

, juiced and zested
Instructions
Trim strawberries and cut them in half.

In a large bowl add the strawberries, sugar, salt, tequila, lime juice and zest together.

Let sit for

20 minutes

before serving.
Nutrition
Calories:
72
kcal
|
Carbohydrates:
16
g
|
Protein:
1
g
|
Fat:
1
g
|
Saturated Fat:
1
g
|
Sodium:
147
mg
|
Potassium:
182
mg
|
Fiber:
3
g
|
Sugar:
12
g
|
Vitamin A:
15
IU
|
Vitamin C:
69.1
mg
|
Calcium:
21
mg
|
Iron:
0.5
mg