Lentil Sloppy Joes are the gluten-free, vegan Sloppy Joe recipe that is perfect for a weeknight dinner. If you've been craving Sloppy Joes on a vegetarian diet, then this is the recipe for you!
Looking for more easy, flavorful Vegan Recipes like Buffalo Cauliflower? Then you've come to the right recipe! This Vegan Sloppy Joe has the classic taste you love without all the unhealthy and non-vegan ingredients!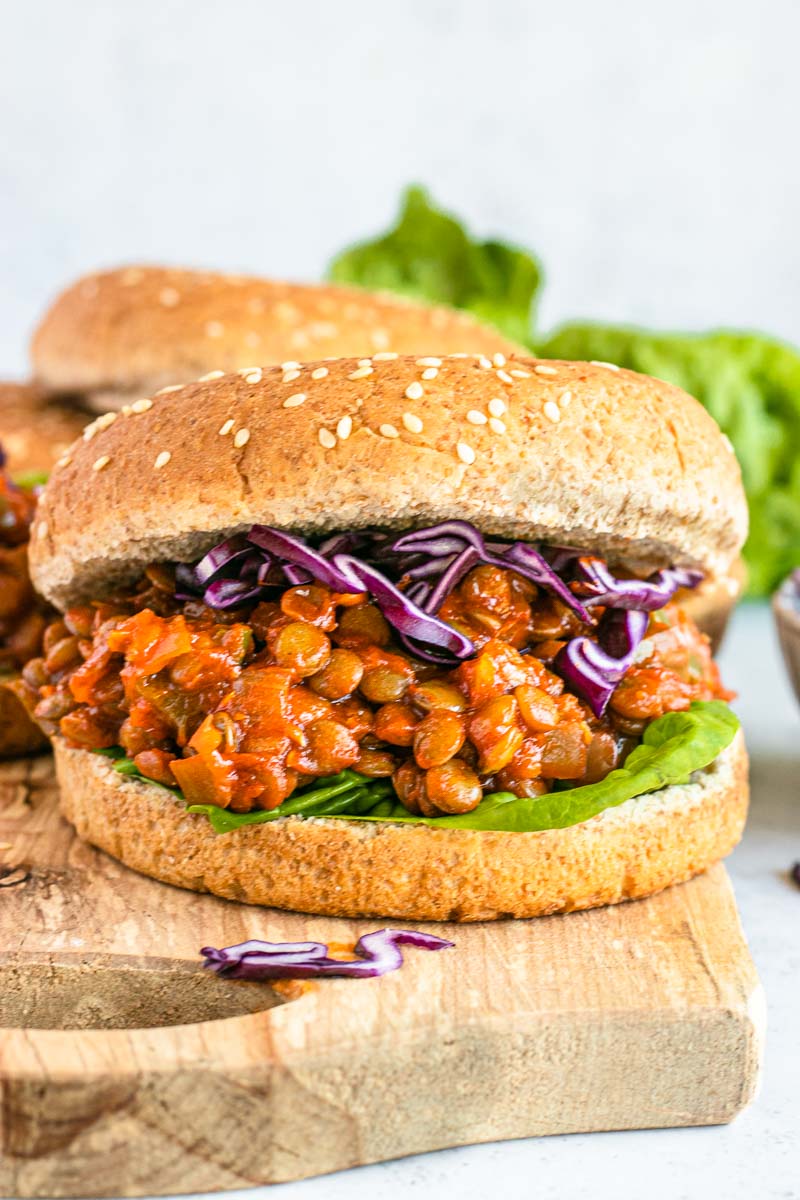 LENTIL SLOPPY JOES (VEGAN)
If Sloppy Joes were a staple in your house growing up, then you've probably had them with ground beef or ground turkey. And while those were amazing, you might be thinking there's no way you can enjoy that great recipe on a plant-based, vegan diet. Well, you'd be 100% wrong. Using lentils you can make Vegan Sloppy Joes that are easy, family-friendly and full of healthy ingredients.
Vegan Sloppy Joes are sure to become a new go-to recipe for a quick and simple weeknight meal. If you haven't prepared lentils they might seem intimidating, but the total time is just 40 minutes. And Sloppy Joes are such a relaxed recipe you can throw together equally easy and delicious sides.  Oven Baked Sweet Potato Fries, or Healthy Coleslaw would be especially good served with Vegan Sloppy Joes.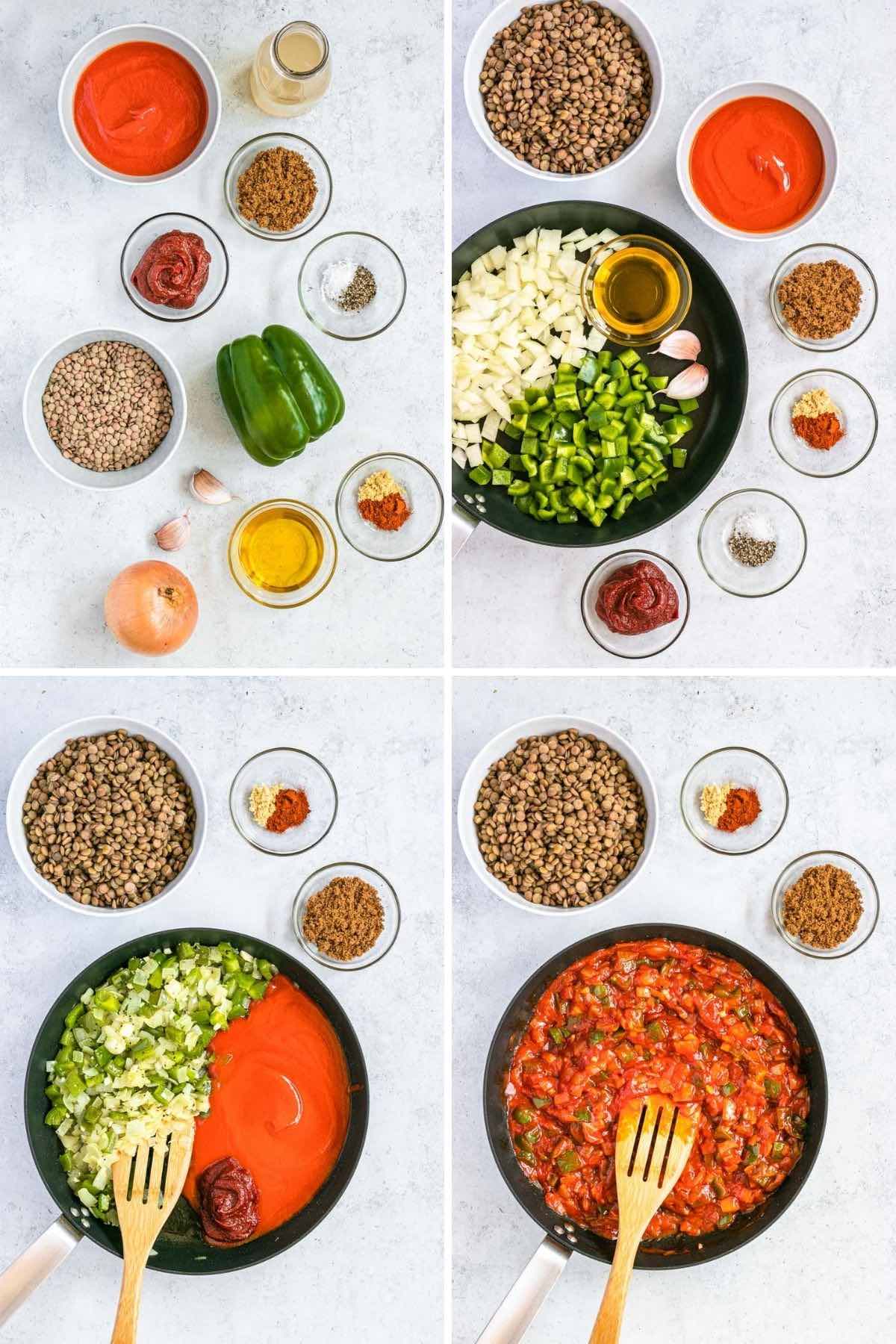 Using the proper cooking technique and seasoning the lentils taste surprisingly meat-like. And apart from being vegetarian, lentils offer nutrients that ground turkey and ground beef don't have. Lentils are high in fiber, iron, and are low in calories. Lentils are also rich in protein just like ground beef and ground turkey are.
Once you've made your Healthy Sloppy Joes all that's left is to serve them up with hamburger buns. And to be honest Lentil Sloppy Joes will taste great no matter what kind of bun you serve them on. Traditionally Sloppy Joes are served with white hamburger buns, but you can also serve them on whole wheat buns, or with a gluten-free bun. If you want to reduce the carbohydrates in the recipe serve the Healthy Sloppy Joe open face.
Feel free to serve Vegan Sloppy Joes with variety of sauce options. Some that pair well are Worcestershire sauce, BBQ Sauce, hot sauce, or reduced sodium ketchup. If you do decide to serve your Healthy Sloppy Joes with Worcestershire sauce, you can find vegan Worcestershire sauce at many grocery stores.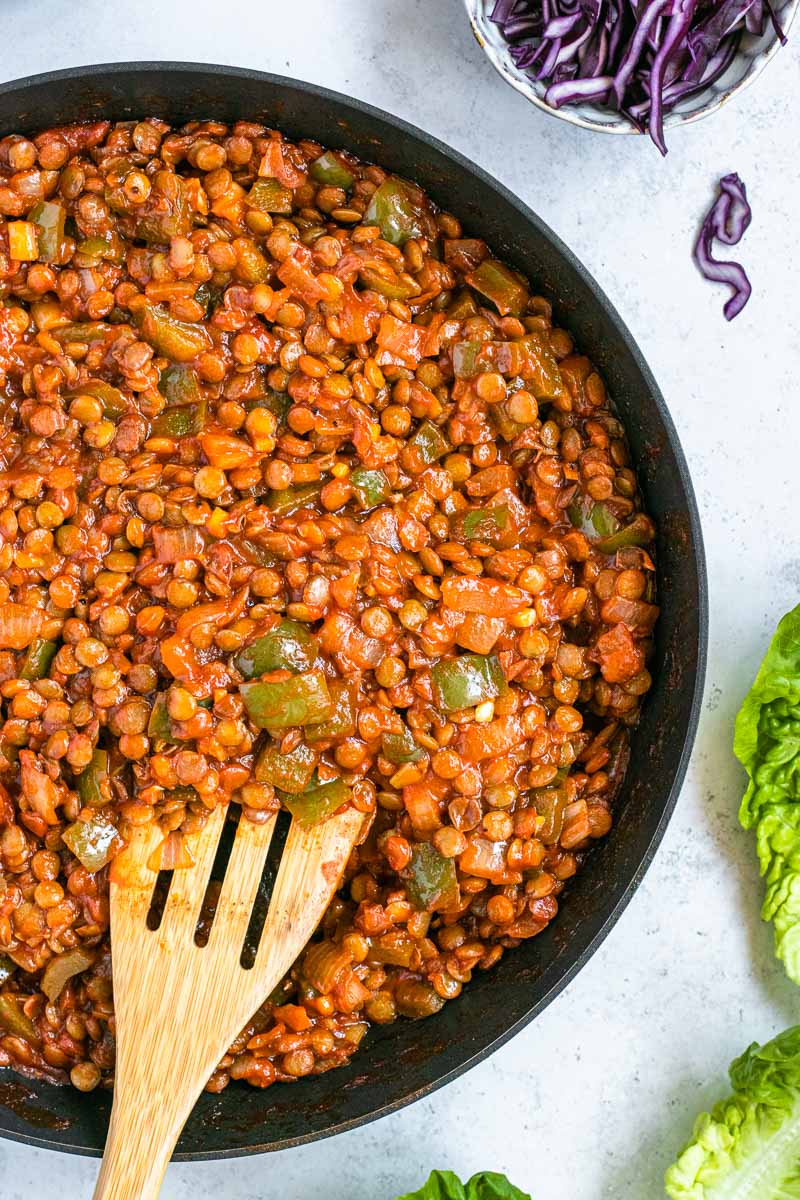 SLOW COOKER VEGETARIAN SLOPPY JOES
If you won't have a lot of time to cook dinner in the evening, you can easily make this vegan dish in the slow cooker.
Add olive oil, onions and bell pepper to a large skillet on medium heat and sauté, until translucent. Then put them in the slow cooker.
Add vegetable broth, lentils, garlic, salt and pepper and stir well.
Add in tomato sauce, tomato paste and water, dark brown sugar, cayenne pepper, ground mustard and paprika and stir to combine.
Cook on high heat for 3-4 hours. Check while it's cooking and add more water if needed.
Enjoy your slow cooker vegan dinner!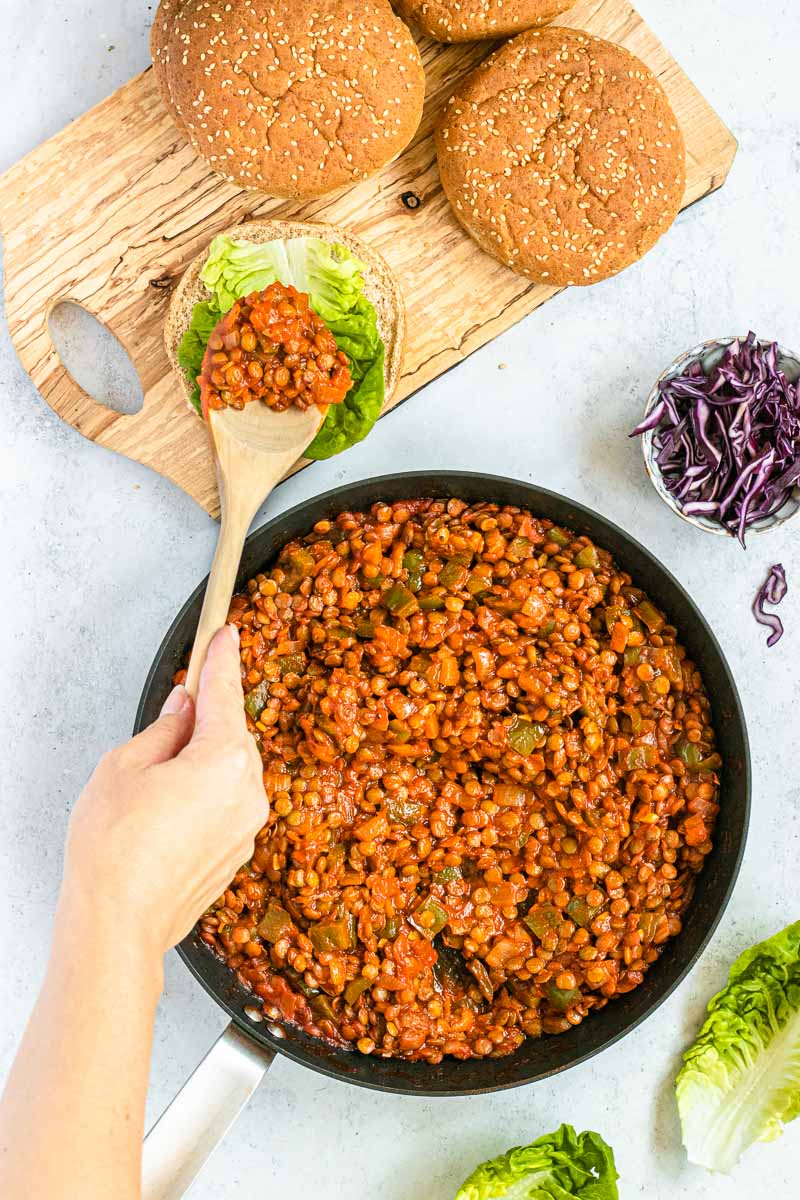 Create a free account to

Save Recipes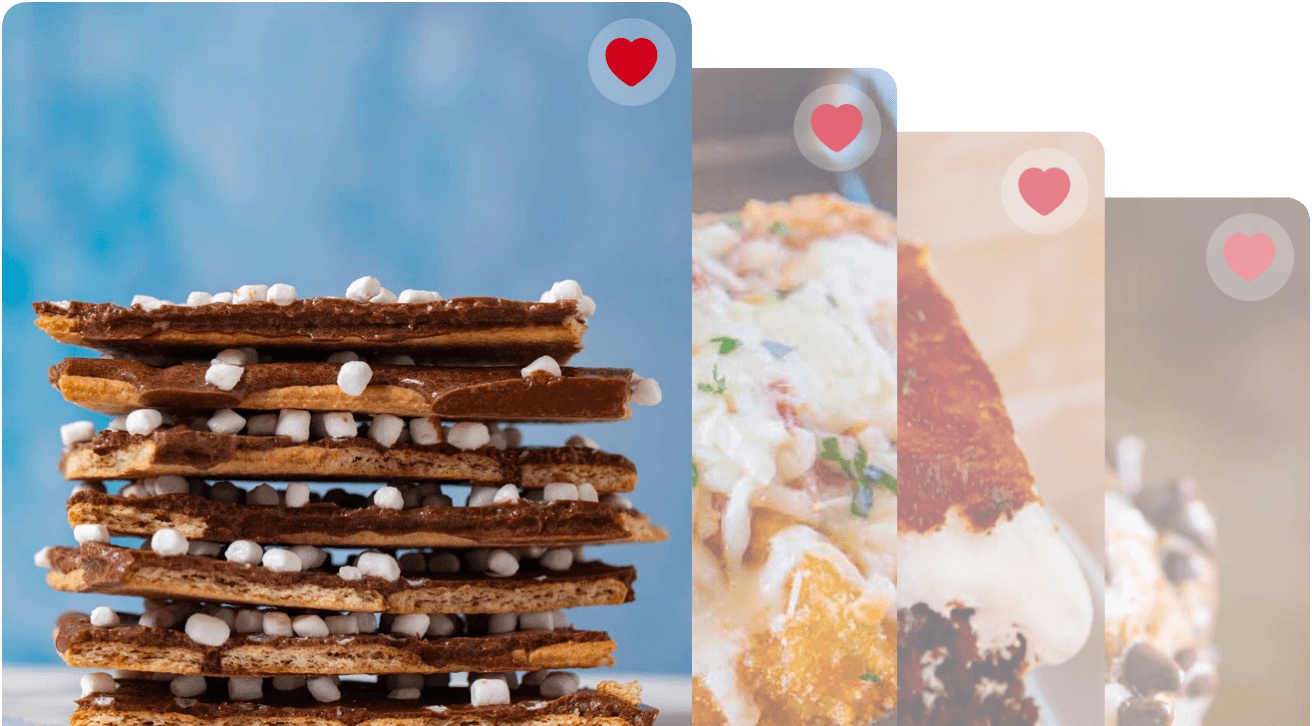 MORE VEGAN RECIPES
VARIATIONS ON LENTIL SLOPPY JOES (VEGAN)
Maple Syrup: Instead of using the brown sugar in your Vegan Lentil Sloppy Joes you can sweeten it with maple syrup.
More Flavoring: There are plenty of easy and flavorful additions you can make to this Sloppy Joe recipe. Try adding more veggies like chopped carrots, or extra sautéed onions. Or add seasonings like chili powder, red pepper, cloves or Italian seasoning to the Healthy Sloppy Joes.
Sauce alternatives: Instead of using veggie broth make this Healthy Sloppy Joes recipe with a red wine vinegar sloppy Joe sauce. Add other flavors as you choose from ketchup, to soy sauce, to Worcestershire sauce.
Other lentils: If you don't have green lentils you can use red lentils, but red lentils won't hold their shape as well and will make this meatless sloppy Joe even more sloppy. Brown lentils keep their shape fairly well so they won't be as messy of a lentil option. If you don't want a lot of clean up French lentils, which are a variety of green lentils, hold their shape the best. But keep in mind, it's still a Healthy Sloppy Joe, so no matter what lentils you use it will be a little sloppy.
MORE HEALTHY MAIN DISHES
HOW TO STORE LENTIL SLOPPY JOES
Serve: Don't leave your Vegetarian Sloppy Joes out at room temperature for more than a couple hours.
Store: Once the Sloppy Joe filling has cooled to room temperature you can store it in an airtight container in the fridge for 3-4 days. don't store it with the hamburger bun.
Freeze: Kept in a freezer bag or airtight container you can keep this vegan Healthy Sloppy Joe recipe in the freezer for up to 6 months.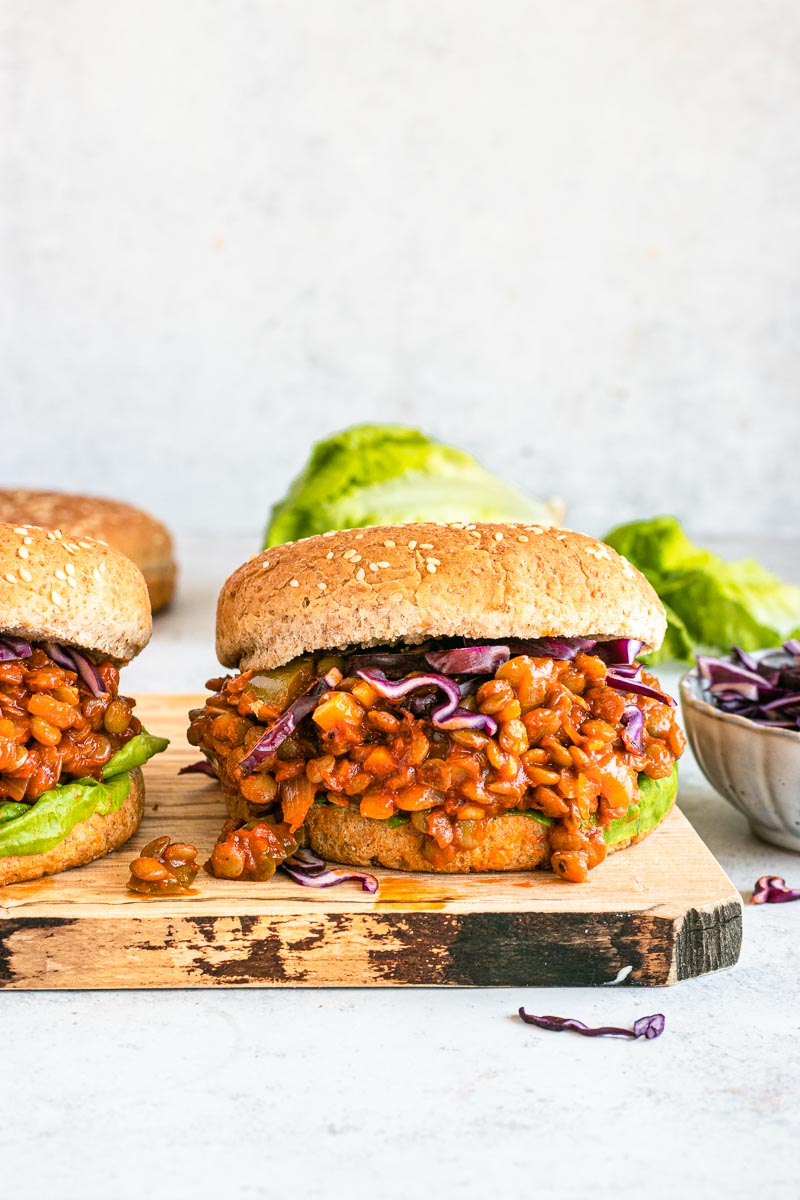 Ingredients
2

cups

vegetable broth

1

cup

green lentils

, well rinsed and picked through

2

tablespoons

vegetable oil

1

yellow onion

, diced

1

green bell pepper

, diced

2

cloves

garlic

, minced

1/2

teaspoon

kosher salt

1/4

teaspoon

coarse ground black pepper

8

ounces

tomato sauce

1/4

cup

water

1/4

cup

tomato paste

2

tablespoons

dark brown sugar

, packed

1

pinch

cayenne pepper

1/2

teaspoon

ground mustard

1/2

teaspoon

paprika
Instructions
Add vegetable broth and lentils to a medium sized pot and bring to a boil on medium-high heat.

Reduce heat to low, and cook uncovered, for

18-20 minutes

until tender then remove from heat and drain.

Add vegetable oil, onions and bell pepper to a large skillet on medium heat and cook, stirring occasionally, for

6-8 minutes

, until translucent.

Add in garlic, salt and pepper and stir well, cooking for

1 minute

until garlic is fragrant.

Add in tomato sauce, tomato paste and water, whisk well until the tomato paste is fully combined.

Add in the dark brown sugar, cayenne pepper, ground mustard and paprika and stir to combine.

Add the lentils into the skillet, stir and cook for

6-8 minutes

until the sauce is thickened and the lentils are well coated.
Nutrition
Calories:
148
kcal
|
Carbohydrates:
23
g
|
Protein:
7
g
|
Fat:
4
g
|
Saturated Fat:
3
g
|
Sodium:
597
mg
|
Potassium:
438
mg
|
Fiber:
8
g
|
Sugar:
7
g
|
Vitamin A:
498
IU
|
Vitamin C:
18
mg
|
Calcium:
28
mg
|
Iron:
2
mg