A healthier Waldorf Chicken Salad made with greek yogurt, mayonnaise, grapes, apples and walnut is a creamy salad topper or sandwich filling you can enjoy for lunch.
 Waldorf Chicken Salad
Waldorf Chicken salad was one of the recipes I used to make into sandwiches for tea time parties I used to create for clients. In those instances I would cut up the food into a very fine dice, include a bit more of the creamy yogurt and mayonnaise and put it into tea sandwiches that I crusted with the finely chopped walnuts. People went bananas for them. Yes, like b-a-n-a-n-a-s bananas.
We used to love enjoying the leftovers so much I began making them for our own lunches. My secret ingredient (not super diet-friendly but not terrible either) was the Trader Joe's Slightly Sweetened Walnuts. We love those walnuts and I add them into all my salads and we snack on them too. They're even amazing on cheese boards.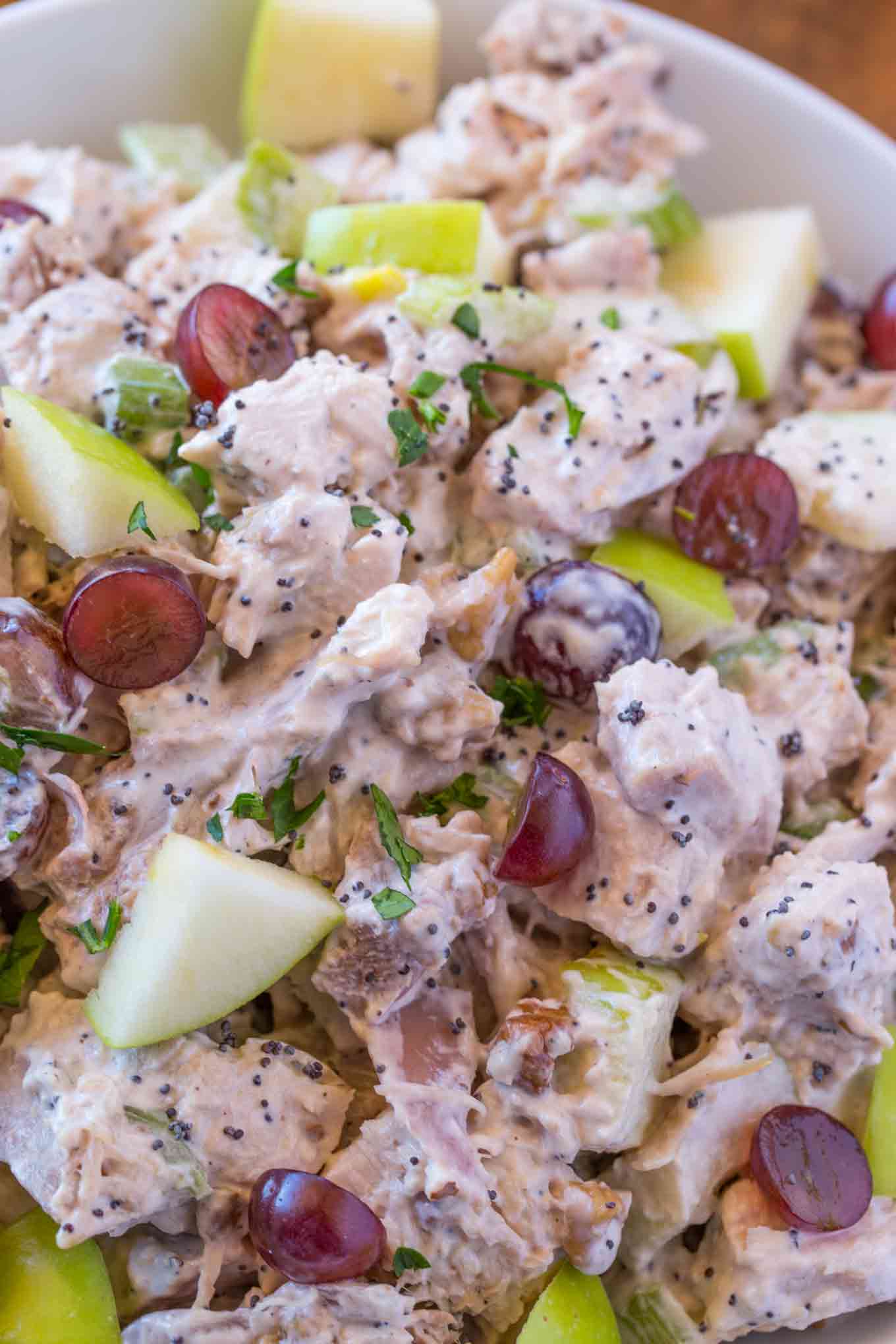 What to serve with this Waldorf Chicken Salad:
Add the chicken salad over lettuce and sliced tomatoes, stuff it into a pita pocket, wrap it in a low carb tortilla wrap or if you're not on a strict point regimen stuff it in a delicious croissant!
How we lightened up this Waldorf Chicken Salad:
Replaced 85% of the mayonnaise with Fat Free Greek Yogurt.
Use chicken breast instead of chicken thighs.
Cut way back on the amount of walnuts.
Added poppy seeds to add extra texture with no additional points.
How to meal prep Waldorf Chicken Salad:
Make the chicken salad ahead of time but sprinkle on the walnuts instead.
Toss the apples well in the salad to coat well.
Keep the grapes whole to prevent too much liquid releasing.
If packing as a sandwich add whole lettuce leaves to both sides of the bread or tortilla before adding in the chicken salad.
For additional fresh lemon flavor add lemon zest on top.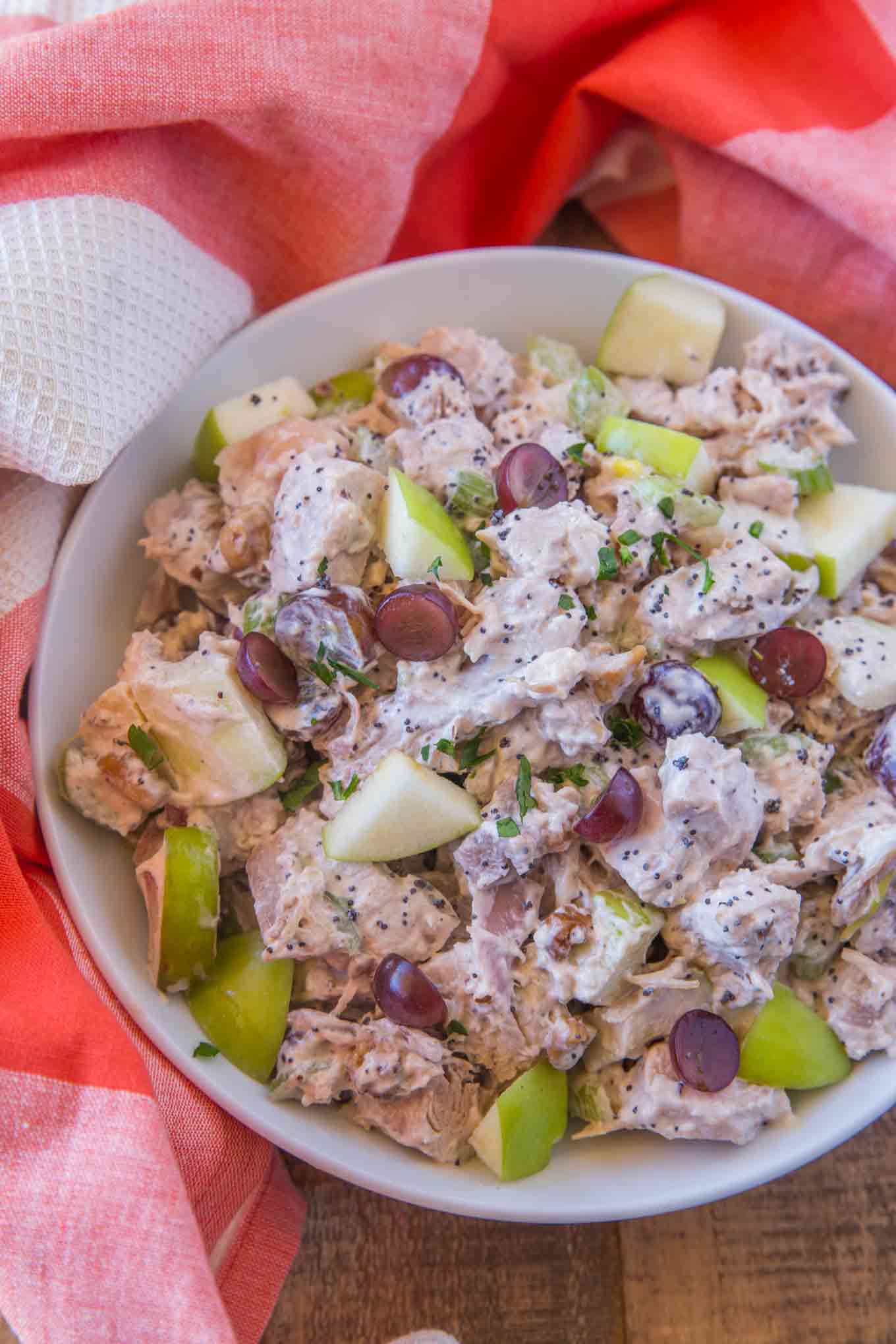 Tools Used in this Waldorf Chicken Salad:
Trader Joe's Slightly Sweetened Walnuts: Not in the nutritional facts on this page but try them, they are amazing.
Lemon Juicer: Love this for juicing citrus, it gets all the juice out and easily!


Ingredients
4

cups

chopped chicken breast

1/2

cup

fat free greek yogurt

1

tablespoon

light mayonnaise

1

tablespoon

lemon juice

1/4

teaspoon

kosher salt

2

stalks celery

minced

1/4

red onion

chopped

1

granny smith apple

chopped

1

cup

red seedless grapes

halved

1

teaspoon

poppy seeds

2

tablespoons

chopped walnuts

totally optional, but I love them
Instructions
Add all the ingredients into a bowl together and mix well.
Nutrition
Serving:
1
¼ cups
|
Calories:
251
kcal
|
Carbohydrates:
16.78
g
|
Protein:
29.79
g
|
Fat:
7.02
g
|
Saturated Fat:
1.05
g
|
Cholesterol:
83
mg
|
Sodium:
242
mg
|
Fiber:
2.3
g
|
Sugar:
12.72
g