Whole Wheat Chicken Sausage Stuffing is a healthier version of a traditional holiday side with wheat bread, chicken sausage, and fresh herbs.
Just like Healthy Green Bean Casserole this stuffing is a lighter alternative to a classic holiday Side Dish. It's perfect to serve with your Thanksgiving Turkey or any other festive meal!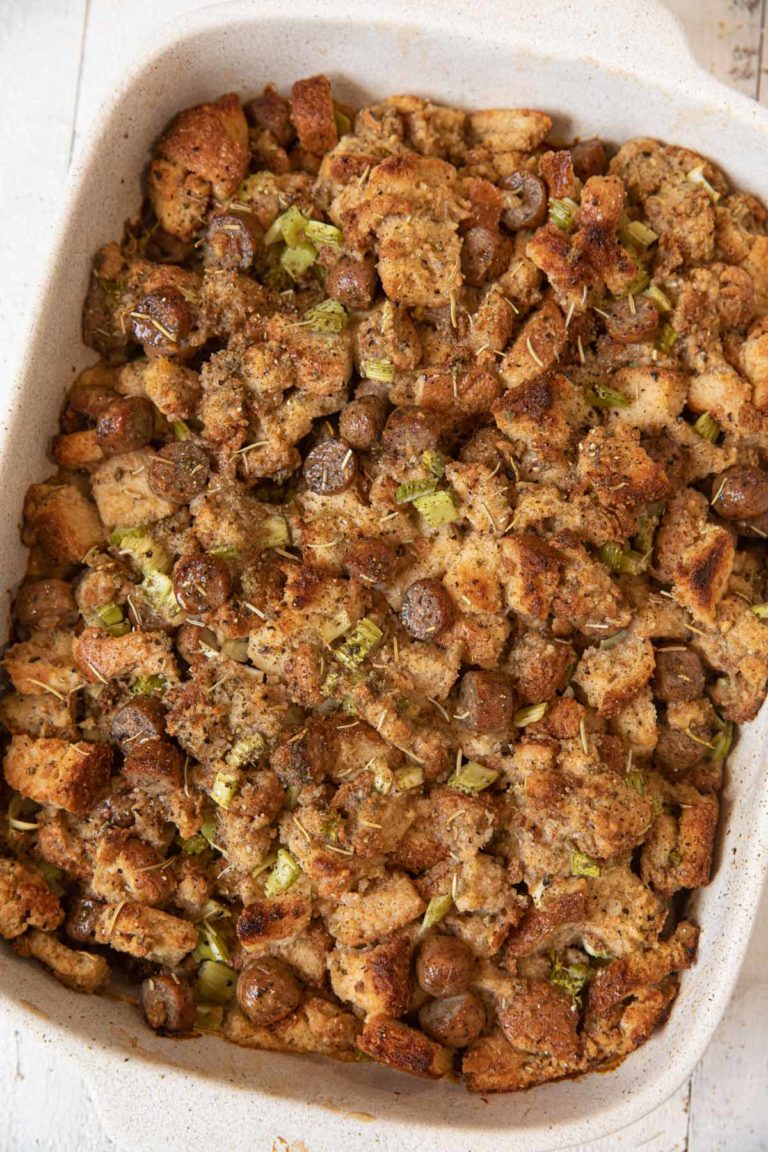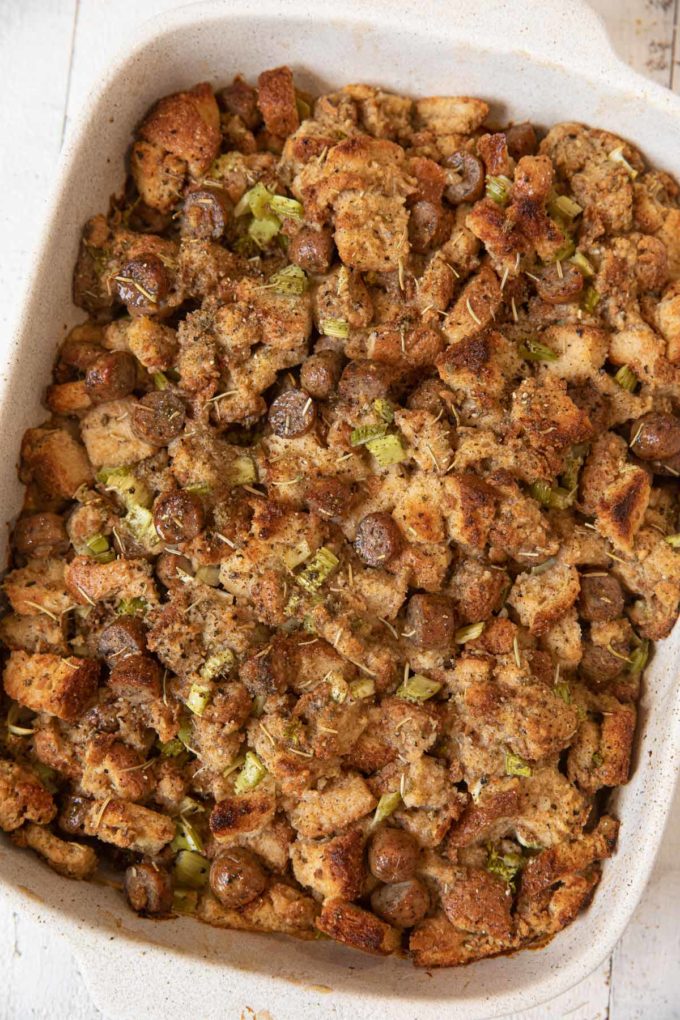 WHOLE WHEAT CHICKEN SAUSAGE STUFFING
For many of us stuffing is one of the things we look forward to most during the holidays. However, the classic herb and sausage stuffing we usually think of typically uses white French bread cubes, and Italian sausage. If you're trying to eat healthier, you might think stuffing is out of the question, but with just a few swaps this recipe keeps all the amazing stuffing tastes and textures while staying healthy.
The key difference is using whole wheat bread and chicken sausage. Chicken sausage contains much less fat than pork sausage while still satisfying your craving, and whole wheat has high nutrients and fire. The other ingredients like celery, onion, and spices are already plenty healthy.
This is the perfect side dish to go with your turkey dinner or any other main dish. Because it's made with chicken you could even serve it as your main dish like a casserole for a weeknight dinner.
If you are making this stuffing for Thanksgiving, this recipe bakes the stuffing in a separate baking dish rather than inside the turkey. This is because having stuffing inside turkey dries the meat out. Keeping them separate allows the turkey to moisten and retain its delicious flavor.
MORE HEALTHY SIDE OPTIONS
SLOW COOKER WHOLE WHEAT CHICKEN SAUSAGE STUFFING
Melt the butter in a skillet then cook the onion and celery.
Add the cooked vegetables to the cubed whole wheat bread in a bowl and add the seasoning on top. Then add chicken broth to moisten and mix in eggs.
Mix in cut sausage.
Cook on high for 45 minutes then on high for 4-6 hours.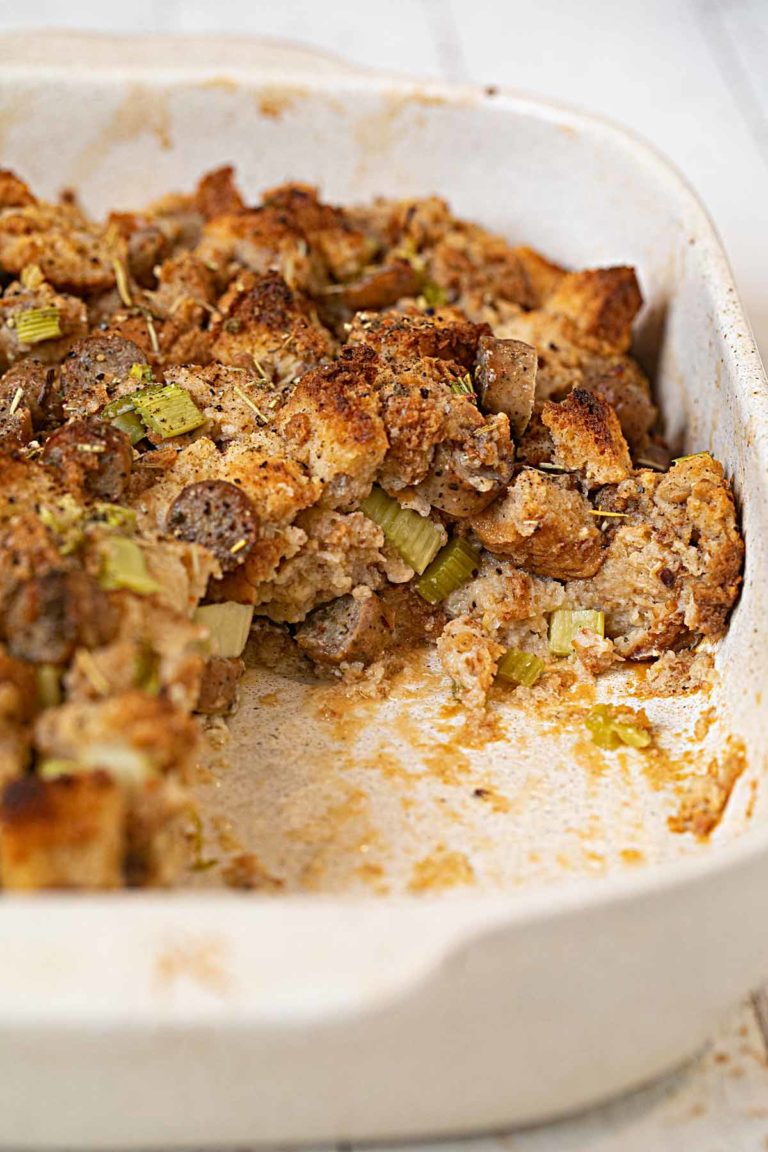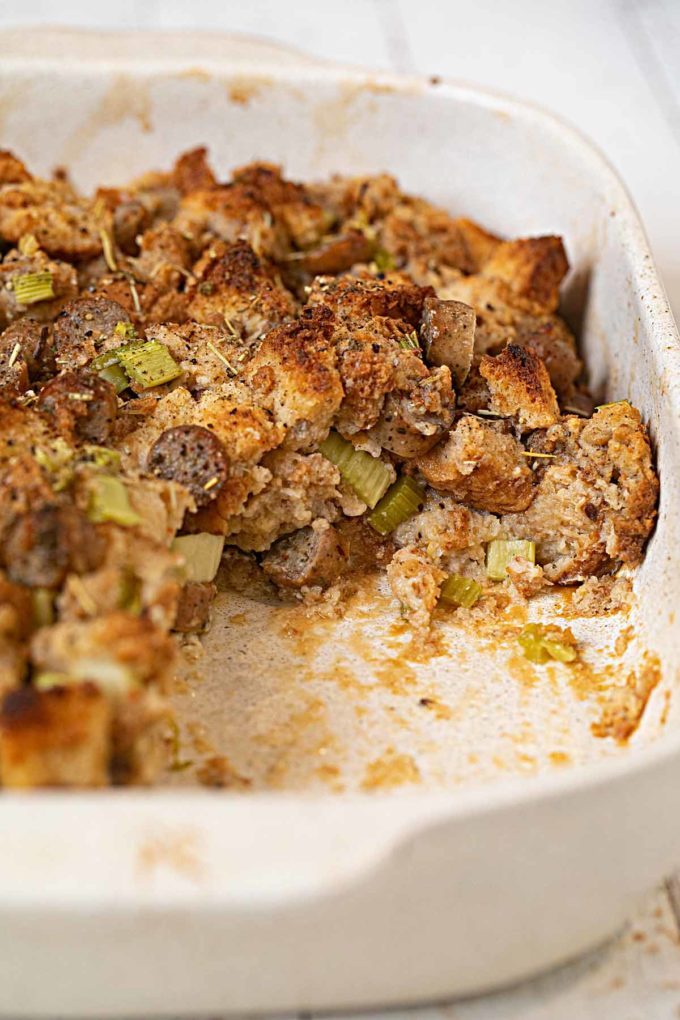 VARIATIONS ON WHOLE WHEAT CHICKEN SAUSAGE STUFFING
Bread: There are a variety of different breads you can use for this bread stuffing. You can use a sourdough loaf, French bread, or white bread for the bread cubes. They won't be as healthy as whole wheat bread stuffing, but any of them will work.
Gluten-free: Although many don't some chicken broth and chicken stock you buy at the store contain wheat. So, check the ingredients list, if you're on a gluten-free diet. Similarly, while most sausage doesn't contain gluten ingredients, some do. Apart from those the obvious problem in your bread stuffing is the bread itself. Fortunately, there are lots of gluten-free breads you can buy to use in this stuffing. You can even find whole grain substitutes. Then simply chop up the loaf into cubes and put it in the recipe like you normally would.
Spices: Add spices to change up the stuffing according to your taste. Some to try are chopped flat-leaf parsley, black pepper, thyme or poultry seasoning.
Other proteins: There are plenty of alternatives to chicken sausage. Try pork or turkey. Within those you can find a variety of different sausage types, from traditional Italian sausage to breakfast sausage. Whatever you choose will change the flavor of your stuffing. You may want to try switching the chicken broth to vegetable broth, so the two meat flavors won't conflict.
MORE HEALTHY CHICKEN RECIPES
HOW TO STORE WHOLE WHEAT CHICKEN SAUSAGE STUFFING
Serve: Due to the cooked chicken sausage this stuffing shouldn't be left at room temperature for longer than 2 hours after you take it out of the oven.
Store: You can keep it in the refrigerator for 3-5 days. Store the sausage stuffing in a covered baking dish, or airtight container once it has cooled to room temperature.
Freeze: If you'd like to use this as a make-ahead recipe, your whole wheat bread stuffing should stay good in the freezer for up to 4 months. Keep it stored in an airtight container, or freezer bag. Put the stuffing in the fridge to defrost the night before you plan to eat it. Put it in a casserole dish and let it bake in the oven until reheated before serving.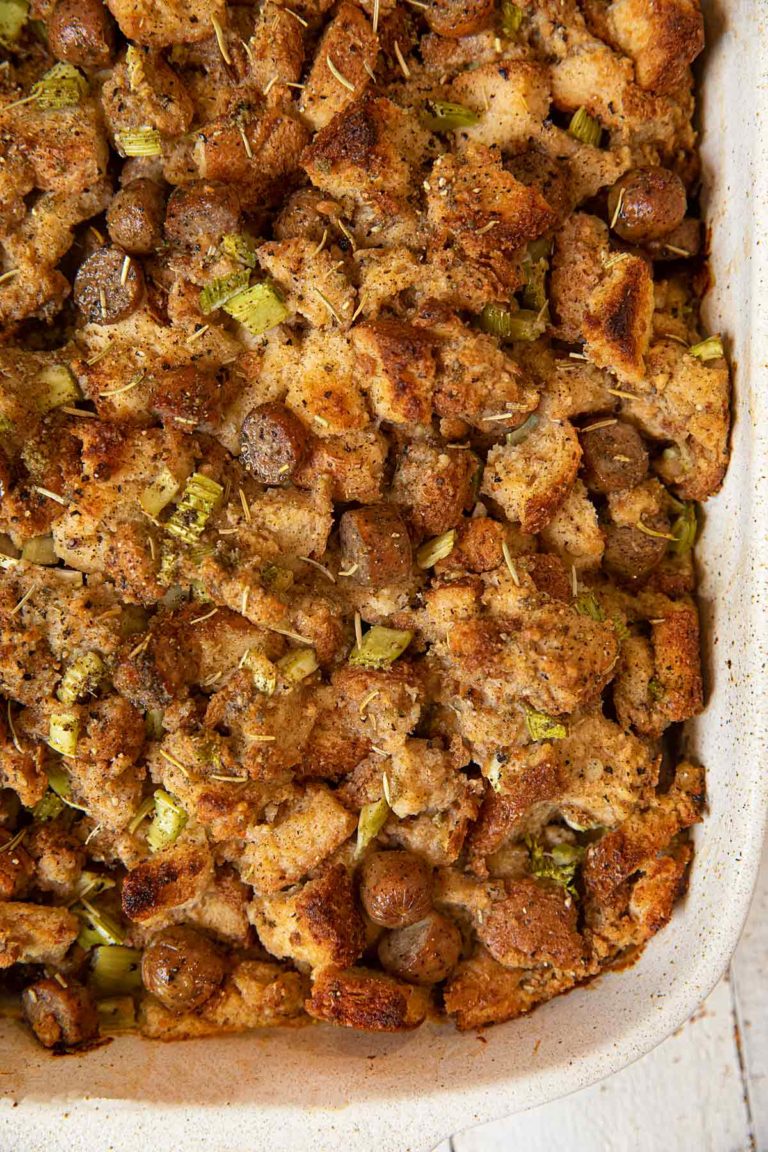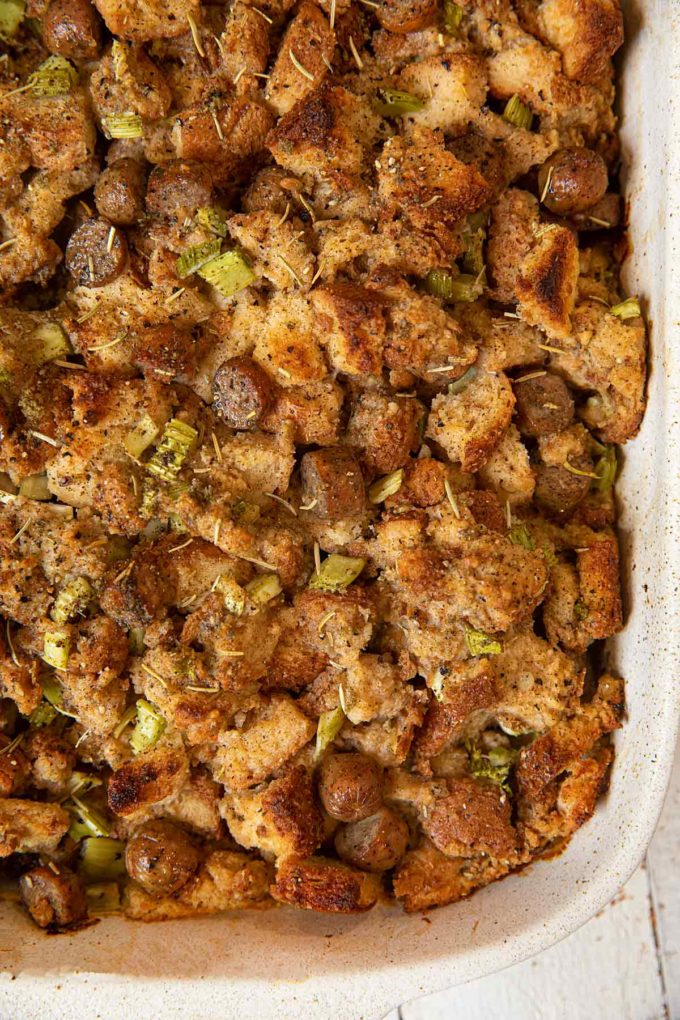 Recipe
Save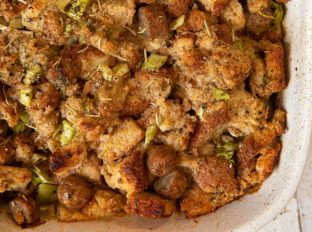 Whole Wheat Chicken Sausage Stuffing
Yield:

8

Servings

Prep Time:

25

minutes

Cook Time:

40

minutes

Total Time:

1

hour

5

minutes

Course: Side Dish
Cuisine: American
Author: Sabrina
Whole Wheat Chicken Sausage Stuffing is a healthier version of a traditional holiday side with wheat bread, chicken sausage, and fresh herbs. 
Ingredients
12

ounces

whole wheat bread

, cut into cubes

1

tablespoon

unsalted butter

8

links

breakfast chicken sausage

, uncooked

1/2

yellow onion

, diced

2

stalks

celery

, diced

1

teaspoon

rubbed sage

1

teaspoon

rosemary

1/2

teaspoon

salt

2

large

eggs

, beaten

2 1/2

cups

low sodium chicken broth
Instructions
Note: click on times in the instructions to start a kitchen timer while cooking.
Preheat oven to 300 degrees.

Toast bread cubes on baking sheet for 15 minutes until dried.

To a large skillet add the butter, chicken sausage onion and celery on medium heat.

Cook for 5-7 minutes until softened and sausage is cooked, stirring occasionally.

Remove the sausage from the pan and slice into 1/2 inch chunks.

In a large bowl whisk together the sage, rosemary, salt, eggs and broth.

Add in the sausage, celery and onion.

Fold in the toasted bread cubes until all the liquid is absorbed and pour the mixture in your 9x13 baking dish.

Bake for 40-45 minutes[timer minutes=0][/timer] until crispy and browned.
Nutrition Information
Yield: 8 Servings, Amount per serving: 320 calories, Calories: 320g, Carbohydrates: 23g, Protein: 22g, Fat: 16g, Saturated Fat: 4g, Cholesterol: 110mg, Sodium: 1226mg, Potassium: 196mg, Fiber: 3g, Sugar: 4g, Vitamin A: 410g, Vitamin C: 1.7g, Calcium: 57g, Iron: 2.1g
All images and text © for Cooking Made Healthy.
Keyword:
Whole Wheat Chicken Sausage Stuffing
Save