Cuban Picadillo is an easy ground beef dish with garlic, bell peppers, sliced green olives and tomatoes served over rice. 
Check out my Ground Hawaiian Beef, Beef Teriyaki Skewers and Beef Fajita Skillet for example, of cook up some delicious Cuban-style Picadillo.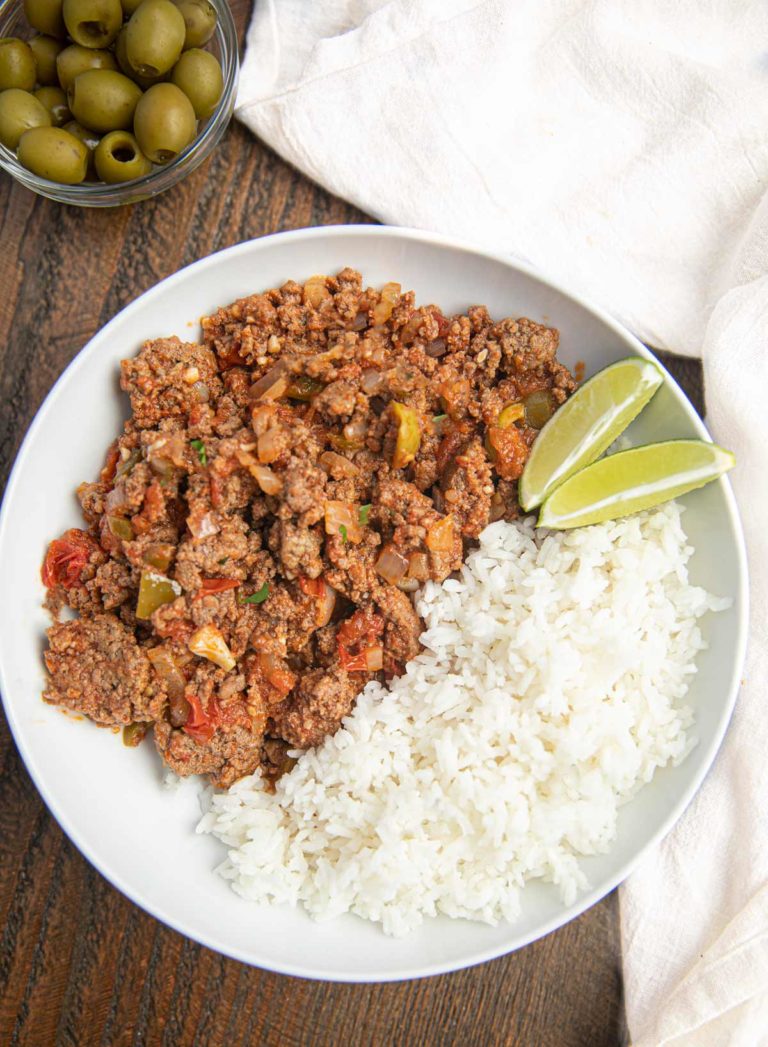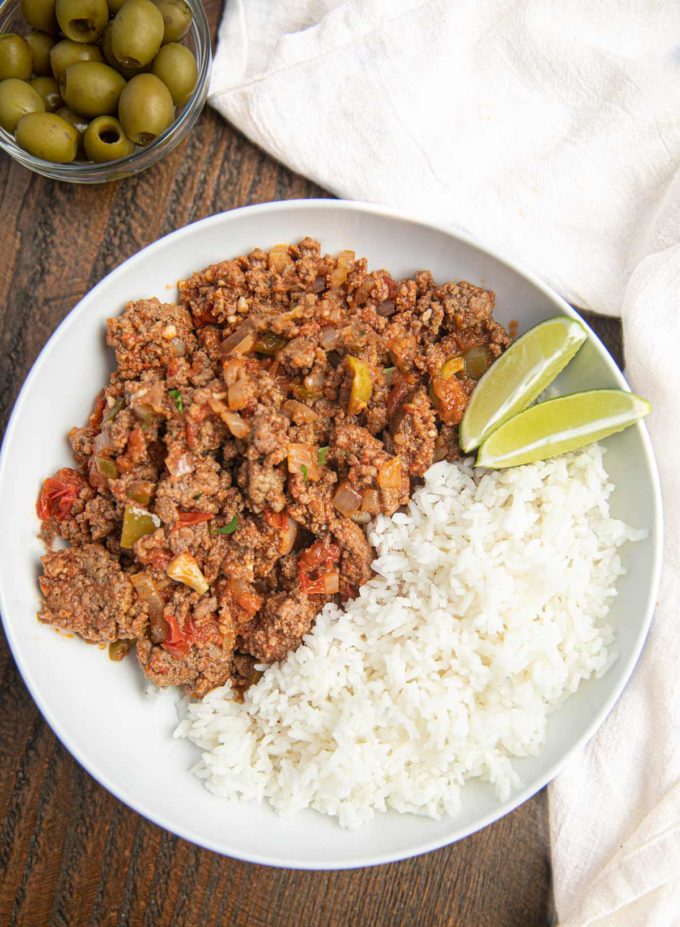 CUBAN PICADILLO
Cuban Picadillo is a savory Latin American comfort food that is full of nutritious ingredients and easy to make as it simmers away on the stove for just 20 minutes.
Picadillo is a delicious, savory stew that is enjoyed all across Latin America, as well as the Philippines. My version is based off of a traditional Cuban recipe that is packed with nutritious ingredients and makes for a delicious weeknight meal that tastes like you went to a fancy restaurant.
If you have a craving for red meat and are trying to stay on the healthy bandwagon, don't worry, there are tons of recipes for you to try out on the site. We love taking ground beef and creating healthy recipes with it.
HOW TO MAKE CUBAN PICADILLO
Combine the beef, salt and pepper in a large skillet on medium high heat.
Sauté until the beef is no longer pink.
Add tomatoes, garlic, bell peppers, olives and onions along with spices.
Cover and simmer on low heat for 20 minutes.
Cuban Picadillo Flavor Variation:
Tacos: you can use your left overs as a filling for hard or soft tacos. All you have to do is heat the meat mixture up in the microwave, put it in a taco shell or tortilla, cover the top with shredded cheese and pico de gallo and enjoy.
Spices: Adding a little spice to your picadillo is a fun way to get a new flavor out of a favorite recipe. Try mixing in some ground cumin, oregano,  garlic powder, garlic cloves, cayenne pepper or bay leaves.
Beans: You can serve picadillo over black beans for a delicious, authentic variation. Black beans are fantastic for you and they make your hearty stew even better. They also add in more protein, so if you've been working out lately and are packing on muscle, this is the perfect variation to try.
Ground Turkey: If you aren't feeling ground beef or are trying to watch your cholesterol, ground turkey or ground chicken are both great options.
Hot Sauce and Peppers: jalapeño, pimento and even spicier peppers like habanero peppers can add flavor without calories.

Create a free account to

Save Recipes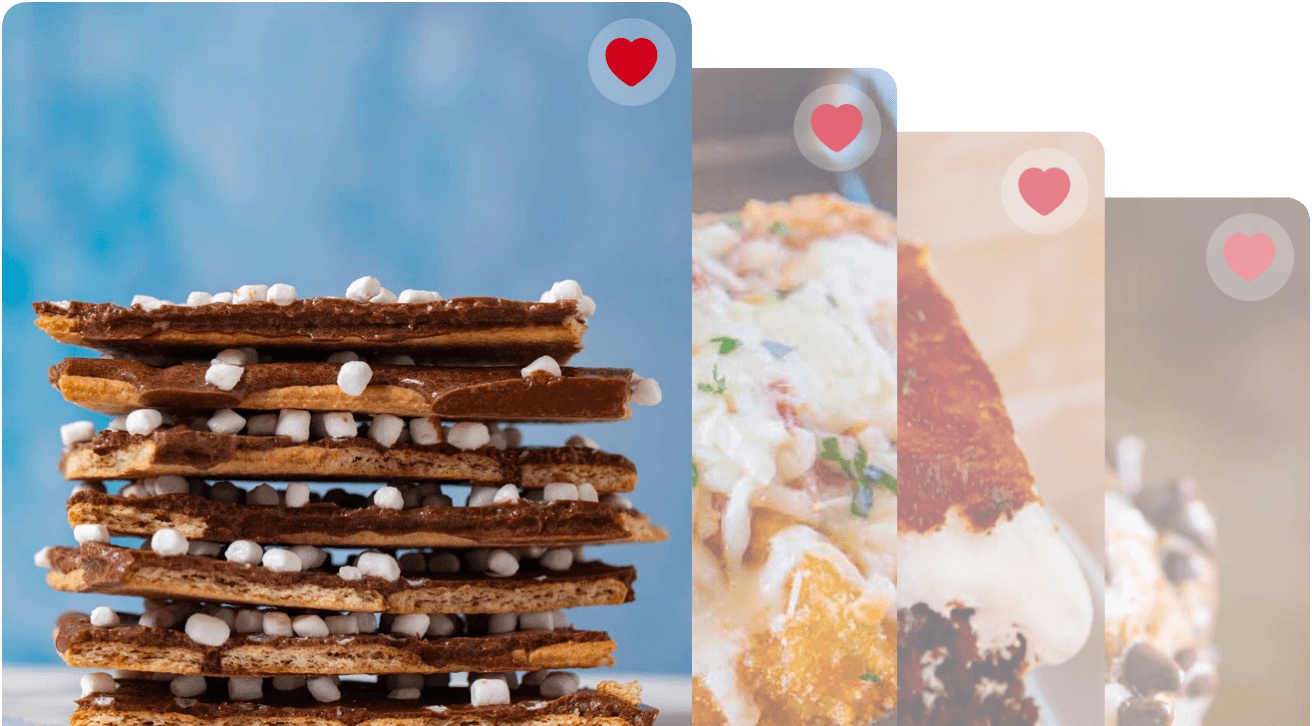 Picadillo Around the World:
The word "picadillo" comes from the Spanish term "picar" which means "to mince. " This dish has long been a favorite comfort food in regions of Latin America and each country has its own variety.
Costa Rica: Costa Rican picadillo is very much like a thick stew that's served over rice. Something singular to Coasta Rican Picadillo is the naming process. The main vegetable in the stew makes it into the name, like Picadillo de Chayote or potato picadillo, to name two.
Cuba: Cuban-style picadillo usually has more varieties of veggies and is more complex in flavor. Cuban picadillo is often served over beans and rice.
Dominican Republic: Picadillo from the Dominican Republic has a base that is very similar to its sister dishes from other parts of Latin America. It differs in that olives, hard boiled egg, apple cider vinegar and allspice are usually added in and they honestly sound delicious.
Mexico: The Mexican version uses onions and lime in their picadillo and some more recent versions have started using honey in the sauce. This makes it thicker and more sugary, which gives it a more teriyaki feel. Another variation uses seafood instead of ground beef as well.
The Philippines: In the Philippines, picadillo is served with chayote, potato, fried plantains and a fried egg. This serving is called "giniling," and is a favorite dish of the islands.
Puerto Rico: Puerto Rican picadillo also uses chayote and potatoes, but they differ in that they also use rum soaked raisins in it. Picadillo is also used as a filling for empanadas and other fritters.
How to Store Cuban Picadillo:
Serve: Do not leave Cuban picadillo out for longer than 2 hours. If where you're at has a much hotter room temperature, refrigerate it after about 1 hour.
Store: Cuban picadillo makes great leftovers that you can keep up to 3 days in the fridge before you should throw it out.
Freeze: You can freeze Cuban picadillo for up to 4 months before your soup becomes a soupcicle.
Safe Cooking Temperatures for Cuban Picadillo:
If you visit the USDA's website, they'll give you a nifty chart of the correct temperatures that meat is safe at. According to this chart, you can safely eat ground beef when it reaches a temperature of 160 degrees F (71.1 degrees C.)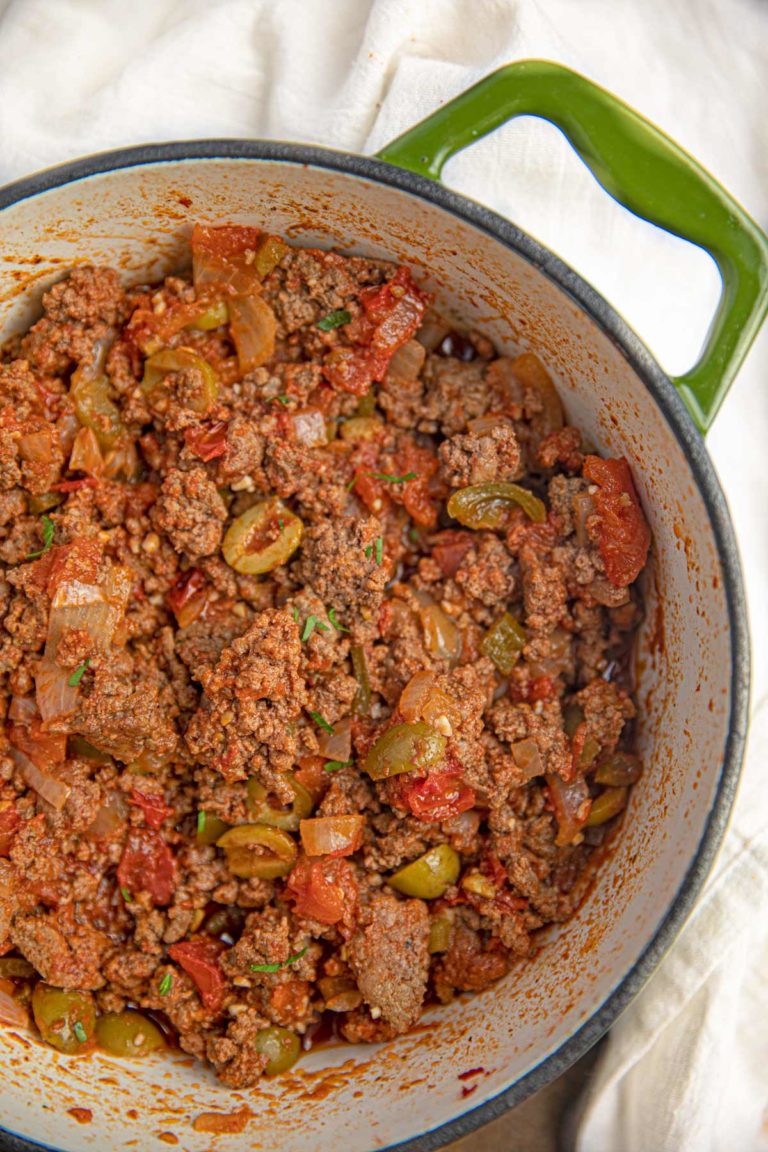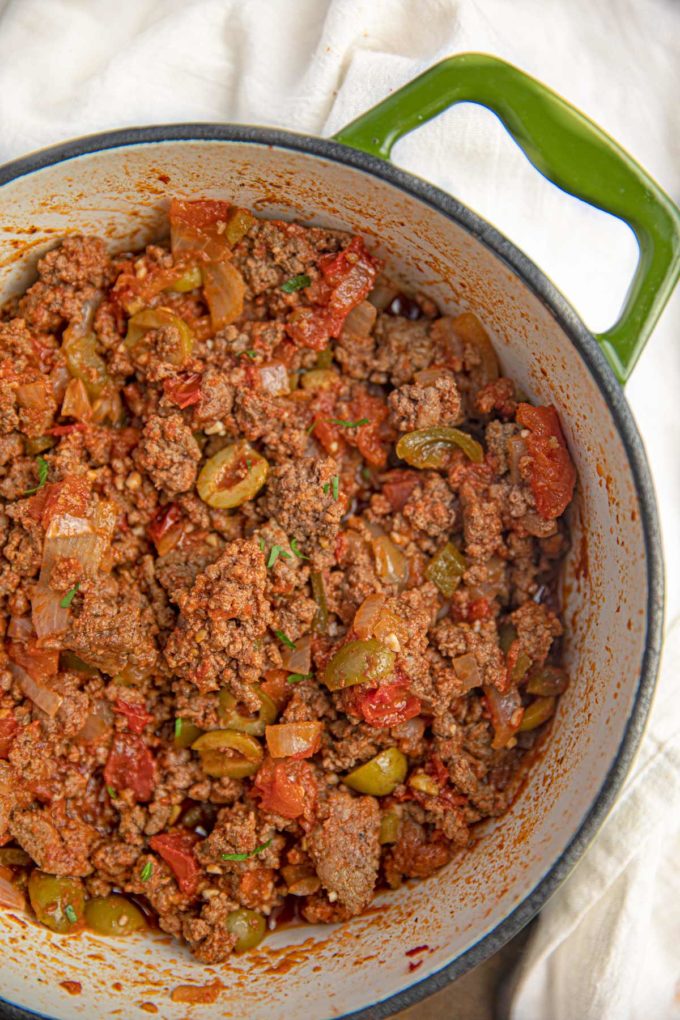 Ingredients
1 1/2

pounds 

ground beef

1/2

teaspoon

kosher salt

1/4

coarse ground black pepper

1

teaspoon

cumin

1/2

yellow onion

chopped

2

cloves

garlic

minced

2

roma tomatoes

chopped

1/2

green bell pepper

chopped

2

tablespoons

cilantro

chopped

3/4

cup

tomato sauce

1

bay leaf

1/4

cup

green olives

sliced
Instructions
Add beef, salt and pepper to a large skillet on medium high heat and cook until no longer pink.

Add the rest of the ingredients, cover and simmer on low heat for

20 minutes

.
Nutrition
Calories:
227
kcal
|
Carbohydrates:
5
g
|
Protein:
24
g
|
Fat:
12
g
|
Saturated Fat:
5
g
|
Cholesterol:
74
mg
|
Sodium:
519
mg
|
Potassium:
551
mg
|
Fiber:
1
g
|
Sugar:
3
g
|
Vitamin A:
370
IU
|
Vitamin C:
13.9
mg
|
Calcium:
30
mg
|
Iron:
3.2
mg