Chia Pudding is a creamy 4-ingredient sweet snack packed with protein, omega-3s, and fiber. Store in mason jars for the perfect grab-and-go treat.
This Chia Pudding shows just what a versatile ingredient chia seeds are. From Chia Jam to this simple Dessert Recipe there are so many ways to use healthy chia seeds!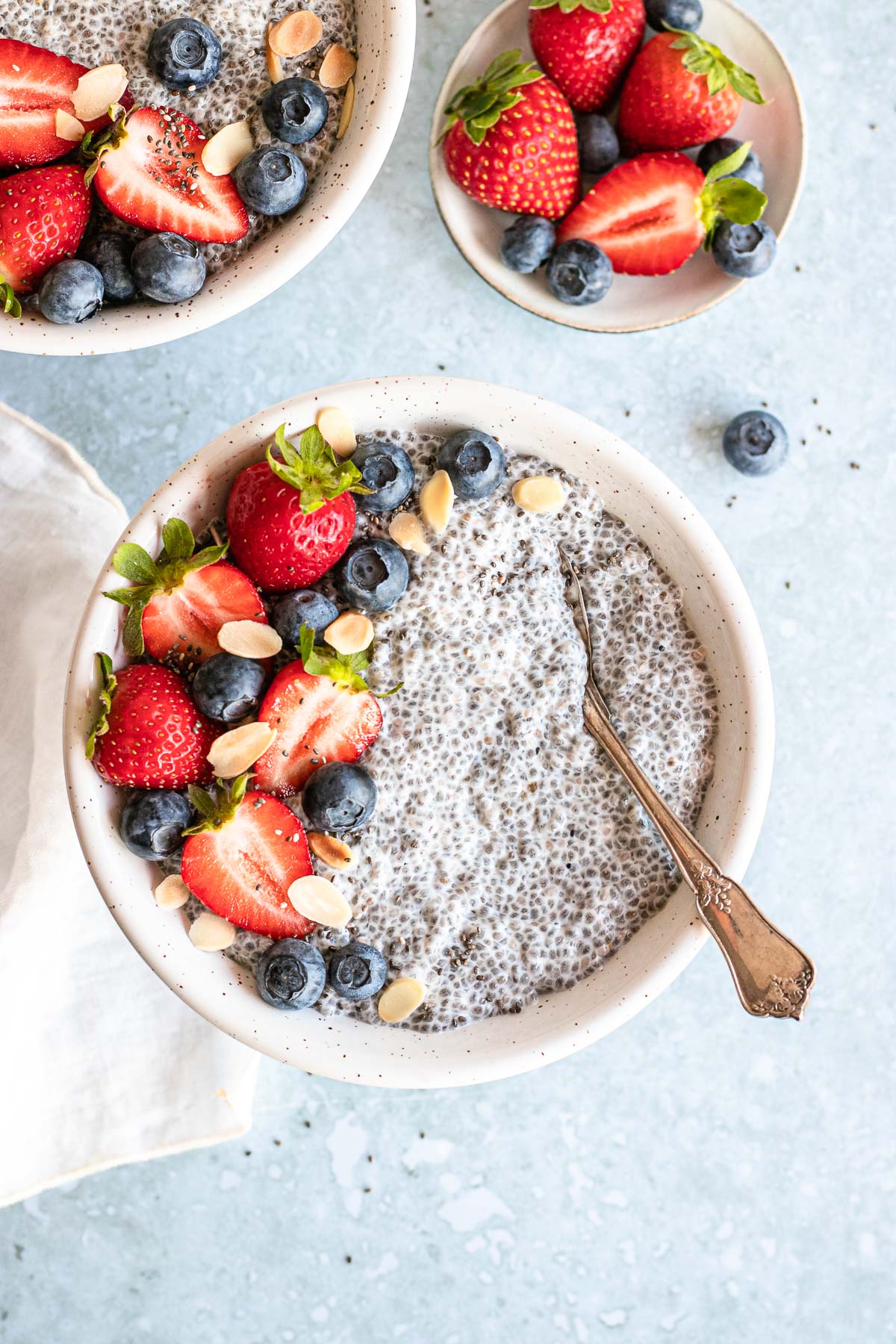 CHIA PUDDING
Vanilla Chia Pudding is a great recipe to satisfy your sweet tooth. With wonderful gluten-free ingredients like pure vanilla extract, chia seeds, and milk it's an easy and sweet dessert, snack or even breakfast. This Chia Pudding recipe has a tapioca-like texture and rich vanilla taste, but is so much healthier than any store-bought puddings! And for even more irresistible flavors top your Chia Seed Pudding with fresh fruit, or try chopped Balsamic Strawberries and Tequila Strawberries. The tart flavor of strawberries and texture of chia seeds make a winning combination.
Chia Pudding is an excellent recipe for meal-prep. You can double up this recipe to make as much pudding as you want and store it in the fridge or freezer. Just whisk together the chia seeds, sugar, vanilla, and your choice of milk or almond milk. Let it sit for a few minutes then whisk it again and pour the mixture into mason jars, or any covered container. The total time for the recipe is fairly long, because you have to let the pudding sit in the fridge for at least 4 hours to get the right pudding-like texture. But the hands-on part of this Chia Pudding recipe is just a few minutes, then it's all down to the fridge and your patience.
The flavors of chia seed, vanilla extract and sugar are so mild that there are lots of changes you can experiment with the next time you make this Chia Pudding recipe. For example you can switch out the sugar for maple syrup, or add in a tablespoon of banana puree. Apart from flavors you can also make changes to this Chia Pudding recipe to match your diet. If you're vegan exchange the milk for almond milk, coconut milk, or any other plant-based milk. Almond milk or whatever milk you prefer will work just as well with the flavors of this Chia Seed Pudding recipe.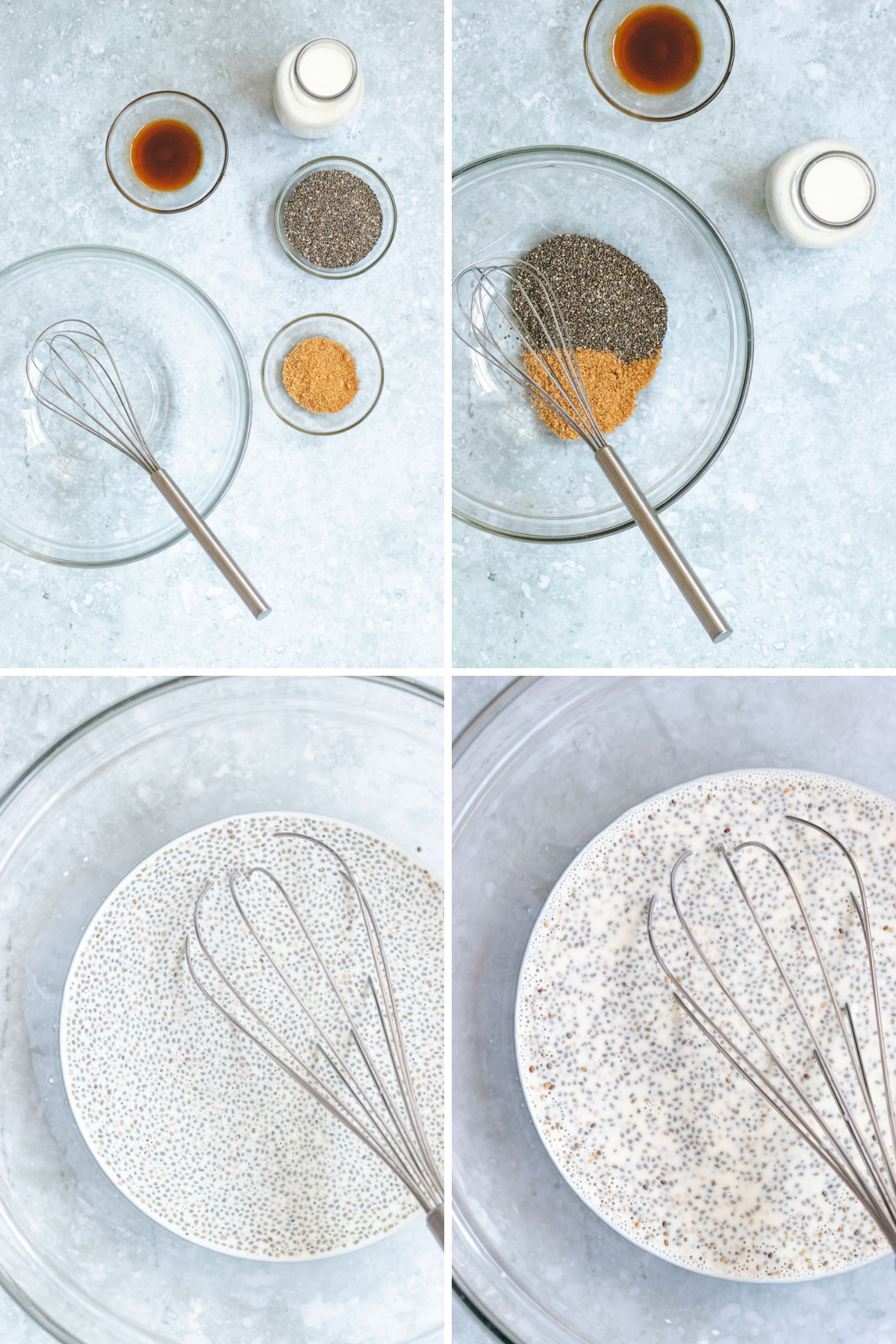 HEALTH BENEFITS OF CHIA
Chia recipes are all the rage, and it's really no wonder why. Listing all the health benefits of chia seeds might take all day, but here are some of the highlights. Chia is nutrient-dense, high in protein, and has omega-3 fatty acids. The Omega-3s fight inflammation, improve sleep, and reduce risk of heart disease. Chia seeds are also low-fat, low-carb, and practically all the carbs they do contain are fiber. Chia seeds are really a no-brainer when it comes to adding a healthy ingredient to your diet.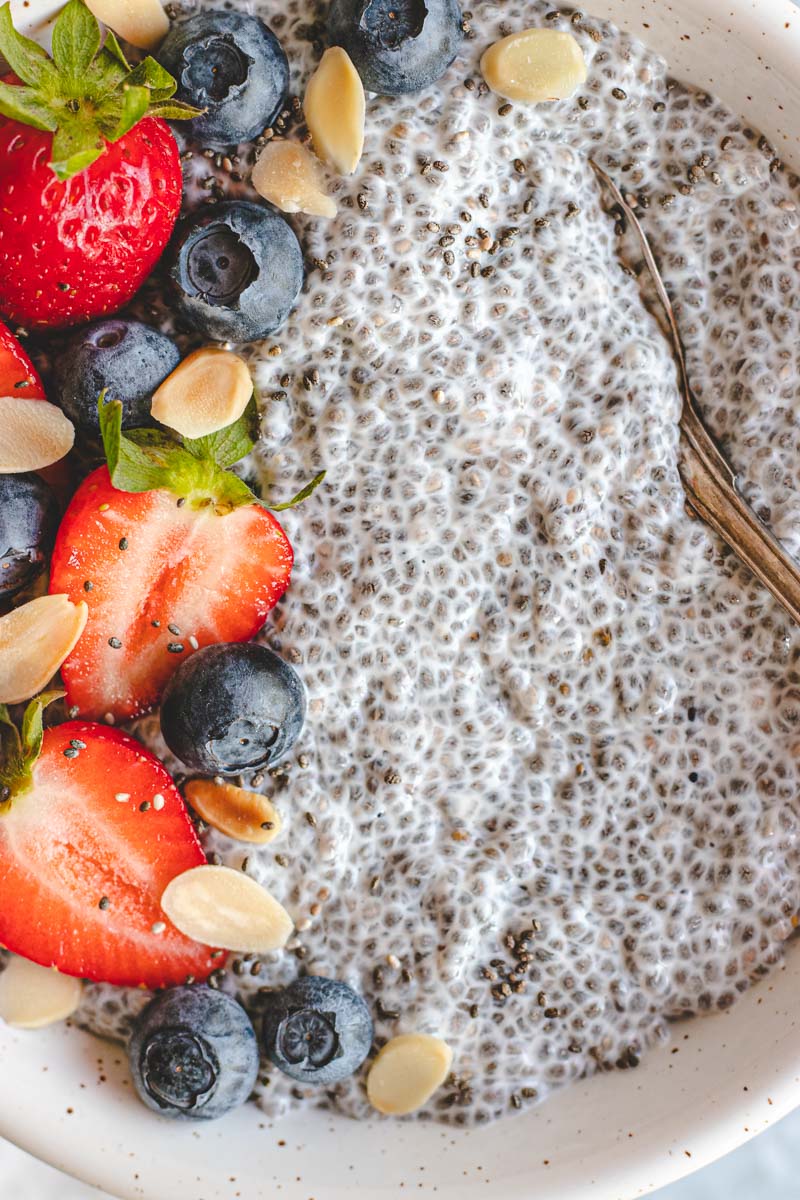 Because of the many health benefits of chia seeds, this wonderful chia pudding can be enjoyed way more often than you'd usually indulge in pudding. Make this healthy Chia Pudding your go-to treat for after school, an on-the-go breakfast, or a satisfying dessert. And apart from being healthy the chia seeds add a wonderful texture to your Chia Seed Pudding.
MORE DESSERT RECIPES

Create a free account to

Save Recipes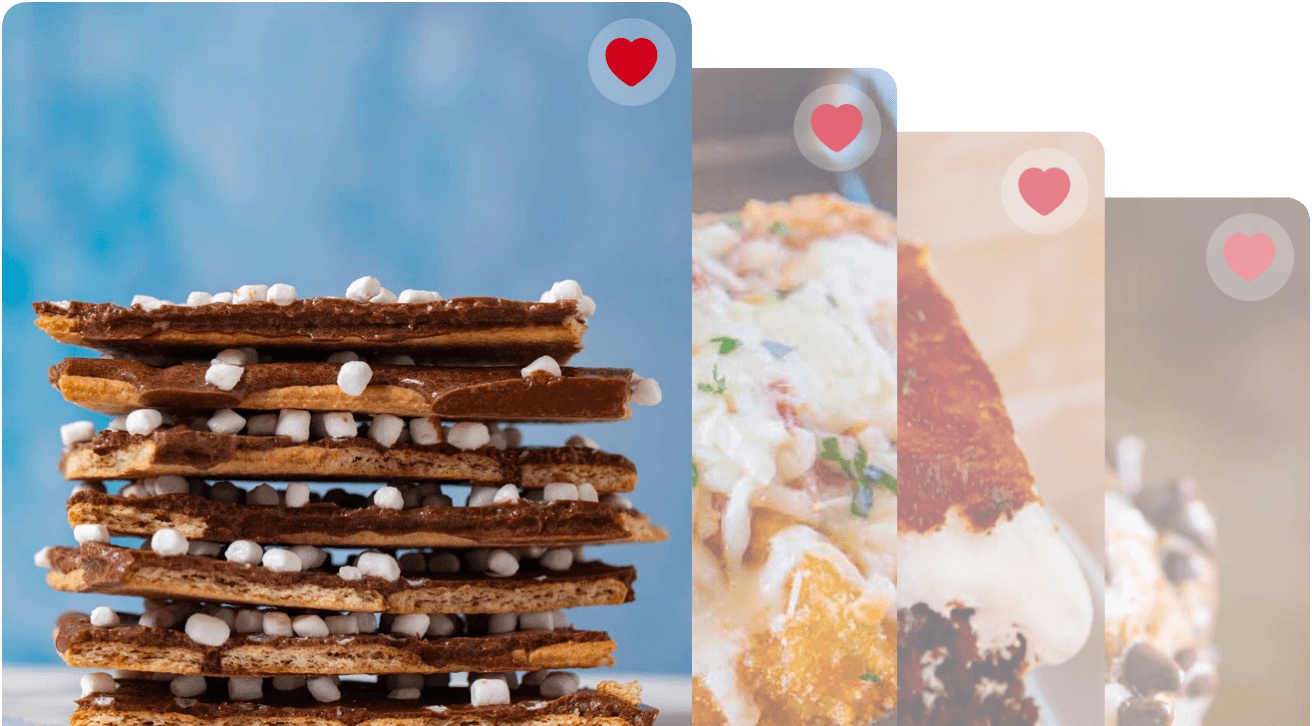 VARIATIONS ON CHIA PUDDING
Milk options: There are so many different kinds of milk you can use in this pudding depending on your preference. Try unsweetened almond milk, cashew milk, or coconut milk. Any of these are great options for a dairy-free diet. And of course there are other nut-free non-dairy alternatives. Instead of almond milk or cashew milk try full-fat oat milk, or soy milk. You can use half almond milk and half unsweetened Greek Yogurt for a creamier Chia Seed Pudding:
Mix-ins: Next time you make this pudding feel free to add all different kinds of mix-ins and toppings. There are so many that go great with Chia Pudding. Top with fresh fruits, coconut flakes, and granola for a healthy breakfast. You can also top it with peanut butter, or melt 2 tablespoons peanut butter to mix in the pudding and make a Peanut Butter Chia Seed Pudding.
Chia Pudding flavors: Completely change the flavor of your chia seed pudding by adding cocoa powder. Chocolate Chia Pudding is sweet and healthy. ¼ cup unsweetened cocoa powder should do the trick to make the ultimate chocolate-y Chia Pudding. Instead of a Chocolate Chia Pudding you can also make a matcha chia pudding. Just add 2 teaspoons of matcha green tea powder to the pudding. Or make an Orange Juice Chia Pudding. Might sound strange, but add ½ cup of orange juice for a rich tropical flavored pudding. There's no end to the flavors you can add to this pudding.
Sweeteners: There are many different kinds of sweeteners you can use in this Chia Seed Pudding recipe. Instead of using brown sugar in your Chia Pudding try honey, or maple syrup as the sweetener. Pure maple syrup provides health benefits that other sweeteners don't have. Maple syrup contains antioxidants vitamins, and improves digestion. If you do switch to maple syrup or honey it's a 1 to 1 exchange with the sugar. Or if you'd prefer a sugar-free pudding you can use a sugar replacement like stevia, instead of maple syrup or honey.
MORE SWEET RECIPES
HOW TO STORE CHIA PUDDING
Serve: Once your Chia Seed Pudding is prepped, you really shouldn't leave it at room temperature for more than an hour.
Store: You can make a few jars of pudding at a time for an easy make-ahead recipe. Seal and store your Chia Seed Pudding in the fridge for up to 5 days.
Freeze: You can also keep Chia Seed Pudding in the freezer for up to 2 months. Store Chia Seed Pudding in serving sized airtight containers and let them defrost in the fridge overnight before enjoying. Mix the pudding and chia seeds again and enjoy.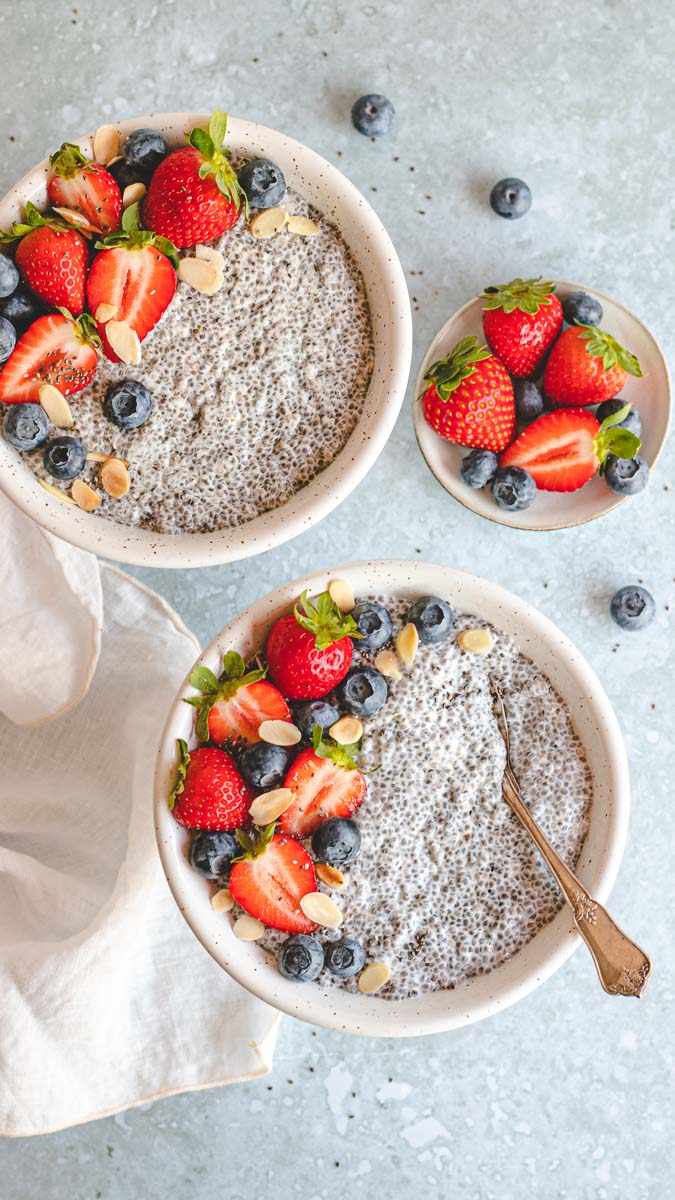 Ingredients
1/4

cup

chia seeds

1

cup

2% milk

1

teaspoon

vanilla extract

1

tablespoon

brown sugar

, unpacked
Instructions
Whisk together ingredients well (making sure all the seeds are separated).

Let sit for

5 minutes

then whisk together again.

Add mixture to jars or a large covered container.

Refrigerate overnight or for at least

4 hours

.
Nutrition
Calories:
382
kcal
|
Carbohydrates:
42
g
|
Protein:
15
g
|
Fat:
18
g
|
Saturated Fat:
4
g
|
Cholesterol:
19
mg
|
Sodium:
121
mg
|
Potassium:
503
mg
|
Fiber:
15
g
|
Sugar:
24
g
|
Vitamin A:
241
IU
|
Calcium:
551
mg
|
Iron:
3
mg