Roasted Eggplant is baked in the oven until perfectly tender and flavorful. It's an easy appetizer or side to your dinner, or tossed with some pasta.
Just like Roasted Red Onions, this eggplant recipe makes for a quick and easy Side Dish. After cooking the eggplant in the oven you can serve it with any number of your favorite dinner dishes.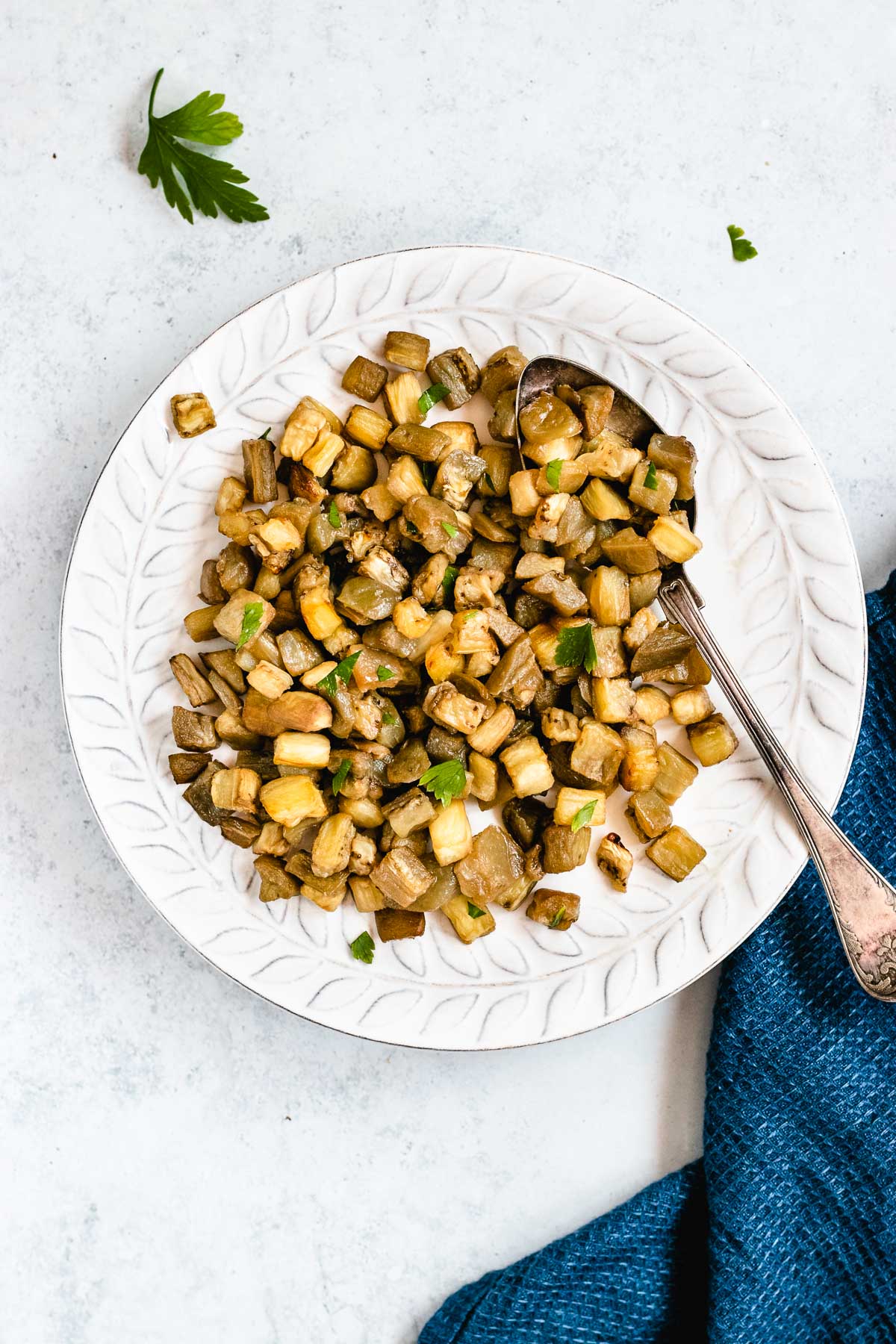 Roasted Eggplant is the perfect plant-based, gluten-free side dish that only takes 3 ingredients. It's amazing that something so simple can be so full of flavor. Cooking the eggplant in the oven gives you the same rich, smoky flavor that you would get from grilled eggplant. Except, it's much easier and you can make it year round without an outdoor grill.
The total time to make this dish is under an hour, and it's so versatile you'll find yourself making it for all kinds of recipes. It also stores well, so you can make a big batch and add it into dinners later in the week.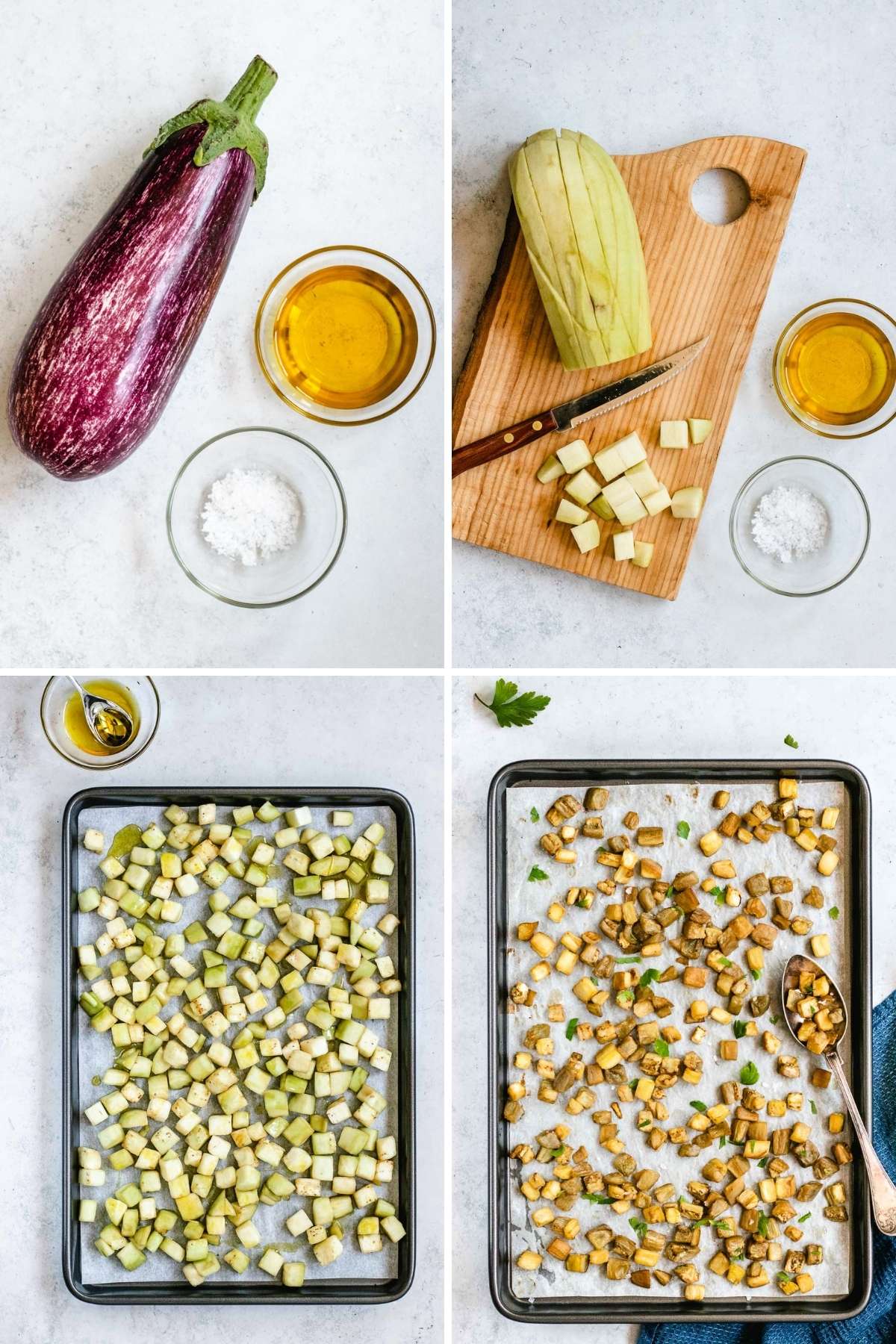 Use roasted eggplants to top some of your favorite salads like Tropical Quinoa Salad or Middle Eastern Fattoush Salad. Roasted Eggplant is also an amazing addition to your favorite pasta dishes. Toss it with some pasta in a light vodka sauce or in your favorite light cream sauce. It tastes excellent on top of Chicken and Mushroom Cream Pasta.
TIPS FOR ROASTED EGGPLANT RECIPE
This Roasted Eggplant Recipe is fairly simple. There are just a few things you'll want to look out for to make sure it comes out perfect every time.
To make tender eggplant slices be sure to peel the eggplant before dicing it.
When it comes to salting the eggplant try to make sure the pieces are coated evenly. The salt will draw moisture from the eggplant and prepare it to be roasted. You also don't want to rush this part. Make sure to let the eggplant sit for a full 30 minutes before rinsing and drying.
After you toss the eggplant in extra virgin olive oil lay them out on the baking sheet. To make sure they bake evenly keep them in a single layer where none of the eggplant pieces overlap.
To make sure the eggplant roasts evenly on all sides, flip them part way through cooking. After they've baked for 20 minutes, remove them from the oven to flip them over with a spatula. Let them bake for another 10 minutes. They'll become caramelized and slightly browned before they are done.
MORE ROASTED SIDE DISHES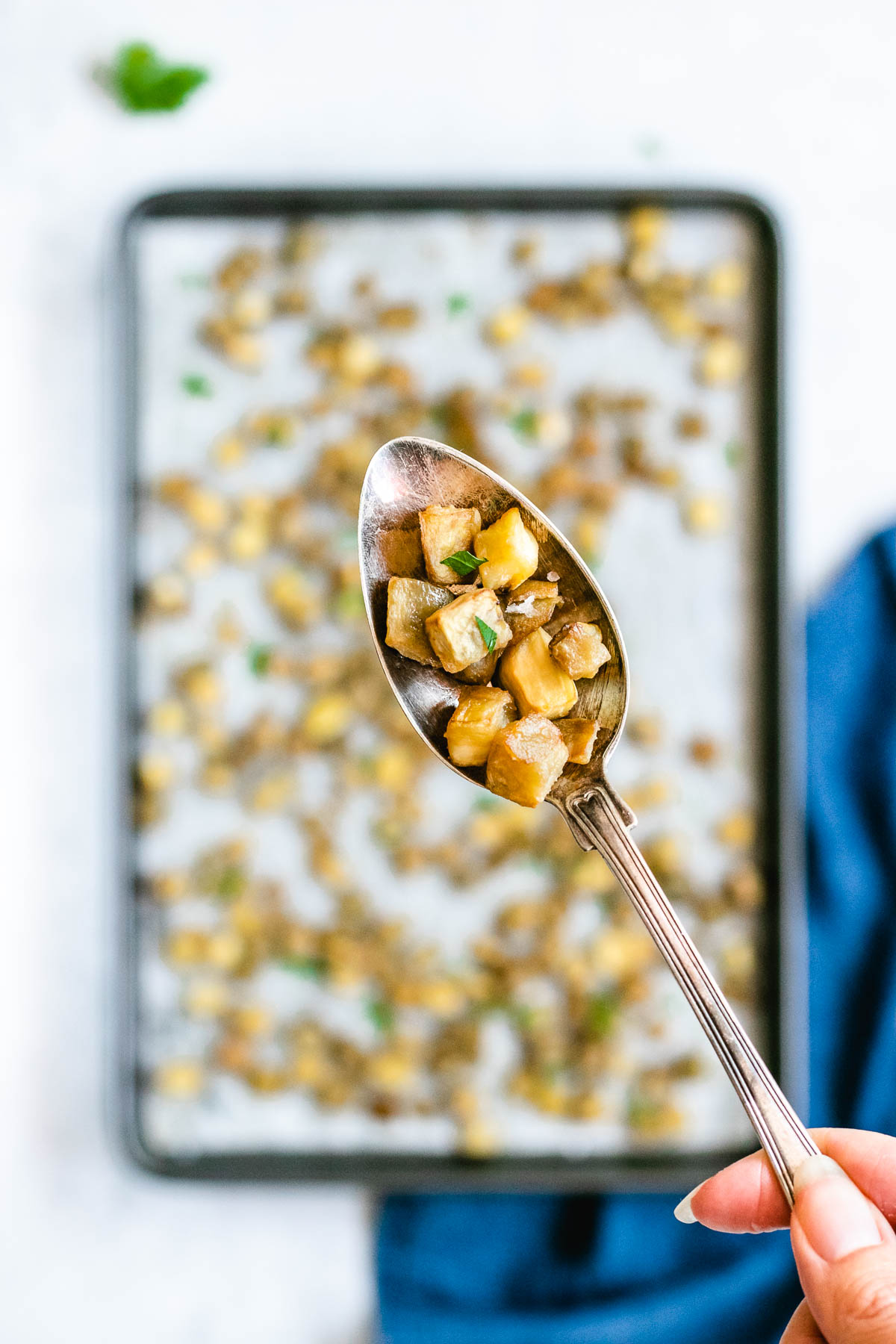 Create a free account to

Save Recipes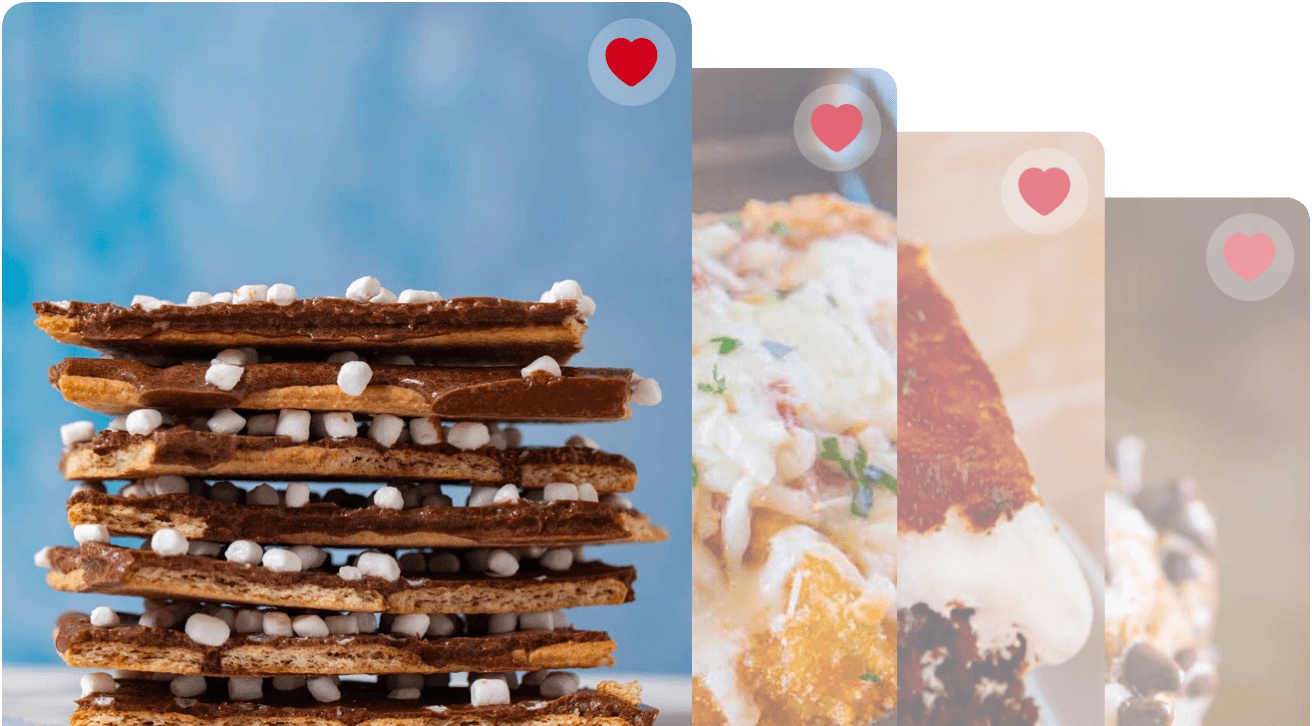 VARIATIONS ON ROASTED EGGPLANT
Garlic Roasted Eggplant: You can add plenty of flavor to this eggplant dish with simple seasoning. Try putting in some garlic when you toss the eggplant with olive oil. Along with the garlic you can also add some black pepper. If you don't add the seasoning before roasting, you can still sprinkle on some pepper and garlic powder before serving the Roast Eggplant.
Roasted Eggplant with Tahini Sauce: Make this into a delicious appetizer with a tahini sauce. To do this you'll want to slice the eggplant lengthwise. Leave the slices about 1/2″ thick and don't cut them into cubes. Salt and roast them as usual. Once the Eggplant is roasted drizzle the sauce over the top. To make tahini sauce combine 4 minced cloves garlic, ¼ cup lemon juice, ½ cup tahini, ½ teaspoon fine sea salt, pinch of ground cumin, pinch of pepper, and 6 tablespoons ice water. When the sauce and eggplant are both done drizzle the sauce over the top and serve.
More Roasted Vegetables: Try roasting other vegetables along with the eggplant for a roasted veggie blend. Slice up some tomatoes, peppers, and red onions to put on the baking sheet with the eggplants. Just make sure to cut the seeds out of the tomatoes and peppers before roasting them.
Eggplant Parmesan: To make a Cheesy Roasted Eggplant, sprinkle some Parmesan Cheese over the roasted eggplant slices when you flip them, then put it all back in the oven for 10 minutes. The parmesan will become melty and delicious.
WHAT TO SERVE ROASTED EGGPLANT WITH
HOW TO STORE ROASTED EGGPLANTS
Serve: Don't leave Roasted Eggplant at room temperature for more than 2 hours. Storing it quickly will preserve its tender crisp texture.
Store: Once the eggplant is cooled you can put them in a sealed plastic bag or airtight container. They'll last in the fridge for 3-5 days.
Freeze: You can freeze Roasted Eggplant for up to 10 months. When you're ready to reheat it, let it defrost in the fridge. Then bake it in the oven for a few minutes to get back it's crisp texture.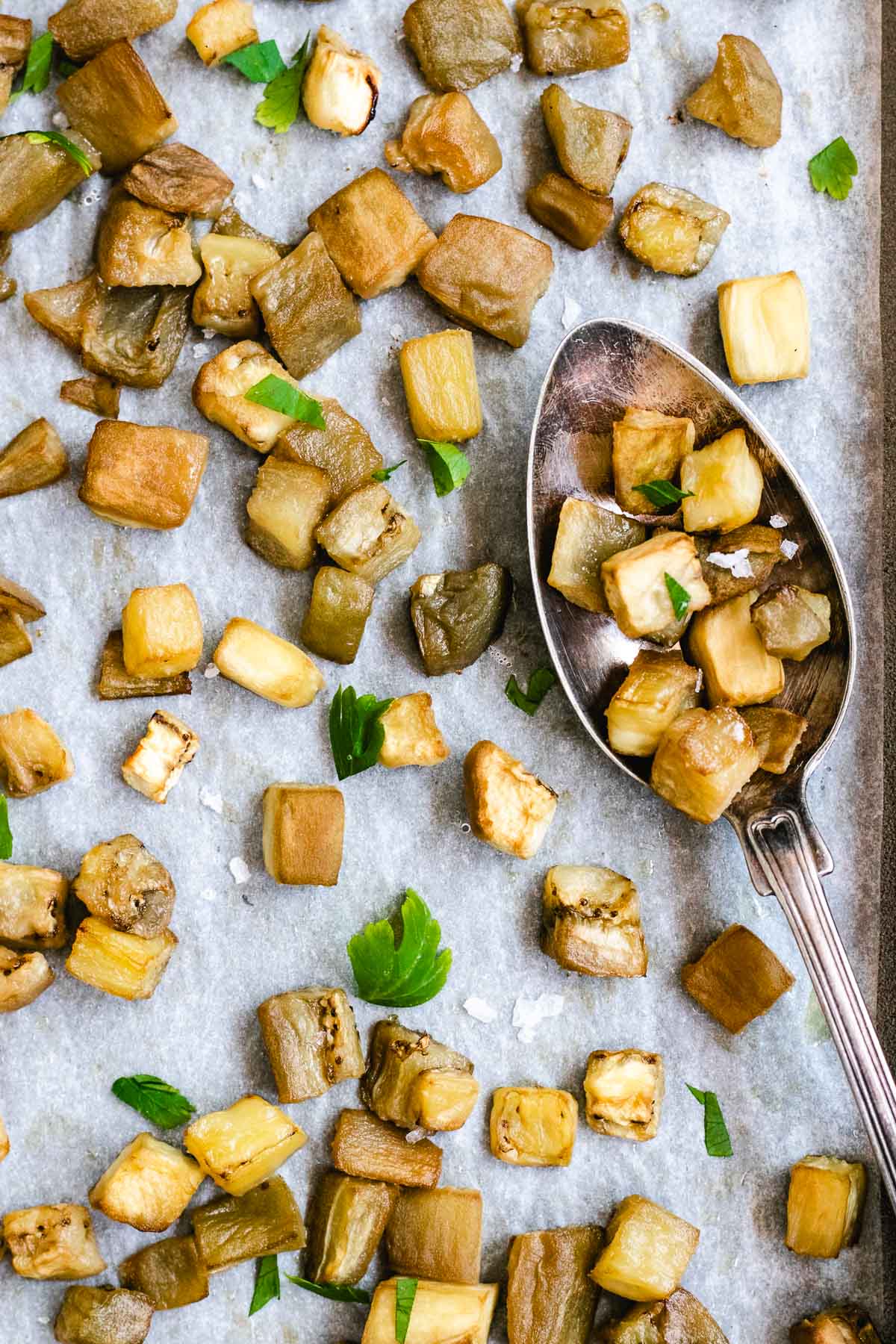 Ingredients
1

large

eggplant

1

teaspoon

Kosher salt

2

tablespoons

olive oil
Instructions
Peel the eggplant and cut off the stem, then chop into 1/2" cubes.

In a medium bowl, gently toss the eggplant with salt until evenly coated, then transfer to a colander in the sink and let sit for

30 minutes

to draw out moisture.

Preheat oven to 400 degrees.

Rinse eggplant in the colander and dry thoroughly with paper towels or a clean kitchen towel.

Toss the eggplant cubes with the olive oil to coat evenly, then spread the eggplant cubes out on a baking sheet lined with parchment paper.

Roast in the oven for

20 minutes

, then flip the cubes and roast for an additional

10 minutes

.
Nutrition
Calories:
91
kcal
|
Carbohydrates:
7
g
|
Protein:
1
g
|
Fat:
7
g
|
Saturated Fat:
1
g
|
Sodium:
584
mg
|
Potassium:
262
mg
|
Fiber:
3
g
|
Sugar:
4
g
|
Vitamin A:
26
IU
|
Vitamin C:
3
mg
|
Calcium:
10
mg
|
Iron:
1
mg