Homemade Applesauce is a smooth, delicious Autumn classic. It's surprisingly easy to make with just apples, cinnamon, sugar, and water.
If you've tried our recipe for Chia Jam, this Applesauce is another delicious homemade treat. Serve as a Breakfast Recipe or as a simple snack.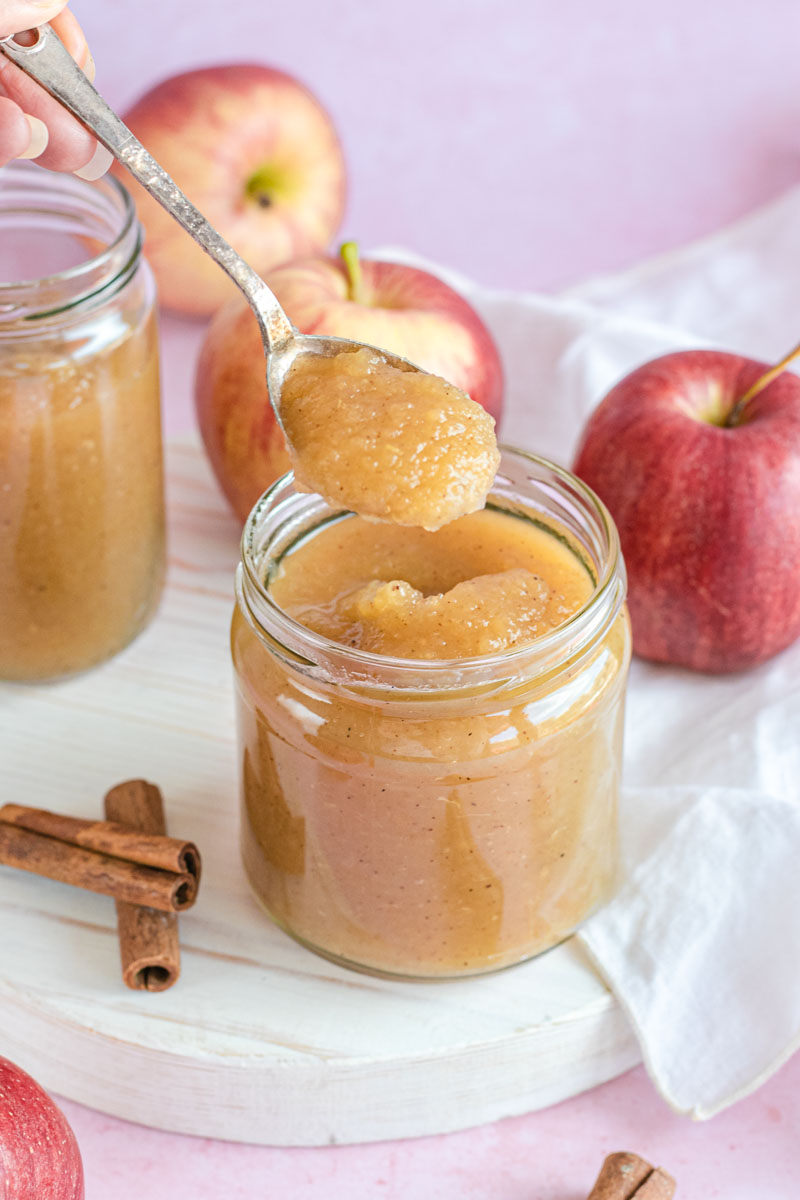 HOMEMADE APPLESAUCE
Smooth and tart Applesauce is a wonderfully family-friendly treat full of Fall flavors. You'll forget all about store-bought applesauce after you try this delicious Homemade Applesauce recipe. Make this easy homemade snack with just a large pot and no food mill necessary.
Whether it's apple butter, apple pie, Applesauce Bread, apple juice, or this applesauce recipe, nothing says Autumn quite like the delicious taste of apples and cinnamon. Enjoy the old-fashioned flavors of this delicious gluten-free, dairy-free, and low-carbohydrate applesauce.
You can make this applesauce with a variety of different kinds of apples. Some of the best varieties of apples are golden delicious, honeycrisp, jonagold, winesap, gravenstein, or granny smith. Although Granny Smith are probably the best apples to use for an apple pie, or mixed fruit pie, it will make the applesauce much more tart.
Applesauce is wonderful as a snack on its own or to serve along with other dishes. Use servings of applesauce over the top of hot cereal. You can also serve applesauce with pork chops, or latke pancakes. If you serve the applesauce with an impressive meal, put some cinnamon sticks over the sauce for a beautiful presentation.
PREPARING APPLESAUCE
Start by using an apple peeler to peel, core, and chop the apples. Next, put the apples in a large saucepan with water. The water will soften the apples. Then, combine the apples with the cinnamon and sugar, and mash the apples into a sauce.
To make a smooth applesauce you can use an immersion blender, food processor, or blender to create a smooth puree. If you prefer chunky applesauce simply use a fork or potato masher. Once it's done, store the applesauce in the fridge. The total time should only be about 30 minutes.
HEALTHY BREAKFAST RECIPES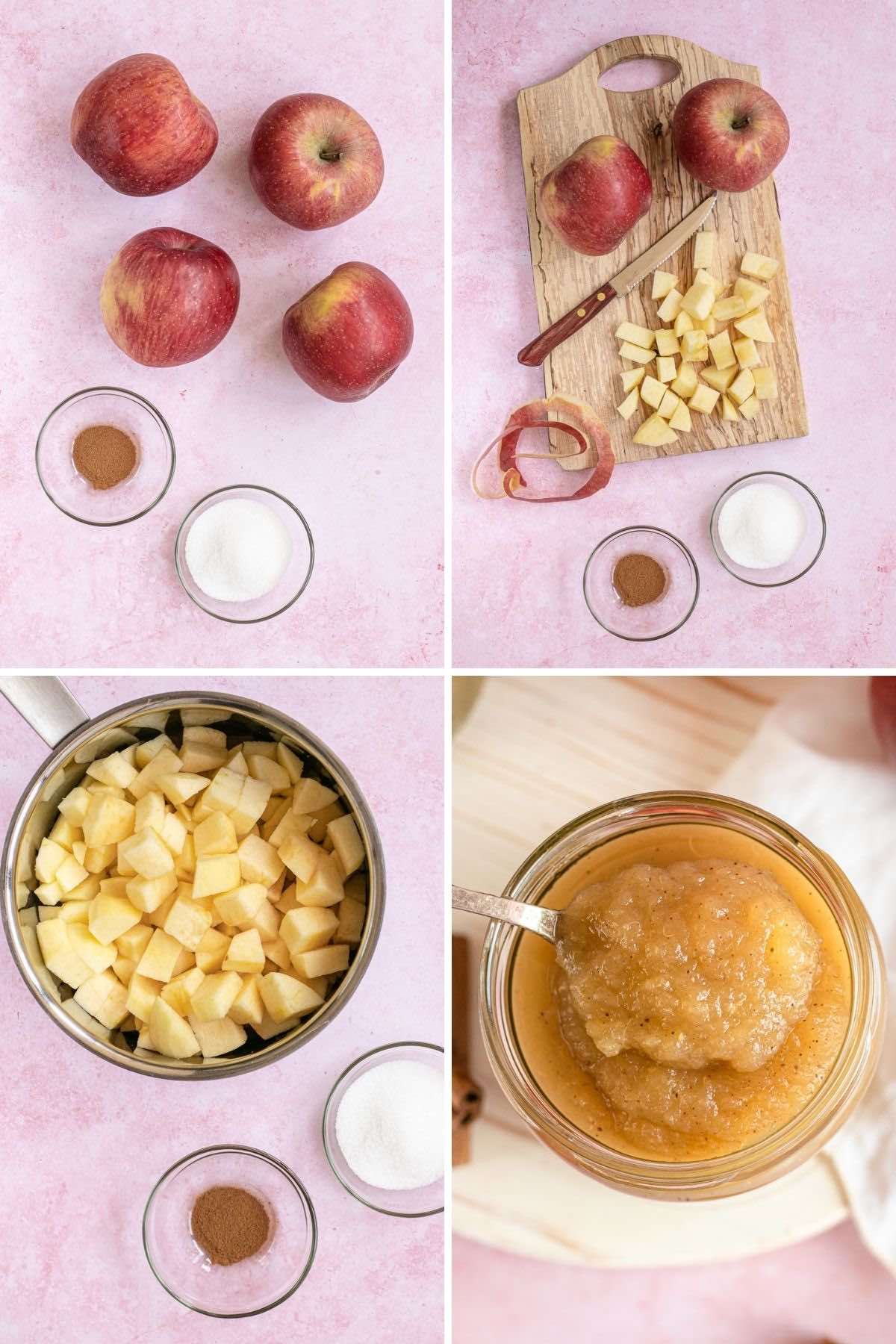 Create a free account to

Save Recipes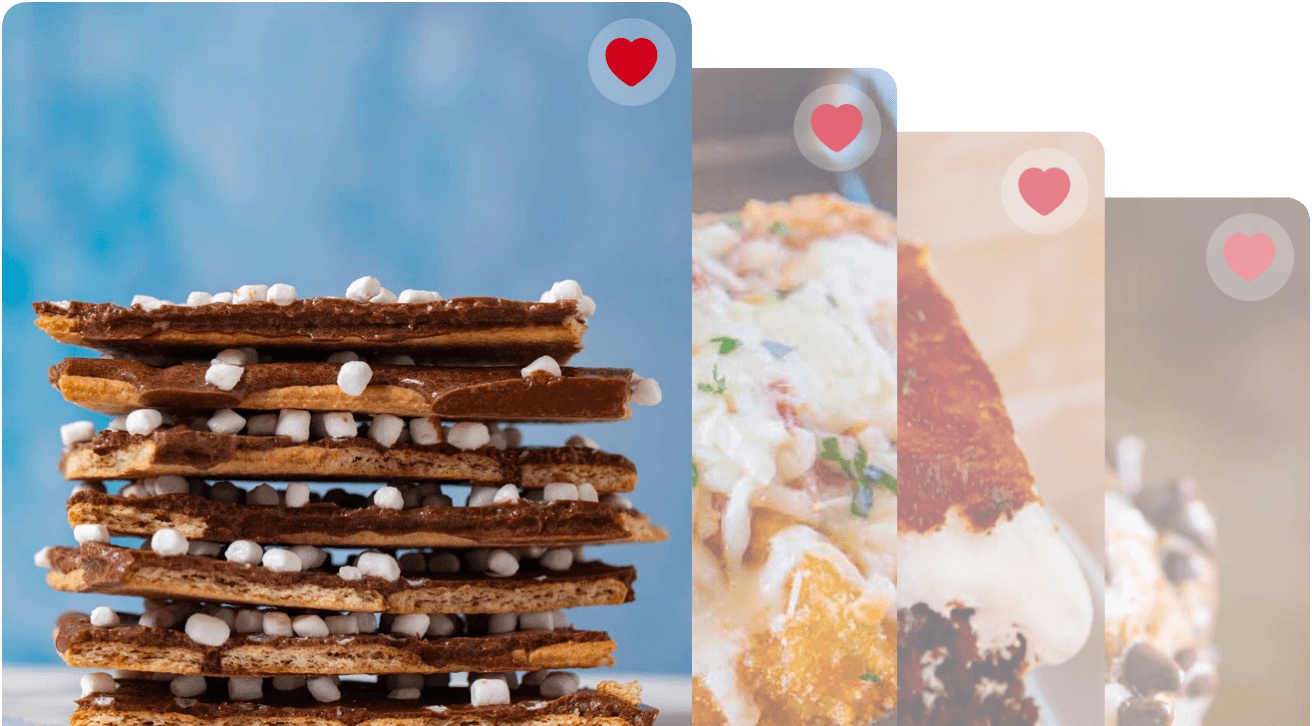 VARIATIONS ON HOMEMADE APPLESAUCE
Applesauce with lemon juice: To add some extra zest to your applesauce, add in about a tablespoon of lemon juice. Along with the lemon juice you can add the zest from a lemon peel.
Unsweetened applesauce: You can also make unsweetened applesauce. To do this simply don't put the sugar in the sauce. Unsweetened applesauce is perfect for the next time you bake, as applesauce is an excellent baking ingredient.
Other sweeteners: Apart from regular sugar, this Homemade Applesauce recipe can also be made with brown sugar or maple syrup. Brown sugar and maple syrup are both somewhat healthier ingredients, but give the applesauce a slightly different taste.
MORE WAYS TO MAKE APPLESAUCE
Instant Pot Applesauce: This easy applesauce can also be made fairly simply in the instant pot.
Peel and core the apples.
Add 1 cup water, ¼ cup sugar, and ½ teaspoon cinnamon to instant pot and stir. Add the apples and toss to mix.
Secure lid and cook on high pressure for 8 minutes. Do a controlled quick release or allow the pressure to naturally release.
Mash the apple mixture a few times with a potato masher, or put it in a food processor for a smoother pureed sauce.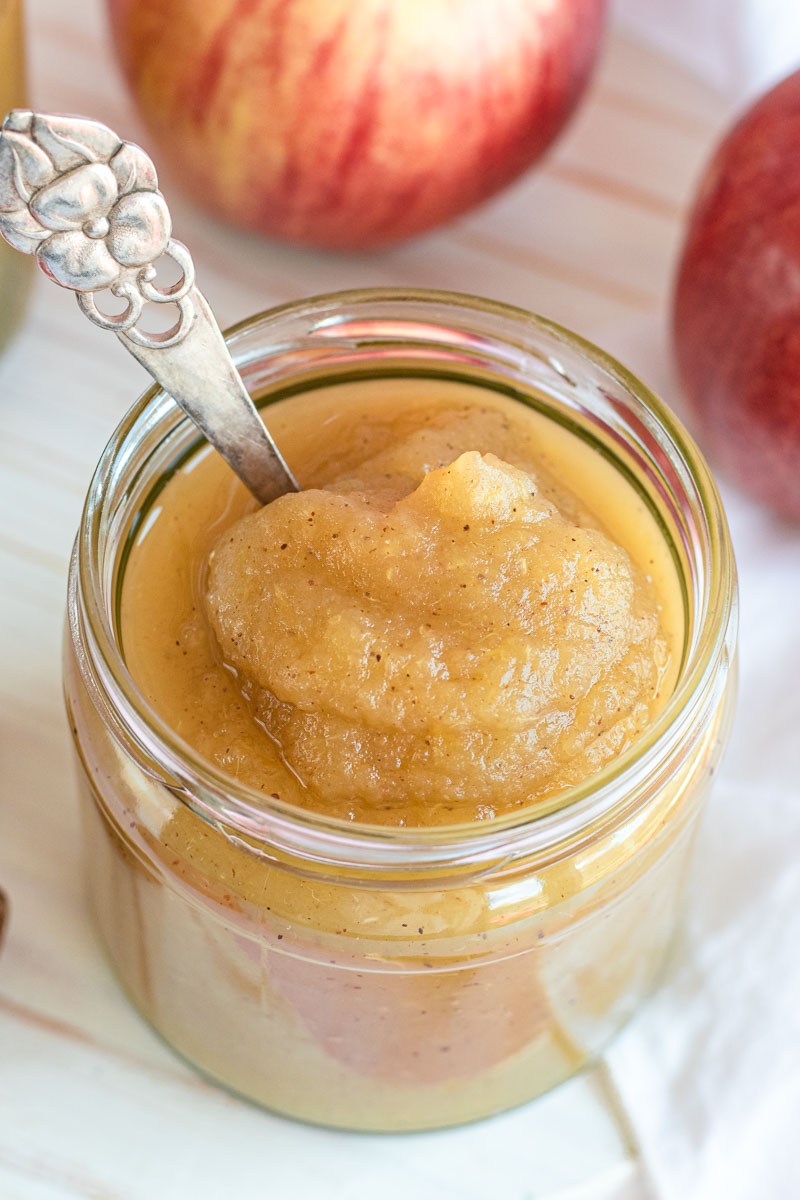 Crock Pot Applesauce: This great recipe can also be made in a slow cooker.
Peel and core the apples, then cut the apples into fourths, and place them in the slow cooker.
Toss the apples in sugar and cinnamon, and stir to combine. Add in the water. You could also put a cinnamon stick in the slow cooker for extra flavor.
Cover with a crock pot lid.
Cook in the slow cooker on high for 3-4 hours, until apples are softened. Stir the applesauce and enjoy.
MORE HEALTHY AUTUMN RECIPES
HOW TO STORE HOMEMADE APPLESAUCE
Serve: Once you've made the sauce don't leave it at room temperature for more than an hour or two.
Store: Store this delicious applesauce in the fridge for 1-2 weeks. Once it's cooked and cooled you can store the applesauce in a mason jar or other airtight container.
Freeze: Applesauce is also freezer-safe. To keep the sauce for up to 9 months, transfer the applesauce into a freezer bag or other airtight container.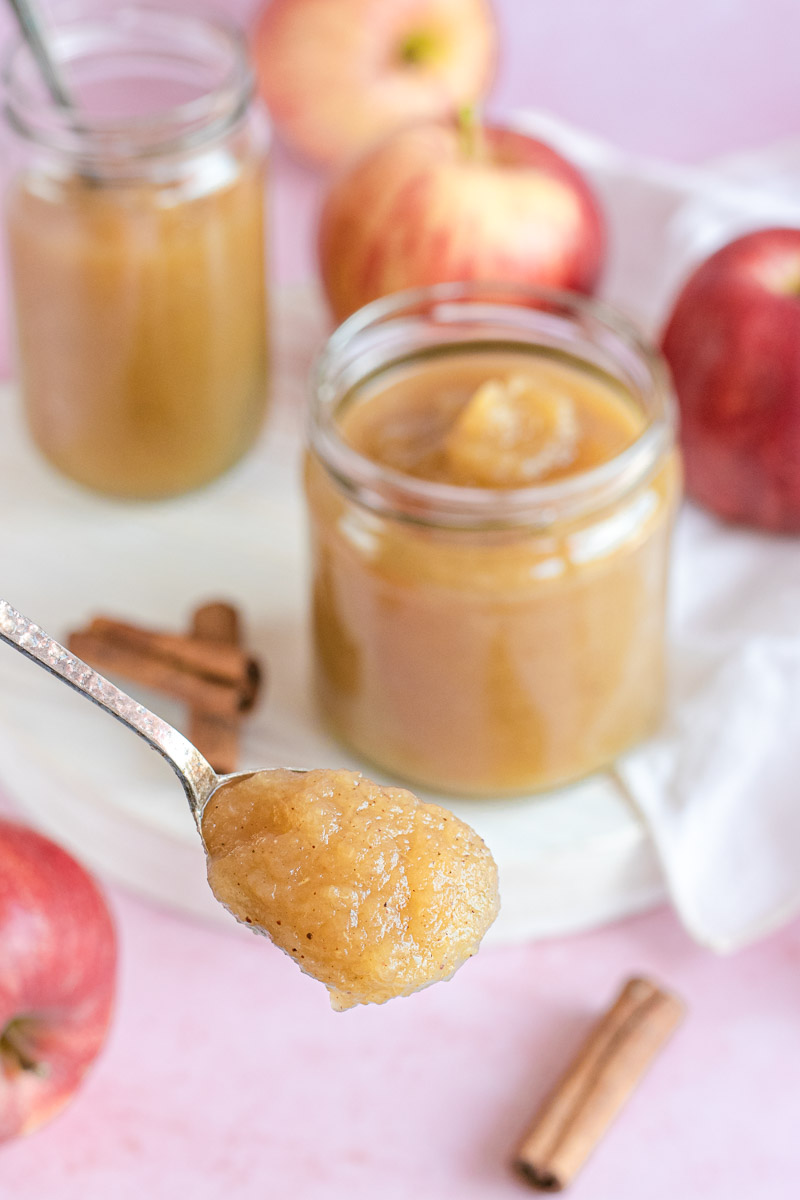 Ingredients
3/4

cup

water

4

apples

, peeled, cored, and chopped

1/4

cup

sugar

1/2

teaspoon

ground cinnamon
Instructions
Bring the water to a boil in a saucepan, then add apples, cover, and reduce to medium heat, then cook for

15-20 minutes

until apples are soft.

Remove from heat, then mix in sugar and cinnamon and mash with a fork or potato masher.

Allow to cool, then refrigerate for at least an hour for best flavor.
Nutrition
Calories:
115
kcal
|
Carbohydrates:
30
g
|
Protein:
1
g
|
Fat:
1
g
|
Saturated Fat:
1
g
|
Polyunsaturated Fat:
1
g
|
Monounsaturated Fat:
1
g
|
Sodium:
3
mg
|
Potassium:
157
mg
|
Fiber:
4
g
|
Sugar:
25
g
|
Vitamin A:
79
IU
|
Vitamin C:
7
mg
|
Calcium:
12
mg
|
Iron:
1
mg