Easy Overnight Oats is a simple make-ahead breakfast for busy mornings. With protein-packed ingredients like old fashioned oats, milk and Greek Yogurt.
If you love the healthy ingredients and wonderful flavors of Baked Oatmeal, but don't always have time to sit down for breakfast, then Overnight Oats is the Breakfast Recipe for you. Just grab a mason jar on your way out the door and enjoy a creamy and delicious breakfast on-the-go!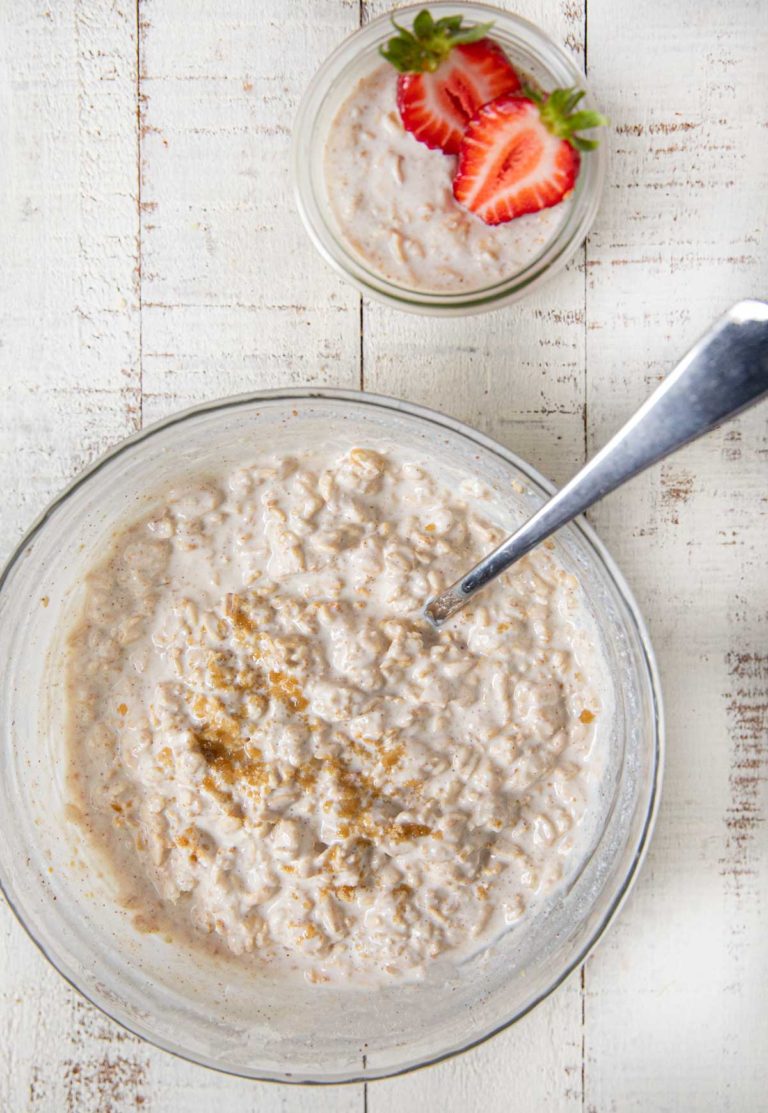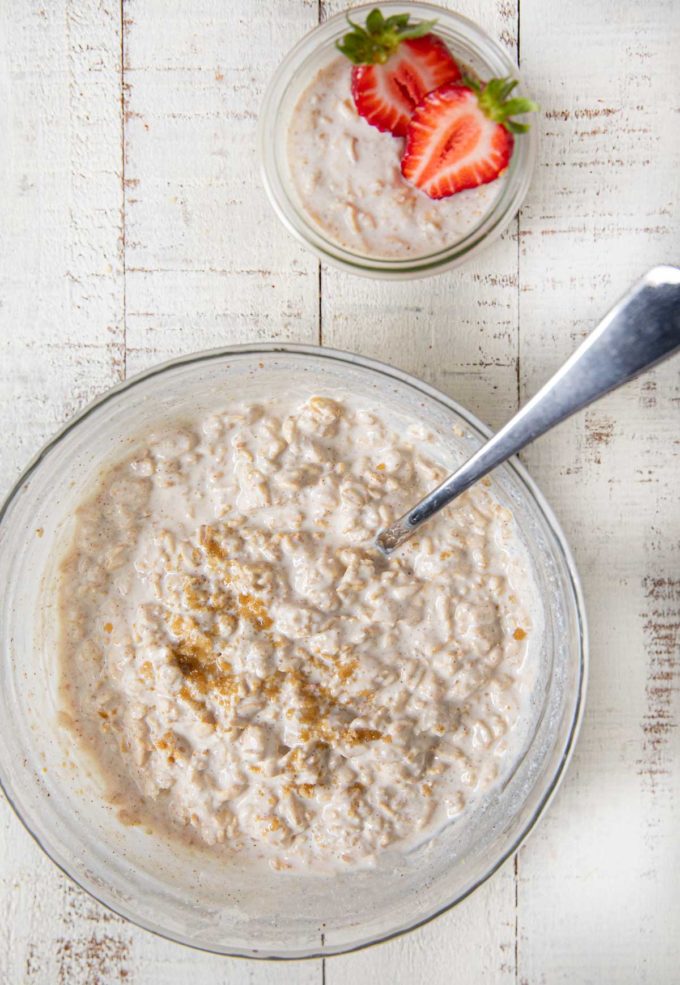 EASY OVERNIGHT OATS
No-cook Overnight Oats could not be easier to make! Preparing Overnight Oats is a simple matter of mixing the Greek Yogurt, milk, rolled oats, brown sugar cinnamon and salt. Once the ingredients are combined, simply divide them into mason jars, or another serving sized container and store them in the fridge overnight. While in the fridge the rolled oats will absorb the liquid giving it a pudding-like texture.
Easy Overnight Oats make the perfect go-to breakfast for rushed mornings, a pre-workout meal, or mid-morning snack to satisfy your sweet tooth. They're also great for kids to bring to school. Just keep the overnight oats in the fridge and any morning your kids are running late they'll have an easy grab-and-go breakfast, that's so much healthier than cold cereal!
You can also experiment with overnight oats by adding new ingredients, and toppings. For example, you can easily swap the milk for almond milk or any other plant-based substitute. For flavor additions top your Overnight Oatmeal with fresh fruit, peanut butter, or even chocolate chips. Or add vanilla extract to the Overnight Oats recipe. If you end up making this Overnight Oats recipe often, keep trying new mix-ins to keep it exciting.
OVERNIGHT OATS HEALTH BENEFITS
Along with how convenient and tasty this no-bake oats recipe is, it's also so healthy. This great recipe is gluten-free, low-sugar, and low k-cal. Overnight is full of healthy ingredients like rolled oats, and Greek Yogurt.
Rolled oats are high in fiber including beta-glucan, which is a particularly powerful form of fiber. They are also heart healthy, rich in antioxidants, and very filling. Because they are so filling oats keep you full longer, with less calories, so Overnight Oats can help with weight loss.
Keep in mind that, this Overnight Oats recipe is made for using rolled oats, not steel cut or quick oats. You can use steel-cut oats instead of rolled oats, but you'll have to reduce the liquid, since steel cut oats don't absorb as much. Quick cooking oats simply won't work for Overnight Oats.
CHIA SEEDS
You can also add in 1 tablespoon of chia seeds which are filling and low carb. Practically all the carbs in chia seeds are fiber. Chia seeds are also low-fat and contain omega-3s, which are Anti-Inflammatory, good for the heart, and improve sleep.
Finally, the Greek Yogurt in this Overnight Oatmeal, not only makes it extra rich and creamy, but also comes with many health benefits. Just like rolled oats and chia seeds, unsweetened Greek Yogurt has a lot of protein. it also brings probiotics and a healthy dose of calcium to your Overnight Oatmeal.
MORE OATMEAL RECIPES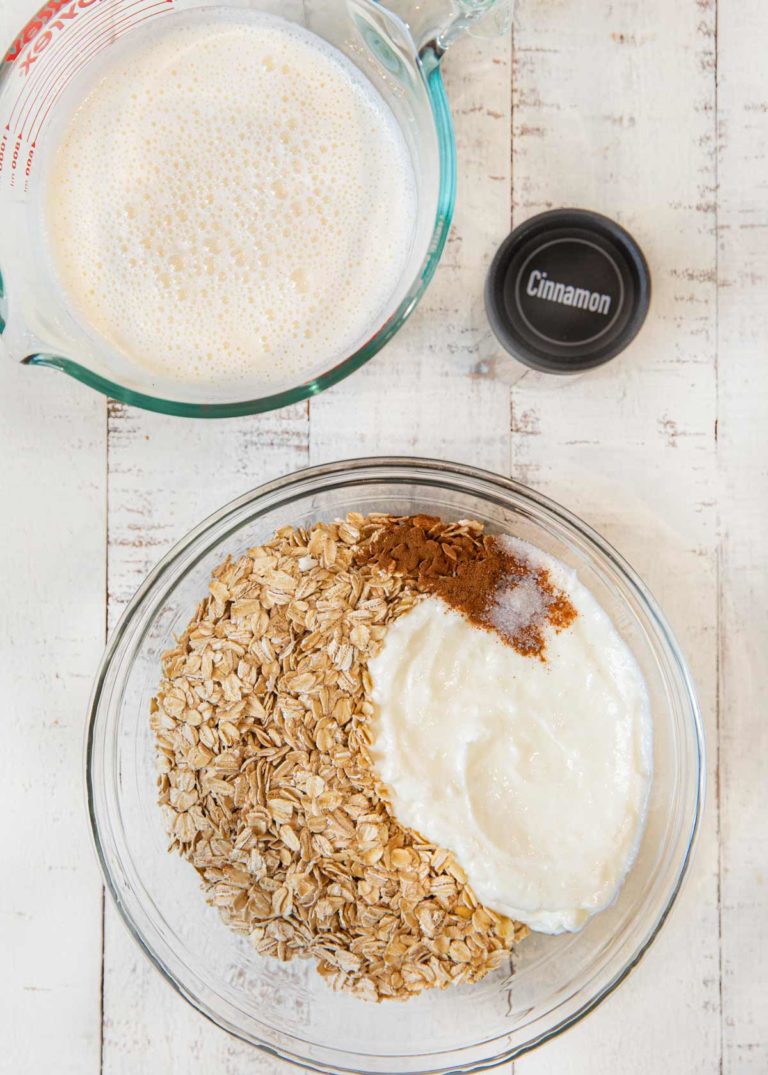 Create a free account to

Save Recipes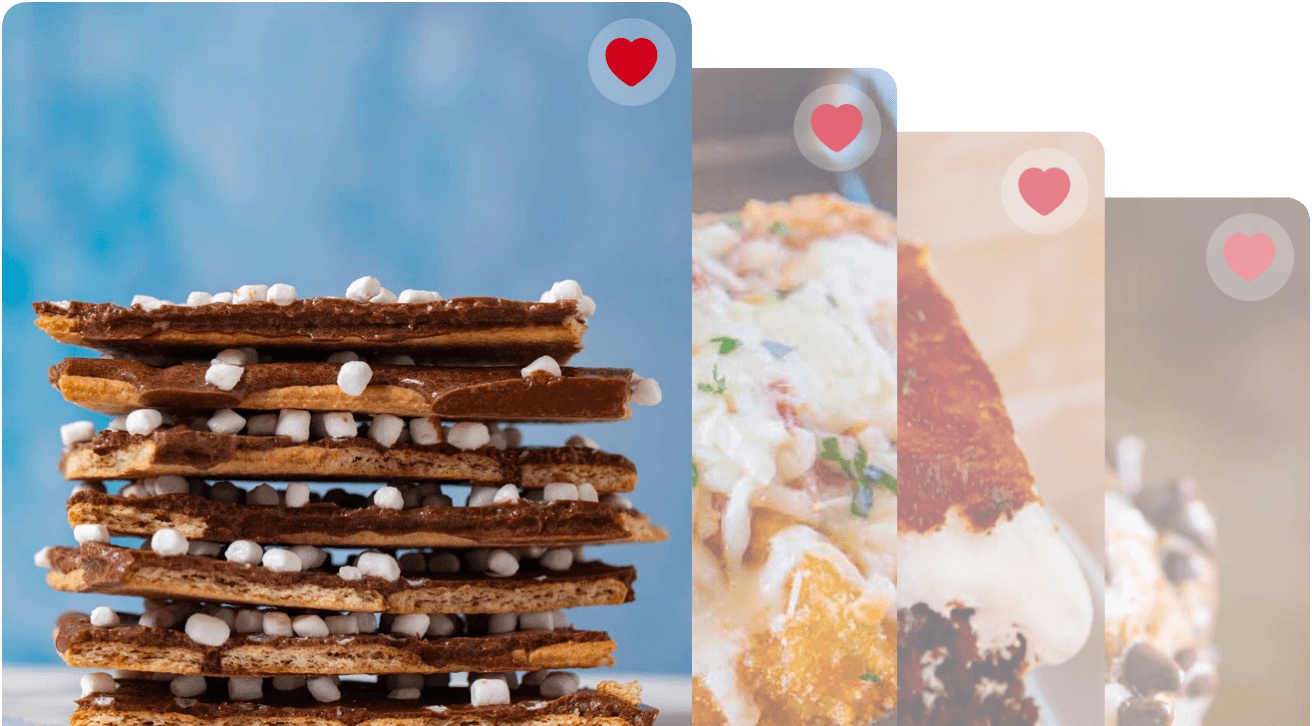 VARIATIONS ON EASY OVERNIGHT OATS
Add-ins: There are so many mix-ins you can try the next time you make Overnight Oats. Try adding a little bit of peanut butter, almond butter or any other nut butter to your oatmeal recipe. You can mix peanut butter, or almond butter in before you store the overnight oats, or add them on top before you enjoy this healthy breakfast. Bring in rich flavor with maple syrup, vanilla extract, or cinnamon. You can also top your mason jar of overnight oats with fresh fruit and granola.
Maple syrup: Rather than using maple syrup as a topping for Overnight Oatmeal, you can use it as alternative sweetener. Replace the brown sugar in the recipe and mix in maple syrup. Maple syrup is a more healthy sweetener because it's high in antioxidants and has few calories. You can exchange maple syrup for the brown sugar sweetener with a 1 to 1 exchange. It will add more liquid to the Overnight Oats recipe, so you'll have to give the oats more time to absorb the liquid.
Almond milk: Simply exchange the milk in this oatmeal with almond milk. Using almond milk is an easy way to cut back on calories in your oats. Just mix the almond milk in with the oats and other ingredients and leave it to sit overnight like you normally would. If you need the oatmeal dairy-free you can also exchange the Greek Yogurt for a store-bought dairy-free version. And if you don't have almond milk, coconut milk or oat milk work as well.
Steel Cut Oats: If you don't have rolled oats, or simple prefer steel cut oats you can use them instead. However, steel cut oats don't absorb liquid as quickly as rolled oats do. Because of this, you'll either need to reduce the liquid in the Overnight Oatmeal recipe, or let the oatmeal sit in the fridge for longer. That way the oats will have more time to get to the right consistency.
MORE HEALTHY BREAKFAST RECIPES
HOW TO STORE EASY OVERNIGHT OATS
Serve: Leave Overnight Oats in the fridge overnight, or for a full 8 hours before serving. The longer you leave the oatmeal in the fridge the more of the milk it will absorb, making softer, creamier Overnight Oats.
Store: Overnight Oats can stay good in the fridge for up to 5 days. These oats are a great recipe for meal-prep. If you prepare the Overnight Oats on Sunday night, you'll have a ready-made oatmeal breakfast for the whole week. Store the oats in a mason jar, or other serving sized, airtight containers.
Freeze: To make Overnight Oats last longer freeze them for up to 2 months. To eat the frozen Overnight Oats let it defrost in the fridge overnight. In the morning, you'll have Overnight Oats just as delicious as if you made them the night before. Top the pre-made Overnight Oats recipe with chocolate chips, nut butter, or granola and enjoy your oats on the go.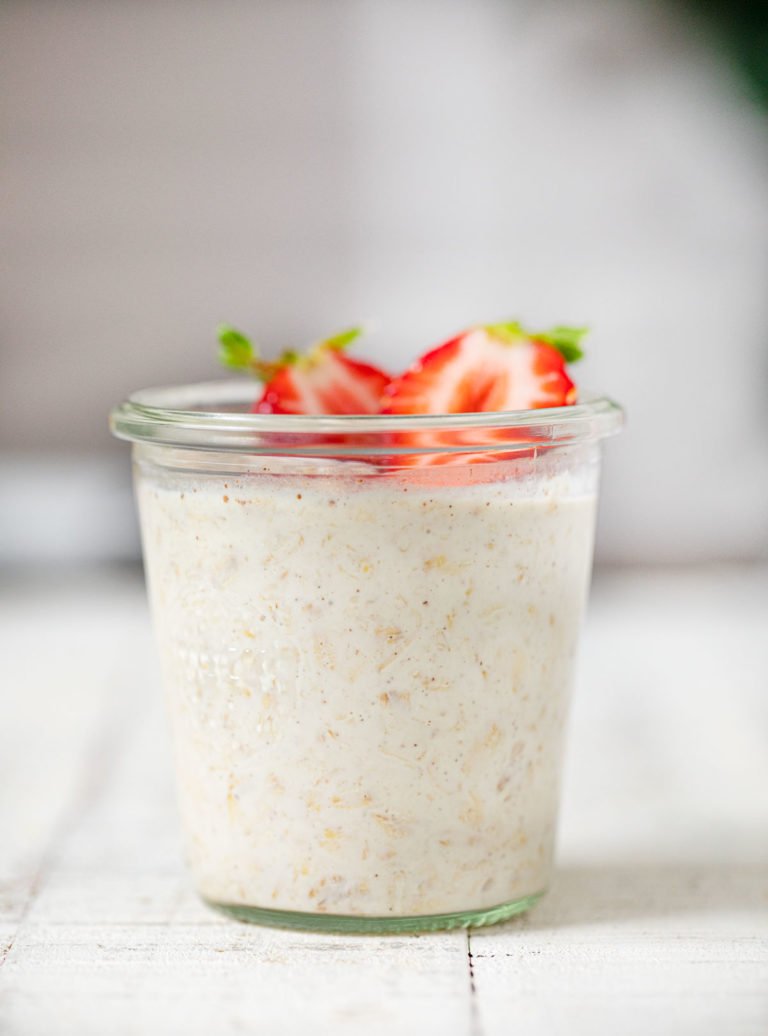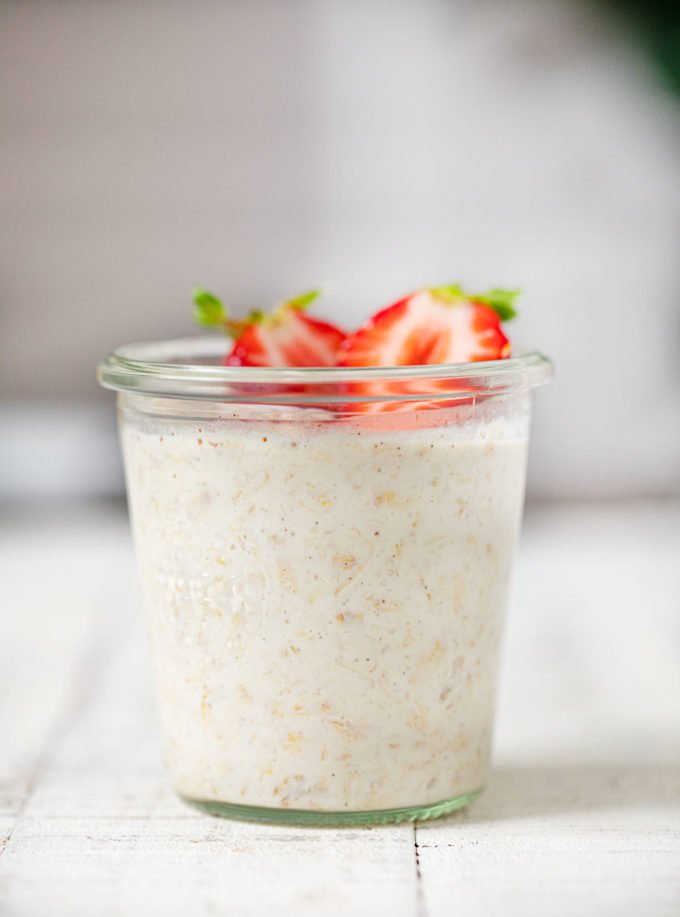 Ingredients
2

cups

rolled oats

, (not instant)

2

cups

2% milk

1

cup

2% Greek yogurt

2

tablespoons

brown sugar

1/2

teaspoon

ground cinnamon

1/4

teaspoon

kosher salt
Instructions
Mix all the ingredients together in a large bowl.

Place into individual jars or in a large covered container and refrigerate for

8 hours

or overnight before serving.
Nutrition
Calories:
279
kcal
|
Carbohydrates:
41
g
|
Protein:
15
g
|
Fat:
6
g
|
Saturated Fat:
3
g
|
Cholesterol:
13
mg
|
Sodium:
228
mg
|
Potassium:
312
mg
|
Fiber:
4
g
|
Sugar:
14
g
|
Vitamin A:
153
IU
|
Vitamin C:
1
mg
|
Calcium:
234
mg
|
Iron:
2
mg