Healthy Mashed Sweet Potatoes are the perfect light and fluffy holiday side made with 6 simple ingredients in 30 minutes!
This holiday season, swap out your traditional heavy dishes for equally delicious healthy versions like this Sweet Potato Mash instead of traditional mashed potatoes. For even more Healthy Side Dishes try out Brussels Sprouts Gratin and Whole Wheat Sausage Stuffing to fill out your holiday table this Thanksgiving.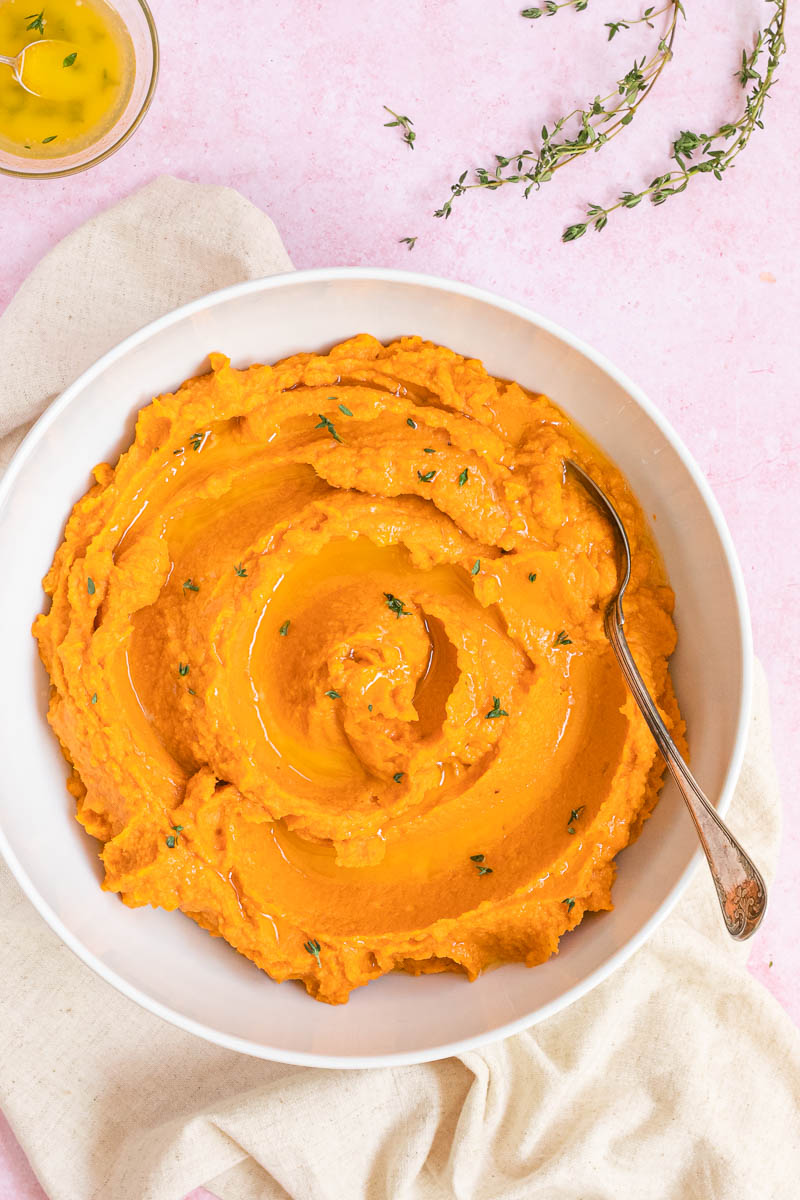 HEALTHY MASHED SWEET POTATOES
This Sweet Potato Dish is the perfect alternative to classic mashed potatoes. The sweet potatoes bring a nutty, naturally sweet flavor that's finished off with a delicious buttery fresh thyme mixture. If you're looking for more mashed potato alternatives for your holiday meal be sure to check out this Mashed Cauliflower Recipe too.
Perfect for a festive holiday dinner, but easy enough to make for weeknight dinners. You only need a handful of ingredients to make this recipe and it's ready in practically no time at all! Healthy Mashed Sweet Potatoes are the perfect hassle-free dish to add to any dinner. The leftovers are also easy to store, so you can enjoy them throughout the week.
HEALTH BENEFITS OF THE SWEET POTATO
This sweet potato recipe is an excellent alternative to any mashed potatoes you could make with white potatoes because each sweet potato packs a surprising amount of nutrients and vitamins!
They're a great source of vitamin A, vitamin C, and potassium.
Sweet potatoes are also rich in beta-carotene. This antioxidant gives them their bright orange color, and it helps boost your immune system and protect your eyesight. There's even more beta-carotene in the potato skins, so if you want an extra dose you can skip the peeling and just scrub the potatoes.
The fiber also promotes gut health and reduces your risk of diabetes.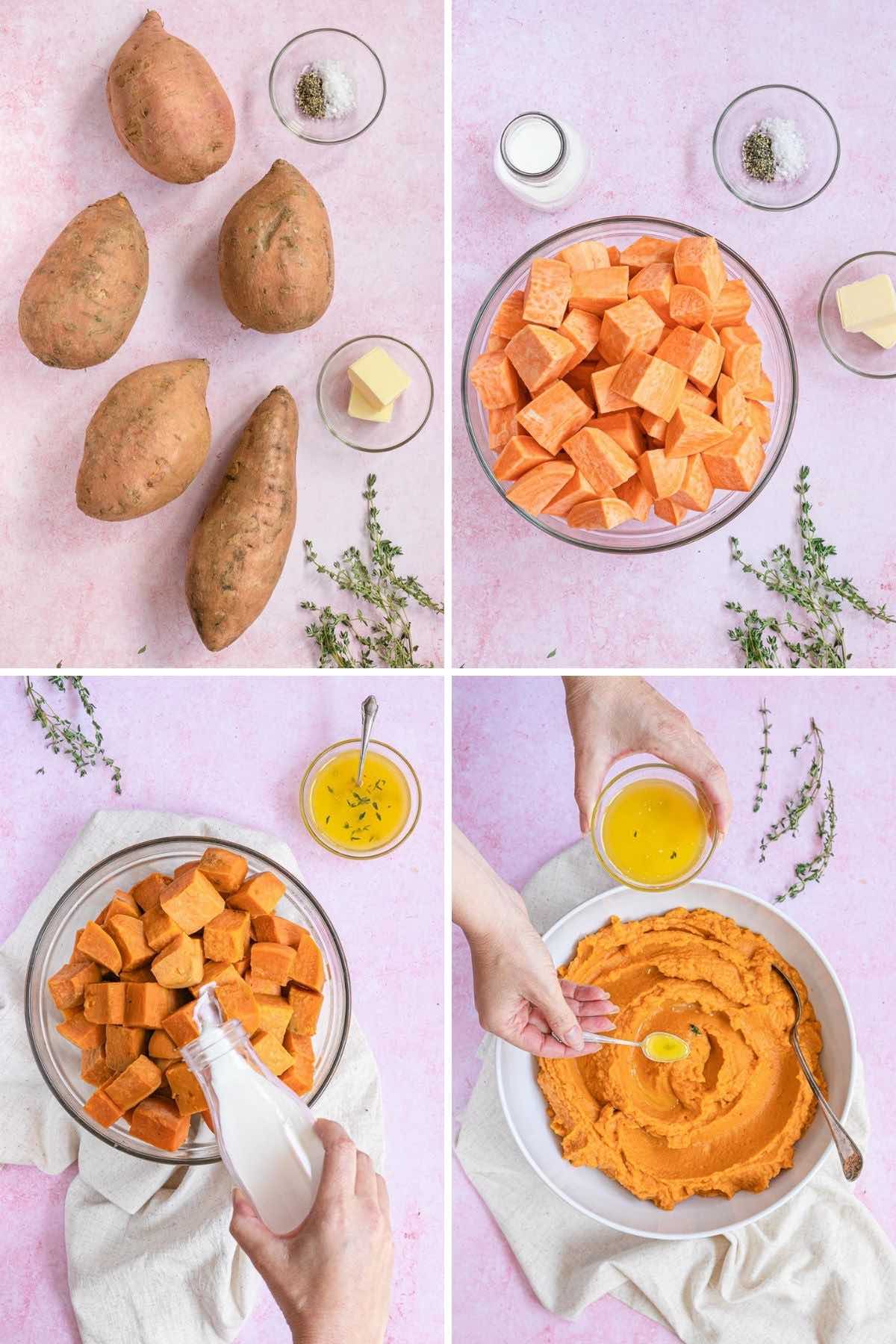 MORE SIDE DISH RECIPES
TIPS FOR MAKING MASHED SWEET POTATOES
Potatoes: To start, peel the potato skin and chop them into 2″ inch cubes. Then put the chunks in a steamer basket over a large pot with about 2″ of water beneath. Set the stove to medium-high heat, then it will take about a 20 minute cook time to get the right tender texture.
Butter topping: In a separate pan over medium heat melt the butter and add in the thyme. Stir them together, then turn off the heat and let the mixture sit.
Mash: Remove the cooked potatoes from the pot and drain the water. Add the potatoes back in and season with salt and black pepper. Add the milk and use a potato masher to mash. If you want a smoother texture you can use an immersion blender or put the mixture in your food processor. If it's too thick add in additional milk to reach the right consistency.
Serve: Transfer the mashed potatoes to your serving bowl and top them off with the butter and thyme.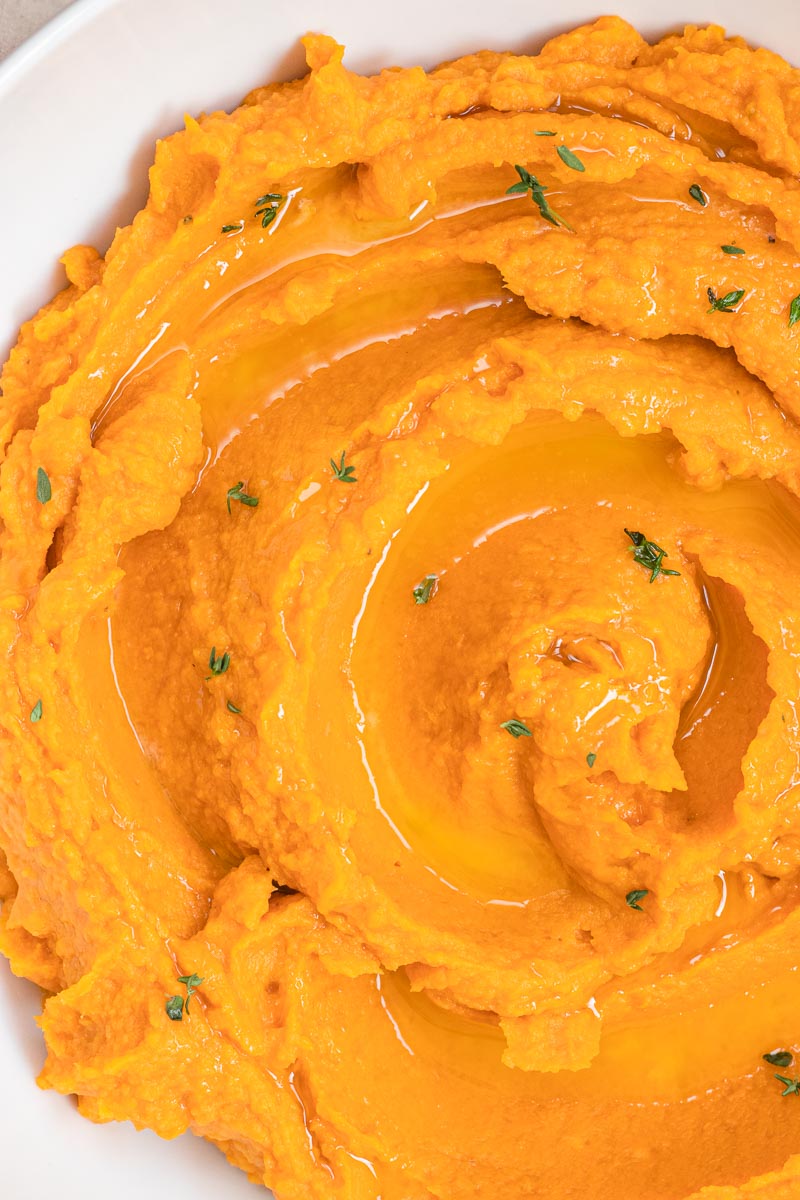 Create a free account to

Save Recipes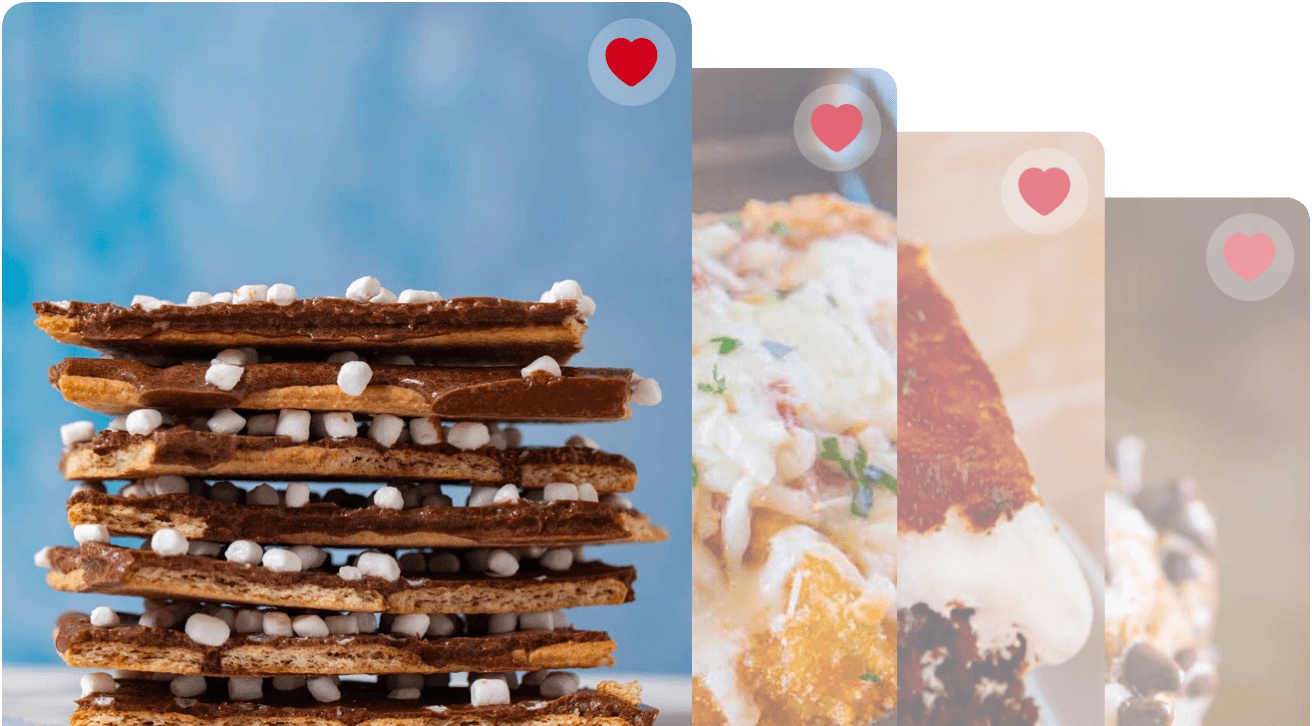 VARIATIONS ON HEALTHY MASHED SWEET POTATOES
Vegan: To make your mashed potatoes vegan, you'll need to exchange the milk and butter for vegan options. You can find vegan butter at most grocery stores. Use the non-dairy milk of your choice. Coconut milk, almond milk, or soy would all work nicely. The coconut milk would add a slight coconut flavor to the recipe, but that could also taste quite nice with the sweet potatoes.
Extra creamy: This recipe is made with a lighter texture than some mashed potatoes. If you prefer a thicker, creamy version, you can exchange the milk for sour cream, greek yogurt, or heavy cream.
Cheese: For a delicious cheesy topping add your choice of shredded cheese to the top of the potatoes before serving. Cheddar cheese, goat cheese, parmesan, or shredded Gruyere cheese would all taste great.
Spices: To experiment with the flavor try adding a dash of different spices. For more savory spices, you could try garlic powder, rosemary, paprika, or red pepper flakes. If you want to lean into the sweet, nutty flavors try cinnamon, nutmeg, or ginger.
Sweet Mashed Sweet Potatoes: For some extra sweetness mix in some maple syrup or brown sugar. Use ¼ cup maple syrup or packed brown sugar, and mix it into the pureed potatoes. You can add a dash of cinnamon and nutmeg to go along with the sweetened maple syrup or brown sugar potatoes. This version tastes similar to candied sweet potatoes.
MORE HOLIDAY RECIPES
HOW TO STORE HEALTHY MASHED SWEET POTATOES
Serve: Don't leave leftover potatoes out at room temperature for more than 2 hours.
Store: You can cover the dish in foil or transfer it to an airtight container to store in the fridge for up to 5 days. Make sure to let the leftovers cool completely before you seal them in the fridge. Reheat them in 30-second increments in the microwave before serving.
Freeze: You can also put them in a freezer-safe container to freeze for up to 6 months.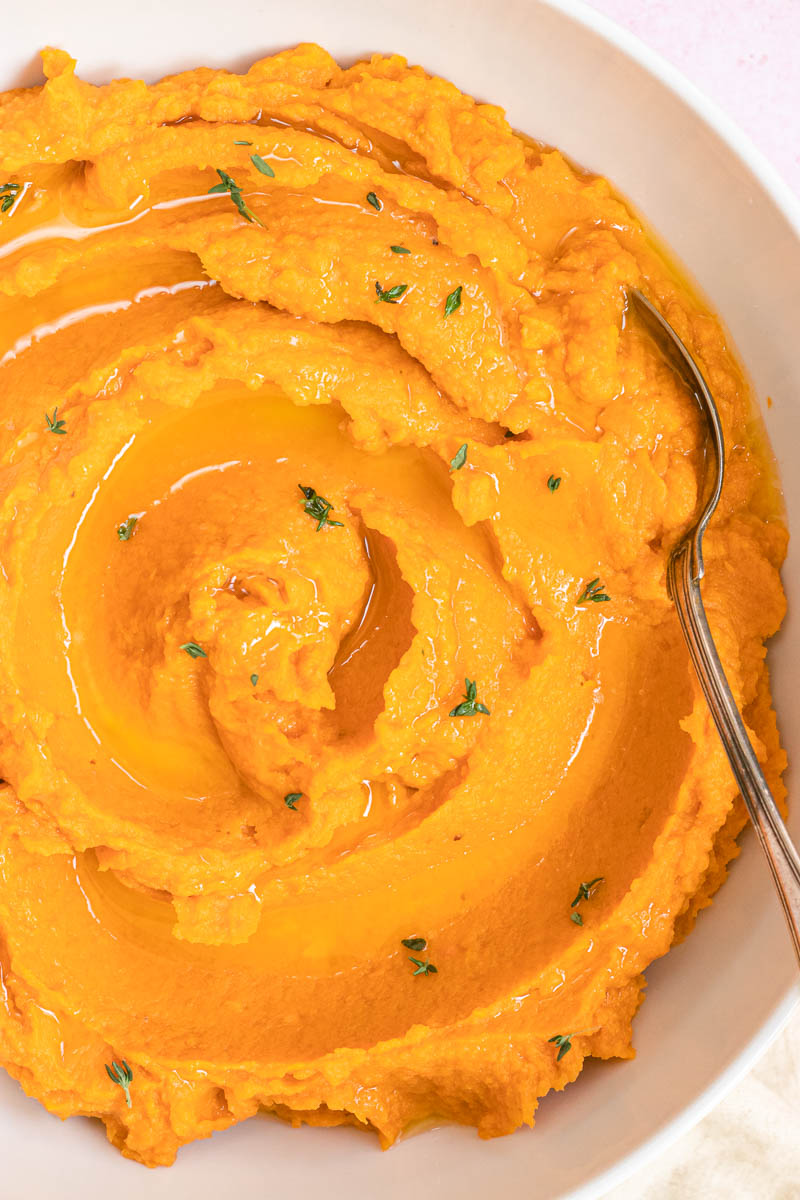 Ingredients
4

pounds

sweet potatoes

, (about 5)

3

tablespoons

unsalted butter

1

tablespoon

fresh thyme

1

teaspoon

kosher salt

1/2

teaspoon

ground white pepper

1/2

cup

2% milk
Instructions
Peel and chop the sweet potatoes into 2-inch cubes.

Add the sweet potatoes to a large pot in a steamer basket over 2 inches of water.

Cook for

20 minutes

until sweet potatoes are tender.

In a small saucepan melt the butter and thyme on medium heat until just melted, then turn it off and let it sit.

Remove the sweet potatoes from the pot and drain the water.

Add the sweet potatoes, salt, pepper, and milk together.

Mash well with a potato masher or use an immersion blender to mash well.

Spoon sweet potatoes into a large serving bowl.

Pour the melted butter and thyme over the potatoes and serve.
Nutrition
Calories:
193
kcal
|
Carbohydrates:
37
g
|
Protein:
3
g
|
Fat:
4
g
|
Saturated Fat:
2
g
|
Polyunsaturated Fat:
1
g
|
Monounsaturated Fat:
1
g
|
Trans Fat:
1
g
|
Cholesterol:
10
mg
|
Sodium:
338
mg
|
Potassium:
633
mg
|
Fiber:
6
g
|
Sugar:
8
g
|
Vitamin A:
25891
IU
|
Vitamin C:
6
mg
|
Calcium:
73
mg
|
Iron:
1
mg