Chickpea Coconut Curry is a delicious vegetarian dinner that's full of flavor. With garlic, cumin, turmeric, ginger, garam masala, coconut milk, and chickpeas.
Just like Indian Chicken Curry, this wonderful Dinner Recipe is easy to make and filled with wonderful spices.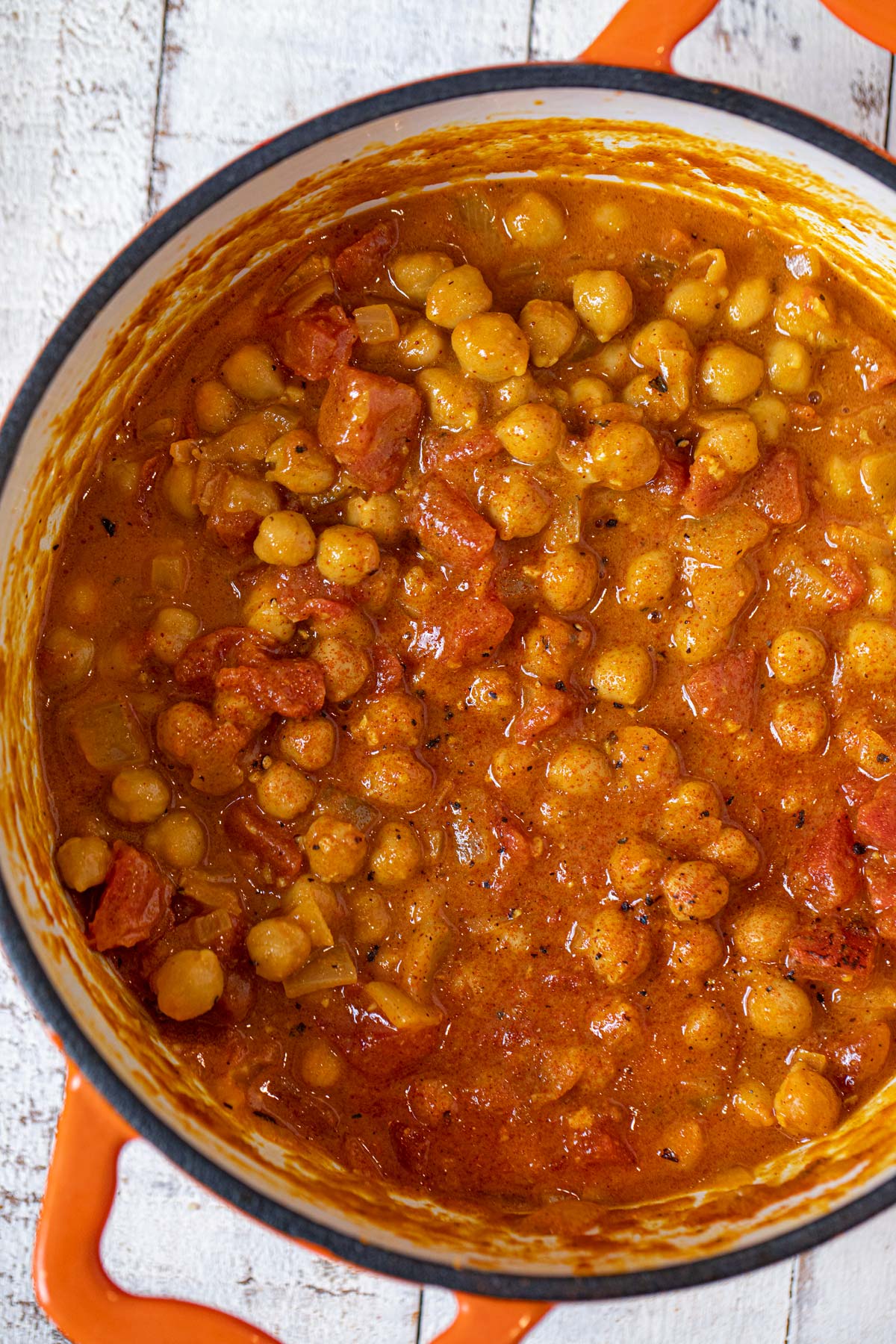 This meat-free yellow curry is an unbelievably easy dinner. It's a perfect go-to for weeknight meals, and the total time to make it is under a half hour. Serve this Chickpea Curry over basmati rice, Cauliflower Rice, or Baked Wild Rice. Basmati rice is traditional, but to make it Keto-friendly serve it with cauliflower. And curry always tastes best with naan on the side. Naan is a leavened flat bread that you can get at the store or make your own homemade version.
Vegetarian Chickpea Curry has such a wonderful taste that even vegans should give it a try (use coconut oil as a butter replacement). With the delicious spicy-sweet flavors of coconut, crushed tomatoes, ginger, and turmeric you'll never miss the meat.
HEALTH BENEFITS
Along with being an easy curry, you can also enjoy this Coconut Curry on a gluten-free or Keto diet. Here are some of the many health benefits to the ingredients in Coconut Chickpea Curry
Chickpeas or garbanzo beans are full of plant-based protein and vitamins. Garbanzo beans are also good for digestion and weight loss. This is because they are filling, but low in calories.
The coconut milk in this recipe also has excellent health benefits. Although full-fat coconut milk is high in fat content, it is a kind of fat that is easier for you body to metabolize. Fat coconut milk also contains triglycerides, which have been linked to weight loss. Coconut milk and other coconut ingredients such as coconut oil and coconut sugar are also linked to heart health.
MORE CURRY RECIPES

Create a free account to

Save Recipes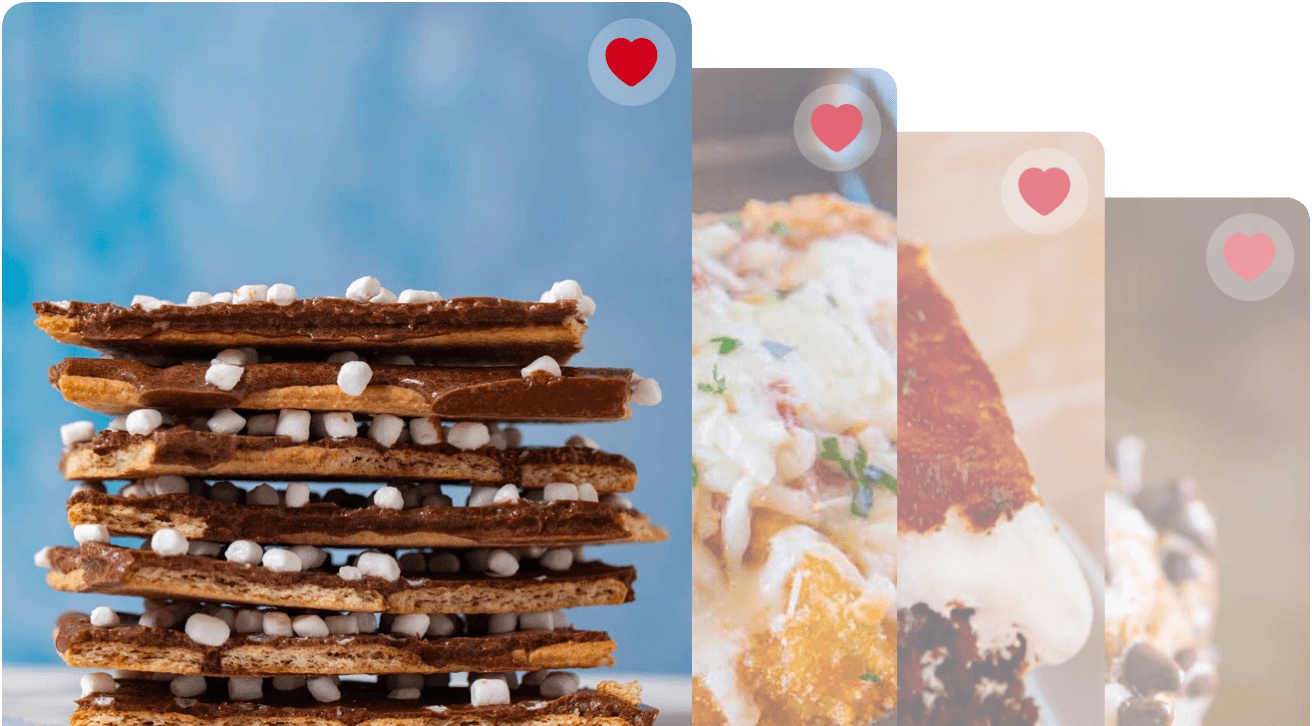 VARIATIONS ON CHICKPEA COCONUT CURRY
Green Curry: To make a green curry you'll first need to make a green curry sauce. Use ½ yellow onion (diced), 2 cloves garlic (minced), 1 tablespoon minced ginger, 1 small jalapeno (deseeded and minced), 3 tablespoons Thai green curry paste, 2 tablespoons lime juice, 2 teaspoons sugar, 1 cup whole-fat coconut milk, ⅓ cup loosely packed cilantro. Prepare the onions and garlic first, then add the spices, then the coconut milk and chickpeas just like the directions of the chickpea curry.
Red Curry: To change this Chickpea Curry to a red curry, you'll want a spicier dish. So, you'll need to add 1-2 dried red chiles, 3 tablespoons red curry paste, and 1 teaspoon curry powder to the Chickpea Curry and serve with cilantro over the top. For an extra spicy Red Chickpea Curry add red pepper flakes along with the curry powder.
Sweet Potato Curry: Instead of this Chickpea Curry recipe, you can make a curry with sweet potatoes. Peel and cube 2 sweet potatoes to use in this curry recipe instead of chickpeas. Once you sauté the onion and garlic add the sweet potatoes, then add spices coconut milk and stir it all together. Garnish with fresh cilantro.
Add-ins: There are so many extra ingredients you can add the next time you make Coconut Chickpea Curry. For example add some diced bell pepper, or cauliflower along with the tomatoes. You can also add extra flavoring from curry powder, coriander, soy sauce, or even maple syrup for some sweetness.
MORE HEALTHY RECIPES WITH CHICKPEAS
HOW TO MAKE CHICKPEA CURRY IN AN INSTANT POT
Here's an easy step-by-step guide to making making Coconut Curry in an instant pot.
Turn your instant pot to sauté, and add the butter to melt it.
Sauté the onions and garlic until translucent.
Turn off sauté function and scrape any browned bits from the bottom.
Add the cumin, turmeric, ginger, garam masala, paprika, salt, pepper, cayenne and stir well.
Add the tomatoes, garbanzo beans and coconut milk and stir well.
Close and seal the instant pot, and pressure cook for 6 minutes.
Let the pressure release for 10 minutes.
Serve over rice with naan bread, and garnish with lime and cilantro if desired.
HOW TO STORE CHICKPEA COCONUT CURRY
Serve: You shouldn't leave Coconut Curry at room temperature for longer than 2 hours.
Store: Once the curry has cooled to room temperature, store it in an airtight container. It will stay good in the fridge for up to 5 days.
Freeze: You can also keep this curry in the fridge. It will stay good in the freezer for 4 months. And it's a great recipe for meal prep. Divide the curry into serving-sized airtight containers with rice, for an easy prepped meal.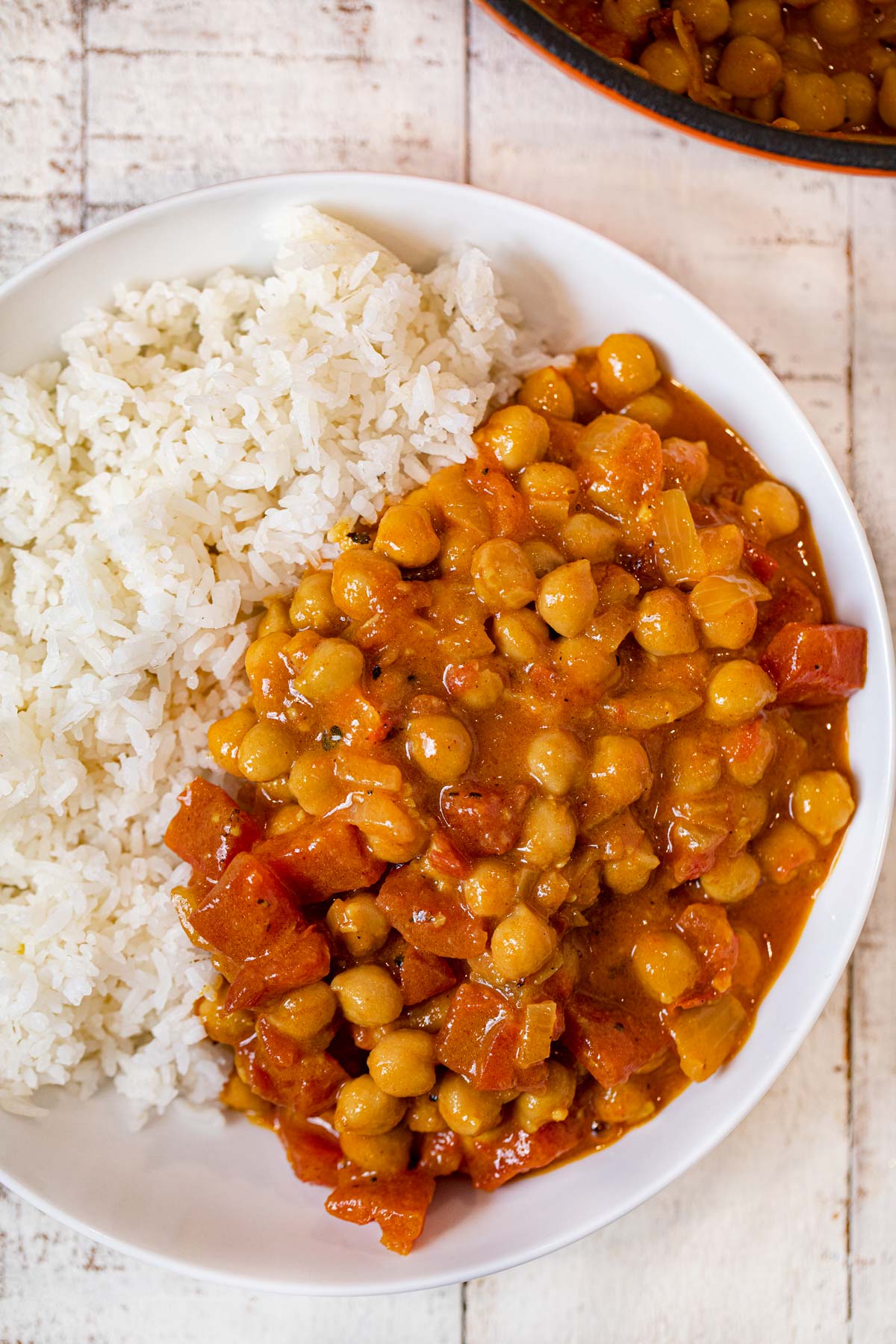 Ingredients
2

tablespoons

unsalted butter

, coconut oil to make vegan

1/2

yellow onion

, diced

3

cloves

garlic

, minced

2

teaspoons

cumin

1

teaspoon

turmeric

1

teaspoon

ground ginger

1

teaspoon

garam masala

1

teaspoon

paprika

1

teaspoon

kosher salt

1/4

teaspoon

coarse ground black pepper

1/4

teaspoon

cayenne pepper

15

ounces

diced tomatoes

30

ounces

garbanzos

, drained and rinsed

1

can

coconut milk

, regular (light ok too)
Instructions
Add butter, onions and garlic to a large pot on medium heat and cook until onions are translucent, about

5-6 minutes

.

Add the cumin, turmeric, ginger, garam masala, paprika, salt, pepper, cayenne and stir well, cooking for

1 minute

.

Add the tomatoes, garbanzo beans and coconut milk and stir well.

Bring to a simmer then reduce the heat to medium low and cook for

15 minutes

until the mixture has thickened.
Nutrition
Calories:
313
kcal
|
Carbohydrates:
34
g
|
Protein:
11
g
|
Fat:
16
g
|
Saturated Fat:
11
g
|
Cholesterol:
8
mg
|
Sodium:
312
mg
|
Potassium:
550
mg
|
Fiber:
9
g
|
Sugar:
7
g
|
Vitamin A:
334
IU
|
Vitamin C:
8
mg
|
Calcium:
85
mg
|
Iron:
6
mg