jump to recipe
Beef and Green Bean Stir Fry
This post may contain affiliate links. Read my disclosure policy here.
Beef and Green Bean Stir Fry made with an easy garlicky stir fry sauce, lean beef and green beans.
Chinese Beef and Green Bean Stir Fry Recipe
Stir Fries are a weekly occurrence in our household. I used just about any vegetable that I have in the fridge or that looks amazing in the store. In this case the green beans looked amazing at the store. Super fresh, not dinged up. And they were on sale! I love making stir fries, they're fresh and easy and can be made in just minutes.
In the case of this stir fry we really have a pantry recipe. Aside from the beef and green beans you can go to the cupboard for most of the rest of the recipe. In fact if you find yourself out of garlic or ginger you can use powdered in a pinch (try to use fresh if possible, the flavors are much bolder and fresher).
What is a good substitute for Mirin?
If you don't have or can't find mirin use white wine and increase the sugar by an additional teaspoon.
One of the most important notes I can give you about stir fries is to make absolutely sure all your ingredients are ready to go before you heat up the pan. Stir fries can go from delicious and done perfectly to sad and overcooked in a hurry.
In addition to that when making beef stir fries (especially with a lean cut of beef as we are using) I highly recommend slicing the beef very thinly and against the grain.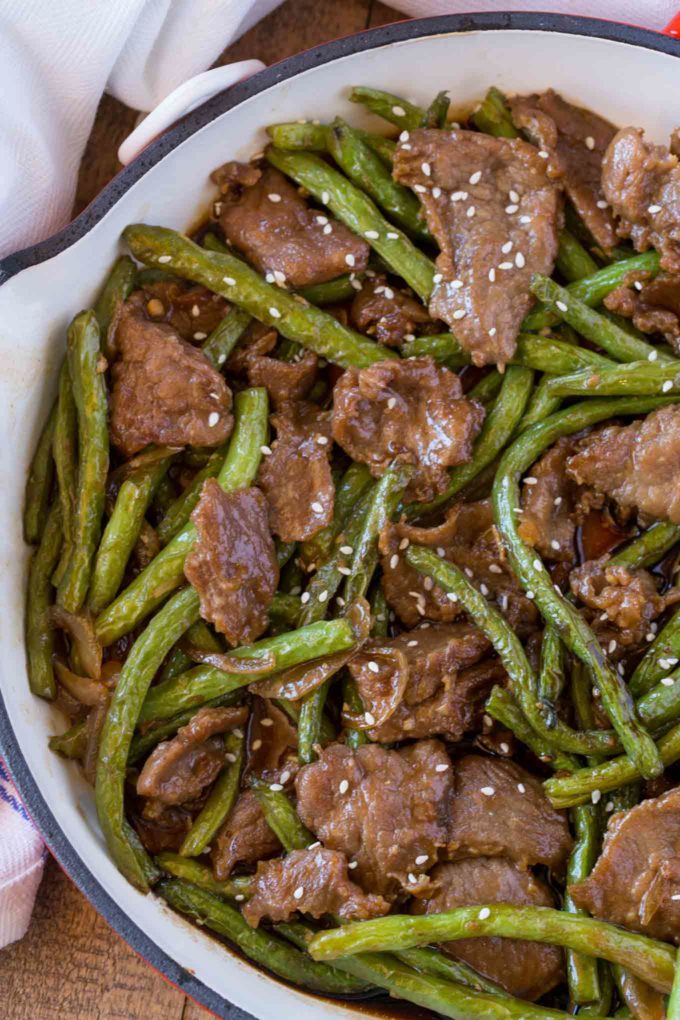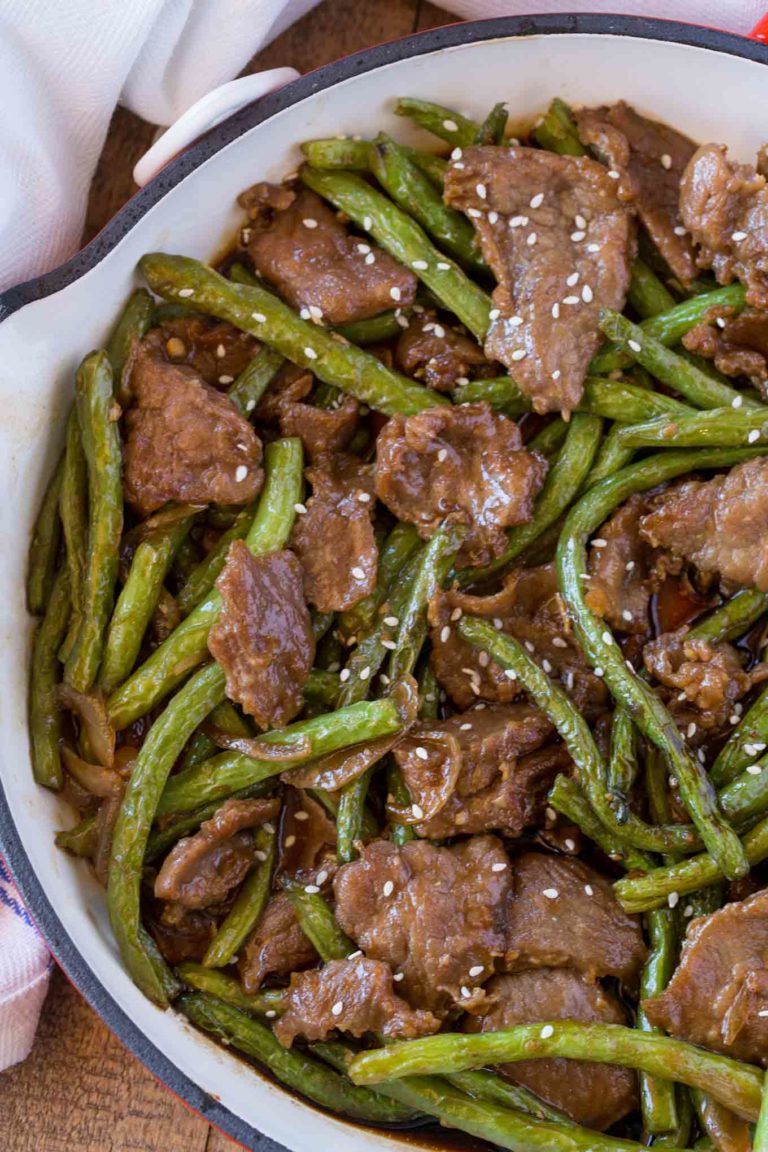 What does cutting against the grain mean?
Cutting against the grain is something I discuss a lot in cooking meats that are sliced thinly (especially lean meats like flank steak or chicken breast). Thing of meat (which is essentially muscle tissue) as a bunch of fibers that are tied together. Basically if you had a bunch of green beans banded together. Instead of chewing on a long piece of a green bean you would slice thin sheets of many green beans. Then when chewing you can see how much easier it is to chew through these smaller pieces instead of one long piece.
Looking for more Chinese Takeout Favorites?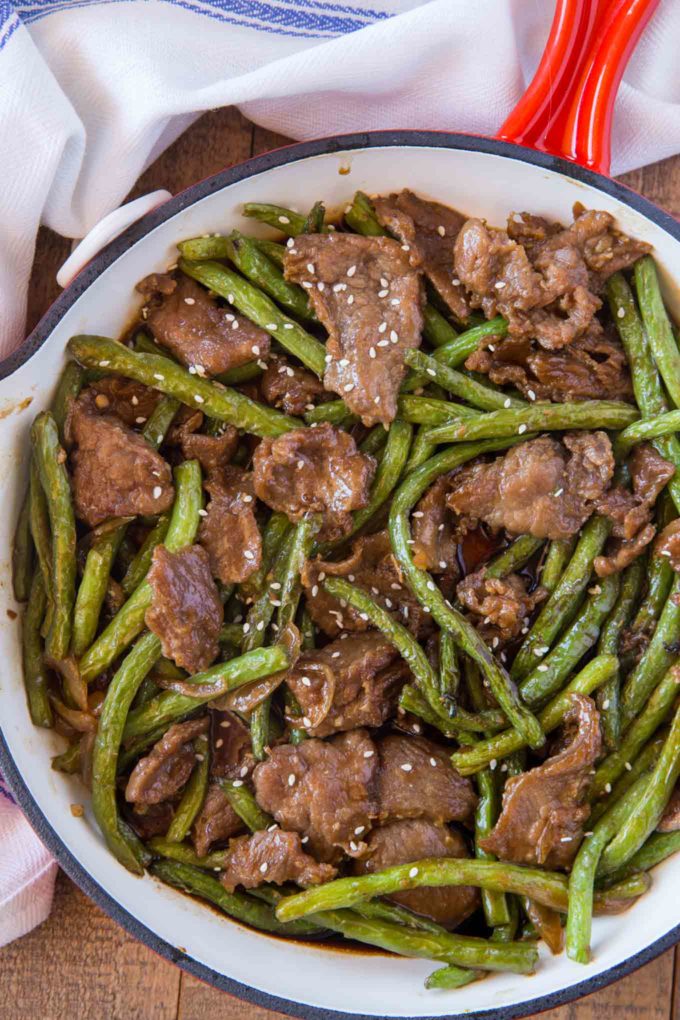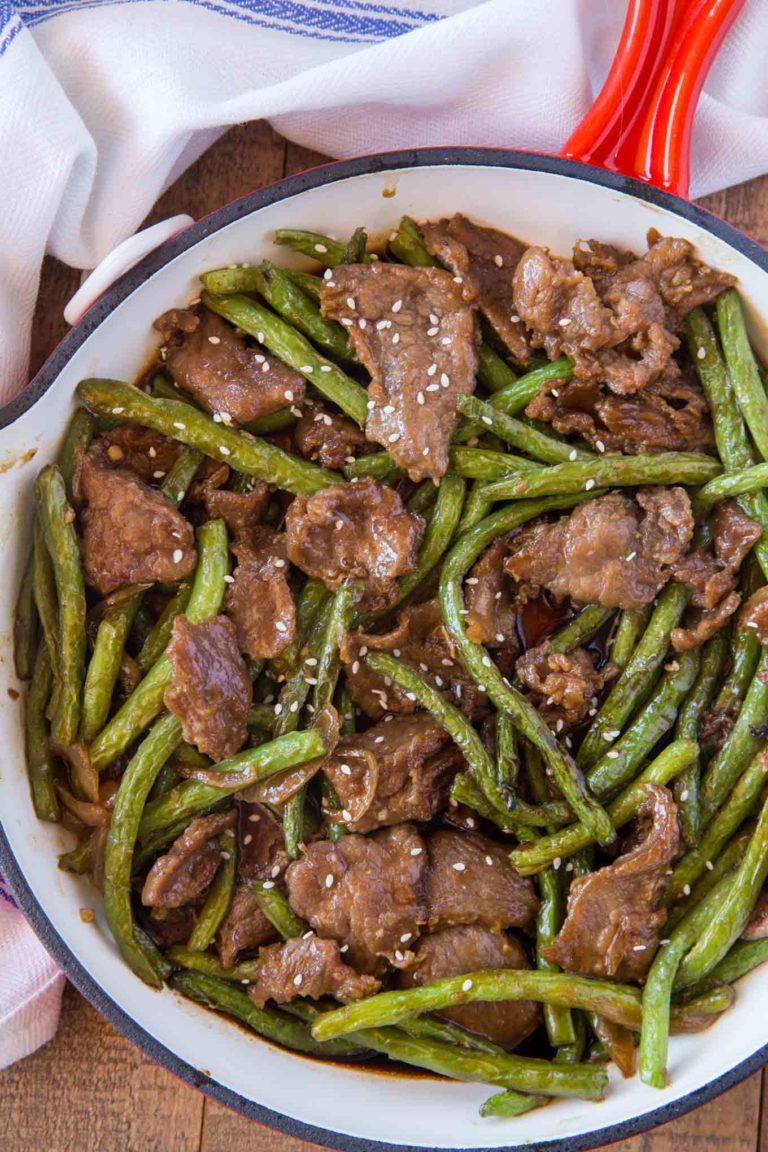 Tools used in this Beef and Green Bean Stir Fry Recipe:
Lite Soy Sauce: This is the only variety I use, I NEVER use regular sodium.
Mirin: This is a sweeter version of a white wine used in a lot of Chinese and Japanese recipes.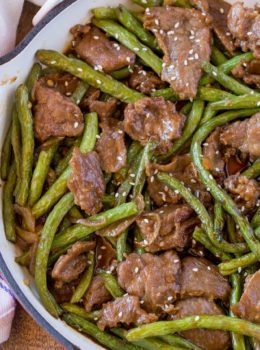 Beef and Green Bean Stir Fry
Beef and Green Bean Stir Fry made with an easy garlicky stir fry sauce, lean beef and green beans.
Ingredients:
1/4 cup low sodium soy sauce
2 tablespoons mirin
1/2 teaspoon cornstarch
1 teaspoon white sugar
1 tablespoons canola oil
3/4 pound flank steak, cut thinly against the grain
1 pound green beans, trimmed
2 teaspoon ginger, minced
2 cloves garlic, minced
1 teaspoon of sesame seeds (optional)
Directions:
In a small bowl or measuring cup mix the soy sauce, mirin, cornstarch and sugar.
Add the canola oil to your skillet on medium high heat.
Cook the beef in batches in the skillet for 1-2 minutes on each side before removing from the pan.
Add in the green beans and cook for 2-3 minutes, stirring occasionally.
Add the garlic and ginger and cook for 30 seconds while stirring.
Add the stir fry sauce into the skillet and cook for 30 seconds, then add the beef back in and toss to coat.
Garnish with sesame seeds if desired.
All images and text ©
Made this recipe?
Show me what you made on Instagram or Facebook and tag me at @Cookingwithpoints or hashtag it at #cookingwithpoints.
Cooking with Points owns the copyright on all images and text and does not allow for its original recipes and pictures to be reproduced anywhere other than at this site unless authorization is given. If you enjoyed the recipe and would like to publish it on your own site, please re-write it in your own words, and link back to my site and recipe page. Read my disclosure and copyright policy. This post may contain affiliate links.