jump to recipe
Skinny Kung Pao Chicken
This post may contain affiliate links. Read my disclosure policy here.
Skinny Kung Pao Chicken made in less than 30 minutes with chicken breast, bell peppers, peanuts and a slightly spicy garlic sauce for just 3 smart points per serving.
Chinese takeout doesn't have to mean blowing through your weekly points. We love this Kung Pao Chicken, Beef and Broccoli and our favorite Skinny Sesame Chicken for takeout fake-out meals!
 Skinny Kung Pao Chicken
Lightened up Kung Pao Chicken is a fantastic dish you can enjoy with such low points you won't believe all that flavor from the sauce and the crunch of the peanuts can be enjoyed for just 3 smart points!
Kung Pao Chicken is one of our favorite take out options as it tends to be lower in points than most Chinese restaurant options.

MY LATEST VIDEOS
Most Chinese chicken options are deep fried, so this stir fry option doesn't take a lot of work to lighten up while keeping the flavors! In fact even at Panda Express the serving of Panda Express is 9 smart points (remember they are including the points for the chicken since it is calculated based on nutritional information for prepared foods).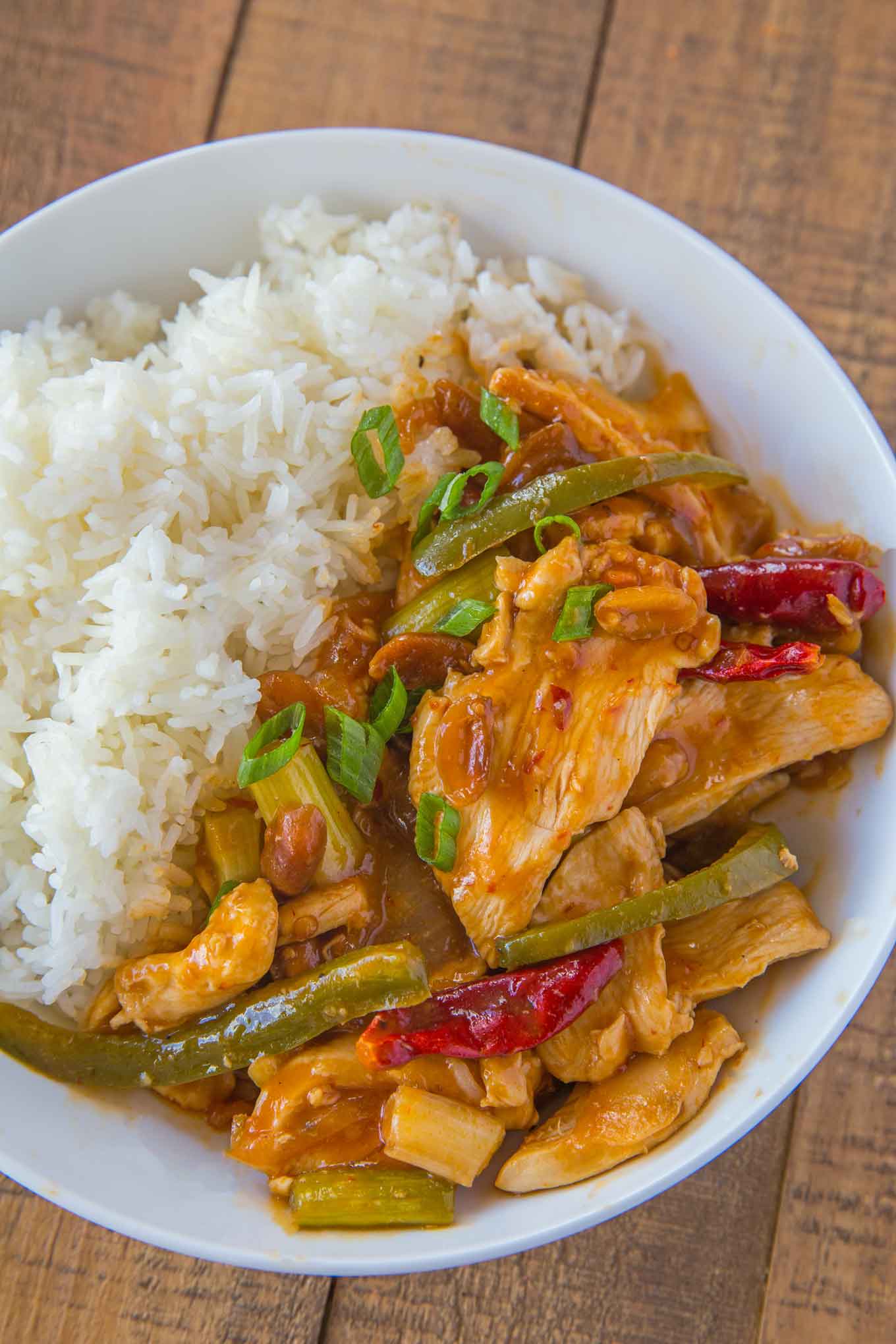 How to make Skinny Kung Pao Chicken:
To conserve oil, the chicken is cooked without being sliced first.
To cut down on the peanuts we split them. Your mouth can't taste the difference between the crunch of half the peanut vs the two halves still stuck together.
We cut back on the brown sugar to just a teaspoon and swapped white meat chicken breasts for the chicken thighs.
More Easy Asian Recipes:
Tools Used in the making of this Skinny Sesame Chicken:
Cast Iron Skillet: This is my most used pan in my kitchen, heavy, keeps heat well and gives the BEST sear ever.
Soy Sauce: Only ever use this brand, always in the lower sodium variety.
Sesame Oil: The flavor of sesame oil in this dish is unmistakeable and not really able to be substituted. Some Asian grocery stores will try and sell less expensive options that aren't actually sesame oil, so just be sure the one you're buying is authentic sesame oil.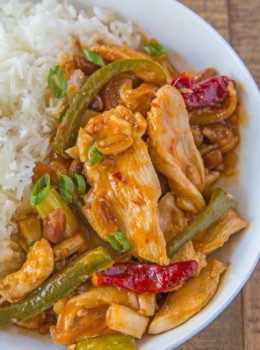 Skinny Kung Pao Chicken
Skinny Kung Pao Chicken made in less than 30 minutes with chicken breast, bell peppers, peanuts and a slightly spicy garlic sauce for just 3 smart points per serving.
Ingredients:
2 teaspoons canola oil
3 chicken breasts, boneless skinless
1 tablespoon sesame oil
2 garlic cloves, minced
1 teaspoon minced ginger
10 dried Chinese chili peppers
1 green bell pepper, thinly sliced
3 stalks green onions, whites only chopped into 1″ chunks
3/4 cup water
3 tablespoons lite soy sauce
1 teaspoons cornstarch
1 teaspoon brown sugar
2 tablespoons dry-roasted peanuts, split into halves
Directions:
Add the canola oil to a heavy skillet on medium-high heat.
Add the chicken and cook 5-7 minutes on each side, or until cooked through.
Remove from the pan and add in the canola oil, garlic, ginger, red chili peppers, green bell peppers and green onions.
Cook for 1 minute, stirring frequently.
Add in the water, soy sauce, cornstarch and brown sugar and let the sauce thicken on medium heat.
Cut the chicken breasts into thin slices and add it into the pan along with the peanuts.
Toss together with the sauce and serve.
Nutrition Information
Yield: 4 servings, Serving Size: 1/4th recipe
Amount Per Serving:
Calories: 344 Calories
Total Fat: 13.3g
Saturated Fat: 2.2g
Cholesterol: 149mg
Sodium: 849mg
Carbohydrates: 5.1g
Fiber: 0.9g
Sugar: 2.1g
Protein: 48.9g
All images and text ©
Made this recipe?
Show me what you made on Instagram or Facebook and tag me at @Cookingwithpoints or hashtag it at #cookingwithpoints.
Cooking with Points owns the copyright on all images and text and does not allow for its original recipes and pictures to be reproduced anywhere other than at this site unless authorization is given. If you enjoyed the recipe and would like to publish it on your own site, please re-write it in your own words, and link back to my site and recipe page. Read my disclosure and copyright policy. This post may contain affiliate links.