Healthy Tuna Casserole is a classic comfort food lightened up. A go-to weeknight meal with whole wheat pasta, onions, mushrooms, and a low-fat creamy sauce.
This is the perfect Healthy Dinner your whole family will love. If you've tried Healthy Green Bean Casserole, this is another old-fashioned, creamy casserole made healthier.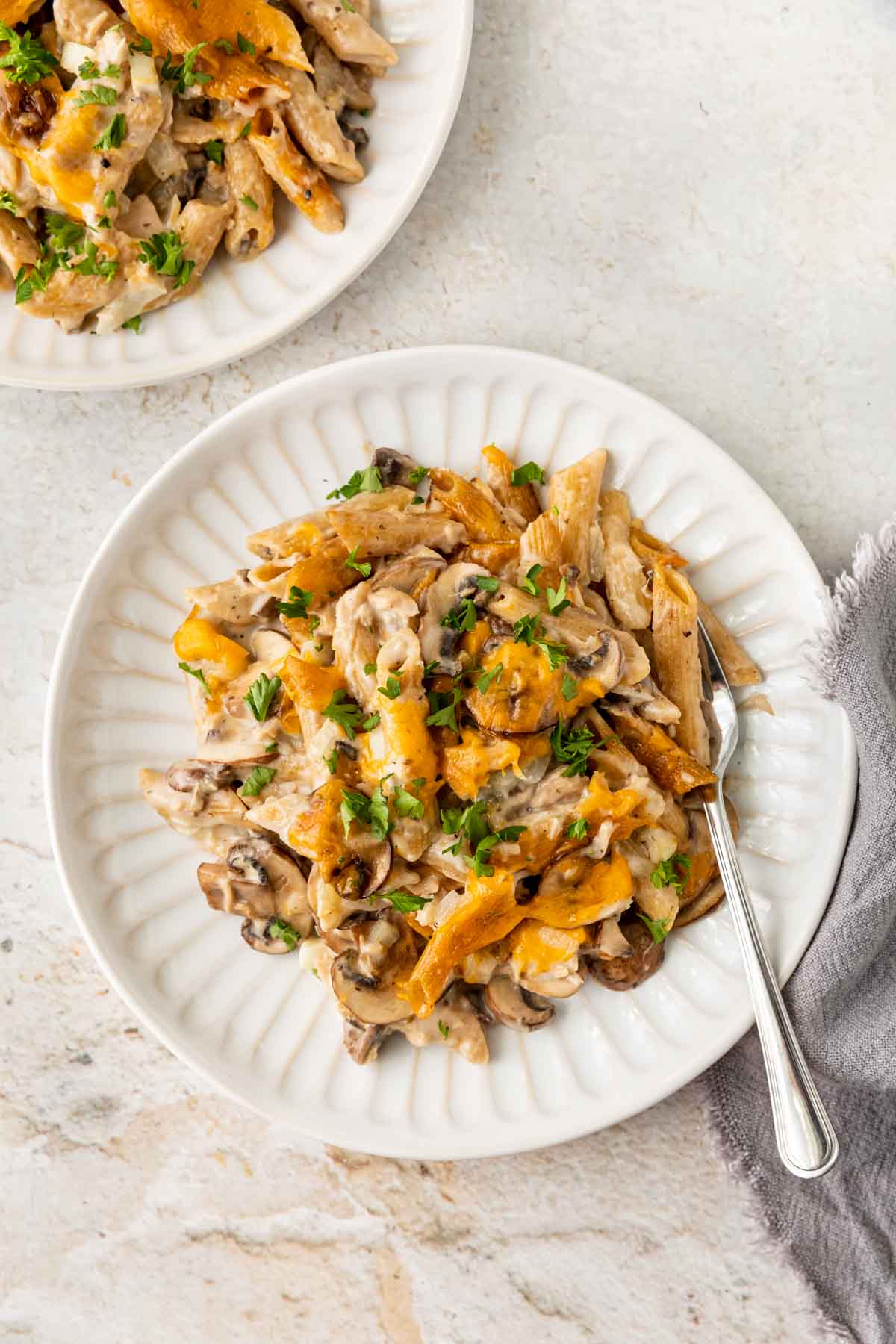 HEALTHY TUNA CASSEROLE
Tuna Noodle Casserole is such an easy dinner to throw together on rushed weeknights. All you need is some cream of mushroom soup, noodles, water-packed canned tuna, and a couple other simple ingredients. It's delicious, easy, healthy, and completely kid-approved.
Just like Chicken and Mushroom Cream Pasta or Skinny Chicken Alfredo Pasta, this casserole takes a classic comfort food and makes it something you can enjoy while eating healthy. If you weren't the one putting together the lighter ingredients, you'd never guess this Tuna Noodle Casserole is a healthy alternative. It's just as creamy and indulgent tasting as a classic Tuna Casserole.
Casseroles like this are also an easy way to sneak extra healthy ingredients into your families diet. You can easily add some frozen peas, diced carrots, or other veggies with the onions. They'll add some texture, color and nutrients without changing the overall taste of the casserole. So, even picky eaters can enjoy their veggies.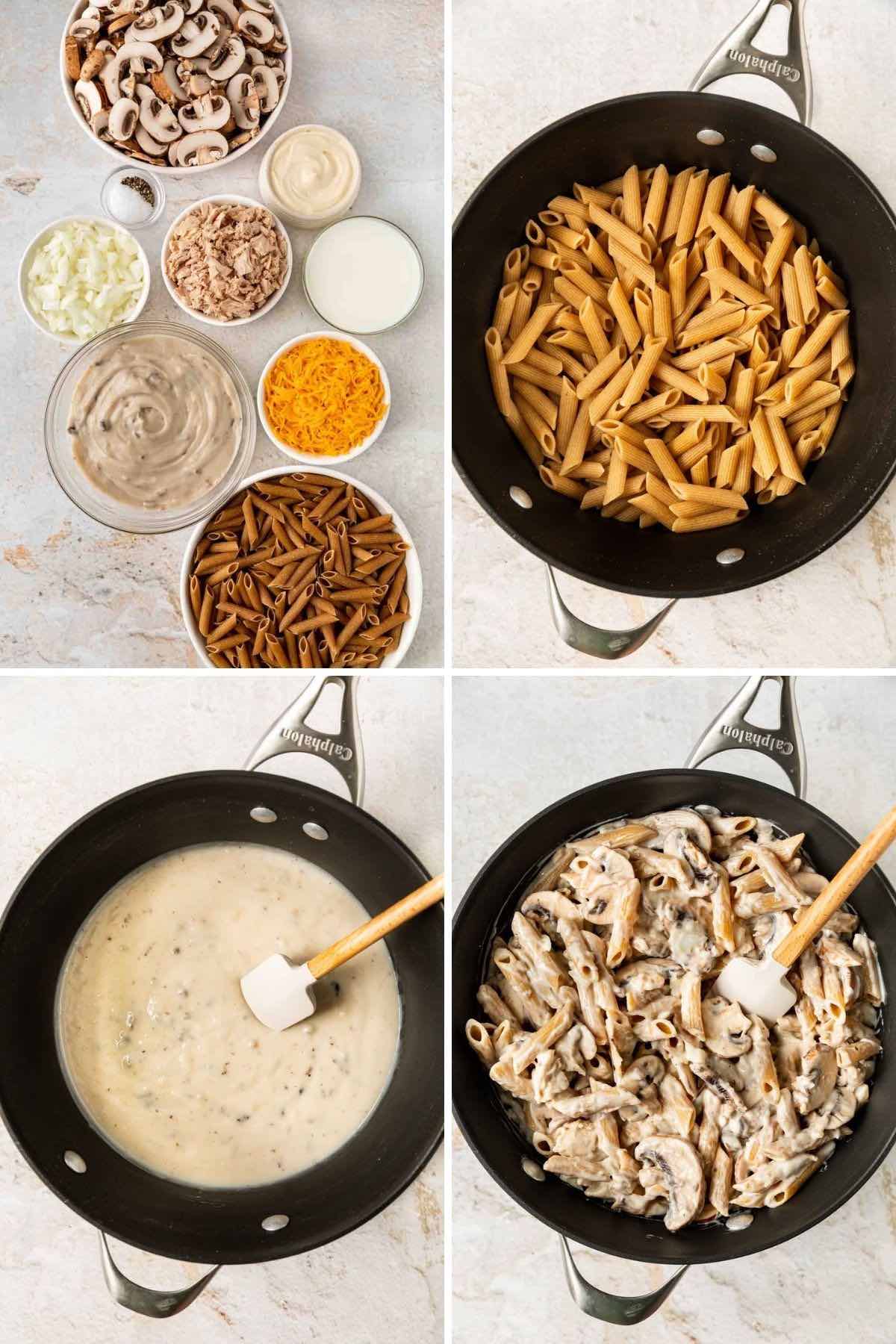 HEALTH BENEFITS
Skinny Tuna Noodle Casserole is relatively fat-free, compared to other tuna casseroles. Most Tuna Noodle Casseroles use full-fat cream of mushroom soup, mayonnaise, and cheese. Instead, this tuna casserole low-fat versions of these. You get the same delicious creaminess without all the calories and fat.
Instead of using regular egg noodles this Tuna Noodle Casserole calls for whole wheat noodles. Which makes the carbohydrates in this recipe higher in nutrients and fiber. When it comes to the noodles there are also lots of options to choose from. Use whole wheat penne pasta, whole wheat egg noodles, or whole wheat macaroni noodles. The most important part is to use a wide noodle in this tuna recipe.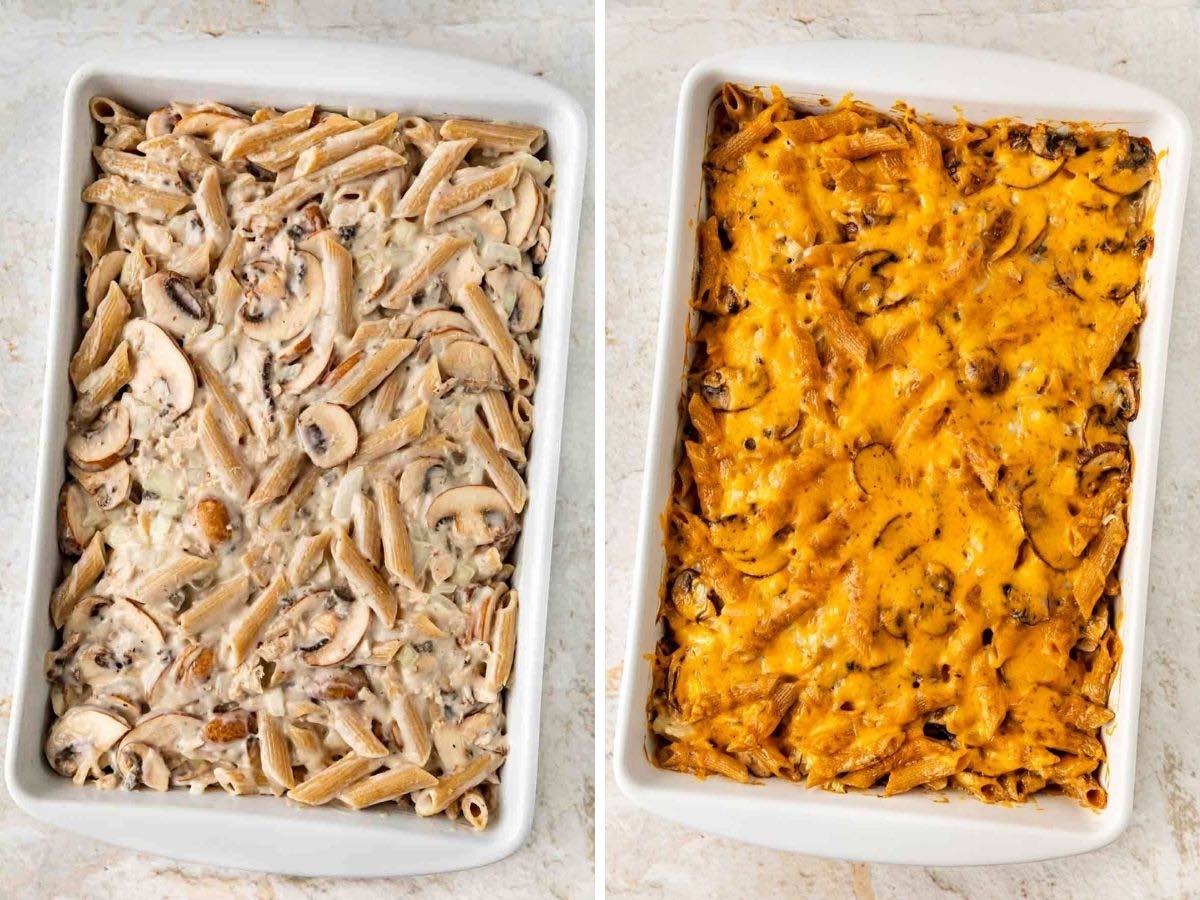 Apart from the healthy exchanges, tuna also naturally has plenty of health benefits. Tuna helps reduce blood pressure and is good for your heart. It's also a great ingredient for weight loss because it has lean proteins that are filling, and tuna increases your metabolism. Tuna also increases your immune system, boosts your circulation.
MORE HEALTHY WEEKNIGHT DINNERS

Create a free account to

Save Recipes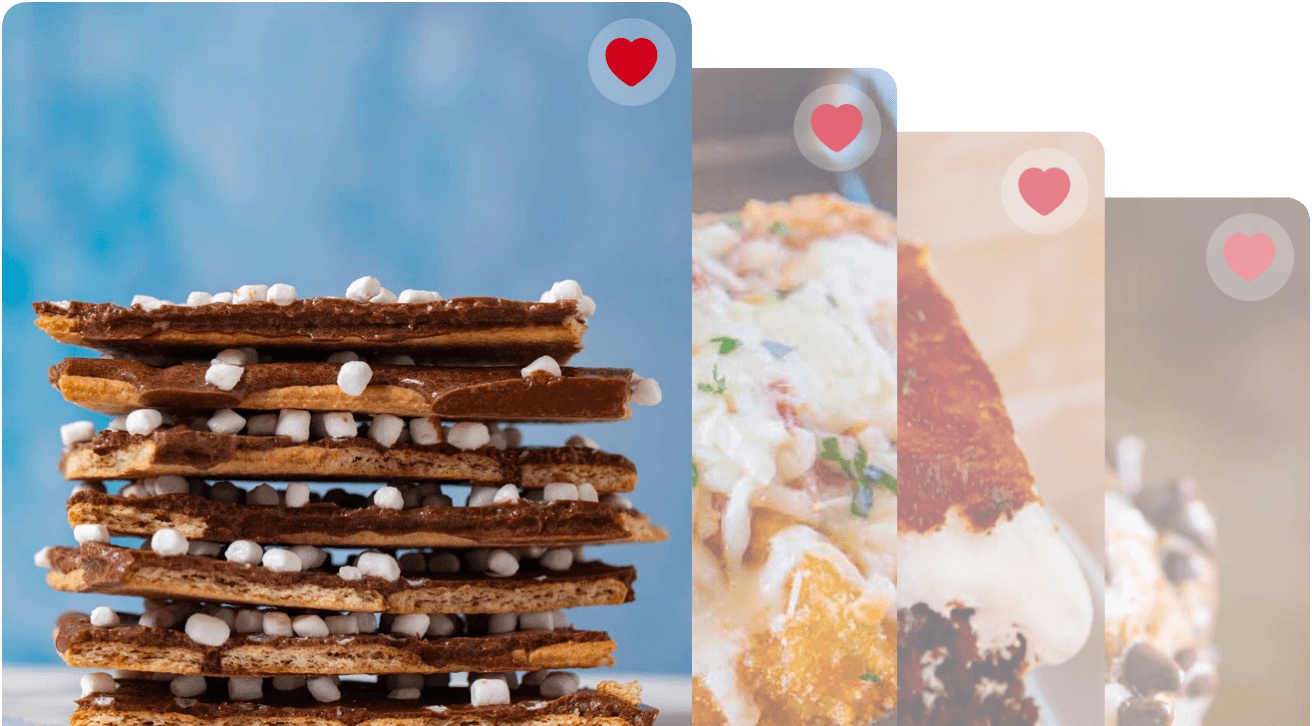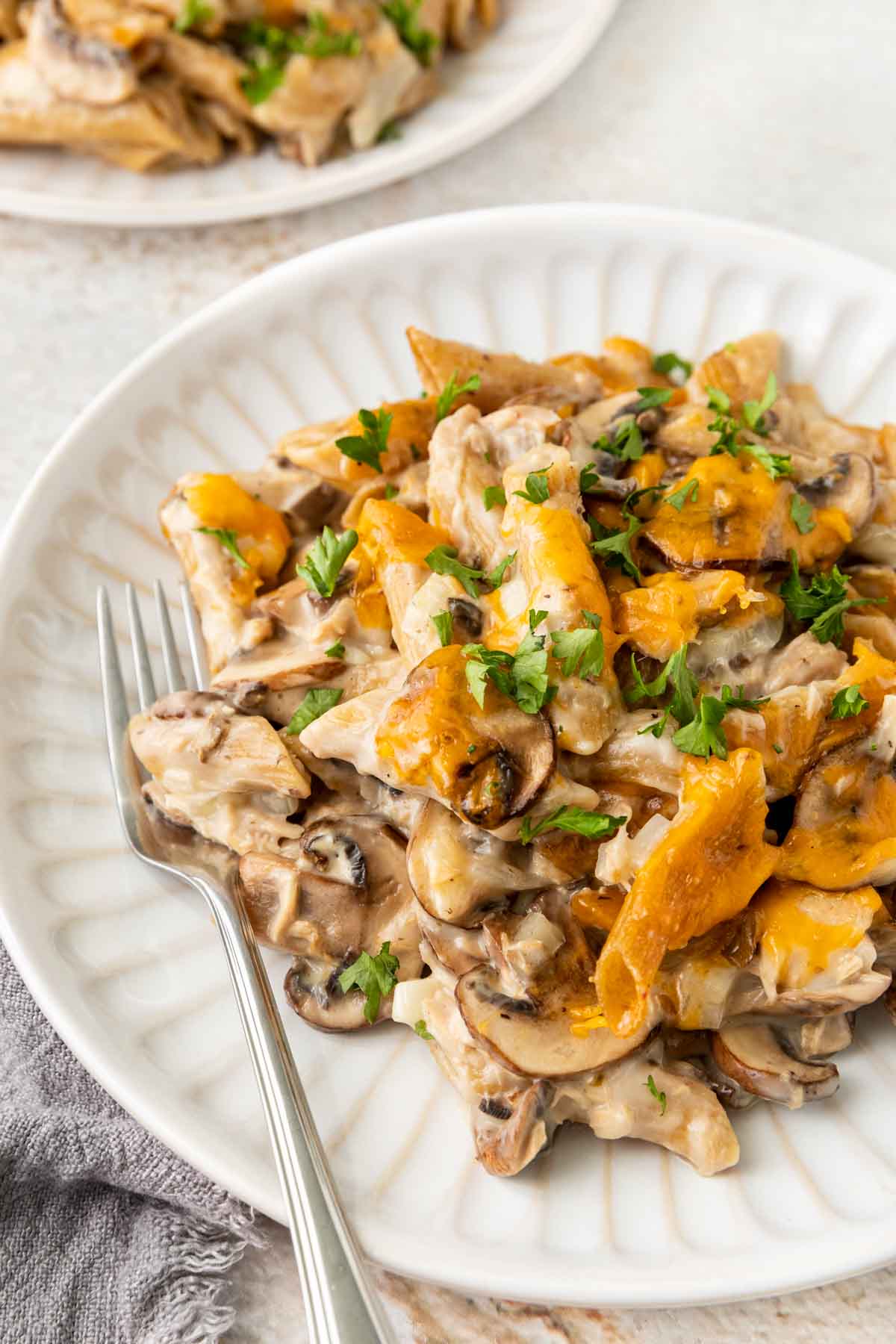 VARIATIONS ON TUNA NOODLE CASSEROLE
Add-ins: A classic Addition to tuna casserole is peas. Just add 1 cup of frozen peas to the Tuna and Noodle Casserole. Peas are a great option because they add some nutrition without changing the flavor of the Tuna Noodle Casserole recipe. Apart from peas, you can also add carrots, chopped pimento, bell pepper and celery.
Dairy-free: It might be surprising, but you can make a dairy-free version of this great recipe. You'll have to exchange the canned cream soup, the cheese, and the milk with dairy-free ingredients. To make the soup base mix 2 tablespoons dairy-free butter, 2 tablespoons all-purpose, wheat or gluten-free flour, and 1 can chicken broth. Whisk together melted butter and flour in a large skillet until there are no lumps, then add the chicken broth. This will replace the cream of mushroom soup. Then replace your regular milk with almond milk, and use a vegan cheese.
Caramelized onions: Before adding the onions to the Tuna Noodle Casserole recipe, you can caramelize them. Add the onions to a skillet prepared with non-stick cooking spray. Then stir fry the onions until they are translucent and fragrant. You can add other veggies to this mix. Then add them to the tuna for an extra flavorful casserole.
Breadcrumb topping: Make an easy breadcrumb topping for you Tuna Casserole dish. Use crushed Ritz crackers or panko breadcrumbs to make this topping. Mix your choice of bread crumbs with unsalted melted butter and Parmesan Cheese.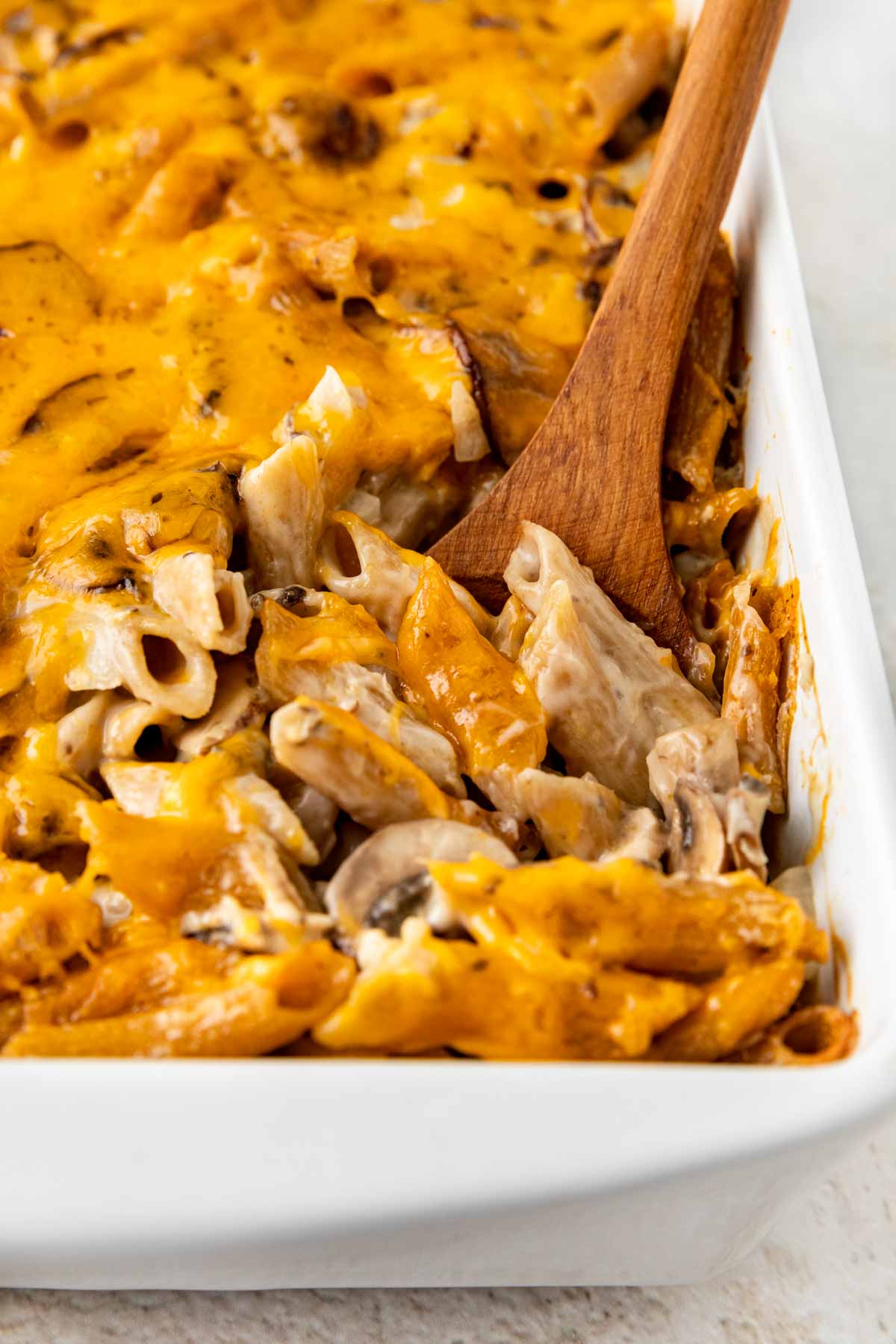 MORE HEALTHY PASTA DISHES
HOW TO STORE TUNA NOODLE CASSEROLE
Serve: Due to the tuna, canned cream soup, and other dairy ingredients don't leave Tuna Casserole out at room temperature. After it's cooked, don't leave the the Tuna Casserole out for more than 2 hours.
Store: When stored in an airtight container, this Tuna Casserole recipe will stay good in the fridge for 2-3 days. Let the Healthy Tuna Noodle Casserole cool to room temperature before you store it.
Freeze: To keep Healthy Tuna Noodle Casserole leftovers longer, store them in the freezer. Because it freezes so well this is also a great recipe to make ahead. When you're ready to reheat the Healthy Tuna Noodle Casserole, first let it defrost in the fridge. You can either reheat a serving in the microwave, or put the baking dish back in the oven for a few minutes. Bake until the cheese and soup base are bubbly. If you've added extra ingredients like peas or a panko breadcrumb topping, they also freeze well.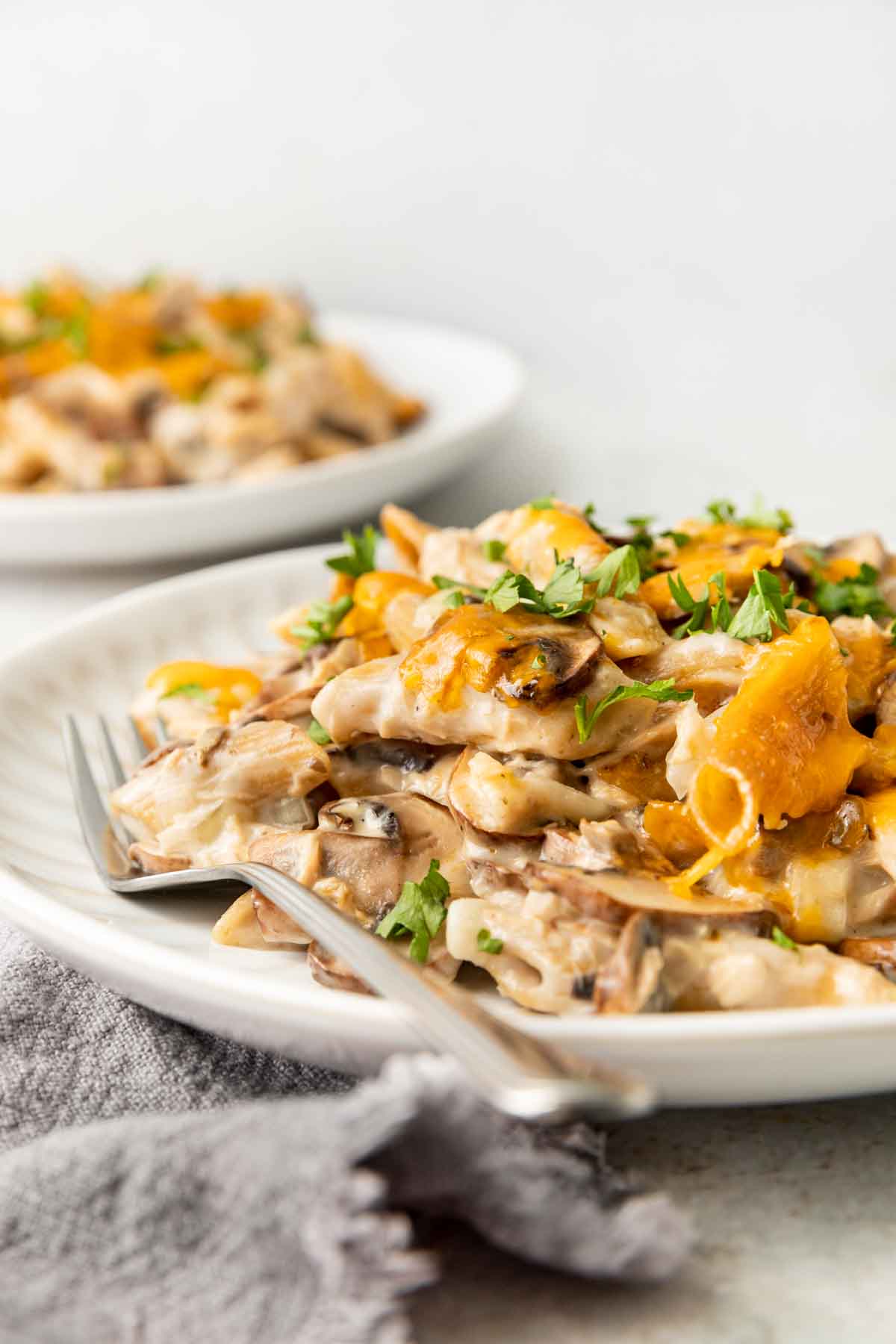 Ingredients
4

cups

whole wheat penne pasta

20

ounces

low-fat cream of mushroom soup

, (2 cans)

1

cup

2% milk

16

ounces

sliced mushrooms

1/2

cup

low-fat mayonnaise

1

teaspoon

Kosher salt

1/2

teaspoon

coarse ground black pepper

1

small onion

, diced

12

ounces

white tuna chunks

, (2 cans), drained

1

cup

grated reduced-fat cheddar cheese
Instructions
Preheat oven to 350 degrees.

Grease a 13" x 9" baking dish.

Boil the pasta in water until two minutes before recommended cooking time, then drain and set aside.

Heat the cream of mushroom soup and milk in a saucepan on medium heat for

2 minutes

.

Stir in mushrooms, mayonnaise, Kosher salt and black pepper. Mix in pasta, onion, and tuna.

Transfer mixture to prepared baking dish.

Bake in oven for

30-35 minutes

.

Sprinkle cheddar cheese evenly over casserole, then return to oven for an additional

10 minutes

.
Nutrition
Calories:
396
kcal
|
Carbohydrates:
59
g
|
Protein:
24
g
|
Fat:
6
g
|
Saturated Fat:
1
g
|
Cholesterol:
16
mg
|
Sodium:
747
mg
|
Potassium:
582
mg
|
Fiber:
7
g
|
Sugar:
7
g
|
Vitamin A:
332
IU
|
Vitamin C:
1
mg
|
Calcium:
204
mg
|
Iron:
1
mg