Cinnamon Streusel Baked Apples, roasted in butter, brown sugar, oats, and cinnamon, are a delicious fall treat or dessert topping baked in just 30 minutes!
Nothing says Autumn quite like the flavors of deliciously spiced baked apples. In addition to this delicious Applesauce Bread, here's another apple dish you can add to your go-to's. A delicious blend of savory and sweet, Cinnamon Streusel Baked Apples are so simple to make that they may become a new favorite Healthy Dessert Recipe.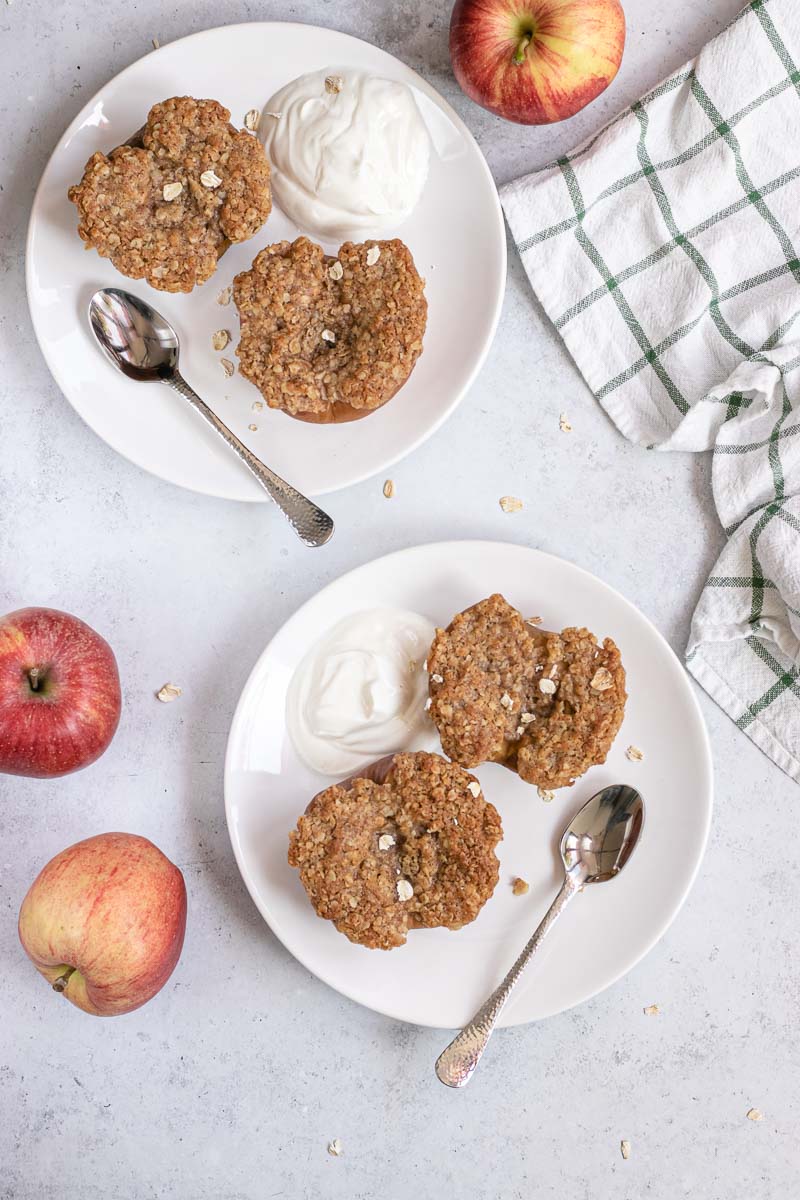 This is a recipe that you'll want to make over and over again. It's quick and easy, with only five steps to follow and a fast cook time. The great thing about this apple dessert is you can get the amazing fall feel of a caramel apple treat without breaking your diet.
It's sure to become one of your favorite fall desserts ever! The sweet apples, brown sugar, oats, and spices are the perfect combination of flavors to enjoy with friends and family over the holidays. On top of that, it's an incredibly easy recipe to make. All you have to do is toss together the brown sugar, butter, flour, oats, and ¼ teaspoon ground cinnamon in a bowl. Then sprinkle that oat mixture over the sliced apples, and lay them on a baking dish, and pop them in the oven to bake to golden brown perfection.
Butter Cinnamon Streusel Apples are delicious enough to enjoy on their own or as a topping. If you're eating them by themselves, you can just serve the warm, tender apples in a bowl and eat them with a spoon, adding extra cinnamon sugar topping if you prefer. Another option is serving the apples over the top of your favorite cakes, pies, and other desserts. They'd taste especially amazing served over a scoop of vanilla ice cream. You could also make a rich Fall breakfast out of Sour Cream Coffee Cake with Cinnamon Streusel Apple.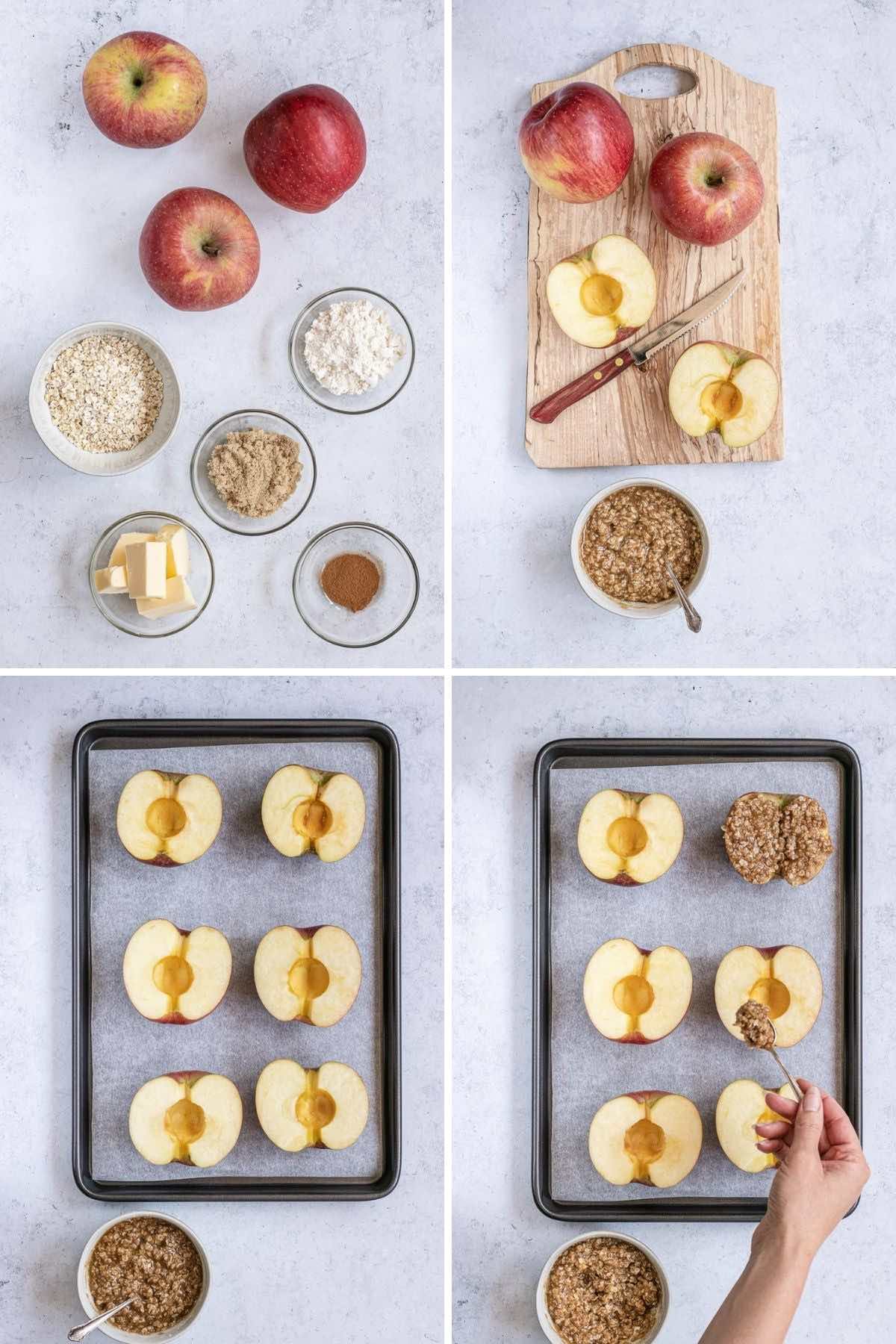 Best Apples for Baking
Nothing's better than delicious, fresh fall apples. However, some variety of apples hold up better while baking than others. So, before you start preheating the oven, you should decide on the type of apple you want to use.
Cortland apples are crisp, tart, and fairly large.
Fuji apples are juicy and sweet, but firm enough to withstand the oven.
Granny Smith apples are often the go-to for baking. They're a little more tart than most apples. They're also crisp and easy to find just about anywhere.
Jonagold apples are multicolored and tangy. For the most part, they're better for baking than for eating raw.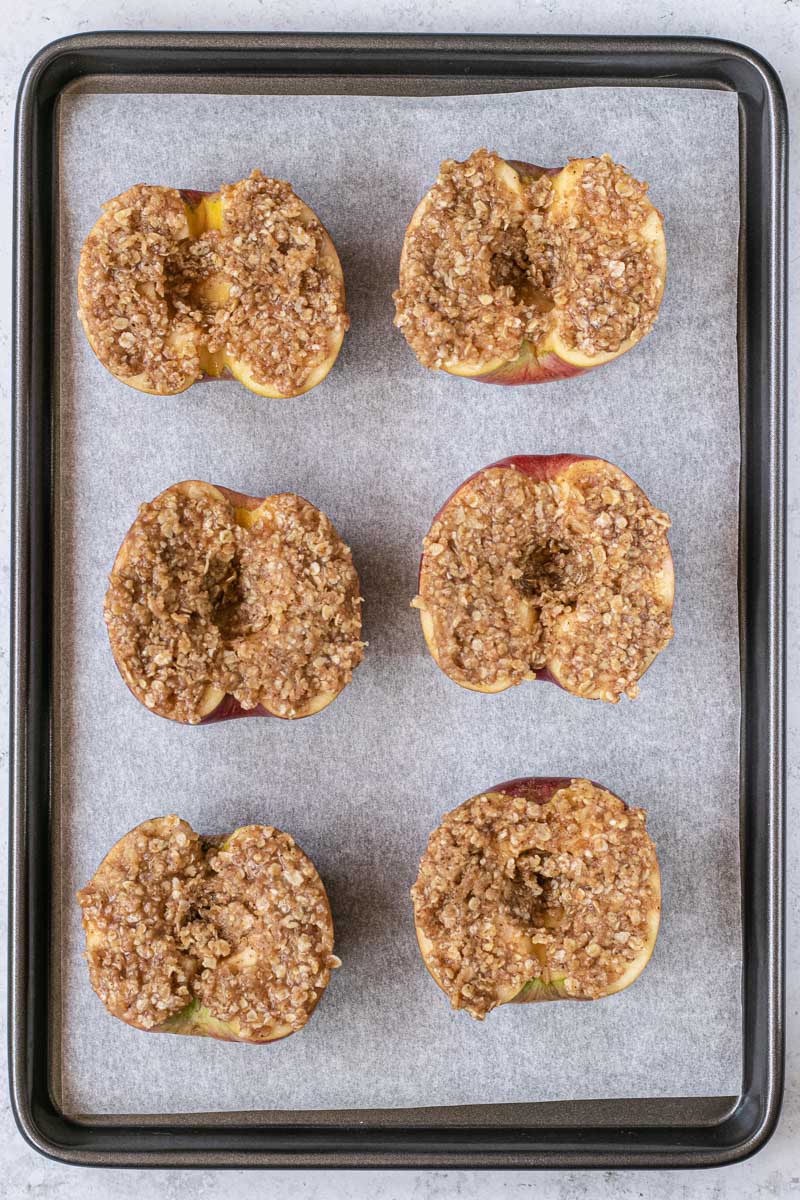 More Healthy Desserts 
Health Benefits of Apples 
You know the saying: "an apple a day keeps the doctor away." Well, that phrase probably came about because of how nutritious these tasty fruits are. Apples are packed full of vitamins, fiber, and antioxidants as well as phytonutrients. They also have 0 grams of cholesterol or sodium of any kind, and are surprisingly high in boron.
Baking apples slightly reduces the levels of vitamin C, but beyond that it doesn't change how nutritious apples are. So overall, this is the ideal way to enjoy a sweet dessert while still taking in lots of nutrients.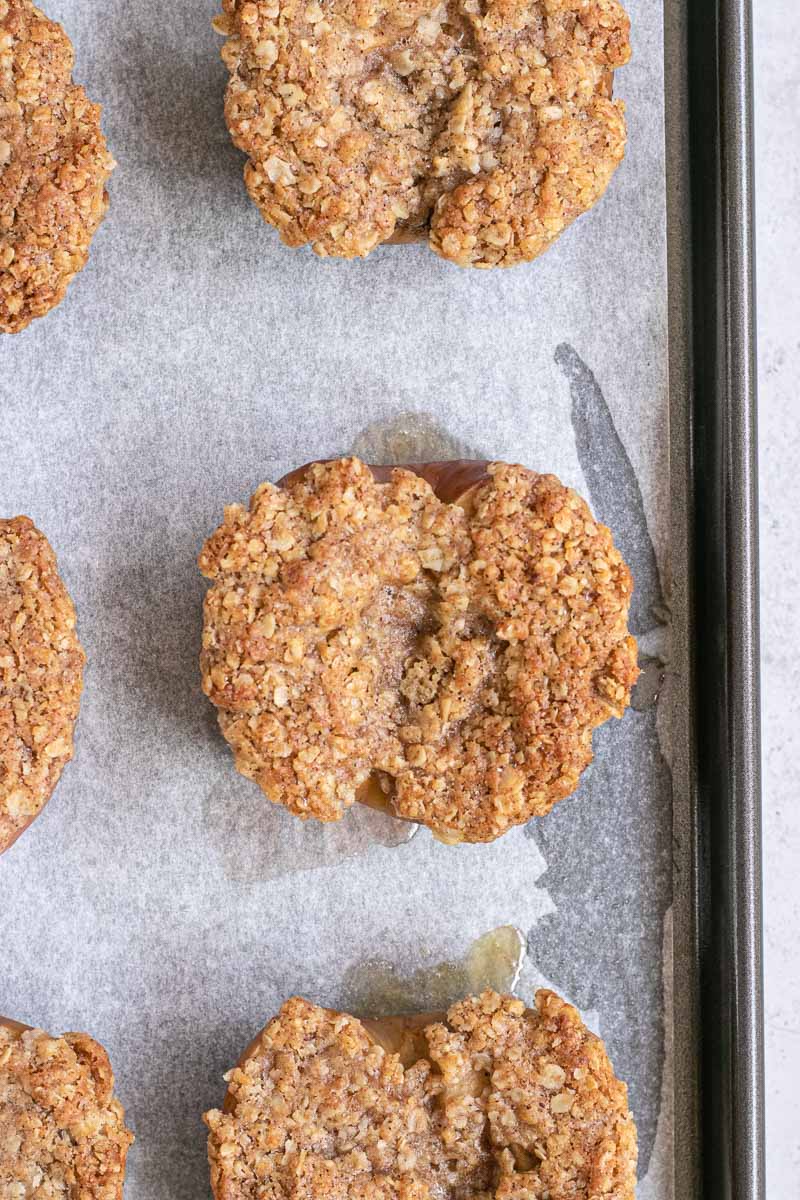 Create a free account to

Save Recipes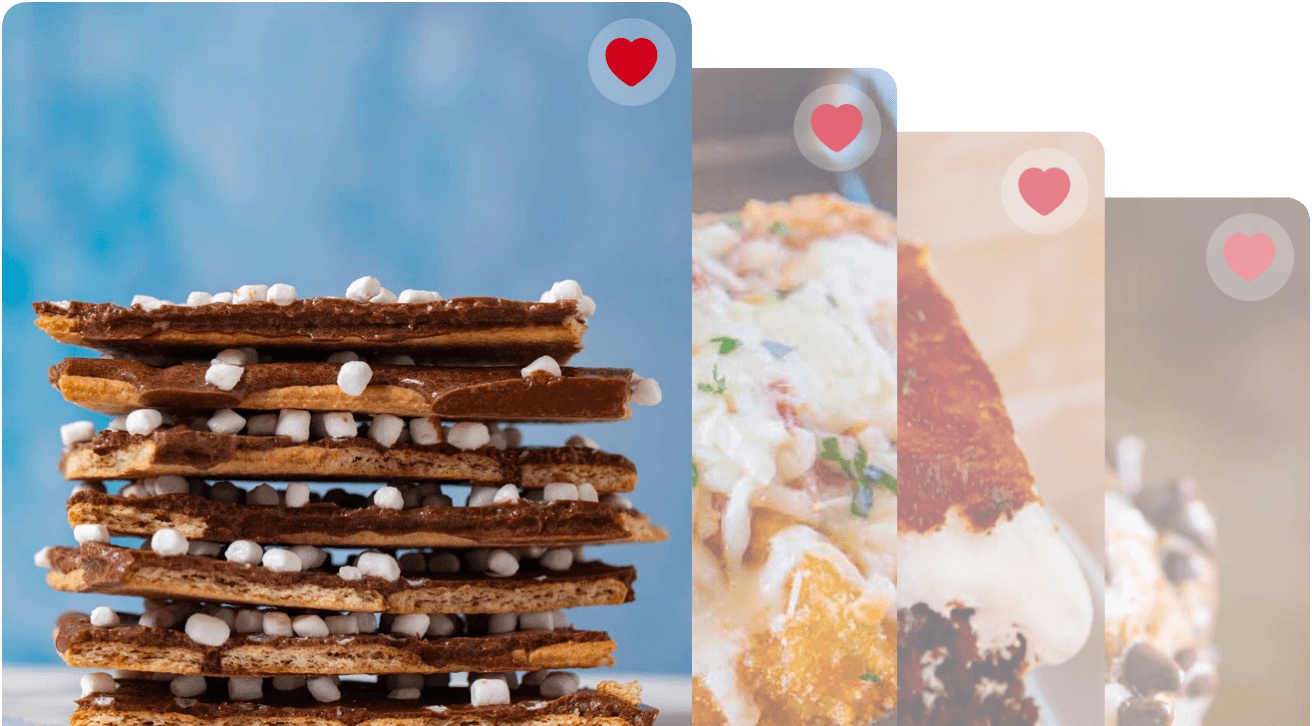 Variations on Cinnamon Streusel Baked Apples 
Spices: For some extra warm flavor along with the cinnamon you can dust the warm apples with nutmeg, cloves, allspice, or ginger.
Apples with vanilla: Vanilla extract can give your apples more of a dessert flavor, and you only need a few drops to flavor the whole batch. Just mix ½ teaspoon vanilla extract with the oat mixture before adding them to the apples.
Flour: If you want to add a few more nutrients to the recipe, you can replace the regular flour with whole wheat flour. Or, to make the dry ingredients gluten-free use almond flour, oat flour, or buckwheat.
Nuts: For some more crunchy ingredients in the apple mixture, try tossing in some walnuts, pecans, or toasted almonds. You could also try pumpkin seeds if you prefer them to nuts.
Fruit: You can add other kinds of fruits into the streusel. Berries like raspberries, strawberries, cherries, or cranberries would taste great.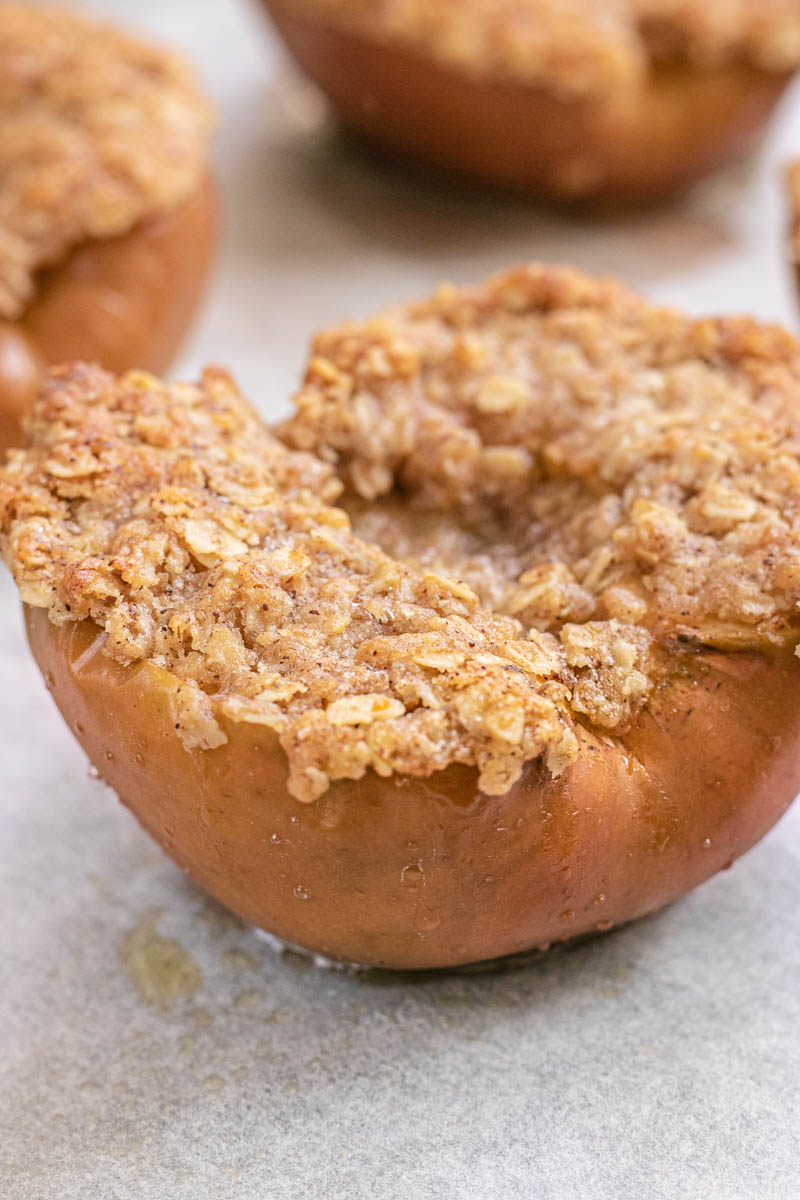 More Comforting Autumn Recipes 
How Long are Cinnamon Streusel Baked Apples Good?
Serve: Don't leave your seasoned apples out at room temperature for more than 2 hours.
Store: The apples should be good in the fridge for up to 3 days. Cover the dish in plastic wrap, or put it in an airtight container before you transfer it to the refrigerator.
Freeze: If you wrap your apples tightly in plastic wrap and aluminum foil or put them in an airtight container, they can also last for up to 1 month in the freezer.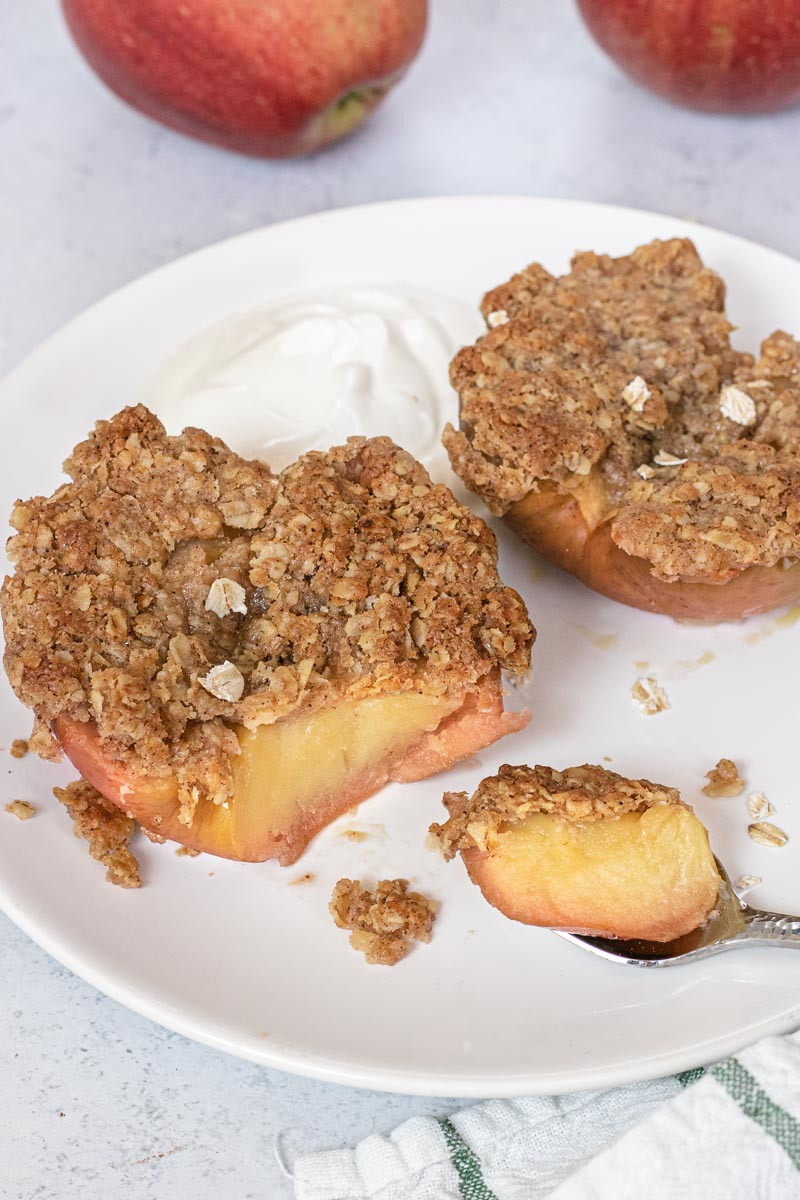 Ingredients
3

large

apples

, cut in half

4

tablespoons

butter

, melted

2

tablespoons

brown sugar

, packed

3

tablespoons

flour

5

tablespoons

quick oats

1/4

teaspoon

ground cinnamon
Instructions
Preheat oven to 350 degrees.

Cut apples in half and remove core and seeds with a paring knife or spoon.

In a small bowl combine butter, brown sugar, flour, oats and cinnamon. Spoon on top of the apple halves and sprinkle with cinnamon.

Place on a cookie sheet and bake in the oven for

30 minutes

.
Nutrition
Calories:
173
kcal
|
Carbohydrates:
26
g
|
Protein:
1
g
|
Fat:
8
g
|
Saturated Fat:
5
g
|
Polyunsaturated Fat:
1
g
|
Monounsaturated Fat:
2
g
|
Trans Fat:
1
g
|
Cholesterol:
20
mg
|
Sodium:
69
mg
|
Potassium:
149
mg
|
Fiber:
3
g
|
Sugar:
16
g
|
Vitamin A:
294
IU
|
Vitamin C:
5
mg
|
Calcium:
16
mg
|
Iron:
1
mg