Cauliflower Egg Salad is a rich and creamy side perfect for Summer cookouts or packed lunches! Made with hard boiled eggs, cauliflower, celery, and plain Greek Yogurt.
Just like Deviled Egg Potato Salad, this Cauliflower Egg Salad gives a healthy makeover to a classic Side Dish. It has all the taste you love without all the calories!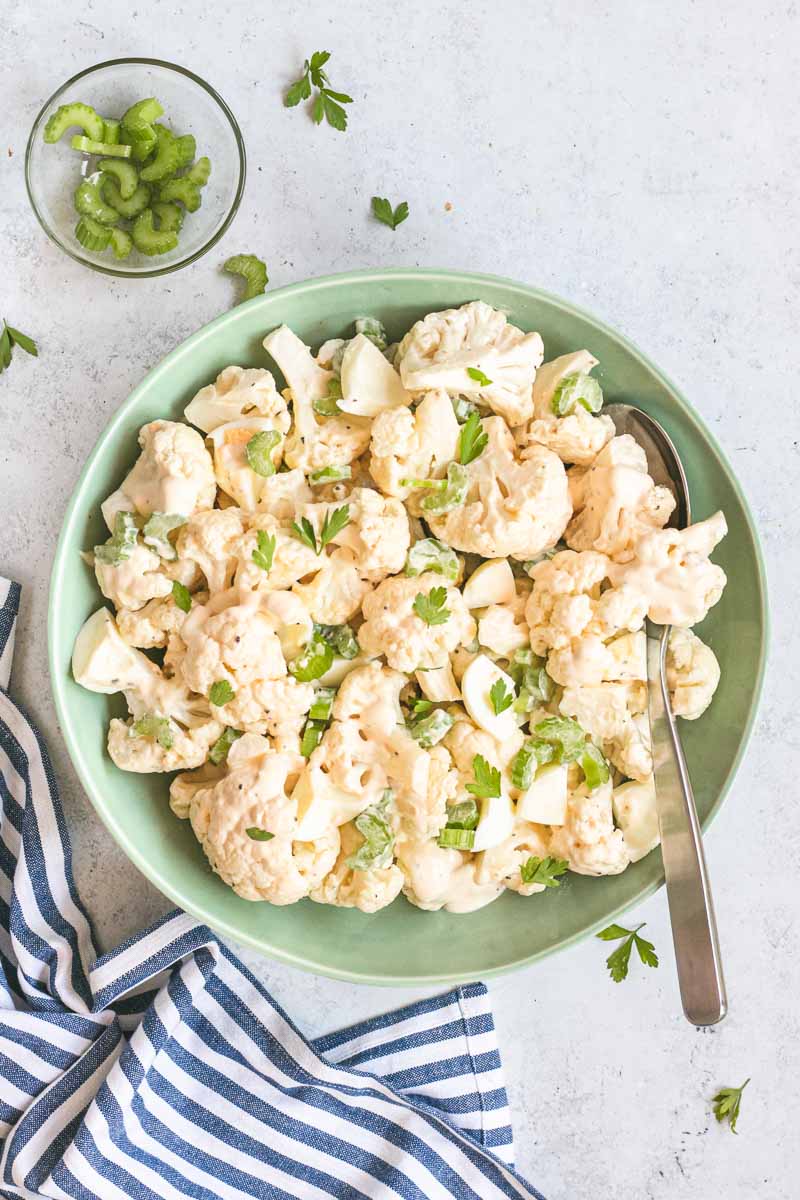 This Healthy Egg Salad is perfect for your next potluck or family get together. It's so delicious you might even want to make extra. This Egg Salad never fails to get people asking for seconds!
You'll also love all the health benefits of this Egg Salad recipe. Egg Salad is an excellent source of protein from the hard boiled eggs. The ingredients also include cauliflower, which is full of fiber.
This recipe also uses low-fat mayonnaise and Greek Yogurt. You can buy completely non-fat mayonnaise, but it will sacrifice some of the creamy flavor. Even without that, this recipe has less saturated fat, is low-carb, and is a heart healthy recipe!
This Egg Salad is also oh-so easy to make! It just takes a little time to prepare the eggs and the cauliflower. After that, it's just a matter of mixing some simple ingredients together. Most the total time is just a matter of letting the Egg Salad chill in the fridge.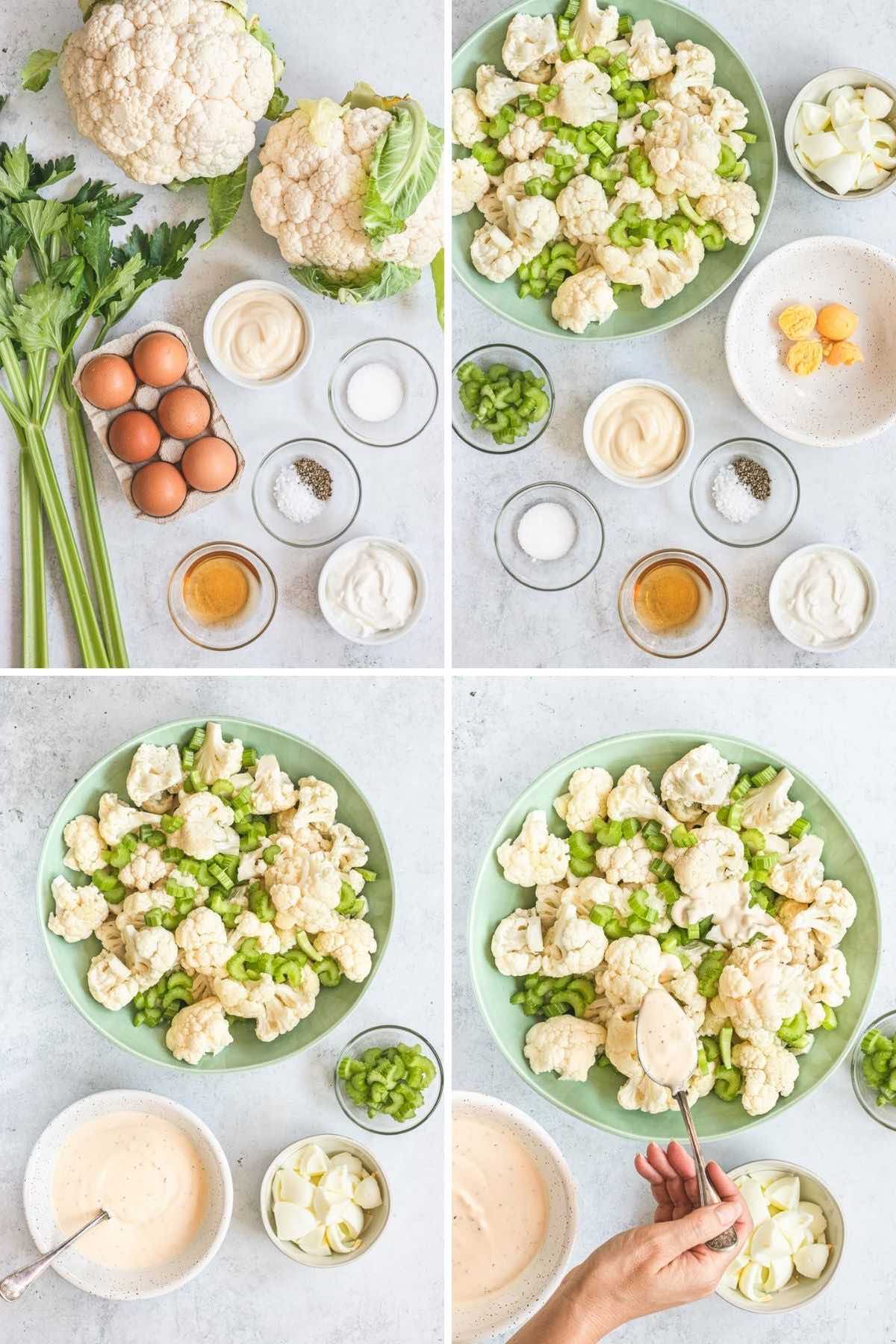 You can make this low calorie Egg Salad for a variety of dinners. It's great as a side for burgers, BBQ chicken, ribs, and plenty of other meals.
Along with being a great side, Cauliflower Egg Salad is a tasty filling for an Egg Ealad sandwich. Make yourself a wonderfully healthy Egg Salad sandwich with whole-grain or gluten-free bread. Spread some of the Egg Salad over the bottom slice, top that with lettuce, and you have the perfect sandwich. You can also toast the bread, spread on some Egg Salad, and eat it open-face.
Preparing the Eggs
Stovetop
To make boiled eggs, place the eggs in a pan of water and cover.
Heat on high until the eggs are in boiling water.
Turn off the heat, but leave the eggs on the burner for 10 minutes.
Strain the eggs and run them under cool water.
Put the hard boiled eggs in the fridge until you're ready to peel and chop.
Instant pot
Put 1 cup water in a 6-quart instant pot.
Add in a steam rack and place the eggs on top.
Cook on high pressure for 5 minutes, then release the pressure and cook for another 5.
Place in a cool water bath for 5 minutes.
More Salad Recipes 

Create a free account to

Save Recipes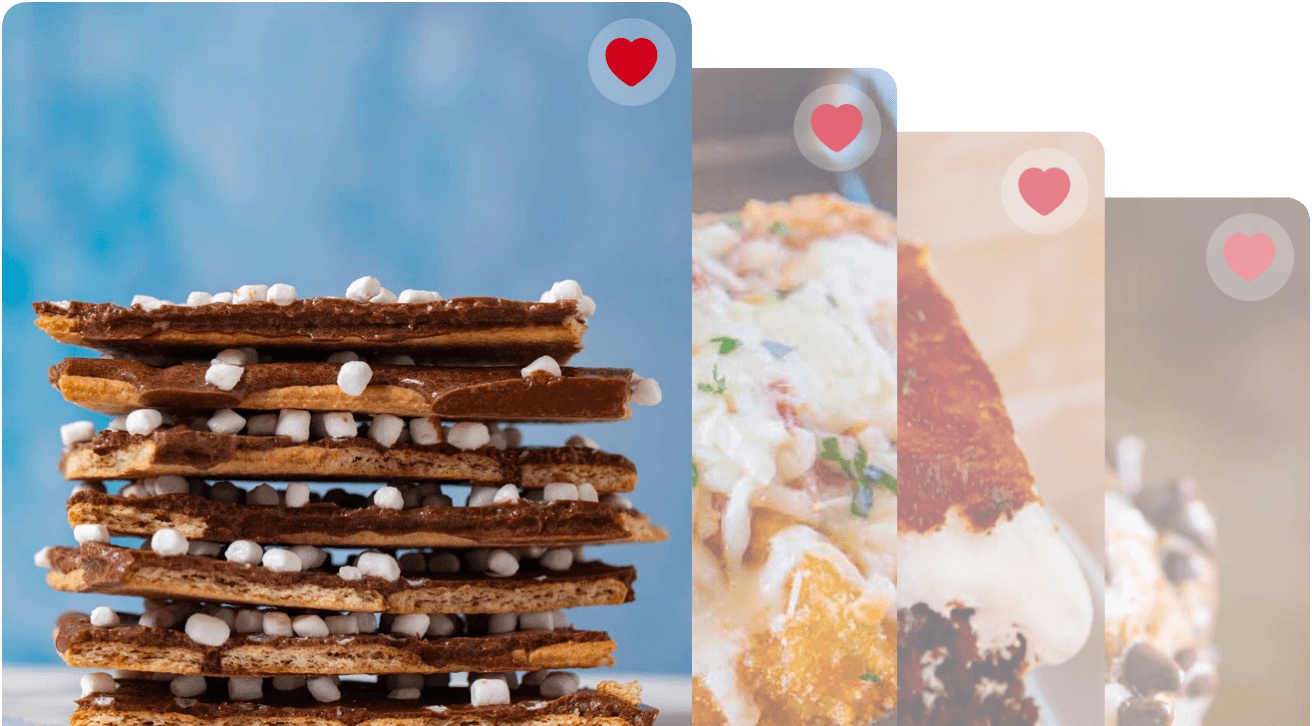 Variations on Cauliflower Egg Salad 
Avocado Egg Salad: You can use avocado in place of the mayonnaise in this Egg Salad recipe. Simply cut the avocado open and mash it well using a fork. Then use the avocado in place of the mayonnaise.
Dairy-Free Egg Salad: For a dairy-free Egg Salad replace the Greek Yogurt with a plant-based alternative. Kite Hills Almond Milk Yogurt is a good alternative. It's also light in calories. Most mayo is already dairy free, but check the ingredients to be extra sure.
Mustard: Add a tablespoon or so mustard to the dressing for a little extra flavor. Try dijon mustard, yellow mustard, or any other kind of mustard you prefer.
Add-ins: There are plenty of simple ingredients you can add to this Egg Salad recipe. Try chopped dill, sun-dried tomatoes, red onion, or green onion, chives, or any fresh herbs. You can also put a little lemon juice over the top for a fresh flavor.
More Healthy Side Dishes
How to Store Healthy Potato Salad 
Serve: Egg Salad won't keep at room temperature for longer than 2 hours.
Store: Store any leftover salad in the fridge for 3-5 days. Be sure to cover it in plastic wrap or put the Egg Salad in an airtight container.
Freeze: Unfortunately this Healthy Egg Salad recipe won't freeze well. Eggs don't keep well in the freezer. The egg whites become tough and rubbery. You'll be better off eating it from the fridge.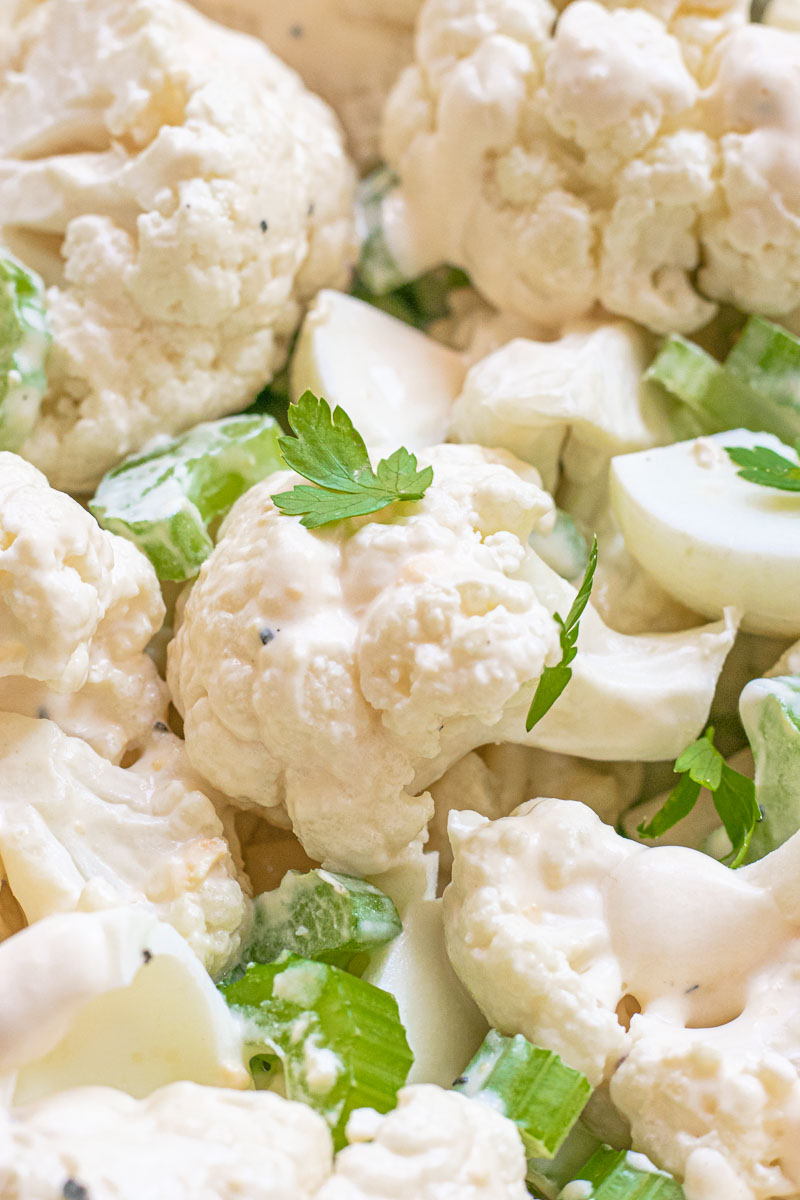 Ingredients
2

heads

cauliflower

6

large

eggs

, hard boiled, peeled

3

stalks

celery

, minced

3/4

cup

light mayonnaise

3/4

cup

2% greek yogurt

2

tablespoons

apple cider vinegar

1

teaspoon

sugar

1

teaspoon

kosher salt

1/4

teaspoon

coarse ground black pepper
Instructions
Cut the cauliflower into ½ inch chunks and steam or roast.

If steaming, add in batches to microwave safe bowl, dripping wet, and cover with a wet paper towel.

Cook for

6-8 minutes

until soft.

Cut the eggs in half and remove the yolks, discarding 4 of the yolks.

Place two of the yolks into a small bowl to make the dressing then chop the rest of the egg whites adding it to the large bowl with the cauliflower.

In the bowl with the egg yolks add the light mayonnaise, greek yogurt, apple cider vinegar, sugar, kosher salt, and black pepper.

Gently mix the dressing into your cauliflower and chopped egg whites.

Refrigerate for at least

2 hours

but preferably longer.
Nutrition
Calories:
129
kcal
|
Carbohydrates:
9
g
|
Protein:
8
g
|
Fat:
7
g
|
Saturated Fat:
2
g
|
Polyunsaturated Fat:
3
g
|
Monounsaturated Fat:
2
g
|
Trans Fat:
1
g
|
Cholesterol:
115
mg
|
Sodium:
452
mg
|
Potassium:
425
mg
|
Fiber:
3
g
|
Sugar:
4
g
|
Vitamin A:
238
IU
|
Vitamin C:
56
mg
|
Calcium:
68
mg
|
Iron:
1
mg