Korean Beef Stew is a hearty stew made with chuck roast, carrots, garlic, ginger, red pepper and green onions. Ready in 2 hours and 15 minutes.
Korean dishes are easy, versatile and so yummy. I've made Korean BBQ Chicken Drumsticks and Quick Korean Pickles before, but this time I decided that it was time to pick up the dutch oven.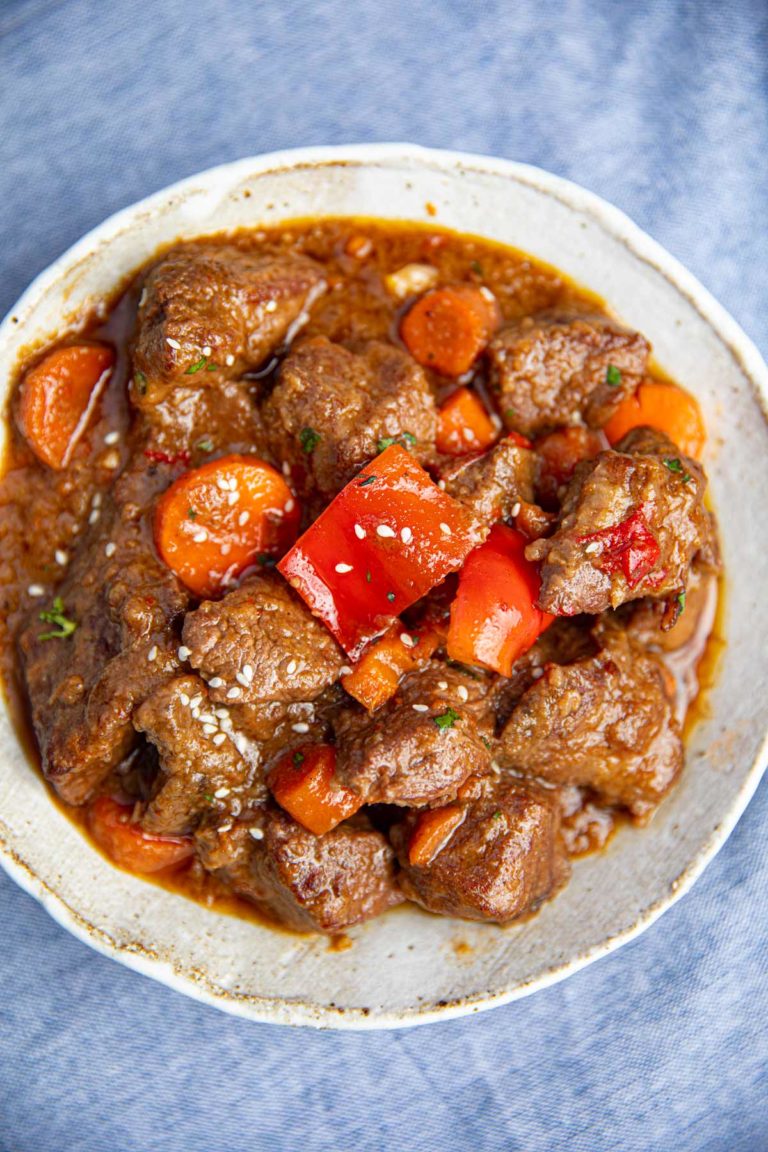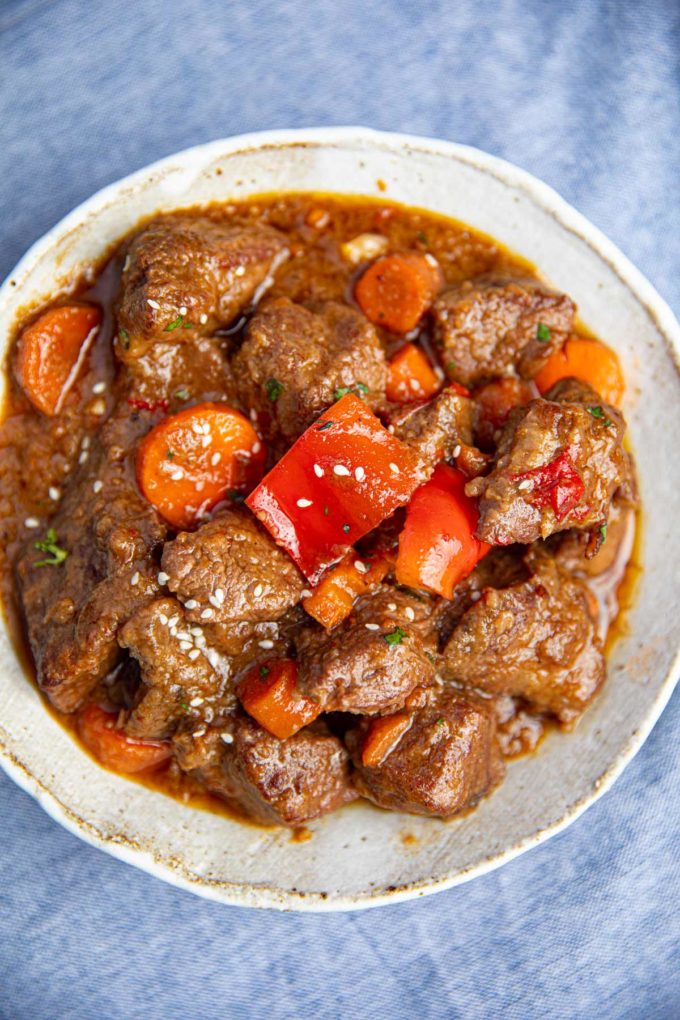 KOREAN BEEF STEW
Korean BBQ is a delicious style of cooking that creates some of the most interesting and delicious meals. If you want to use up that beef chuck that's been taking up space in your freezer and are sick of using your old go-to's for recipes, you should make beef stew out of it.
As far as beef recipes go, this one is low maintenance and packed with flavor, and it's as tender as slow cooker Korean beef. If this is your first time trying Korean food, you are in for a treat.
Our Korean beef stew recipe is a great way to tenderize beef chuck and pack it full of flavor without having to marinade it for days.  And since we swap the potatoes for carrots and cut back on the other high calorie ingredients this meal can be part of a healthy diet!
How do you Make Korean Beef Stew
Preheat your oven to 325 degrees.
Trim all visible fat from the chuck roast, spray pieces with vegetable oil.
Sear pieces well in a hot dutch oven then add in the vegetables.
Add in the broth, soy sauce, brown sugar and spices.
Cook low and slow for 2-3 hours until tender.
TOPPINGS AND SIDES
You can try cooking this recipe using different cuts of meat, like beef brisket or bulgogi (grilled beef). If you are happy with using beef chuck, you can still change up the dish a little with the right toppings and sides.
Sesame seeds: dust the top with sesame seeds to add a little bit of crunch to your soup. Sesame seeds are used to garnish many Asian dishes because of how much texture they bring without overpowering the flavor.
Bean sprouts: pour raw bean sprouts into your soup for a little pop of fresh flavor.
Vegetables: feel free to mix and match the veggies you use in your beef stew. You can also use leeks, broccoli, spring onions or whatever else you choose.
Kimchi: this traditional dish is made from salted, fermented cabbage, scallions, garlic and various other vegetables. It has a ton of flavor and is a great side for your soup.
Rice wine: add a dash of rice wine to the heated oil to give your beef a little extra flavor.
Gochujang: this is a popular condiment made from red chili paste that tastes a lot like sriracha. Add a spoonful to your stew to add a bit of a kick.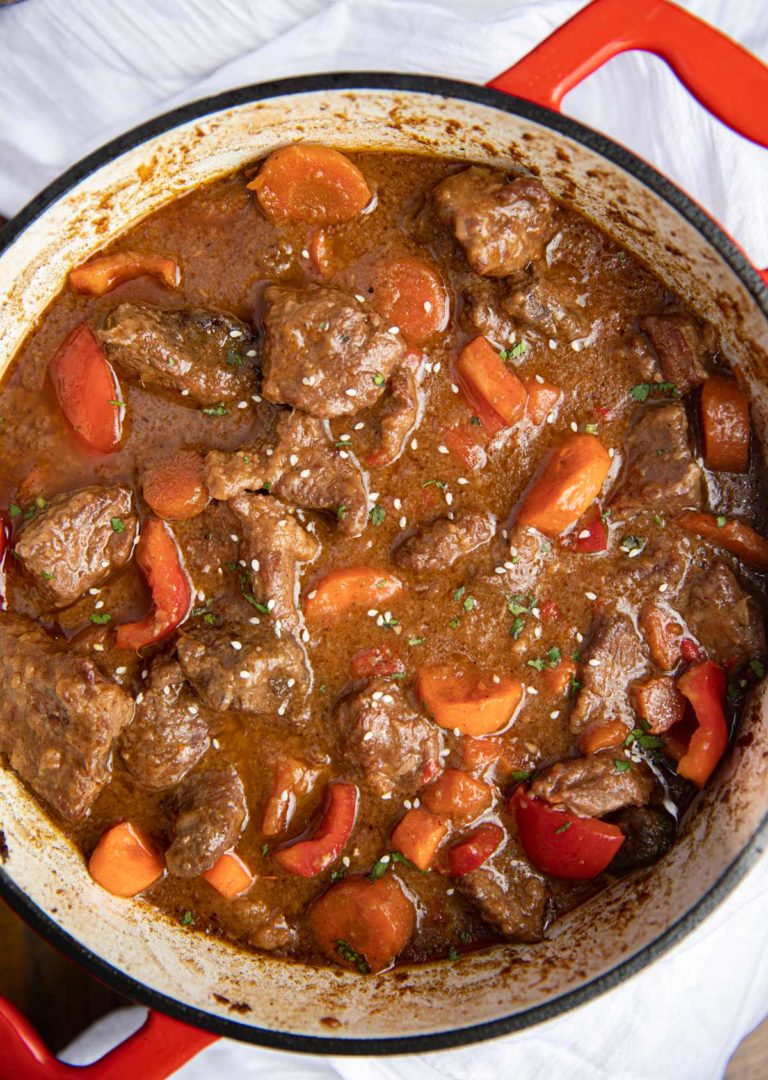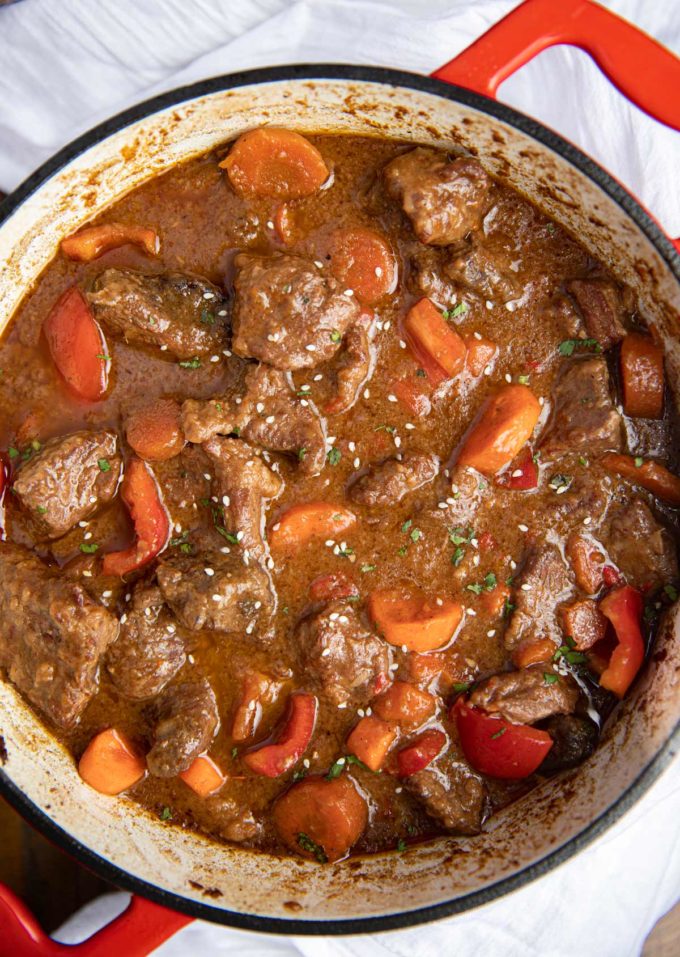 Create a free account to

Save Recipes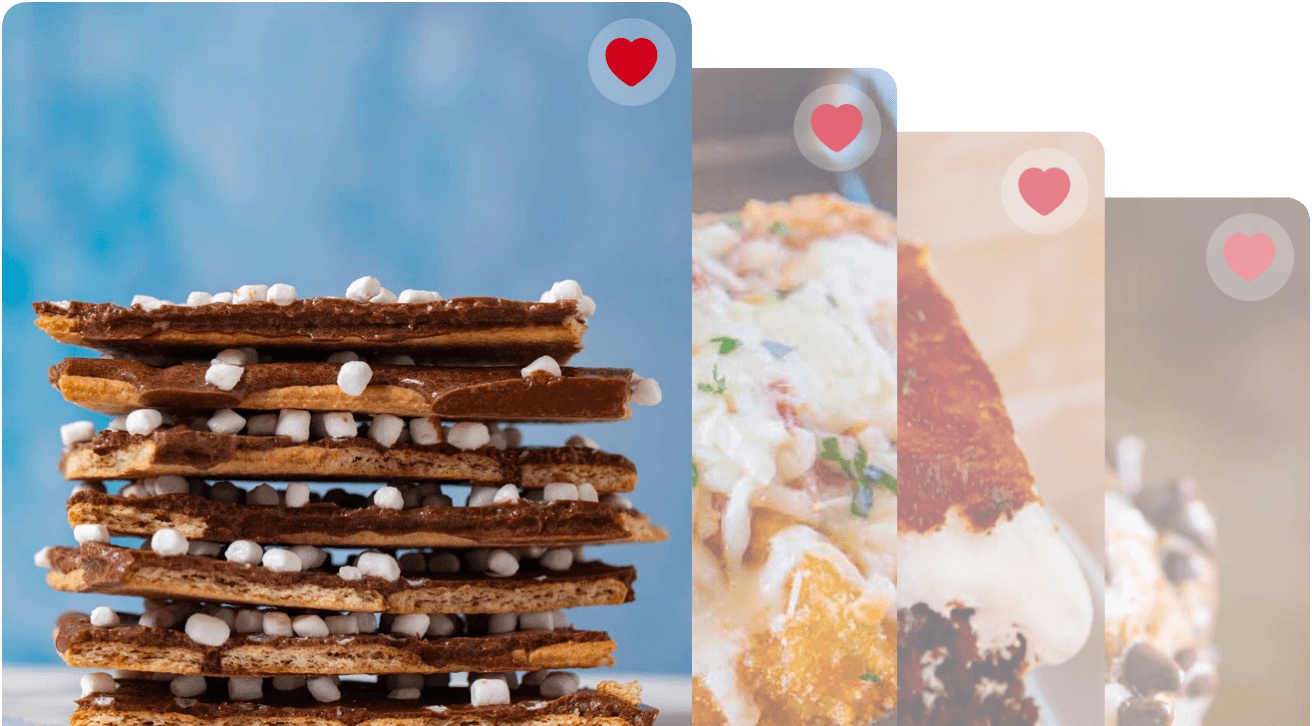 If you liked this, try these!
Thai Turkey Lettuce Wraps: a delicious Asian dish that is low carb and quick to make.
Thai Pineapple Curry: sweet and savory at the same time, this curry is great for weeknights and is a fun new recipe to try for the pineapple lovers out there.
Thai BBQ Salmon: this salmon served with a thick, rich sauce with chili peppers is spicy and delicious. It's also only 2 Weight Watchers Smart Points per serving, but it sure doesn't taste like it.
GALBI JJIM 
Galbi Jjim (갈비찜) is the traditional Korean dish made from beef short ribs that we got our inspiration from. While galbi jjim can be eaten as both a stew and without broth, it is usually served in a bowl over rice. During Chuseok, an autumn harvest festival, galbi jjim is enjoyed in both North and South Korea.
There is a street named Galbijjim in Daegu, South Korea, and legend has it that this where the delicious hot and spicy version of this dish first came from.
How to Store Korean Beef Stew?
Serve: don't leave your stew out for longer than 2 hours.
Store: let it cool down to room temperature before you put it in the fridge and, properly sealed, your beef stew will last up to 3 days.
Freeze: in an airtight container, stew is good for up to a month frozen.
Beef Safe Cooking Temperatures
According to the USDA's website, beef is considered cooked through when the internal temperature reaches 145 degrees F (62.8 degrees C).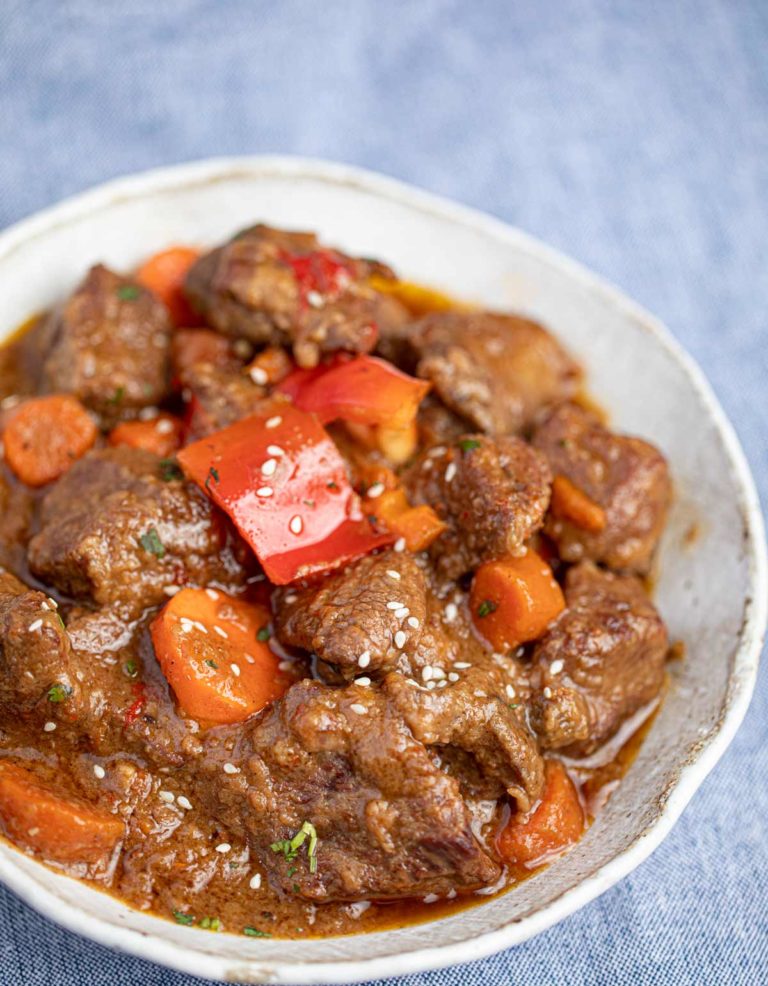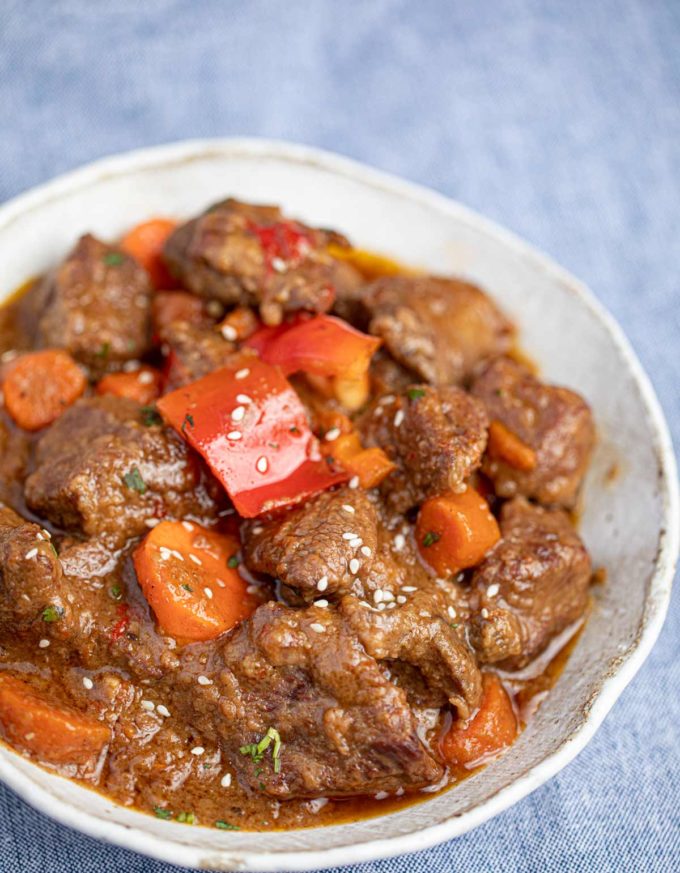 Ingredients
2

pounds

chuck roast

trimmed and cut into 2" cubes

2

pounds

carrots

thickly sliced

1

red bell pepper

cut into 1" chunks

1

tablespoon

sesame oil

4

cloves

garlic

minced

1

tablespoon

ginger

minced

3

cups

beef broth

1

tablespoon

corn starch

1/4

cup

low sodium soy sauce

1/4

cup

brown sugar

packed

1/2

teaspoon

red pepper flakes

1/4

cup

green onions

sliced
Instructions
Preheat your oven to 350 degrees and add the vegetable oil to a large dutch oven on medium high heat.

Toss the beef cubes with flour (let the excess flour come off them) and add them to the pan searing them on all their sides until well browned then remove them from the pan, about

8-10 minutes

total.

Lower the heat to medium, add the carrots and bell peppers and cook for

2-3 minutes

until they just start to brown then add the sesame oil, garlic and ginger, cooking for one minute while stirring well.

Add corn starch into beef broth and stir until well mixed.

Add the beef back in along with the beef broth mixture, soy sauce, brown sugar, red pepper flakes and green onions.  Cook for

2 hours

(up to 2:30 hours) in the oven until the beef is for tender and serve over rice or quinoa.
Nutrition
Calories:
305
kcal
|
Carbohydrates:
20
g
|
Protein:
23
g
|
Fat:
15
g
|
Saturated Fat:
6
g
|
Cholesterol:
78
mg
|
Sodium:
441
mg
|
Potassium:
808
mg
|
Fiber:
3
g
|
Sugar:
12
g
|
Vitamin A:
19495
IU
|
Vitamin C:
26.7
mg
|
Calcium:
69
mg
|
Iron:
3
mg