Moroccan Lentil Stew with beans, carrots, red lentils, garlic and warm Moroccan spices in less than an hour.
 Moroccan Lentil Stew
One of my favorite old Cooking Light Magazine recipe was for a Moroccan chickpea stew that ended up being my first post on my other blog. You know how it goes, you always make your favorite recipes first.
Well, Chickpea stew became a favorite of ours, we'd eat it ALL the time. Over time I started moving away from just using chickpeas to using other filling options too.
Health Benefits of Red Lentils:
Red Lentils are full of health benefits including helping to lower cholesterol by containing high levels of soluble fiber. Lentils help to reduce blood cholesterol since it contains high levels of soluble fiber. They help stabilize blood sugar, promote weight loss and are a source of low cost protein.
Creating flavor without fat:
We use one tablespoon of olive oil here to cook the vegetables and bloom the spices. This allows for great flavors in just 12 calories per serving of fat.
We could have just jumped the ingredients into a pot together and simmered until cooked through but cooking with spices and adding a small amount of fat helps to bring out the flavors a lot more.
How to Make Creamy Soups without Cream:
We also add in cannelini beans into this soup. One of the best creamy soup tricks without using cream is to puree a can of cannelini beans and add it to your soup. The texture is creamy and no added smart points!
Finally, I use a base instead of a regular broth or stock. This allows me to control the strength of the broth to my tastes. When cooking with so many vegetables that are going to soak up flavor (like the lentils and the beans) I make my vegetable broth twice the strength by adding additional vegetable base. I live for this brand and have all the varieties at all times.
Additional non-vegetarian Moroccan Lentil Stew options:
For a point free variation you can 2 cups of add chopped turkey or chicken breast into the soup, just add in an additional ¼ teaspoon of Kosher salt with it to be sure it is seasoned appropriately.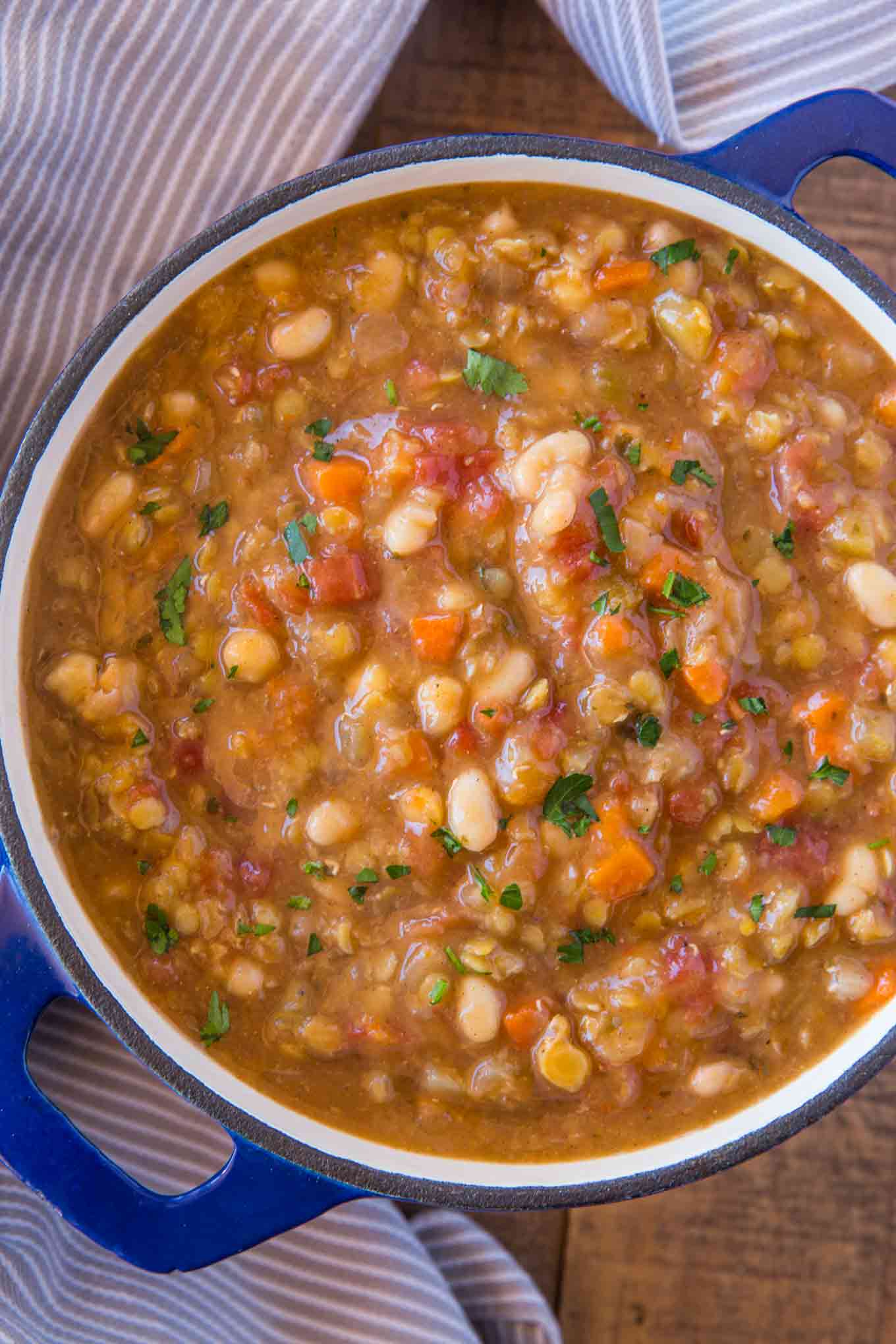 Tools used in the making of this Lentil Stew:
Vegetable Base: I almost never buy boxes of broth because I keep the beef, chicken and vegetable version of this Better Than Bouillon.
Dutch Oven: I love this cast iron dutch oven and the top of it doubles as a pan.


Ingredients
1

tablespoon

olive oil

1

yellow onion

diced finely

3

cloves

garlic

minced

1 1/2

teaspoons

ground ginger

2

teaspoons

ground cumin

1

teaspoon

ground coriander

1/4

teaspoon

ground cinnamon

1/2

teaspoon

kosher salt

1/4

teaspoon

coarse ground black pepper

1

can diced tomatoes

14 ounce

2

cans cannelini beans

drained and rinsed

4

carrots

peeled and diced

1 1/2

cups

red lentils

picked and rinsed

8

cups

vegetable broth
Instructions
Add the olive oil to a dutch oven on medium-high heat.

Add the onions and garlic to the pot and cook for 3-4 minutes until translucent.

Add in the ginger, cumin, coriander, cinnamon, salt and pepper and stir for 30 seconds.

Add in the rest of the ingredients, bring to a boil.

Lower the heat to a simmer, cover and cook for 30 minutes.
Nutrition
Serving:
1
¼ cups
|
Calories:
183
kcal
|
Carbohydrates:
31.74
g
|
Protein:
9.45
g
|
Fat:
2.76
g
|
Saturated Fat:
0.41
g
|
Sodium:
576
mg
|
Fiber:
5.6
g
|
Sugar:
4.68
g