jump to recipe
Skinny Carne Asada
This post may contain affiliate links. Read my disclosure policy here.
Skinny Carne Asada with lean flap meat is marinaded with a soy vinegar sauce and grilled for a tender, lean Mexican restaurant favorite for an easy diet-friendly meal.
 Skinny Carne Asada
Carne Asada has long since been one of those items you don't order off the restaurant menus because the meat isn't a lean cut of beef and the marinades are full of oil.
This Skinny Carne Asada is the perfect mix of both worlds, using an often overlooked super tender lean cut of meat, tenderizing it a bit with a meat tenderizer and using a marinade with significantly less oil than most people.
The results are perfectly tender carne asada made with little effort and all the delicious flavors.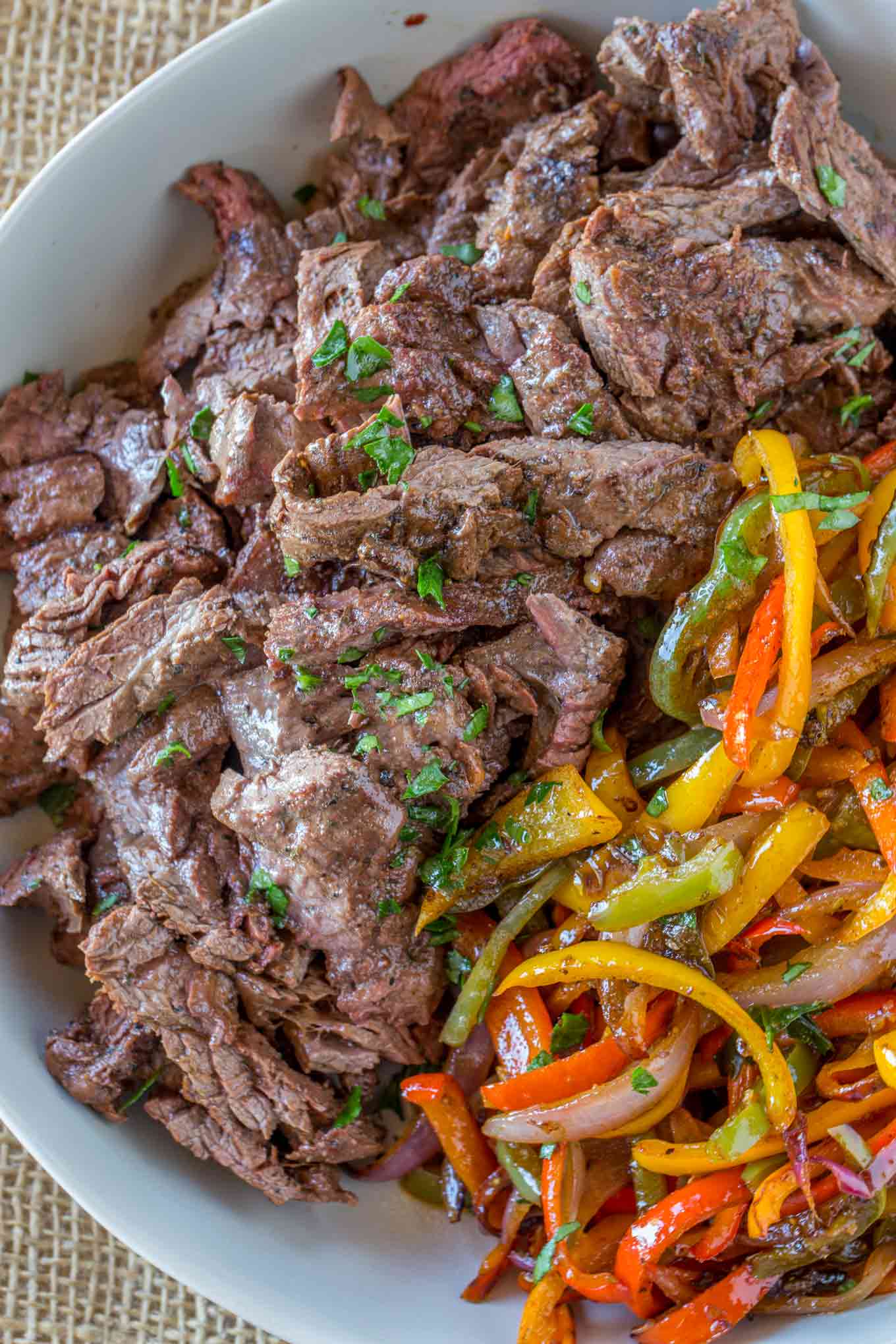 Best cut of meat for carne asada:
Many people love skirt steak for carne asada for good reason, the beef is very tender and easy to cook. For heathier cooking it is too high in fat, so most people use flank steak to have a more lean meat option. The lack of fat makes flank steak a more tough cut of meat and with less flavor than you need to choose.
Flap meat is the best of both worlds with slightly higher fat content than flank steak but much lower than skirt steak.
How long do you marinate carne asada for:
The recipe calls for 2-4 hours, but not more than 8 hours. The marinade helps to break down some of the connective tissue. More than 8 hours would cause the lime juice and vinegar to break down the meat more than is palatable.
Carne Asada Dry Marinade:
To marinate longer than 8 hours use just the dry ingredients and in the last hour before cooking add in the wet ingredients.
What do you serve with Carne Asada?
We love to serve this carne asada with skillet cooked peppers and onions, Pico de Gallo Salad (which is fat/point free), and even a mixture of corn and beans seasoned like in this Mexican Shrimp Burrito Bowl.
Tools used in the making of this Skinny Carne Asada Recipe:
Grill/Griddle Pan: Perfect for cooking the steak indoors, one side has grill lines, the other side is great for pancakes/breakfast cooking.
Pig Tail Flipper: Love this for turning the steak without removing the marinade from the steak.
Meat Tenderizer: Perfect for making the flap meat taste as tender as skirt steak.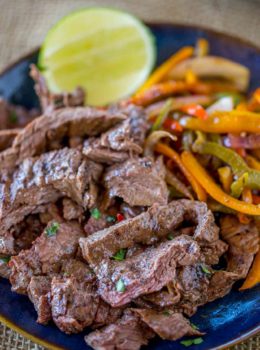 Skinny Carne Asada
Skinny Carne Asada with lean flap meat is marinaded with a soy vinegar sauce and grilled for a tender, lean Mexican restaurant favorite for an easy diet-friendly meal.
Ingredients:
1 1/2 pounds flap meat, trimmed of excess fat
3 tablespoons white vinegar
1/4 cup lite soy sauce
3 cloves garlic, minced
1/2 teaspoon Kosher salt
1/2 teaspoon ground black pepper
1 teaspoon chili powder
1 teaspoon dried oregano
1 teaspoon ground cumin
1 teaspoon paprika
1 lime, juiced and zested
1 tablespoon olive oil
Directions:
Using a meat tenderizer, flatten the steak by about half to three quarters the thickness (this helps the steak become more tender)
Add all the ingredients together into a large bowl and let marinade for 2-4 hours (up to 8 hours).
In a large cast iron grill pan or outdoor grill, cook the meat on high heat for 3-4 minutes on each side.
Let rest for five minutes before slicing against the grain.
Nutrition Information
Yield: 6 servings, Serving Size: 1/6th recipe
Amount Per Serving:
Calories: 198 Calories
Total Fat: 10.7g
Saturated Fat: 2.9g
Cholesterol: 70mg
Sodium: 629mg
Carbohydrates: 3.5g
Fiber: 0.9g
Sugar: 0.5g
Protein: 23.1g
All images and text ©
Made this recipe?
Show me what you made on Instagram or Facebook and tag me at @Cookingwithpoints or hashtag it at #cookingwithpoints.
Cooking with Points owns the copyright on all images and text and does not allow for its original recipes and pictures to be reproduced anywhere other than at this site unless authorization is given. If you enjoyed the recipe and would like to publish it on your own site, please re-write it in your own words, and link back to my site and recipe page. Read my disclosure and copyright policy. This post may contain affiliate links.