jump to recipe
Chili Honey Lime Shrimp
This post may contain affiliate links. Read my disclosure policy here.
Chili Honey Lime Shrimp with just five ingredients is a quick and easy main dish, salad topping, taco filling or more with just 2 smart points per serving.
We love using honey and lime on seafood like in these Honey Chili Salmon Bake or Mexican Shrimp Burrito Bowl recipes where honey, lime and spices all meet for delicious flavors!
Chili Honey Lime Shrimp
Just five ingredients and 10 minutes. When we make this chili honey lime shrimp in the house it's actually the last thing we make once all the sides are done and the table is set.
Sometimes I even call everyone to the dinner table before cooking it!
Why? Well the recipe takes just five minutes to cook and freshly cooked shrimp is like a souffle, the sooner you get to it and eat it the better it is going to taste. And with just a small handful of ingredients it takes no time at all to cook.
The hardest part of the recipe is zesting the lime. Or maybe cleaning the shrimp.
But I will tell you in all honesty I am not one of those people who buys a lot of pre-chopped vegetables or shortcut items in the produce department (I even always cut up my own watermelons and pineapple), but I am 100% in favor of peeled and deveined shrimp. The extra cost more than makes up for not sitting down with a knife to devein those shrimp myself.
How to Cook with Shrimp:
When serving family style remove the tails (they're on here for photography reasons). Especially if adding to tacos or other meals as a topper.
Tails are generally left on when serving larger prawns or as an appetizer for easy eating.
Make sure to pat dry your shrimp before adding to the pan with a paper towel. Shrimp are wet when added to the plastic bag and it will create oil splatter or won't sear depending on how wet it is if you don't dry it.
Buy peeled and deveined shrimp for easy use but never buy precooked.
Precooked shrimp is tough, rubbery and with a 1 minute cook time there's never a reason you can't cook it yourself.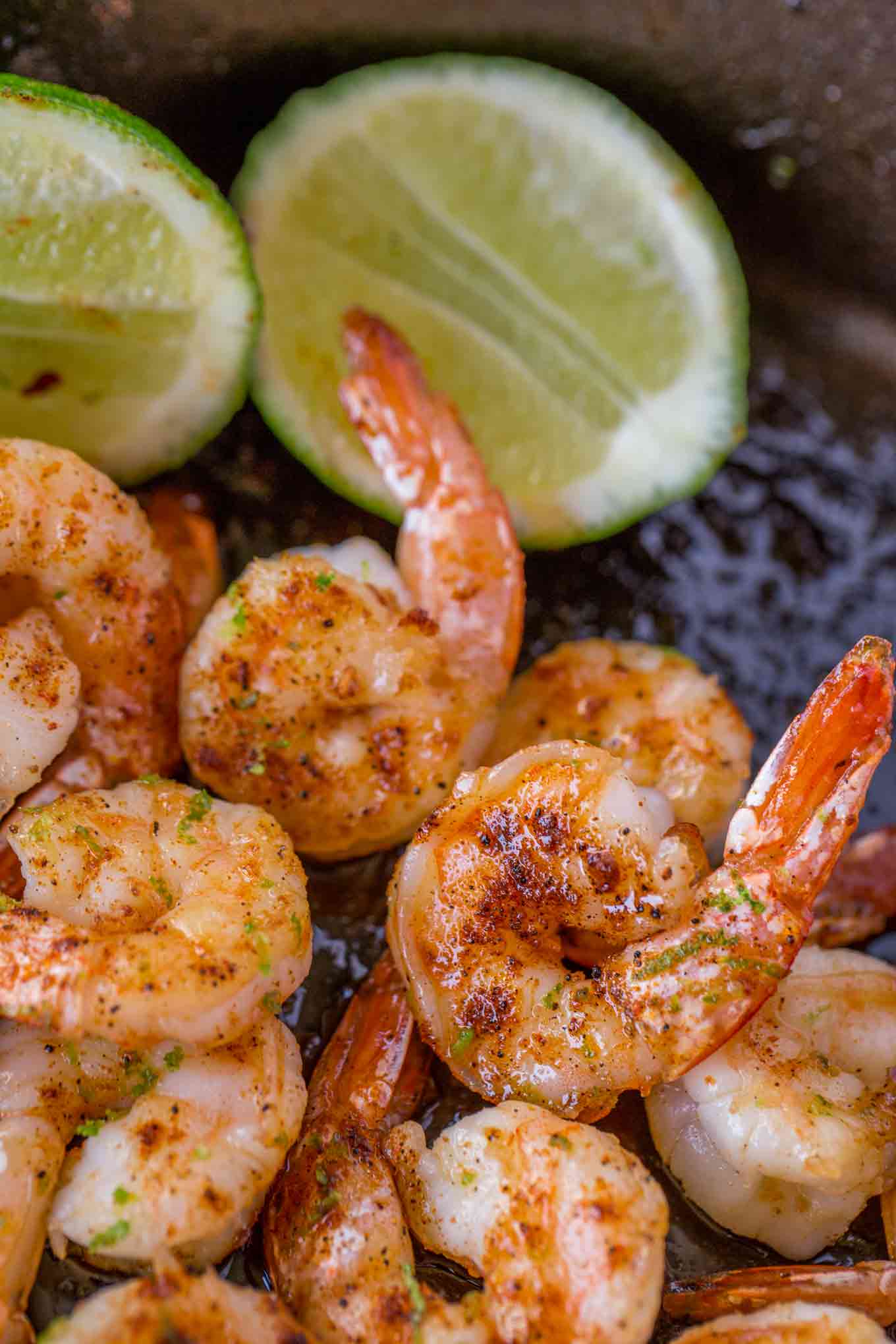 What to serve with this Chili Honey Lime Shrimp:
With a creamy cilantro slaw and tortillas for a quick and easy shrimp taco.
Serve over rice or cauliflower rice.
Stuff inside a burrito with guacamole, cauliflower rice and fresh pico de gallo.
Along side this Pico de Gallo Salad.
Topped on a salad with your favorite vegetables and a light vinaigrette.
Baked Chili Honey Lime Shrimp:
Add the ingredients (minus the oil) to a cast iron skillet and bake at 425 degrees for 5-7 minutes.
Kid Friendly Chili Honey Lime Shrimp:
Replace half the chili powder with paprika so the spices aren't too much for younger palates. You can even add a bit more honey if you need to. Kids palates are attracted to sweet and citrus.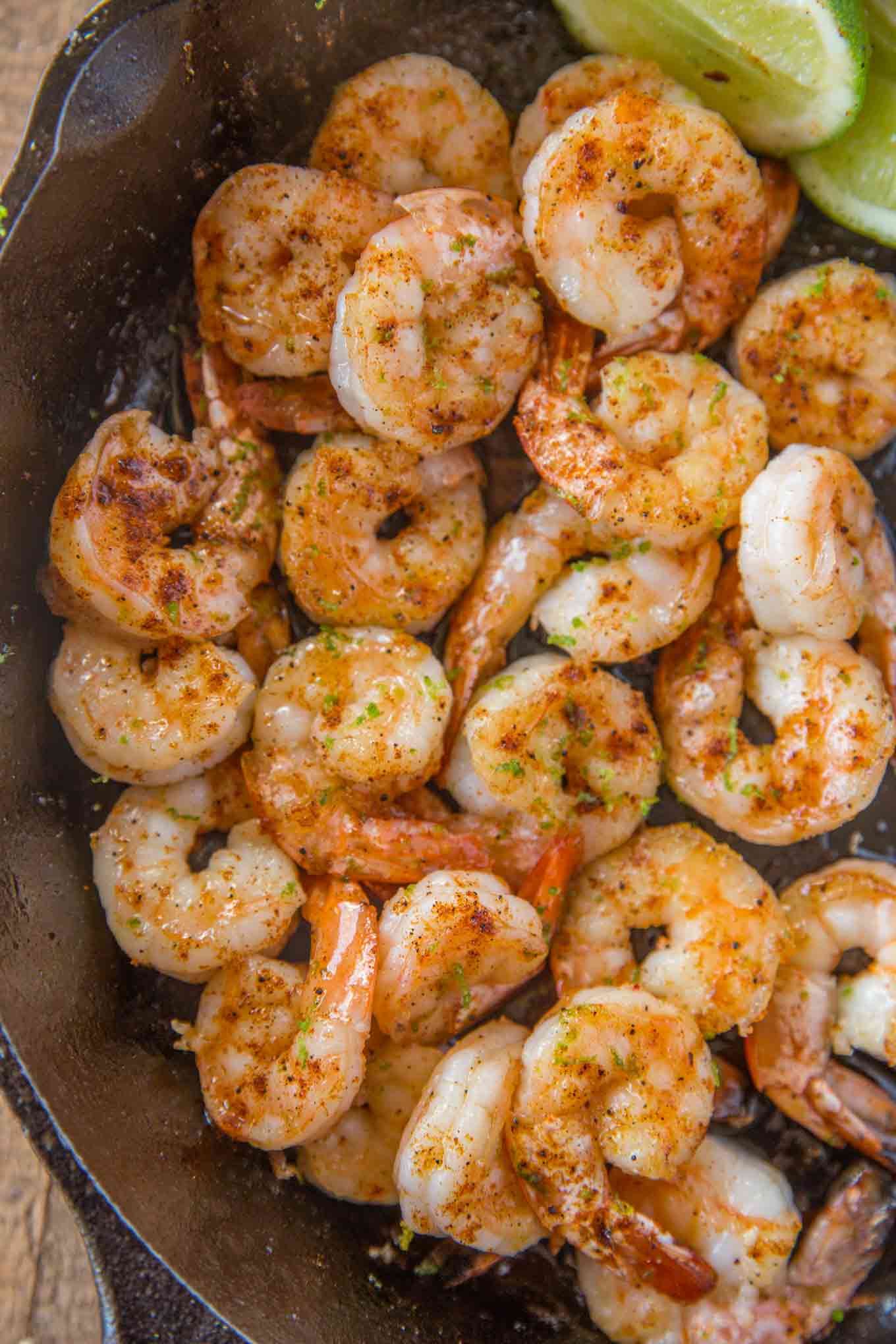 Tools used in the making of this Chili Honey Lime Shrimp:
Zester: Perfect for zesting citrus.
Cast Iron Skillet: I use this to cook in as cast iron is naturally non stick and you can cook over high heat without worrying about any non stick coatings releasing gases.
Honey: I use this brand because it is guaranteed to be real honey and it is the best price per pound (but buy it in the store!)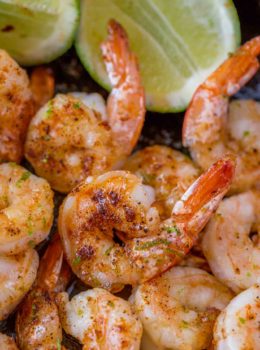 Honey Chili Lime Shrimp
Honey Chili Lime Shrimp with just five ingredients is a quick and easy main dish, salad topping, taco filling or more with just 2 smart points per serving.
Ingredients:
1 tablespoon canola oil
1 pound shrimp, peeled and deveined (13-15 or 16-20 count are best)
2 teaspoons chili powder
1/4 teaspoon kosher salt
1/2 lime, zested and juiced
1 tablespoon honey
Directions:
Add the canola oil to a large cast iron skillet on high heat.
Add the shrimp to the pan and sear quickly on both sides, roughly 30-45 seconds on each side.
Add the chili powder and salt and stir quickly.
Remove from the heat and add in the lime juice and honey and stir.
Nutrition Information
Yield: 4 servings, Serving Size: 1/4 recipe
Amount Per Serving:
Calories: 148 Calories
Total Fat: 4.3g
Saturated Fat: 0.4g
Cholesterol: 183mg
Sodium: 319mg
Carbohydrates: 5.5g
Fiber: 0.5g
Sugar: 4.5g
Protein: 23g
All images and text ©
Made this recipe?
Show me what you made on Instagram or Facebook and tag me at @Cookingwithpoints or hashtag it at #cookingwithpoints.
Cooking with Points owns the copyright on all images and text and does not allow for its original recipes and pictures to be reproduced anywhere other than at this site unless authorization is given. If you enjoyed the recipe and would like to publish it on your own site, please re-write it in your own words, and link back to my site and recipe page. Read my disclosure and copyright policy. This post may contain affiliate links.