Pico de Gallo Salad with lime, onions, tomatoes and jalapenos is a quick, easy, FAT FREE side dish for your favorite Mexican recipes!
 Pico de Gallo Salad
Pico de Gallo Salad is a recipe I first heard about on Food Network and I was completely skeptical.
How could what looks like a salsa function as a real side dish?
This Pico Salad is the real deal. It is PERFECT as a side for Mexican food. Especially if you have a slightly fattier cut than normal. The acidity in the salad cuts right through the cheese or fat and with no fat you can have as much as you'd like.
Word to the wise, I actually enjoyed this recipe so much when I first found it I ate it nonstop, giant bowls of it. Until all that lime juice finally gave me acid reflux. So if you do want to enjoy this recipe often, cut back on the lime and jalapenos a little, or enjoy it with some carbs to help absorb a little of the heat and acidity.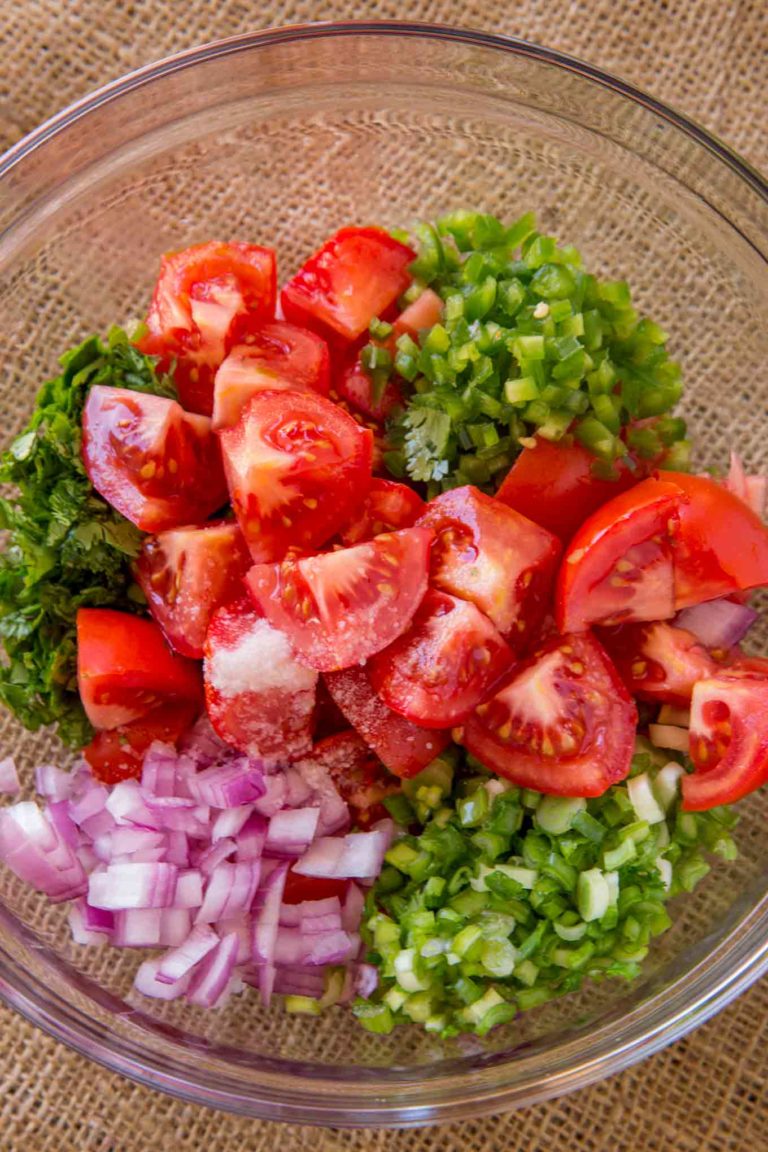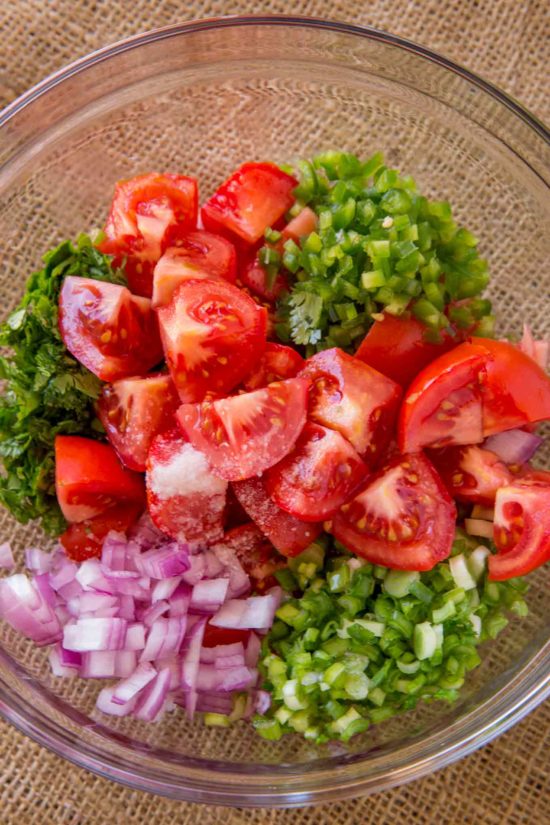 Tips for the pico de gallo salad:
Cut the onions small. The original calls for large chunks and it just isn't logical to chew on raw 1″ chunks of onion for more than a bite or two.
Deseed and devein the jalapenos. With the salt and the lime you won't want to blow out your palate with extra spice.
Since corn and beans are now zero points you can beef up this salad to be an easy cold lunch option with a scoop of each.
Add some grilled chicken for a healthy meal option.
If you want to enjoy this for lunch without heating anything up, serve it with corn, beans, grilled chicken and a sprinkle of queso fresco.
Do not refrigerate the salad before serving. When you refrigerate tomatoes they become mealy.
Let this salad sit at room temperature for 30 minutes before serving for the best flavors.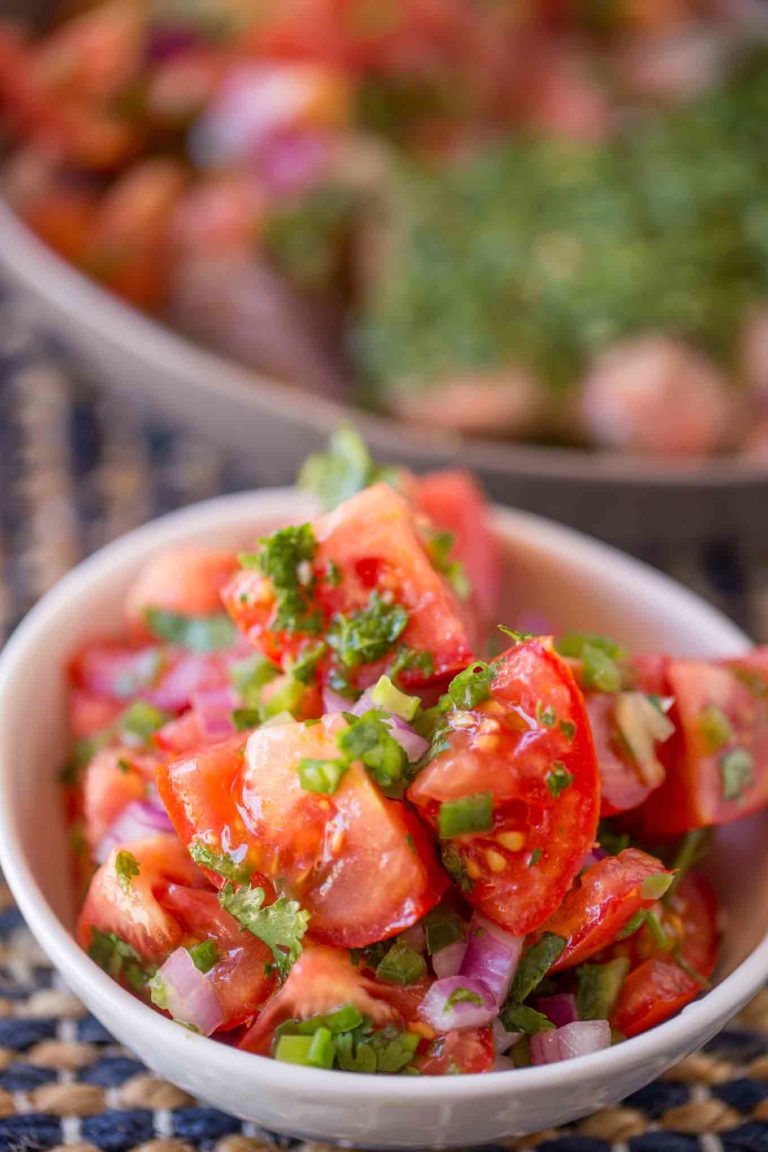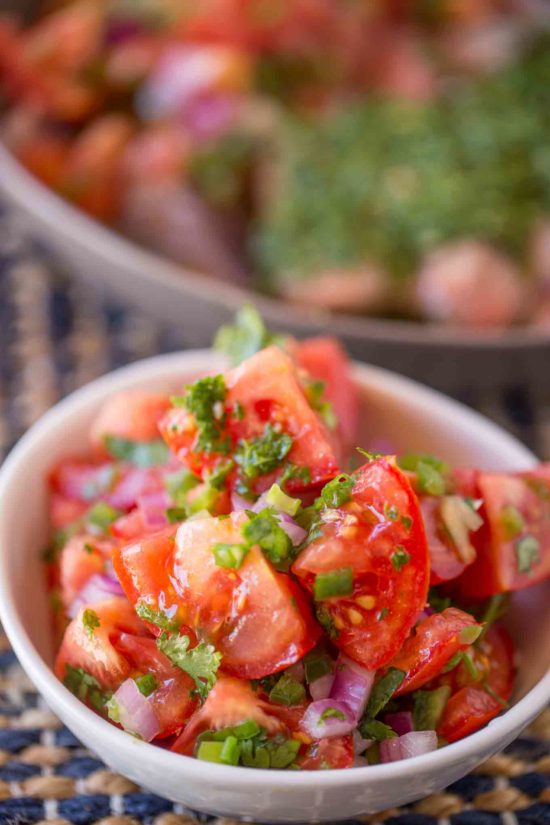 Looking for more salads?


Ingredients
1/4

red onion

chopped finely

1/2

jalapeno

deseeded and deveined then minced finely

1/2

cup

fresh cilantro

chopped

2

scallions

sliced thinly

1

lime

juiced and zested

1/2

teaspoon

Kosher salt

6

roma tomatoes

cut into large chunks
Instructions
Add all the ingredients together in the bowl except for the tomatoes and stir well.

Add in the tomato chunks and combine gently.

Let sit for 30 minutes for the best flavors.