Print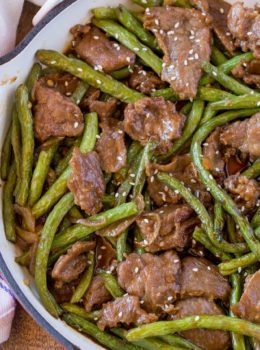 Beef and Green Bean Stir Fry
Beef and Green Bean Stir Fry made with an easy garlicky stir fry sauce, lean beef and green beans.
In a small bowl or measuring cup mix the soy sauce, mirin, cornstarch and sugar.

Add the canola oil to your skillet on medium high heat.

Cook the beef in batches in the skillet for 1-2 minutes on each side before removing from the pan.

Add in the green beans and cook for 2-3 minutes, stirring occasionally.

Add the garlic and ginger and cook for 30 seconds while stirring.

Add the stir fry sauce into the skillet and cook for 30 seconds, then add the beef back in and toss to coat.

Garnish with sesame seeds if desired.